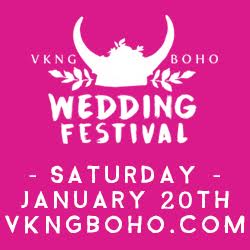 Are you a bride-to-be or member of the bridal party with a "sweating for the wedding" goal? Head to Curtis Hixon Park in downtown Tampa on Saturday, January 20, 2018 from 7:30 a.m.-noon for a wedding bridal show like no other!
Guests will have a chance to mix and mingle with local wedding vendors and participate in a series of free fitness classes provided by VKNG Fitness, Kodawari Studios and The Hip Room, in addition to wedding seminars and wedding themed games. Brunch prepared by Sono Cafe will conclude the event. Classes begin at 8 a.m. and will continue throughout the day until 11 a.m.
Wedding photographer and show organizer, Jessie Stehlik of FotoBohemia, shared that the festival is designed to help brides, grooms and the wedding party have an easier and funner time planning their wedding day.
"Sorting through pages of wedding vendors, trying to find the best is a daunting task. We've done the hard work for you. Each of our wedding vendors has the "VIKING-BOHO" seal of approval, and we have brought them all together in one place to make your life happy," Jessie shared.
Attendance at the festival is free. Register now.