There are many things in life that occur that are simply beyond our control, such as natural disasters. While we anticipate and hope that your Tampa Bay wedding day will be filled with blue skies and happy memories, some couples have the unfortunate luck of a hurricane or tropical storm interrupting their big day.
We've asked top Tampa Bay area wedding pros to share their advice and past experiences for couples when a hurricane, or any natural disaster, is probable on their wedding day.
We would also like to reiterate the importance of hiring a wedding planner, who are crucial in situations like this. The venue coordinator may have multiple events to handle and cannot get to all of the vendors to keep them up-to-date. This is when your wedding planner can really shine! They will be working on a plan of action with the vendors to keep them in the loop and come up with the best solution, saving you stress, as they're experienced dealing in crisis situations.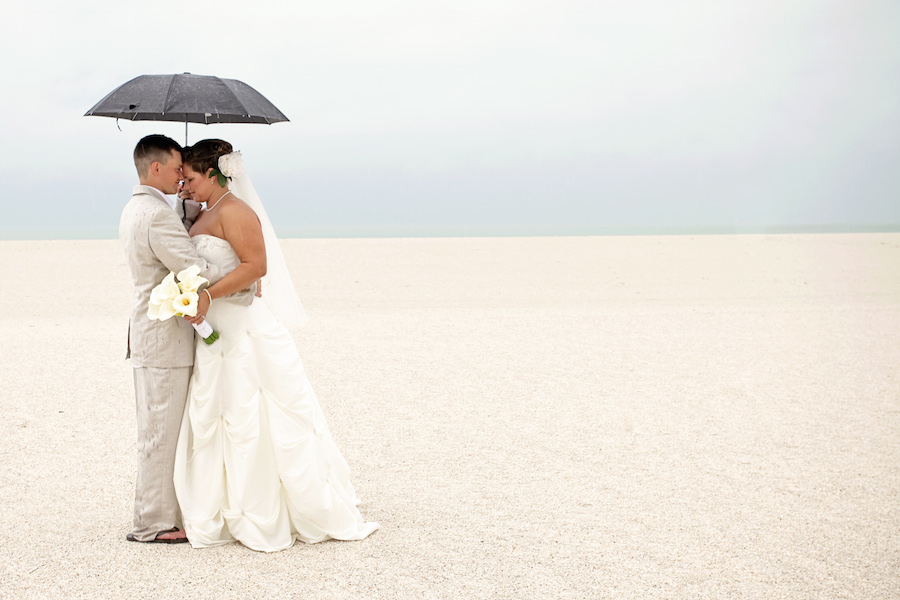 Insurance…Not Just for Your Home or Car
Wedding insurance is a must! It needs to be purchased more then 14 days in advance. Also, think about your out of town guests. Do you want them to be stranded here if flights get cancelled to go home? Where will they stay in a state they do not live in to ride out a hurricane? Is your venue hurricane safe to withstand the storm? -Tammy Waterman, Special Moments Event Planning
Wedding insurance! Weddings are clearly important and very expensive, but the most important thing is safety of friends and family and their homes. -Carrie Wildes, Carrie Wildes Photography
Communication is Key
Communicate with your vendors regularly while watching the storm track. Try to be flexible and know that your vendors also have families that they could need to prepare for or even evacuate. -Caroline Smith, Caroline & Evan Photography
Read your contracts. Know what the refund policy is (if any). Getting mad at vendors when you didn't read the contract doesn't do anyone any good. And, of course, wedding insurance. There are so many reasons to have it, peace of mind being the biggest. -Pam Caya, Coast to Coast Event Rentals
Your vendors want to start making evacuation plans, but they cannot until the wedding is called. Until then they have to stay and be ready for the wedding if it ends up going through. – Rebecca Zoumberos, Limelight Photography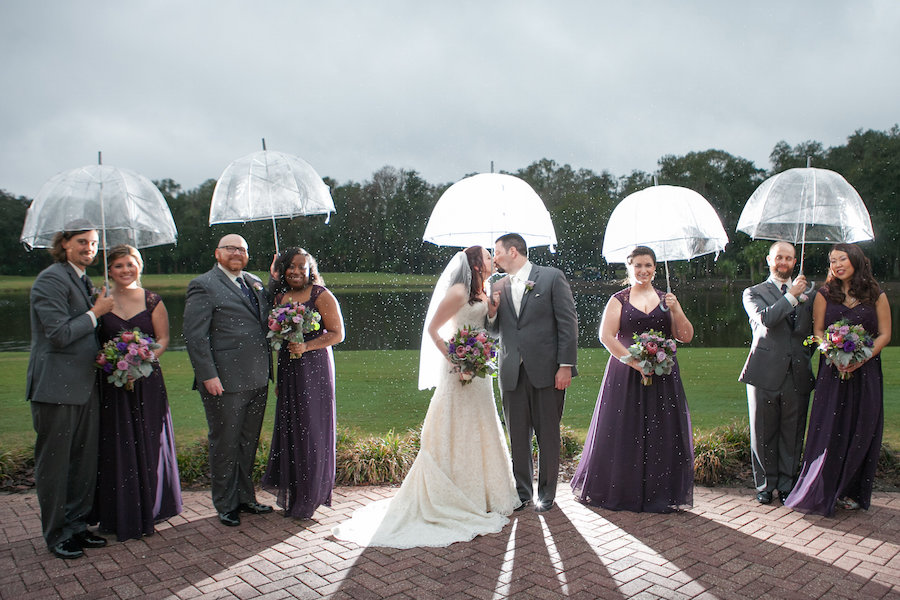 Be Flexible
Don't be afraid to reschedule your wedding. A majority of vendors will agree to not charge you additionally, should they be available on your rescheduled date (but always check your contract). As the coordinator said for my wedding that was to be held on the Saturday of Hurricane Irma, if no vendors can make it, your venue closes and guests can't fly in, would you like to remember that wedding or one you rescheduled and it was perfect? – James Blankenfeld, Imagery Wedding Films
Be understanding, things happen and alternatives have to be made. We delivered a cake a couple of years ago in a tropical storm, unfortunately she had vanilla buttercream with black buttercream and the black started to run, so we had to get rid of the black frosting. The high humidity and dampness in the air can alter a lot of things especially in the cake world. -Laurie Ryan, A Piece of Cake and Desserts
Post Natural Disaster Weddings Can Also be Affected
The vendor people often forget about is the florist. Flowers are ordered in advance and flowers will not survive a rescheduled wedding date. Will the flowers arrive if the ports are closed? Will the wholesalers be open to get products delivered if there is no gas or roads are packed with people evacuating? How does the florist keep the product fresh if they do not have electricity? Event if your wedding is after hurricane season, will the venue be standing when your wedding comes around? Your wedding could still be affected event if it is a week or two after a storm. Wedding insurance will assist you there also. -Tammy Waterman, Special Moments Event Planning