Wedding Planning Advice: 8 Qualities Your Wedding Vendor Should Have
Hiring the right wedding vendors who match your needs and personalities is the most important decision a couple can make when planning their Tampa Bay wedding.
The first step is to always, always hire a professional. There are many moving parts to a wedding day and lots of chances for something to go wrong, but a trained wedding pro can often fix these without you even knowing something went wrong.
MORE: EXPERT WEDDING PLANNING ADVICE ARTICLES
Secondly, choose a wedding vendor who is the right fit for you. We are very lucky in Tampa Bay area to have a strong talent pool, however each vendor's style, personality and processes are different, so don't hire the person who only looks good on paper.
Regardless of who you select, make sure that your wedding pros have the following "8 Qualities," as told by our preferred Tampa Bay wedding vendors.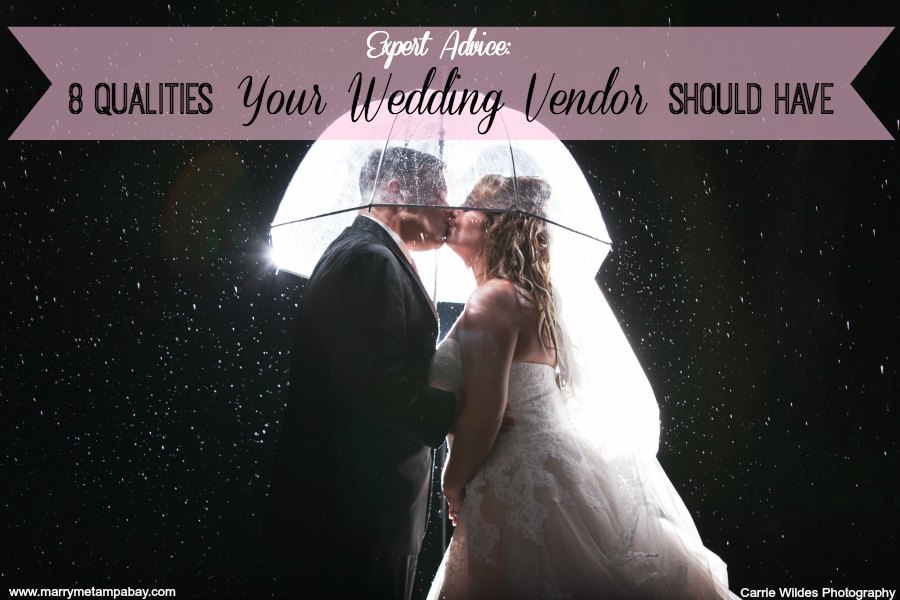 The Basics
Among the very basic necessities that your wedding photographer should have: professional level back up gear (cameras, lenses, flashes and lighting gear, etc.), liability insurance and insurance for their equipment. Your photographer should also be extremely well versed in all types of lighting situations and have confidence and skill in natural light, flash, video light, including how to light and capture very bright scenarios, sunsets, rainstorms and dark venues. He/she should have several complete wedding albums to show you of entire weddings, so you can that the quality of imagery is consistent from the start of the day until the end of the day and from wedding to wedding. -Andi Diamond, owner of Andi Diamond Photography
The Likeability Factor
Each and every time I talk to a potential client, I ask to meet with them in person. I think it's so important to be face to face with a bride and groom. I want them to know that who they see on the internet is who they will get. Trust is key. In addition, I encourage them to come with a list of any and all questions. I want them to know make sure we are both a fit for each other. -Rana Tierney, owner of Roohi Photography
Attitude is key! Like any customer service based industry, you have to get along with your vendors. You want someone who is fun and fits your personality, so meet this person and make sure you like them. Are they eager to listen to your needs and to ask questions to better understand your vision? A good vendor will want to help you and not just tell you what you need. -Marc Edwards, owner of Marc Edwards Photographs
Positive energy is a very important trait for every wedding vendor to have. Vendors are the face of your event, whether it be your DJ or the caterer serving at your buffet, they need positive energy! When comparing vendors, you want to be sure that you can count on them to provide quality service and create an enjoyable evening for you and your guests. -Heather Tyler, owner of Blue Skies Events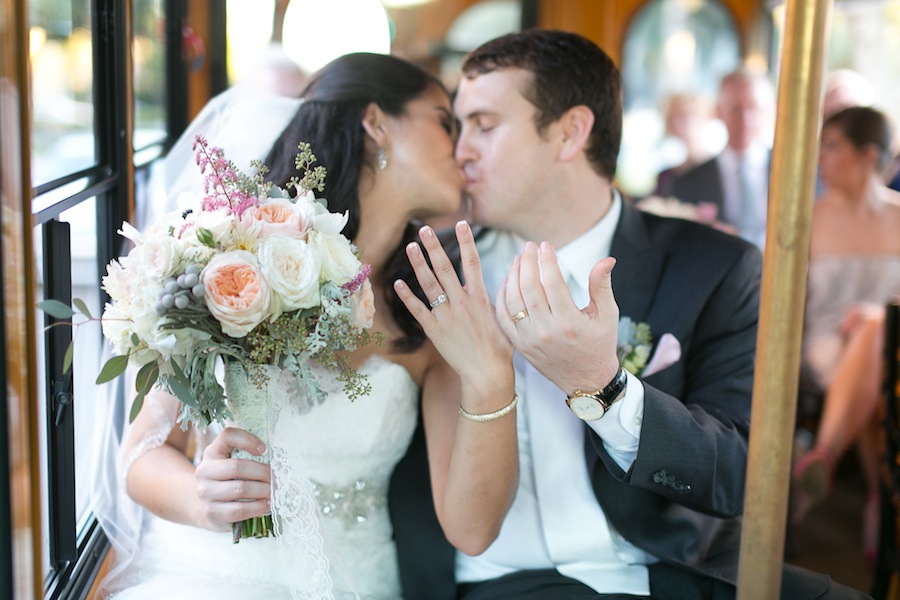 Roohi Photography
Patience
For most people planning a wedding is an entirely new adventure. All of the decisions you have to make can be very overwhelming and at times super confusing. I believe each vendor should be extremely patient and encouraging with their clients. The client should feel as relaxed as possible about asking questions and never be made to feel embarrassed or pushed into something their not completely comfortable with. There really are no stupid questions here. You are spending a lot of money on your special day and deserve the attention and patience rightfully. That being said, patience is a two-way street. Vendors are juggling many clients, all with special and unique requests, so we also need a little help on your part as well. Be sure to make an appointment ahead of time. Consider that while we are absolutely excited to meet you, we likely also have another couple whose big day is just a few days out. So we certainly give our upcoming brides and grooms priority, as we will for you on your special day! We really do want to be able to give you our undivided attention, so please help out by being patient and flexible with us as well. -Melissa Wintringham, Special Events & Wedding Coordinator at Honeymoon Island & Sand Key Beach Weddings & Events
Vision & Style
It's so important to find someone who can not only make your vision a reality, but is also able to put a unique spin on it so your wedding stands apart from the millions on Pinterest. -Melissa Meyer, owners of Chefin Parties
When deciding between vendors, skill and talent are huge determining factors. You want to be sure that the vendors that you are choosing have the skill level required to execute the demands that you have for your big day. It is very important to choose vendors who understand your vision and have a sense of style and vision of their own. When working with each vendor, it is important that they share your sense of style, so that the planning process comes with ease. -Heather Tyler, owner of Blue Skies Events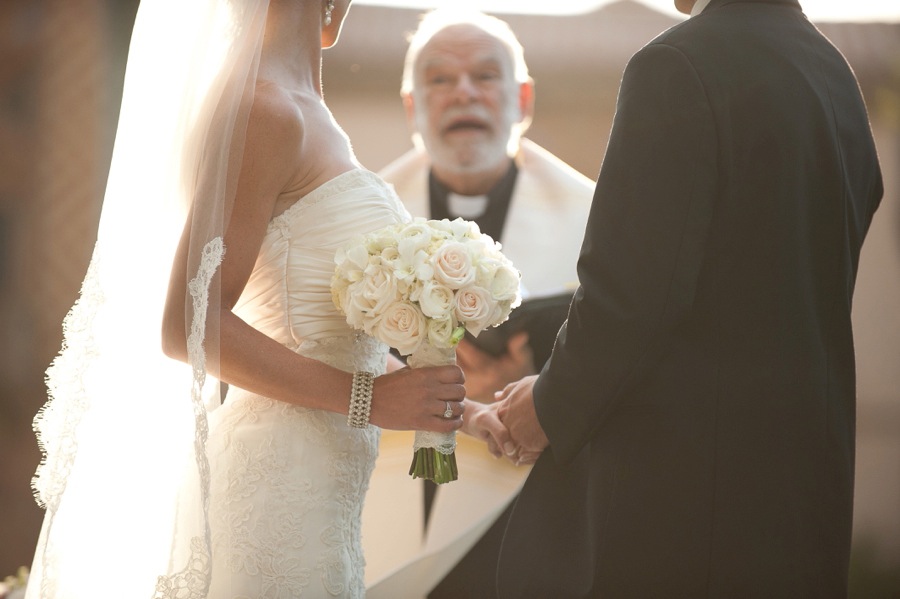 Honesty
Your wedding vendors should be transparent when dealing with your wedding details. For example, as a wedding planner it is my job to nurture my clients, but be gentle and brutally honest. If something is not going to work, I will not waste too much time and sugarcoat the issue at hand. When your wedding vendors are honest, it saves you time and the ability to know that the decision taken was not for your vendors best interest, but yours. At the end of the day you need someone to guide you through each decision and who will not be afraid to tell you what things cost, what will work and if you are being a total diva. With that type of relationship, your wedding planning journey will be as smooth as possible, because you have transparent vendors who you totally trust. -Georgette Casimir, owner of Pea to Tree Events
One of the most important qualities to look for in a wedding vendor is honesty. In an effort to gain business, some vendors may tell a bride what she wants to hear instead of the truth. Unfortunately this can lead to a major disappointment on your wedding day. As a florist, availability is a factor for seasonal flowers. If a bride meets with three florists and two of them explain that your ideal flower is not in season at the time of your wedding, but the third does not, they are misleading the bride. You should expect a call the week of your wedding with the bad news that they will have to substitute that flower. So instead of having a chance to fall in love with other options, you will have unnecessary added stress the week of your wedding. -Cassie Osterloth, owner of Wonderland Floral Art and Gift Loft
Honesty and trust are one of the most important traits for all vendors to have. When planning your wedding day, you want to be able to trust each vendor with the details and outcome of the day without worry. When vendors are honest, you will be less stressed on the day of knowing that they will carry out their services as discussed with you prior to the big day! -Heather Tyler, owner of Blue Skies Events
Timing
When it comes to picking your hair and makeup team, it is important for your artists to have full knowledge of how to coordinate your timeline. We are the ones that start the day off and what time we finish can make – or break – your day! A knowledgeable team will know to consider what time the photographer is arriving, if there will be a first look or other photos being taken prior to the ceremony and if there needs to be any travel time to the venue accounted for. The last thing you want on your wedding day is for it to start off being rushed and not enjoyable! A professional hair and makeup team for weddings will know exactly how much time to allot for getting ready and be able to keep to that schedule. -Michele & Dena, owners of Lasting Luxe Hair & Makeup Artistry
Calm Under Pressure
A lot of challenges can be presented on your wedding day, and you shouldn't have to deal with any of them. It's important to know that your vendor can handle any obstacle that comes his/her way, and in a professional manner. A great way to find out how your vendor is under pressure is to interview them about how they handled mishaps in the past. Also, asking other vendors for the recommendations is great. Vendors work together on many occasions and we're all willing to put in a great recommendation for someone with awesome talent, but also someone who is easy to work with. -Melissa Meyer, owners of Chefin Parties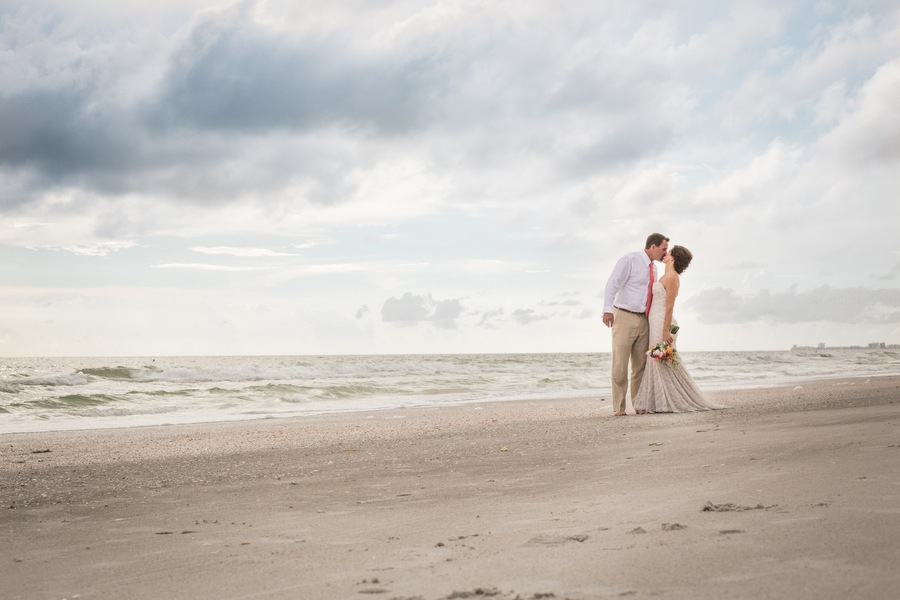 Experience to Expect the Unexpected
I believe the single most important quality a wedding photographer can have is the ability to adapt to the people they're photographing, as well as the people around them: their environment, lighting situations, timing constraints, and a creative demand. Weddings are about the people and the moments that happen between them, so it's important that a photographer has the ability to adapt to the overall climate of the room and the people they are photographing. By adapting to their surroundings and their subjects, they are able to blend in and photograph the authentic moments unobtrusively, which is necessary if you want the candid moments documented on your wedding day. -Jill Kelly, owner of Jillian Joseph Photography
There is a big difference between a "photographer" and a "professional photographer." Everyone who has a phone can call themselves a "photographer" right? A professional photographer is going to direct the flow of the photography part of your wedding. They also should be experienced with all different lighting scenarios including using video light, off camera flash and the easiest of them all, natural light. What happens if it rains on your wedding day and everything is inside, or if things run late and the photos of the bride and groom have to be at night? These are things that we as professionals know how to handle whenever, wherever and on the fly because that's what we do. -Carrie Wildes, owner of Carrie Wildes Photography
Professional photographers always have a backup plan. Whether it be a backup location, a backup shooter in case of an emergency or a backup if time on a portion of the day runs over. I always formulate a timeline for my couples that accounts for overages, so that if a portion of the day runs over the bride and groom aren't stressed out. It comes with experience and shooting a good number of weddings a year. Couples never know something went astray, and I'm not having to go to the couple and say "We don't have time for this shot." If it rains, a professional is going to have a backup plan already figured out and just move along, without any stress to the couple. A professional knows how to transition into different situations, while an amateur may not have the experience to shift when things are unplanned, which can cause the couple unneeded stress and to miss important things. -Kristen Jeffers, owner of Kristen Marie Photography