"Walking down the aisle and finally joining hands after a long and emotional morning apart was a favorite memory for each of us. The emotions of that moment were something that I will never forget, and I feel like all of the planning and stress culminated at that point. I was just ecstatic to see Tyler and get to walk down the aisle to marry him. I had always pictured writing our own vows to each other, and I thought it was important for us to personalize our promises to each other as we embarked on this commitment together. I think it made the ceremony extra special and allowed our guests to have a look into our relationship and how much we mean to each other," Allison reminisced. "Also, the speeches given at the reception by the Maid of Honor, Best Man, and Brother of the Groom meant so much to us and provoked both laughter and tears from everyone. We had such a blast dancing the night away with all of our closest friends and loved ones."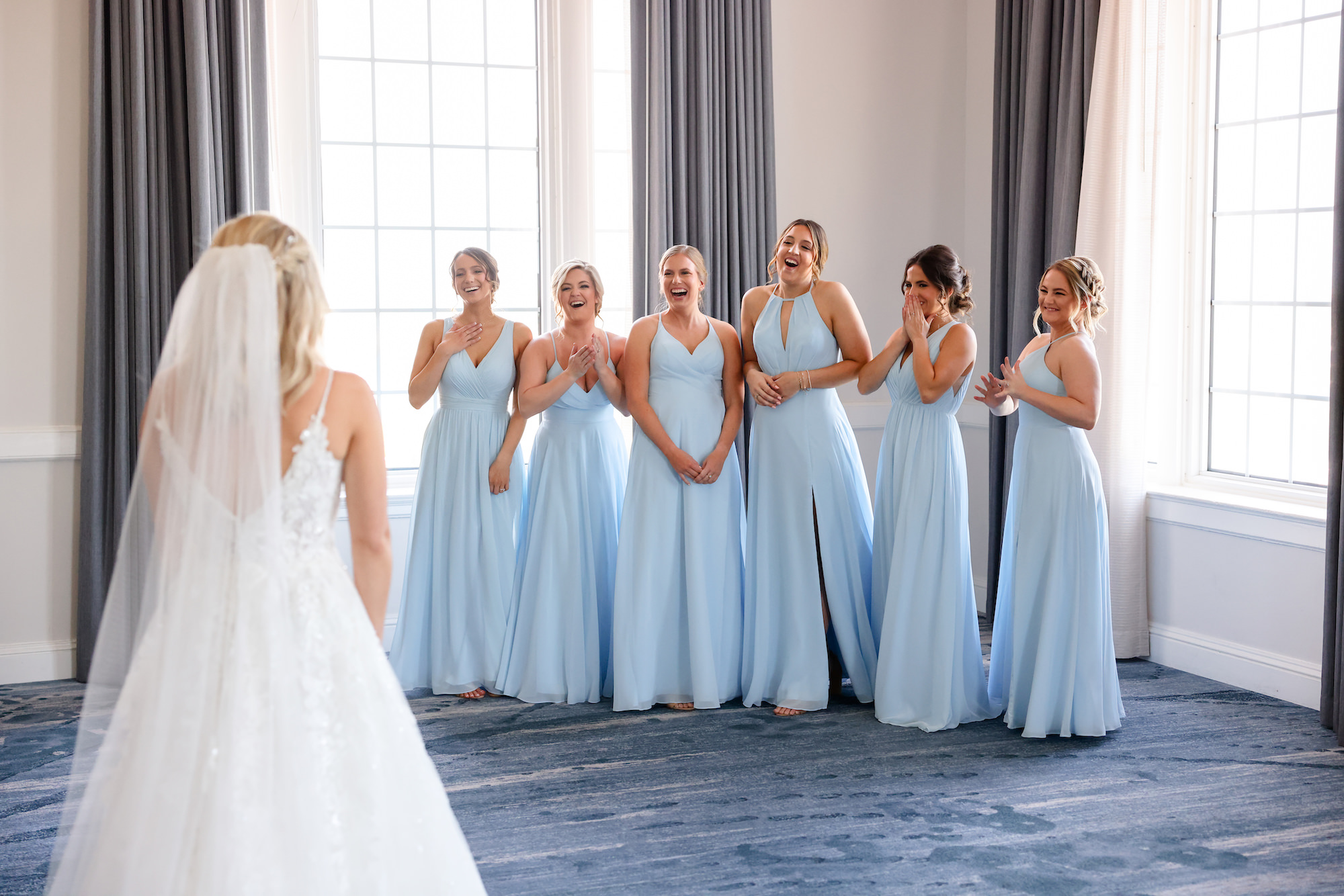 Videographer: Lunar Films | Invitations: Paper Tie Affair | Dress Shop: Love, a Bridal Boutique | Dress Designer: Essense of Australia | Shoe Designer: Bella Belle Shoes | Bridesmaid Dress Shop and Designer: AZAZIE | Rehearsal Dinner: Bellwether Beach Resort
---
"The most memorable moment was probably the daughter/father and son/mother dance," the bride recalled. "It was such a special moment for the both of us that we won't forget."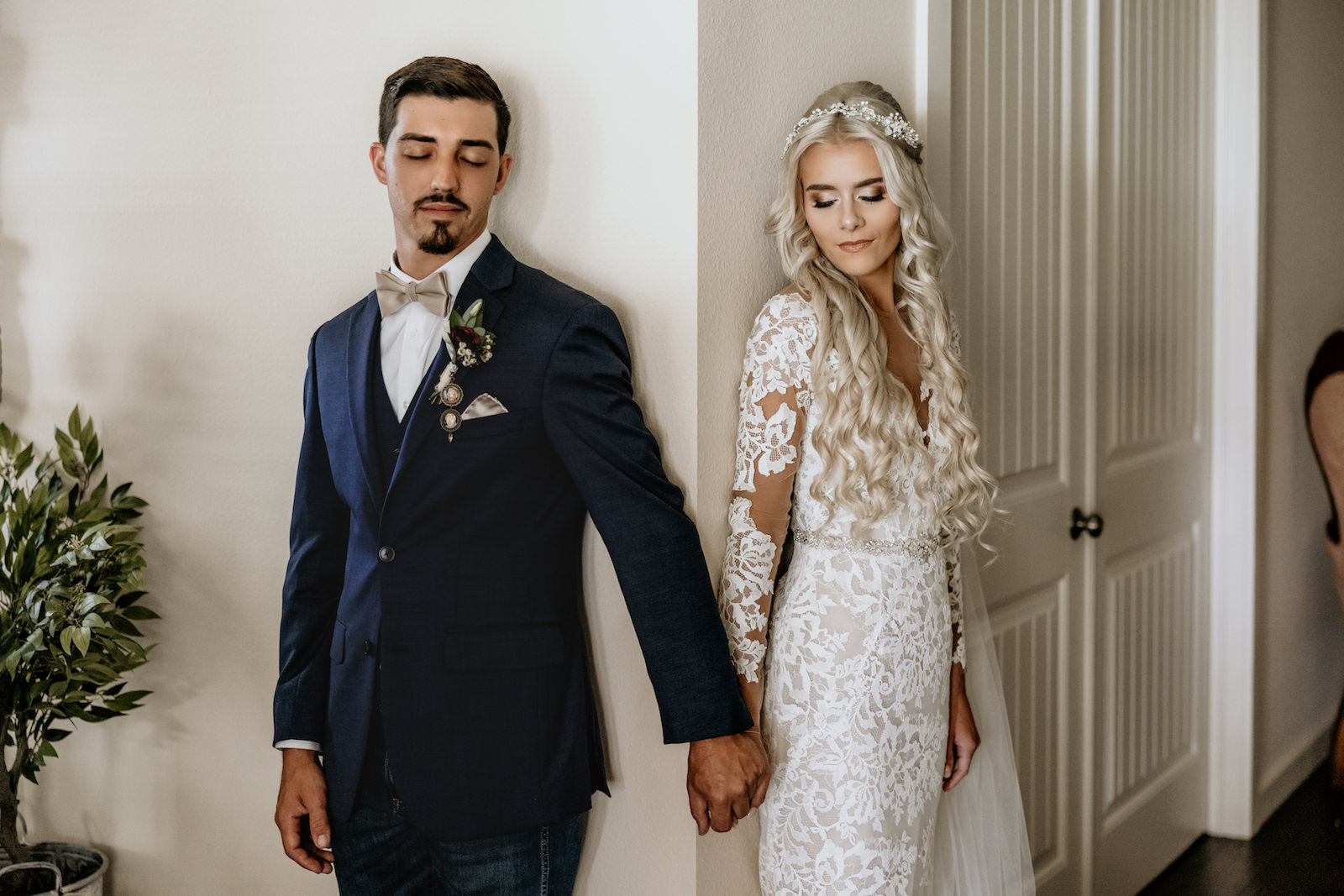 Venue: Covington Farm | Photographer: Rabecca Cruz Photography | Planner: Crown Entertainment, Crystal Brown | Florist: Flower Child Florist | Caterer: Catering By The Family | Bar: Hub Tap | Draping: On The Move Productions | Cake: Moreno Bakery | DJ: Crown Entertainment | Officiant: Charlie Thornton | Invitations: Zazzle | Dress Shop and Designer: The White Magnolia Bridal Collection Tampa | Shoe Designer: Betsey Johnson | Bridesmaid Dress Shop: David's Bridal | Groomsmen: Men's Wearhouse | Rehearsal Dinner: Green Door on 8th
---
"Every moment was so memorable: our first touch at the Vinoy's Tea Garden, walking down the aisle to each other while surrounded by such beauty and all our loved ones, our vows, and the cultural dances. These are most memorable because we put so much of ourselves into preparing for each other. They express who we are as a couple and our love for each other," the bride reminisced.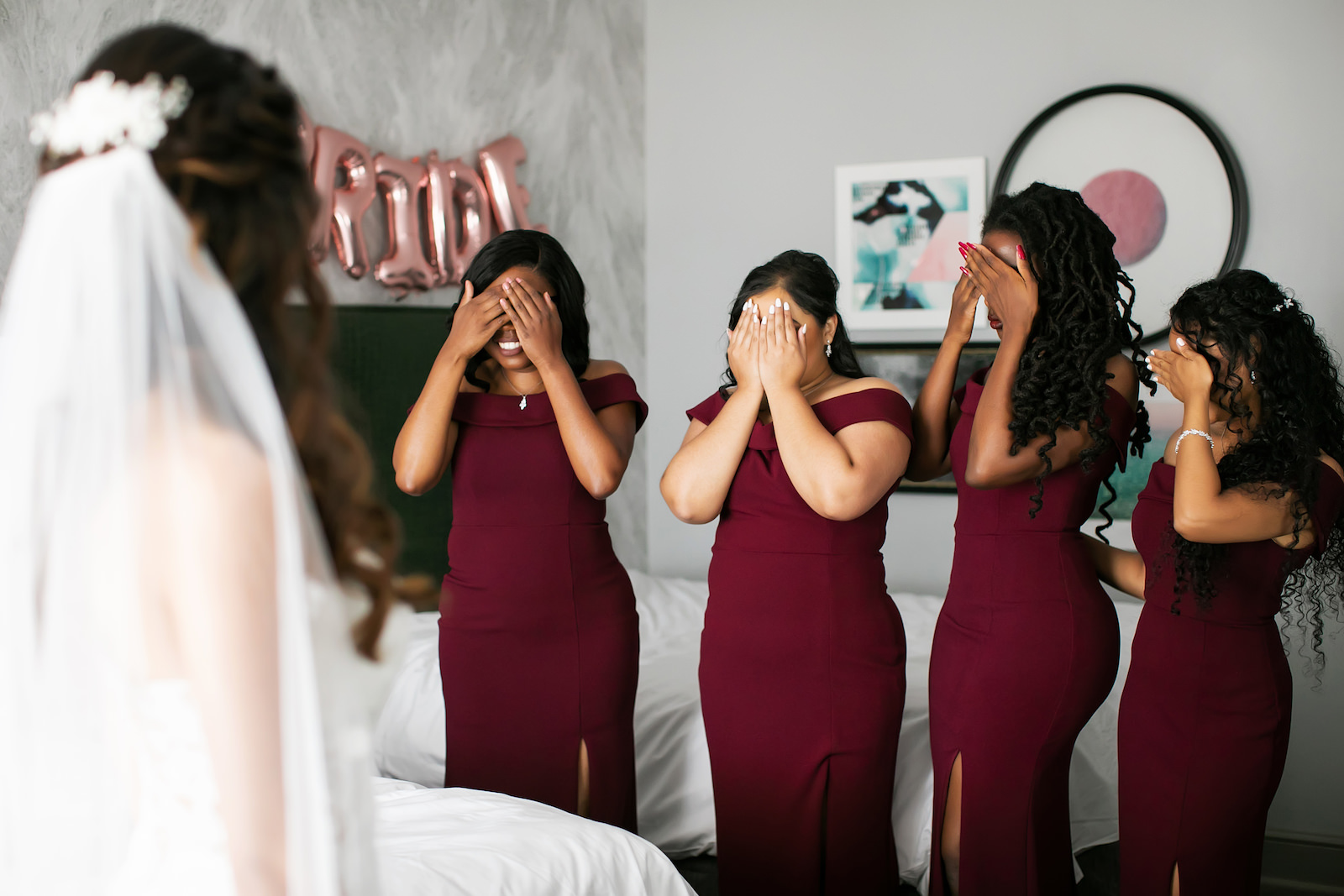 Ceremony, Reception Venue, Caterer: The Vinoy Resort & Golf Club | Videographer: Imagery Wedding Films | Officiant: Pastor Robert Valdez | | Cake: The Artistic Whisk, LLC | Invitations: ElegantWeddingInvites | Dress: Bellissima Weddings | Shoe Designer: LightInTheBox | Bridesmaid Dresses: Lulus | Rehearsal Dinner: Fred's Cellar at the Vinoy
---
"Our most memorable moment was our last dance and a sparkler exit. Everyone talks about the first dance, but in our opinion, the last dance is where it's at. Those final moments, in private, knowing all the pressure was finally off and we were about it to start our lives together, were the most fun!" Rilee beamed. "My coordinator emptied the entire venue and facilitated the sparkler exit while we had one last dance with just us, our DJ, and our photographer in the room. It was so much fun, and it was the first time our marriage really sunk in. Immediately following, we ran out through our friends and family surrounded by sparklers, and it was the most magical feeling."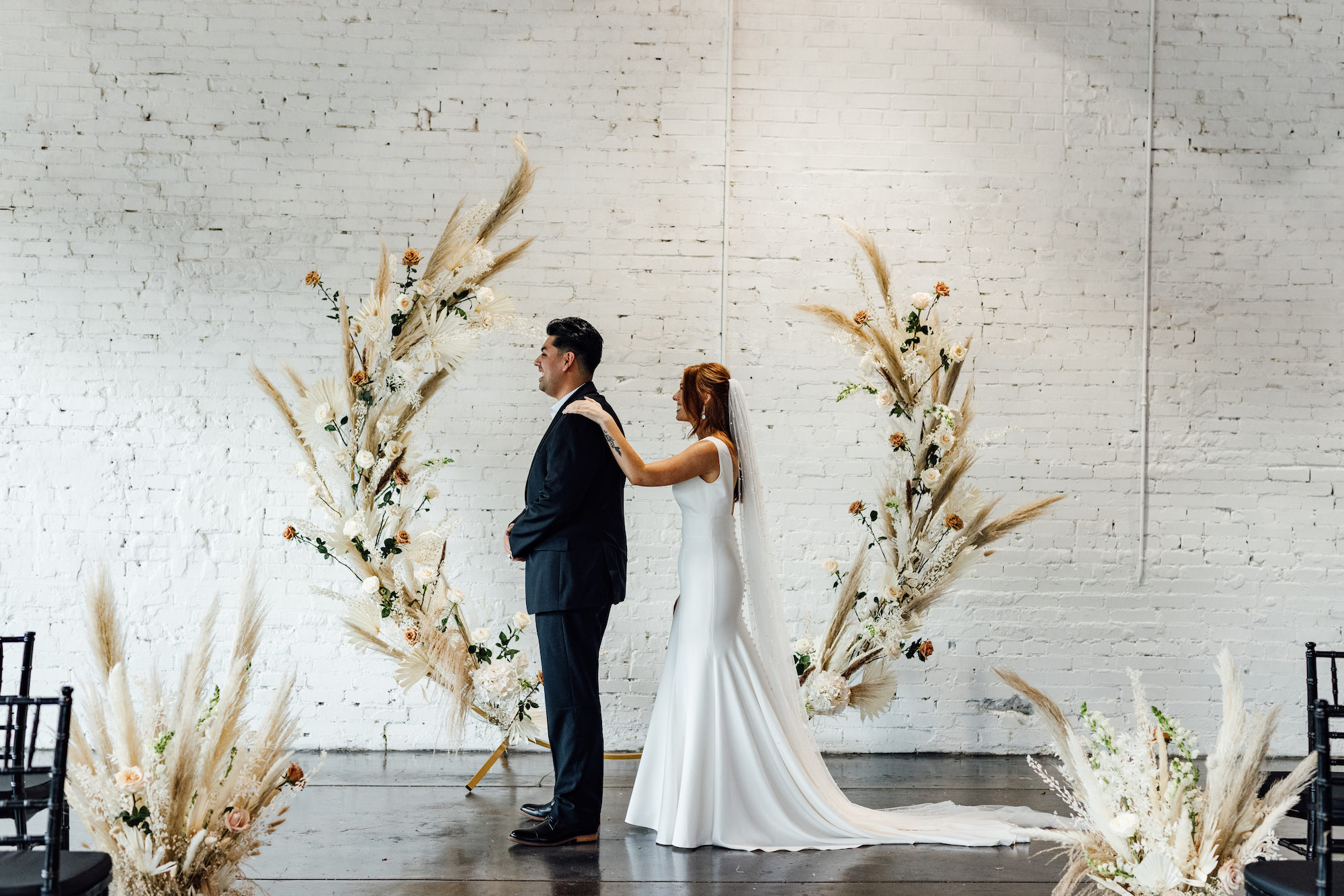 Photographer: Noble Photo Co | Planner: Julie Czernek, Uliana Events | Florist: ULI & Co. | Caterer: Tampa Bay Food Trucks | Cake: Sweet Moni's Cakes & More | DJ: DJ Screech | Officiant: Chase Wagner | Invitations: Paperless Post | Dress Shop: Ivory & Lace | Dress Designer: Allure Bridals | Bridesmaid dresses: AZAZIE | Makeup: Styled by Mia | Mirror hand-lettering: Cypress Script
---
"My most memorable moment was my first dance with Michael to the song Mind Over Matter (Reprise) by Young the Giant. Our song was very special to us, and it was so magical being under the string lights dancing as husband and wife for the first time," the bride reminisced. "Also, the bouquet toss was memorable, and I thought I really tossed my bouquet so hard, and it only went to the first row, and the girls were disappointed, so ladies, really throw those flowers during your bouquet toss!"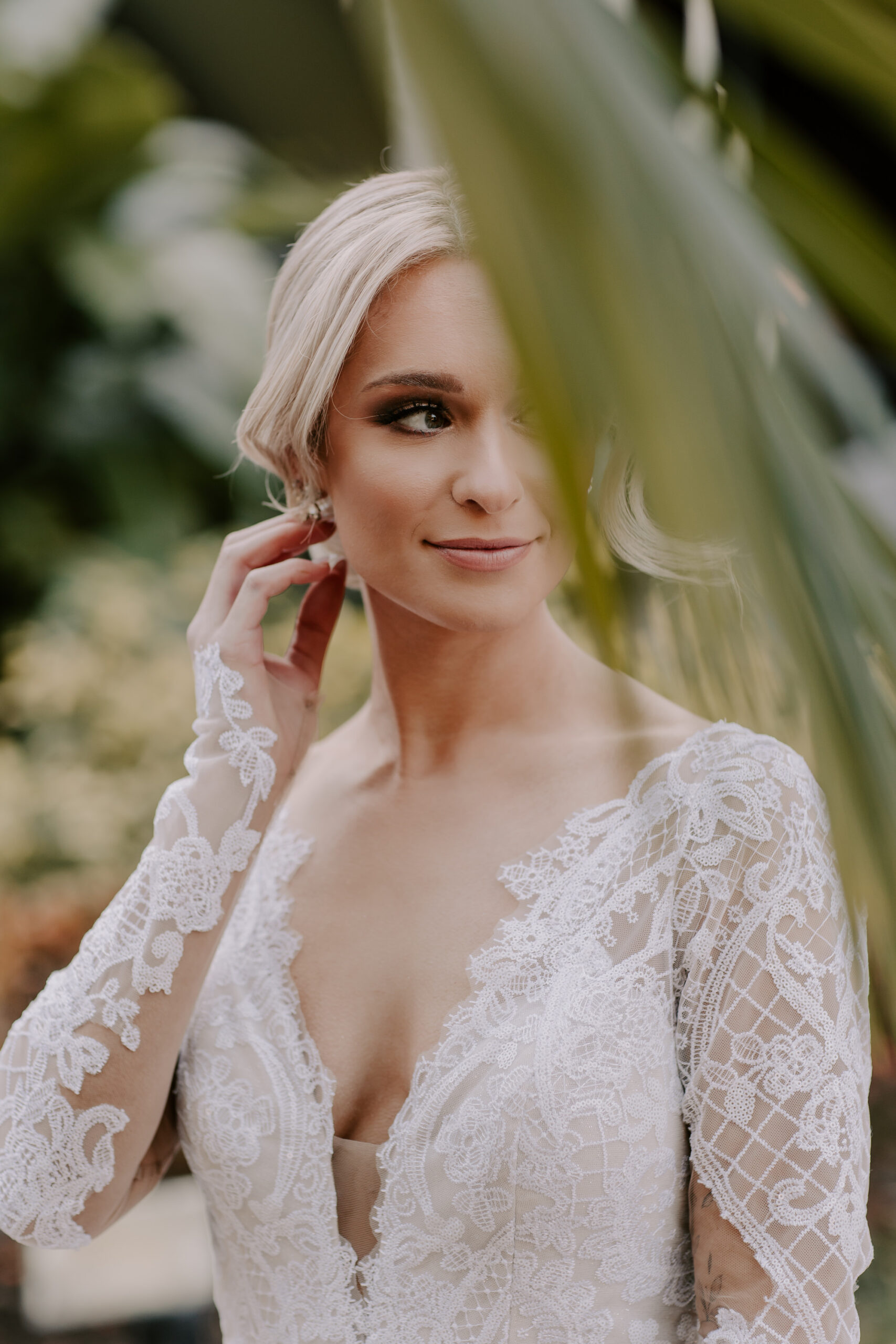 Ceremony and Reception Venue: The Bishop Museum of Science and Nature | Photographer: Alyssa Shrock Photography | Videographer: Namesake Creative | Florist: Petals Presents and Parties | Caterer: Milan Catering and Event Design | Macarons: Neenas Macarons | Cake: Alessi Bakeries | Officiant: Weddings and Wellness | Invitations: Minted | Dress Shop: The White Magnolia Bridal Collection Tampa | Dress Designer: Hayley Paige | Shoe Designer: Betsey Johnson | Bridesmaid Dress Shop and Designer: AZAZIE | Hair & Makeup: Hair and Makeup by Jennifer Monzon | Rehearsal Dinner: Pier 22 Restaurant – Patio – Ballroom | Photobooth: Chubby's Photo Booth & Games
---
"For starters, the weather could not have been more beautiful. We were worried that we'd wake up to a hot and humid day but it was a rare cloudless day in the 70s with absolutely no humidity. It instantly set the stage for a perfect day," the bride reminisced. "The incredibly meaningful gifts we exchanged, our emotional vows, as well as the speeches during the reception were the most memorable. All of our guests could really feel the love inside of the building."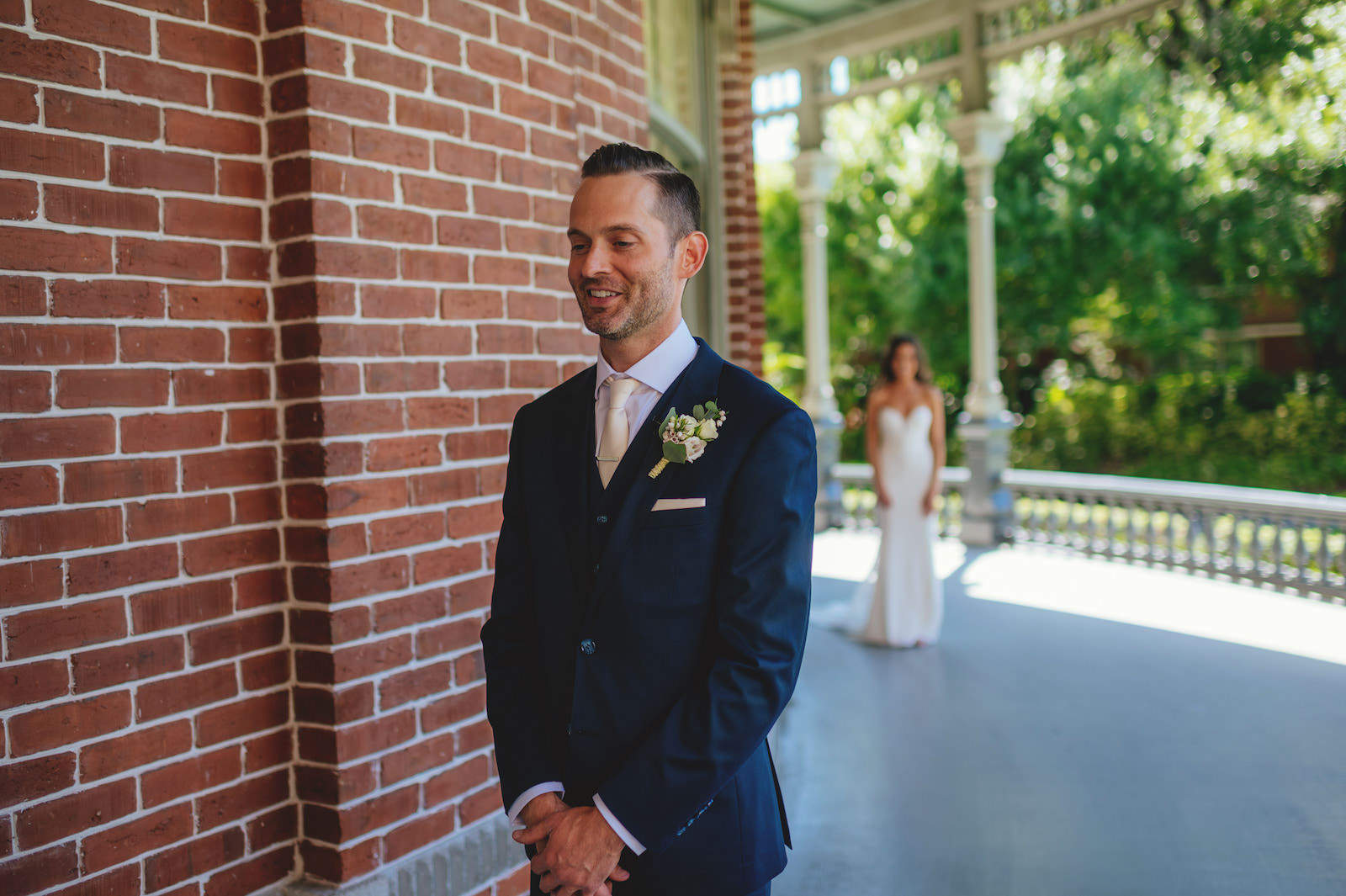 Ceremony and Reception Venue: Tampa Museum of Art, Inc. | Photographer: Jason Mize Photography | Planner: Taylor Falcon Events, LLC | Florist: Emily Levy | Caterer: SaltBlock Hospitality | Uplights/Draping: The Production Crew | Cake: Publix | DJ: DJ Cory Barron Andrew Hays | Officiant: Ben Strober (bride's brother) | Transportation: Olympus Limo Tampa Bay | Dress Shop: Little White Dress | Dress Designer: Lis Simon Bridal | Shoe Designer: Sam Edelman | Bridesmaid Dress Designer: Jenny Yoo Collection | Makeup: Lindsay Travis Artistry | Hair: Bridal Beauty by Tara | Rehearsal Dinner: Columbia Cafe at the Tampa Bay History Center | Valet: 717 Parking | Linens: Over The Top Rental Linens
---
"Originally, we had planned to do the last dance alone at the venue so that we could have a quiet moment together, but we ended up dancing with our friends and family right up to our water taxi send-off so it did not happen," the bride recalled. "While on the river taxi, the captain of the boat made that possible for us, so we got to dance to XO by Beyoncé under the starry sky in the city that we love. It was a moment we will never forget."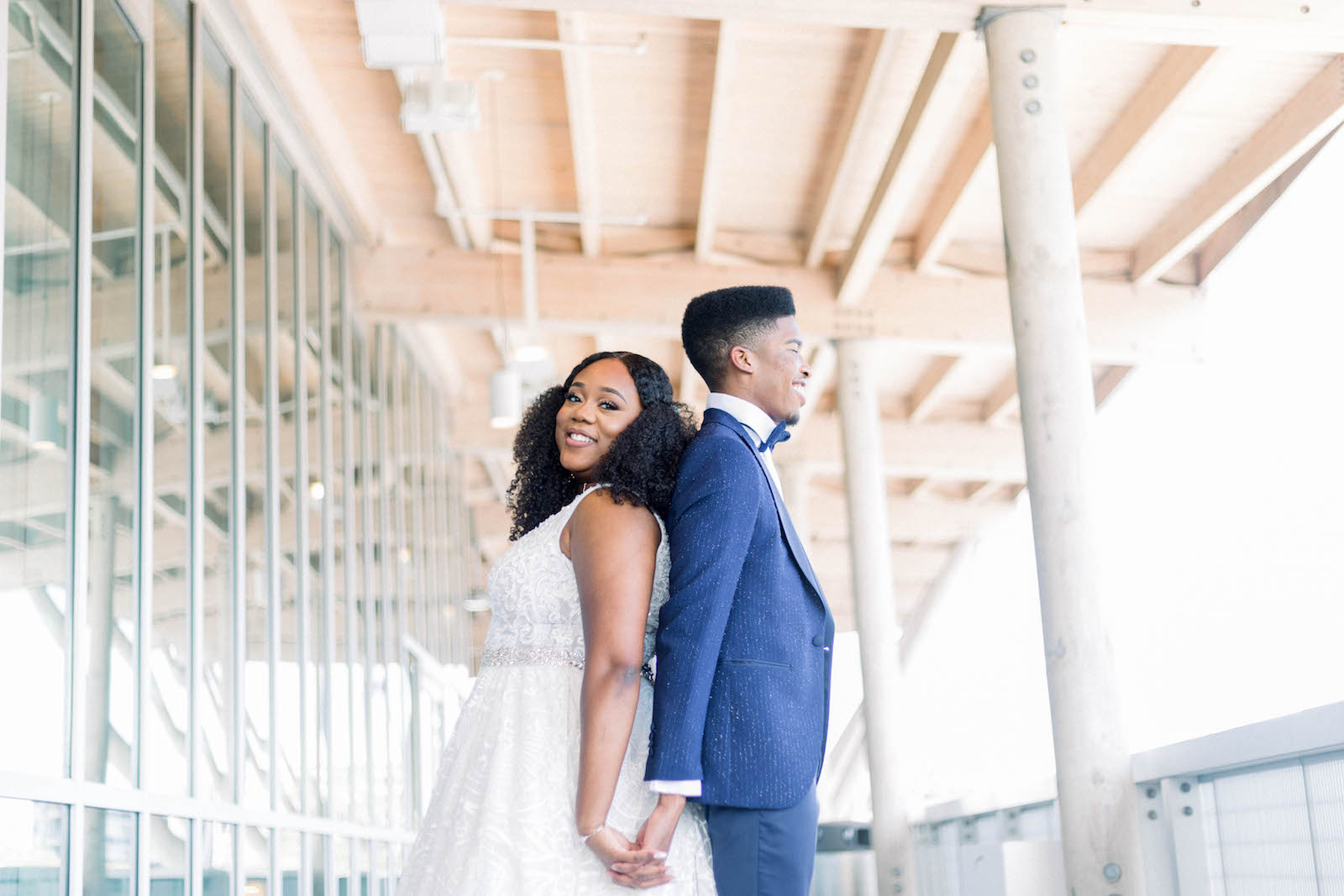 Ceremony and Reception Venue: Tampa River Center | Photographer: George Creatives | Videographer: Corey Watson | Planner: The Apostolic Wife | Florist: Blooming Flower Boutique & Art | Rentals: ADR Decor | Linens: Fancy That Specialty Linens LLC | Cake: Sweets Bakehouse | DJ: The Official Dj ShyGuy | Violinist: Laron Hearst Music | Marquee Letters: Alpha Lit Marquee Letters Orlando | Wedding Favors: Lonéz Scents (candles) + Haitian Kremas (the Bride's family) | Officiant: Reverend C Dwight Wood | Invitations: George Creatives, Katherine George | Transportation: Tampa Airport Transportation, Tampa River Taxi | Dress Shop and Designer: Isabella Margianu Bridal | Bridal Headpiece: aiandeva | Grooms Suit: Richmenlooks | Groomsmen Suits: Jos. A. Bank | Shoe Designer: Badgley Mischka| Bridesmaid Dresses: Kennedy Blue, AZAZIE, Jenny Yoo Collection, Birdy Grey | Hair: Tiffany Stylez | Makeup: Faces by Krissy x, Beauty By Carine | Photobooth: foto factory | First dance choreographer: Jonathan Chen
---
"After getting married, I try to tell all of my couples that the day will rush by because it really does. I will never forget the moment right before walking down the aisle; it was such a mixture of excitement, happiness, and nervousness. Seeing your partner waiting for you at the end of the aisle, overcome with emotions and ready to spend their life with you, that's a moment that will stick with you forever," the bride reminisced. "I also loved our first dance. It may sound cheesy, but it really felt like everyone else faded away and that it was just us at that moment. We had cold sparklers and seeing those in the background during that moment really felt like a movie. One of my favorite moments was our private dance alone at the end of the night. It really sunk in that we had gotten married and that we had the best day ever. The whole day felt like a dream."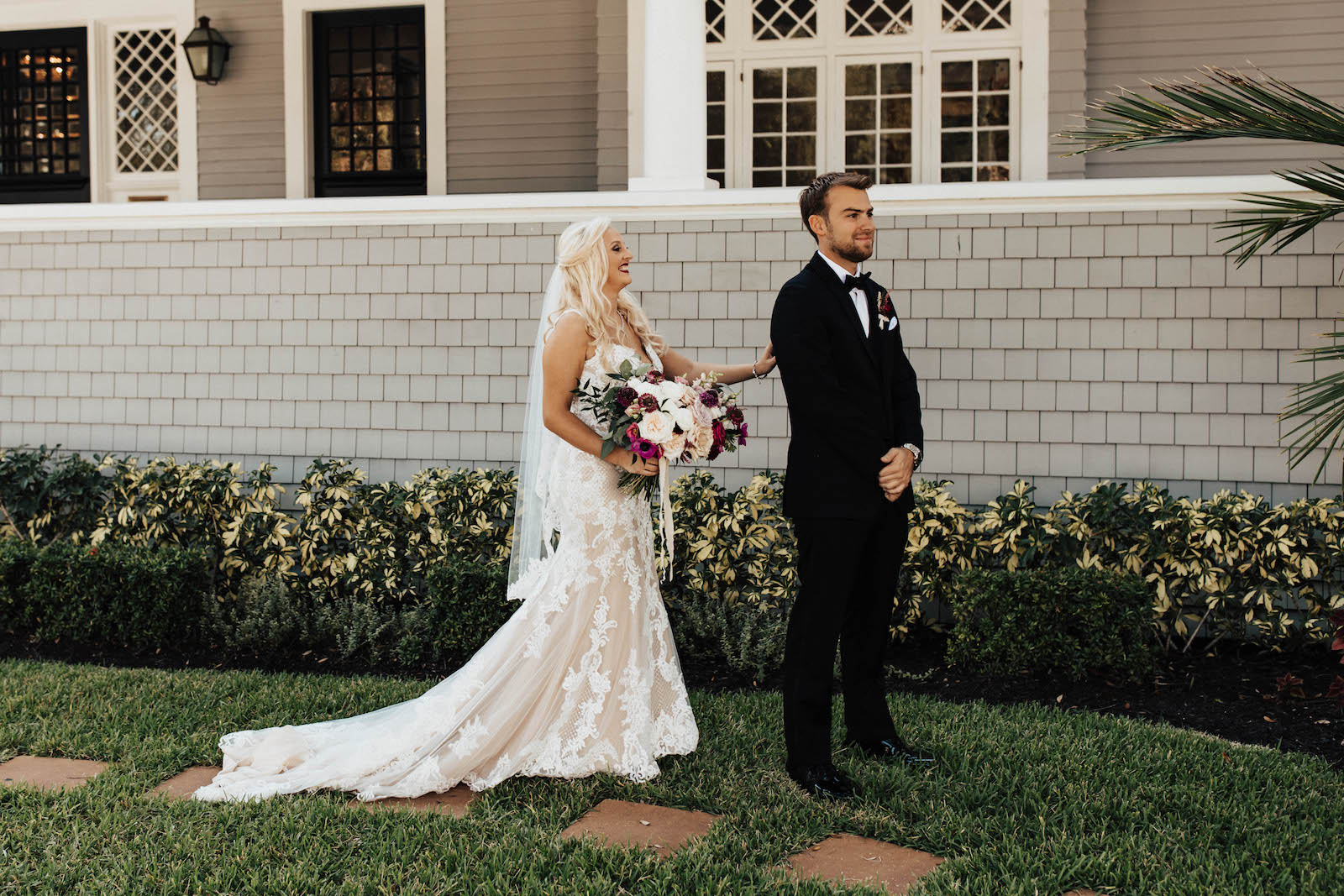 Ceremony and Reception Venue: The Orlo | Photographer: Emily Matheson Photography | Videographer: Logan Thomas Films | Florist: Petals Presents and Parties | Linens: Over The Top Rental Linens | Caterer: 4 Rivers South Tampa | Rentals: Elite Events & Rentals | Cake: Publix | Gelato: Sunset Creamery | Bar: BARMASTERS Mobile Bartending | Invitations: 424 Creative Jacksonville | Dress Shop and Designer: The Dressing Room – St Pete – Maggie Sottero Designs | Shoe Designer: Naturalizer | Bride's Rings: James Allen Rings | Groom's Ring: Blue Nile | Bridesmaids Dresses: AZAZIE | Groom & Groomsmen Tuxes: Men's Wearhouse | Hair & Makeup: Sarina Durden Beauty | Sparklers: Spark Wedding Events / Nature Coast Entertainment | Rehearsal Dinner Guitarist: Total Entertainment by Matt Winter | Rehearsal Dinner: Aloft Tampa Midtown – Sal Y Mar
---
"My husband had forgotten his tuxedo at home and so he had to borrow an extra suit from one of the groomsmen who accidentally ordered two tuxedos. We spent weeks finding his perfect wedding suit, getting it altered, and then dry-cleaning it, all so he could accidentally leave it back at home!" Rosie exclaimed. "After we had finished walking down the aisle, I took one look at his tuxedo and said, 'Hey, nice tux.' We both busted out laughing and he finally told me the whole story about why our planner was freaking out. To be fair the suit that he ended up wearing was extraordinarily similar to the actual tuxedo he was supposed to wear, so it wasn't all that noticeable. Shout out to her for keeping me blissfully out of the loop on that whole situation."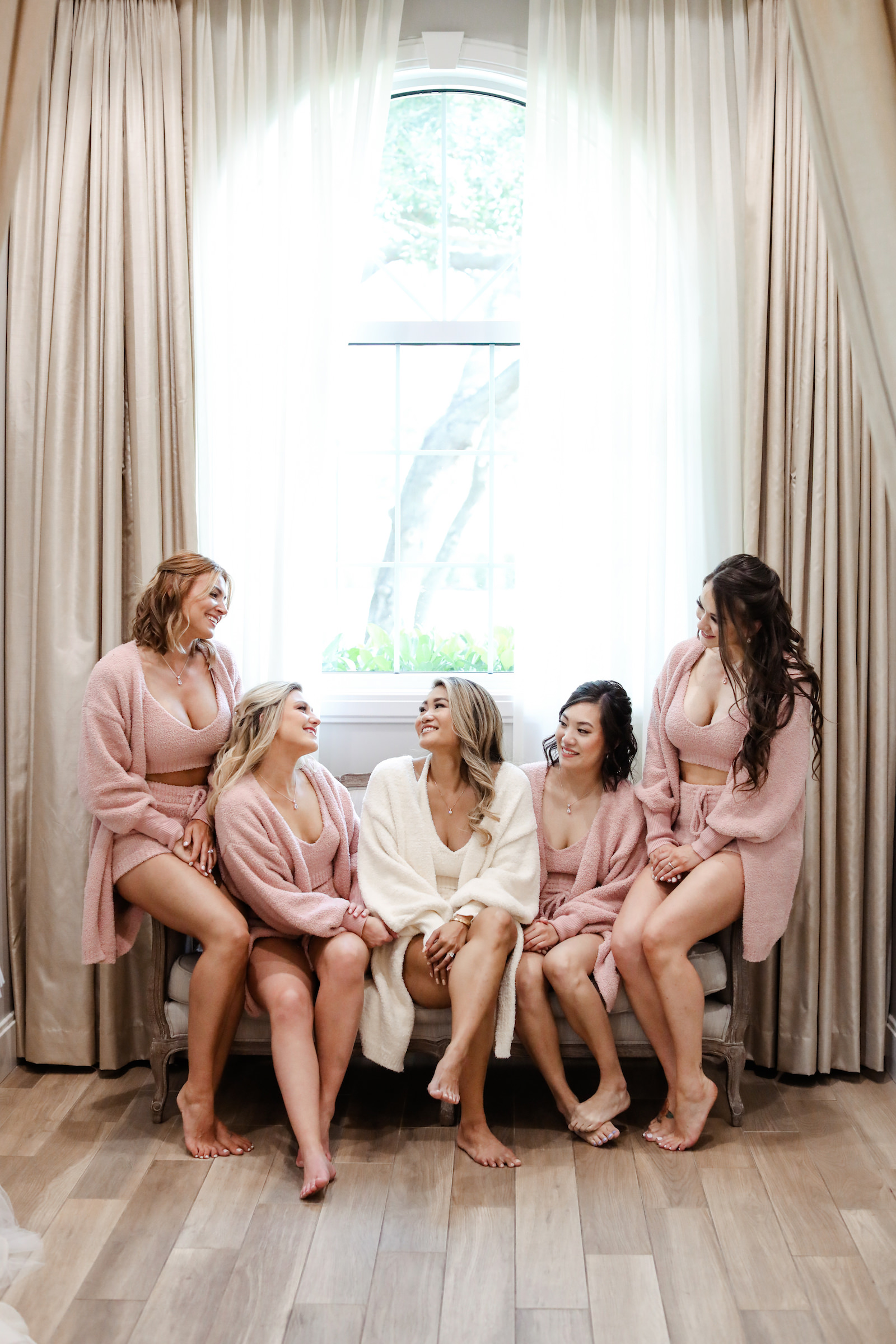 Reception Venue and Caterer: Opal Sands Resort | Videographer: Sunshine City Films | Planner: Blue Skies Weddings and Events | Florist: Iza's Flowers, Inc. | Invitations: Minted | Transportation: Affari Transportation | Dress: White Blossom Bridal | Hair and Makeup: Savannah Olivia Beauty Boutique
---
"Numbers and dates are very important to this couple. They were originally introduced to each other at a party on Easter weekend, so getting married on Easter weekend with such a perfect date was fate for them," John revealed.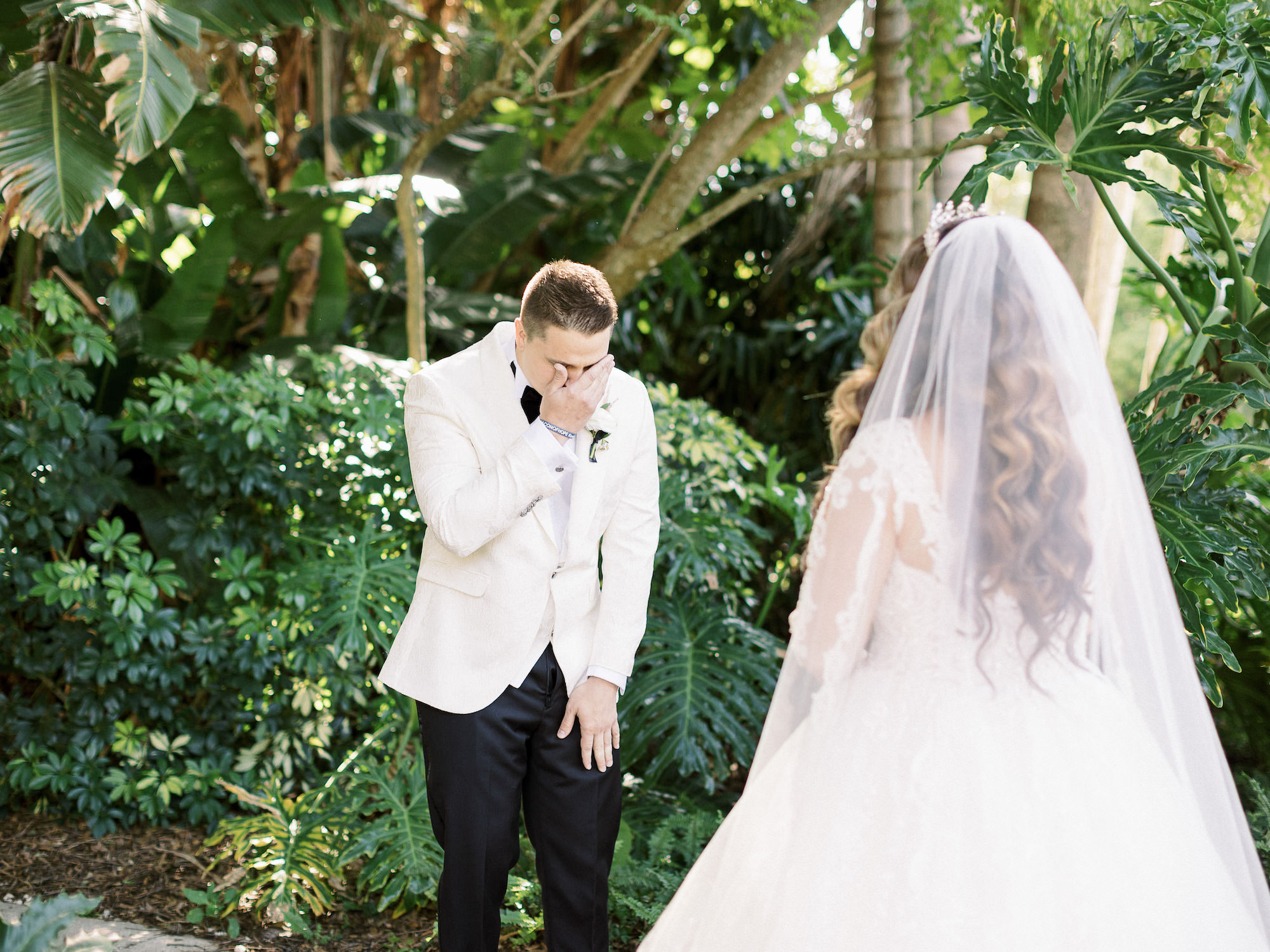 Venue: The Vinoy Resort & Golf Club | Photography: Justin DeMutiis Photography | Cinematography: Namesake Creative | Planning/Design/Stationery: John Campbell Weddings | Cake: The Artistic Whisk, LLC | Floral Design: Florist Fire Design House | DJ and Lighting: DJ Cory Barron | Harpist: Rebecca Cosas | Violinist: SRQ Violinist – Matt Dendy | Vinyl Dancefloor: Dream Dancefloors | Bridal Gown: Martina Liana | Bride and Groom's Shoes: Christian Louboutin | Bride's Accessories: Polly Wedding Design | Groom Attire: Milano Exchange | Bridesmaid Dress Designer: Morilee by Madeline Gardner | Bridesmaid Dress Boutique: Athena's Bridal Boutique | Groomsmen Attire: Men's Wearhouse
---