"Our wedding theme was a relaxed yet refined coastal chic style. My favorite color is blue, and I wanted to incorporate it in a tasteful way. Taylor is a Captain and certified diver, and we both love the water, but we really didn't want a typical blue and white stripe nautical-themed wedding," the bride explained. "Our overall color scheme was a mix of navy blues, lighter blues, sand, soft blushes, brushed gold, light grays, rustic woods, and shades of white. We wanted a timeless look."
"My mom made our wedding unforgettable! My family and I own Kate Ryan Event Rentals and do hundreds of weddings a year, so it was no easy task to create a wedding that looked and felt like it was our own. Since we have quite the selection of rentals, my mom helped to take Taylor's and my style and create the perfect ambiance from the rentals to the florals, artwork, and beyond to truly create a one-of-a-kind wedding for us! We had so much fun curating the perfect look from our vast inventory for our own wedding day!" Katelynn gushed.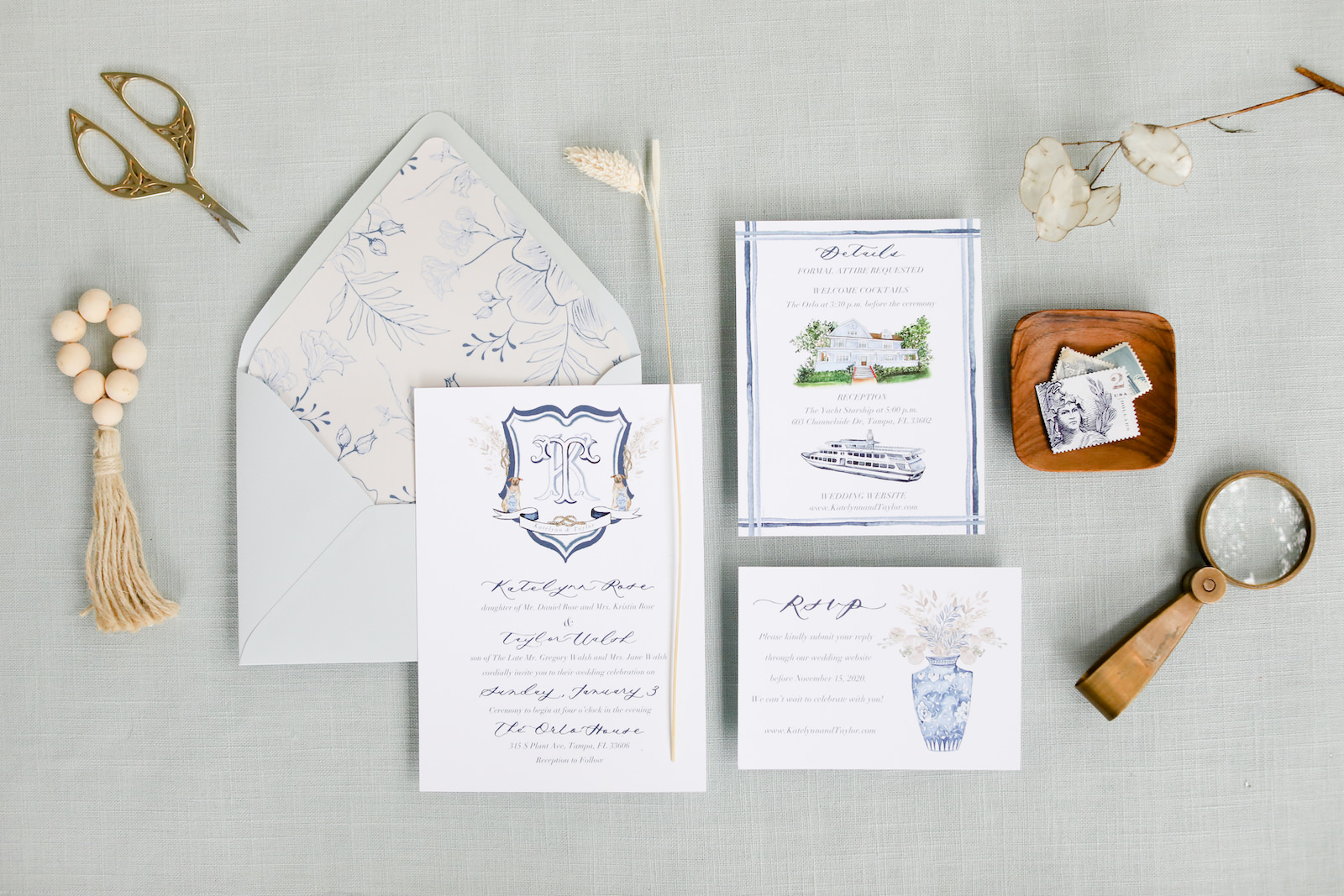 Ceremony Venue: The Orlo | Videographer: Love and Covenant | Florist: Florist Fire Design House | Pre-Ceremony Bar: Bar Artistry | Cake: Hands on Sweets | Officiant: Craig Gero | Custom Paper/Invitation Suite & Watercolor Crest: The Messy Painter | Transportation: Olympus Limo Tampa Bay | Dress Shop and Designer: CC's Bridal Boutique Stella York | Bridesmaid Dress Shop and Designer: Birdy Grey | Hair & Makeup: Denise Burkle – db Studio – Hair & Makeup | Rehearsal Lunch: Pirate Water Taxi
---
"Our wedding theme was MOHO, modern-bohemian, with soft romantic touches. Our styles are very modern yet simple and elegant. We wanted something timeless with a touch of uniqueness," the bride described. "The colors were ivory, cream, mauve/blush, and rusty brown/orange. The warm tones and statement rooms at our venue allowed us to add sleek pops of color while staying true to our style."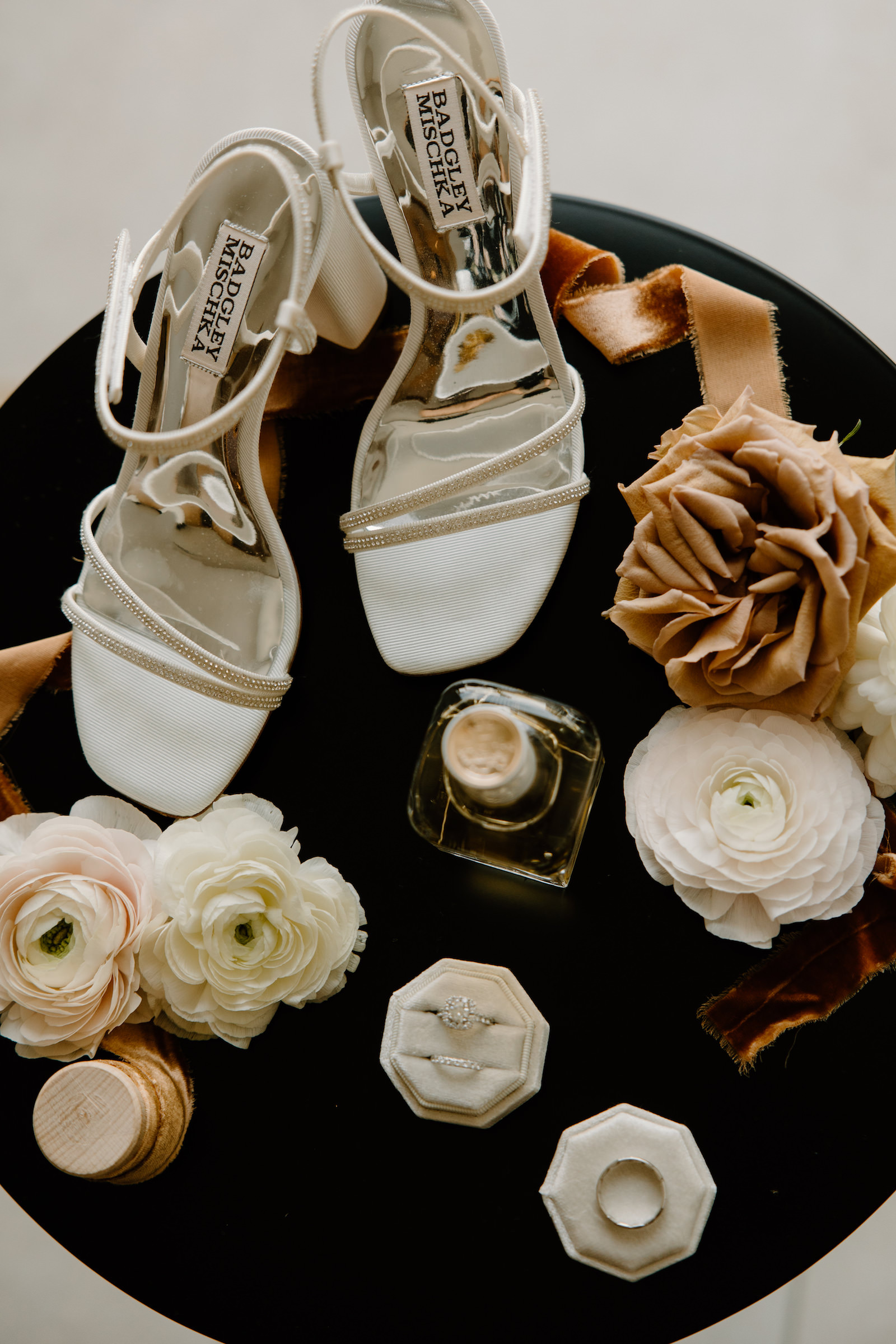 Photographer: Grace Jicha Photography | Videographer: Imani Lee Creative | Planner: Blue Skies Weddings and Events | Florist: Iza's Flowers, Inc. | Caterer: SaltBlock Hospitality | Rentals: Traditions Rentals | Cake: Hands on Sweets | Dessert Table: Mazzaro's Italian Market | DJ: DJ Spinfamous | Officiant: Sensational Ceremonies, LLC | Invitations: Minted | Transportation: Olympus Limo Tampa Bay | Dress Shop: The White Magnolia Bridal Collection Tampa Dress Designer: Maggie Sottero Designs | Shoe Designer: Badgley Mischka | Bridesmaid Dress Shop and Designer: Birdy Grey | Photo Booth: Snapshoot Photobooth | Rehearsal Dinner: Haven Tampa | Groom's and Groomsmen's Tux: The Black Tux | Hotel: JWMarriottTampa
---
The style direction reflected a fresh take on a Florida motif, perfect for wed-to-bes who want a beachside wedding without the traditional soft colors and seashells. Warm wood feasting tables paired with clear ghost chairs from Gabro Event Services offered the juxtaposition of modern and soft details providing visual interest.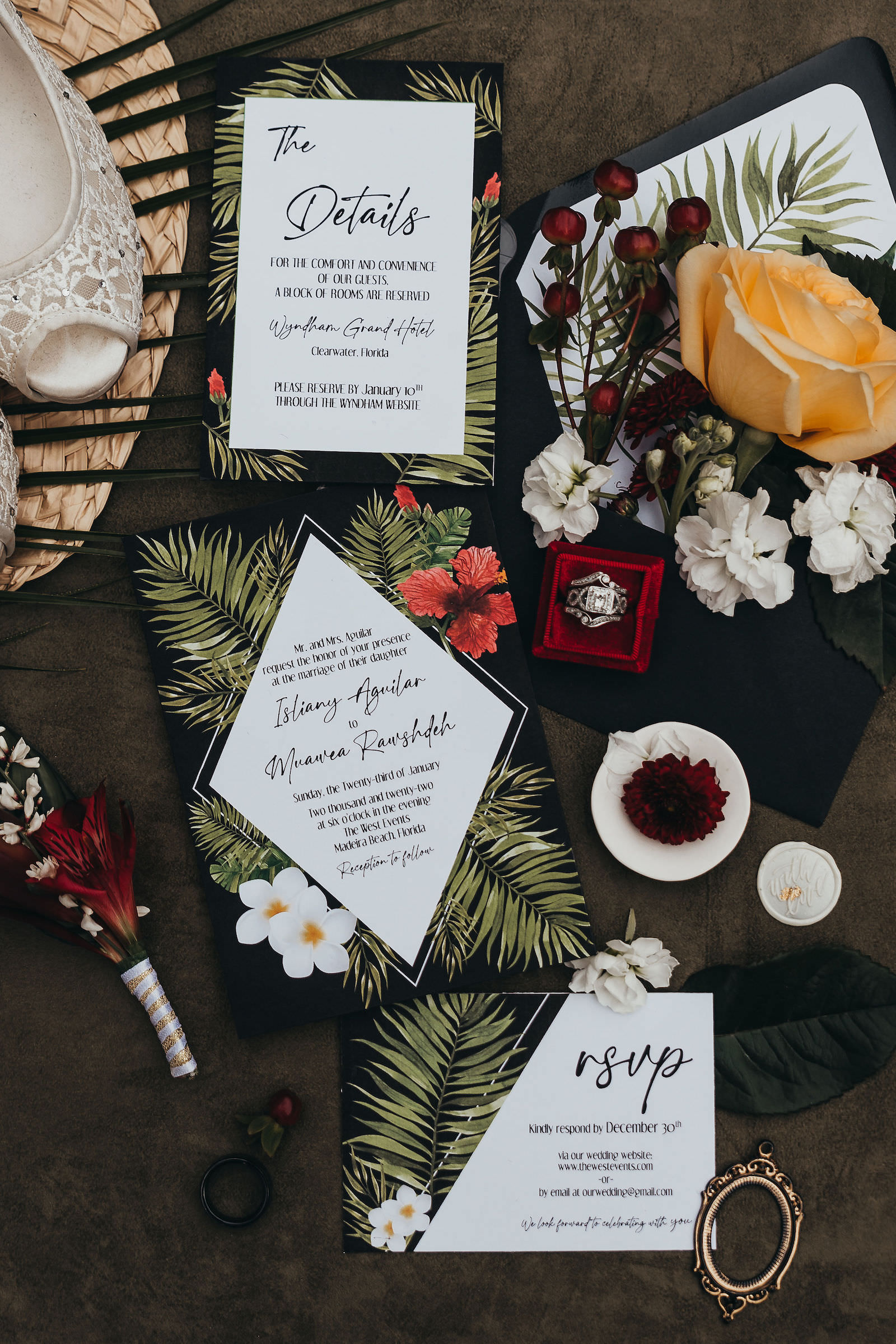 Planner: Astonishing Events | Photography: The Camera Crew | Hair and Makeup: Art by Izzy hair and Makeup | Florist: Alex's Flower Truck | Bar: Catering by Lundy's | Acrylic Signs and Invites: Paper Majik Designs & Events | Photobooth: Simple Pleasures Photo Booth | Desserts: Designer Desserts | Harpist: Taylor – Tampa Bay Harpist | DJ: Sound Waves Pro Djs | Custom Backdrop: Laser Co 7 | Live Entertainers: Hora Loca Tampa | Transporation: Star Trolley | Groom's Attire: Sacino's Formal Wear
---
"Our theme was an elegant garden wedding. We chose it because I love nature and flowers, and my overall style is classy and elegant," the bride shared. "We chose burgundy as our main motif because it is a deep and romantic color that complements every skin tone and paired it with pink, white, and greens to balance the palette and contribute to the elegant garden theme."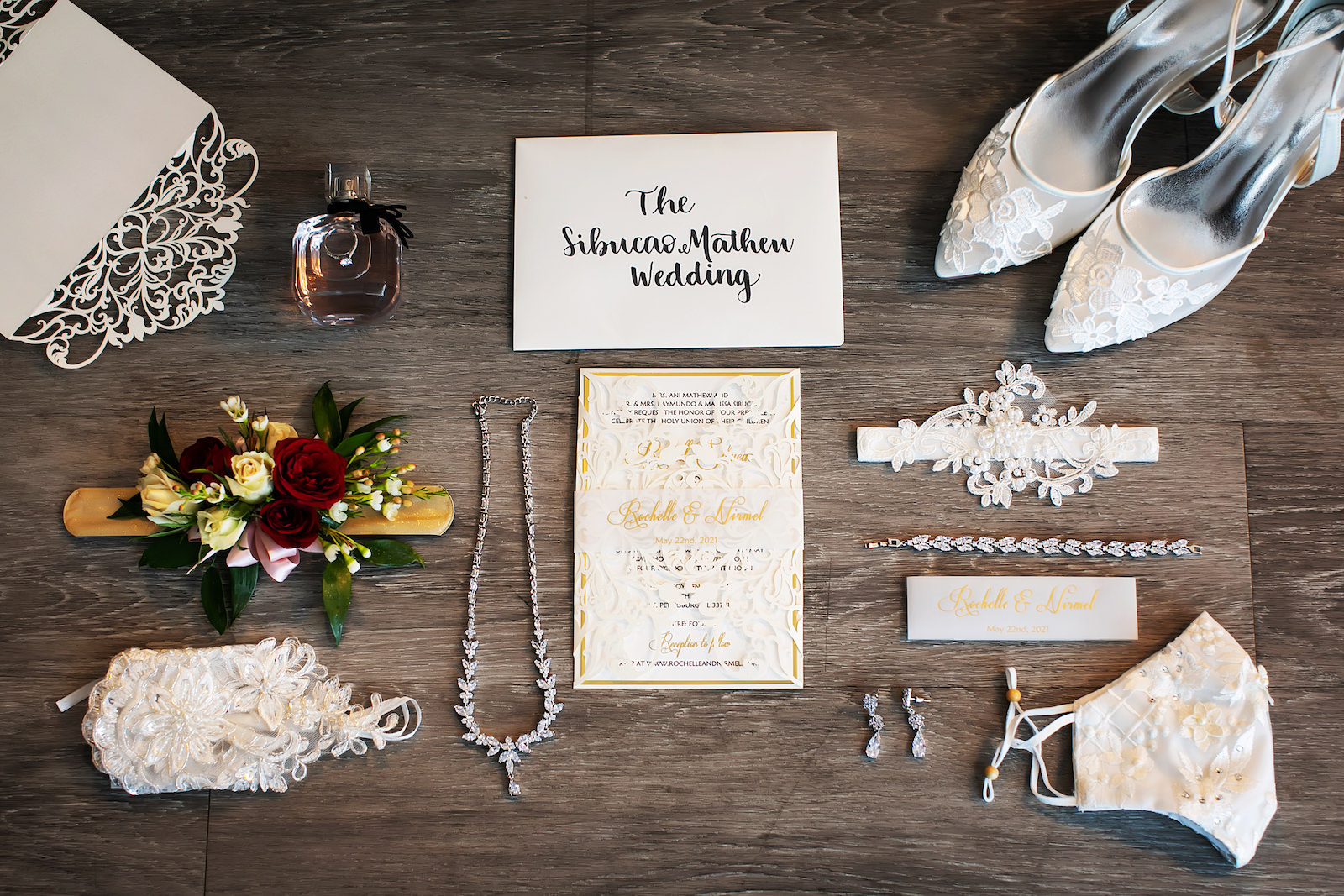 Ceremony, Reception Venue, Caterer: The Vinoy Resort & Golf Club | Videographer: Imagery Wedding Films | Officiant: Pastor Robert Valdez | Invitations: ElegantWeddingInvites | Dress: Bellissima Weddings | Cake: The Artistic Whisk, LLC | Shoe Designer: LightInTheBox | Bridesmaid Dresses: Lulus | Rehearsal Dinner: Fred's Cellar at the Vinoy
---
"Our wedding incorporated many neutral colors, and we tried to combine bohemian and modern elements into our decor. We wanted it to be fun, yet timeless," the bride shared. "All of our wedding colors we tried to keep neutral, with pops of color from the greenery. Our bridal party wore taupe, and the flowers were different shades of muted pinks."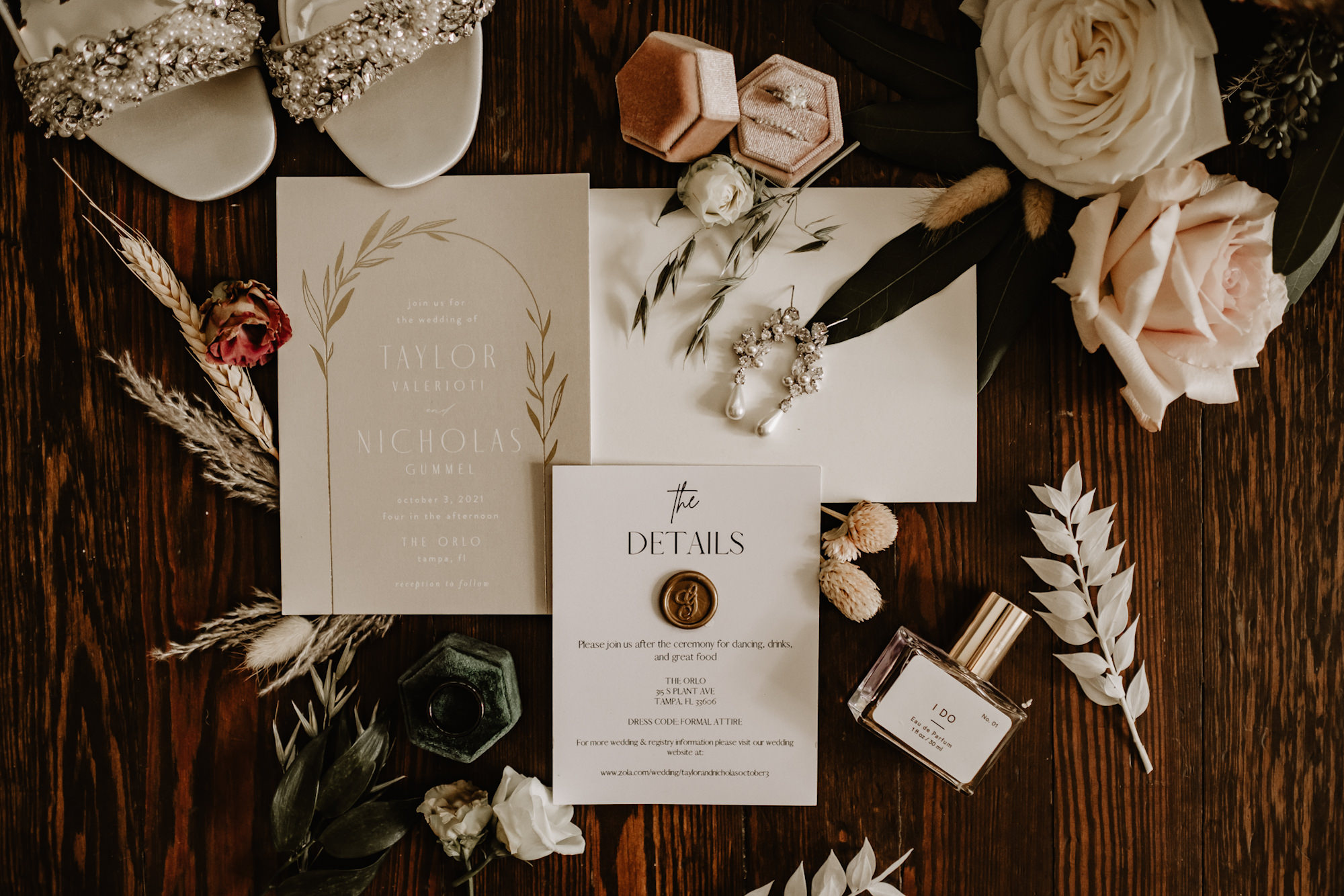 Ceremony and Reception Venue: The Orlo | Photographer & Videographer: Paisley Sunshine Photography | Florist: Ever After DeAnn | Caterer: Delectables Fine Catering | Cake: A Piece of Cake & Desserts | DJ and Officiant: Aloha Kev- Kevin Taggerty | Dress Shop: The White Magnolia Bridal Collection Tampa | Dress Designer: Lillian West | Shoe Designer: Badgley Mischka | Bridesmaid Dress Shop and Designer: Birdy Grey | Hair & Makeup: Ashlee Ann hair and makeup artist
---
"Our wedding design was very earthy bohemian with a splash of modern chic. We love the neutral look, and it was inspired by my photography style," the bride explained. "[Our colors were] all neutrals. It was a mixture of browns, tans, creams, terracotta, bronze, gold, etc."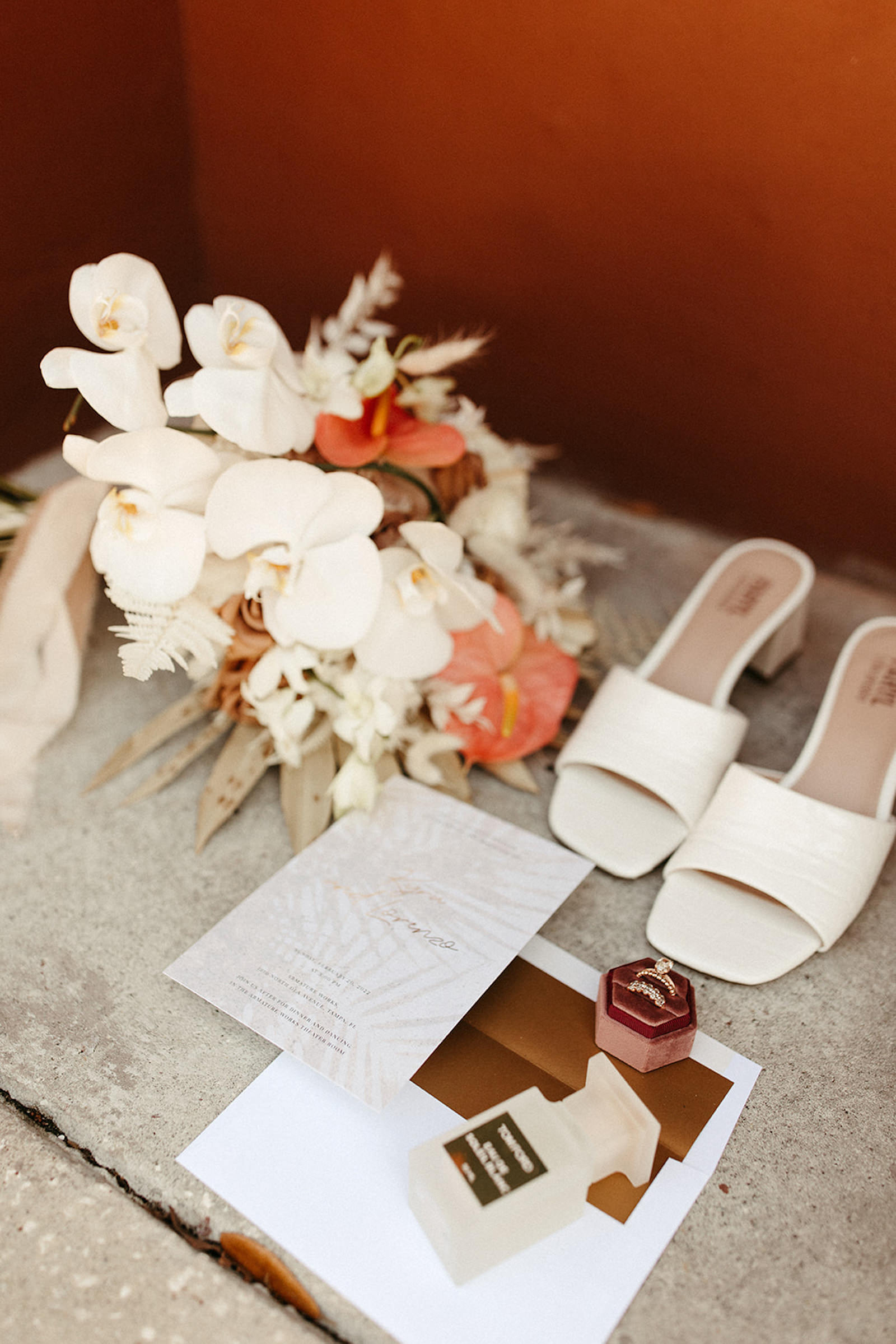 Venue: Armature Works | Photographer: Karin Maria Photography | Caterer: Puff 'n Stuff Catering | Custom Builds: Designs by Laconic | Rentals: Plíthos Event Rentals & Styling | Cake: Publix | Invitations: Zola | Dress Shop: Studio I Do Bridals Virginia Beach | Shoe Designer: Lulus | Bridesmaid Dress Shop: Baltic Born | Rehearsal Dinner: The Columbia Restaurant
---
"I was going for a romantic garden estate vibe. I always knew I wanted the reception to be outside with a clear tent under twinkling lights," the bride explained. "When we toured our venue, I could instantly see my vision come to life with the beauty of the grand lawn."
Rehearsal Dinner, Ceremony, and Reception Venue: Belleview Inn | Photographer: Angelina Oliva | Videographer: Pine & Forge | Florist: BloomShakalaka Floral Design | Rehearsal Dinner, Wedding, and Cake Caterer: Sandpearl Resort Clearwater Beach | Rentals: The Treasury Rentals, Vivant Event Rentals, West Coast Events and Rentals | Linens: BBJ Linen | Officiant: Sensational Ceremonies, LLC | Invitations: Minted | Dress Shop and Designer: Isabel O'Neil Bridal Collection Ines Di Santo | Shoe Designer: Badgley Mischka | Bridesmaid Dress Shop and Designer: Lulus BHLDN Mac Duggal Rat & Boa Alamour The Label | Makeup: Sugared Salon Hair: Blur Color Salon | Mens Suits: THE BLACK TUX | Alterations: Seamless Alterations Studio | Photobooth: White Tie Photo Booths
---
"Our inspiration when considering our theme was the finishes of the home. The Anderson House features gorgeous marbles, rich colors, and stunning architecture, and we wanted to highlight that as much as possible," Briana Thomas, owner of Snapdragon Events explained. "We chose a palette that we felt best represented the existing space and its finishes, ultimately landing in a place between jewels and pastels. This shoot is the perfect example of how you can use a wide color palette versus choosing a theme or pair of colors when designing your event."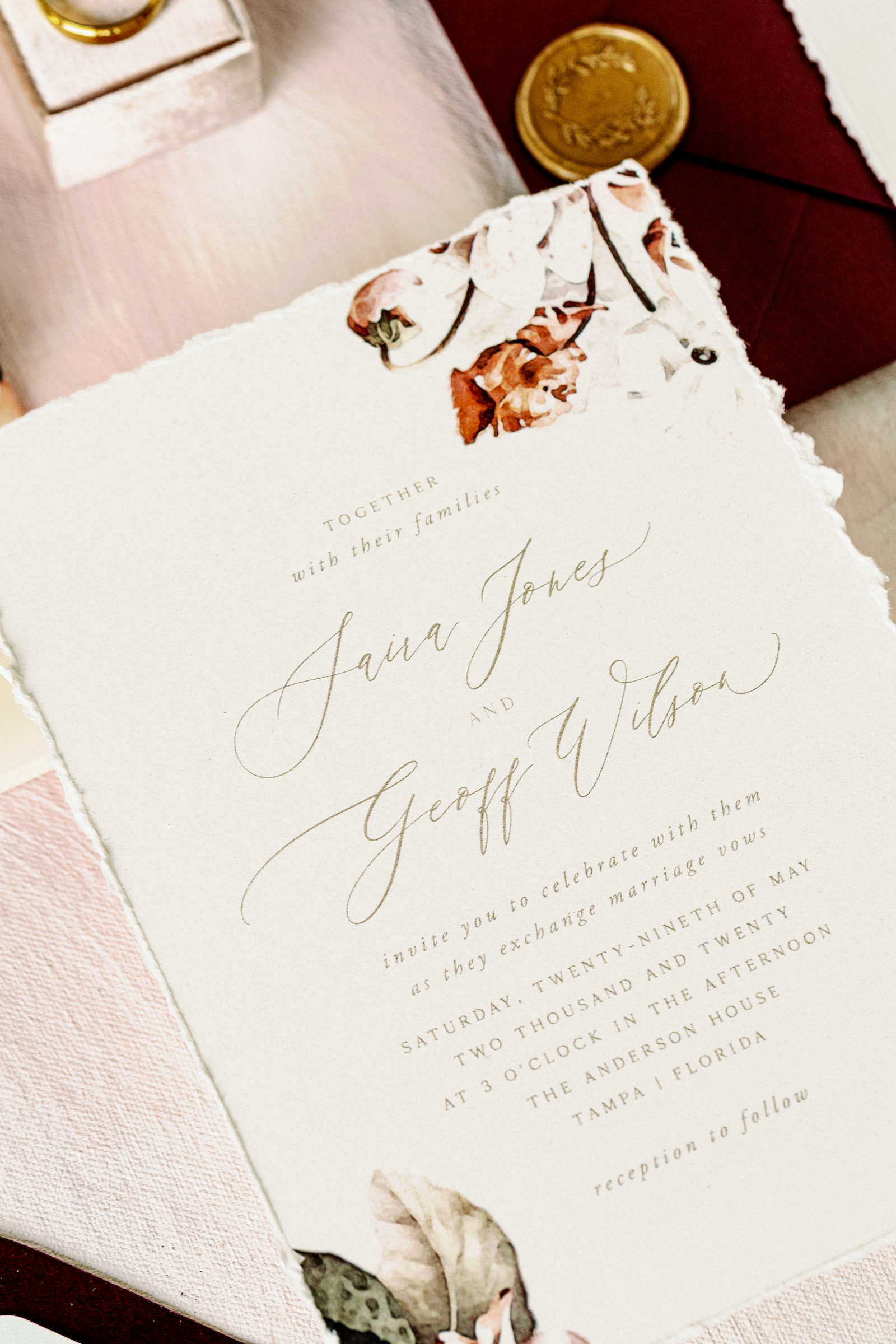 Venue: Anderson House Tampa | Planner: Snapdragon Events LLC | Dress: Isabel O'Neil Bridal Collection | Hair and Makeup: The Destiny & Light Hair and Makeup Group by Priscilla Marie | Florist: Marigold Flower Co. | Catering: SaltBlock Hospitality | Cake: Hands on Sweets | Invitations: Citrus Press Co. | Jewelry: Westshore Diamond Company and IGS Gem Lab | Models: YodaDidntDie + illuminadhi, Modern Muse Models