To give the "wow" factor at your wedding ceremony, you need the perfect surroundings and backdrop, which is exactly why these Tampa Bay weddings made our "Best of" 2018 Wedding Ceremonies list.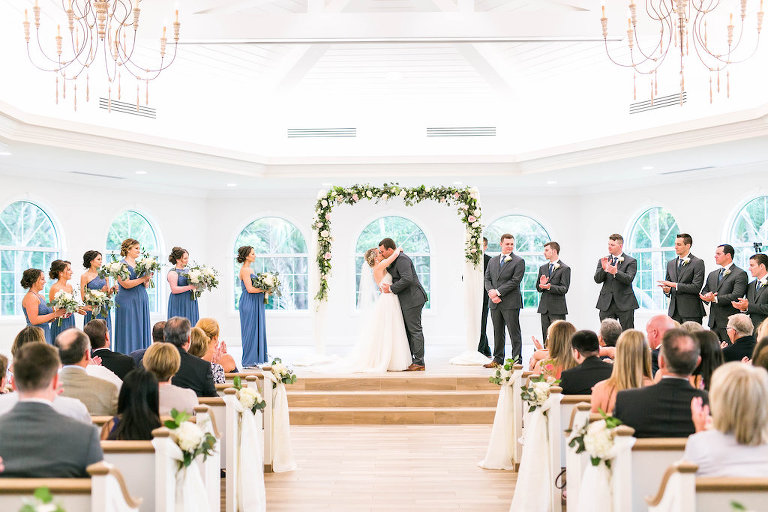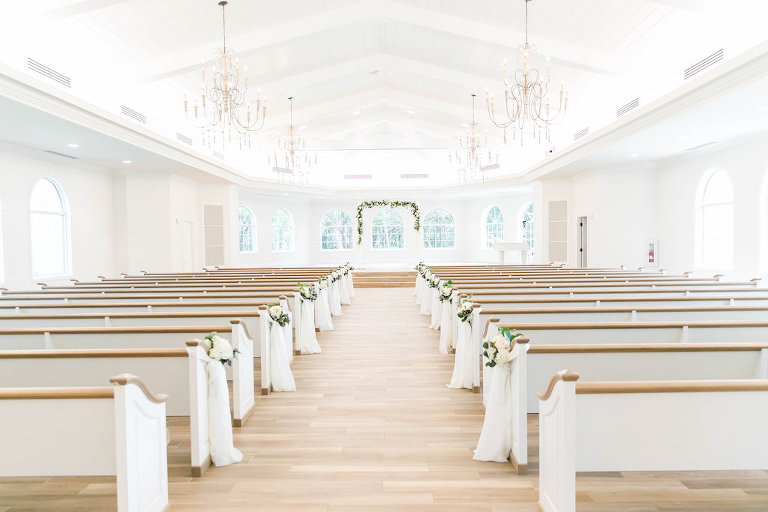 Photographer: Tiffany McClure Photography | Venue: Harborside Chapel
"When we saw photos of Harborside Chapel we were absolutely blown away! We were so excited to book with them that we actually booked the venue before we physically got to see the space," Caitlin gushed. "When you enter the chapel, it's absolutely breathtaking! For us, it was everything we wanted in a venue. There was an open scenic outdoor area for beautiful photos, a gorgeous bridal suite for the bridal party and lighting that filled the chapel perfectly. We just loved it!"
VIEW MORE: CHIC, GREENERY AND WOOD INSPIRED SAFETY HARBOR WEDDING | HARBORSIDE CHAPEL
I want to learn more about Harborside Chapel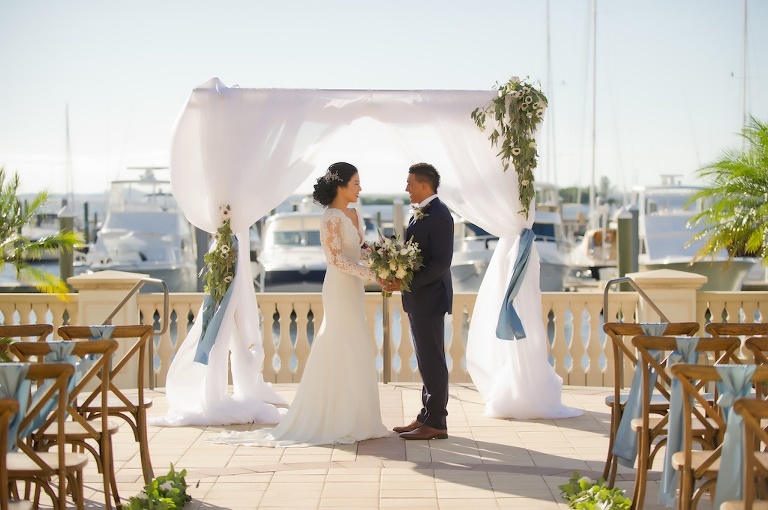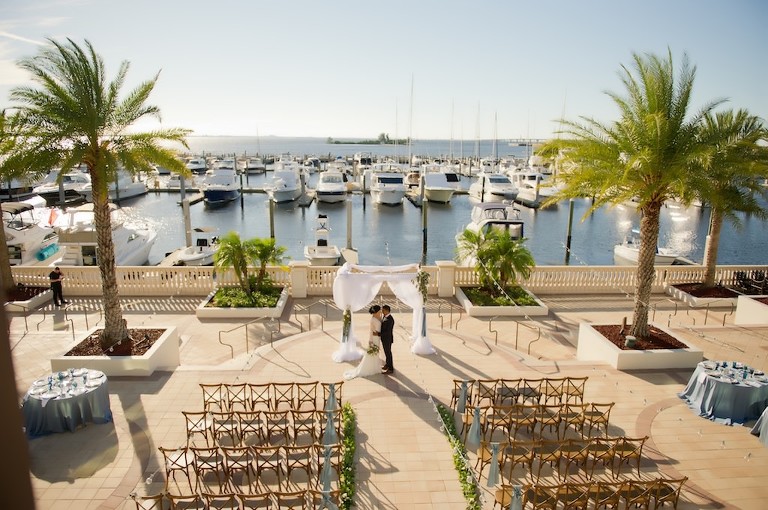 Westshore Yacht Club is one of South Tampa's only waterfront wedding venues, which features a gorgeous patio space overlooking the marina. The white draped altar and wooden French country chairs with greenery lined aisle way add to the romantic feel, without distracting from the jaw-dropping backdrop.
Photographer: Andi Diamond Photography | Venue: Westshore Yacht Club | Planner: Kelly Kennedy Weddings & Events
VIEW MORE: TAMPA WATERFRONT FRENCH COUNTRY STYLED SHOOT | WESTSHORE YACHT CLUB
Send me pricing and availability for Westshore Yacht Club.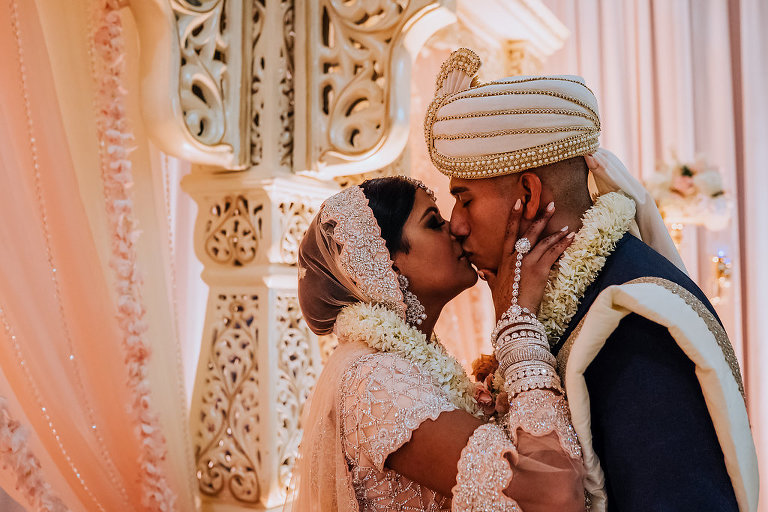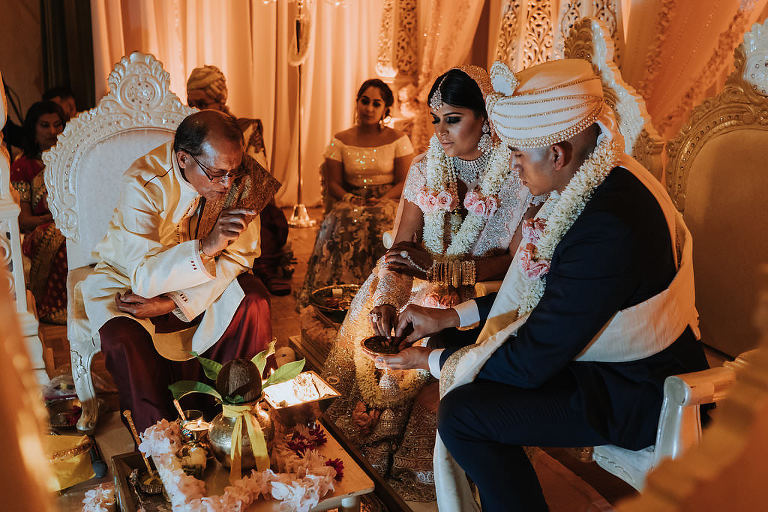 Photographer: Grind & Press Photography | Venue: Safety Harbor Resort & Spa
"For the Hindu ceremony, I wanted all white with touches of blush and white floral. It was regal but very romantic. For the civil ceremony and reception, we wanted modern, clean, romantic and cool black and white decor with white floral, mostly to enhance the beautiful features of the venue's white arched ceilings and modern concrete floors," the bride.
VIEW MORE:  MODERN MULTI-CULTURAL INDIAN WEDDING | SAFETY HARBOR RESORT & SPA AND THE RIALTO
I want to learn more about Grind & Press Photography.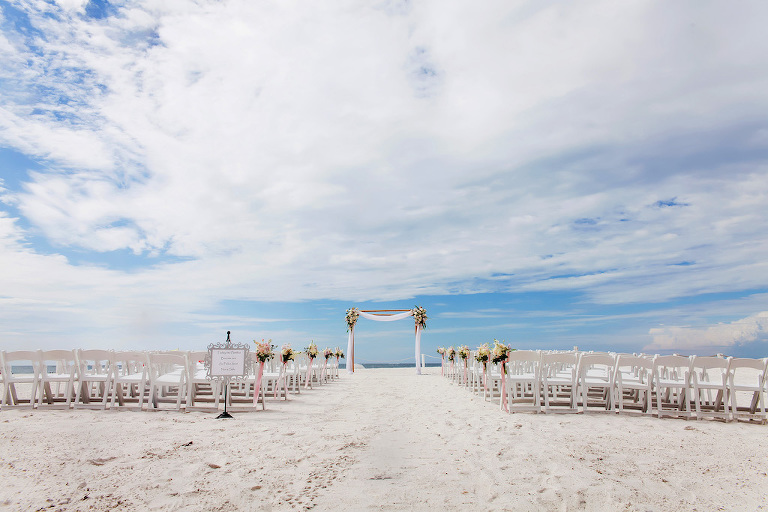 Photographer: Limelight Photography | Venue: Hilton Clearwater Beach
"We both have always dreamed of a beach wedding and Jacob often fishes/vacations in Siesta Key, so we knew Florida was our place to go! We absolutely loved Clearwater Beach and the beautiful white sand and blue water!" the bride gushed. "I did not want to go over the top with the beach theme, but knew I wanted soft, elegant colors and flowers to make the day feel romantic and soft."
VIEW MORE: ELEGANT BLUSH PINK AND WHITE FLORIDA DESTINATION WEDDING | HILTON CLEARWATER BEACH
Send me pricing and availability for the Hilton Clearwater Beach.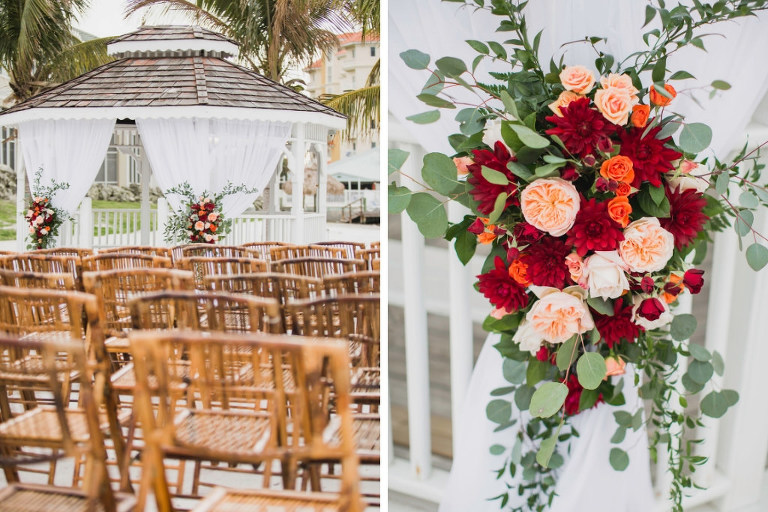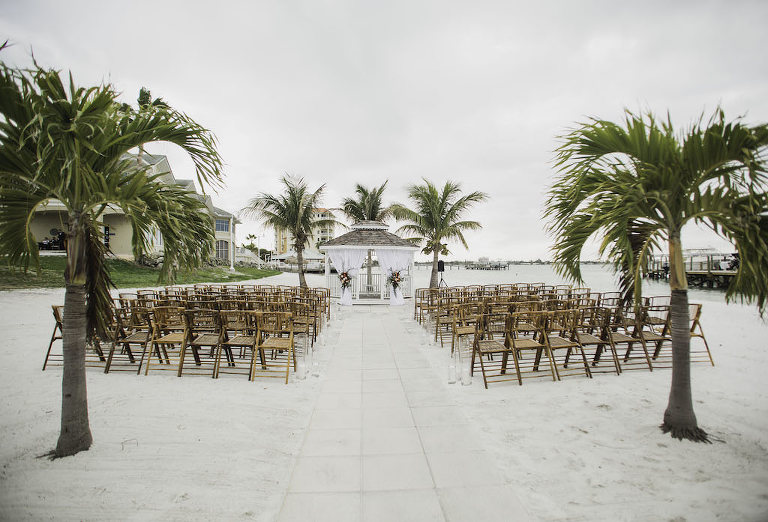 Photographer: Big World Photography | Venue: Isla Del Sol Yacht and Country Club
"I thought Isla Del Sol was wonderful on all accounts. Pictures were the most important thing, and our wedding venue delivered with their expansive grounds and variety of beach, golf, and water areas," the bride shared. "I absolutely love the photo of Mike and me, hand and hand under the bridge along the water, and there would have been no other location to provide that option."
VIEW MORE: ROMANTIC BURGUNDY WATERFRONT ST. PETERSBURG WEDDING ISLA DEL SOL
I Want to Learn More about Weddings at Isla del Sol Yacht & Country Club.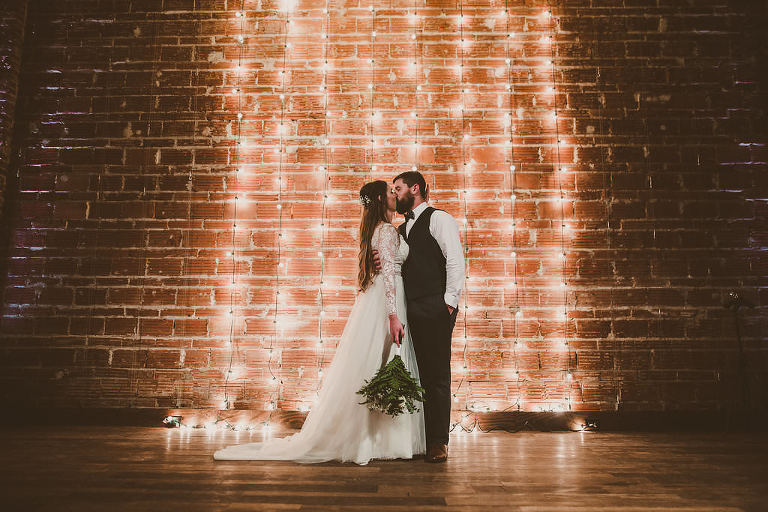 Photographer: Savannah Lauren Photography | Venue: NOVA 535
"I actually went to a NOVA 535 wedding a few years ago and loved it! loved the brick walls and the cocktail hour upstairs," Natalie gushed. "We wanted a fun venue where we could dance and have a good time, and NOVA definitely had enough dancing space. We didn't need to get any ventures besides the food truck. I gave the on-site planner, Ruby, the look of the flowers, etc and she made it happen."
VIEW MORE: MINIMALISTIC, INDUSTRIAL DOWNTOWN ST. PETE WEDDING | NOVA 535
I want to learn more about weddings and events at NOVA 535.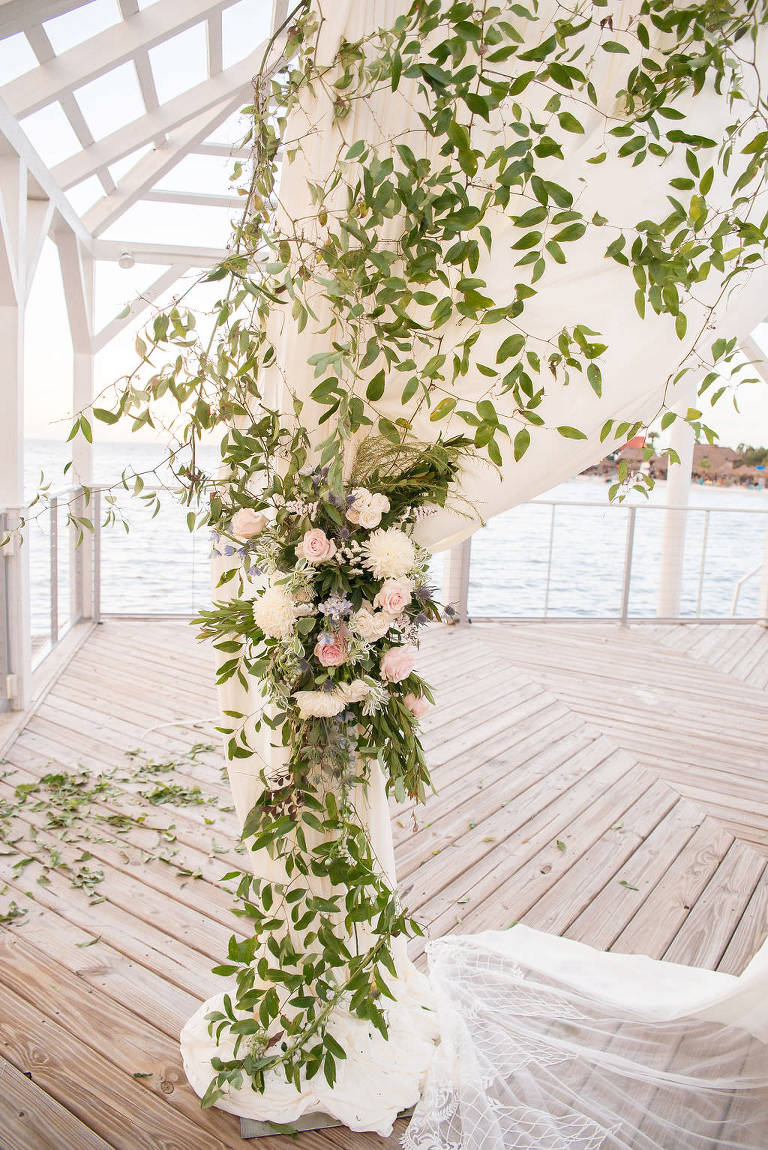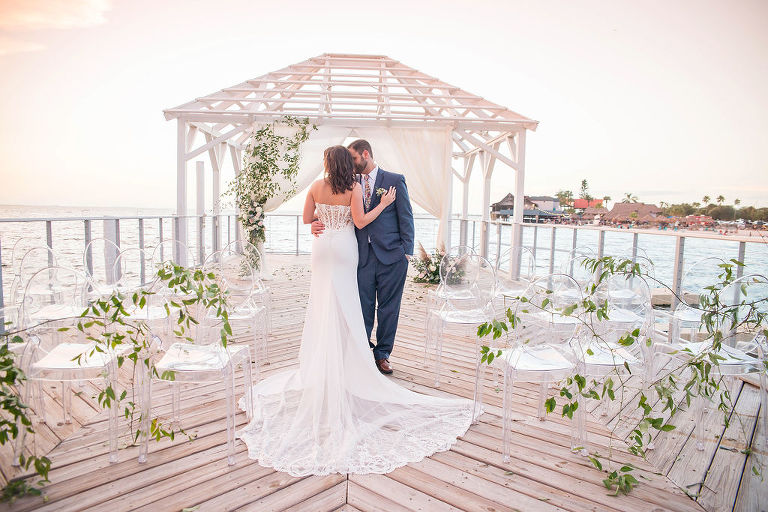 Photographer: Kristen Marie Photography | Venue: The Godfrey | Planner: The 7th Floorplan | Decor: Gabro Event Services
"I love our pier for ceremonies because it allows our couples to have a gorgeous view for their wedding without having to worry about any sand. The sunsets right behind our pergola allowing for breathtaking pictures," – Madison Downs, Social Sales Manager
VIEW MORE: DUSTY BLUE AND GREENERY INSPIRED COASTAL WATERFRONT TAMPA WEDDING | THE GODFREY
I want to learn more about weddings at The Godfrey Hotel & Cabanas Tampa.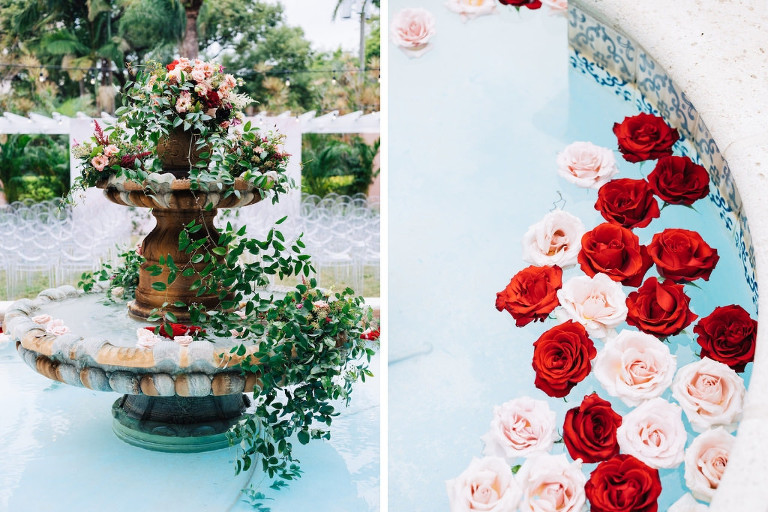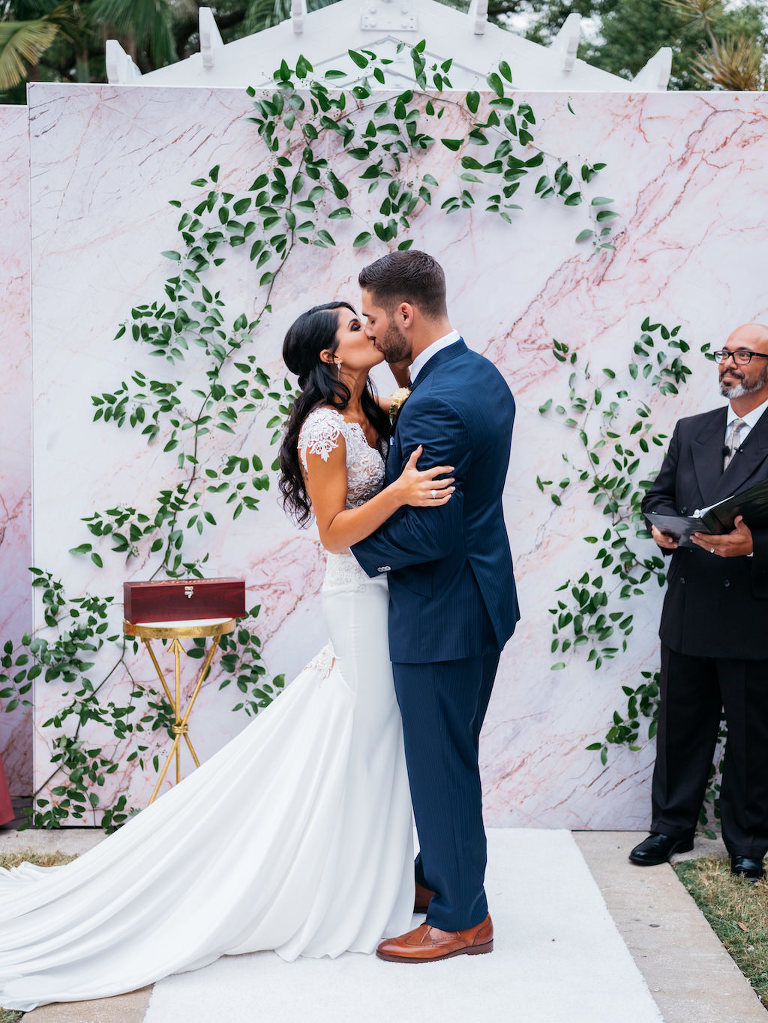 Photographer: The Hons | Venue: The Vinoy Renaissance | Planner: Parties A'La Carte
"The most memorable moment for me was taking our vows during our ceremony. Walking down the aisle to my husband as the string quartet played, was a feeling like no other," the bride reminisced.
VIEW MORE: LUXURIOUS ROSE GOLD AND BURGUNDY DOWNTOWN ST. PETE BALLROOM WEDDING | THE VINOY
I want to learn more about planning from Parties A La Carte.