Floridan Palace Wedding – Vintage Wedding in Downtown Tampa
Jessica and Dan's Love Story:
I met Dan at the home of a mutual friend in April 2011. She was hosting a girls' night to celebrate Kate Middleton and Prince William's nuptials. All of us girls were prancing around in white dresses and veils, and after we had seen enough of the Royal Wedding footage, we decided to go out to a local bar.
At that point, a few guys were invited to join us, one of which was Dan. I thought he was adorable, but, at that moment, I never would have guessed that that would not be the last time he would see me dressed as a bride.
In November 2011, I moved into a new apartment complex with a couple of girlfriends. As I was carrying a box into the building, I saw a familiar, smiling face walking towards me. Lo and behold, it was Dan. He apparently lived in the same building just a few floors below my unit.
Even still, nothing developed, as Dan had to go overseas for work for 5 months just a few days
after I moved in. When he returned on April 6, 2012, I texted him while I was out with some friends to welcome him home and see what he was up to. He was apparently in a cab and pulling up to his apartment, but instead, had the cab turn around so he could come and meet me.
In December 2012, we traveled to Europe to visit my parents, who lived in Brussels, Belgium at the time. I was unsuspecting of anything because it was the first time Dan had met my father.
However, the day after Christmas, we traveled to Paris just the two of us. While at the Jardin du Lexumbourg (a garden that I fell in love with the first time I visited Paris a year prior), I started taking some pictures, and when I was done, Dan handed me the camera case. I was having a very difficult time fitting the camera back in the case, and when I turned around to complain to Dan, he was down on one knee and told me I should take a look inside the camera case.
In it, was a box with a gorgeous ring! I was so shocked! He then made his precious speech and asked me to spend his life with him, to which I said 'Uh, yes!'"
With the pair both calling Harbor Island home, they chose outdoor Tampa wedding venue Westin Harbor Island for their waterfront ceremony, followed by their wedding reception just a few miles away at Downtown Tampa's Floridan Palace.
"It was important to us to have our wedding in the heart of Tampa," Jessica explained.
The Tampa couple chose a vintage wedding theme, complete with canes for the groomsmen and umbrellas for the bridesmaids.
"Dan and I are very similar in that we are old, yet playful souls, and I think our wedding really reflected that," Jessica shared.
The pair also incorporated the groom's love for leather bound books and the bride's penchant for owls into their wedding decor.
Since the couple are self-proclaimed foodies, choosing a wedding venue with delectable food was a top priority.
"The chef at the Floridan Palace is spectacular. The food was phenomenal," Jessica gushed. "All of our guests were raving about it."
The bride added that she also loved the ambiance that her wedding venue provided for her vintage Tampa wedding reception.
"The Floridan Palace takes your breath away when you walk inside. It is so grand and extravagant, but still has that 'old world' feel," Jessica explained. "It just feels like you are in another time period."
Looking back, Jessica said that her most memorable moment occurred during the wedding ceremony.
"When I stood at the end of the aisle and saw Dan for the first time that day, it felt like no one else was present. That moment was all-consuming, and I was in a complete state of bliss and elation," the bride reminisced.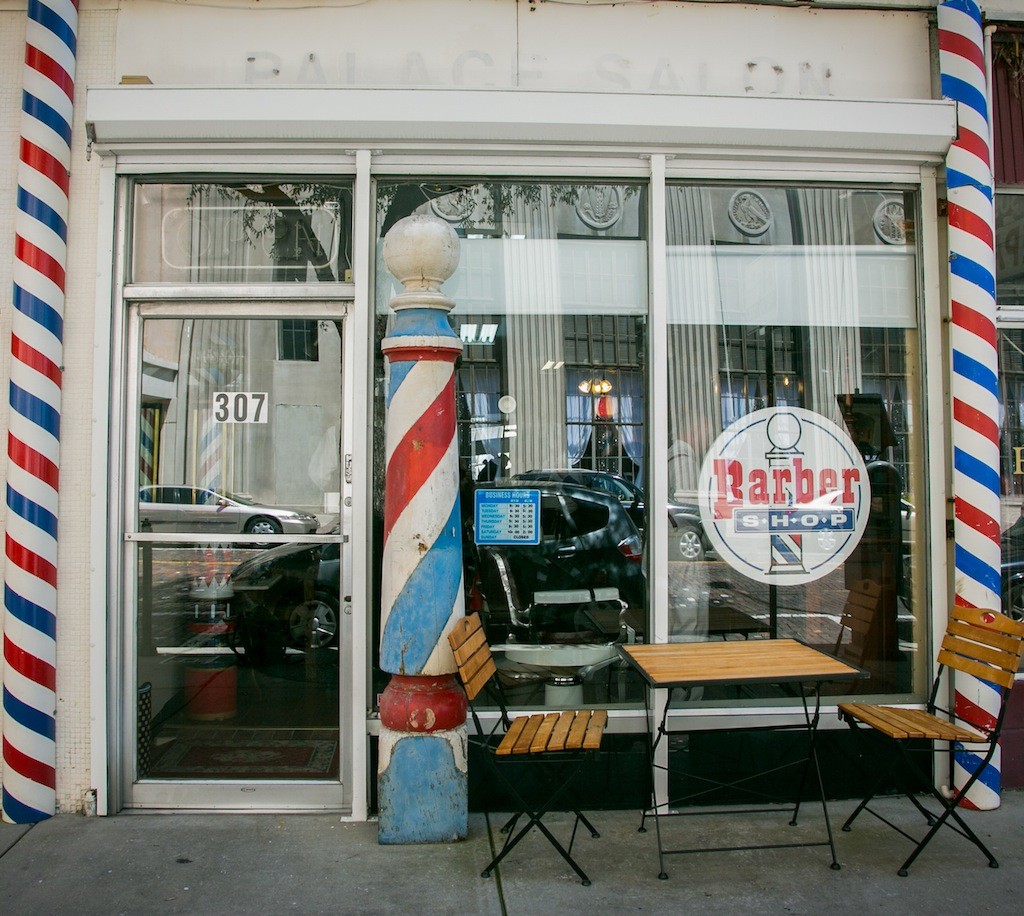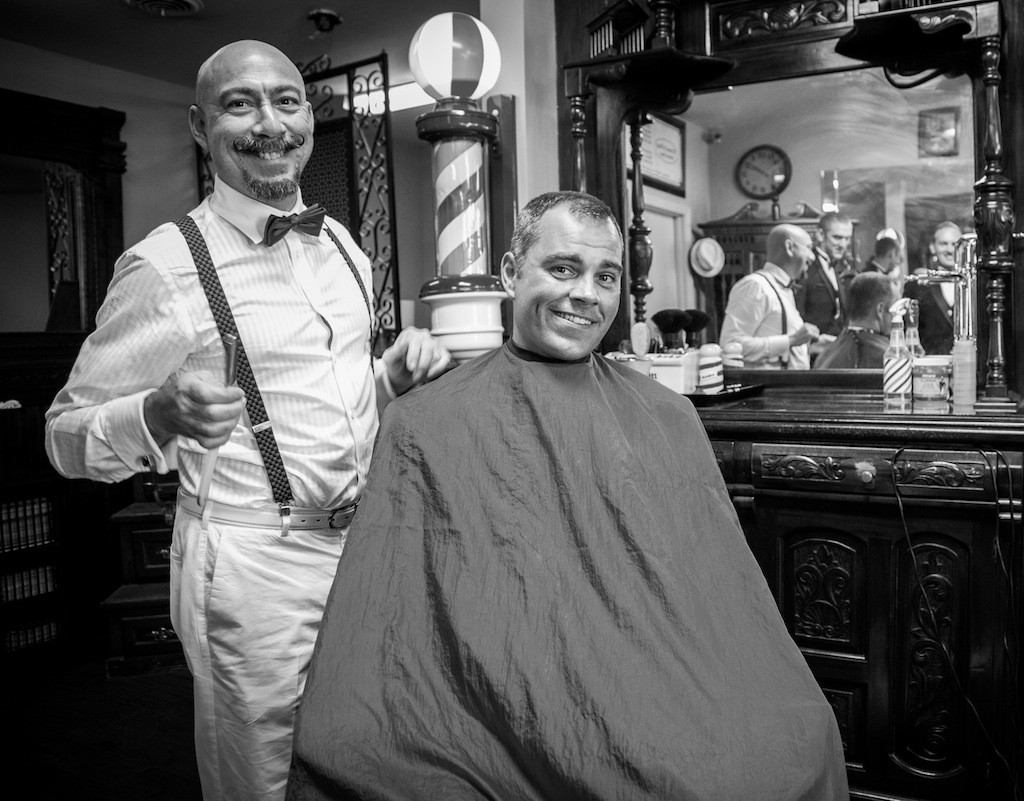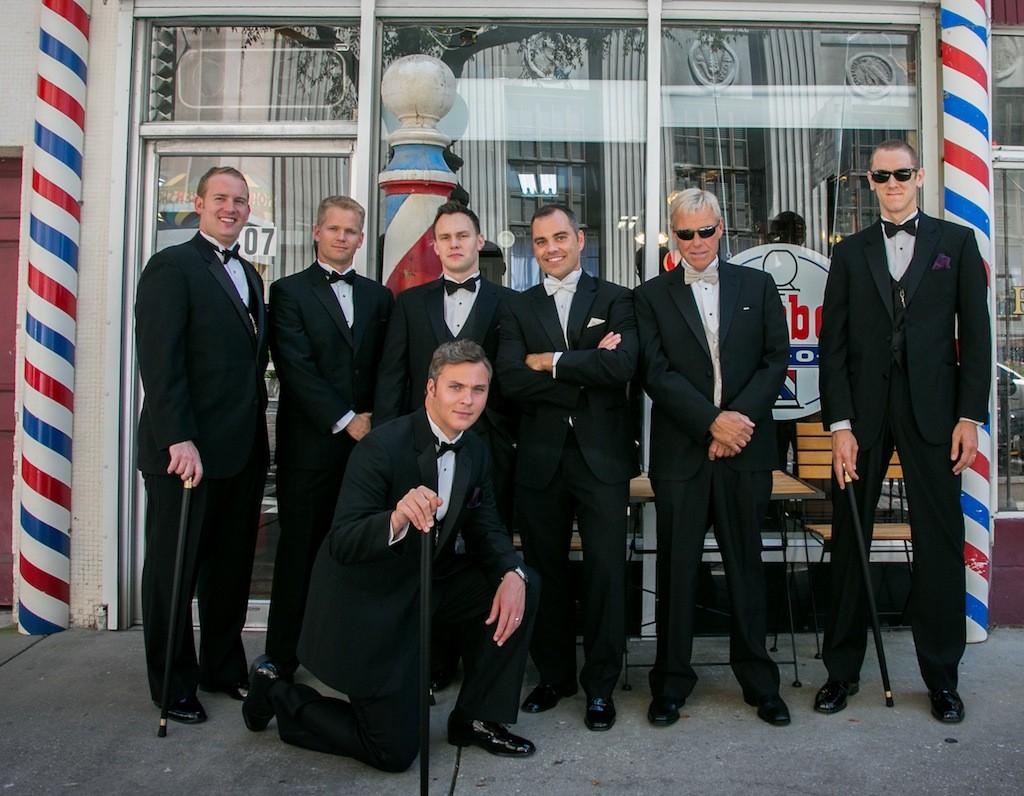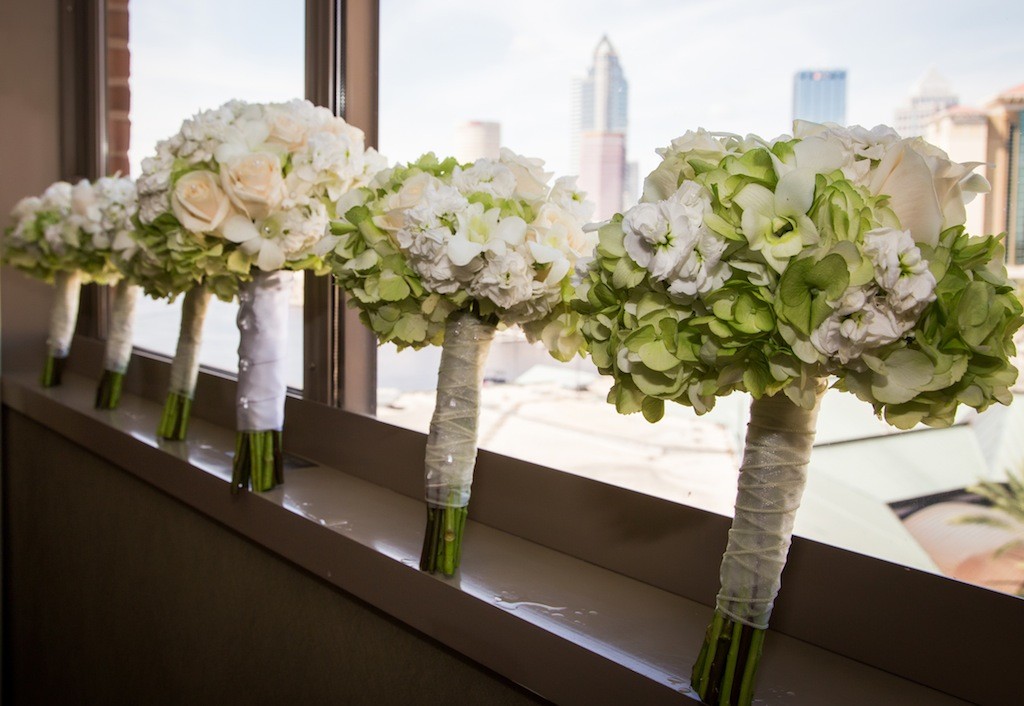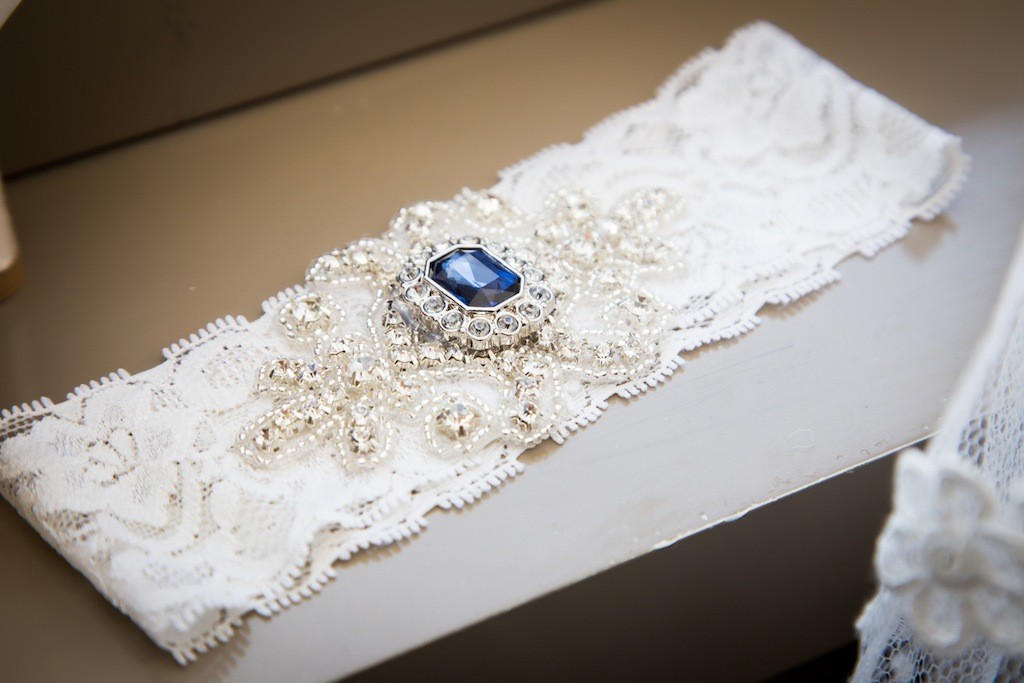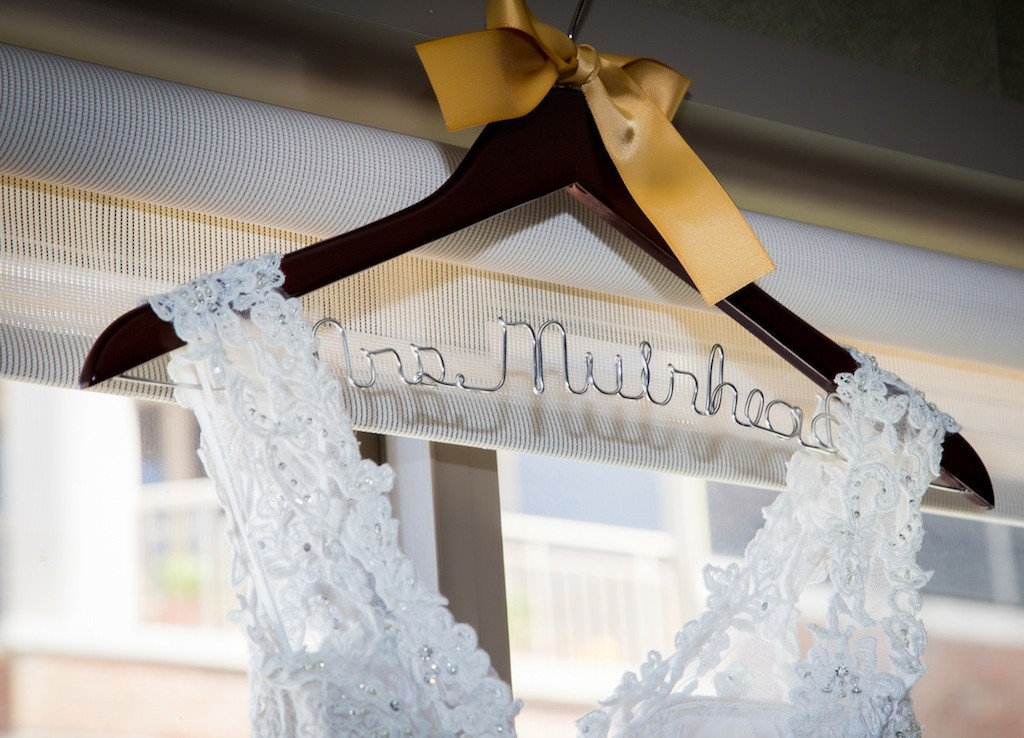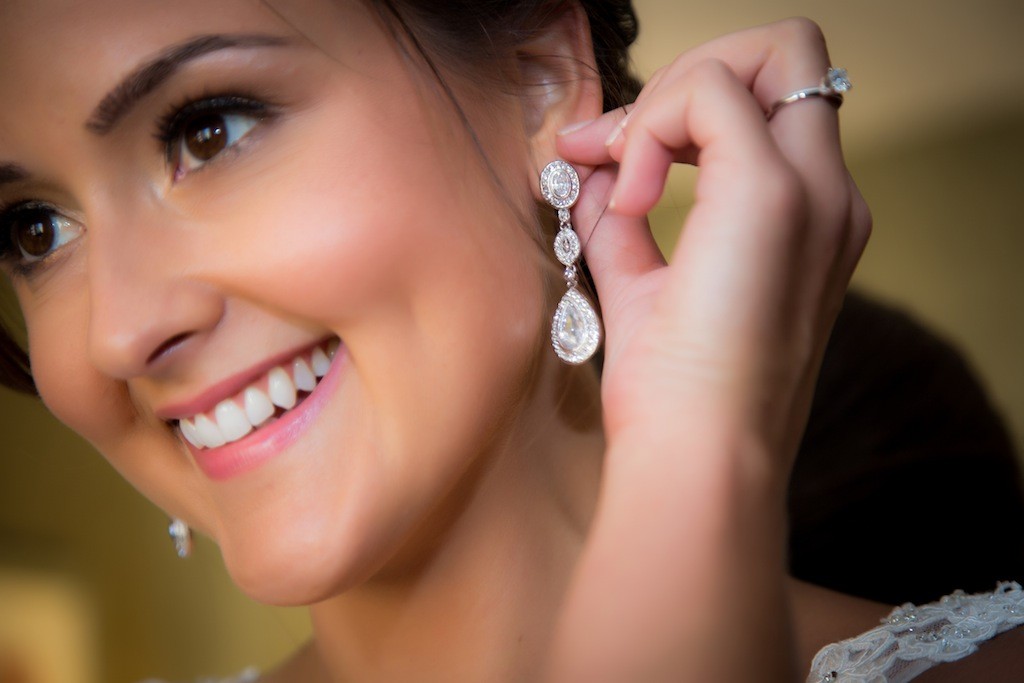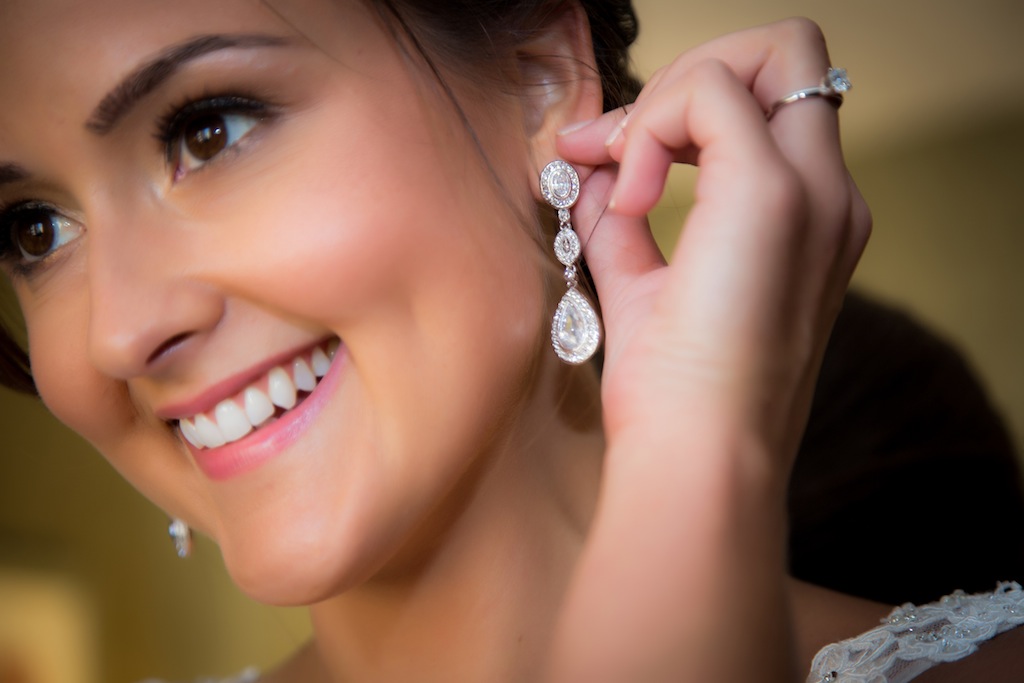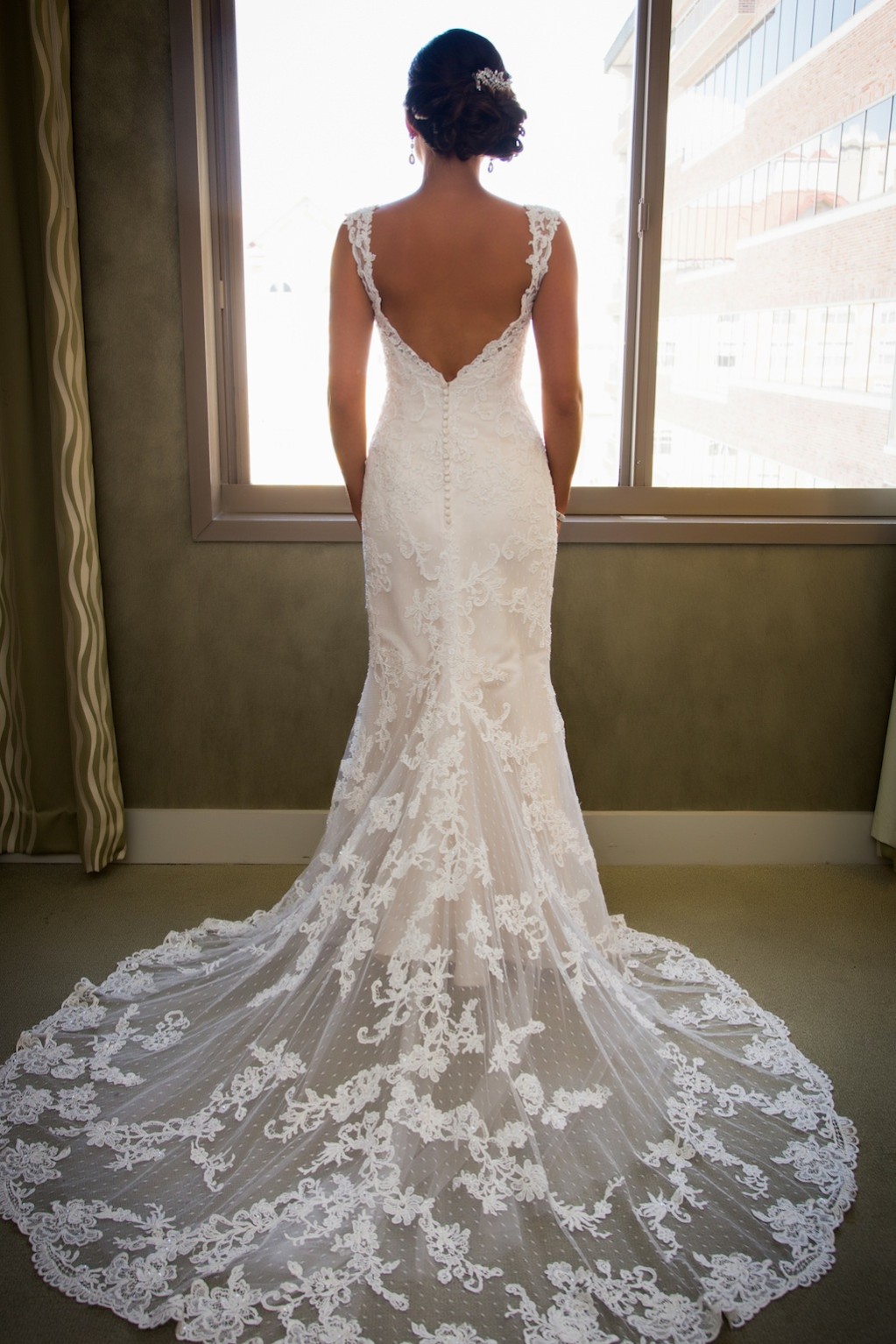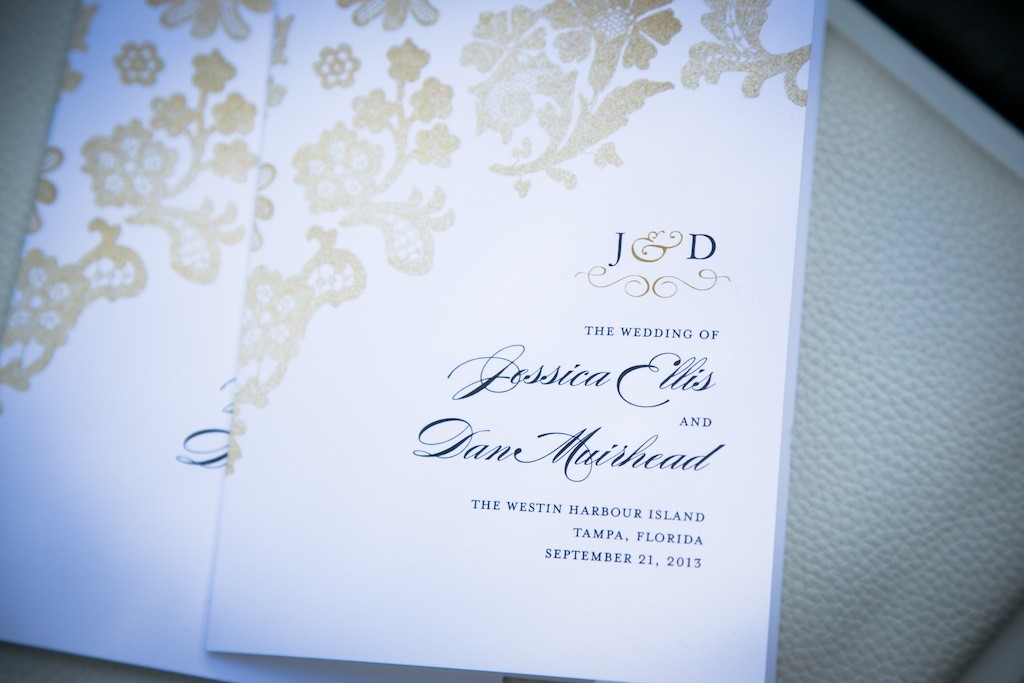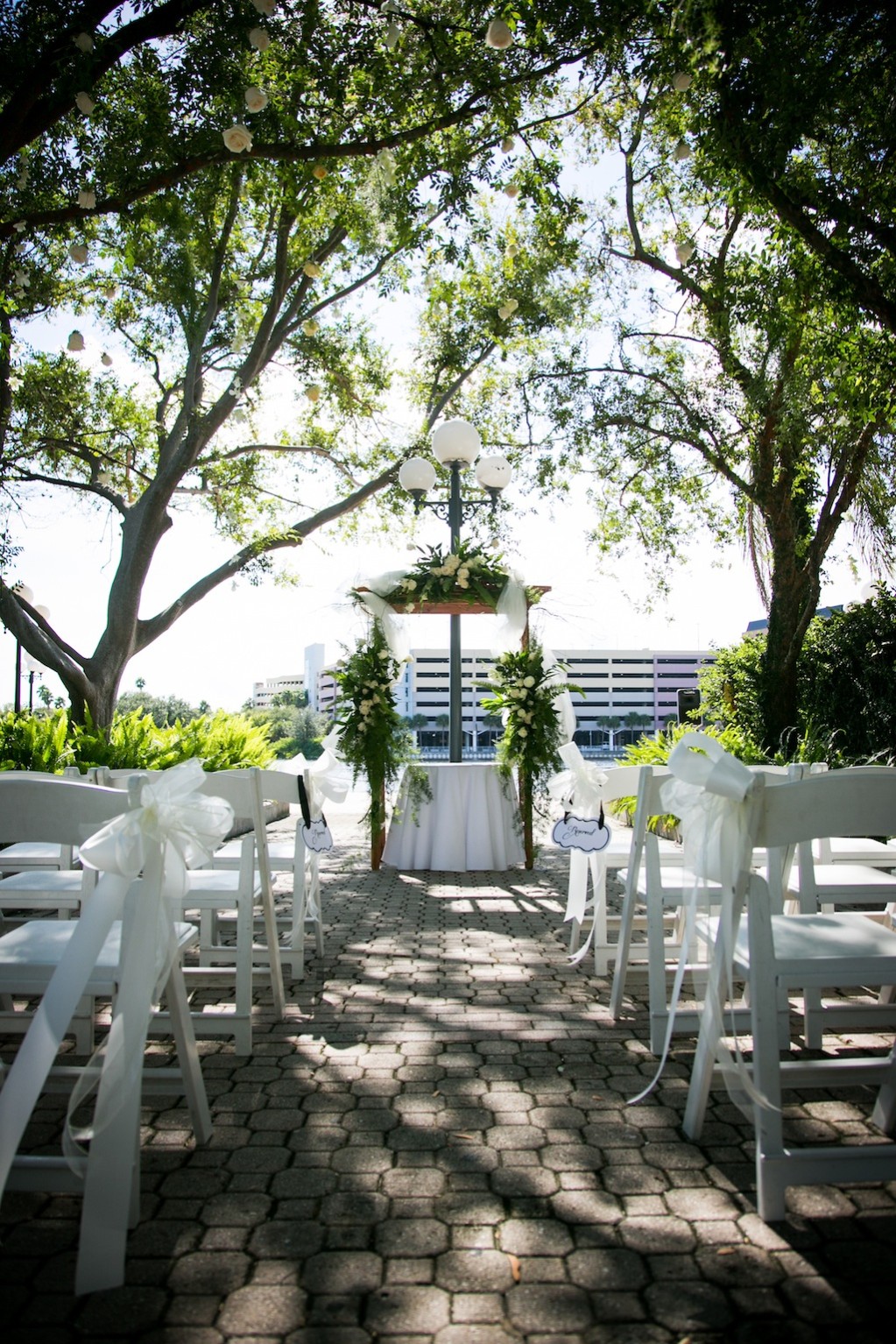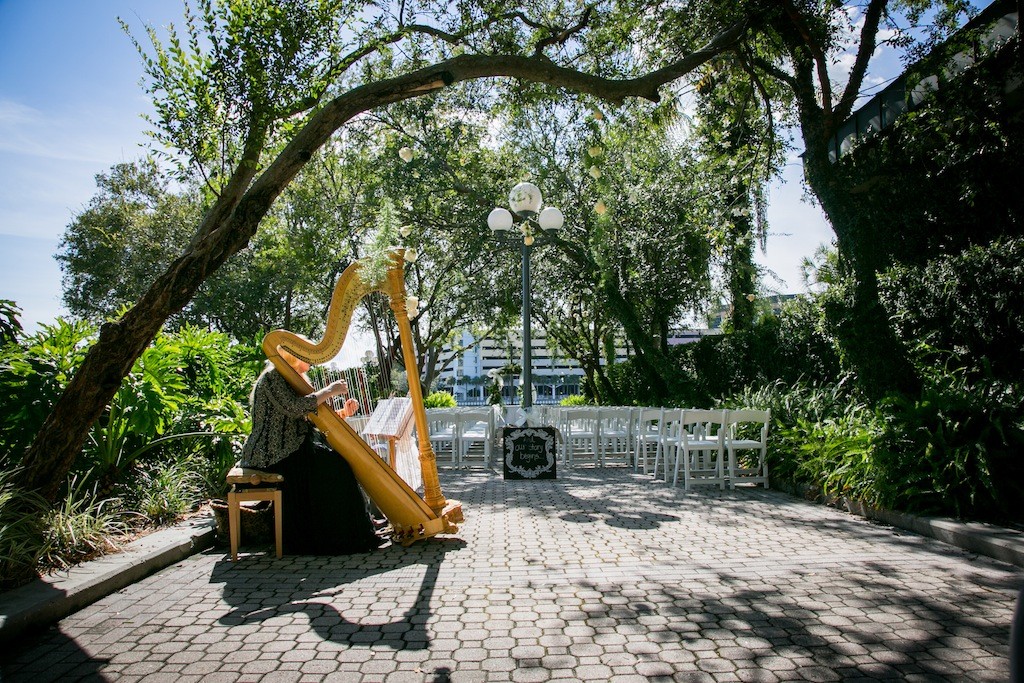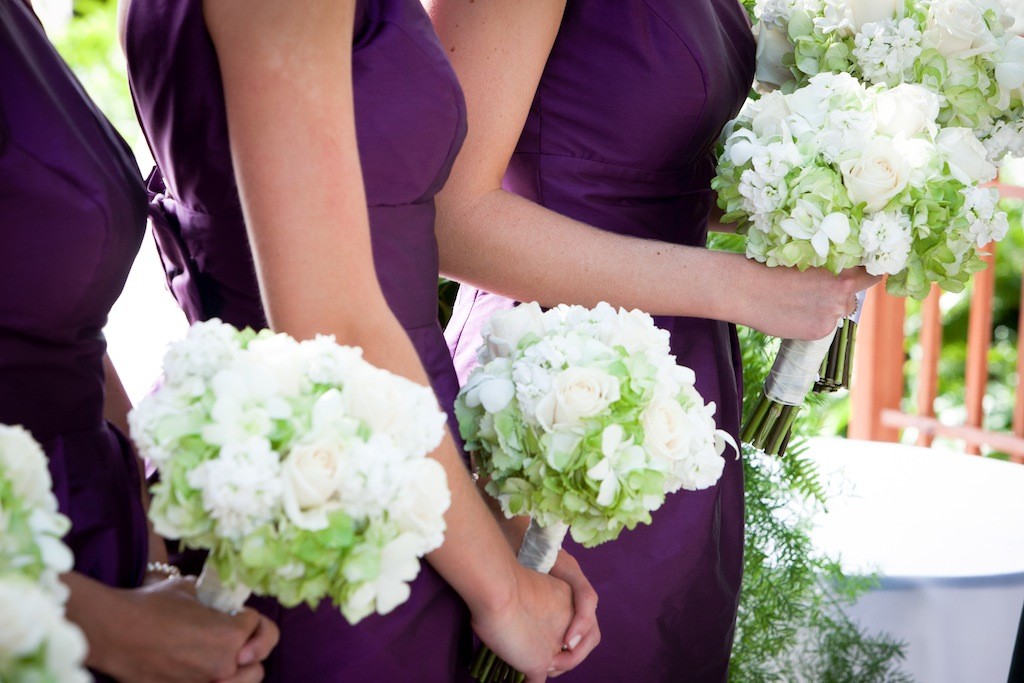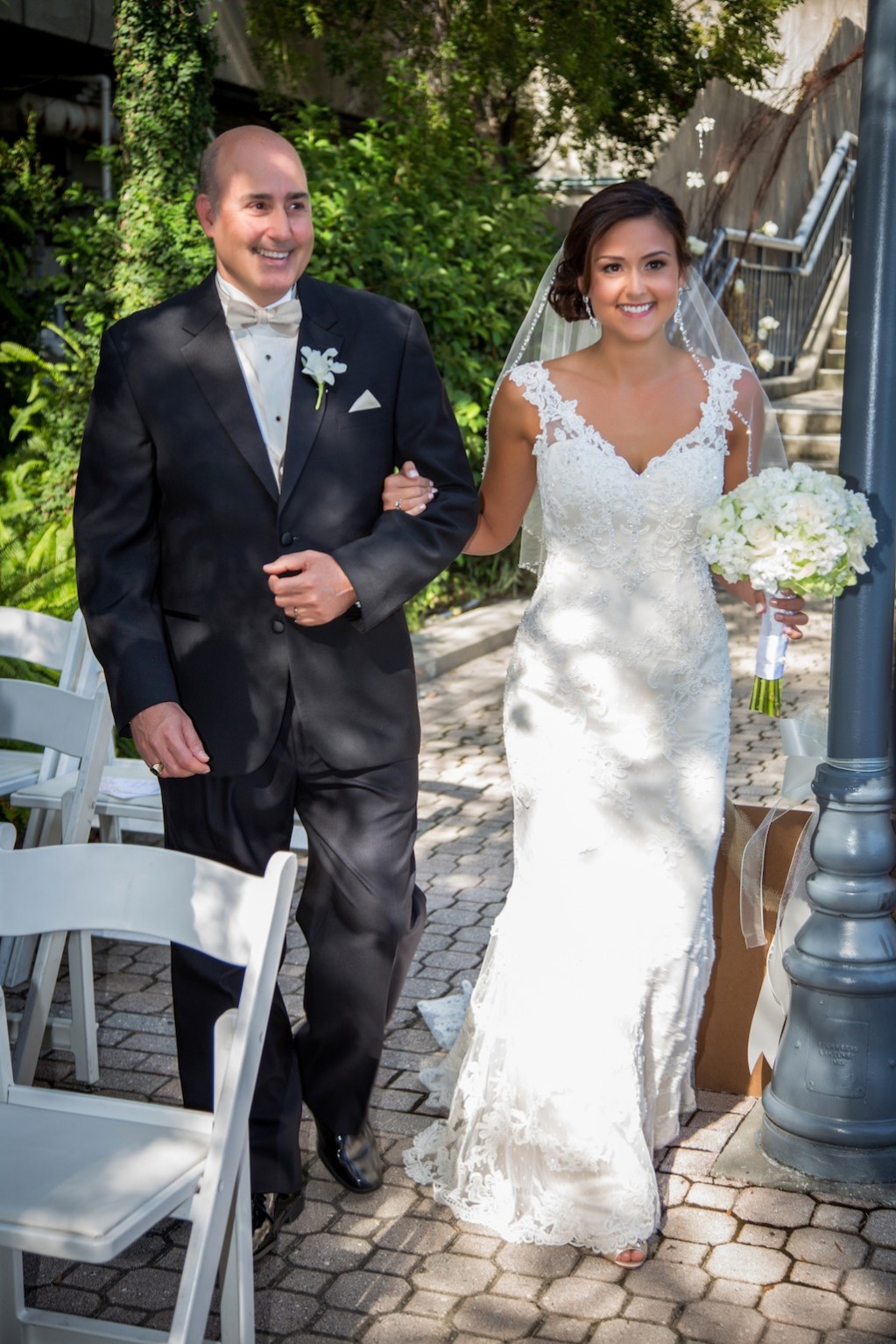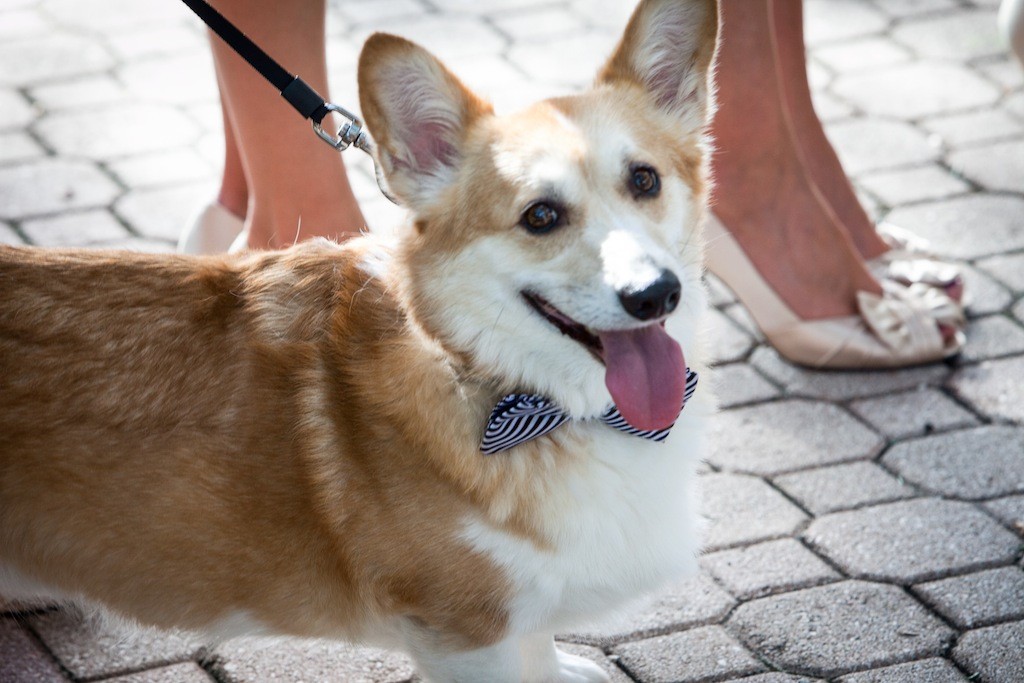 "Mr. Bret is my 5-year-old Welsh Corgi, and is arguably the most charming, dapper, and human-like dog that walks this planet. He seriously has quite a personality! As expected, he walked down the aisle with his usual 'I'm here to shake hands and kiss babies' attitude," – The Bride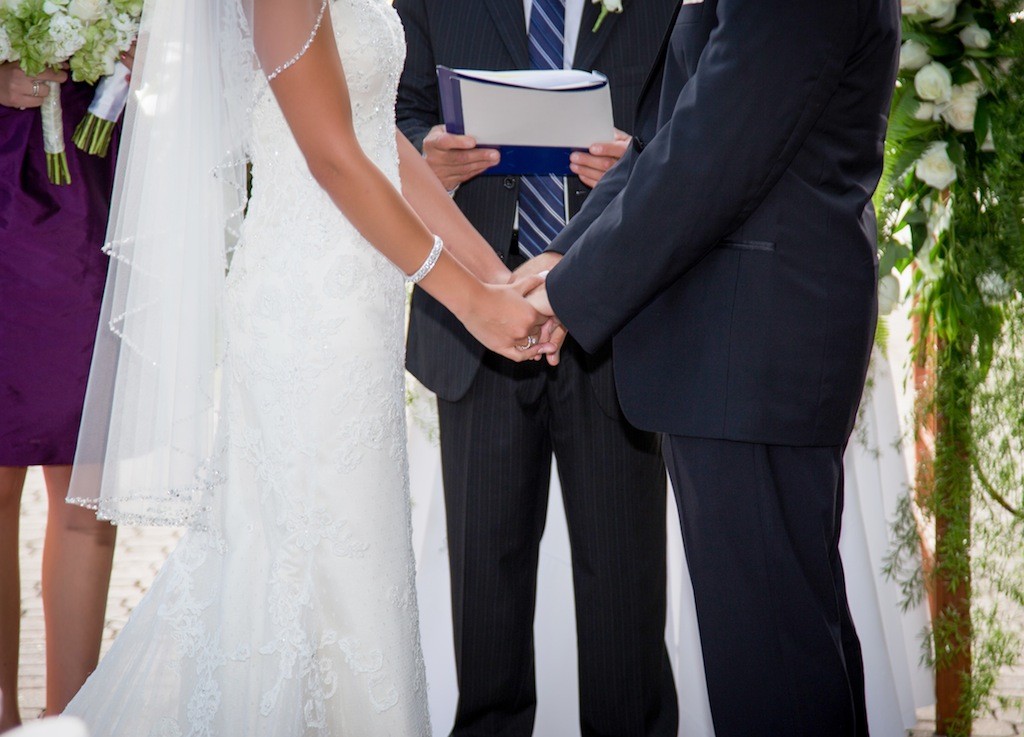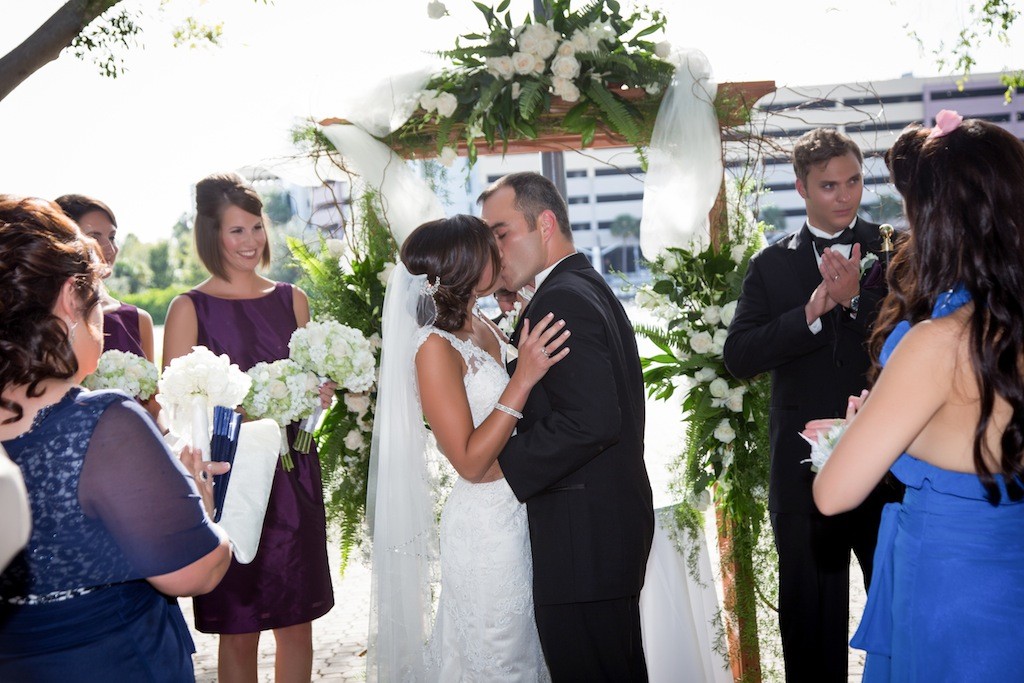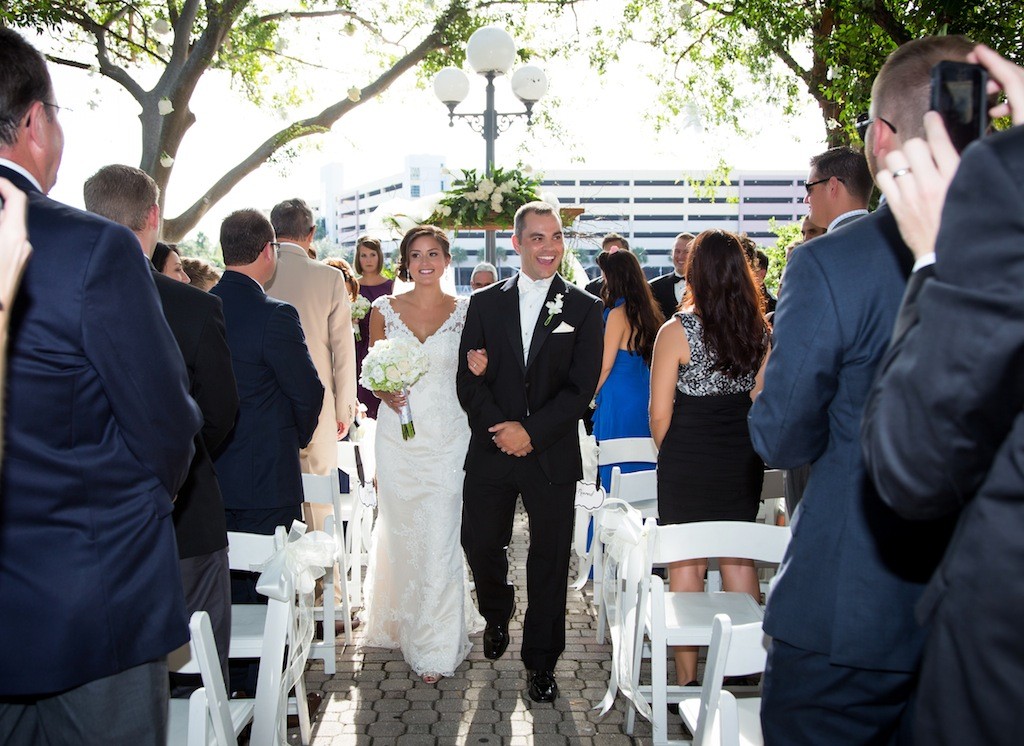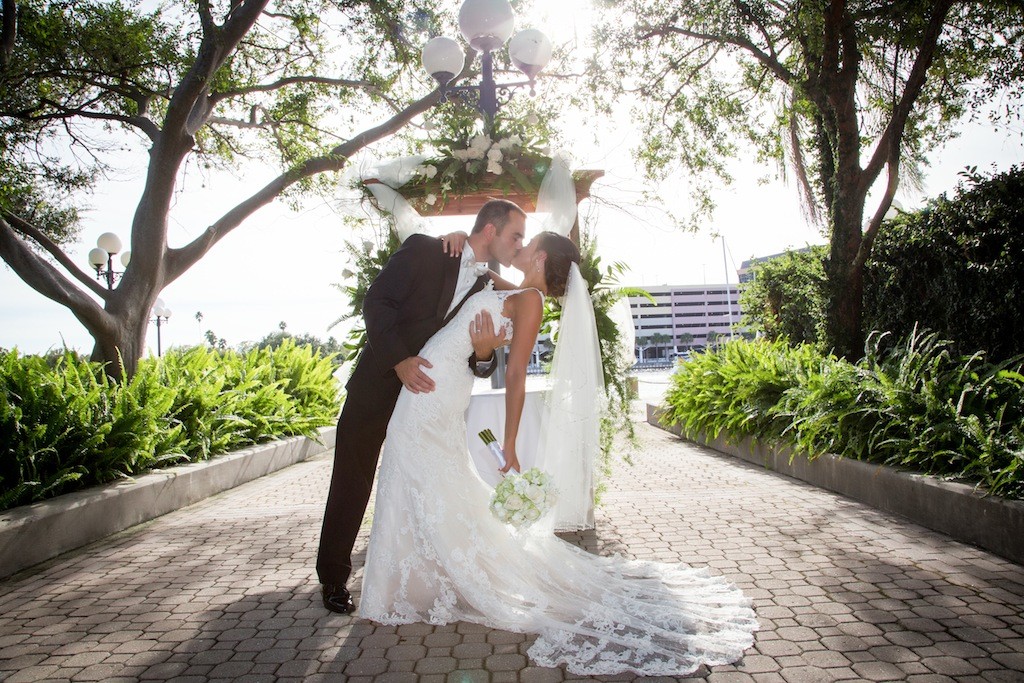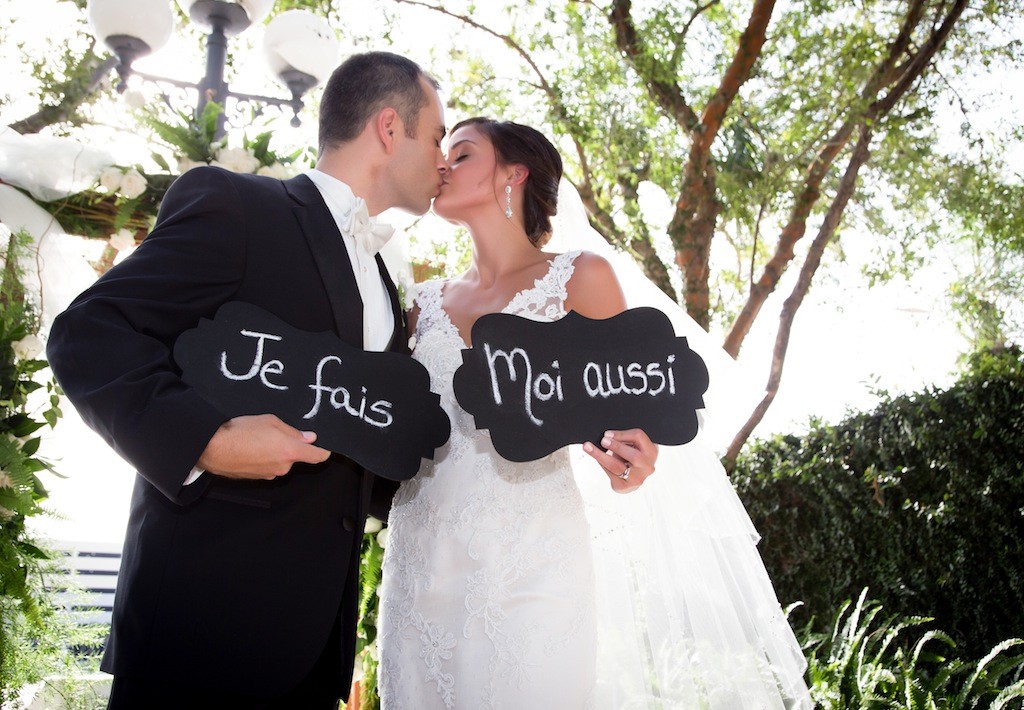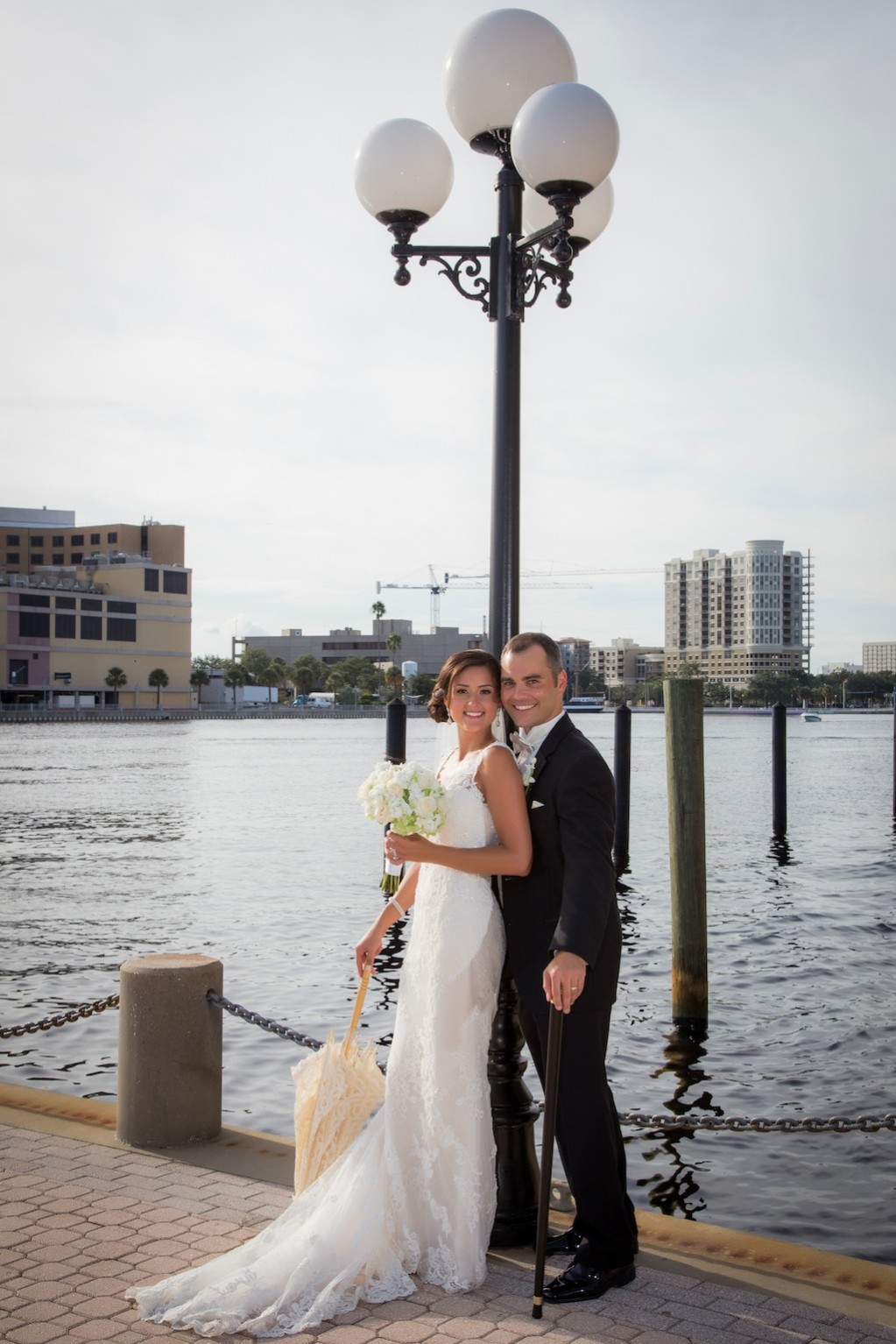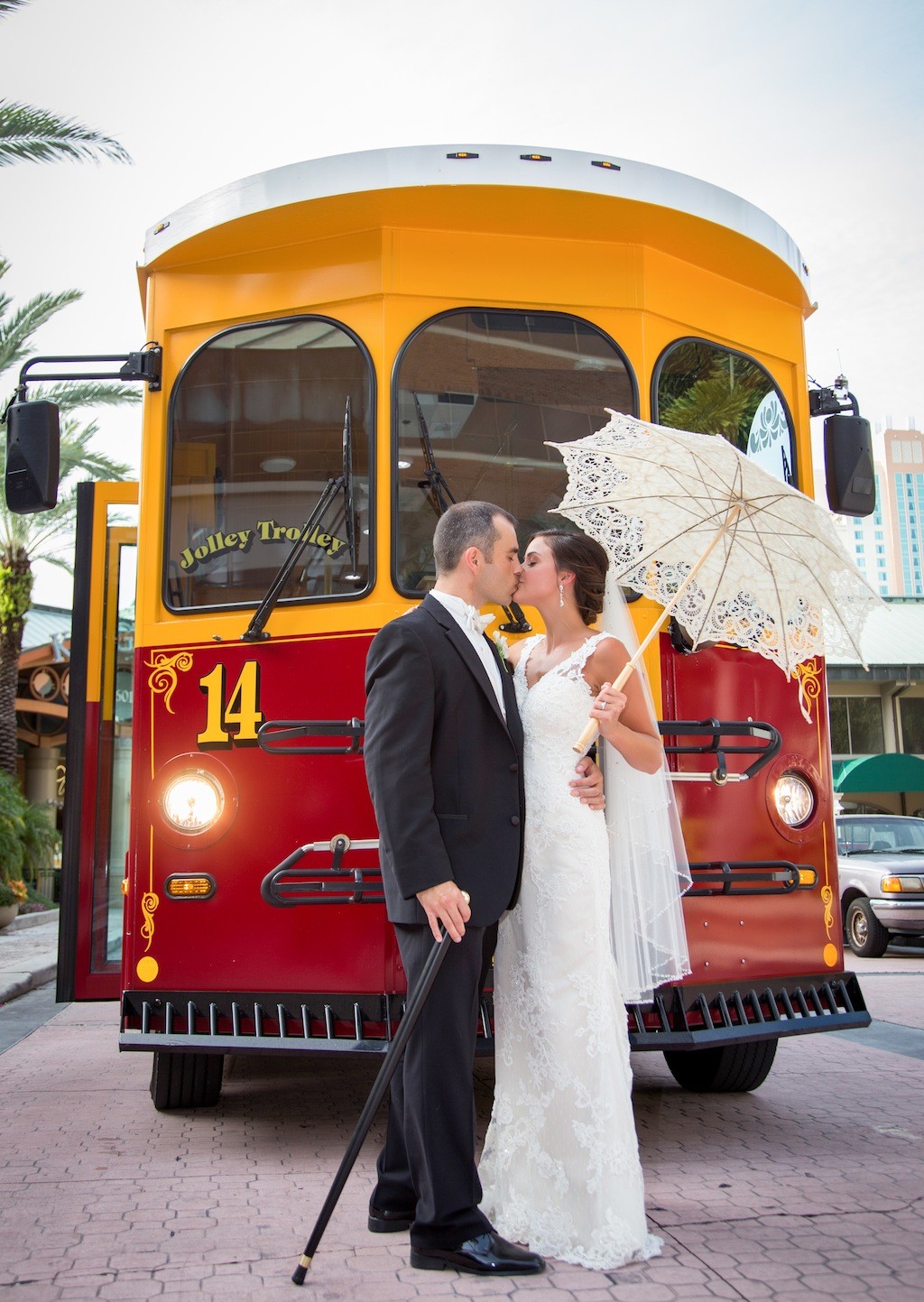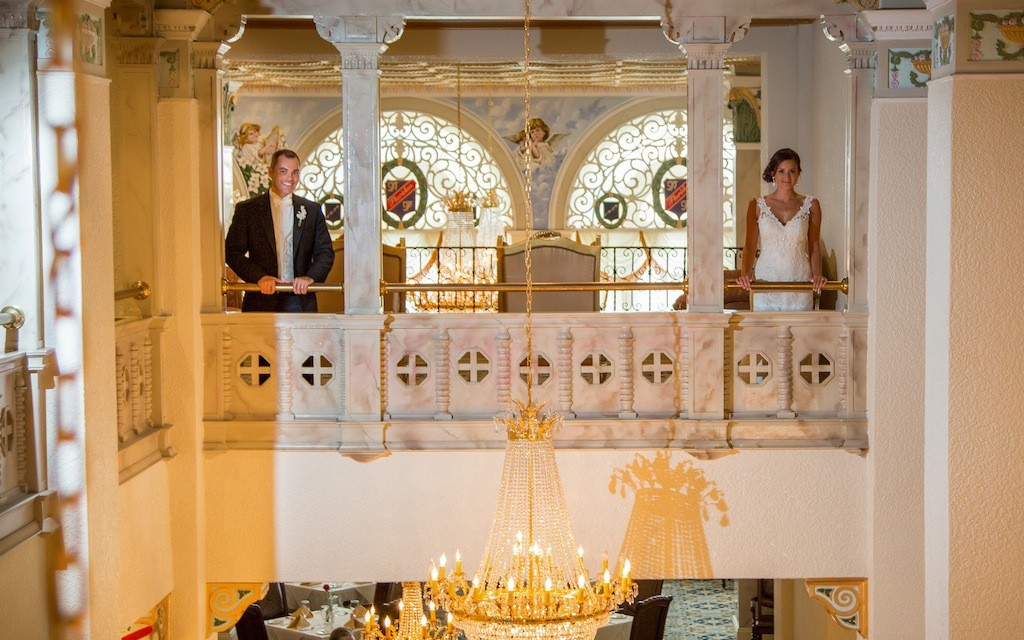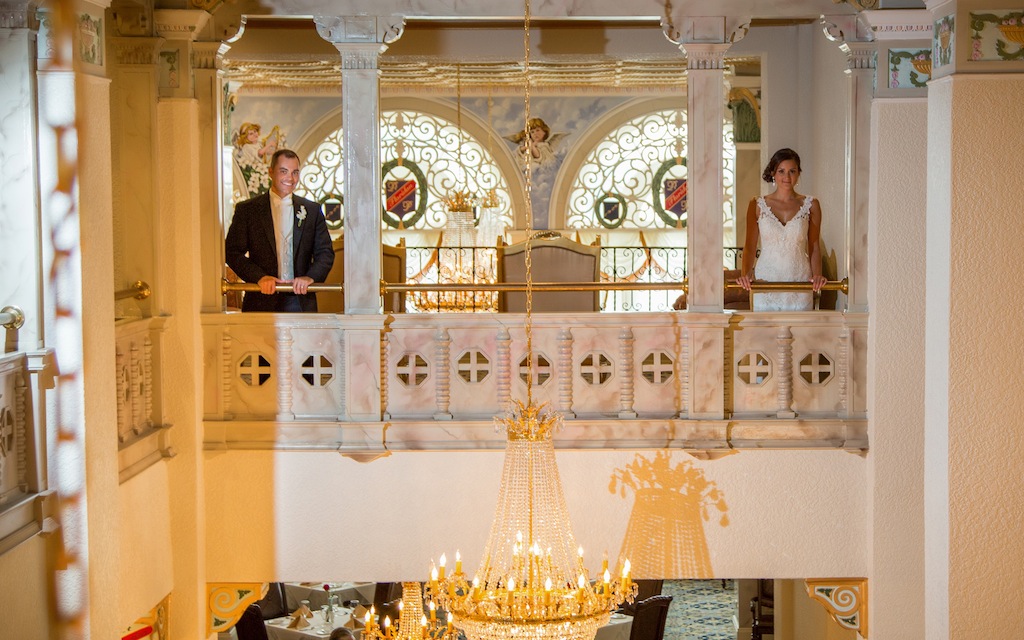 "The Floridan Palace takes your breath away when you walk inside. It is so grand and extravagant, but still has that 'old world' feel. It just feels like you are in another time period," – The Bride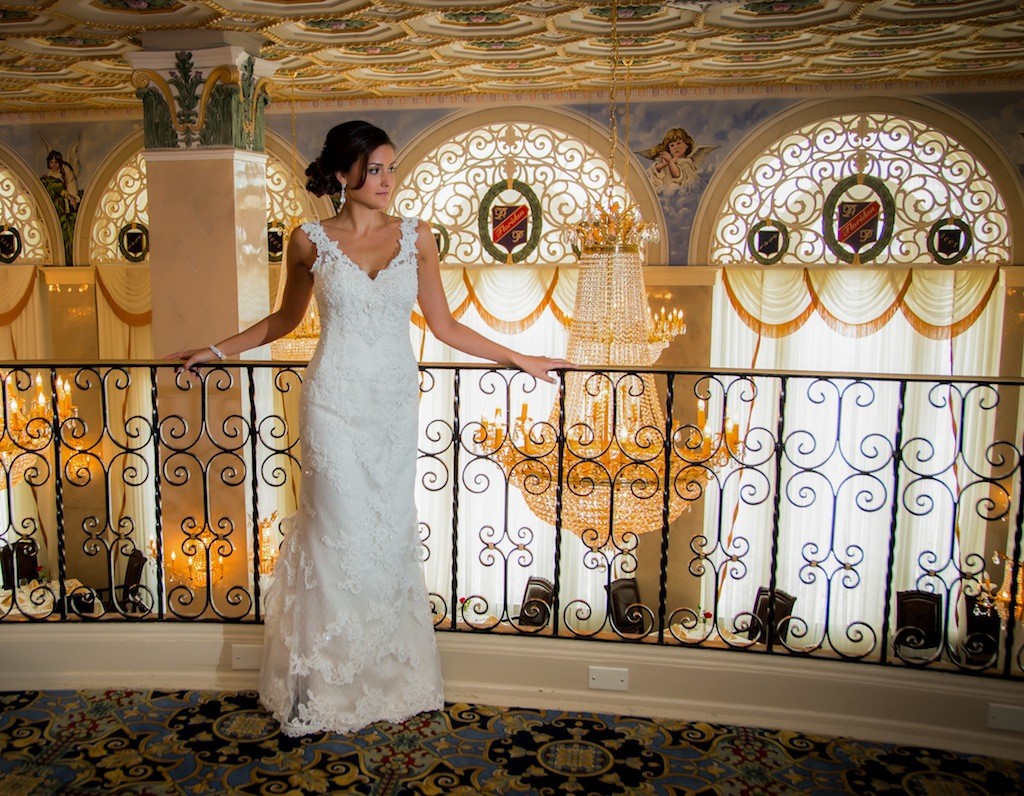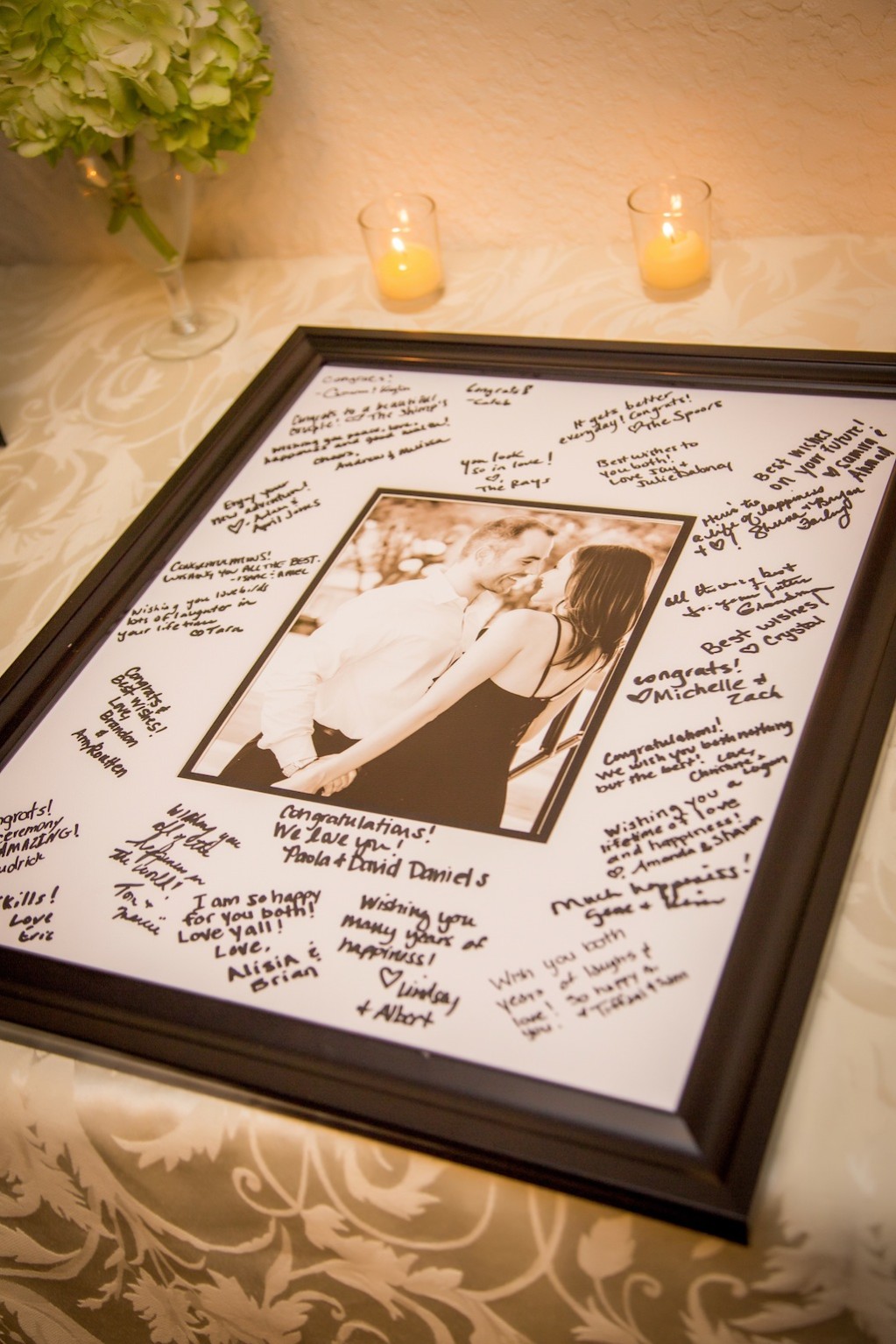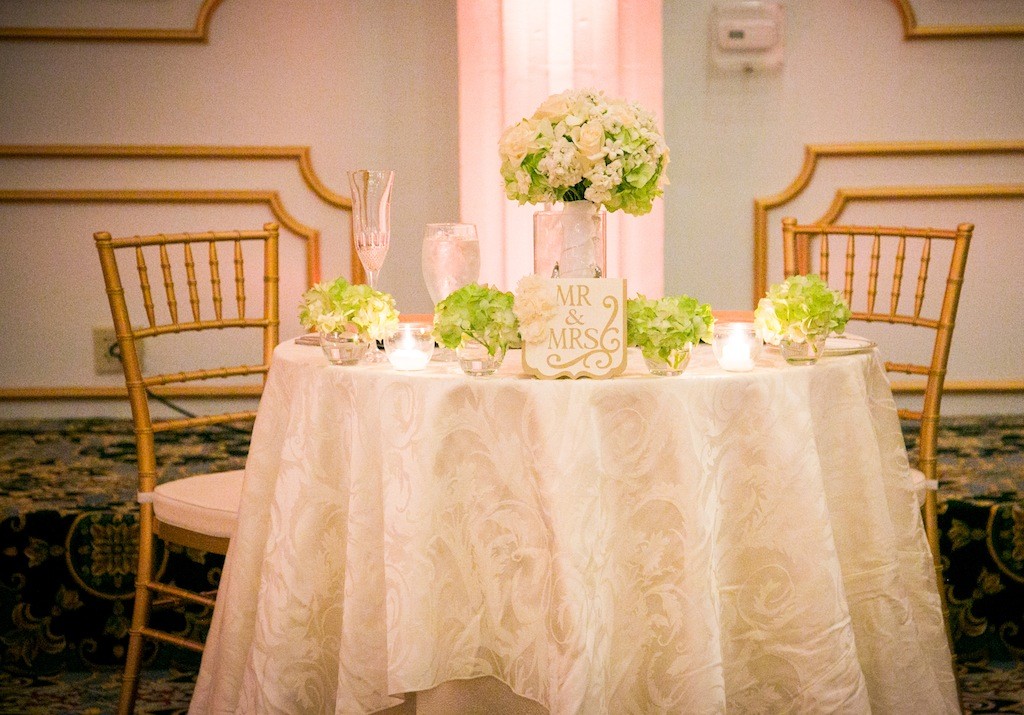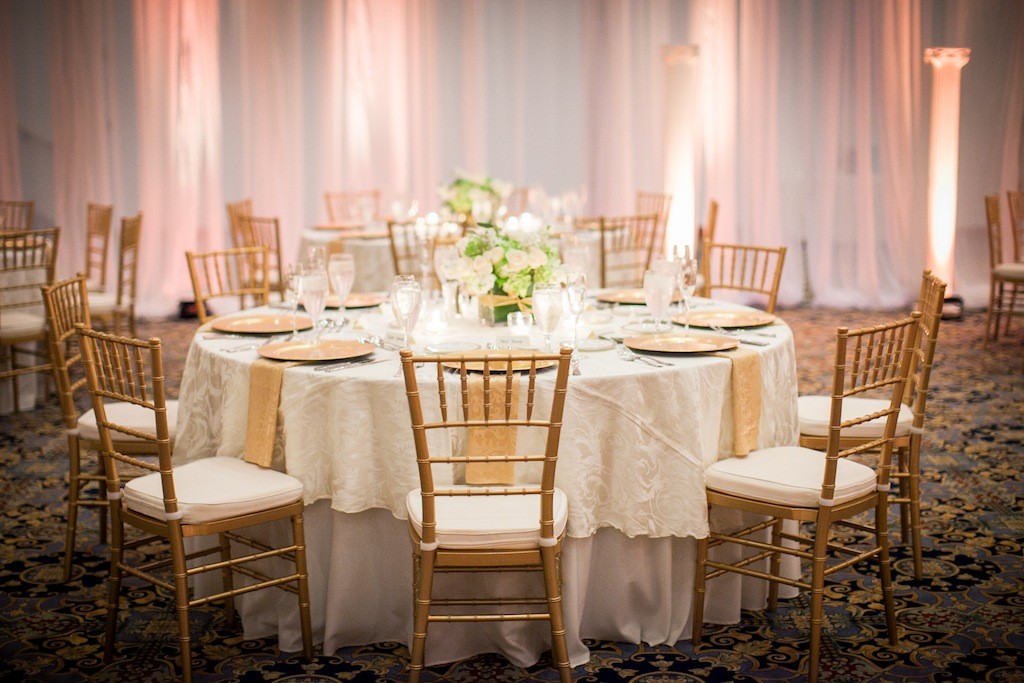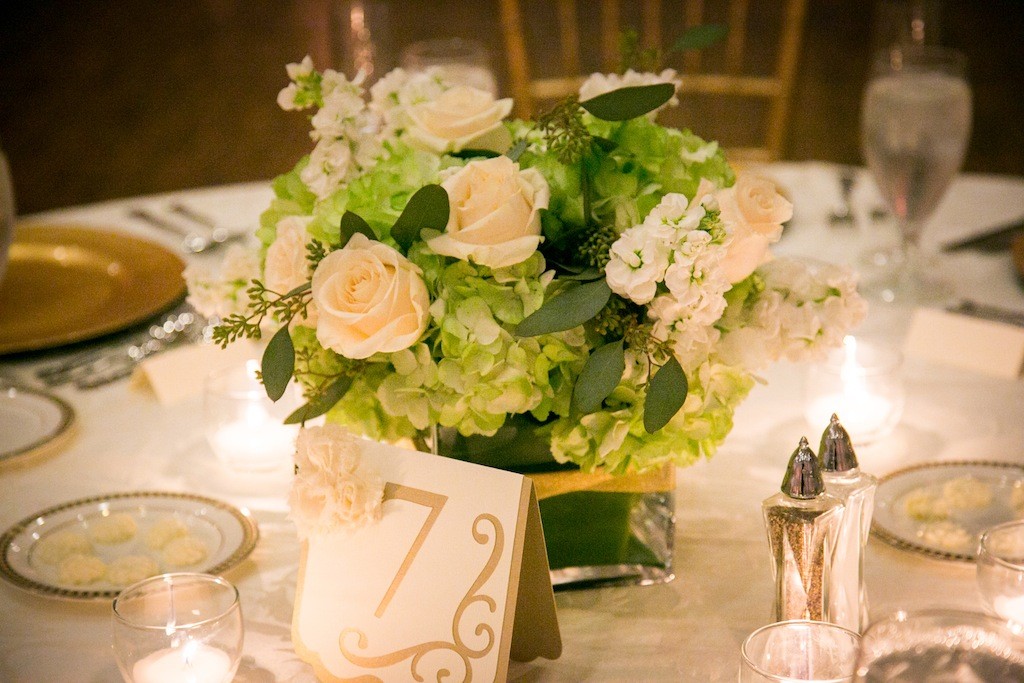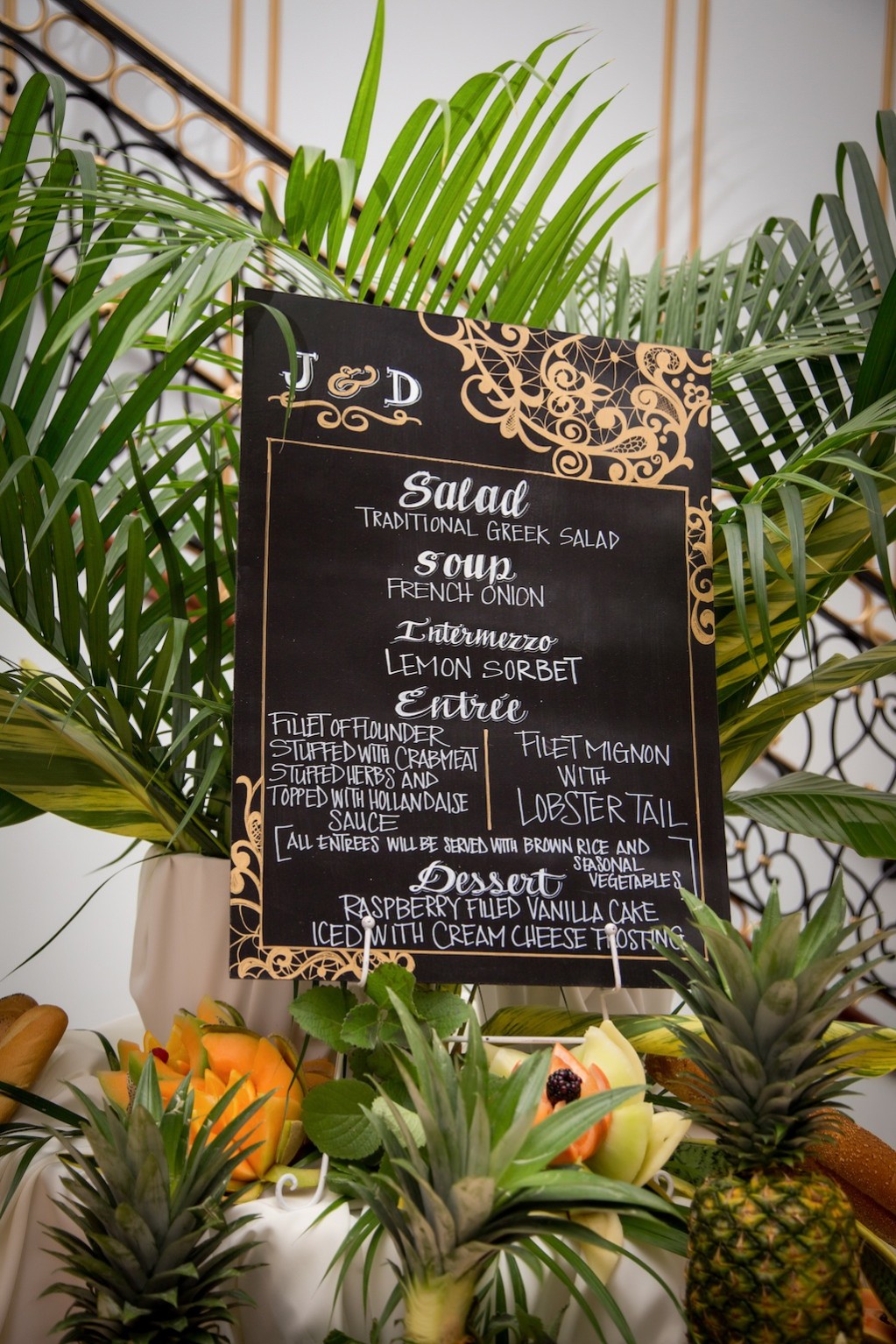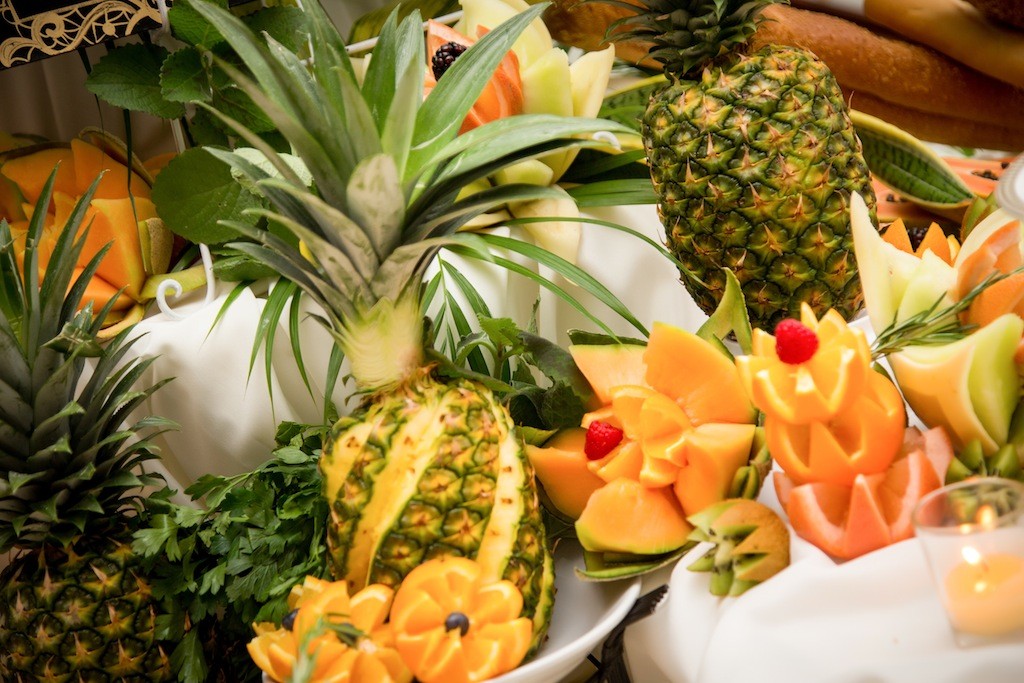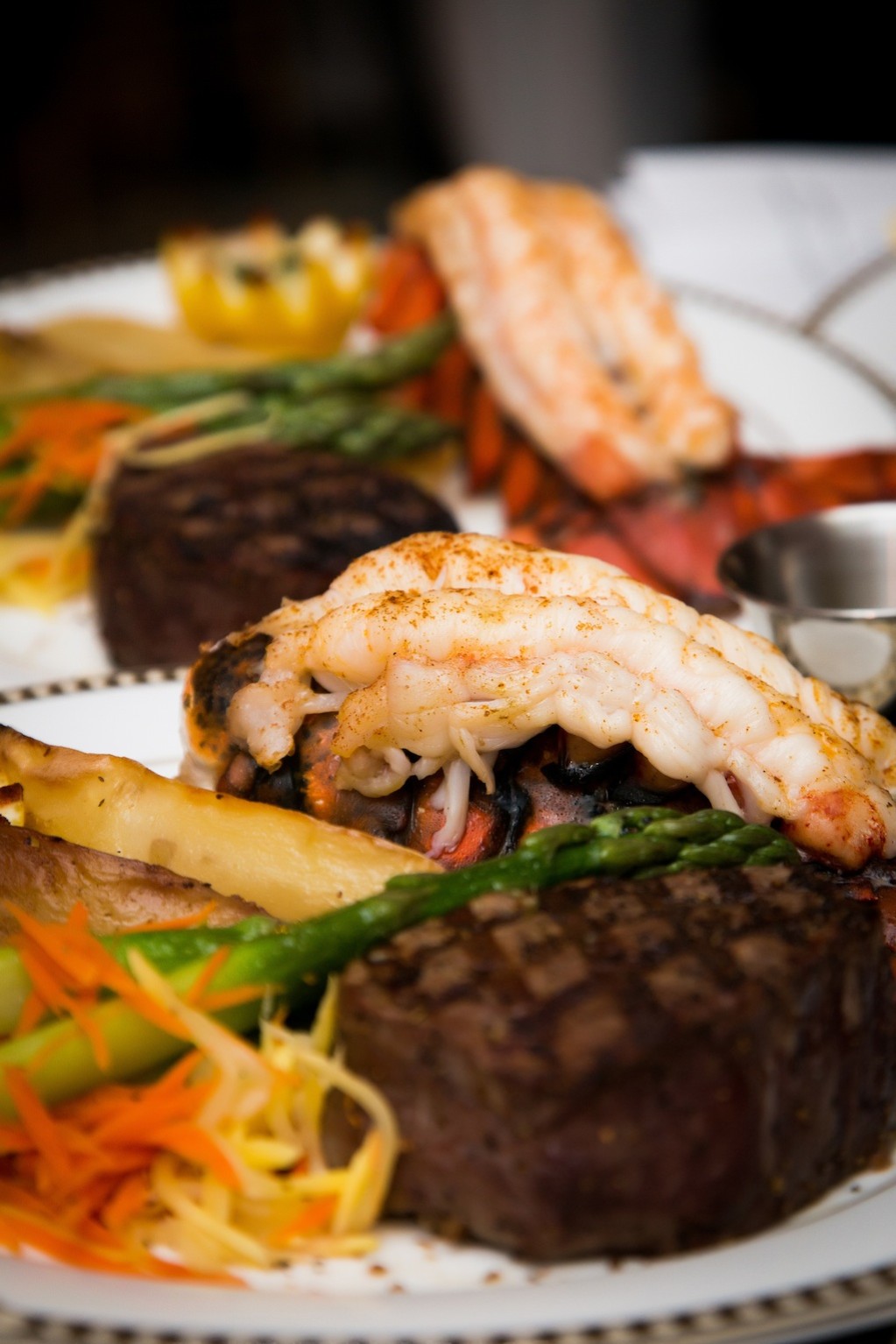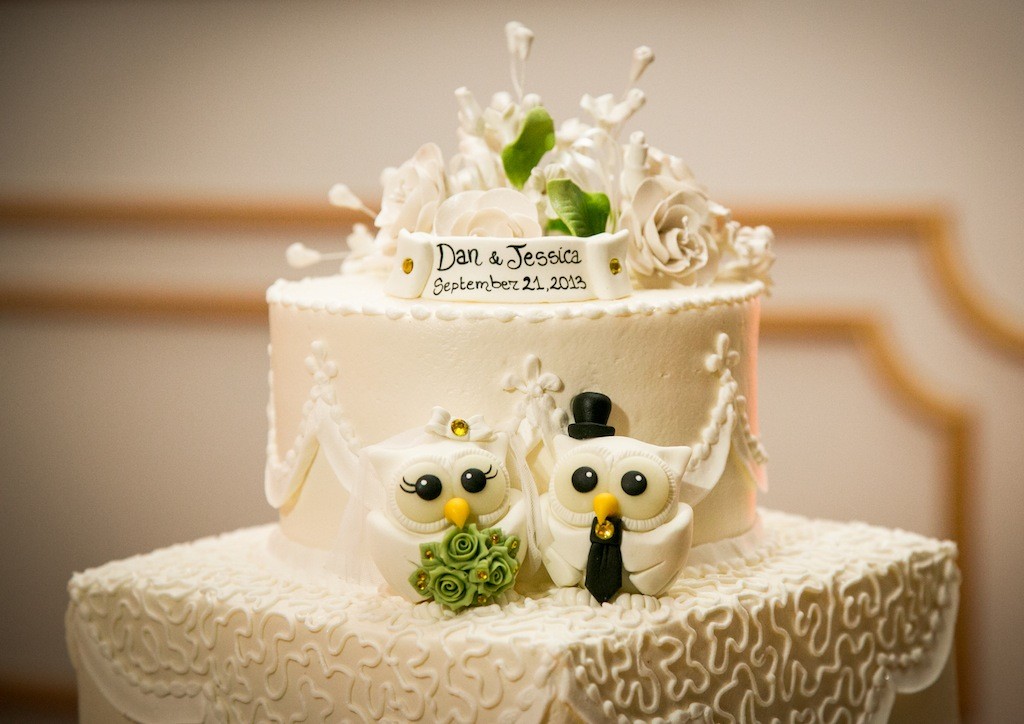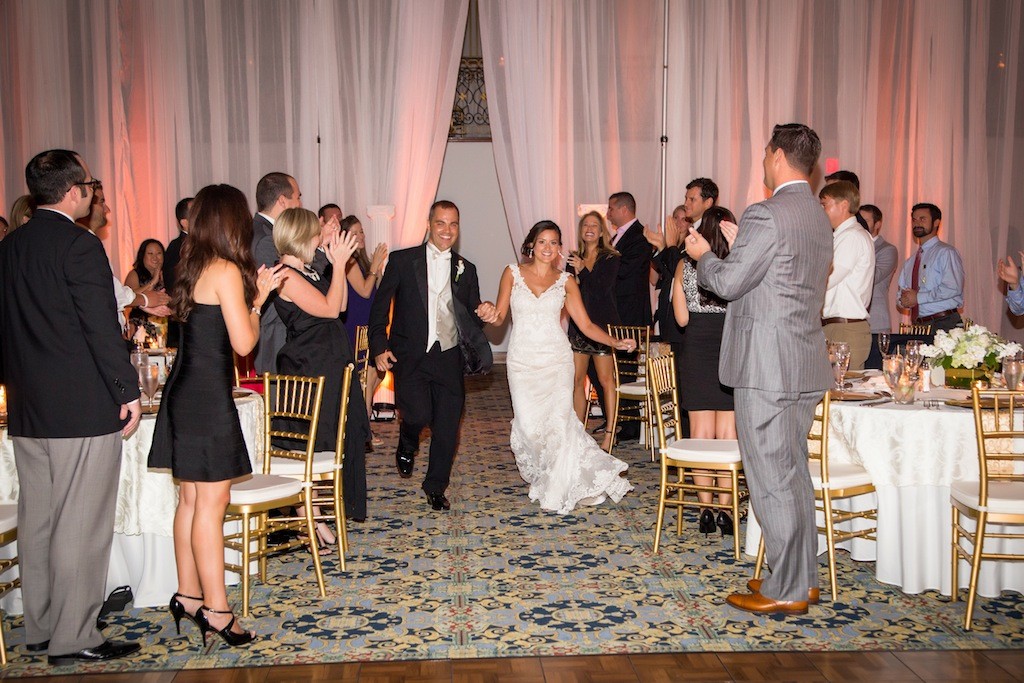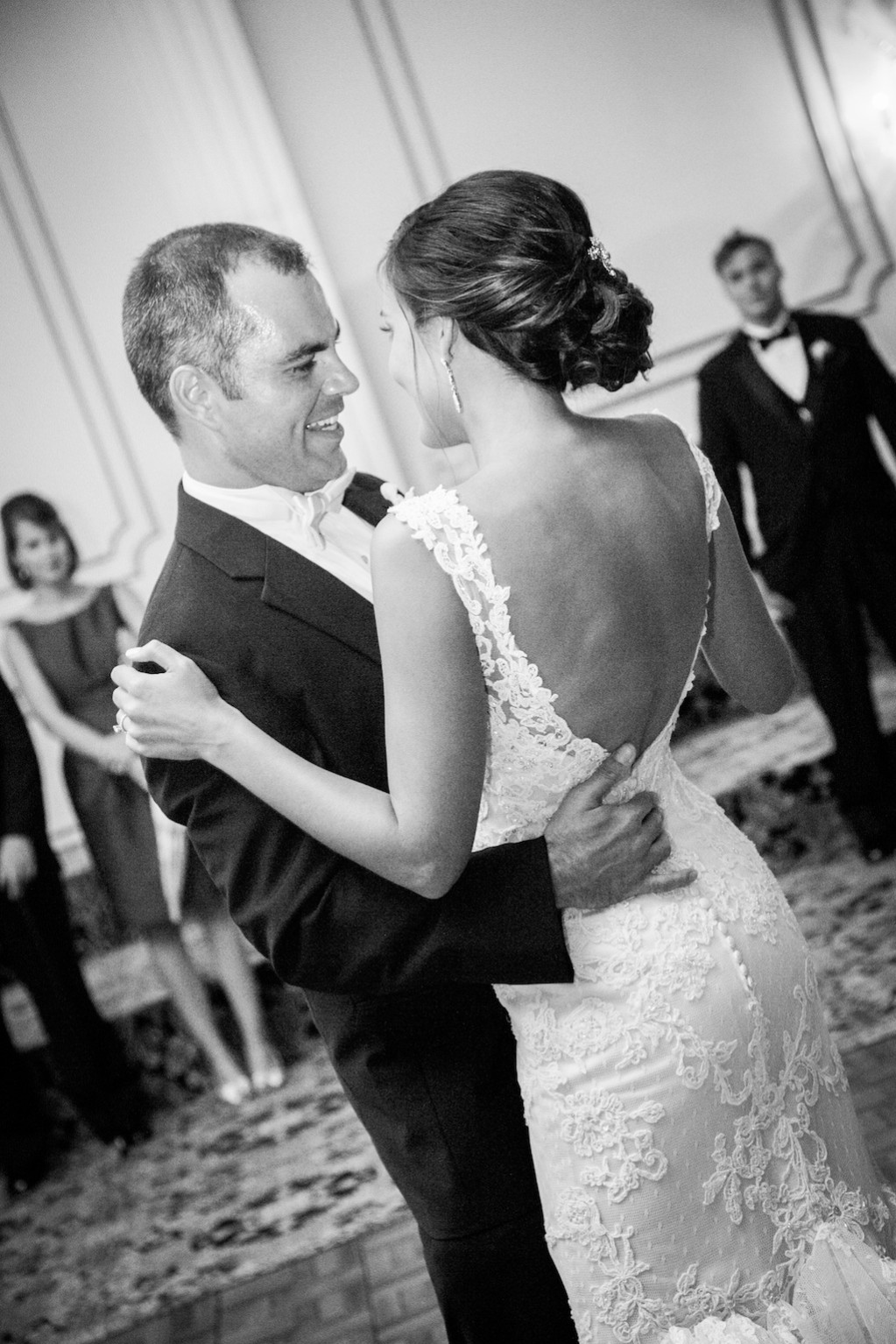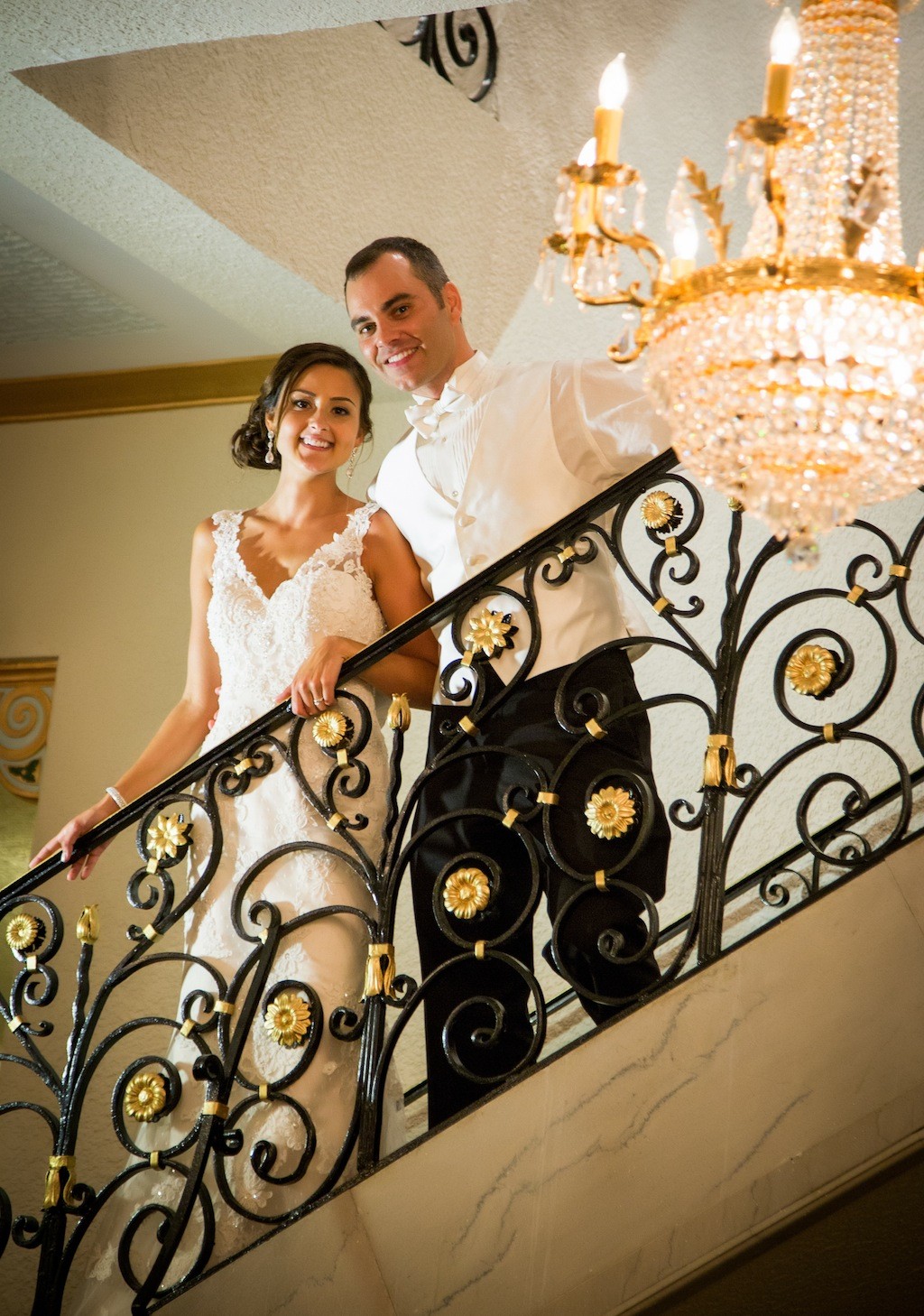 What advice would you give to other Tampa Bay Brides?
Do not let the day pass you by. It goes by extremely fast, so try not to get caught up in the details and the way everything looks. Savor the moments and swim in your happiness. No matter what goes wrong that day, you still end up with the man of your dreams.
Hire a "Day of" coordinator. Unless you want to have all of the vendors contacting you or you want to put all of your family members to work that day, do it. Even the most organized person cannot be both the bride and the point-of-contact.
Tampa Wedding Ceremony Venue: The Westin Tampa Harbour Island
Tampa Wedding Reception Venue: Floridan Palace
Tampa Wedding Photographer: Shakespeare Photography
Tampa Wedding Planner: Winsor Event Studio
Tampa Wedding Florist: Carmen's Flowers
Tampa Wedding Caterer: Floridan Palace
Tampa Wedding Linen Rentals: Kate Ryan Linens
Tampa Wedding DJ: Delight Entertainment – Bill Martin
Tampa Wedding Officiant: Thomas Gallo (Bride's Uncle)
Tampa Wedding Invitations: Wedding Paper Divas
Tampa Wedding Transportation: Jolley Trolley
Tampa Wedding Dress: Casablanca Bridal "1975"
Tampa Wedding Hair & Makeup: The Michele Renee Hair & Makeup Artist Group
Tampa Wedding Accessories: Bella Umbrella
We are proud to have the Floridan Palace as a Marry Me Tampa Bay sponsor!
I Loved This Wedding!
Have the following Wedding Vendors Contact Me: