Connecticut couple Lindsay and Anthony chose Tampa Bay for their destination wedding because they wanted their guests to have a mini-vacation along with their wedding. Lindsay's parents were previous guests of the Beach Side Palms on Treasure Island and she thought it was perfect for her beach wedding. Since she was thousands of miles away, the bride knew she needed a Tampa Bay wedding planner, so she hired Exquisite Events.
"When I called Lisa for the first time, she was so helpful I couldn't believe how easy she was making it sound. She would take care of everything from flowers, the officiant, the dj, and all the decorating; it sounded too good to be true! I decided that she was the perfect choice. I didn't even speak with any other coordinators, she was it," Lindsay explained.
With the recommendation of Exquisite Events, Lindsay hired P.L. Carrillo Photography. "I have to say to anyone getting married in the Tampa Bay area, if you are looking for a photographer you need to hire Pedro Carrillo from P.L. Carrillo Photography.  He is very professional but very personable. We had a great time with him and would recommend him for any occasion. If you want memorable pictures for years to come, he is the photographer for you."
Lindsay's Tiffany blue and pink beach wedding had an emphasis on starfish. She planned from the start to have her ceremony and reception on the beach. "We wanted people to eat and dance on the sand while feeling the sea breeze."
Her wedding was not only memorable because it was the day she tied the knot, but she also had a very special guest. "My grandmother had never been on a plane before, so at 71 she took the first flight of her life to Tampa just to attend our wedding. I had no idea until two days before, everyone kept it a secret from me, it was the best wedding gift I could have ever asked for."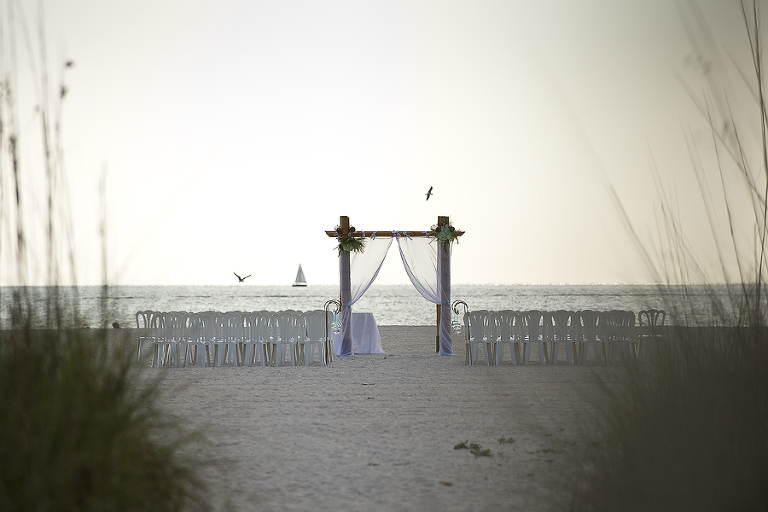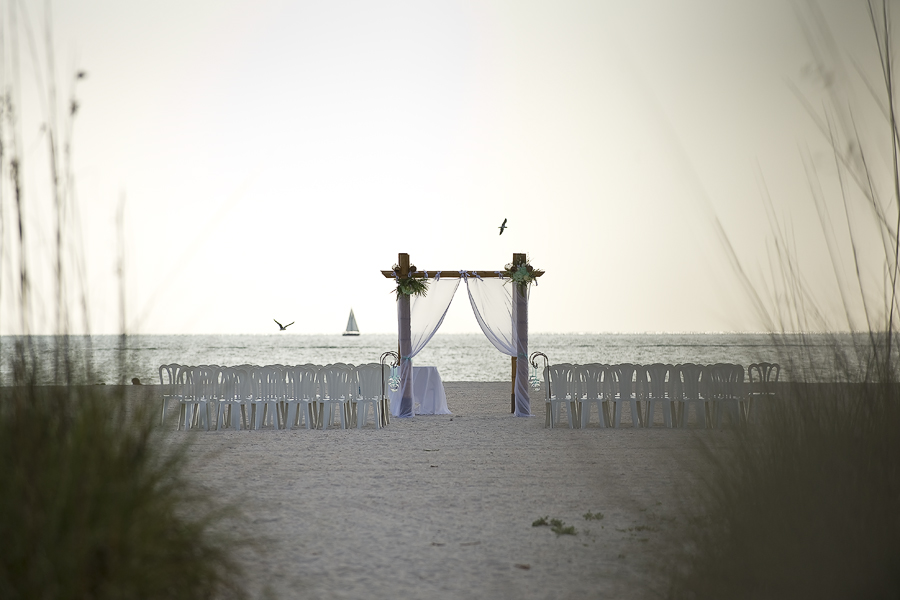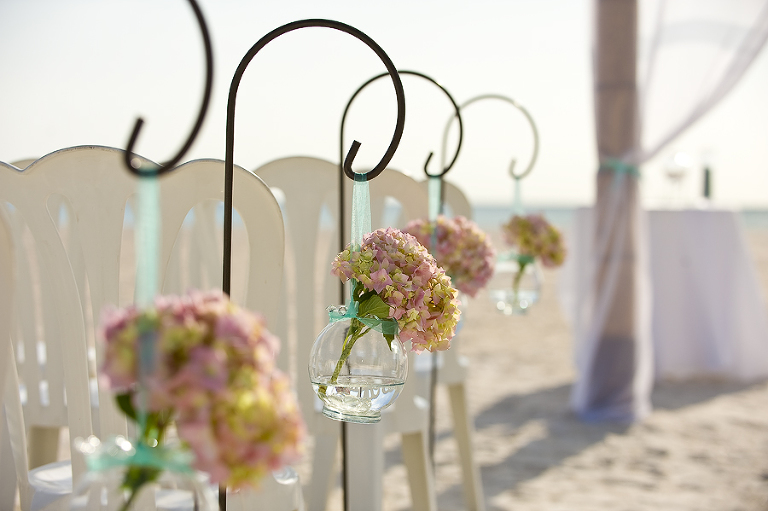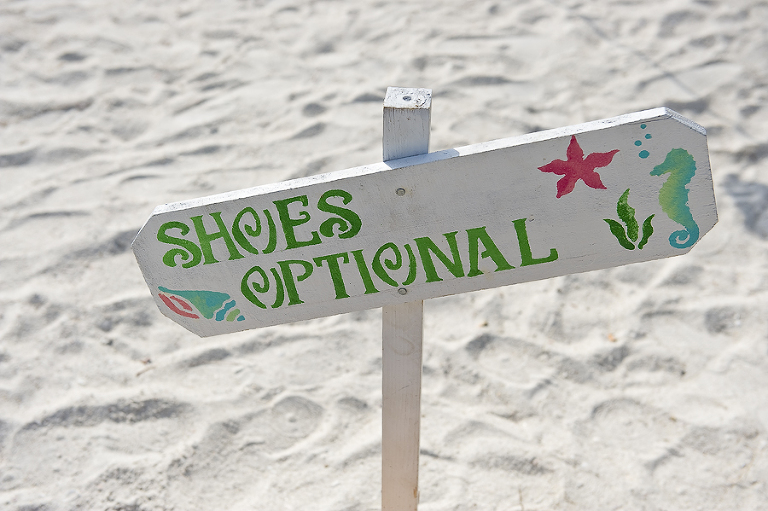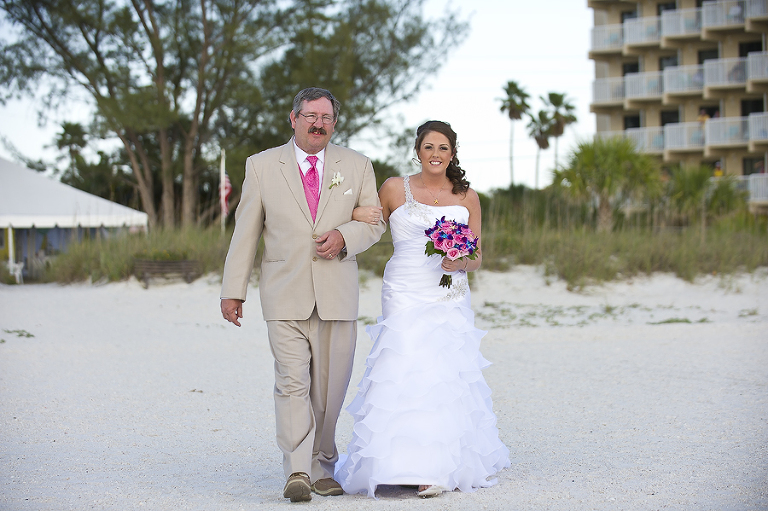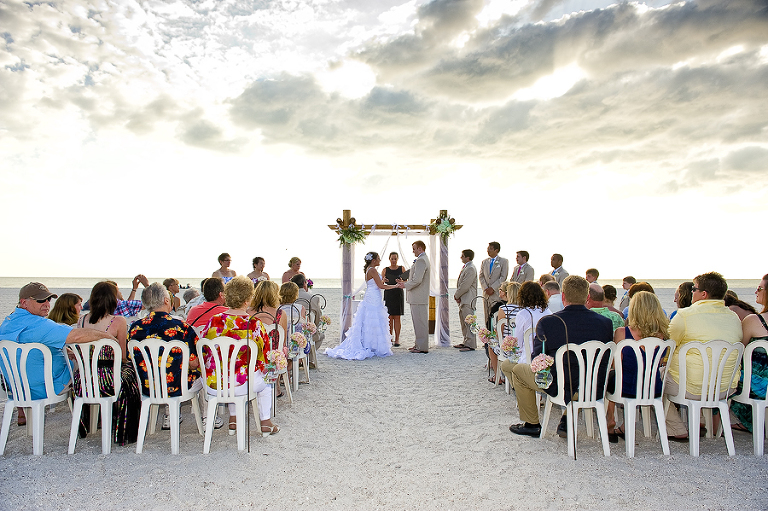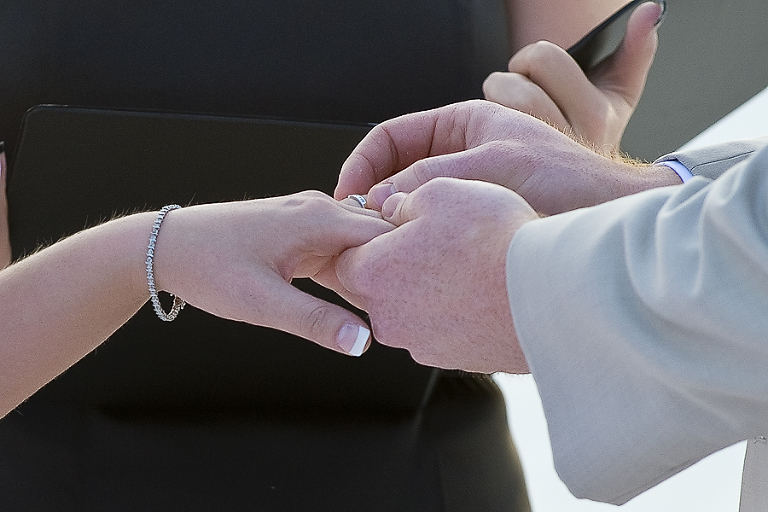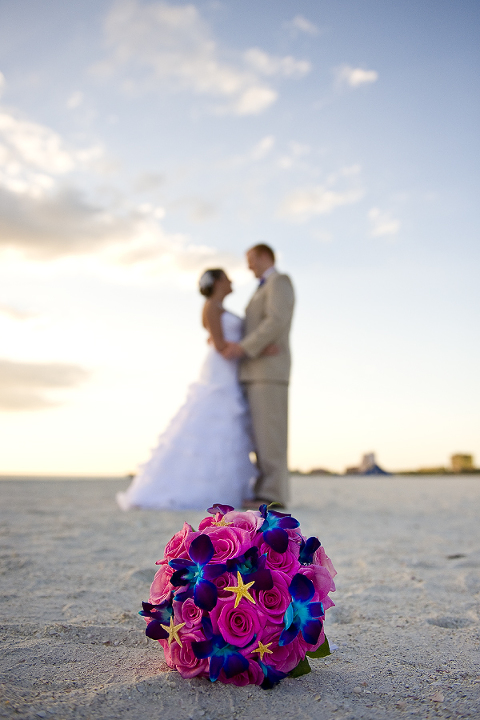 Wedding's by Iza used pink roses and blue orchids with a sprinkling of starfish in the bride's bouquet.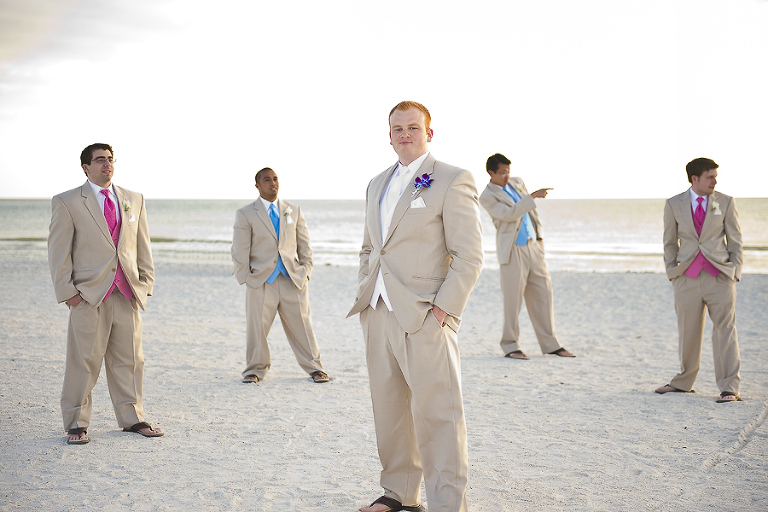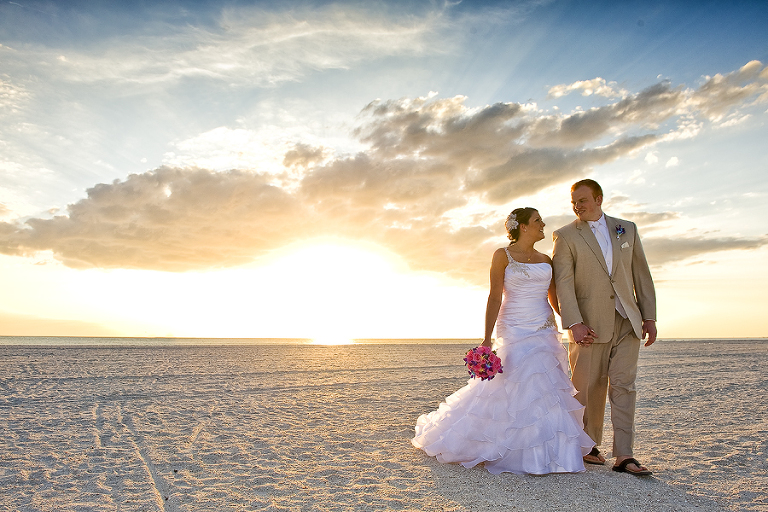 This picture reflects the love that they have for each other and represents their new journey into their married life together. – Tampa Bay wedding photographer Pedro L. Carrillo of P.L. Carrillo Photography.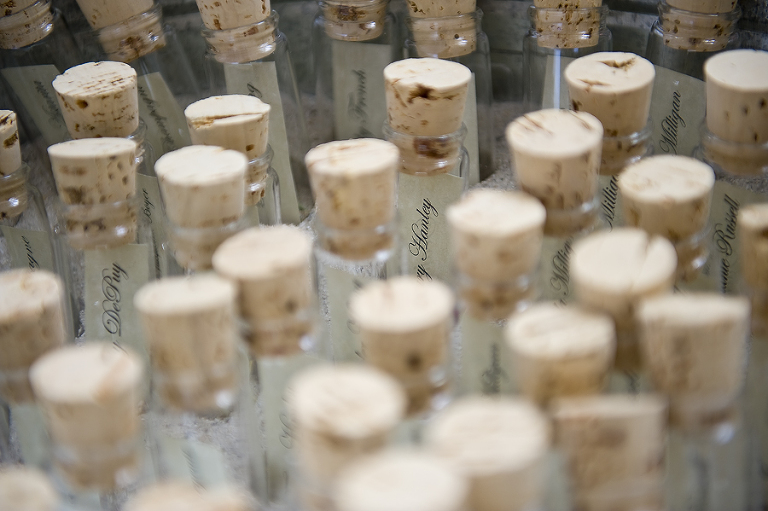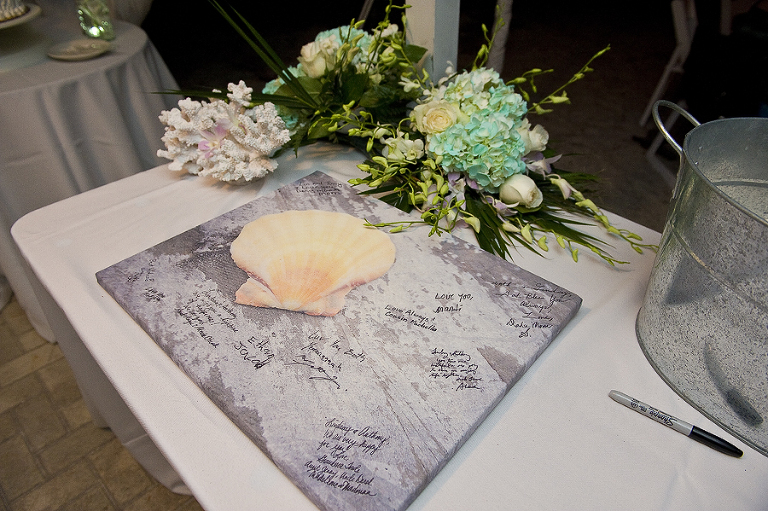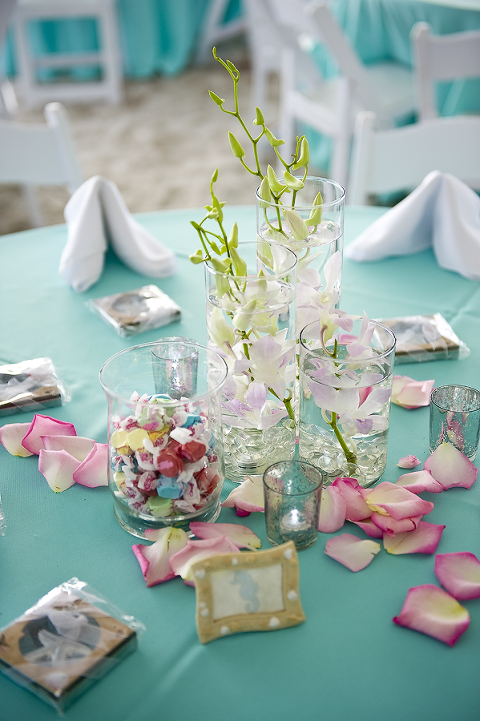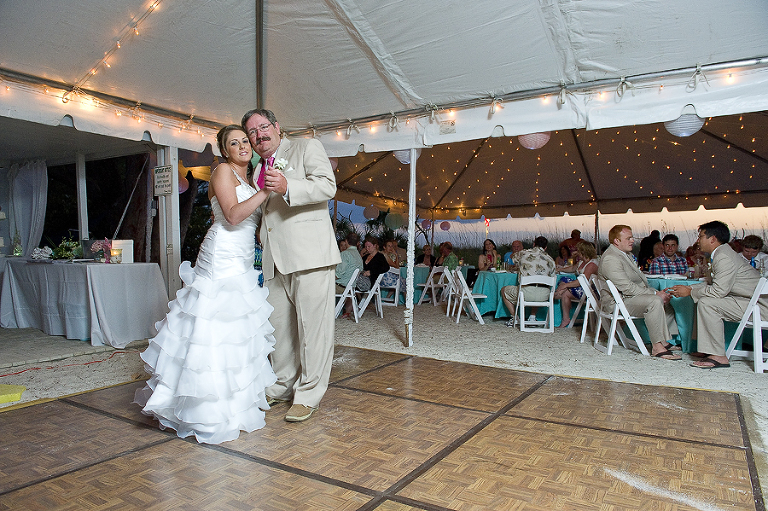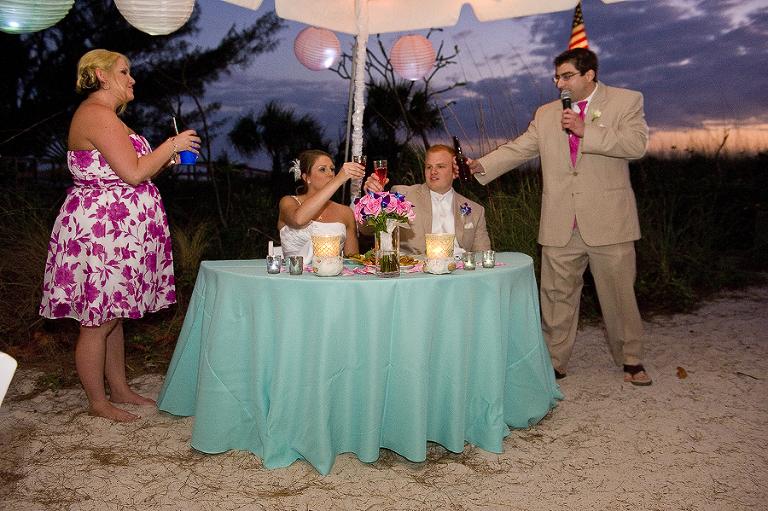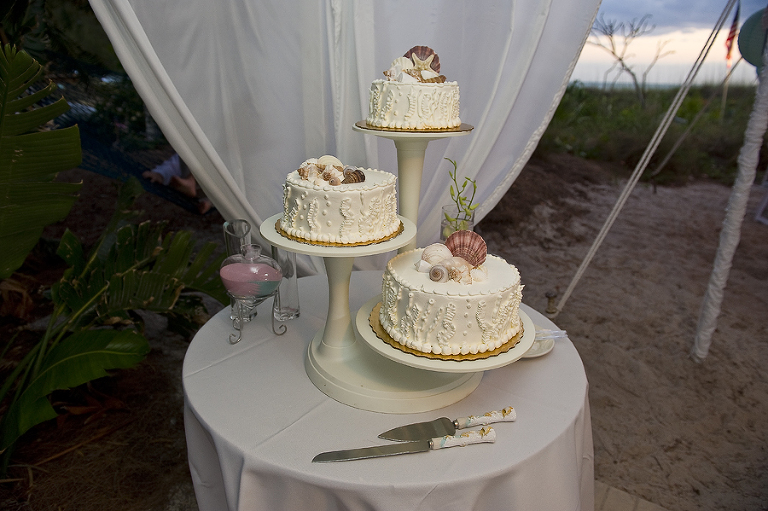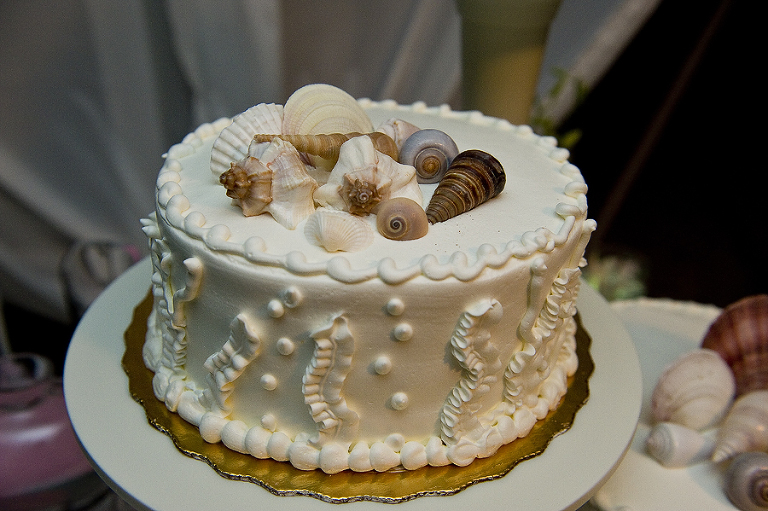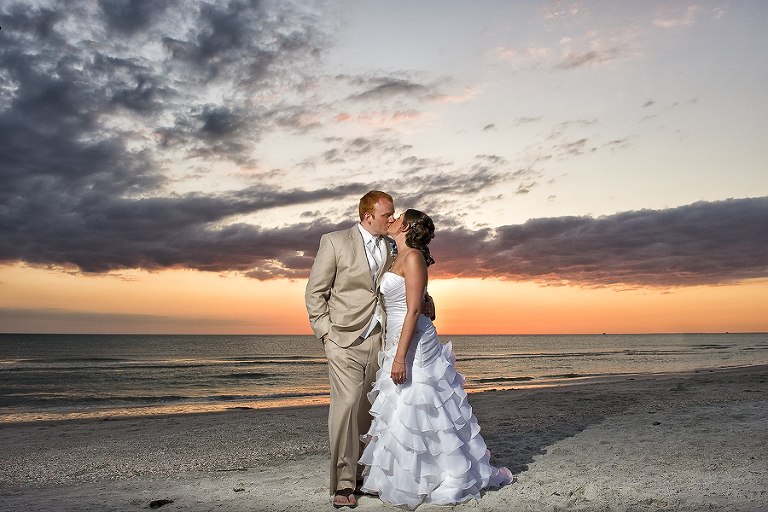 The sunset was amazing, the prettiest one we've ever seen. The backdrop for the wedding was unbelievable, the clouds were placed in the perfect position. People that did not attend frequently ask if the background is real! I have to tell them of course its real…I had a beach wedding! – The Bride
What advice do you have for brides planning destination wedding?
The biggest advice I can give is to get a wedding planner! It will make your planning so much less stressful. They just know things about the area that you don't. They will have suggestions that you didn't even think about.  On the day of the wedding is when you really notice all they do for you. My wedding day was stress-free, all i had to think about was marrying the man of my dreams. On the day of your wedding don't stress the little things, go with the flow and enjoy your day. It's over before you know it.
Would you have a destination wedding? Comment below!
We are proud to have Exquisite Events as a Marry Me Tampa Bay sponsor!