Over the years, we reviewed hundreds of weddings, with every trend, color palette, and theme imaginable. Though, when an UNIQUE Weddings & Events real wedding shows up in our inbox, we know we're in for a treat!
Tampa Bay wedding planner Staci Mandikas skillfully applies her creativity and design background to deliver an "outside of the box" wedding for her clients. From Alice in Wonderland themed weddings to frozen ice inspired one, she creates weddings that you won't find on Pinterest.
Her fast-talking, bubbly personality will immediately make you smile, and her organizational, take charge attitude will let you know you're in good hands.
"After talking with our wedding planner, Staci, I just knew that she could bring to life what I was looking for. I put all my faith in her, and I am so glad I did, it was perfect! I knew that I could trust her with our special day, and I am so incredibly lucky to have found her. I loved every aspect of our wedding. Everything came together so perfectly, and I have Staci to thank for that." -Katie and Jason | Organic Blush Pink and Navy St. Pete Wedding
UNIQUE Weddings & Events is a full-service, boutique wedding planning company, founded in 2008, that focuses on working with couples who want to create a wedding truly reflects their unique personality and love story. We have built a strong reputation in the area, for our one-of-a-kind concepts, new ideas and major attention to detail.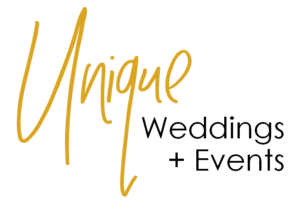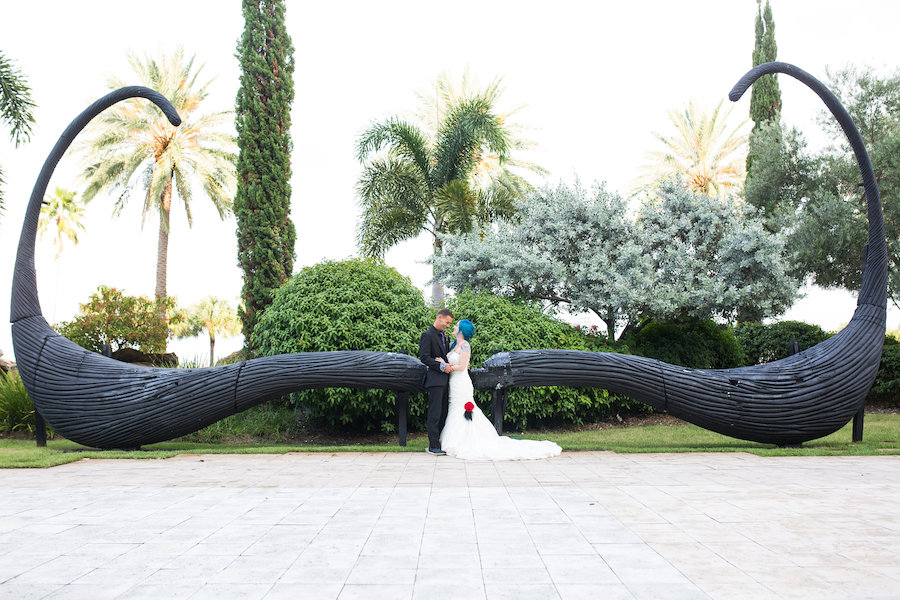 Whimsical Alice in Wonderland Inspired St. Pete Wedding | Christina Maldonado Photography | UNIQUE Weddings & Events
What inspired you to start your business?
My background is in design, so I always knew that I would do something in the creative field. After being exposed to the wedding industry, it was a no brainer to take my design experience and education and bring it to the event design field.
Where do you draw your inspiration?
Being involved in interior design, I still draw a good amount of my inspiration from interior design and architecture. I also am inspired by photography, travel, and fashion design.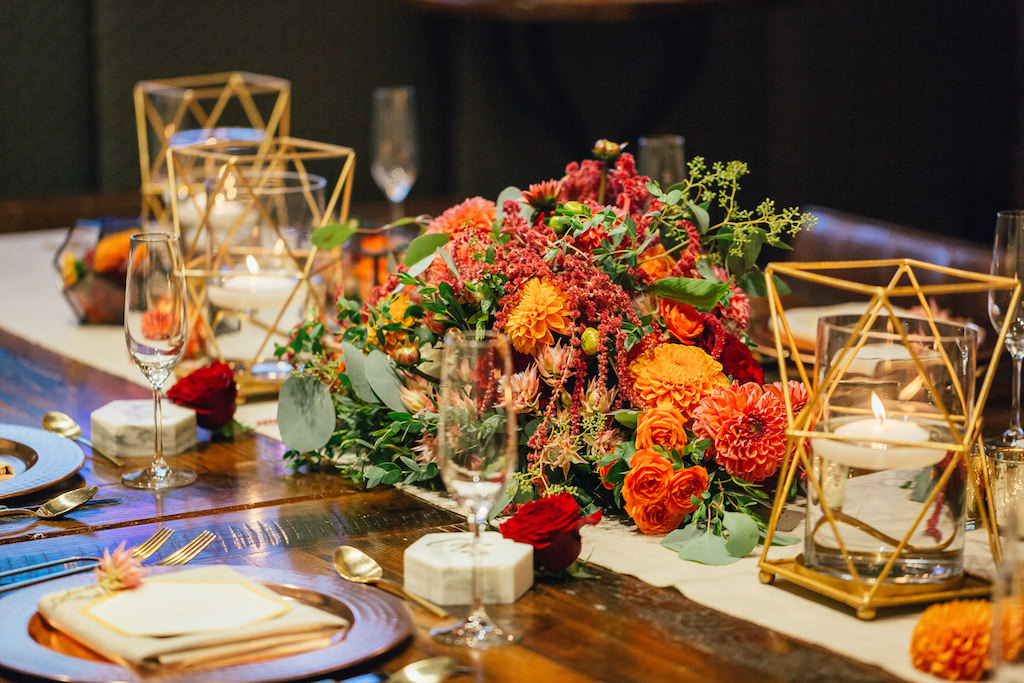 Intimate Organic Copper and Orange South Tampa Wedding | The Epicurean | Darin Crofton Photography | UNIQUE Weddings & Events
What is one of your favorite things about being a wedding professional?
Taking my couples' initial ideas and expanding and building on them. They have no idea what infinite possibility there is, so I love to be the one to give them the good news and permission to do something different.
What makes your business stand out from others?
We do more than just create "pretty" weddings; we are not afraid to break the rules, go against tradition and set trends, rather than just follow them.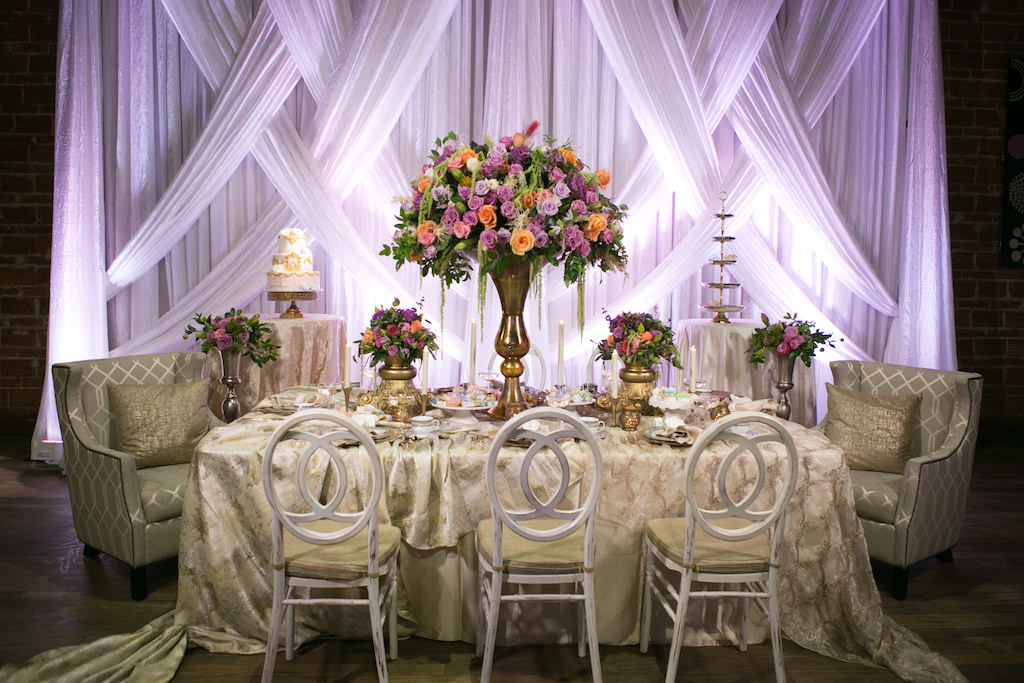 French Inspired Marie Antoinette St. Petersburg Wedding Shoot | NOVA 535 | Carrie Wildes Photography | UNIQUE Weddings & Events
In your opinion, what is a MUST HAVE at every wedding?
Surprises! Catch your guests off guard with a traditional invitation and do a modern style wedding. Incorporate song lyrics into your vows. Have a miniature dessert at each place setting when they arrive in the dining room. Whatever it is, surprises make your wedding memorable!
What is one thing most couples would be surprised to know about you?
As much as I love creating awe-inspiring events and major parties, I'm actually a major homebody! My perfect night is at home on my sofa, wearing comfy pants watching Netflix!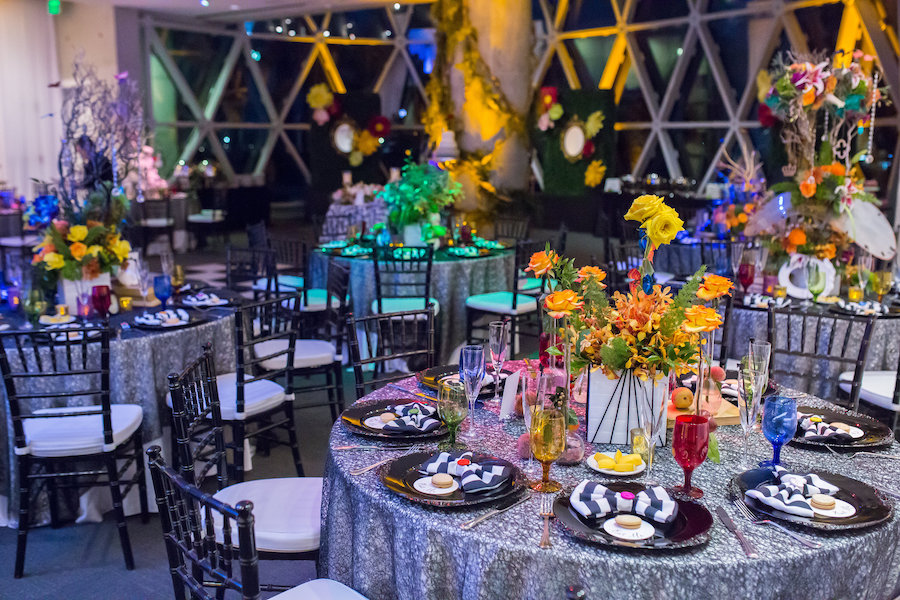 Whimsical Alice in Wonderland Inspired St. Pete Wedding | Christina Maldonado Photography | UNIQUE Weddings & Events
What is one of your passions, non-wedding related?
My little one, Emma Grace. She is such a ham, loves the spotlight, and always makes me laugh!
What are you most excited about in the upcoming year?
We are working on some fabulous weddings, a new website, and some great industry partnerships.
I Want to Learn More about Planning & Design from UNIQUE Weddings & Events.
Reviews From Previous Marry Me Tampa Bay Couples: 
"We spoke with our wedding planner Staci from UNIQUE Weddings and Events, and she was able to look at our Pinterest idea board and come up with an overall theme. From there, Staci put together a draft of more in-detail touches that could bring all of our likes together. We wanted something that screamed summer and brunch that was colorful, and tied into the bountiful amount of murals and art in and around our venue." -Sarat and Colin | Intimate Organic Copper and Orange South Tampa Wedding 
"Staci and her crew knocked each and every detail out of Wonderland. She and her staff were organized, professional, always on time and just generally had all their shit together. They operate like a well-oiled machine tending to every last detail." -Paige and Rick | Whimsical Alice In Wonderland Inspired St. Pete Wedding
"At first I thought I could do it all on my own, but working full-time, I never could have pulled a wedding of my dreams without the knowledge of a wedding planner. I always go with my heart on things and instantly after my fiancé and I met with Staci of UNIQUE Weddings and Events, there was no need to go home and think about it. Their services were very affordable and worth every penny spent, if not more. Every moment of my wedding day went flawlessly, thanks to Staci and her team. Now that the wedding is over I miss talking to her almost daily." -Cynthia and Lee | Blue and Silver Modern Icy Wonderland Tampa Wedding 
MORE: UNIQUE WEDDINGS & EVENTS WEDDINGS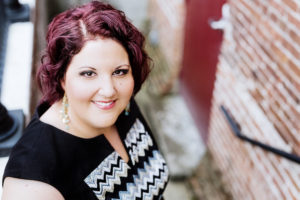 Staci Mandikas is the owner and principle wedding and event planner & designer of UNIQUE Weddings & Events. She has spent over a decade specializing in unique wedding concepts and working with couples that are looking to do something truly different for their wedding. Staci was awarded Tampa Bay Business Journal's Best in the Biz – Favorite Wedding Planner, as well as National Association for Catering and Events Tampa Bay Chapter – Rising Star Award and Wedding of the Year. She has been rated one of Tampa Bay Area's top three wedding planners by City Voter. When she's not knee-deep in weddings and details, you will find her working on crafts with her young daughter, heading to fun date nights with her hubby and participating in the PTA – all the while, never catching up on laundry!
I'd Like to Connect with UNIQUE Weddings & Events