Desserts is one of our favorite part of the wedding day, and with couples opting to make their day more personalized, cake pops are the perfect way to showcase your hobbies and passions.
I've known Sweetly Dipped Confections owner Brandi Matiyak for years, as she was one of the original cake pop businesses in Tampa Bay. She can make ANYTHING into a cake pop, which why Sweetly Dipped Confections' Instagram has over 26k followers! I've even hired her to create custom flamingo and pineapple cake pops for our Marry Me Tampa Bay team that turned out almost too cute to eat (almost).
Even if you're already serving wedding cake at your event, cake pops or personalized desserts make for great favors, because I promise that no one wants random items monogrammed with name and wedding date (sorry, but true). However, your wedding guests will happily take home marshmallows dipped in your alma mater's colors or Rice Krispie treats with your initials printed on them!
Meet the owner behind Sweetly Dipped Confections (a proud new mama), who is just a sweet as her business name!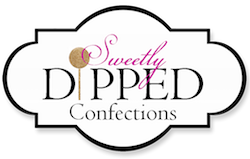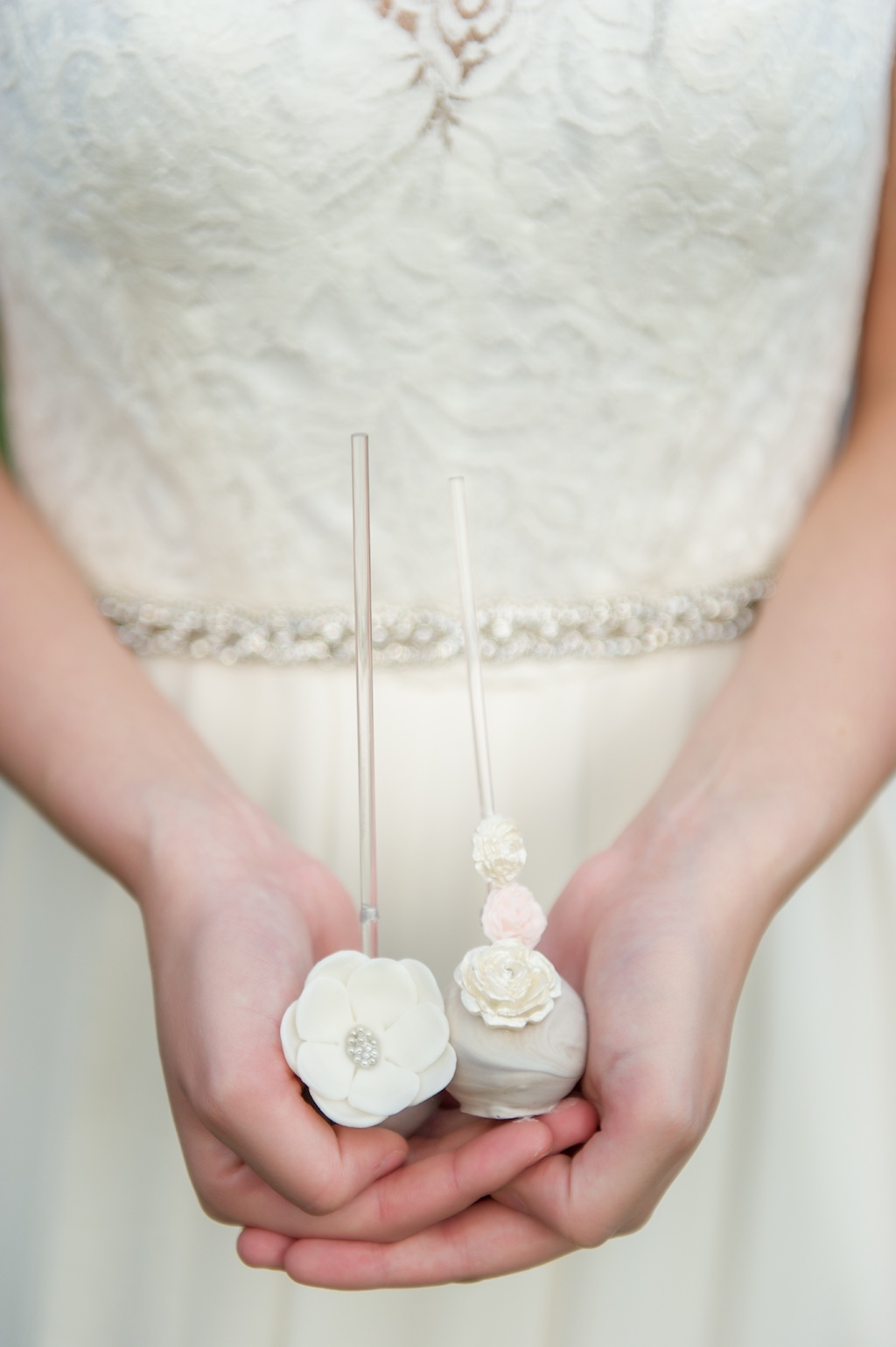 Romantic Southern Inspired Wedding | Andi Diamond Photography
What inspired you to start your business?
A love of baking and flexibility, the flexibility of deciding which orders I do and don't take definitely comes in handy, as well, with small children to care for. I've been baking since I was little, and have always loved to draw. Those two interests mesh really well with this outlet. What keeps me in the business is hands down getting to create fun new designs that make all my clients happy. I definitely strive for that WOW factor!
Where do you draw your inspiration?
Everywhere! I can look at new and classic trends and can even draw inspiration by checking out the couple's invitations or design elements. Whatever the theme for the event is, I love to create unique designs to match.
Vibrant Purple and Pink Outdoor Styled Wedding | Caroline & Evan Photography
I Want to Learn about Desserts from Sweetly Dipped Confections.
What is one of your favorite things about being a wedding professional?
I love getting to create something specific for each couple. Showing them a unique way to incorporate desserts that they haven't thought of, and then making their vision a reality. Getting awesome feedback from couples who truly love what was designed specifically for them is always an honor.
What makes your business stand out from other wedding professionals?
Our cake pops are 100% cake. They are not crumbled and mixed with frosting, which gives them a fluffy, cupcake-like texture as opposed to a dense, frosting-filled texture.
We have earned national acclaim for our creative and delicious treats for galas, weddings and events around the state, all made fresh to order for superior quality and flavor.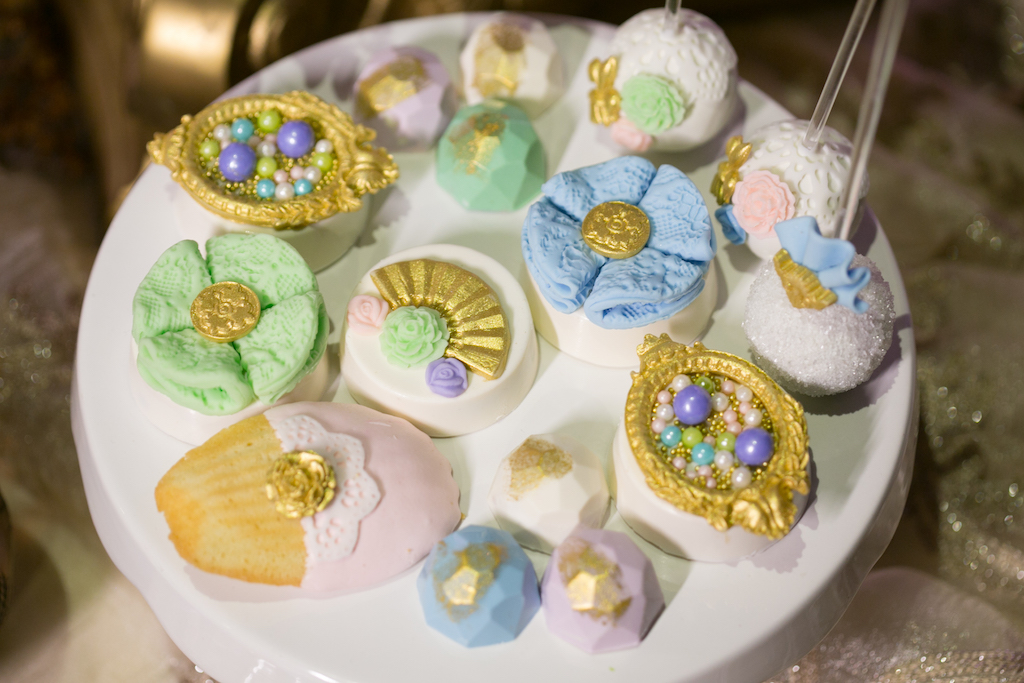 French Inspired Marie Antoinette St. Pete Wedding | Carrie Wildes Photography
In your opinion, what is a MUST HAVE at every wedding?
Edible guest favors!
What is one of your passions, non-wedding related?
I love fixing things around the house. My father is a carpenter, and always had me helping him with projects growing up. From smaller projects like building a cage for my pet iguana (I can't believe my mom let me have one!), to more complex projects like building a waterfall on a pool, I always found a sense of accomplishment in making things myself. This has continued into adulthood, as I find little projects around the house. And, I can even see how it's spilled into my world of baking, as well, as I try to find new ways to create designs!
What is one thing most couples wold be surprised to know about you?
I used to be a television reporter and morning anchor.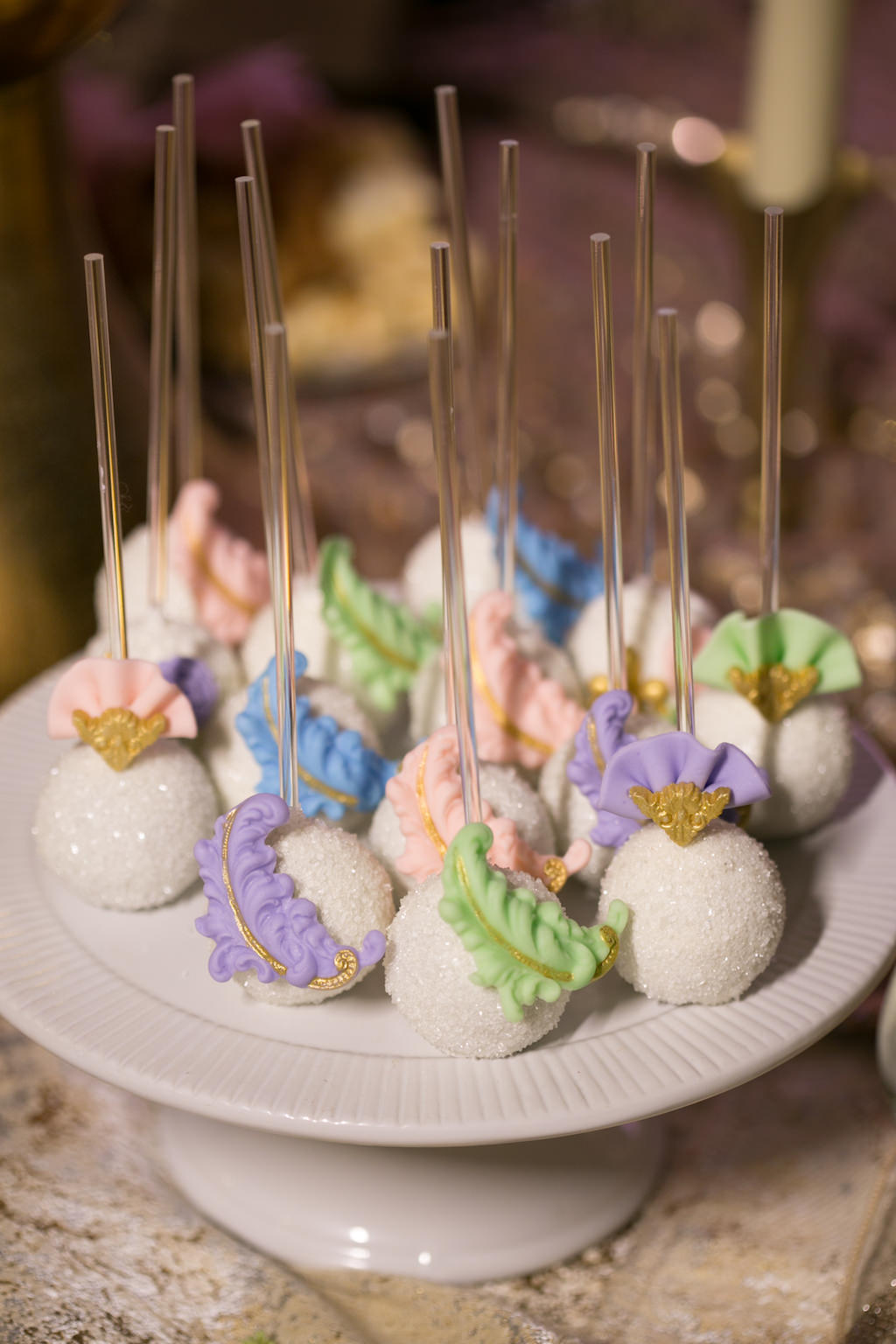 French Inspired Marie Antoinette St. Pete Wedding | Carrie Wildes Photography
I Want to Learn about Desserts from Sweetly Dipped Confections.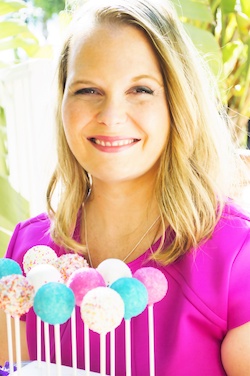 Before diving into the world of baking, Brandi Matiyak was the morning anchor for a small Iowa TV station. She perfected the ins and outs of story telling and is now applying that same passion into this new (much tastier) creative outlet. Despite her brief stay in the Midwest, she was born and raised right here in the Tampa Bay area and is extremely happy to be home! Since moving back, she's now happily married with three small children. When not in the kitchen, she's either with her family doing kid-friendly activities, or driving them to their own activities.
EMAIL SWEETLY DIPPED CONFECTIONS