Ashley and Austin's romantic Brooksville wedding was held at the grand estate of Legacy Lane Weddings, a haven of luxury and sophistication. Every aspect of the day was meticulously crafted with purpose, from the picturesque hanging florals in the Ceremony Tree to the deeply sentimental memorial photographs that lined the aisles.
"Our wedding design was rustic elegance with a hint of vintage. I've always had an old soul, and my husband grew up on a farm, so we both loved the rustic idea, but I wanted to elevate it by incorporating vintage elegance throughout so we didn't look like we were having a western hoedown," the bride explained. "My colors for the wedding were burgundy, blush, and off-white, and those colors reminded me of elegance and romance."
For the Lutz couple, the January celebration of their union with their dearest family and friends was of the highest importance. They sought luxurious overnight lodgings and found it at Legacy Lane Weddings, where they could host up to 40 cherished guests and exchange vows under the sprawling Ceremony Tree.
"I wanted a wedding venue that had a rustic elegance ambiance that I loved as a blank canvas and that would fit a large number of guests," the bride explained. "We chose Legacy Lane Weddings because we fell in love with the venue the moment we drove onto the property. It literally took our breath away as a blank canvas. The biggest bonus was the venue accommodating up to 40 overnight guests on the property for the entire weekend in the cutest cottages, which was perfect for our family and our wedding party. We were able to celebrate the entire weekend together, which is something no other venue we saw offered."
"Their service at the venue was great too," Ashley added. "They had everything organized and ready to go the moment we arrived for our wedding weekend, and I didn't have to worry about anything, which is what every bride wants on her wedding day. They are family-owned and operated, and they literally treat you like family during your stay."
The exquisite reception featured elegant furniture rentals from A Chair Affair to create romantic lounges for guests to unwind and socialize. The Legacy Barn served as the grand stage for the celebration, where 140 guests were seated at tables of romantic ambiance adorned with shimmering metallic chargers and gleaming gold flatware.
"We rented several vintage chairs, couches, dinnerware, and coffee tables from A Chair Affair, and they really brought the vintage vision to light," Ashley beamed. "We used the vintage chairs and couches for seating at the ceremony for our parents and grandparents and then used them in an upscale seating area at the reception. This furniture was one of my favorite visuals at our wedding."
The bride and groom wanted to fully savor their cocktail hour and made sure to allocate ample time for this celebration. They personalized this part of their day with a bespoke cigar and whiskey bar, elevating the occasion to new heights of sophistication and indulgence.
"My husband loves a good bourbon and cigar, so, during cocktail hour, we had a cigar and whiskey bar where our guests could enjoy a variety of bourbon and also a cigar of their choice. We are also the proud parents of three furbabies, Brewksi, Kashton, and Ladi, so we had fatheads of our dogs printed that were used as props in our photo booth, which were a big hit with everyone," Ashley shared. "Being a part of the cocktail hour as the bride and groom made our wedding unique. It is so common to have that time be for photos with family and the bridal party, but I think our guests and the bridal party really enjoyed being a part of cocktail hour, and it helped make our time with everyone longer. I know we sure enjoyed it."
Reflecting on the enchantment of their wedding day, the couple cherished the unexpectedly touching speeches delivered by their beloved fathers above all else. The emotional words from the two men who have profoundly impacted their lives will forever hold a special place in their hearts.
"There were so many amazing memorable moments throughout the night of our wedding, but a few of my favorite and most memorable moments were first, the Father of the Bride and Father of the Groom speeches because it is rare to see the emotional or heartfelt side of our fathers and during those speeches, the entire room was in happy tears," the bride gushed. "Also, during the reception, my mom had The Little Mermaid theme song playing for me because that was my favorite movie I watched over and over as a little girl. It was a very special moment for her and I to share. The most memorable moment was at the end of the night; all of the guests were escorted out of the reception area to get ready for the sparkler send-off, and my husband and I shared our final dance together, just us in the room, taking everything in from the night and holding each other tight as husband and wife."
The Proposal:
On October 30, it was A.J.'s 32nd birthday. To celebrate, I planned a nice dinner at Charley's Steakhouse with our immediate family and close friends. As he was opening his final gift that evening, everyone had their phones ready to film (including myself) because the final gift was packaged in a Gucci shoe box with what I thought was a fancy pair of shoes.
However, as I was getting impatient for him to open and show everyone the gift inside the box, A.J. got down on one knee and asked me to be his wife. He had the ring in the box the entire time. I had never been so shocked yet filled with happiness and excitement in my life! I waited eight years for that exact moment. He knew the only way for me to not find out about his proposal was for me to think I was only planning his birthday party, and he was right because I had never been more surprised in my life.
I didn't say yes just once, I said it three times while jumping up and down. Although, I did give him a hard time after the fact for making me partly plan my own proposal!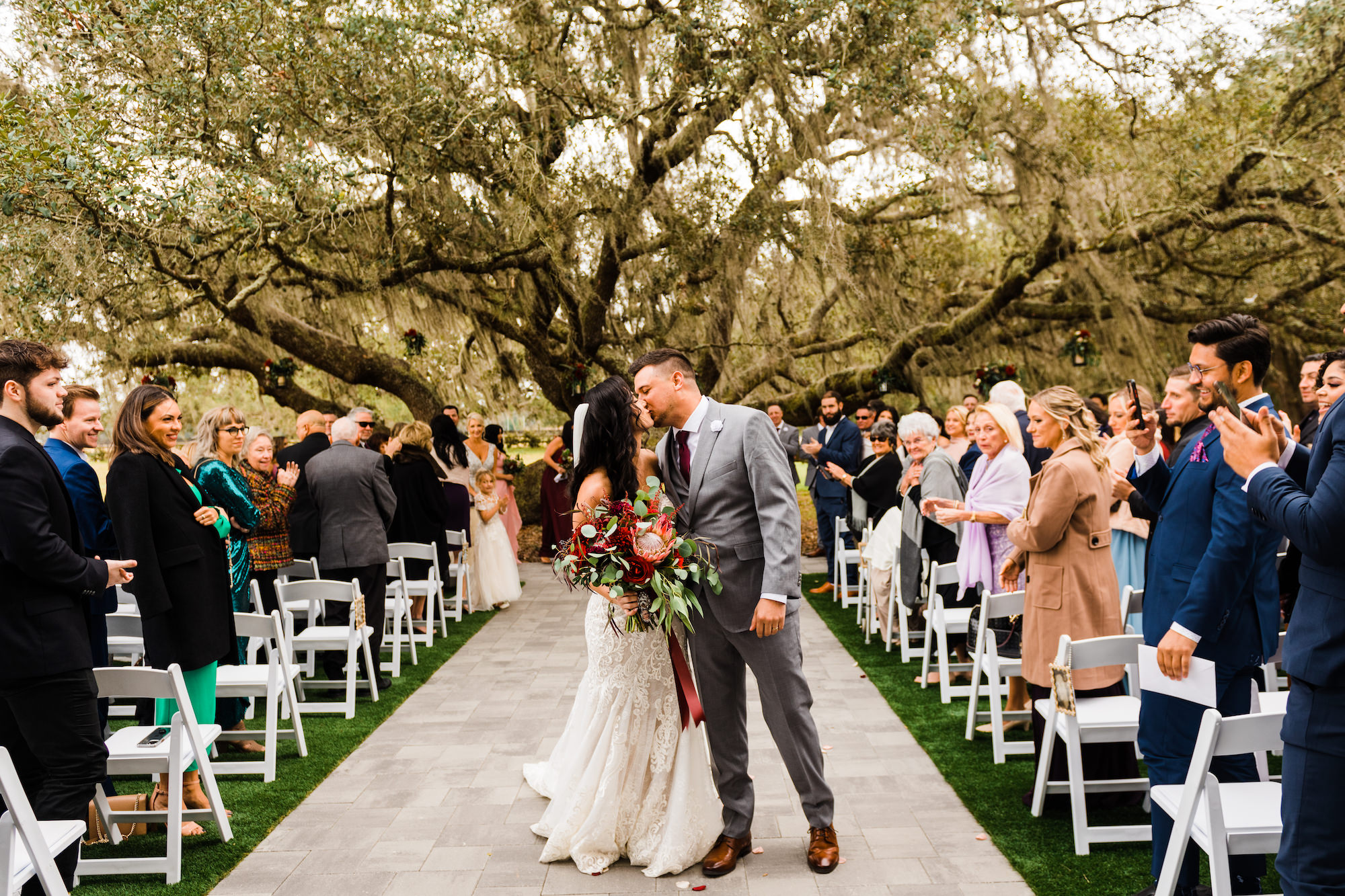 ---
---
Where did you spend your honeymoon?
An all-inclusive sandals resort in Barbados. We love going to unique tropical islands, and this was a location he and I had never had the privilege of going. It was so beautiful and romantic.
Where did you host your bachelorette party?
Austin, Texas, because my husband, A.J.'s first name is "Austin," and I had never been to Texas, and I heard it was a great party spot! It did not disappoint!
How would you describe your theme/wedding design inspiration?
Rustic elegance with a hint of vintage. I've always had an old soul, and my husband grew up on a farm, so we both loved the rustic idea, but I wanted to elevate it by incorporating vintage elegance throughout so we didn't look like we were having a western hoedown.
What were your colors?
Burgundy, blush, and off-white. Those colors reminded me of elegance and romance.
Which vendors really exceeded your expectations?
My wedding planner because she was there for me constantly throughout the entire process and took all the stress and pressure away from me and really helped turn my vision into reality. Also, our florist because I sent them the exact pictures of the florals I wanted for my bouquet and throughout the wedding, and they created my exact vision, only better. Seeing my bouquet for the first time actually brought me to tears. My photographer was also amazing, and she was able to capture some of the most beautiful photos, even with it being what felt like below zero outside on our wedding day.
What advice would you give to other Tampa Bay couples?
Hire a wedding planner to take away the stress and chaos because it becomes so overwhelming. You want your family to be able to enjoy your big day with you, too, instead of setting up or breaking down after the big day.
Do a first look and capture the majority of your photos before the wedding. Seeing each other for the first time, just the two of you, is so special, moving, and memorable. I promise you; you won't regret it. The night goes by as fast as everyone tells you, and this at least lets you celebrate and enjoy your time with everyone for a little longer.