The sparkling blue water and rose-colored sunsets magnify Tampa Bay's scenic beauty that's accessible to couples all year round. For wedding inspiration that could work in any Florida season, a delicate color palette of ivories, pinks, and blues was intertwined to form an elegant paradise ambiance for this Clearwater Beach wedding inspiration styled shoot.
Lauren Reeser, Event Coordinator with Coastal Coordinating, wanted to capture all the reasons why Clearwater Beach is one of the most sought after beachside wedding destinations in the country.
"For our photoshoot at the Hyatt Regency Clearwater Beach, we chose to go with the theme of elegant, upscale beachy. We loved the hotel's light pink color and the blue of the ocean just beyond it. We wanted to keep our tones more neutral to complement this, and we also wanted to shoot at sunset," Lauren explained. "We chose to incorporate a lot of neutral white and ivory tones and glass elements to enhance the beautiful colors of the setting sun with the hotel's light pink setting."
With hundreds of weddings on her resume, Lindsey Sikes, Event Manager at the Hyatt Regency Clearwater Beach, was inspired to show couples how special their wedding day can be, with or without a large audience.
"The inspiration for this photo shoot was to help couples envision their day, even though it may look a little different, smaller, and more intimate," Lindsey shared. "With many couples having to cut back and adjust their wedding details and guest count, it can still be an amazing day and everything they could dream of and more!"
The recently renovated Hyatt Regency offers multiple ballrooms and outdoor balconies with unobstructed beachfront views, making it the perfect venue for an outdoor wedding.
"We loved the downstairs room with its light gray walls and its many windows that showcased the gorgeous ocean view," Lauren gushed. "We kept things light in this room with some white, gold, and light blue. And our floral colors were mostly white and a little bit of light pink and blush to complement the hotel."
So many memories take place during the "getting ready" part of the day. The bridal party celebrated with a mimosa bar while Femme Akoi Beauty Studios pampered the bridesmaids with the ultimate glam squad experience, and Truly Forever Bridal styled the bride in a flowy a-line wedding dress with a fitted illusion lace bodice.
Brides N Blooms Designs selected ivory florals and light pink roses with whimsical greenery in the bouquet to compliment the theme. The modern gold circle arch from Outside the Box Event Rentals donned matching floral arrangements that elevated the minimalist ceremony setup. Brandi Morris officiated the seaside vow exchange, and for added sentiment, personalized vows were laser engraved onto acrylic keepsakes.
Tampa Bay Cake Company decorated a light blue and white ombre cake with an arrangement of sugar flowers that cascaded down the three tiers. The dessert table by Sweetly Dipped Confections played on the coastal theme by elegantly incorporating edible seashell cake pops, chocolate covered strawberries dipped in gold, and mini hanging doughnut wall.
To perfectly capture the day as it unfolded, Carrie Wildes Photography snapped photos of the ceremony, decor, and stunning sunset reception.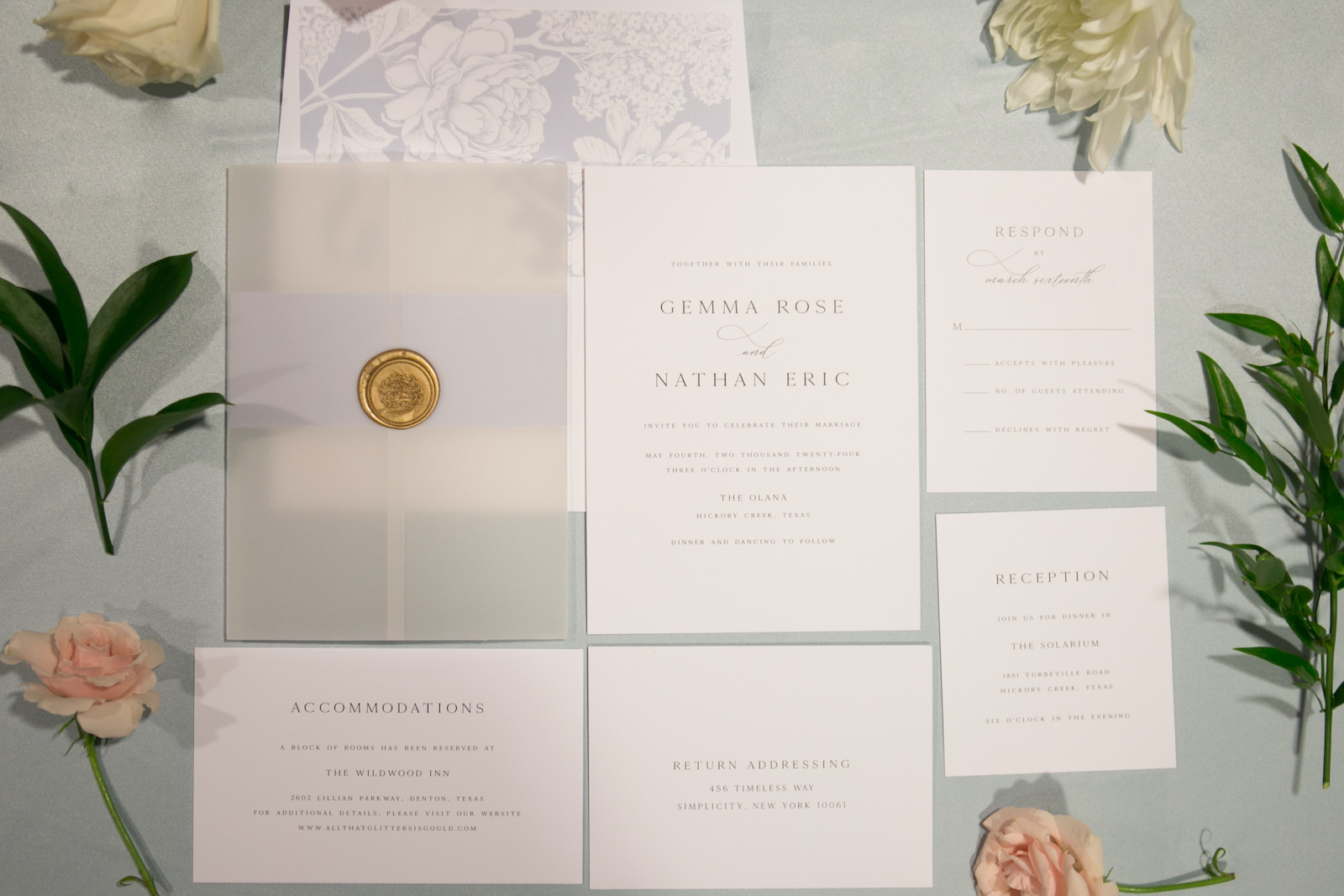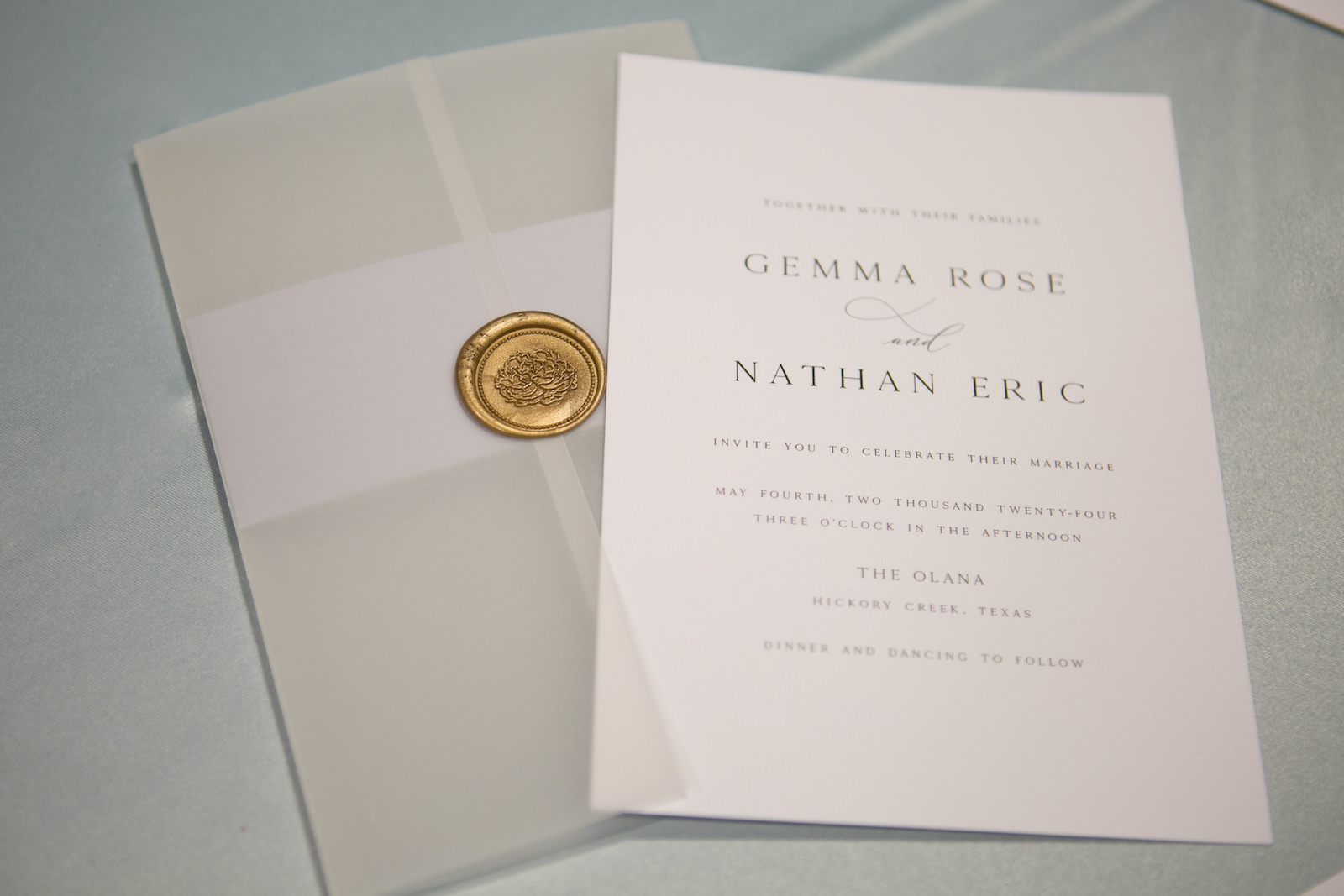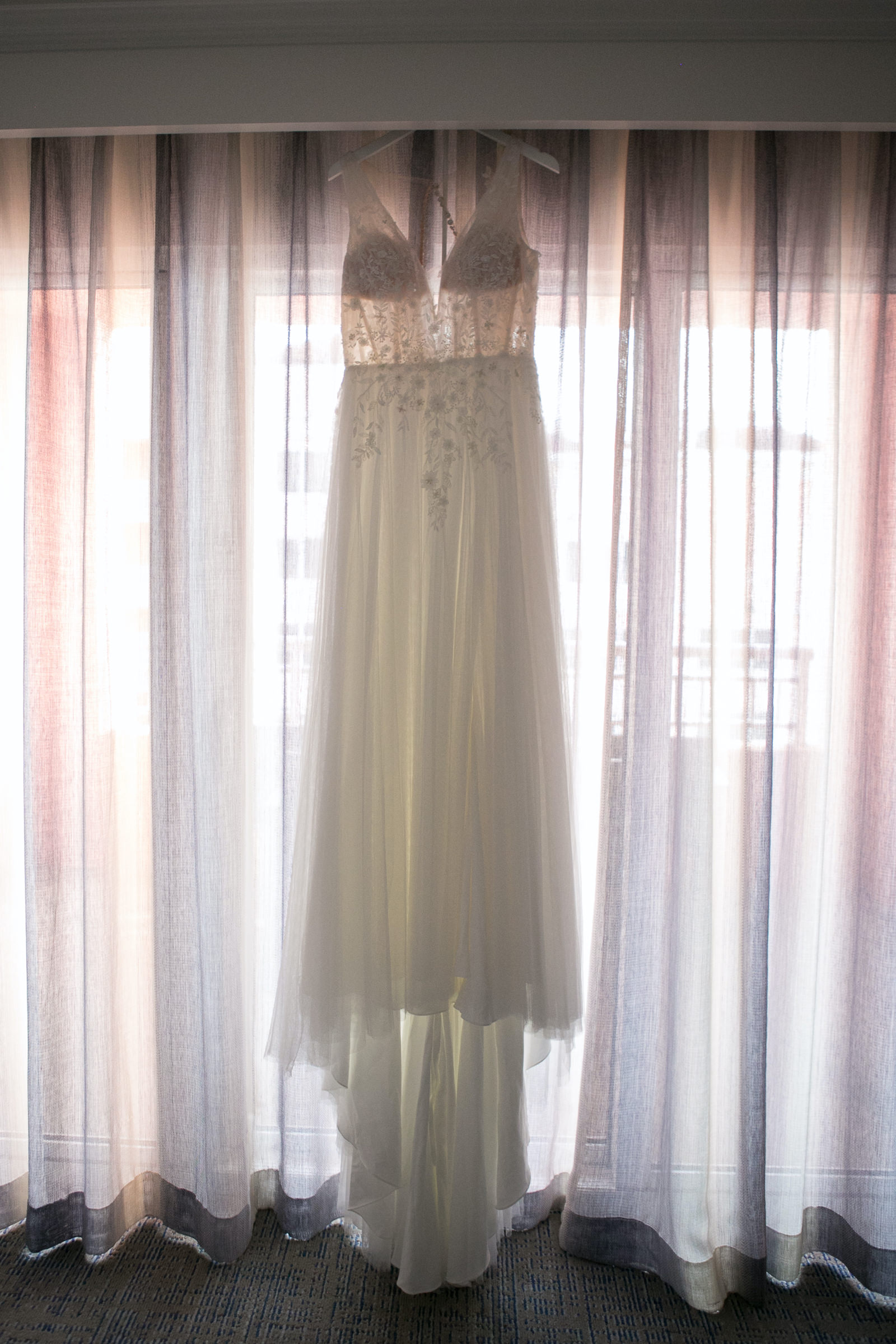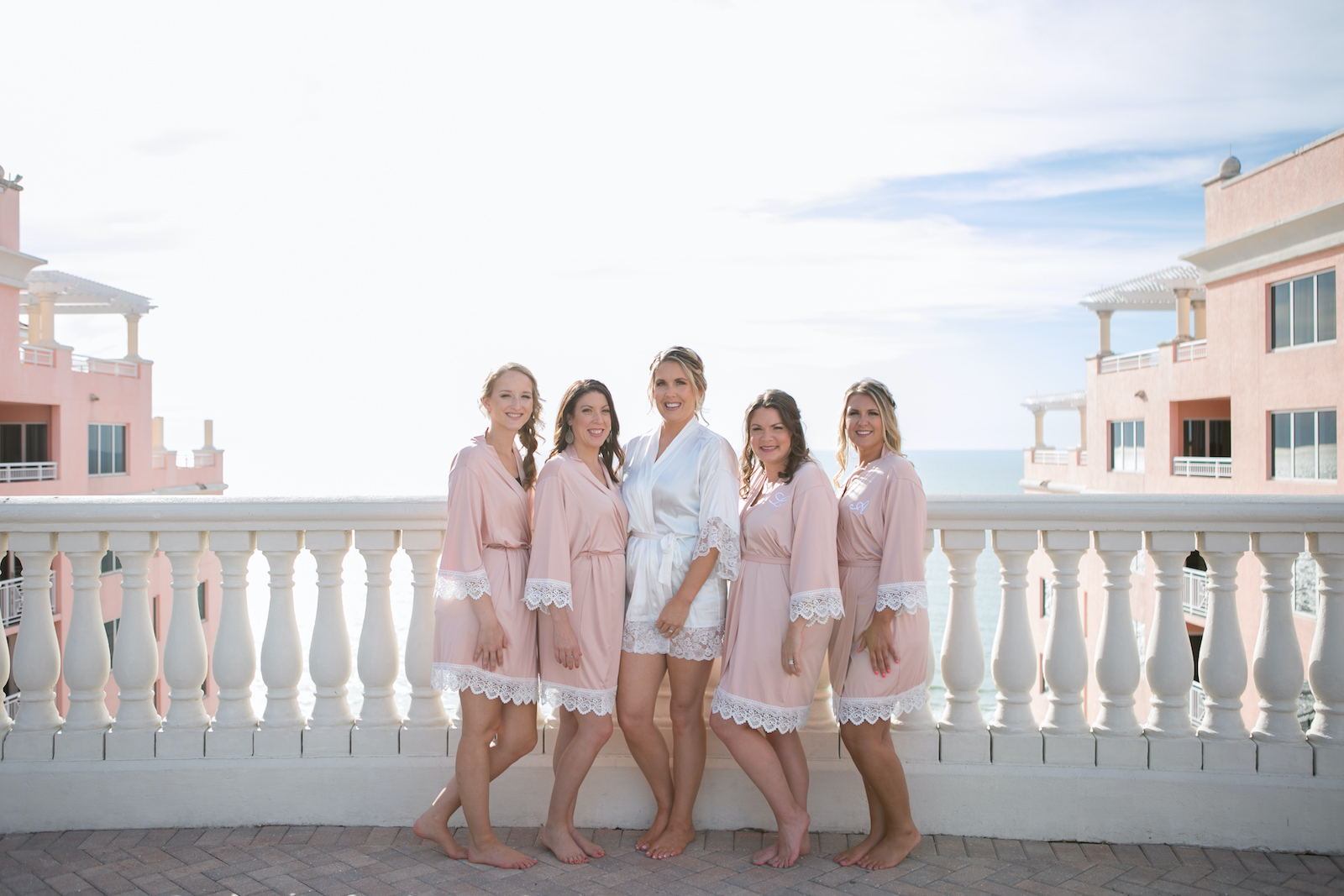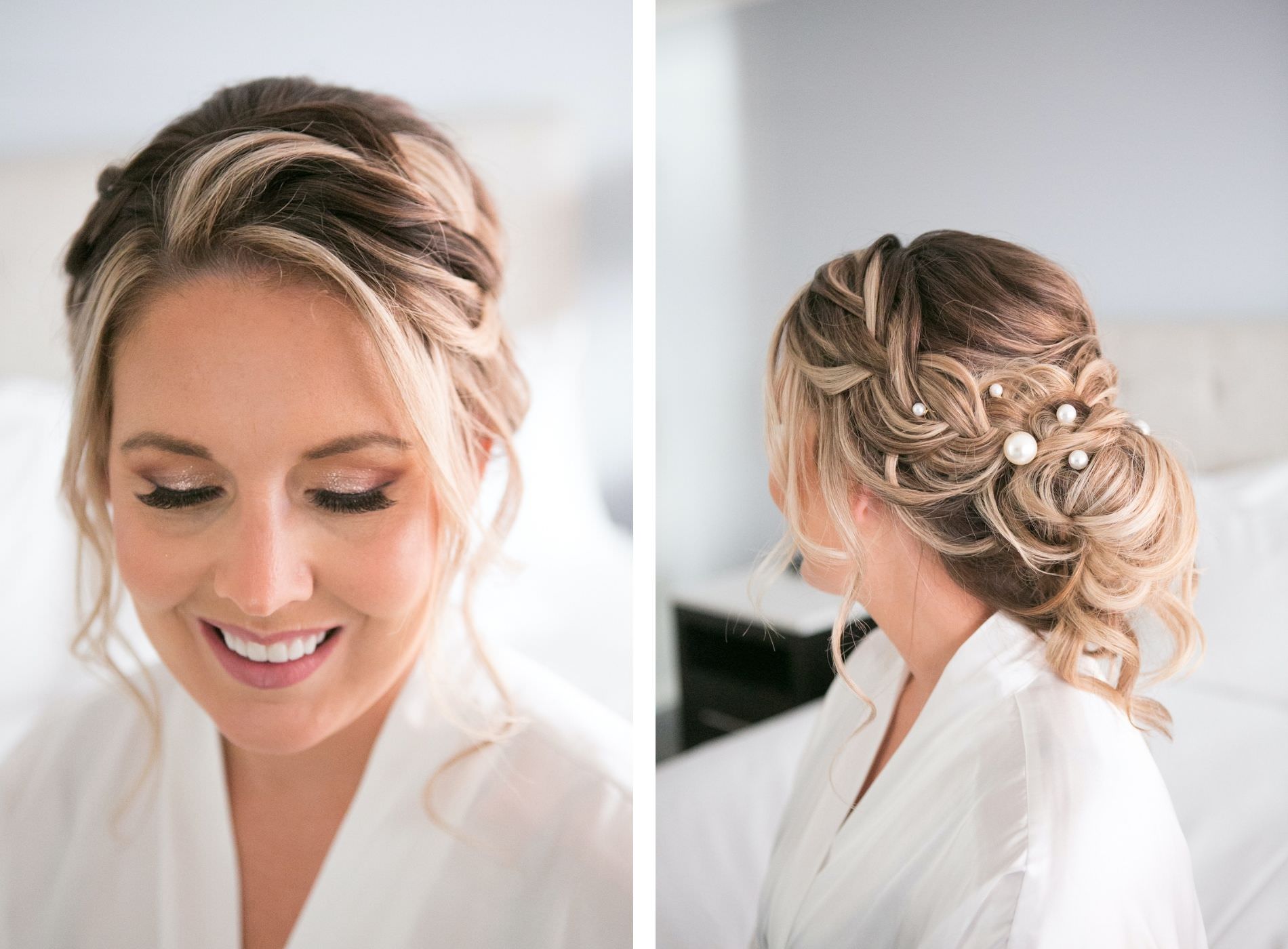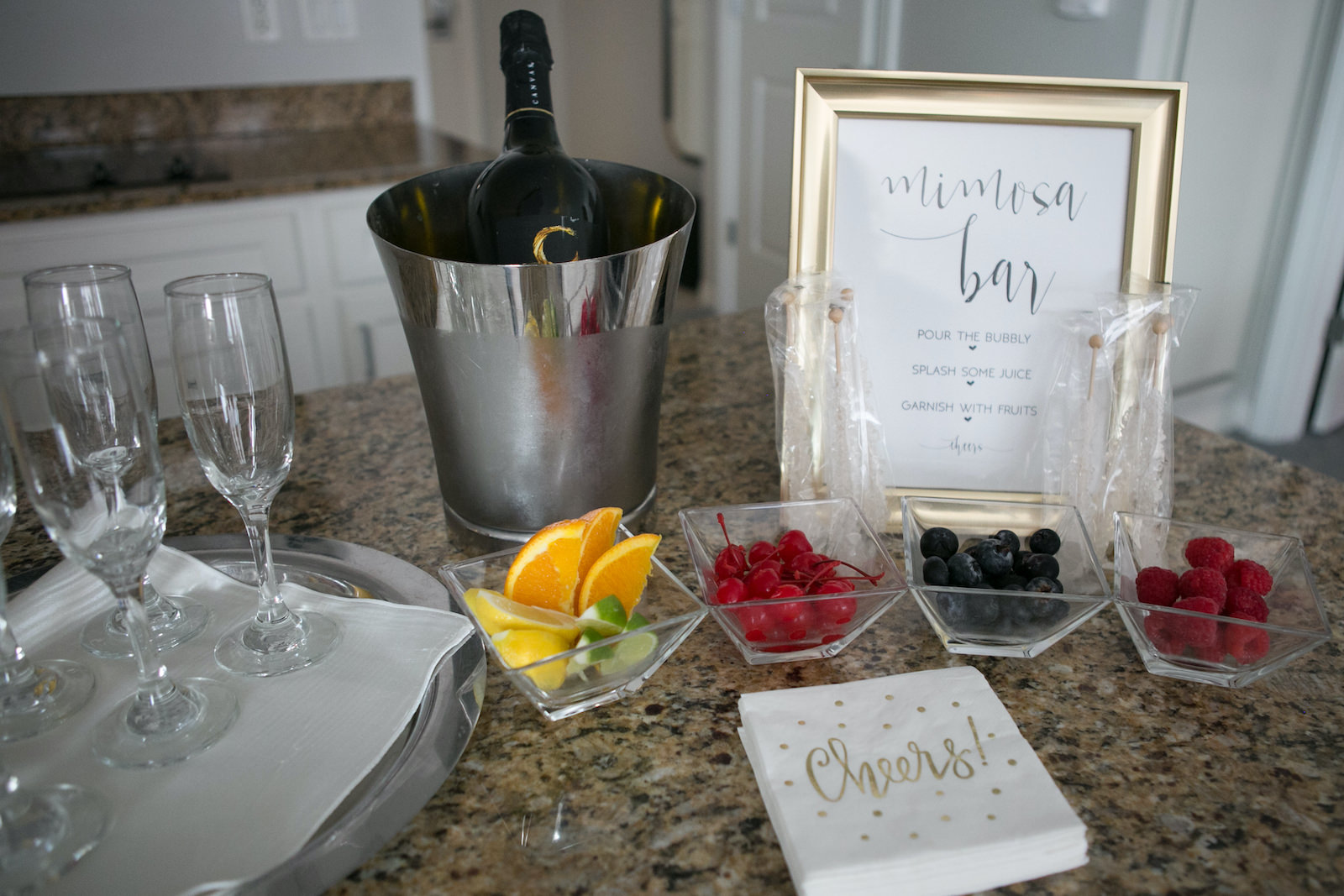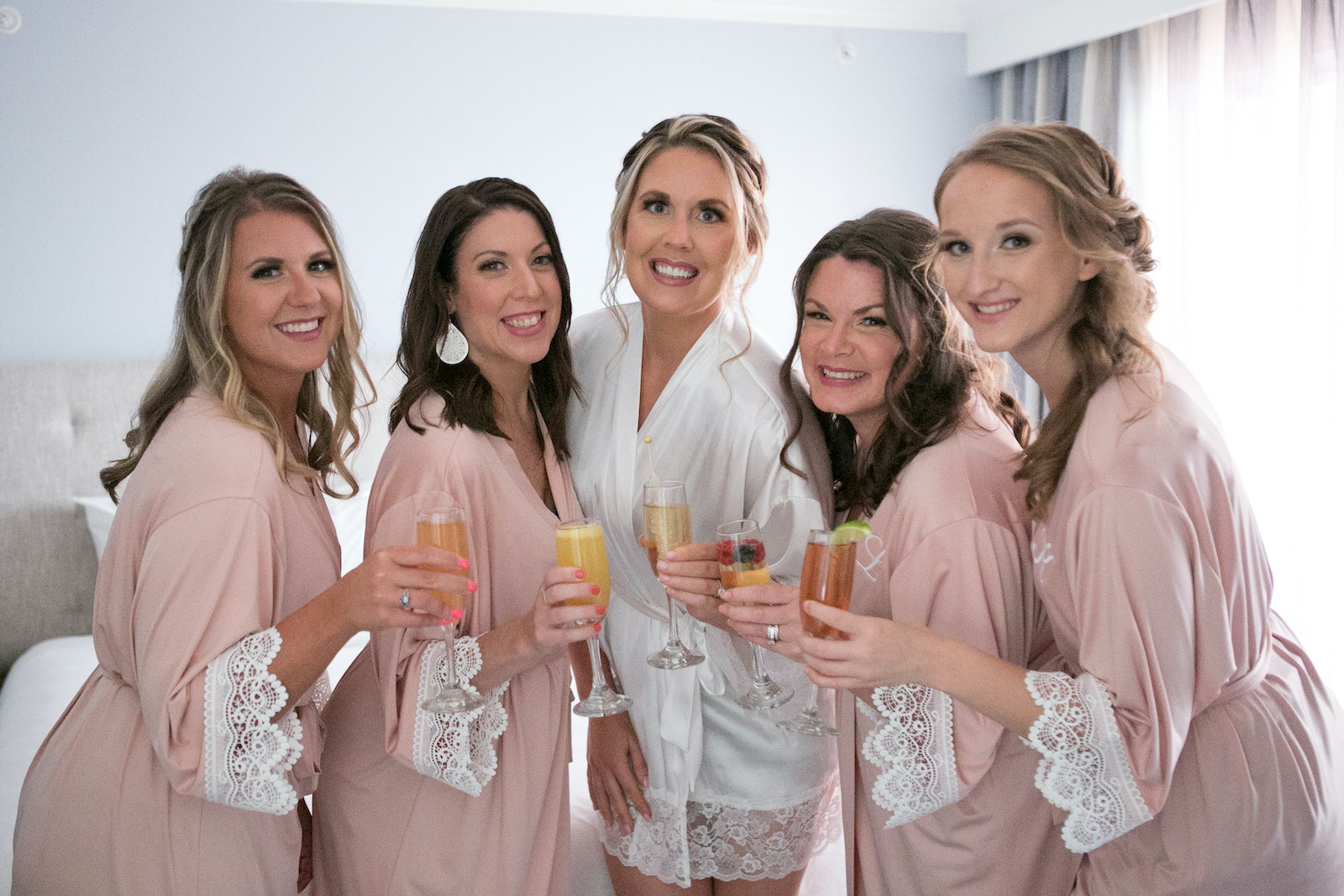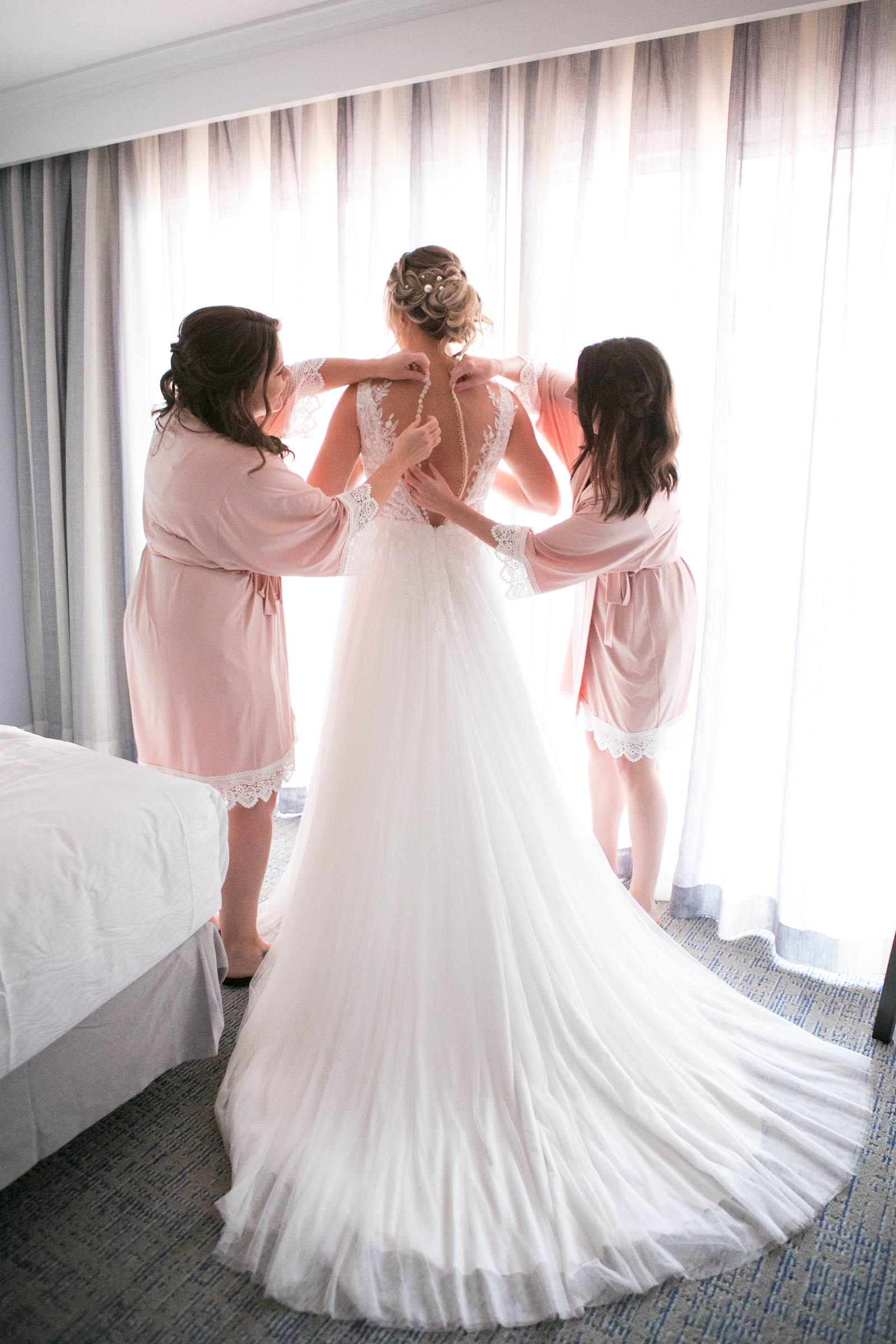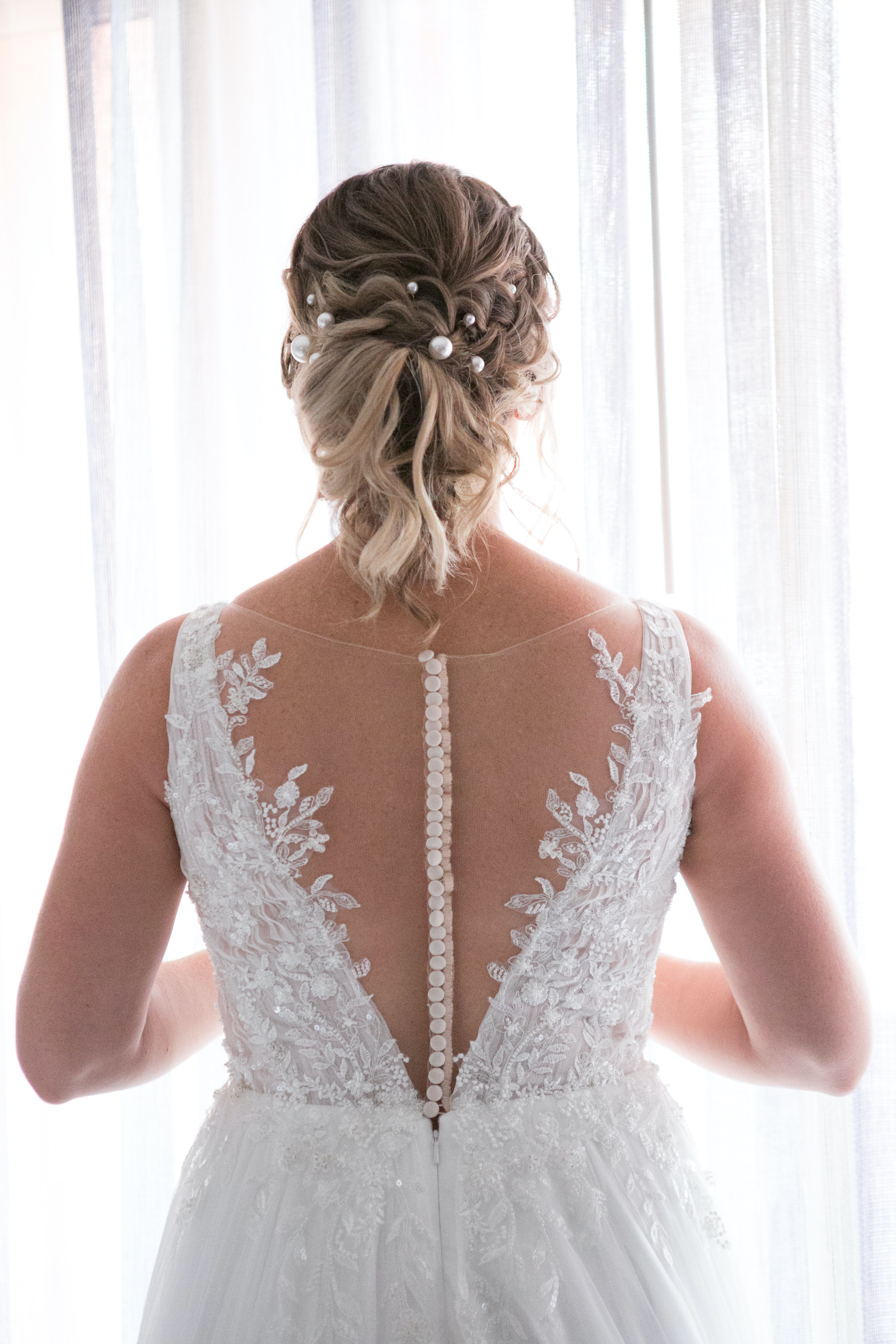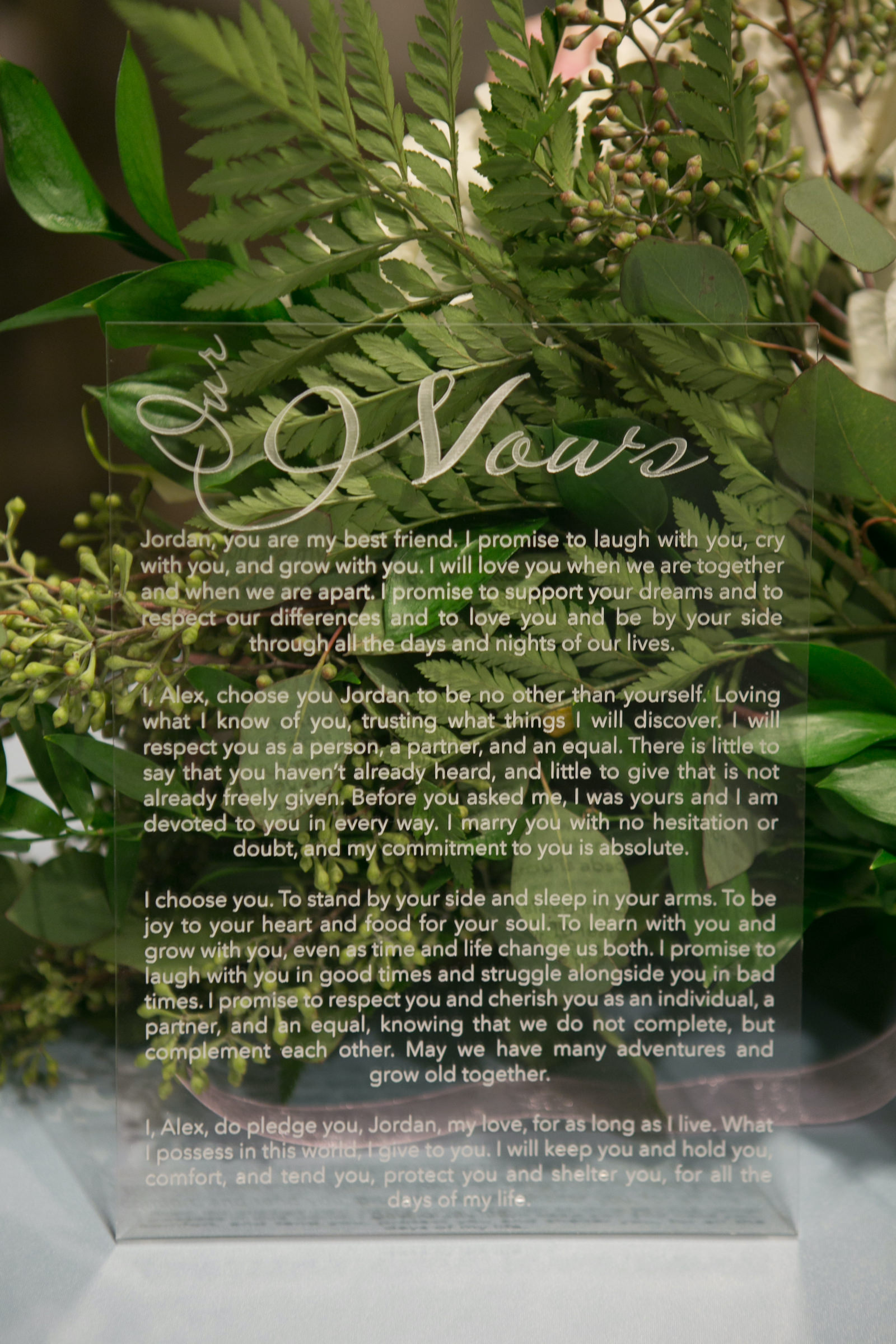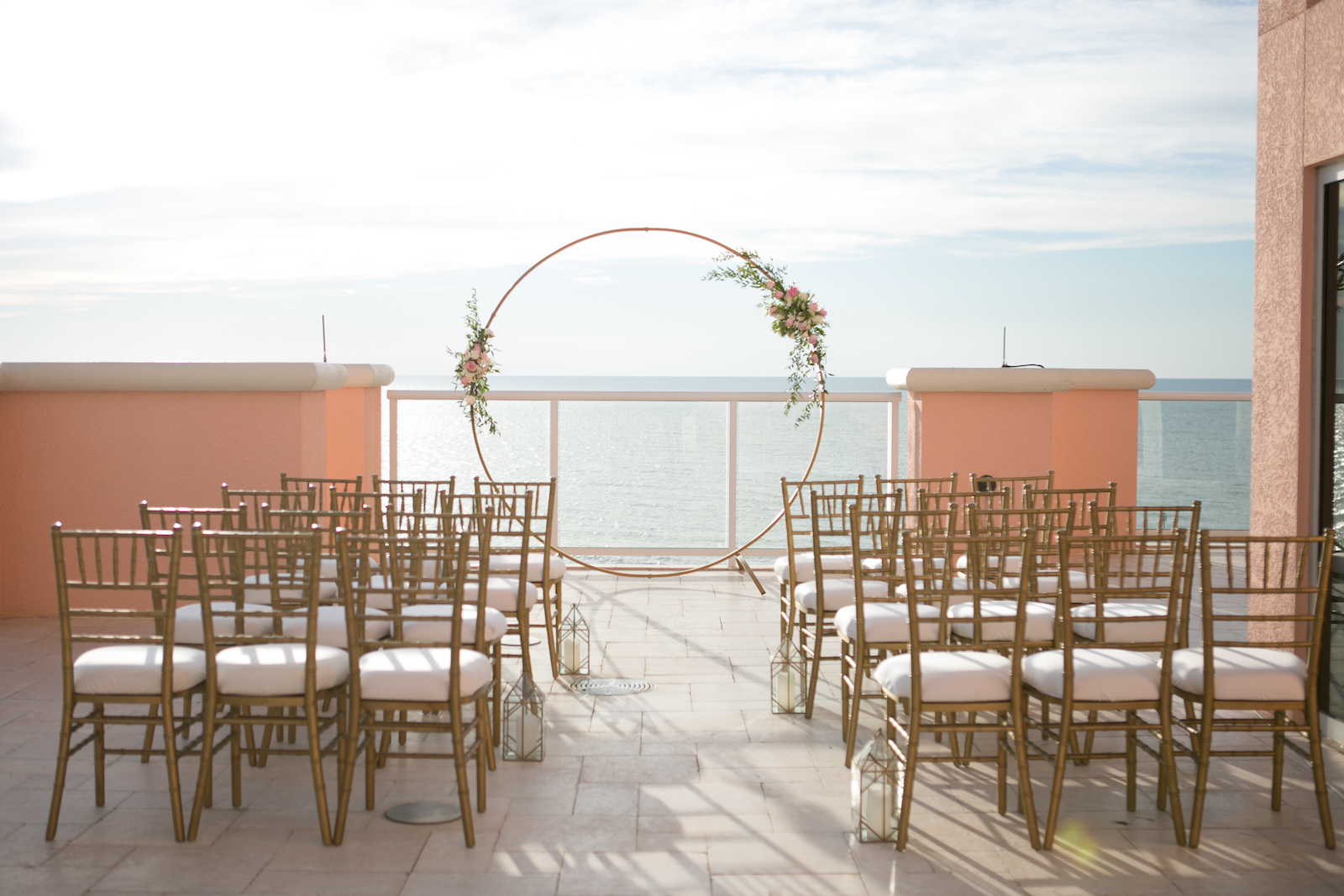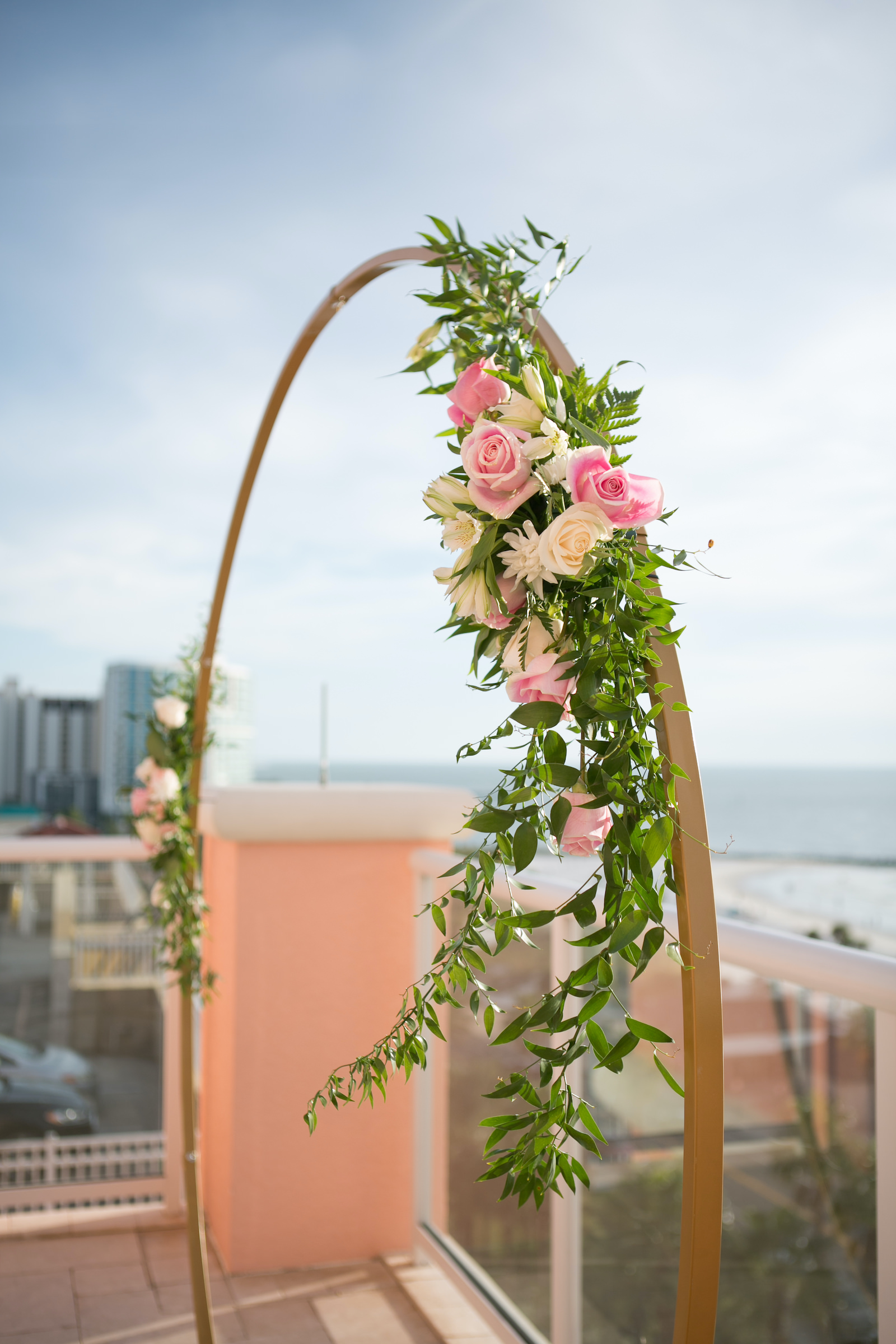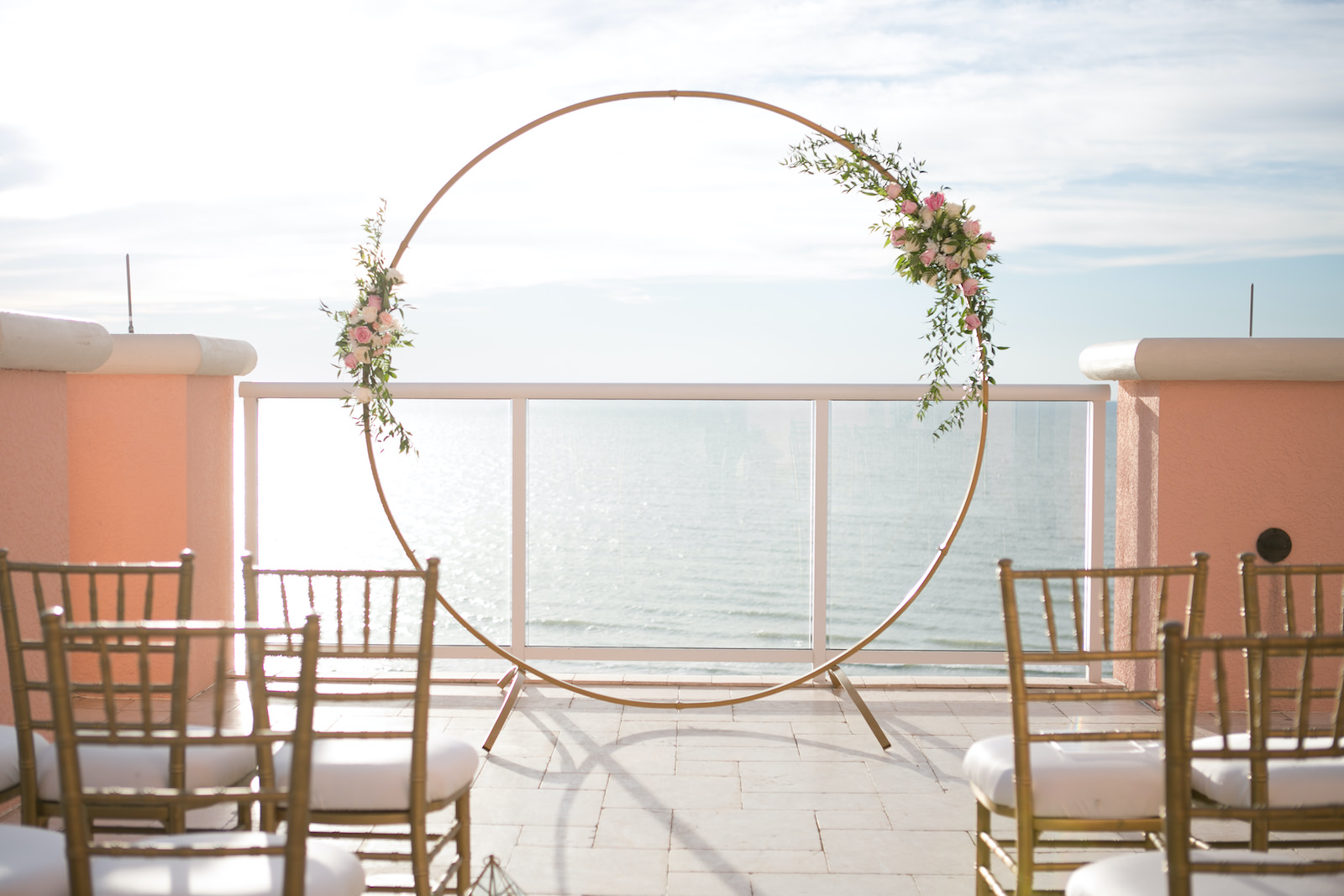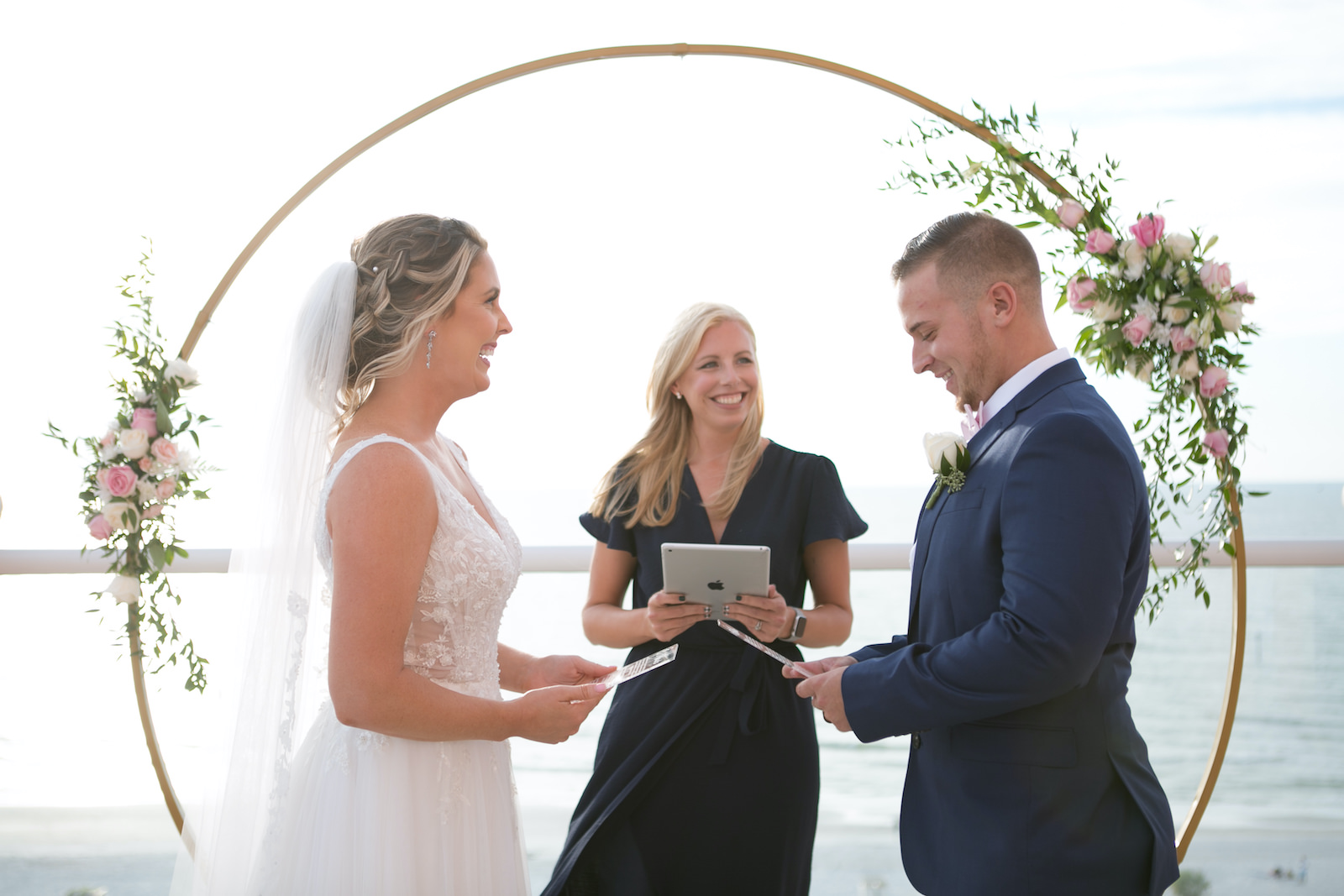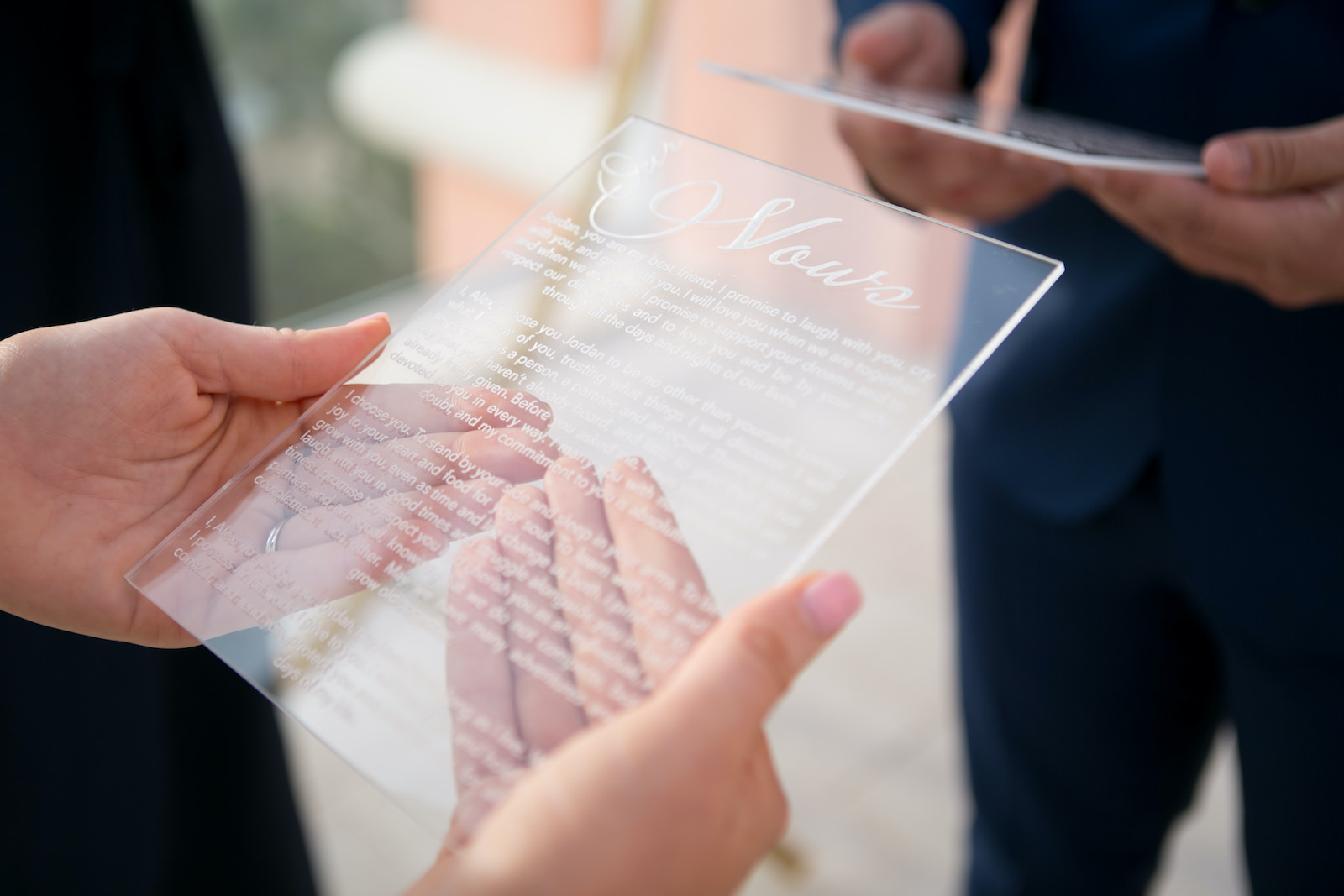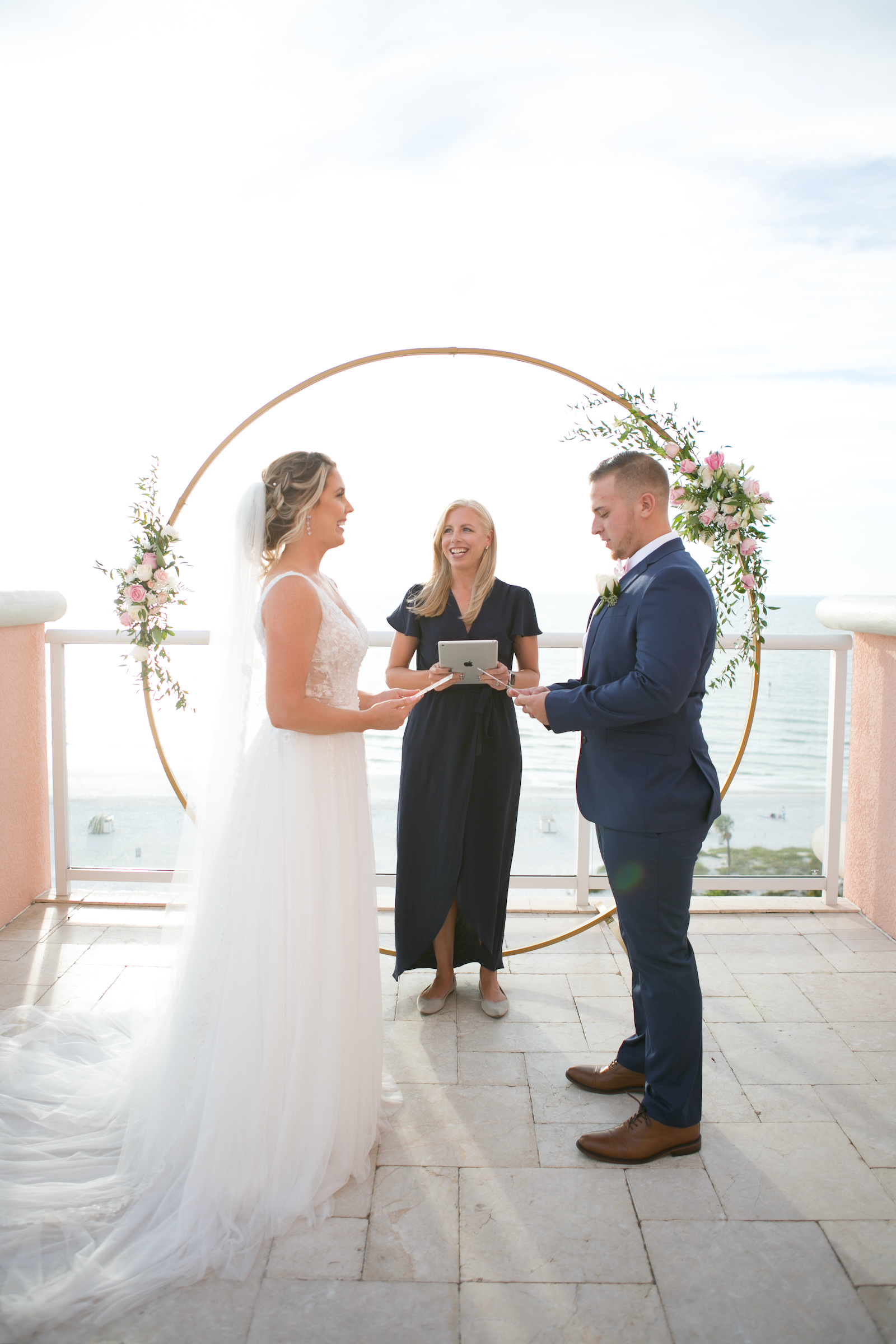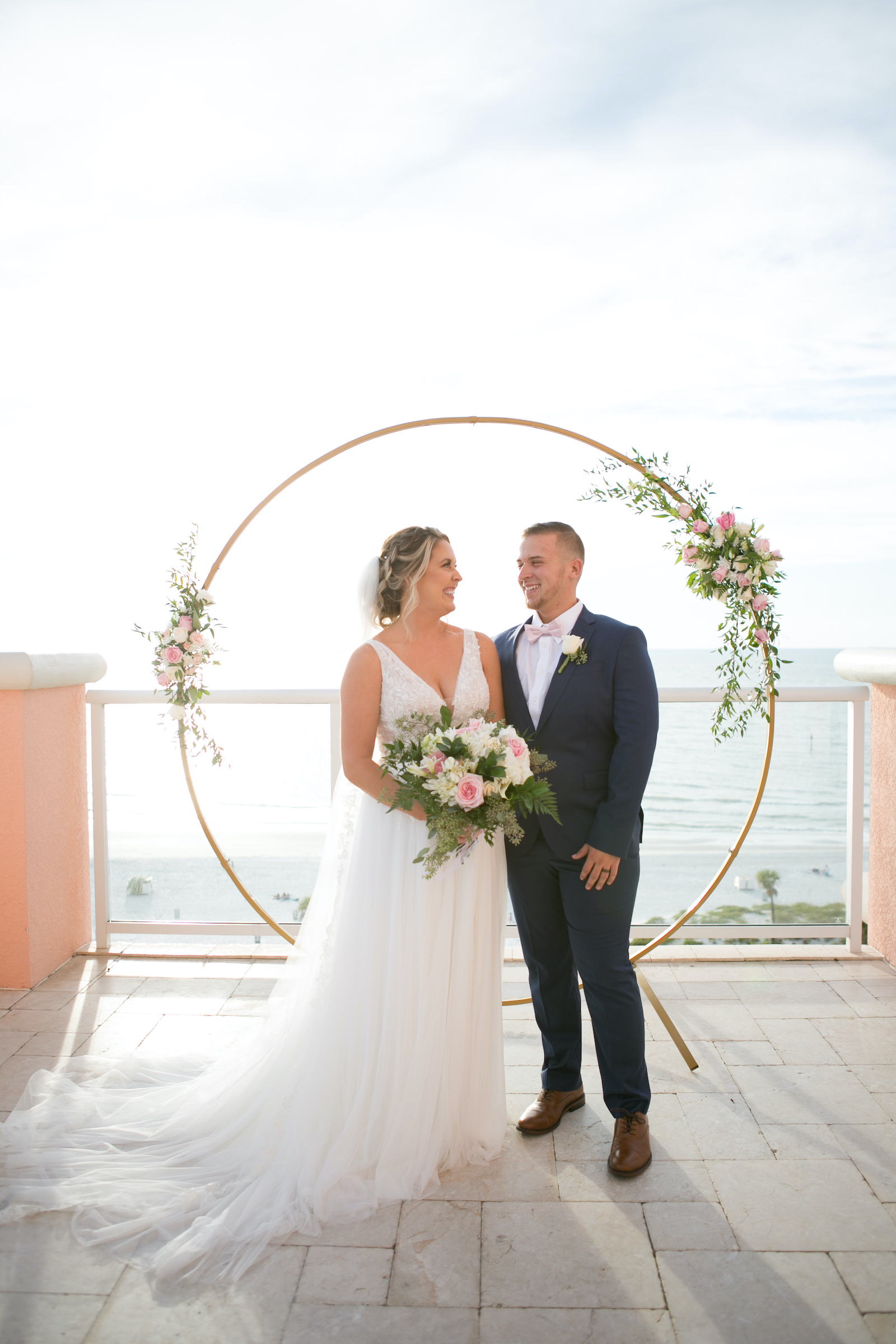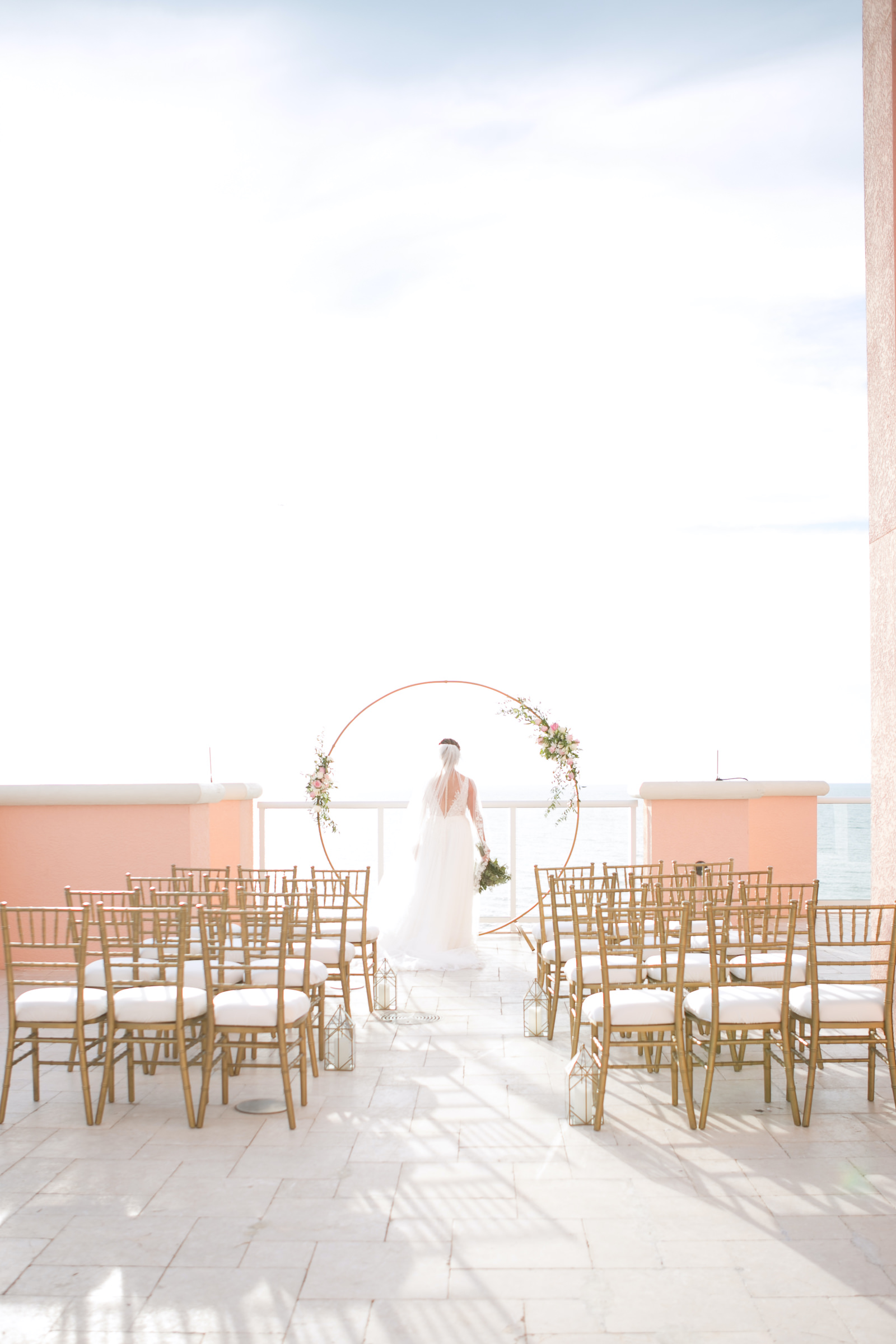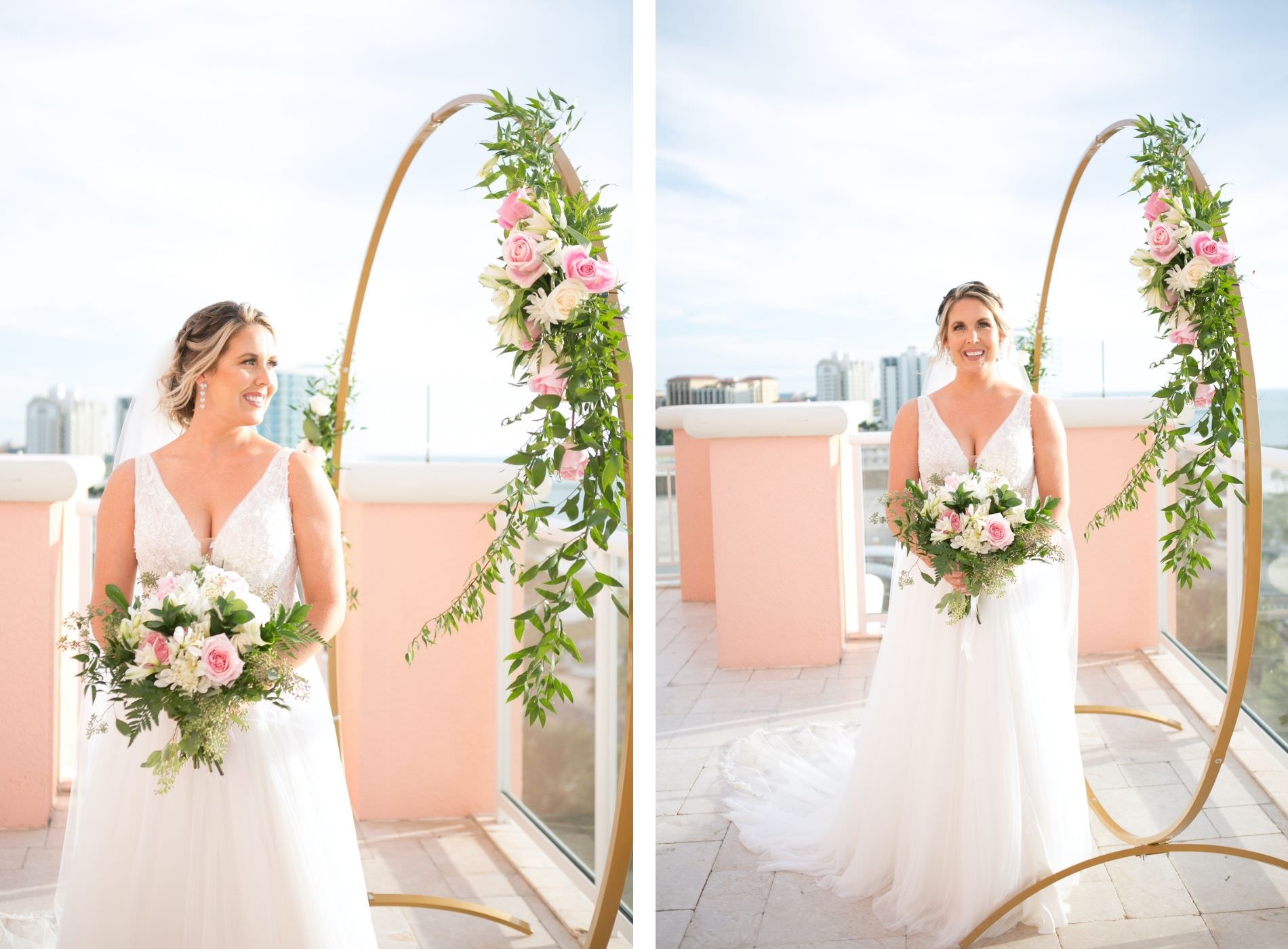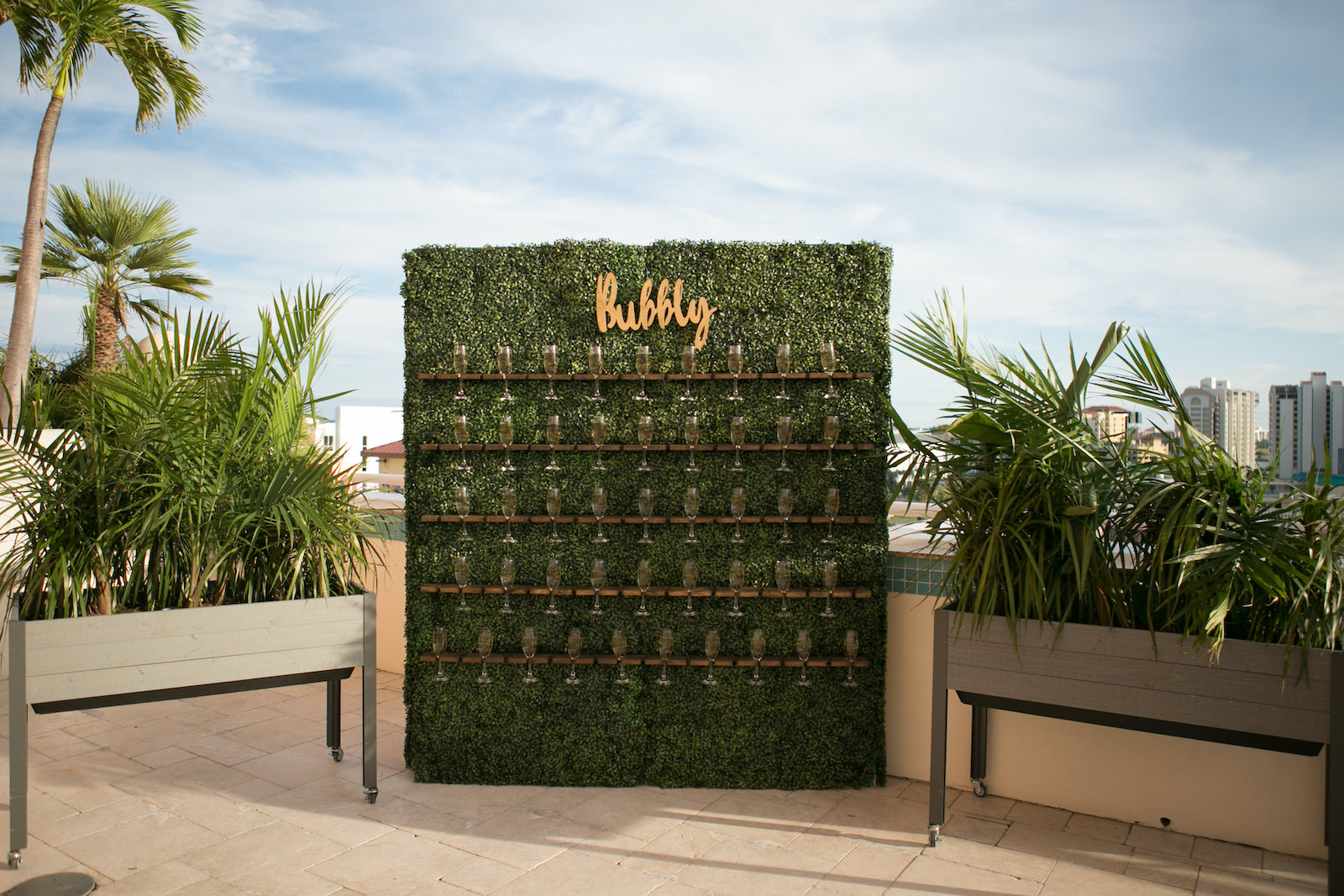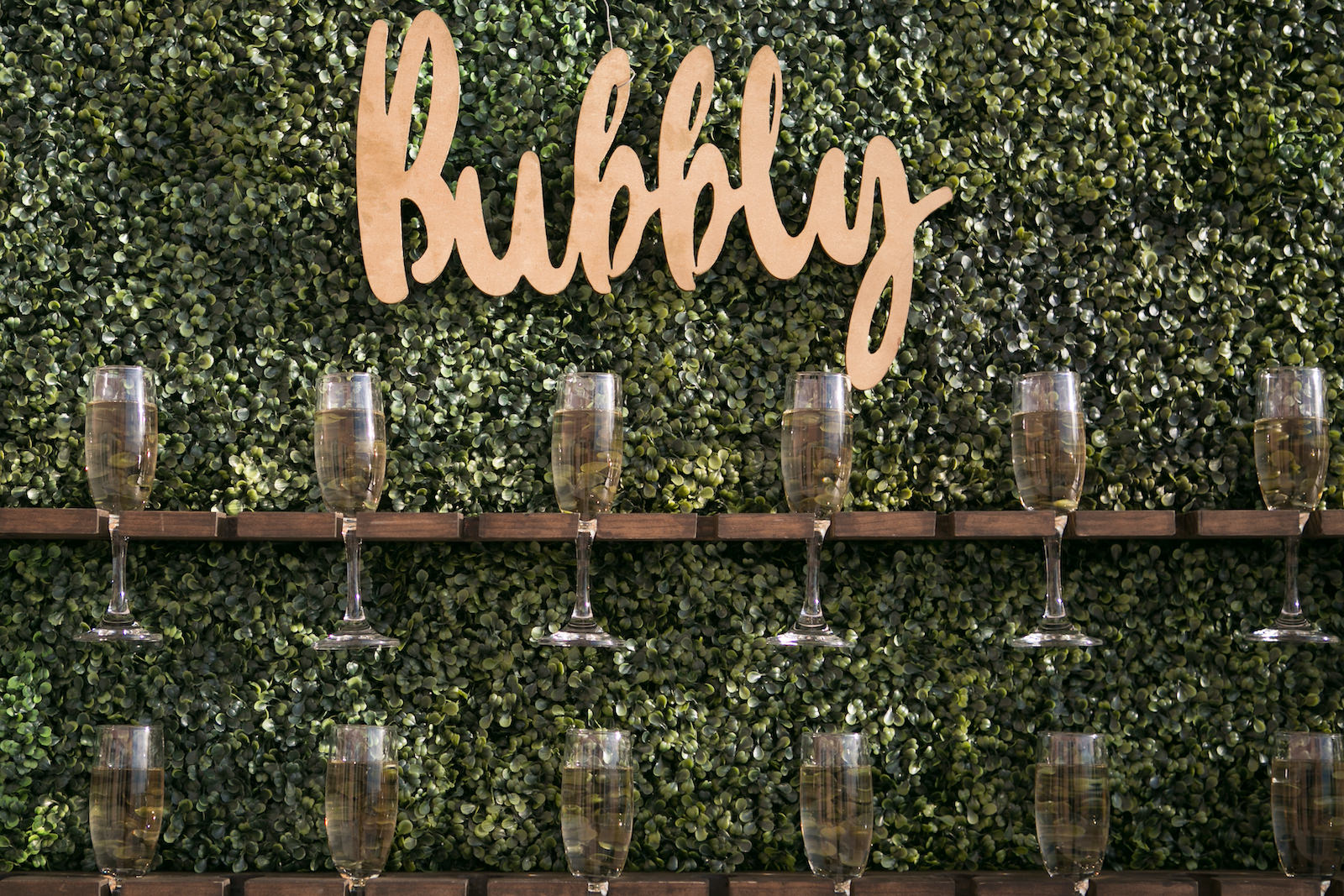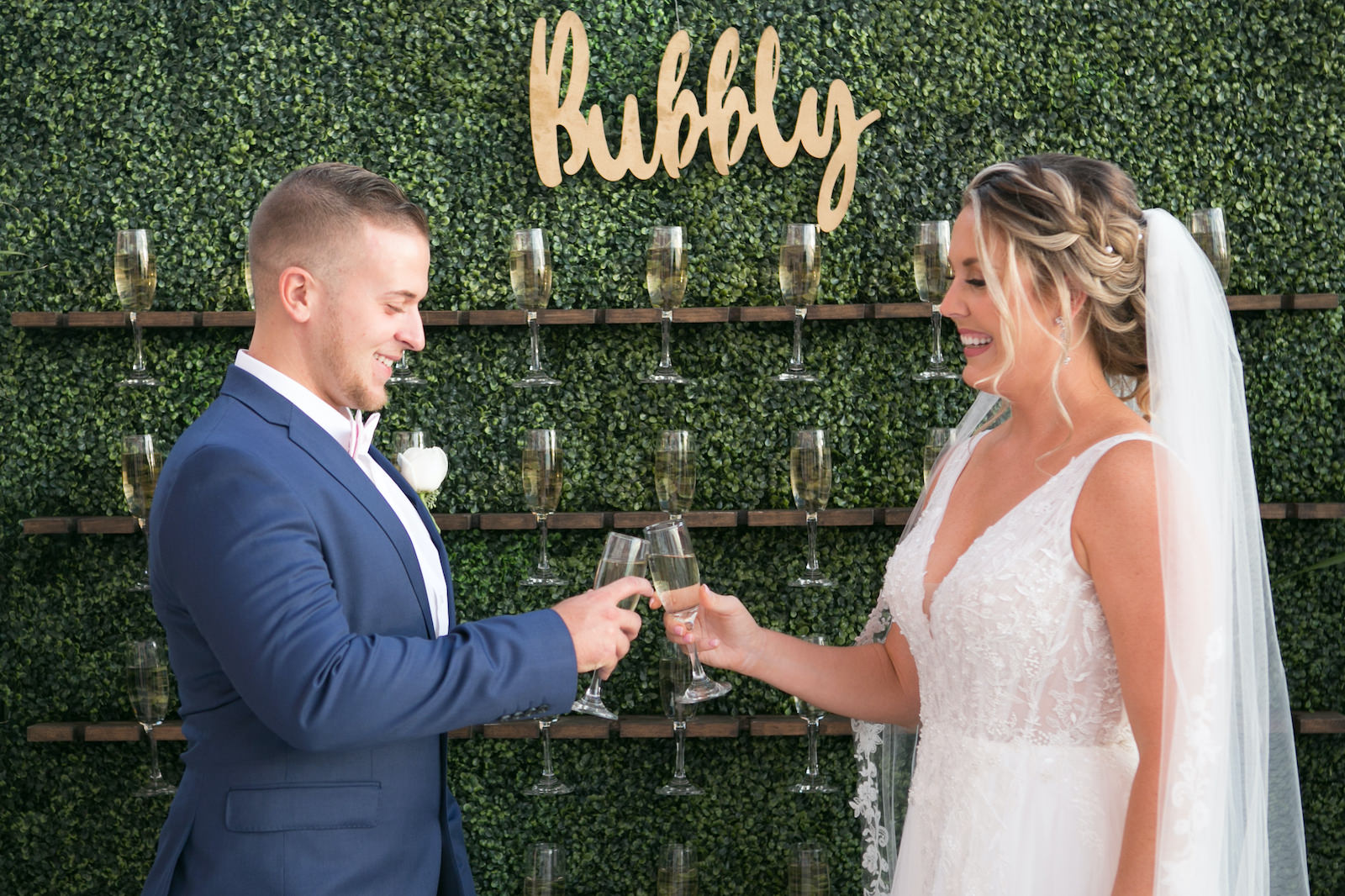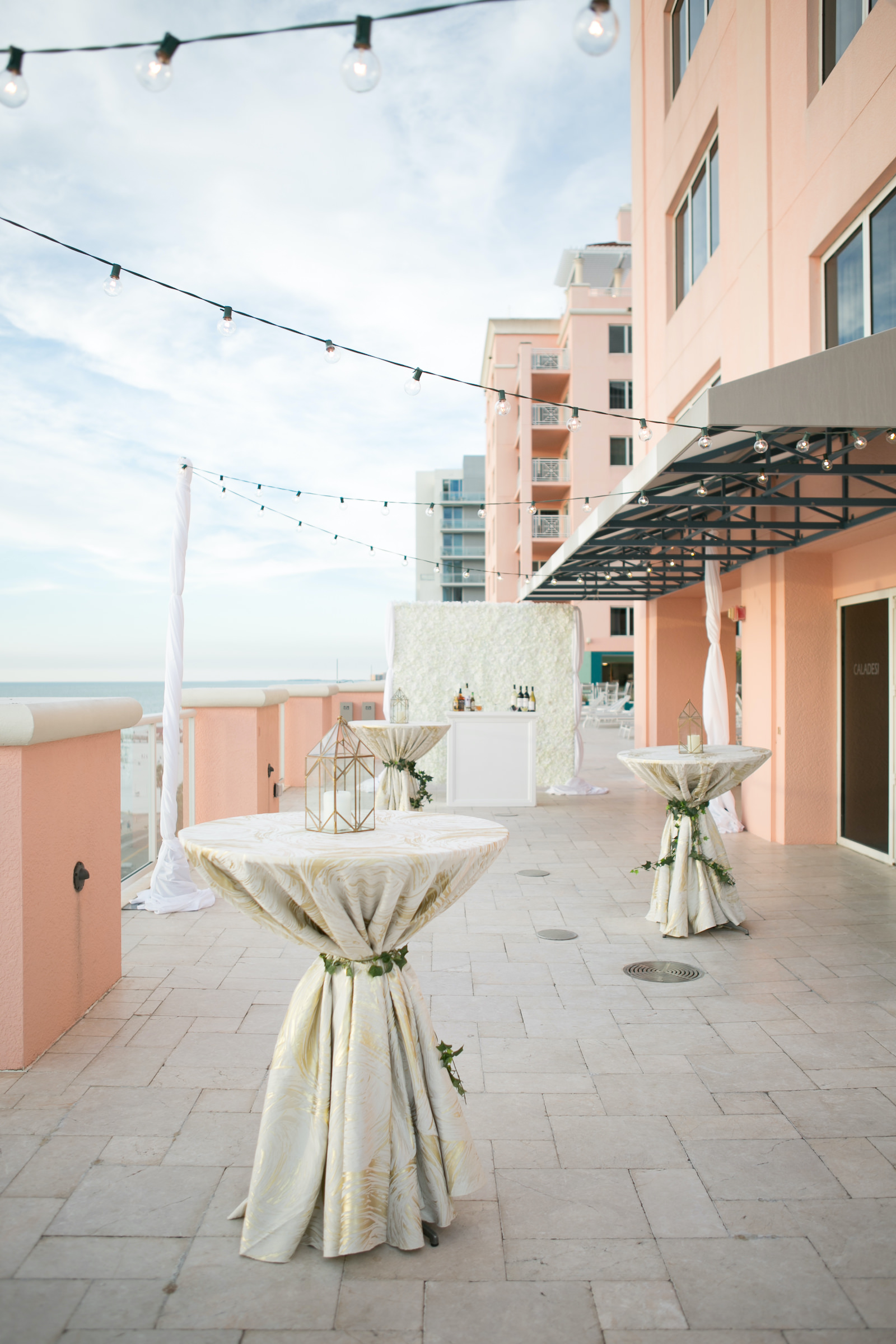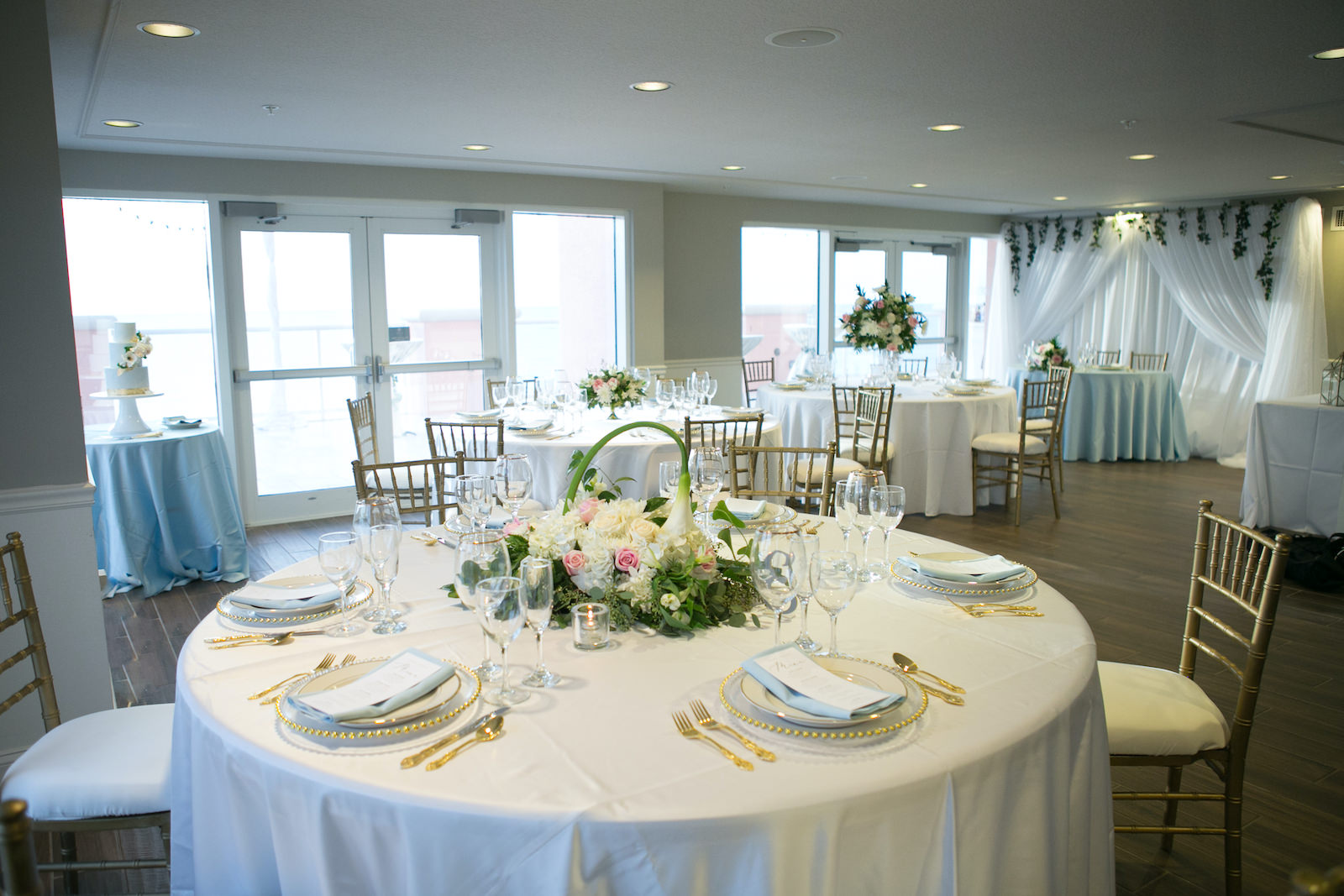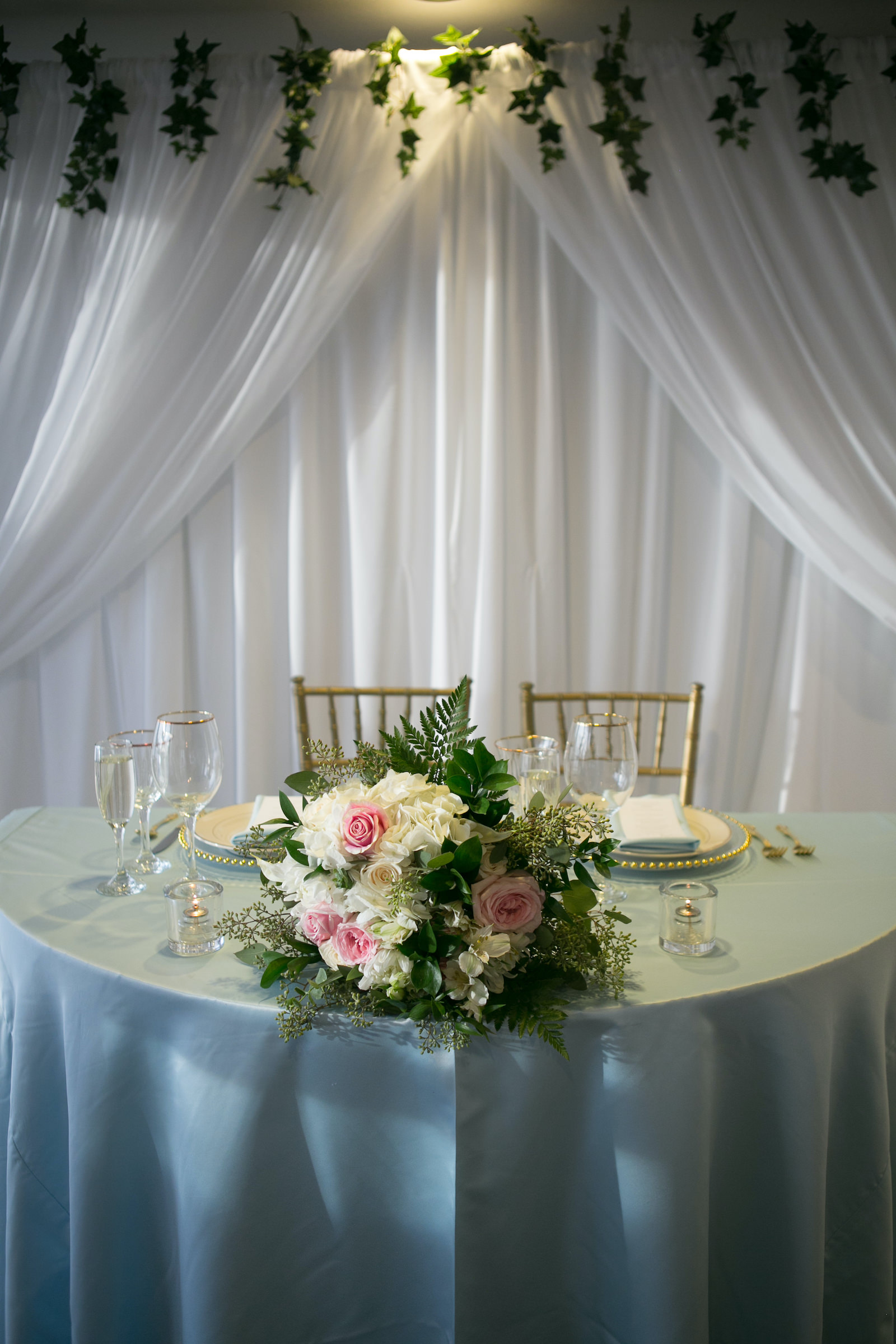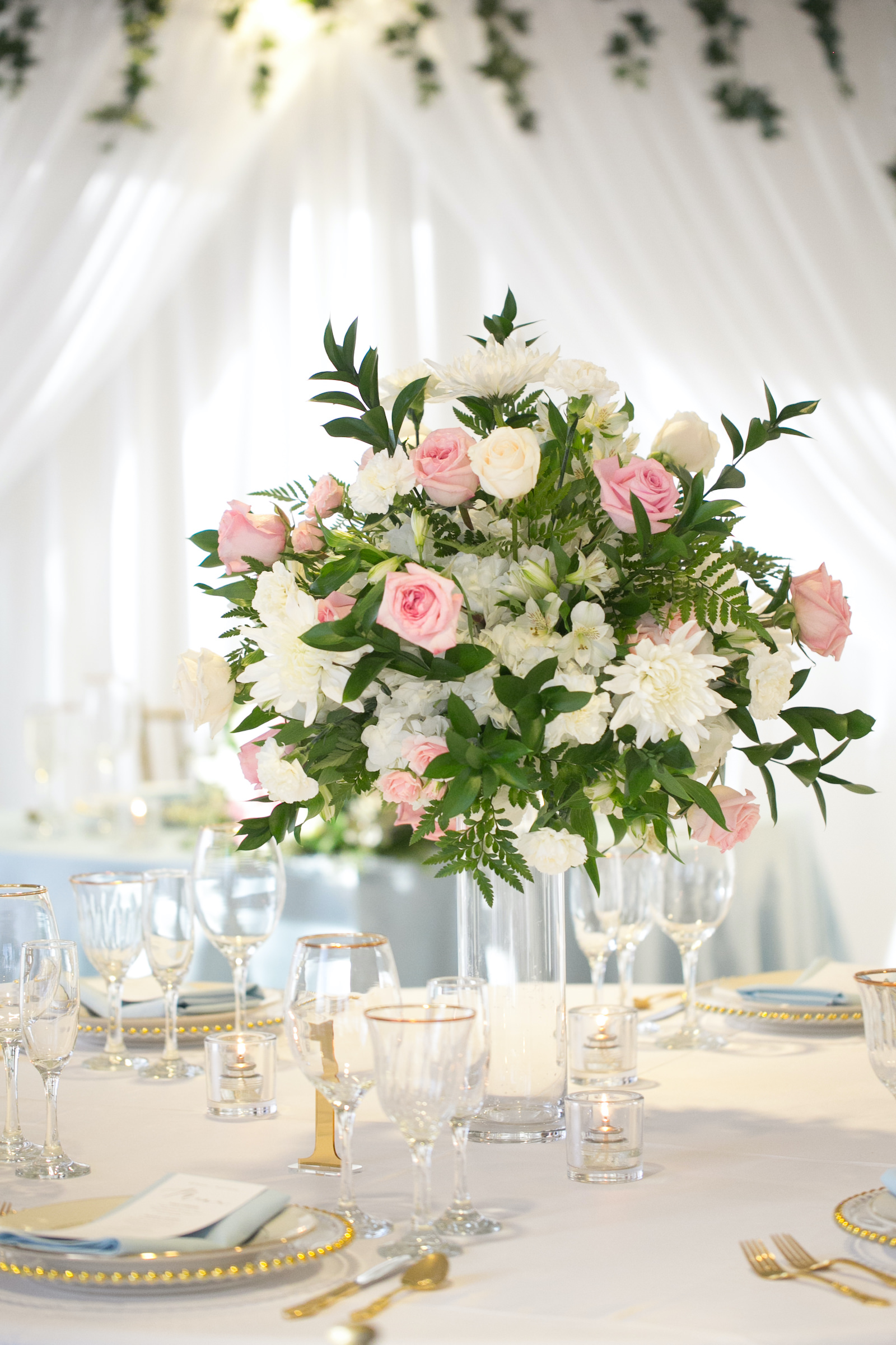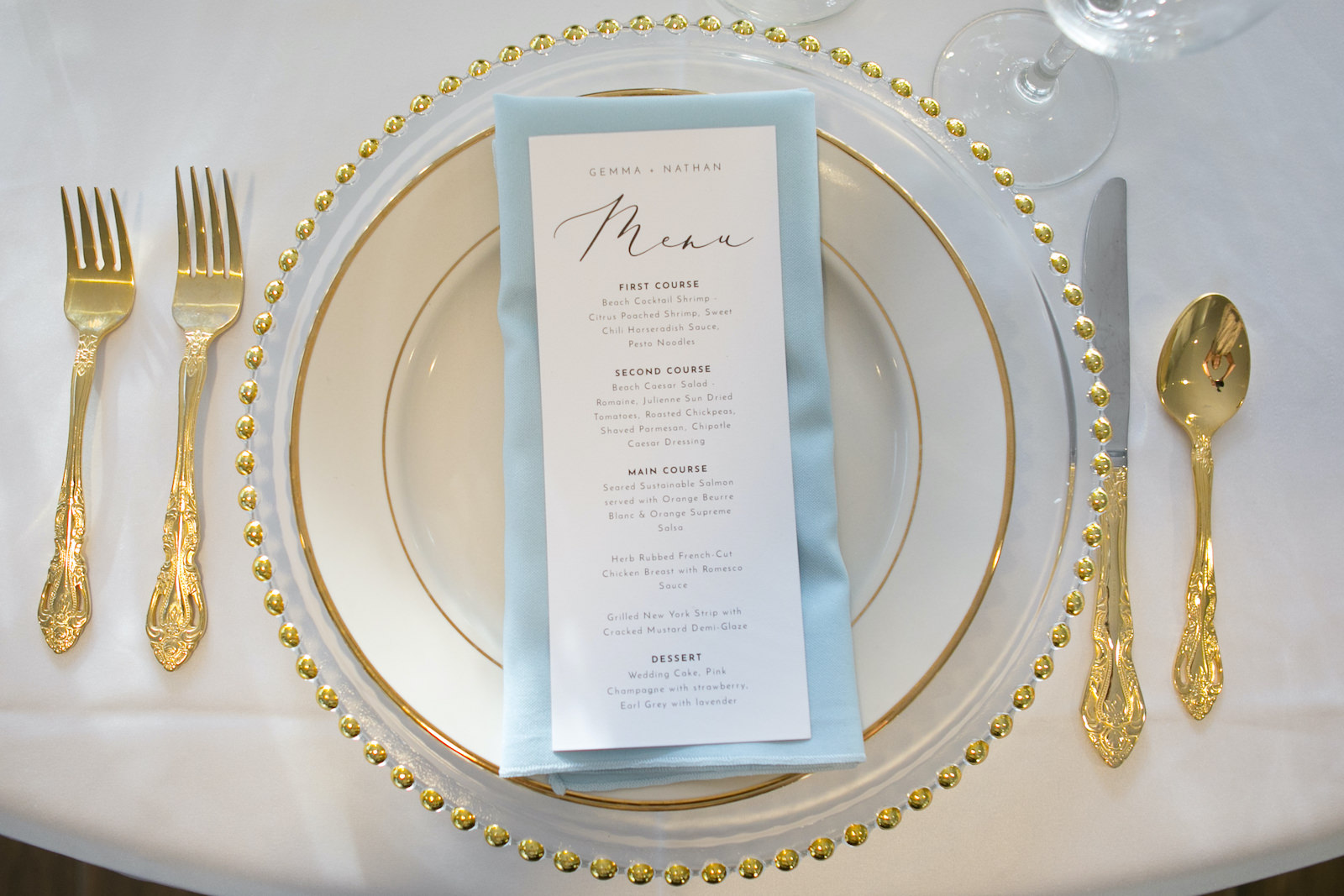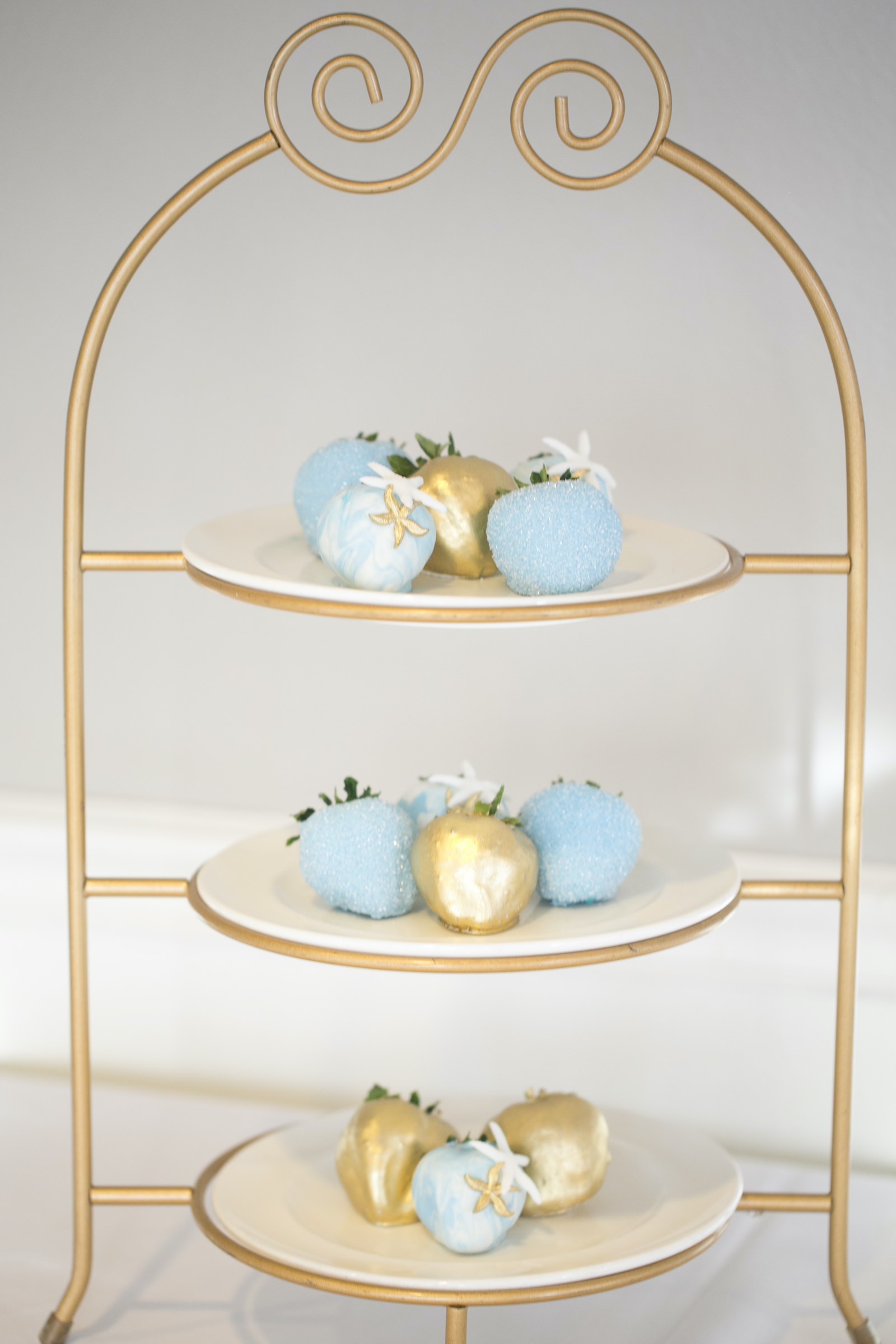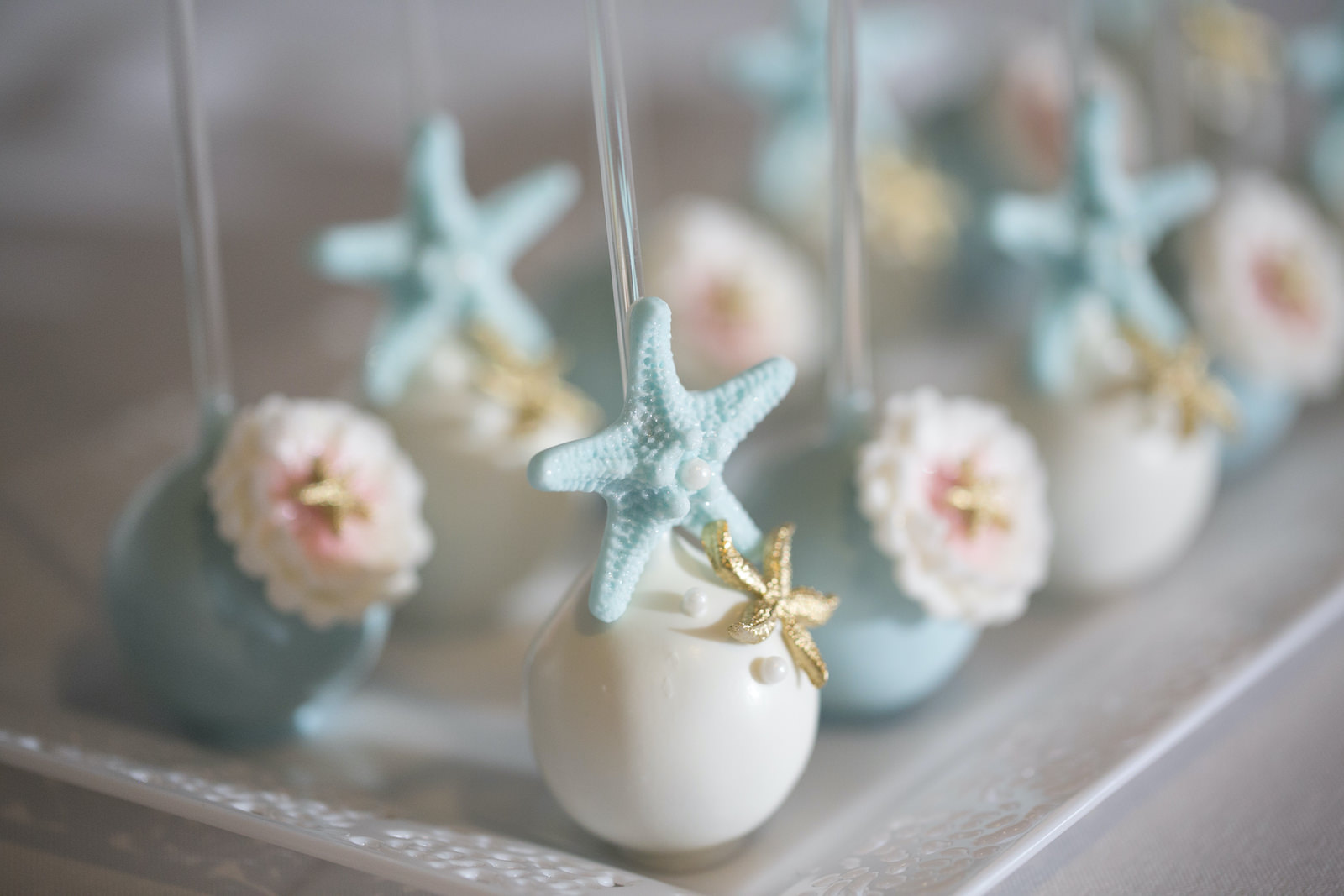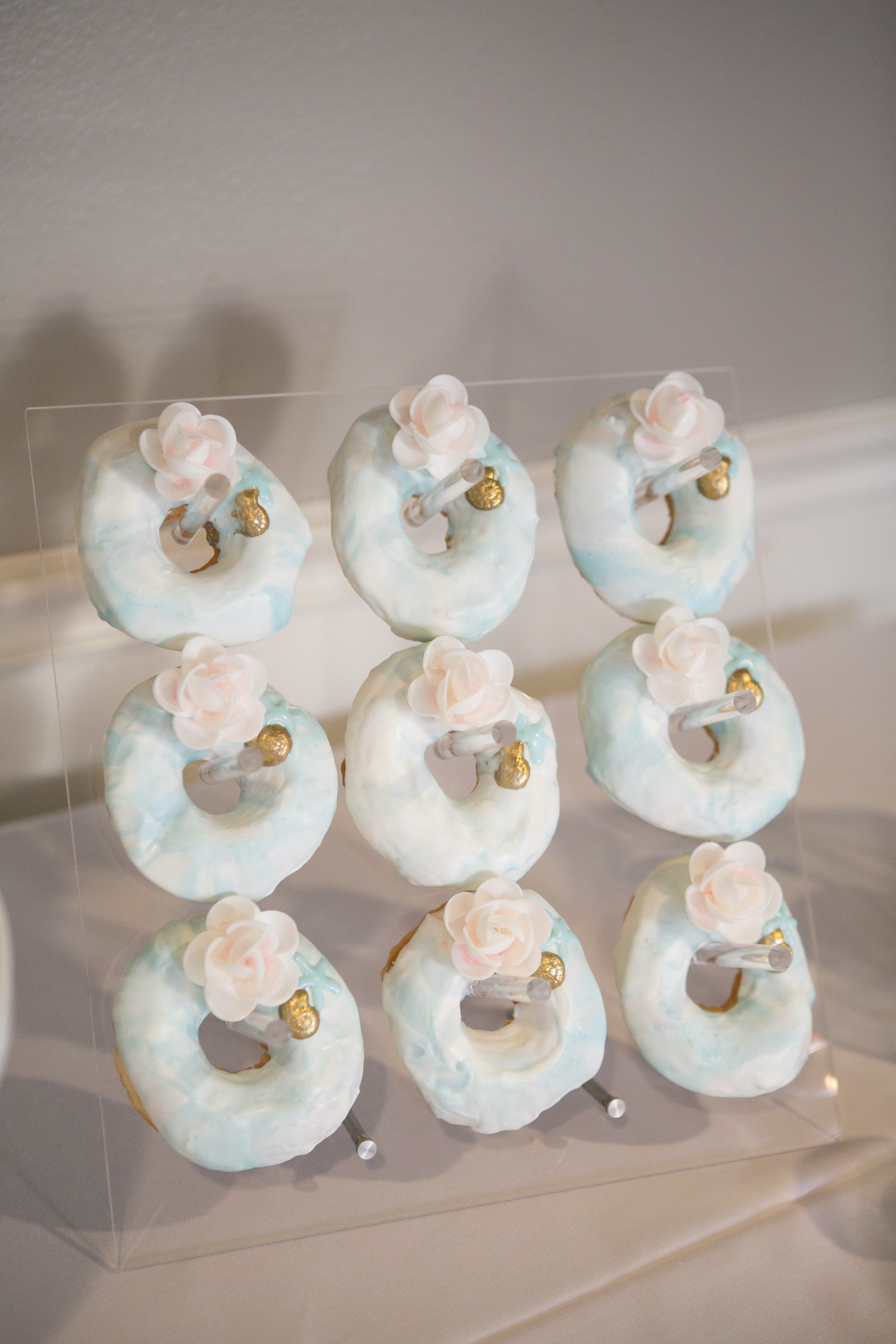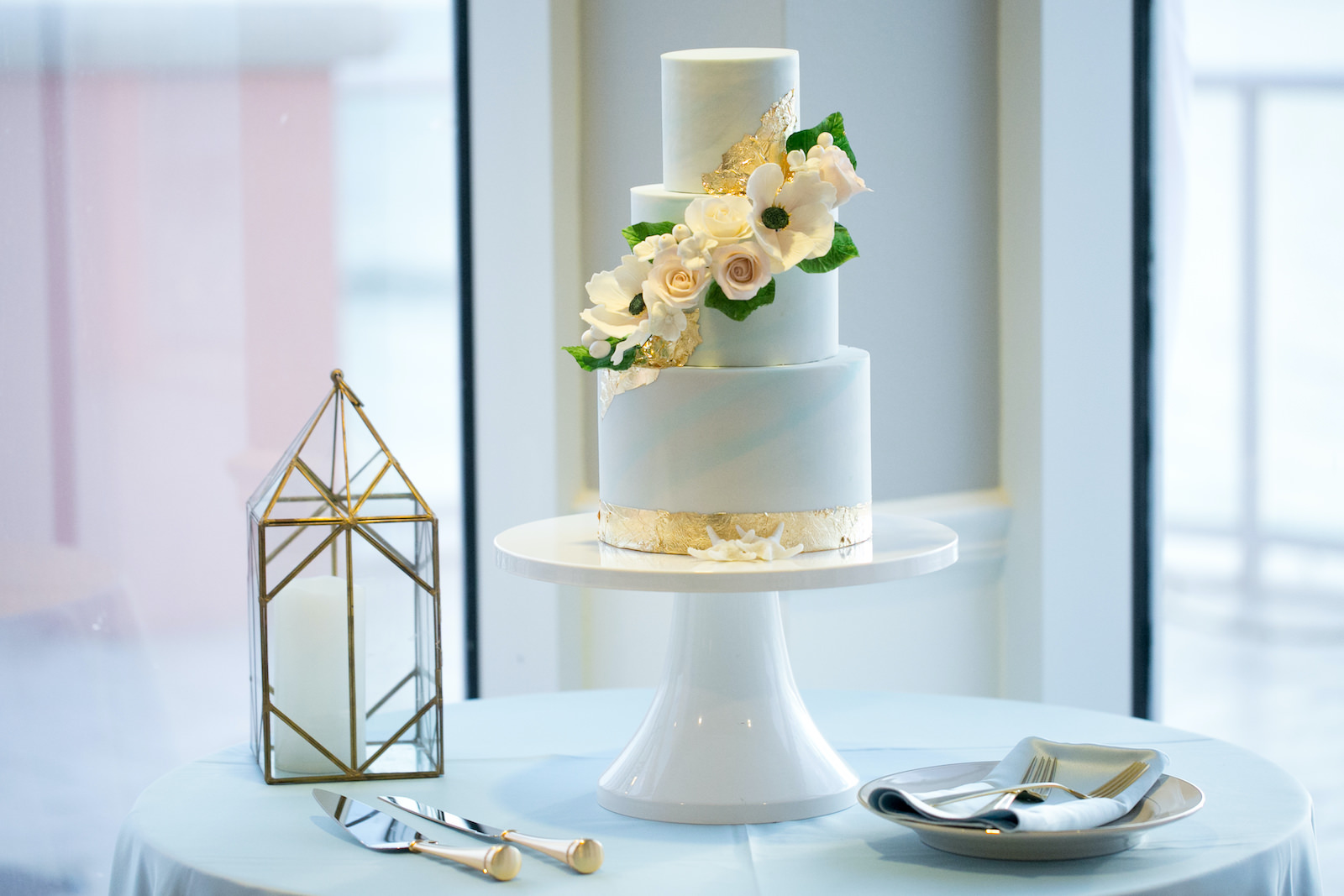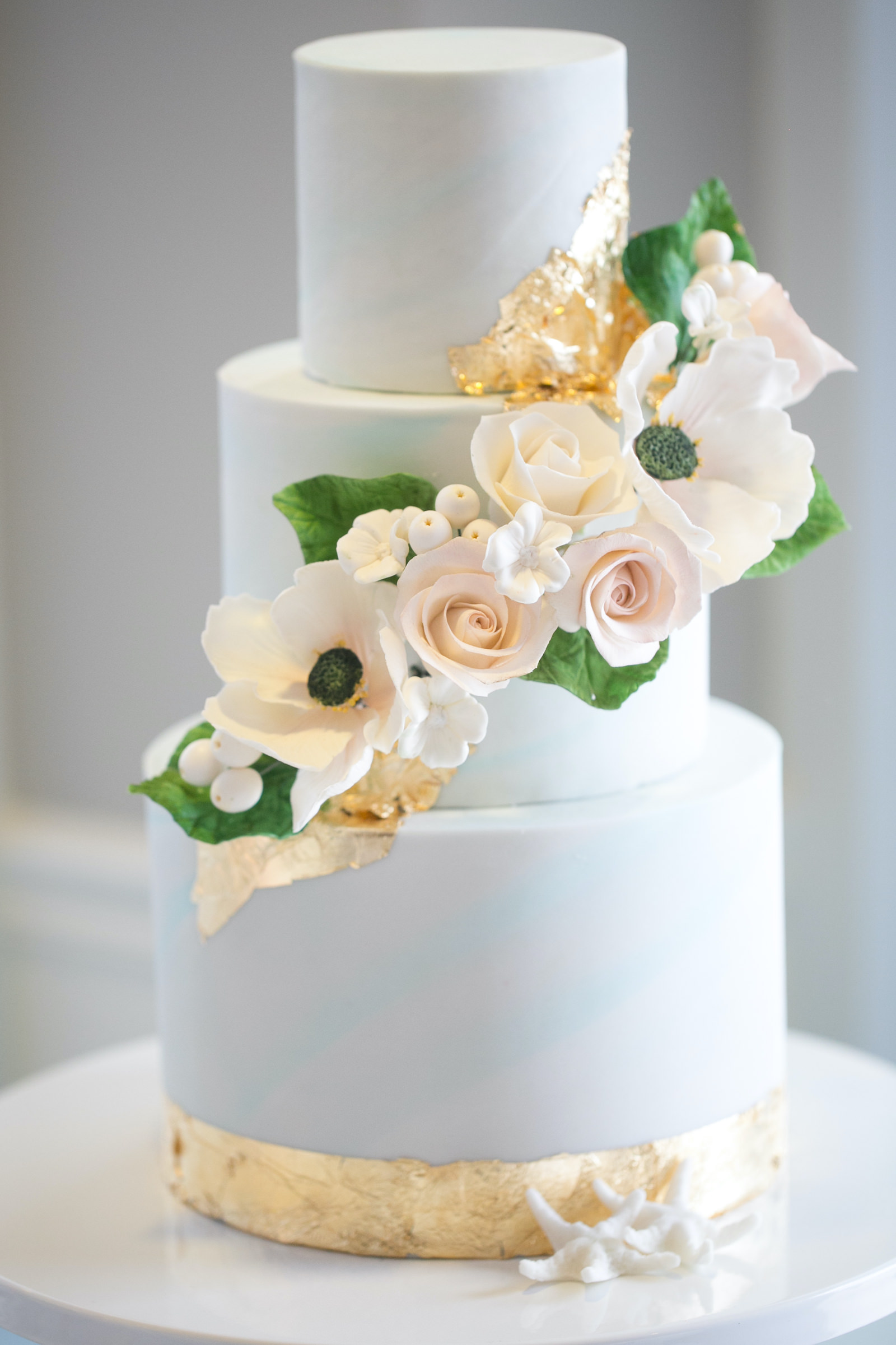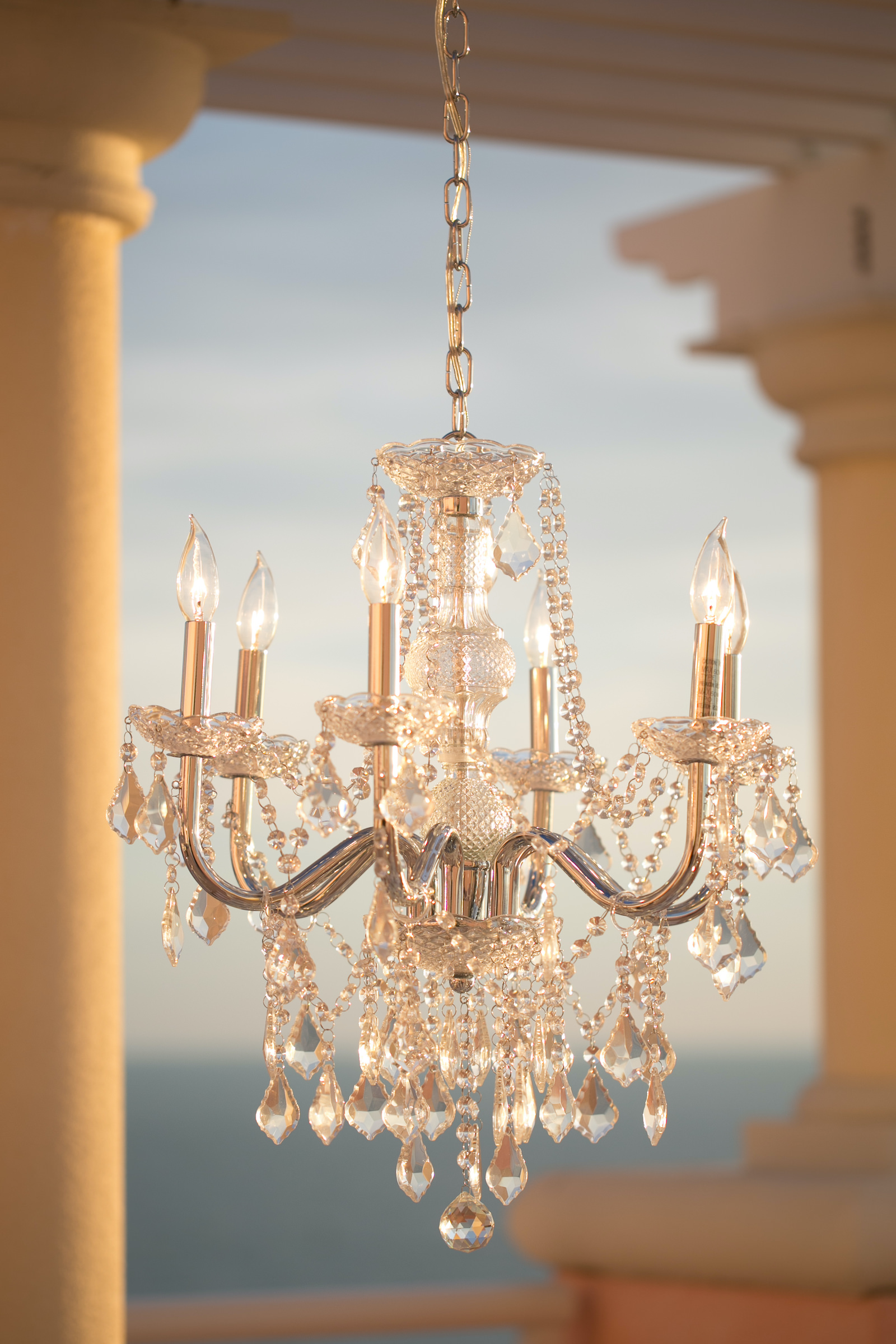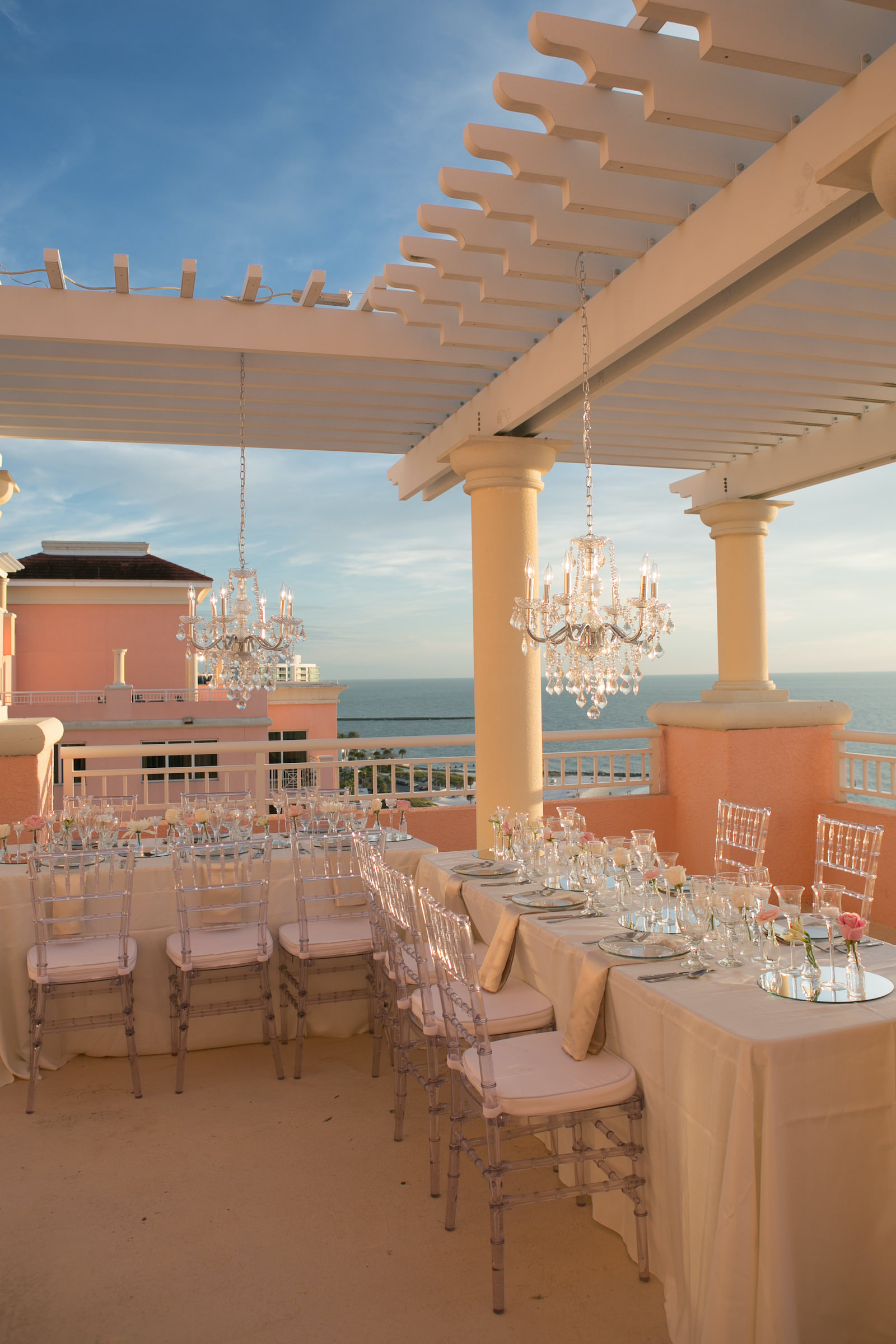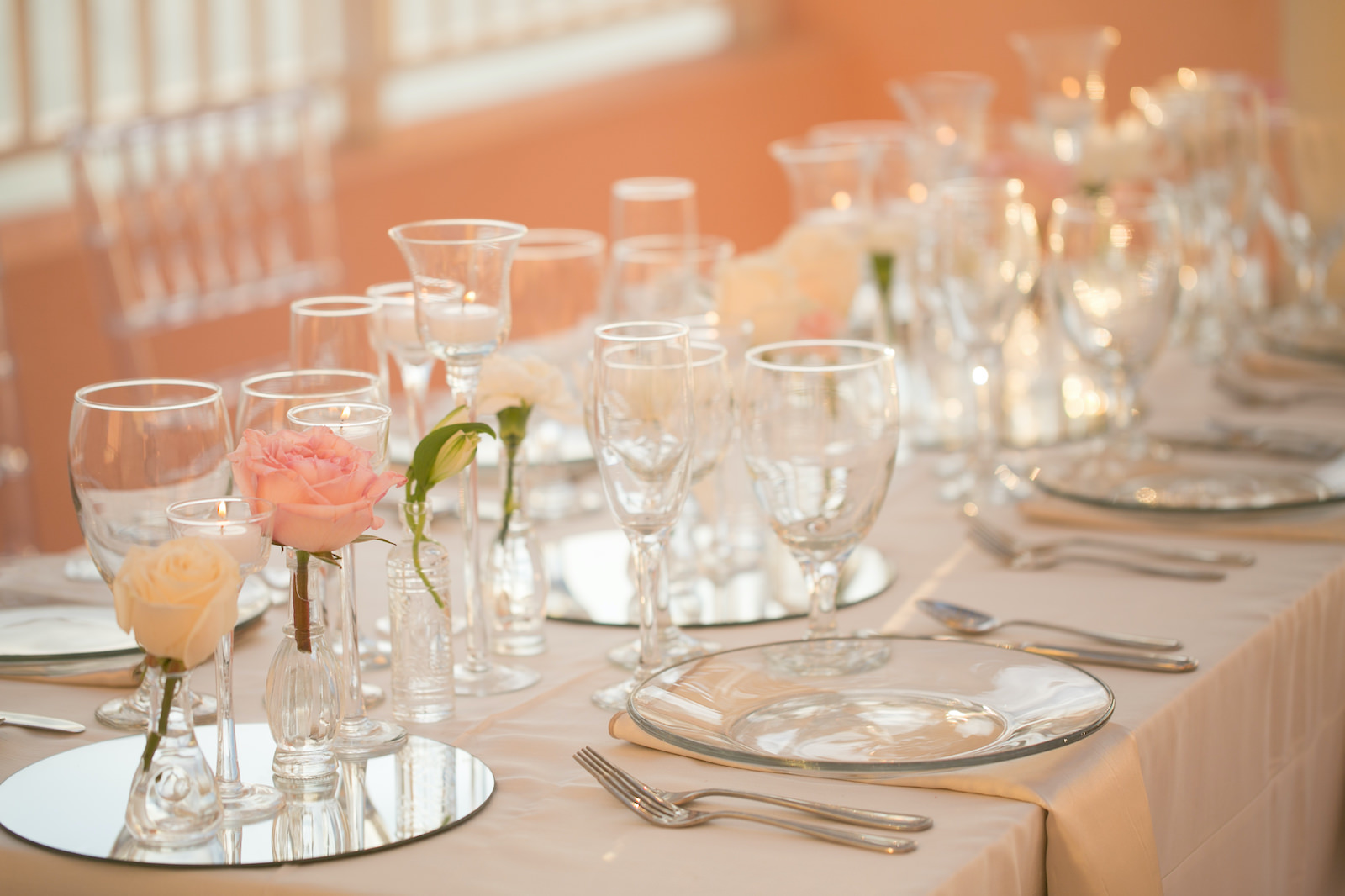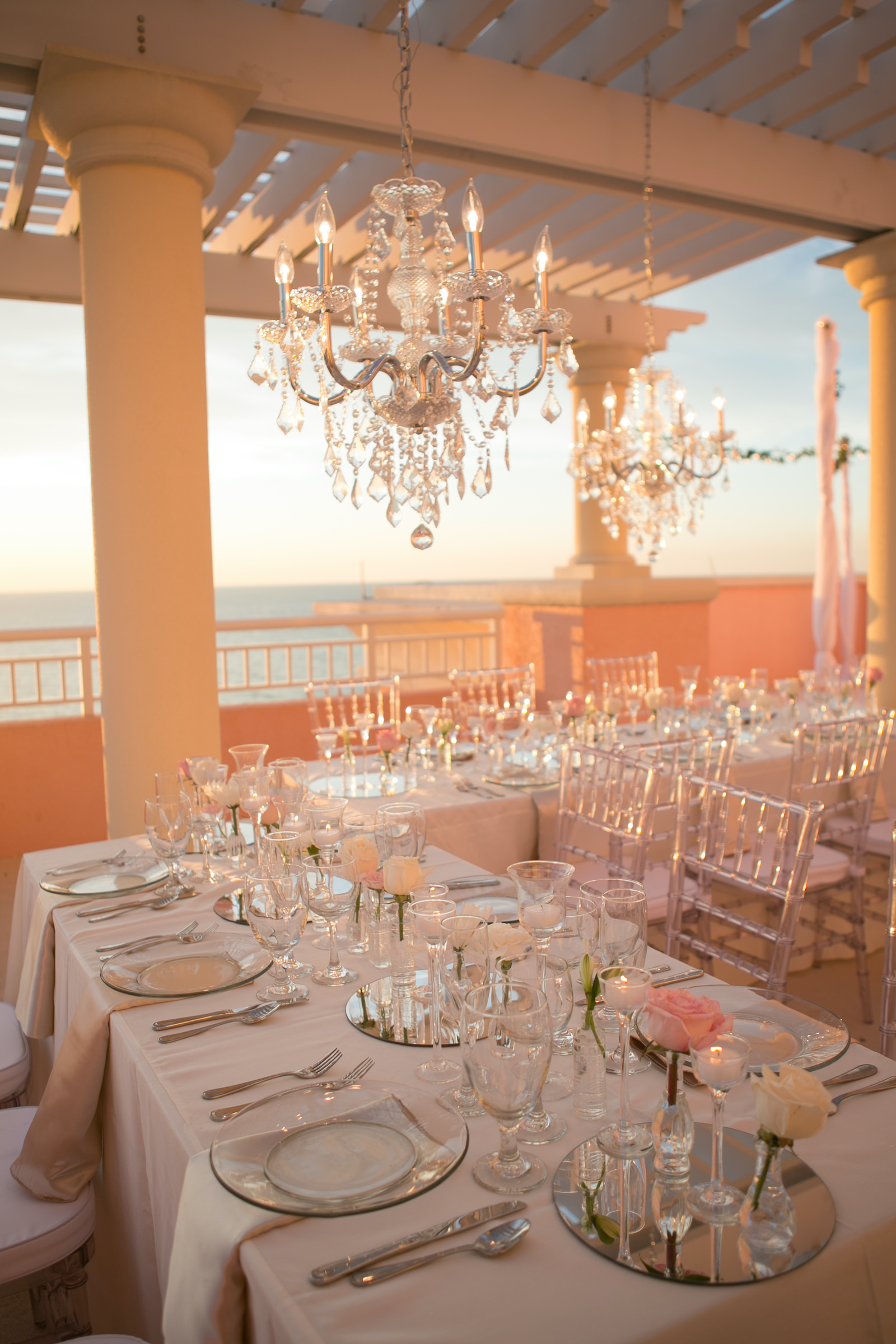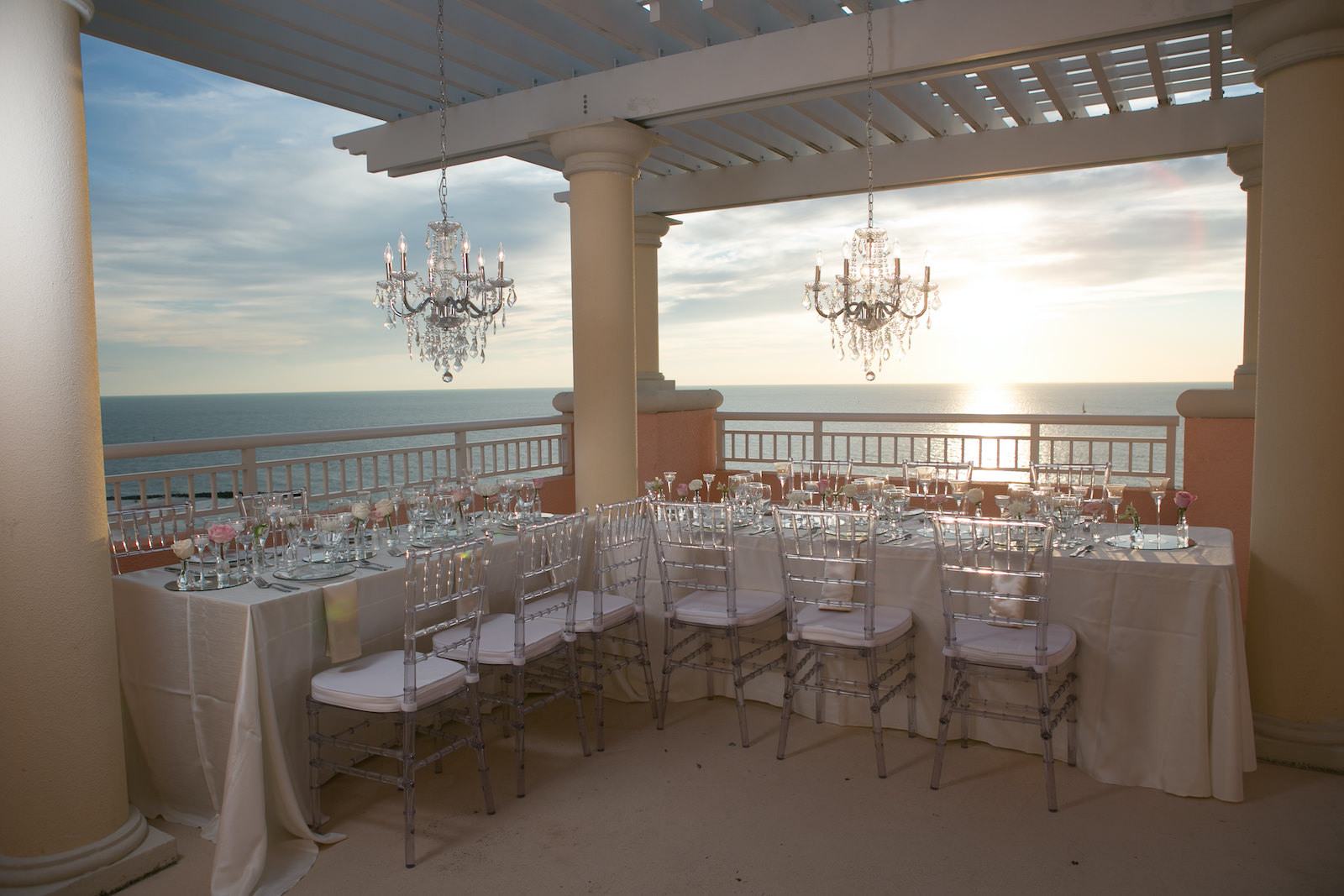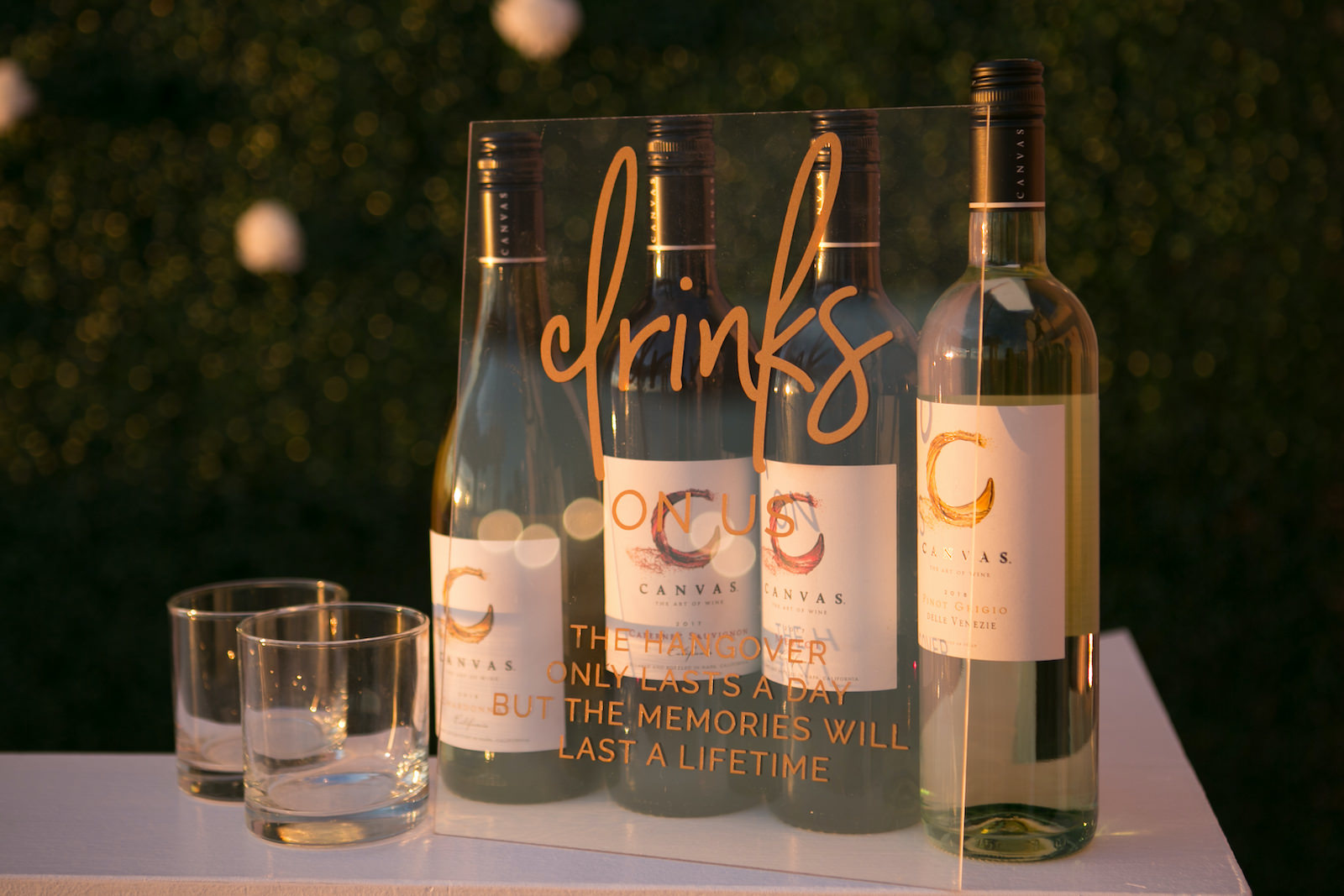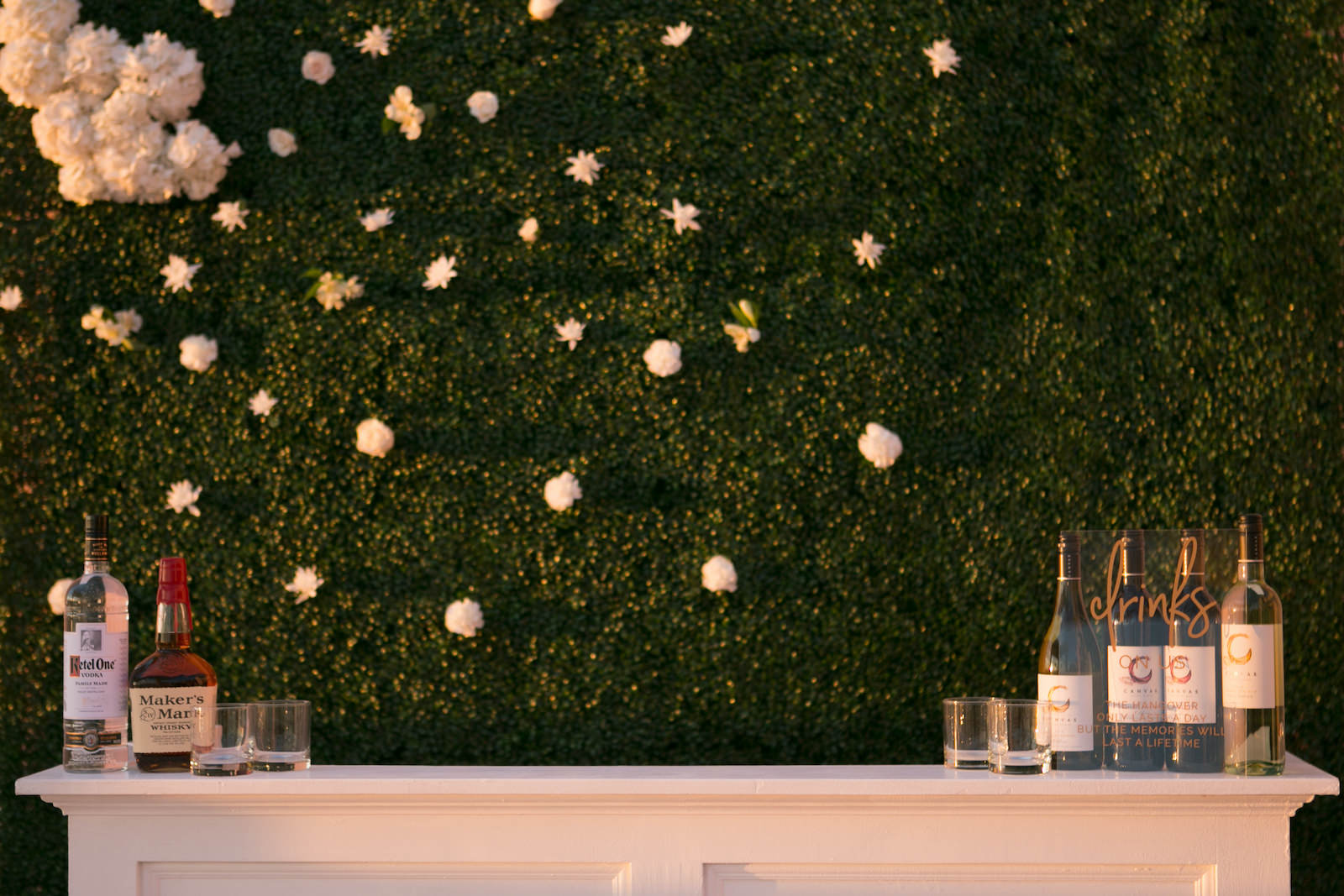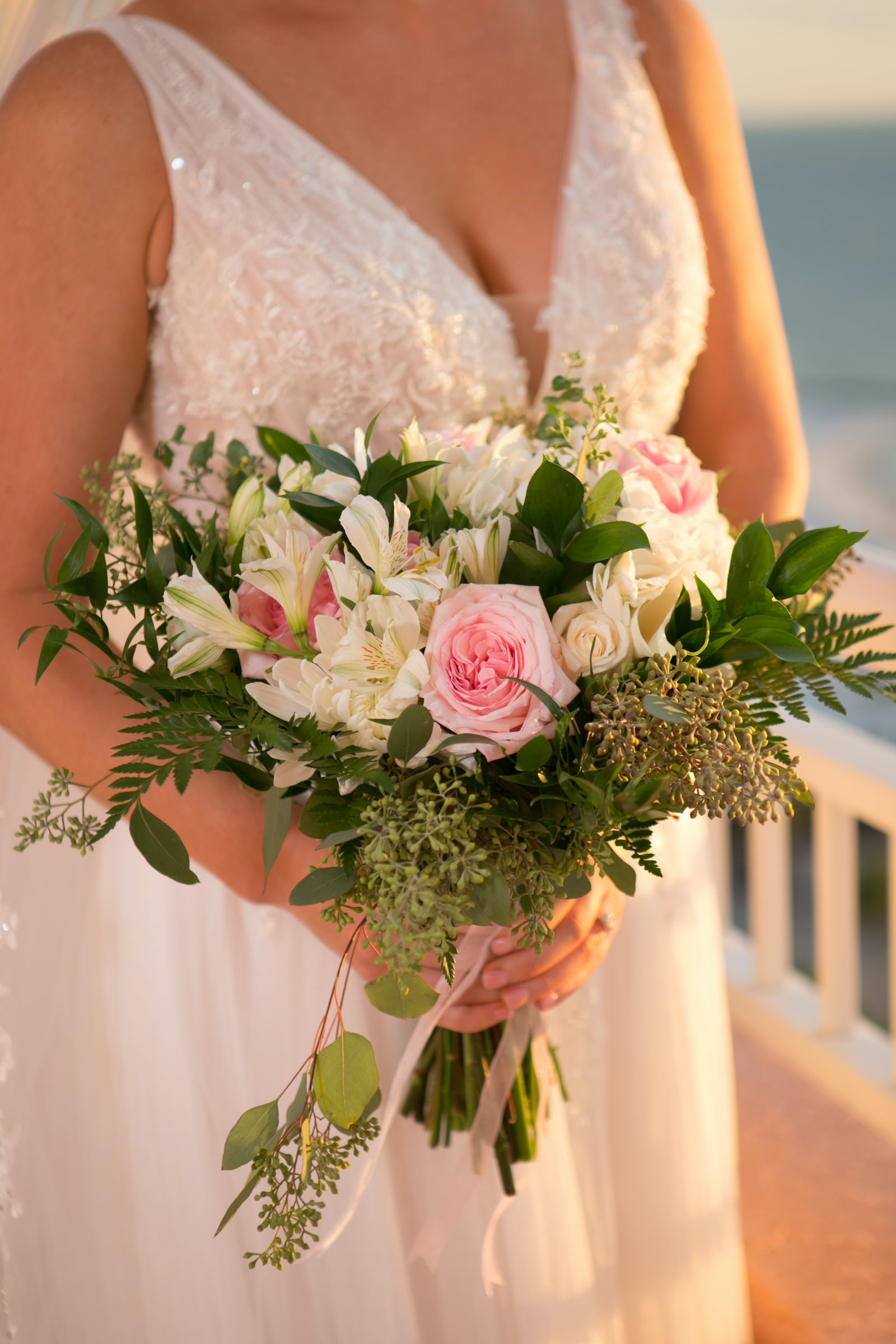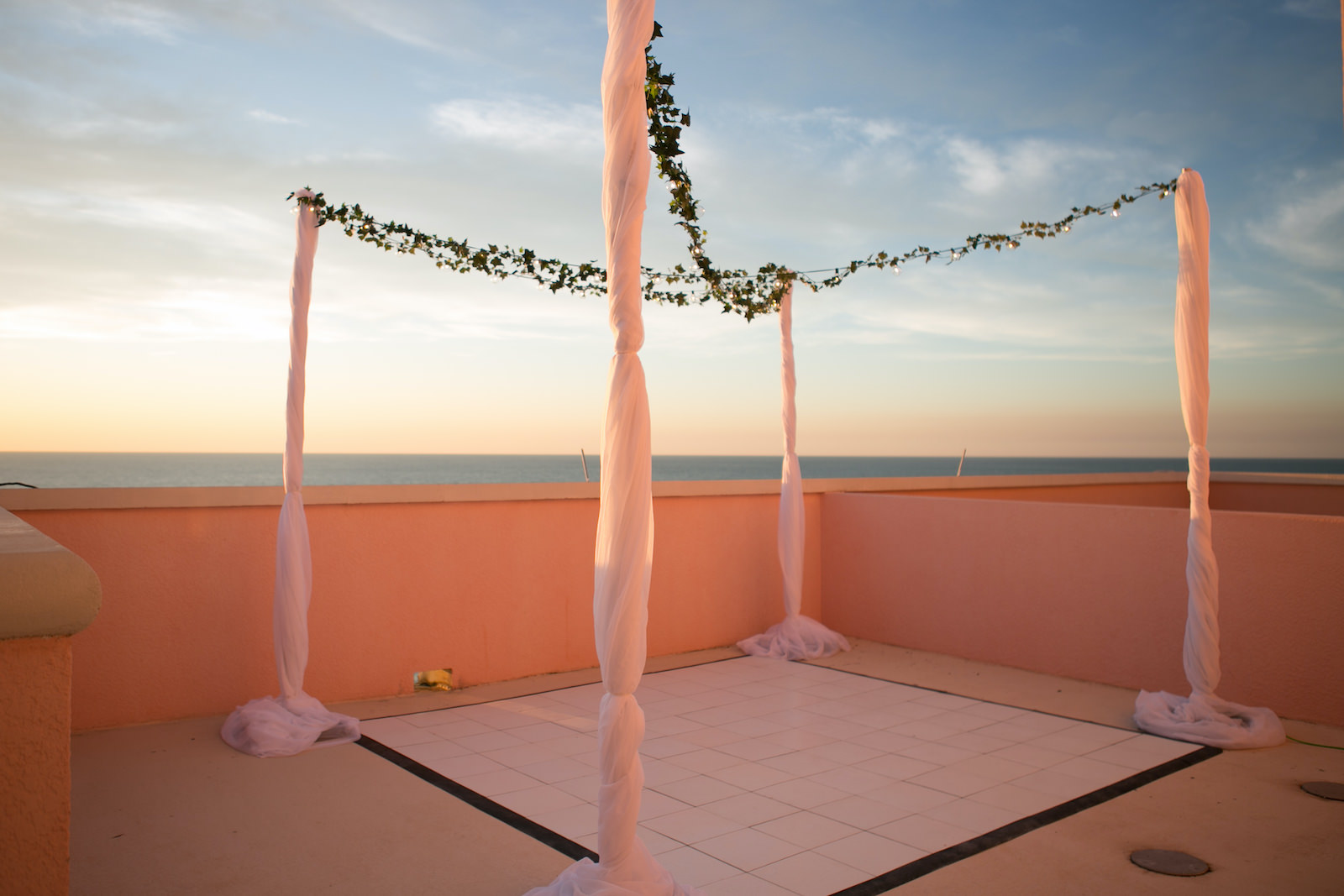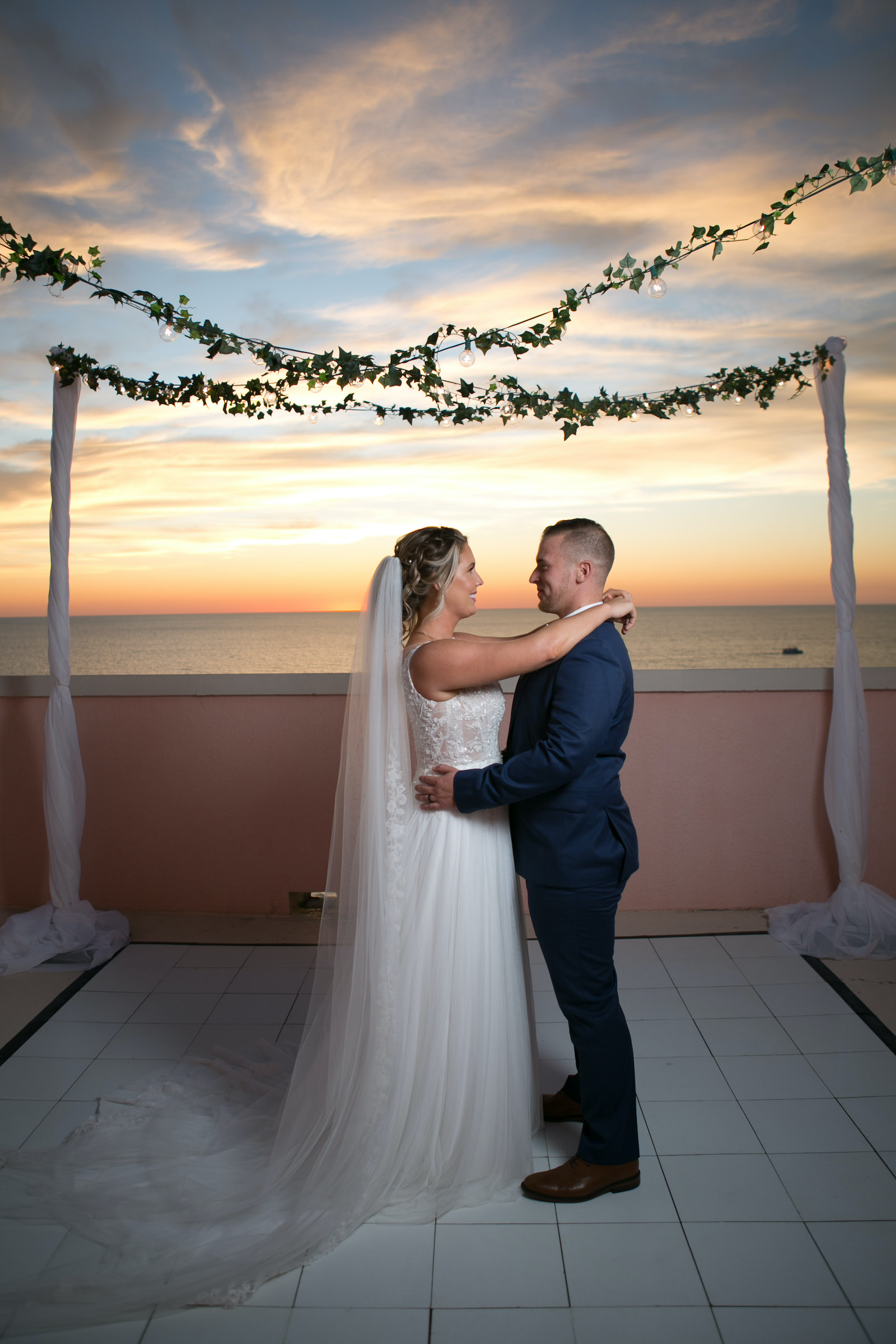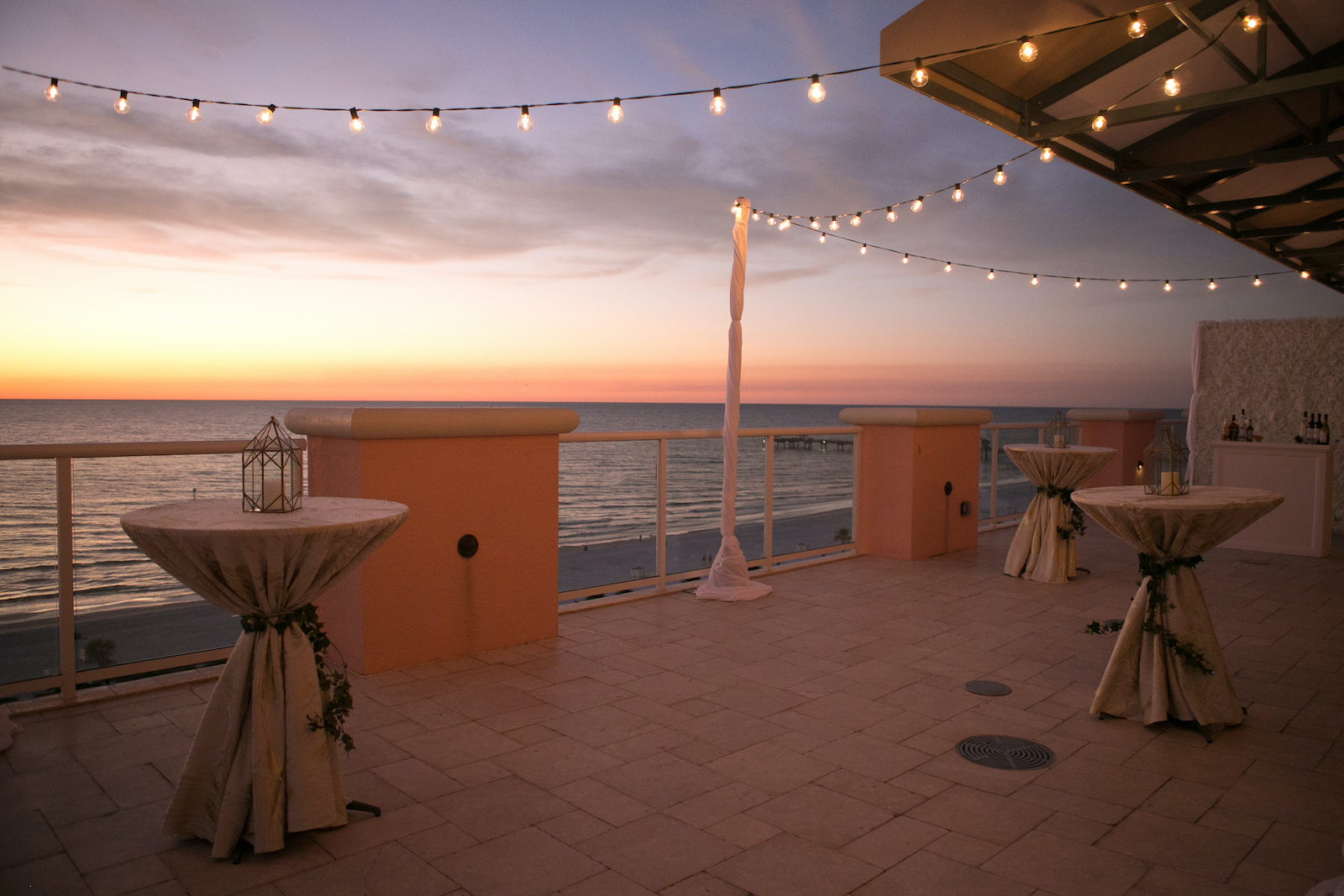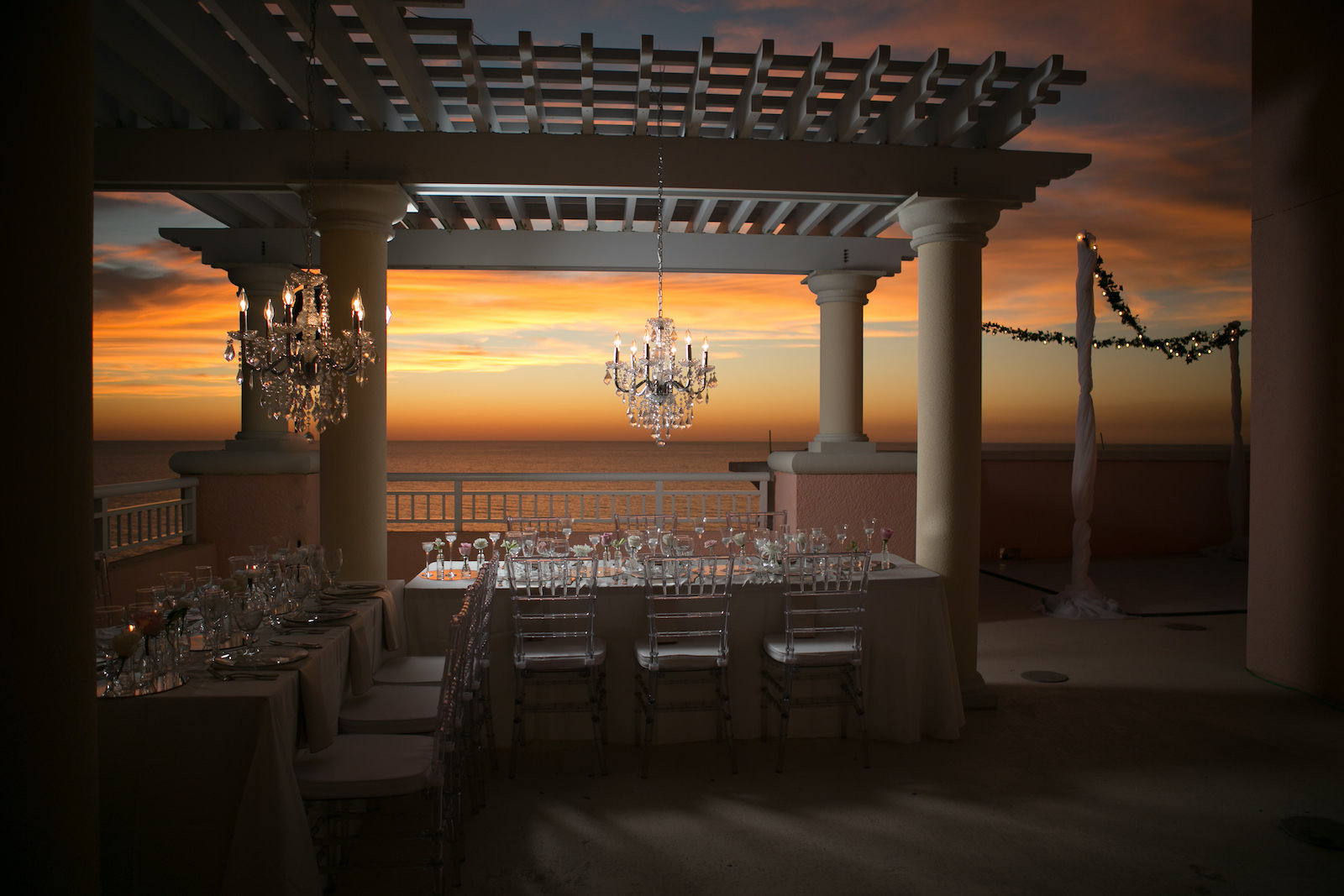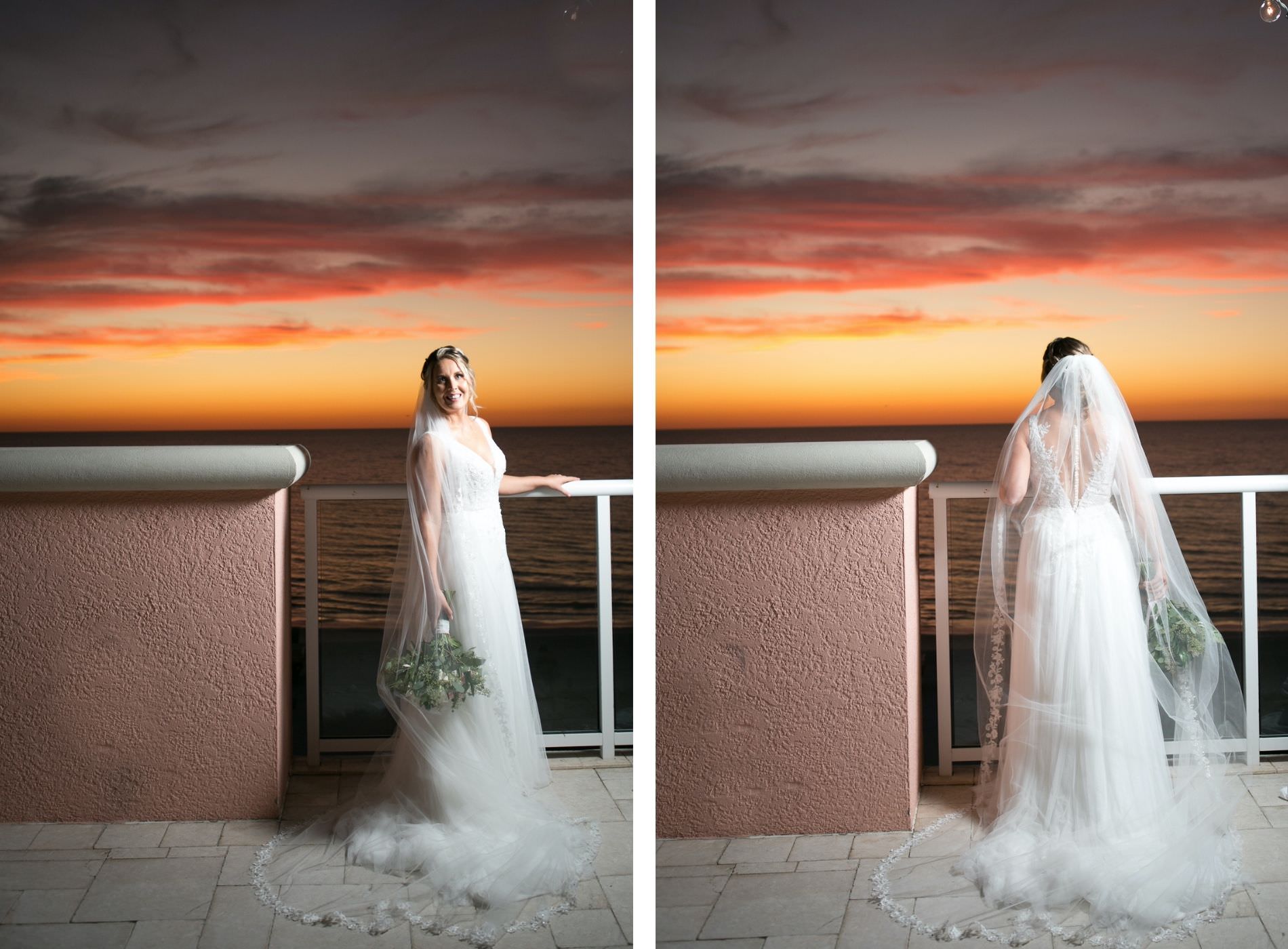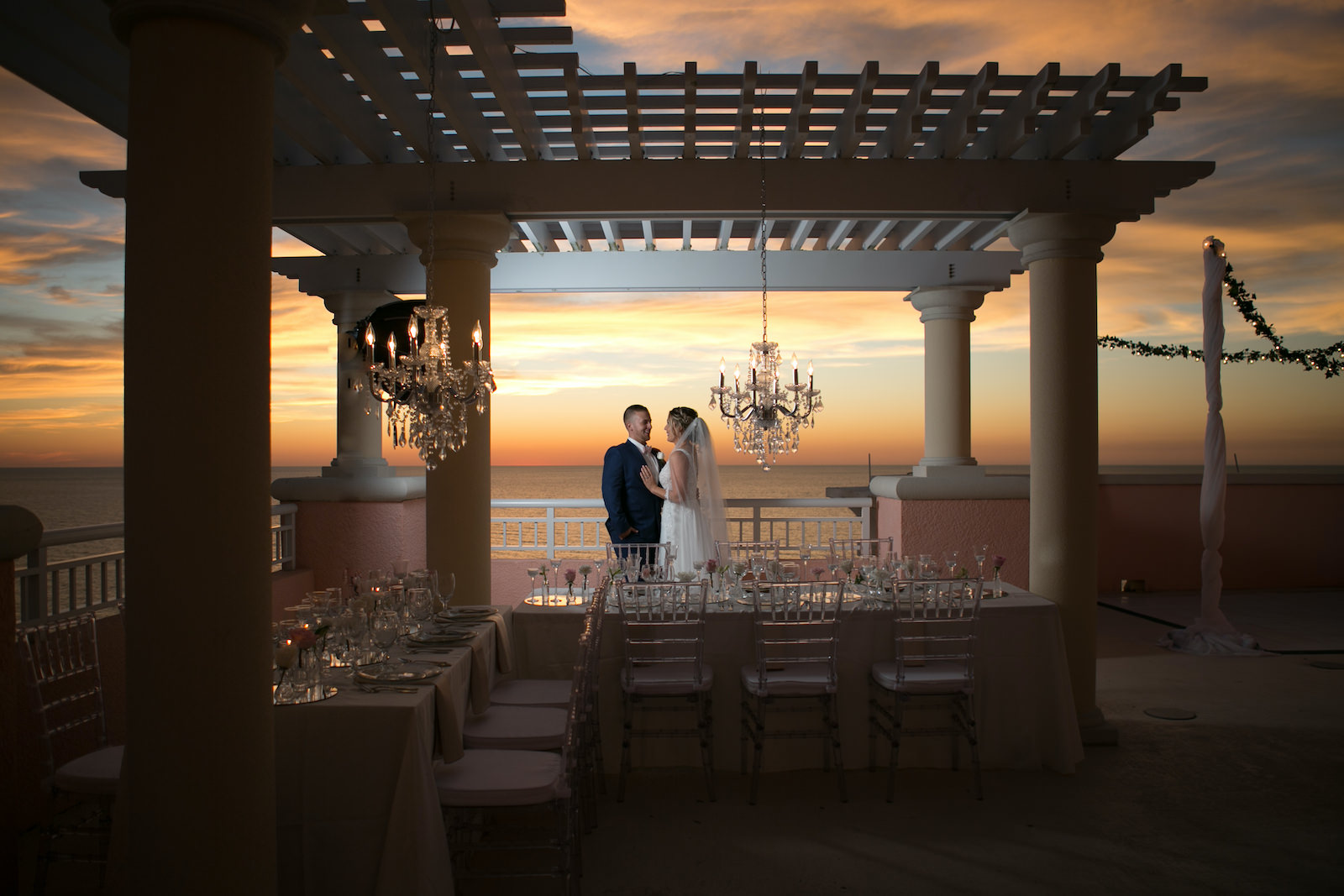 Venue: Hyatt Regency Clearwater Beach Resort & Spa *Marry Me Tampa Bay Preferred Wedding Venue
Photographer: Carrie Wildes Photography *Marry Me Tampa Bay Preferred Wedding Pro
Planner: Coastal Coordinating *Marry Me Tampa Bay Preferred Wedding Pro
Florist: Brides N' Blooms Designs *Marry Me Tampa Bay Preferred Wedding Pro
Linens: Connie Duglin Rentals
Rentals: Outside the Box Event Rentals *Marry Me Tampa Bay Preferred Wedding Pro
Cake: Tampa Bay Cake Company *Marry Me Tampa Bay Preferred Wedding Pro
Desserts: Sweetly Dipped Confections *Marry Me Tampa Bay Preferred Wedding Pro
Hair and Makeup: Femme Akoi Beauty Studio *Marry Me Tampa Bay Preferred Wedding Pro
Bridal Attire: Truly Forever Bridal *Marry Me Tampa Bay Preferred Wedding Pro
Photo Booth: Chubby's Photobooth and Games
Officiant: Brandi Morris *Marry Me Tampa Bay Preferred Wedding Pro
Invitations: Shine Invitations (Etsy)
Menus: Crush Papers (Etsy)
Models: Brittany Doyle and Kyle Amaral
Quotes have been lightly edited for clarity and brevity.
Preferred Marry Me Tampa Bay Wedding Pros are highly respected by our local wedding community and have been personally vetted by our editor.