We love downtown St. Pete for its character, charm, and variety of wedding venues, and NOVA 535 embodies all of these characteristics.
Featuring an outdoor bamboo garden, two-story event space with two wrought iron staircases, fully integrated lighting and sound system, the average couple would never know what lies behind the fenced clay brick exterior of this historic 1920's wedding venue.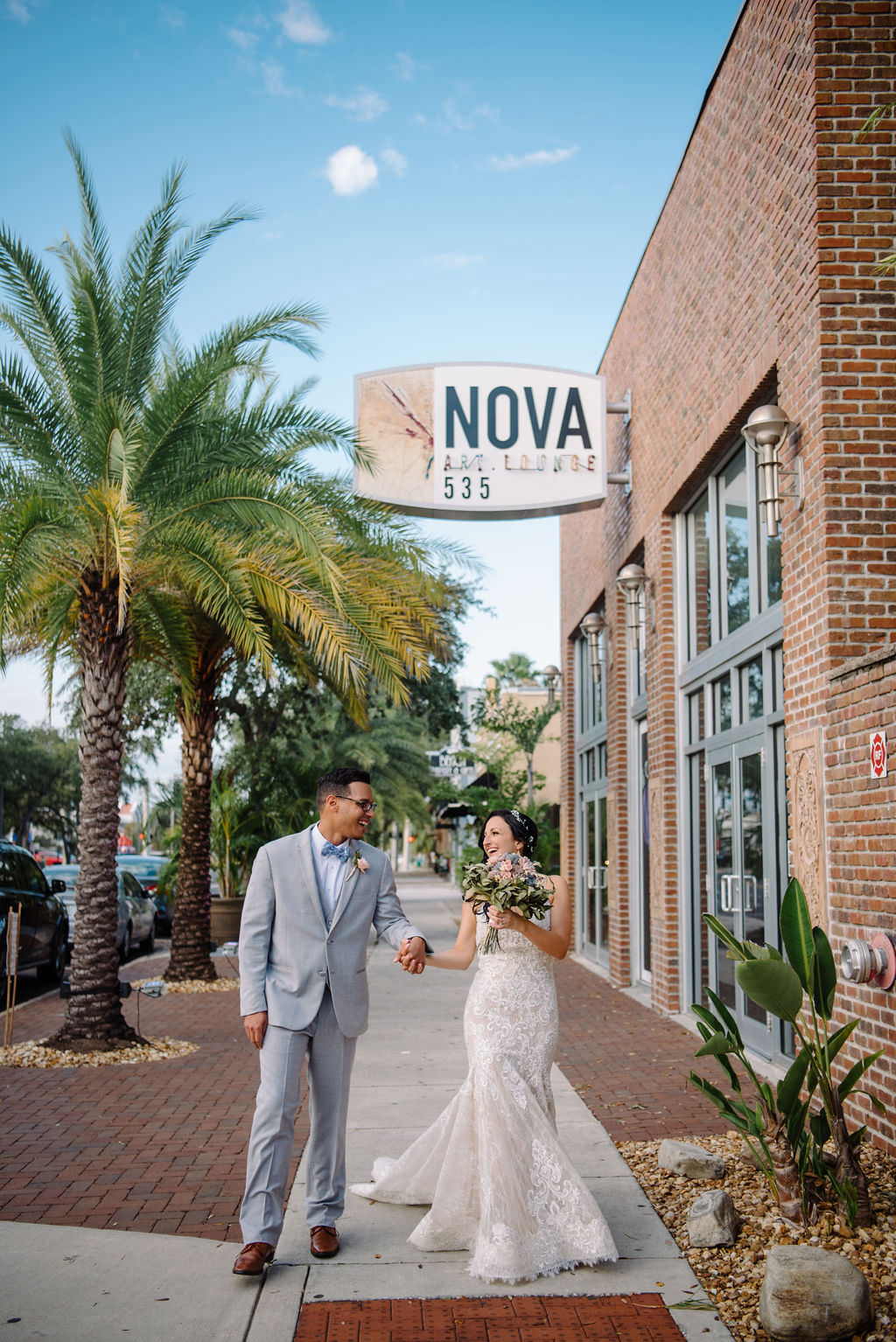 "We instantly fell in love with NOVA and immediately knew we wanted our wedding there. It was a beautiful venue with the brick, bamboo, and string lighting, and there was plenty of room. Our wedding coordinator, Ruby, was amazing on the day of, helping in every way possible and making things run smoothly." -Anita and Rabbie | Romantic Dusty Blue and Rose Downtown St. Pete Wedding | NOVA 535
When you first enter the brick courtyard you're encompassed by a zen and private towering 30-foot tall bamboo garden. You'll completely forget you're right in the middle of downtown St. Pete.
The 4,000 square foot outdoor space seats 300 and is the perfect ceremony backdrop or outdoor cocktail style reception for 500 guests.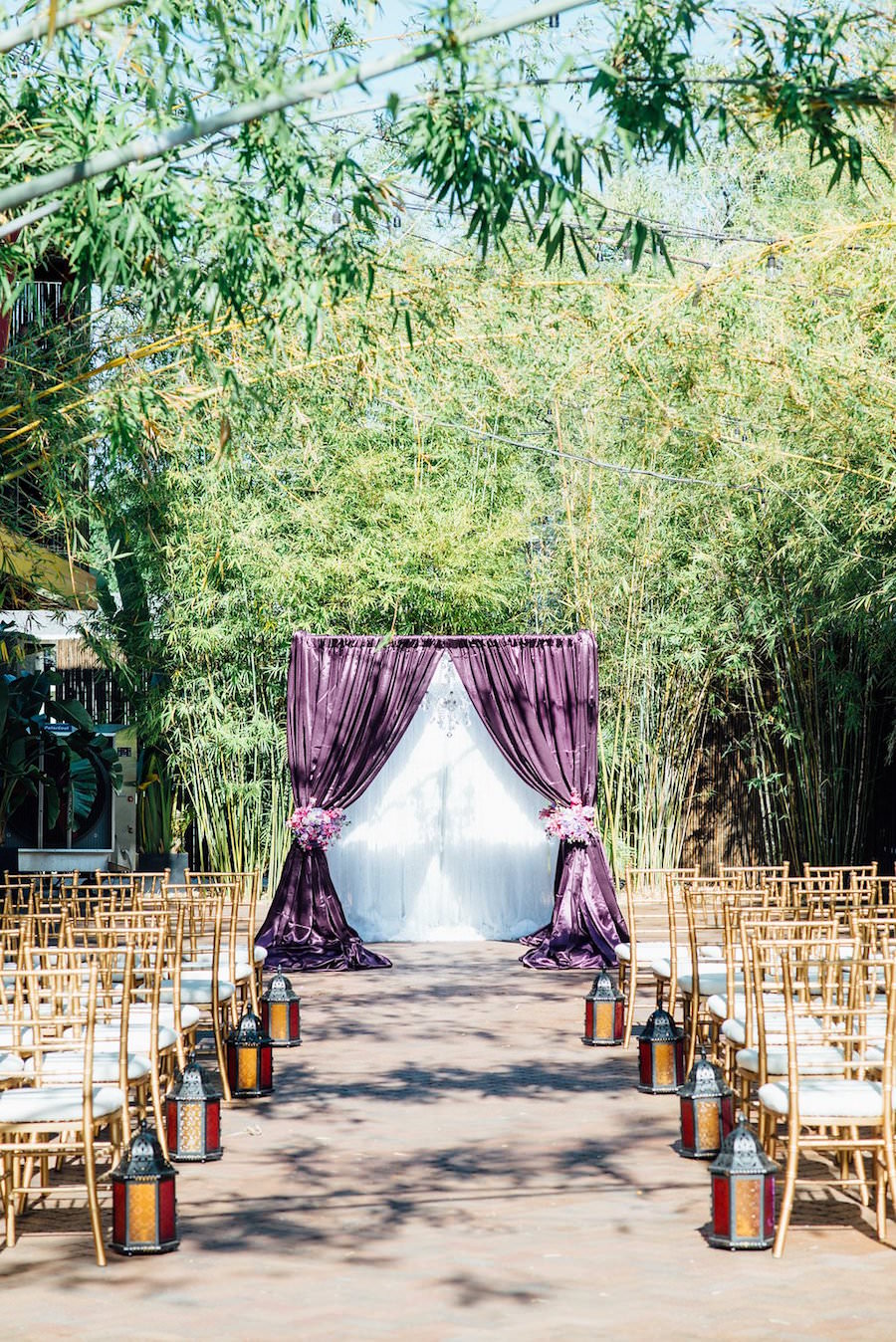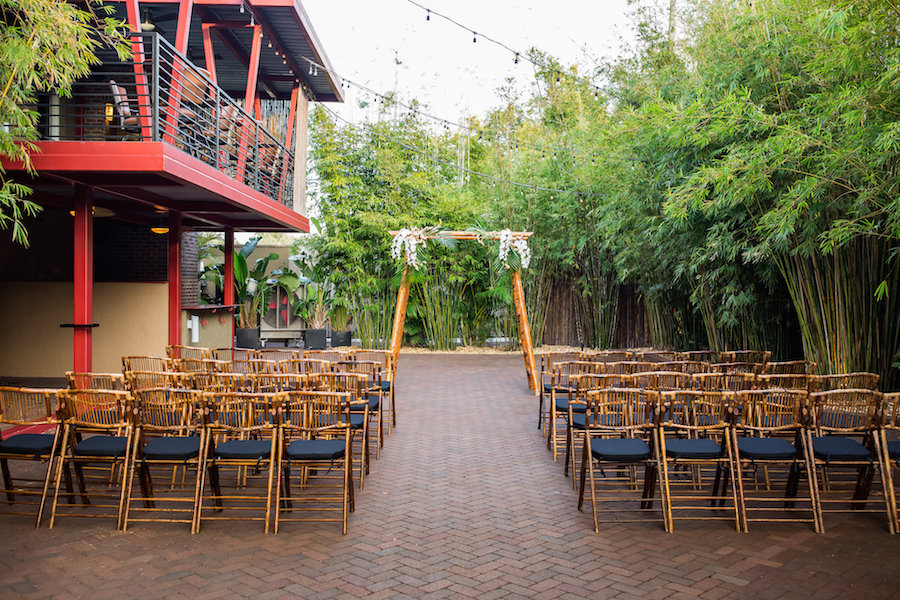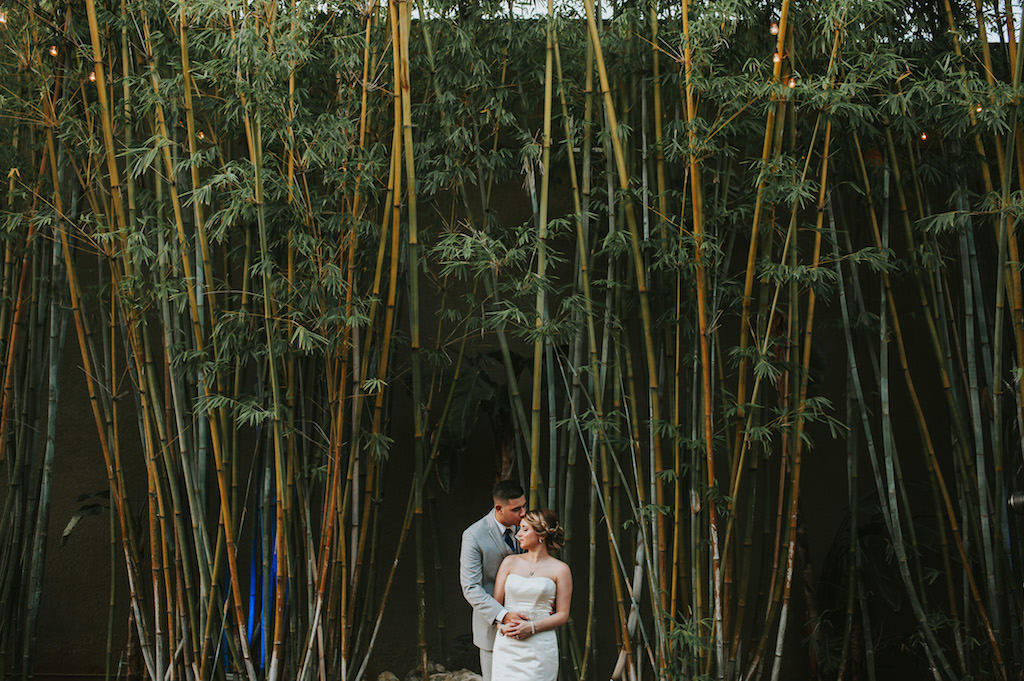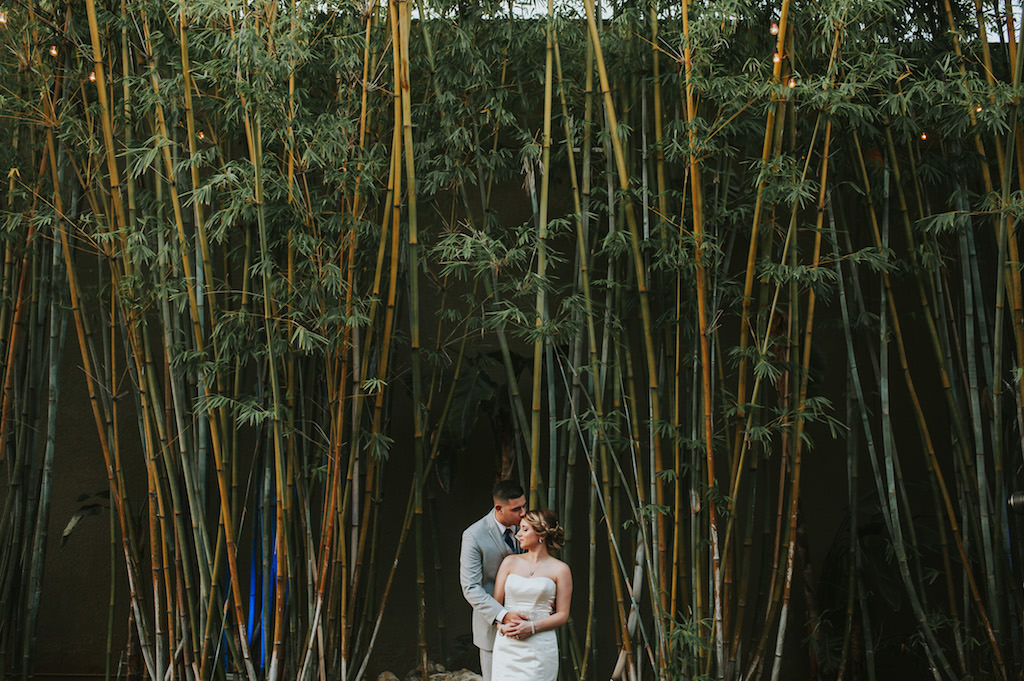 "From the moment they opened the gate to the bamboo garden, I knew NOVA 535 was the venue. With its amazing brick accents and black iron staircase, it perfectly captured my vision! NOVA 535 went above and beyond for us. When they told us everything the venue included for the price they quoted us, we almost fell over! It was amazing. They provided world-class lighting which included excellent accent lighting, an amazing event coordinator and a great DJ! Words cannot describe how grateful I was for the event coordinator, Ruby throughout the process, and everyone else who made our day extra special." -Rocio and Carlos | Blue and White Outdoor Downtown St. Pete Wedding | NOVA 535
Inside, the dark and moody two-story reception space features original 1920 clay brick walls, Brazilian hardwood floors, 16-foot ceilings, and exposed original rafters. The double wrought iron staircase makes for the perfect grand entrance.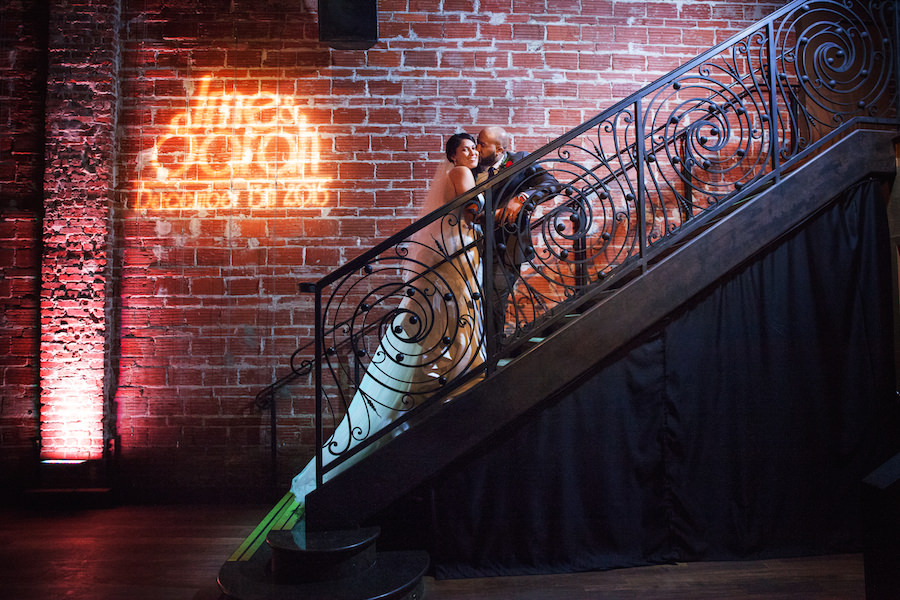 What couples love most about NOVA 535 is the versatility of the venue. Although it has a modern and industrial feel, the open floor plan and charm of the venue can complement any style decor and seat 270 guests downstairs and 80 on the second-floor balcony.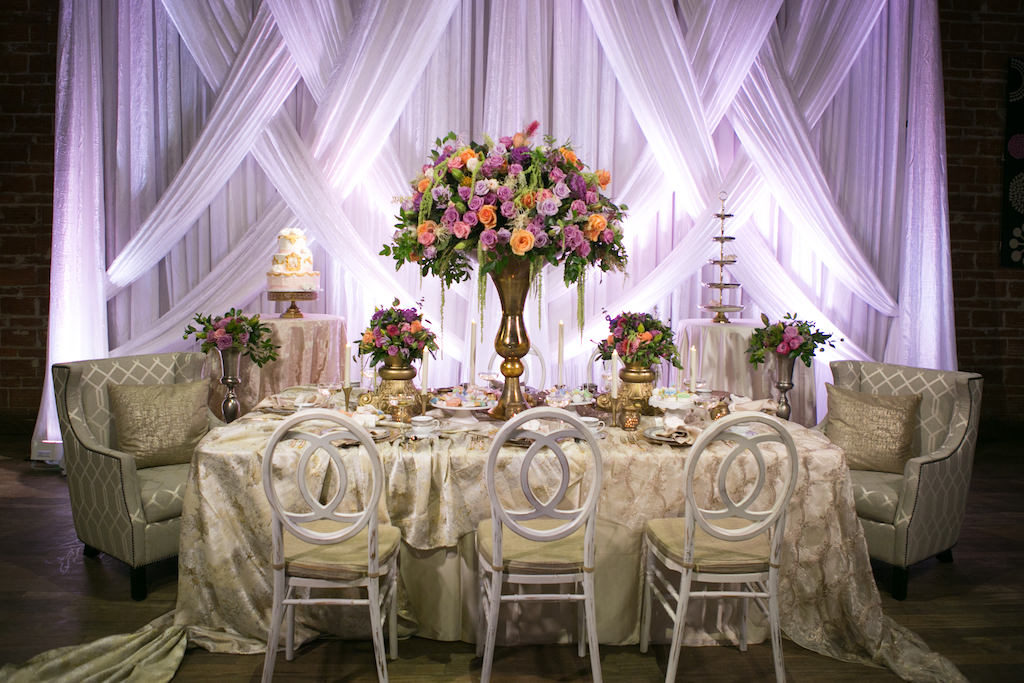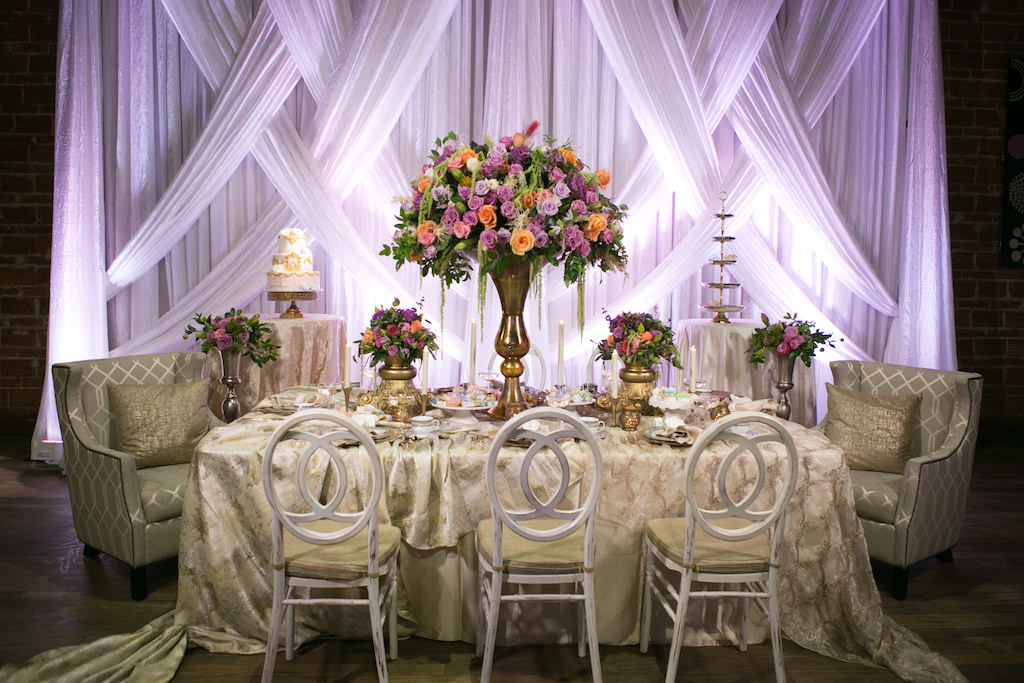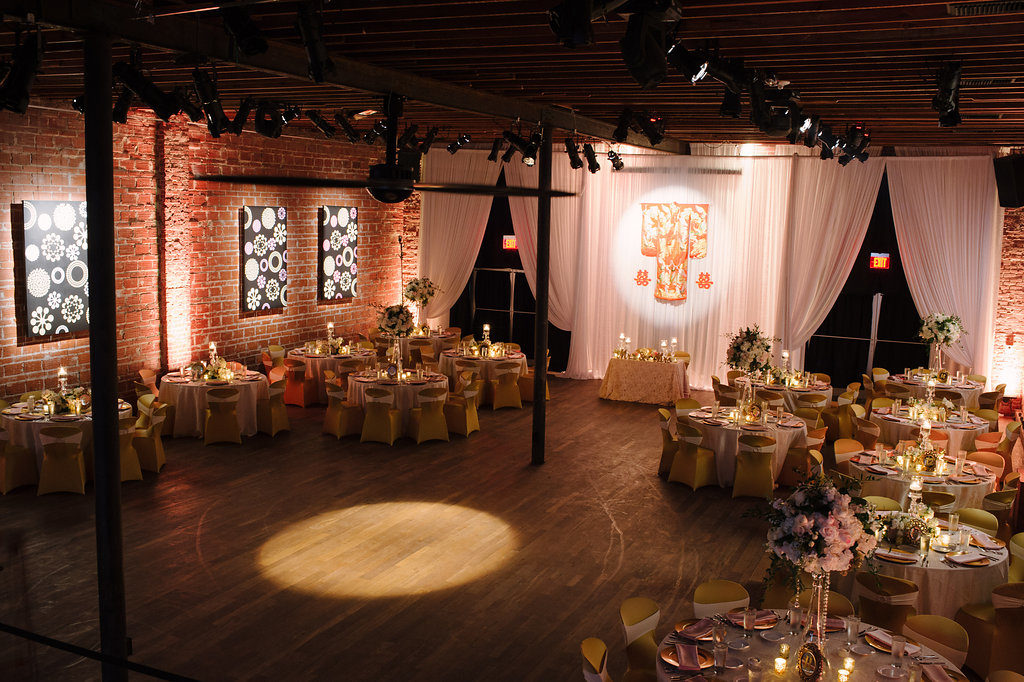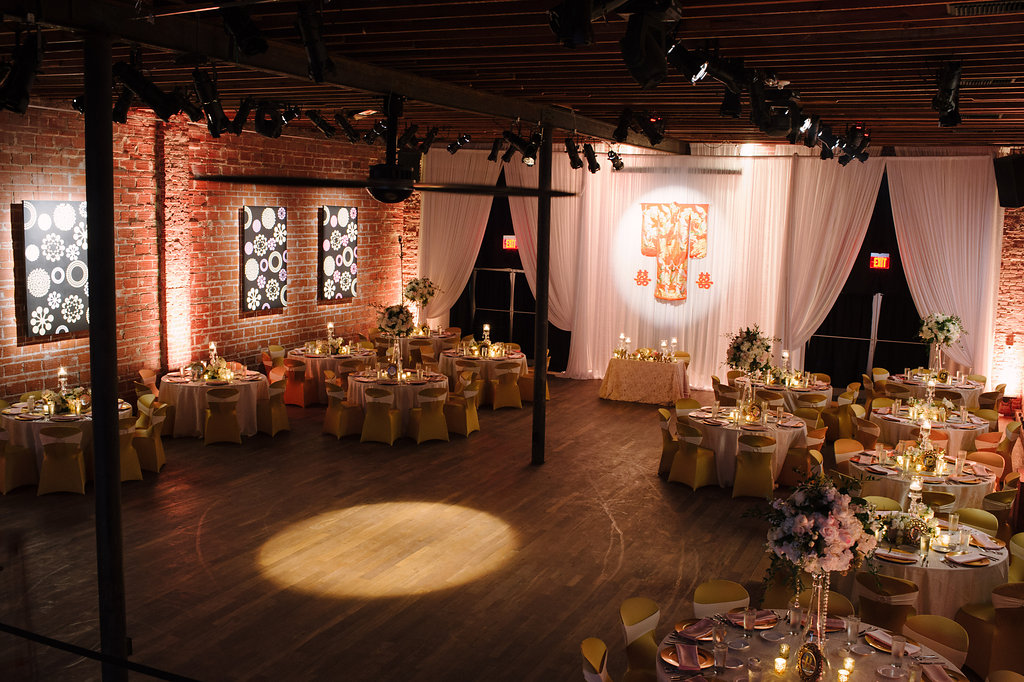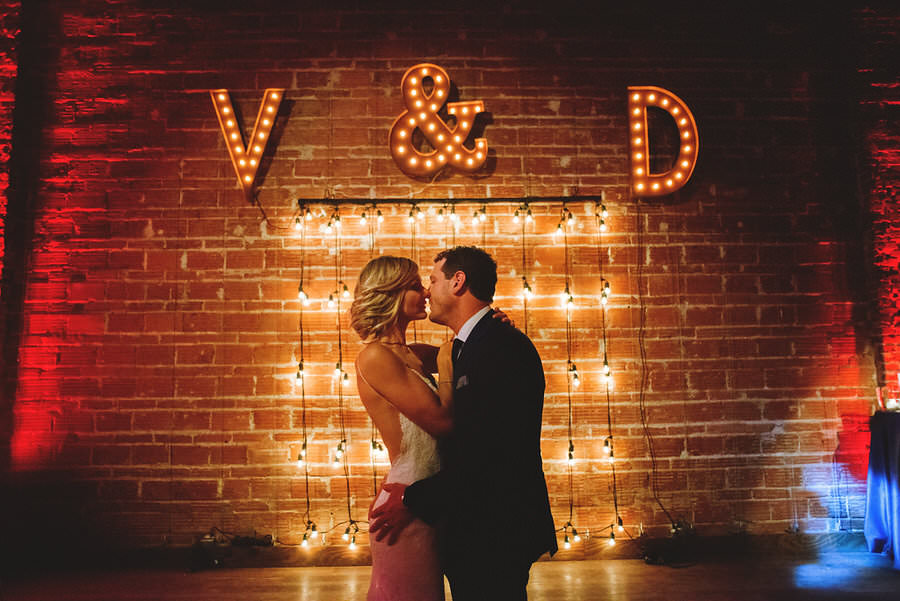 I want to learn more about weddings and events at NOVA 535.
The venue has multiple getting ready suites upstairs, and the indoor reception space can also double as your ceremony backdrop making NOVA 535 a year-round wedding venue.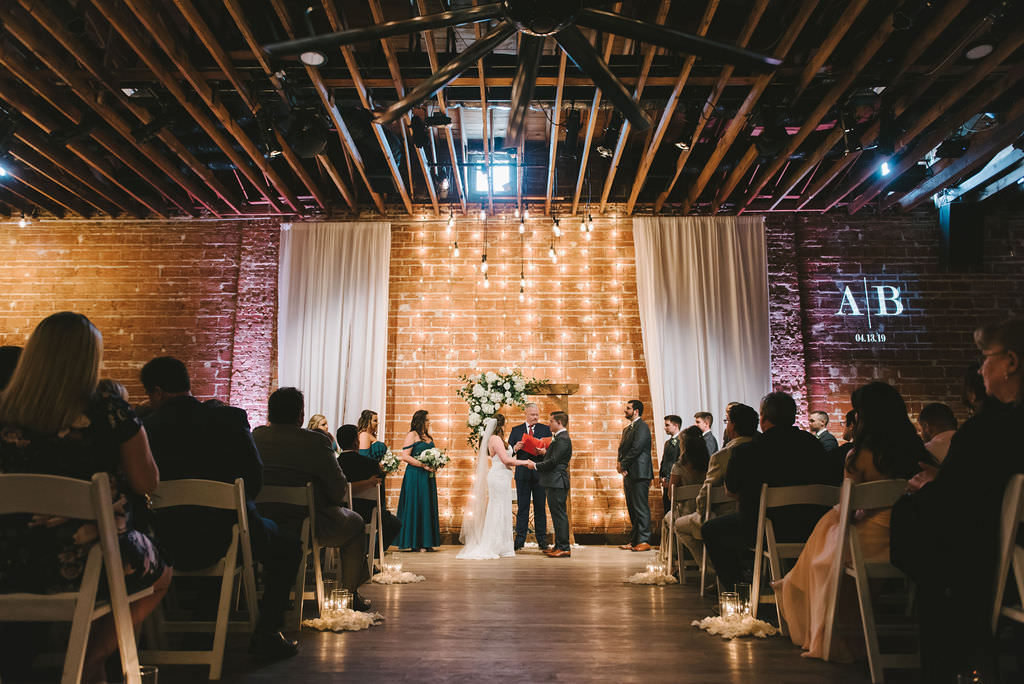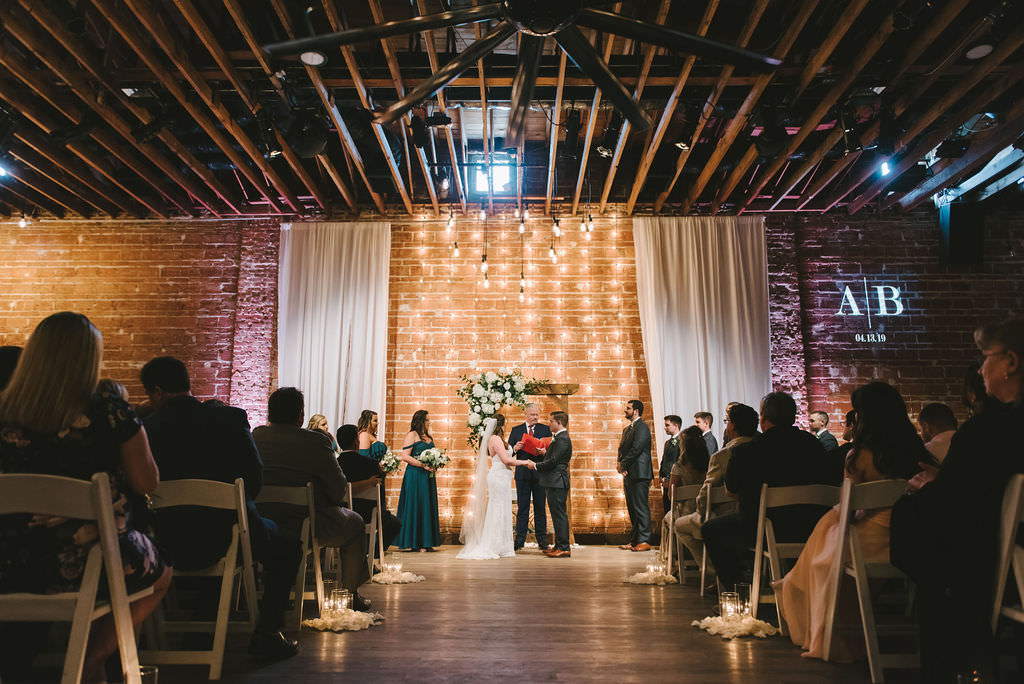 The reason we fell in love with NOVA 535 was that the vibe of the venue was both a little rustic and also industrial, which fit both of our styles. With the gorgeous brick walls, iron staircases, and the string light garden, there was not a lot that needed to be done to the venue decor-wise. We also really liked that the venue did the liquor, DJ, security, set up/clean up, and had a day of coordinator. Incorporating all those things into one vendor made the wedding planning process much easier." Angie and Brian | Romantic, Industrial Green Downtown St. Pete Wedding | NOVA 535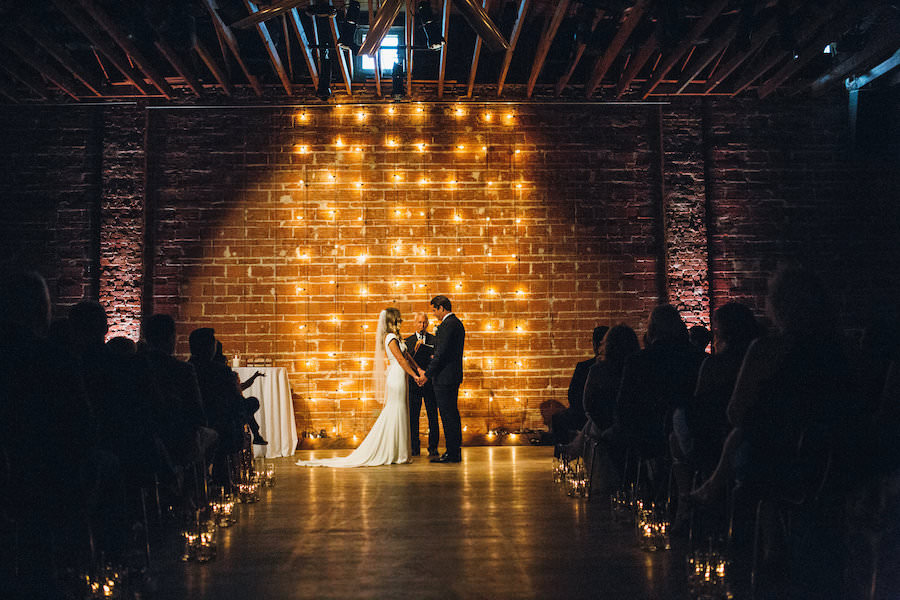 Providing 5-star service and saying "Yes" is the at core of the NOVA 535's mission.
"We custom create each event, the way you want, with no limits and no stress! Use any professional caterer, drink from our full liquor bar and party your unique way. We love saying yest to your wild and crazy ideas! Yes, you can bring your dog or hire skating clowns, yes you can drive a food truck (or three) right into our venue. Yes, we can!" owner Michael Novilla beams.
The venue offers a venue coordinator, tables, chairs, bar services, DJ, uplighting, multiple getting ready bridal suites, and was named "Top 10 Best Restrooms in USA."
You can also bring in your own professional caterer.
VIEW OUR PREFERRED MARRY ME TAMPA BAY WEDDING CATERERS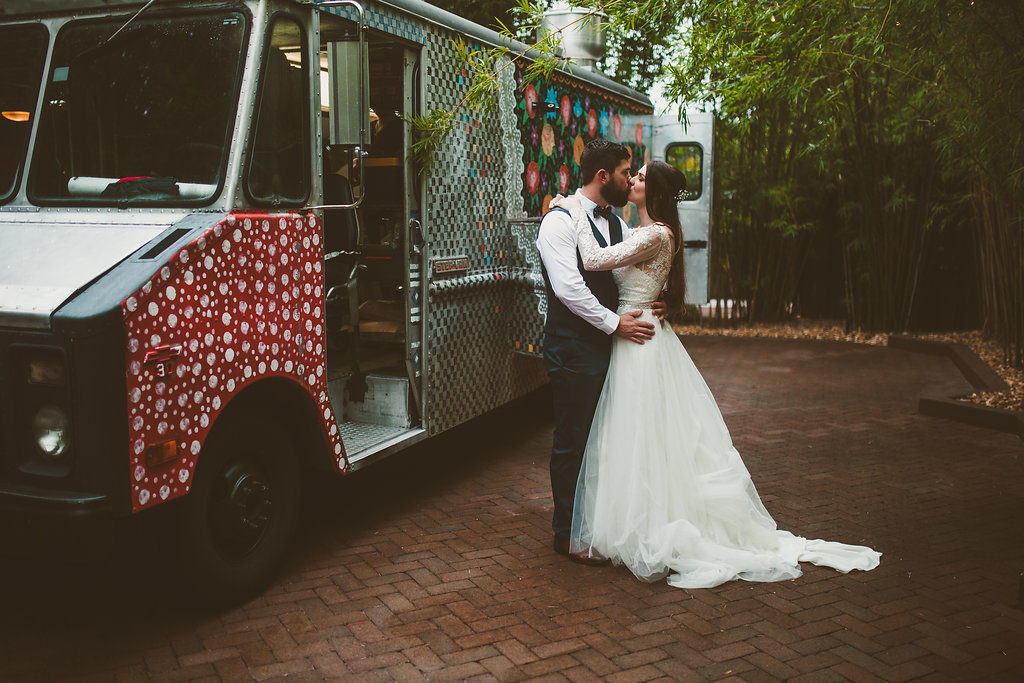 "I actually went to a NOVA 535 wedding a few years ago and loved it! loved the brick walls and the cocktail hour upstairs," Natalie gushed. "We wanted a fun venue where we could dance and have a good time, and NOVA definitely had enough dancing space. We didn't need to get any ventures besides the food truck. I gave the on-site planner, Ruby, the look of the flowers, etc and she made it happen." – Natalie and Alec | Minimalistic, Industrial Downtown St. Pete Wedding | NOVA 535
NOVA 535 is ideal for couples who want a venue with unique character. With the texture of the walls, the hardwood floors, and dramatic lighting, it truly is a venue that doesn't need much decor to give a wow factor for your guests. It is consistently rated one of the best wedding venues in the St. Pete and one of the few spaces that allows outside catering, yet provides a full-service bartending and event staff (you caterer will need to provide servers).
The staff is dedicated truly dedicated to providing amazing service and making the wedding planning process as easy as possible. They have created a system called "The NOVA Way" to make sure your wedding day is as smooth as possible from the venue side.
LEARN MORE ABOUT NOVA 535'S PRICING 
I want to learn more about weddings and events at NOVA 535.
Meet NOVA 535 Owner Michael Scott Novilla: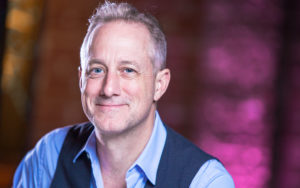 Hi, I'm Michael Scott Novilla, born on April Fools Day in beautiful Downtown St. Pete, Florida. I LOVE THROWING GREAT PARTIES!
At age 11, I started a grass mowing company, the same time I started experimenting with that OTHER kind of grass. I got my M.B.A from the University of South Florida, spent 20 years buying, renovating and managing 100 apartments in downtown St. Petersburg, all while full-contact kickboxing with master Amir. Yet, I STILL LOVE THROWING GREAT PARTIES!
When I became fascinated with combining an art gallery, a lounge, and an event space, I did what all insane people do. I spent all my money on a run down, disgusting dog kennel and spend the next three years and $3,000,000 renovating it into NOVA 535, the #1 rated 5-Star venue in Tampa Bay.
Now I've produced over 2,000 live weddings, parties, and events and partied in 87 different countries across the globe. I've combined my wild wisdoms into a hilarious, step by step guide book: It's 5 Am Go Home; Weddings Parties and Events SO GOOD Your Guests Won't Leave!