Often times you may walk into a ballroom space and initially feel underwhelmed. That's because you have to add a little somethin' somethin' to make it pop, lighting and draping. Have those focal points can distract you from a busy carpet or from the neutral walls, they literally transform any space.
Tampa Bay wedding decor specialists Gabro Events Services teamed up with Carrie Wildes Photography to capture a ceremony designed for the heavens. From glitzy tablecloths to sophisticated lounge furniture, no detail was spared!
"We were inspired by angels for this styled shoot," Kabe Gabro, owner of Gabro Events Services shared. "Most of the time angelic things are portrayed in cherub angels. I wanted to twist it up a bit with a more modern feel with the white feathers representing the wings of the angels. The white draping are the clouds, and the candelabras represent a royal, elegant essence that we wanted to portray."
MORE: GABRO EVENT SERVICES WEDDINGS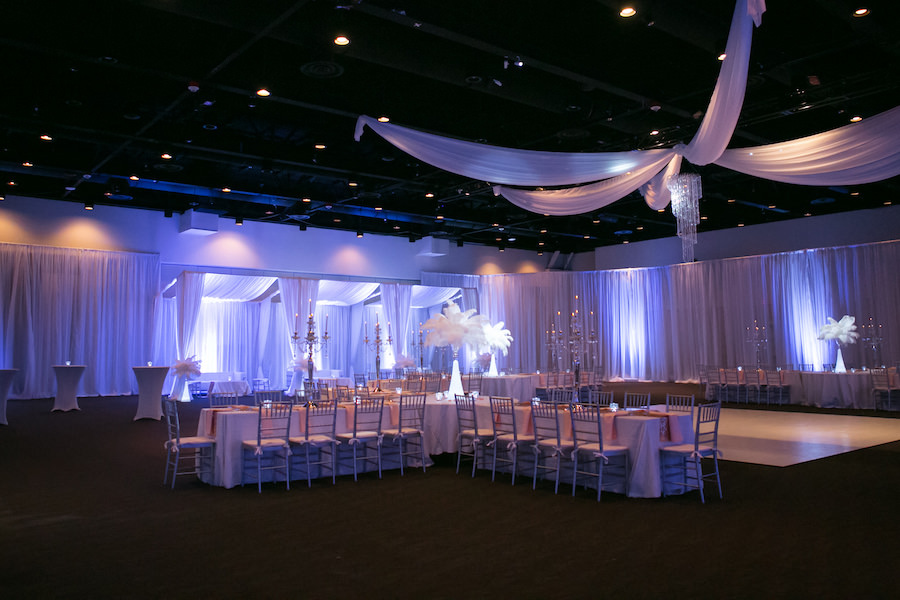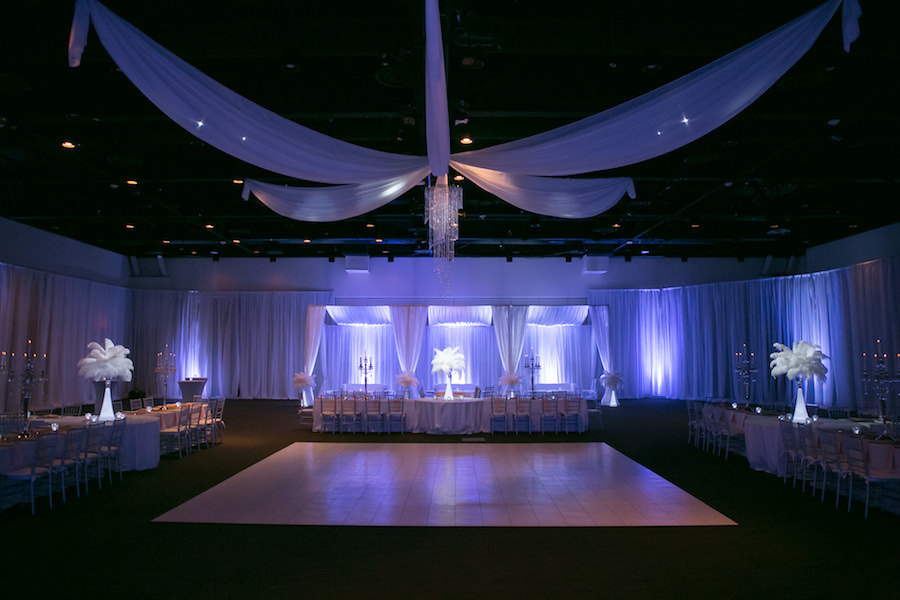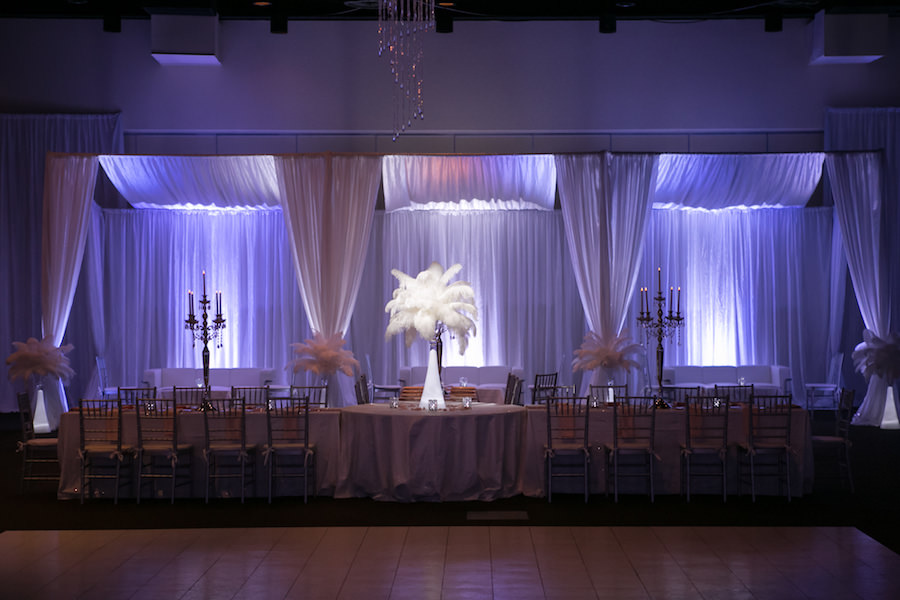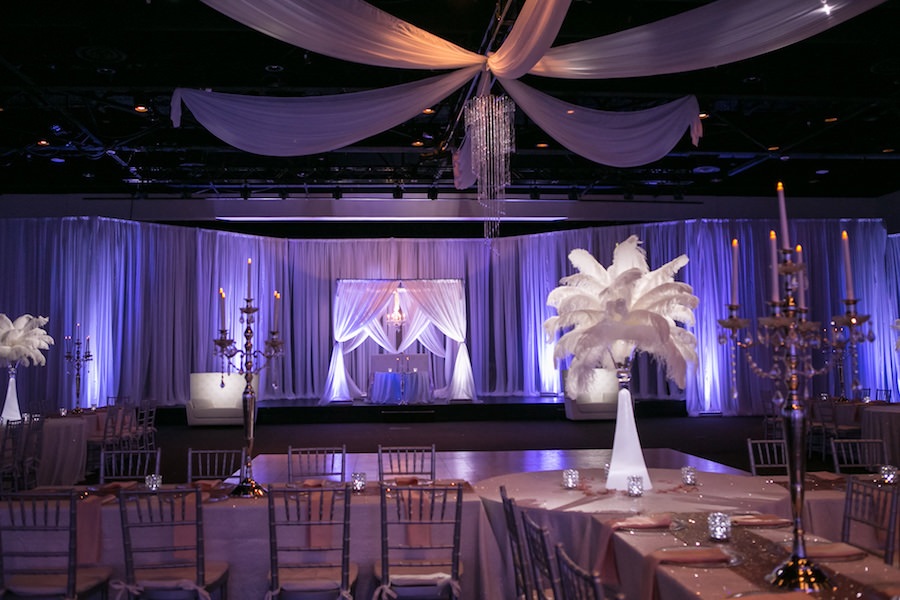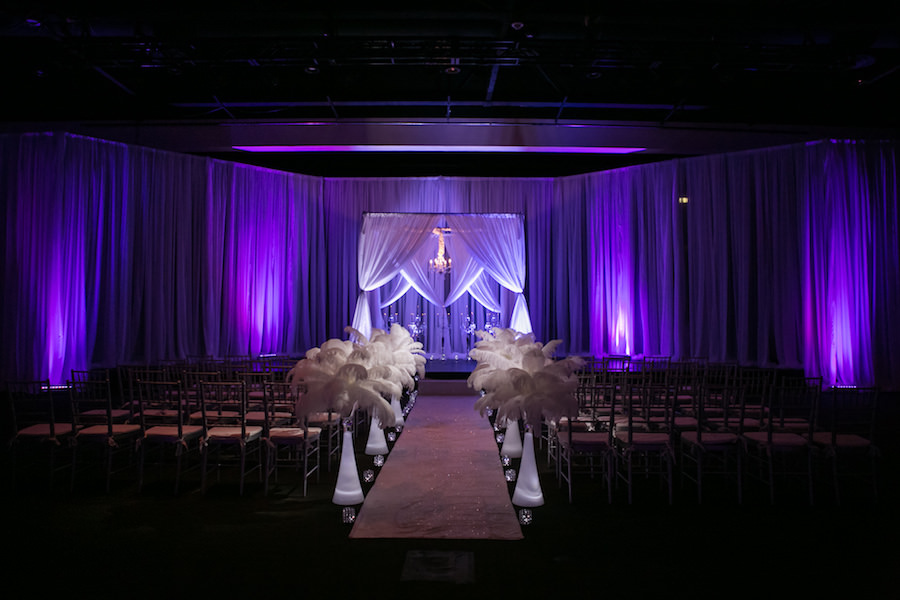 How would you describe your theme? 
Out theme could best be described as modern angelic. I chose this specific theme because I love the feeling and the thought of having angels surrounding us.
What were your colors?
White and silver with amber accents. The white represents the purity of the angels. The uplighting was an array of pink and blue hues, resembling different tones of the evening sky.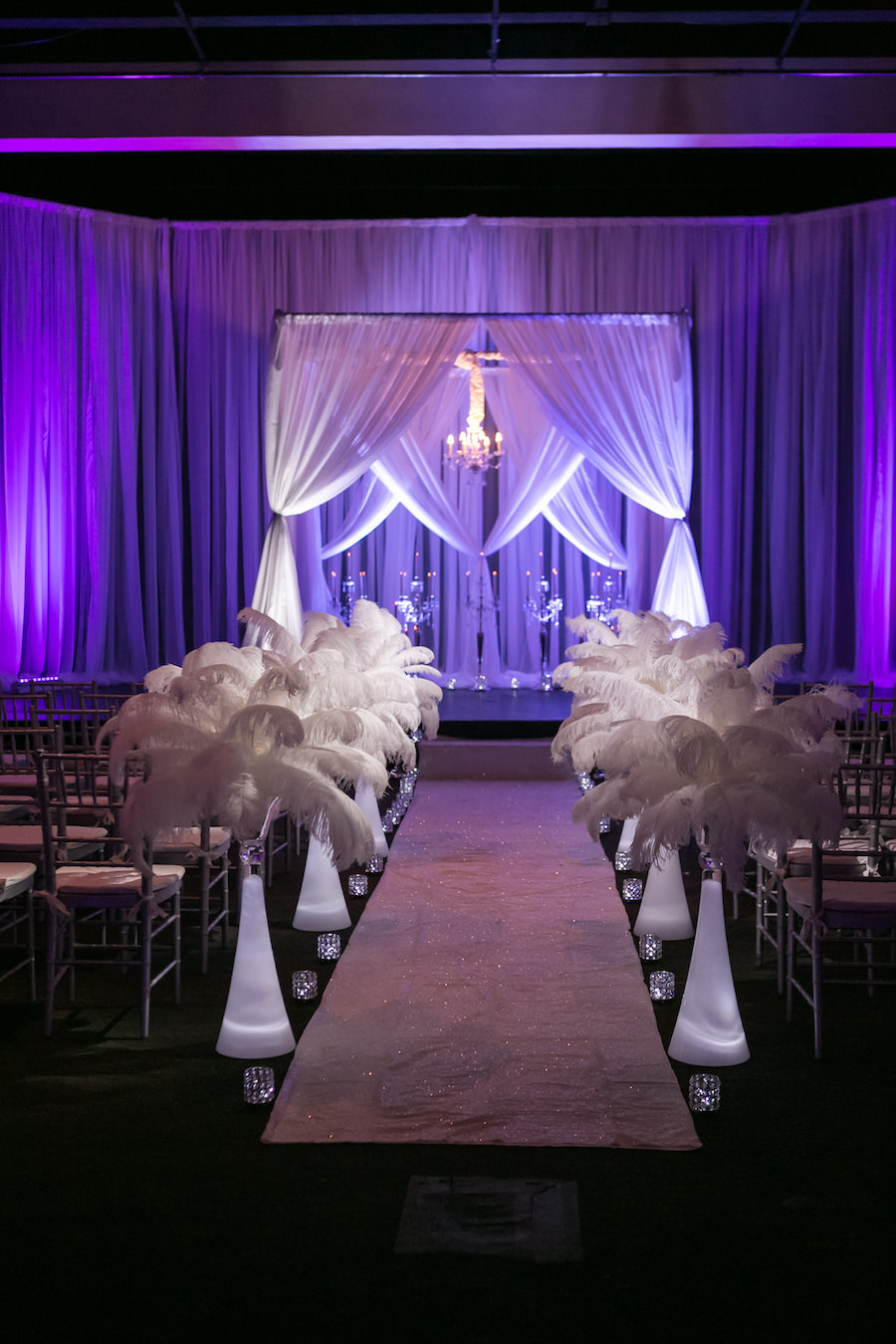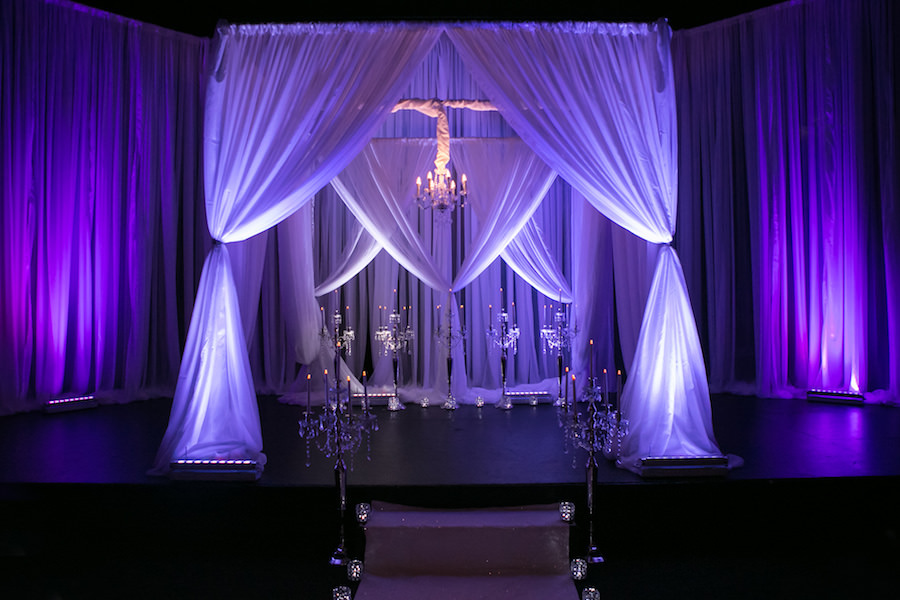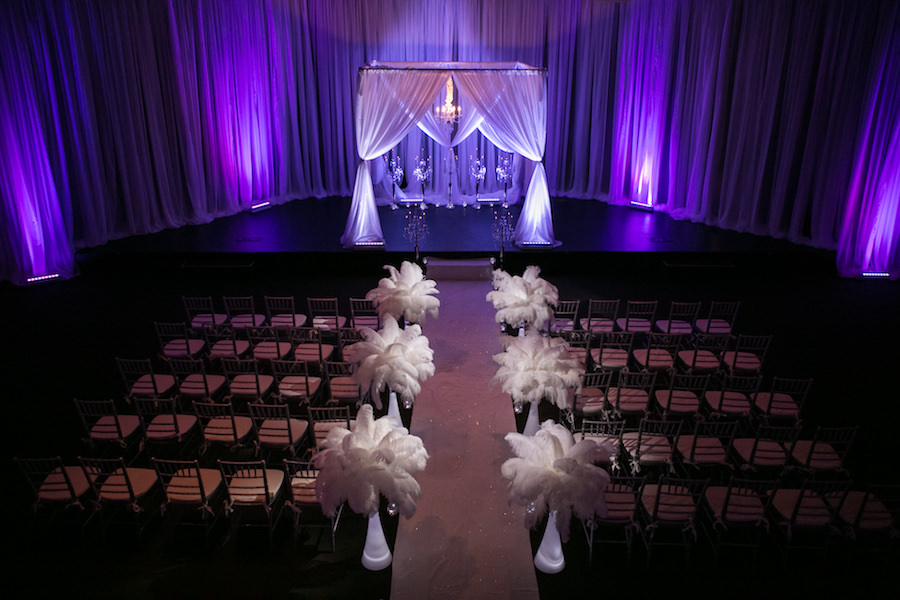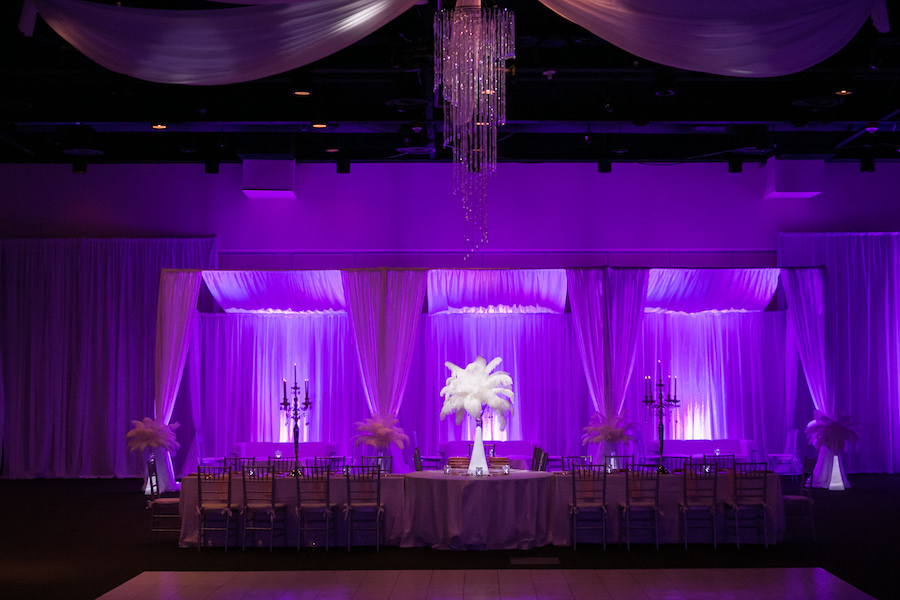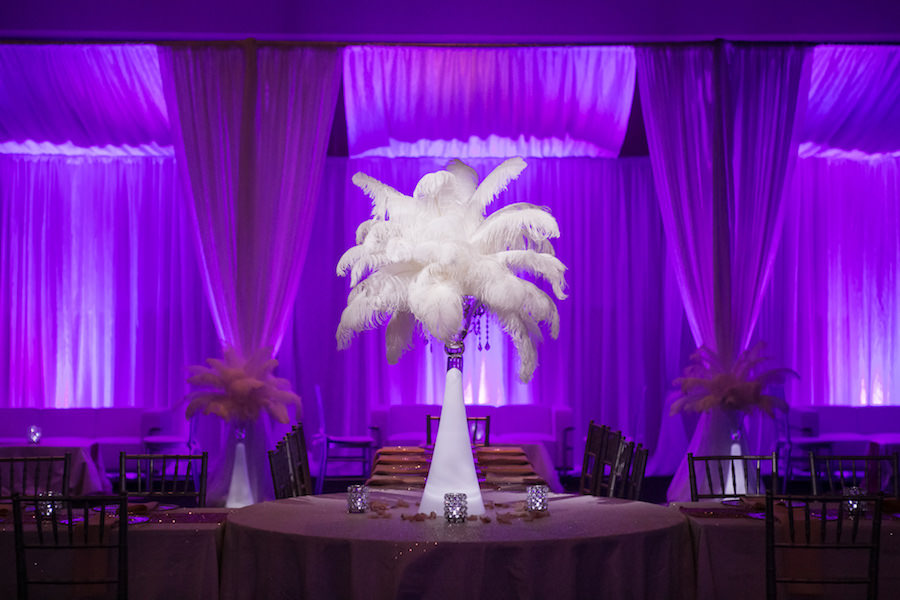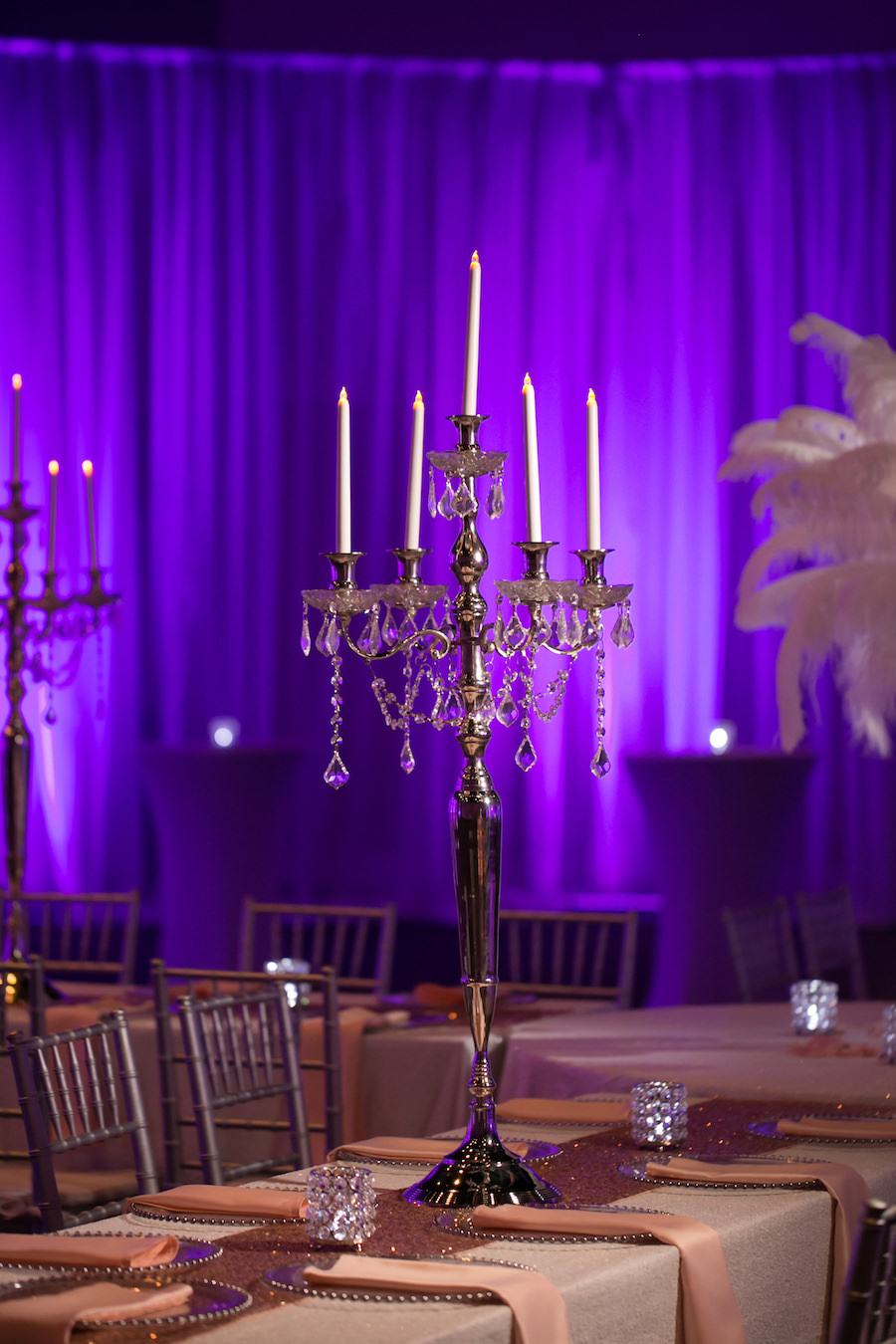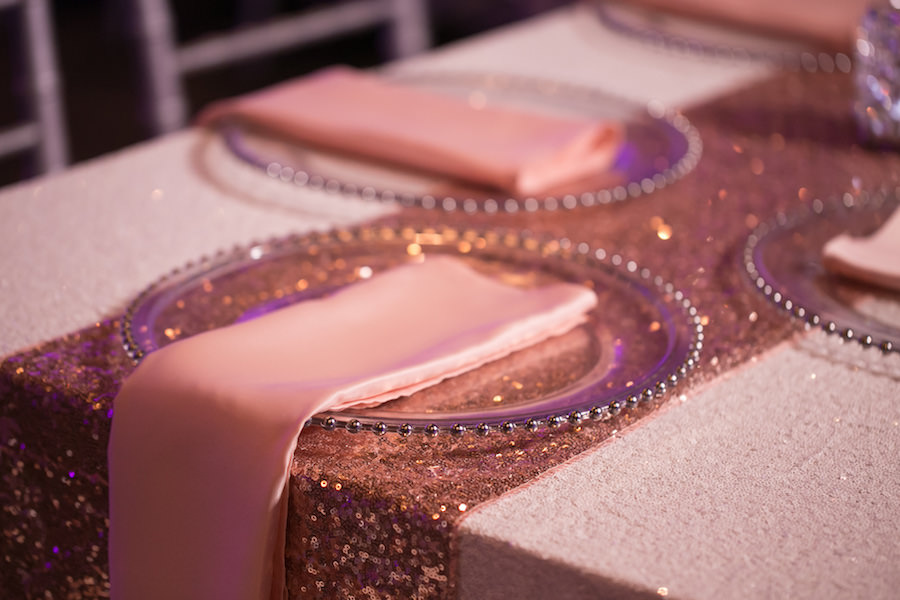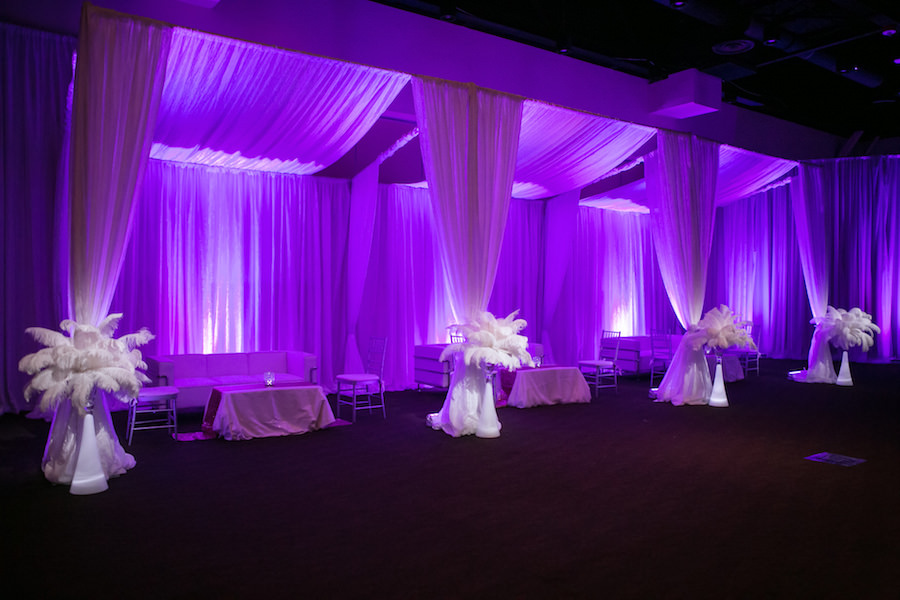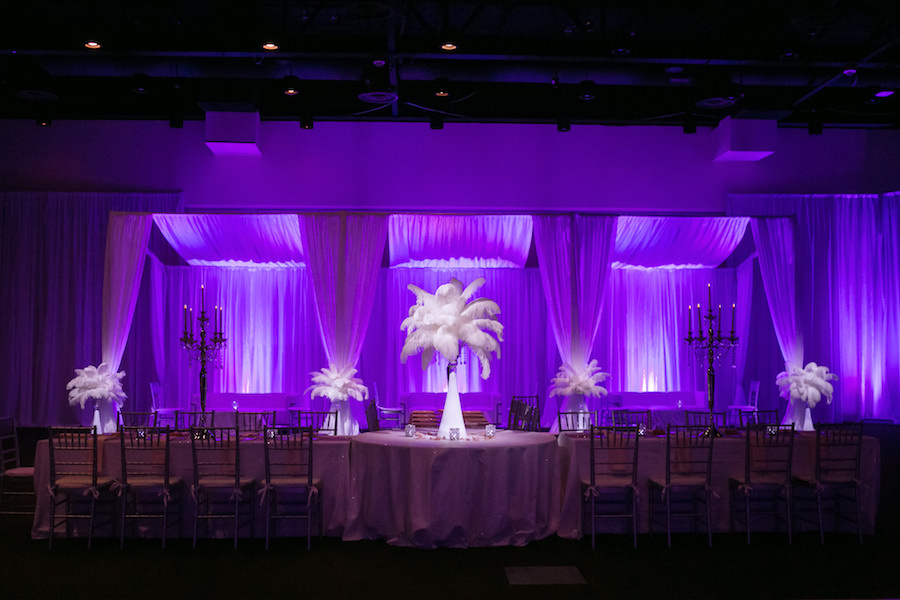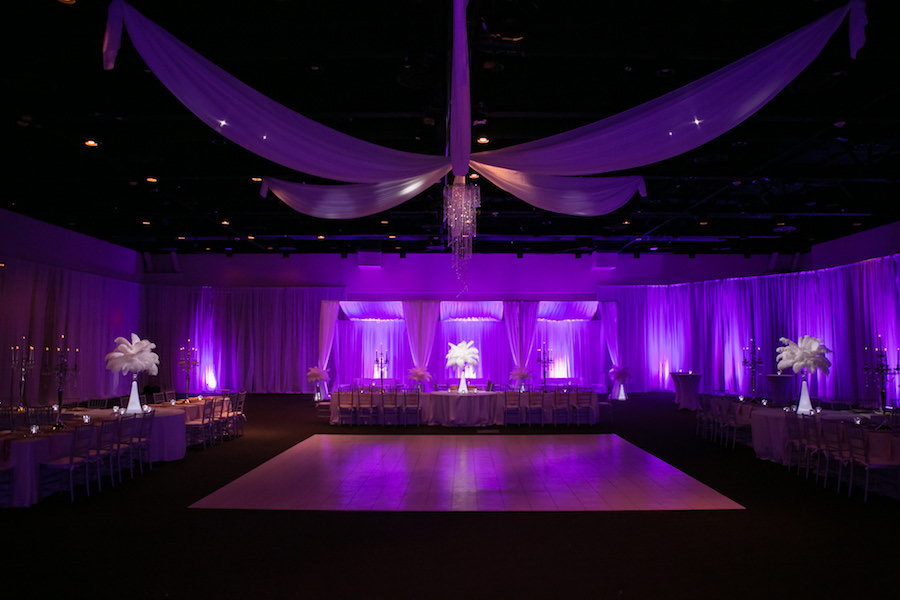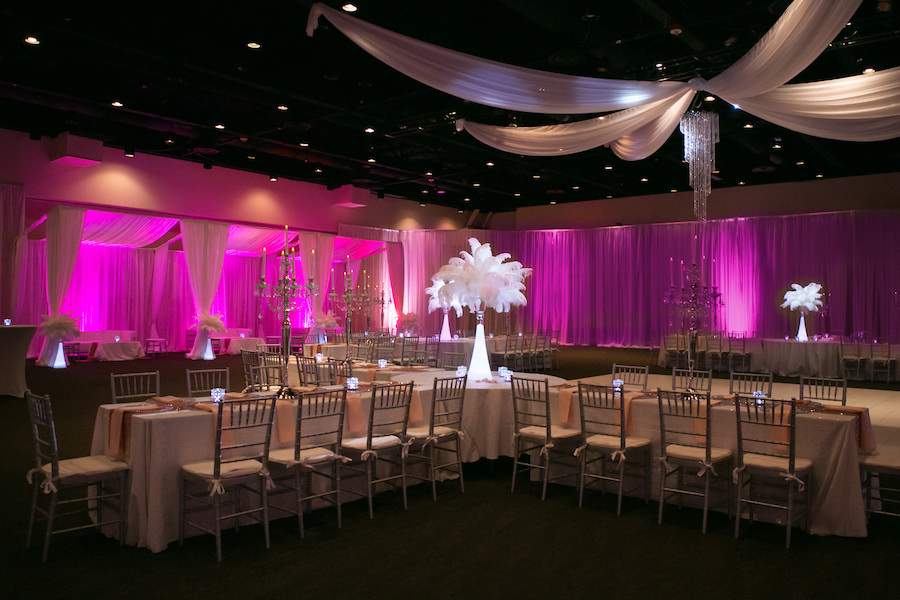 How much would you estimate this wedding would cost for 150 guests in the Tampa Bay area? 
Linens (napkins and tablecloths): $825 -$1,500 | Glass Chargers: $450-$700 | Centerpieces: $2,000-$3,500 | Chairs: $1,200- $1,900 | Uplighting: $900- $1,500 | Drapery: $4,500 – $7,000 | Ceremony: $1,500- $2,500 | Lounge Area Furniture and Canopies: $2,000- $3,500
Venue: A La Carte Shrine Pavilion
Photography: Carrie Wildes Photography *Marry Me Tampa Bay Preferred Wedding Pro
Design & Event Rentals: Gabro Event Services *Marry Me Tampa Bay Preferred Wedding Pro
(Glass chargers, blush napkins, sequin tablecloths, centerpieces, aisle runner, canopy, chiavari chairs, lounge furniture, coffee tables, pin spots, drapery, chandeliers, uplighting)
Dance Floor: A La Carte Shrine Pavilion

When it comes to a classic Tampa Bay wedding venue, with a modern touch, we can't help but picture the Centre Club. With the massive ceilings and towering fountain backdrop, the Westshore area event space can accommodate any theme.
The Centre Club's wedding venue coordinator Melissa Davidson partnered with Tampa wedding floral design experts, Apple Blossoms Floral Design and Marc Edwards Photographs to create an elegant, clean and modern wedding ceremony.
"The ghost chairs added the wow factor we were looking for to show off how special this space really is," Melissa shared. "The wedding ceremony works fantastic as is with the fountain and the live foliage in the space, but there's no reason to to have a little fun and dress it up a bit with candles, balloons and draping."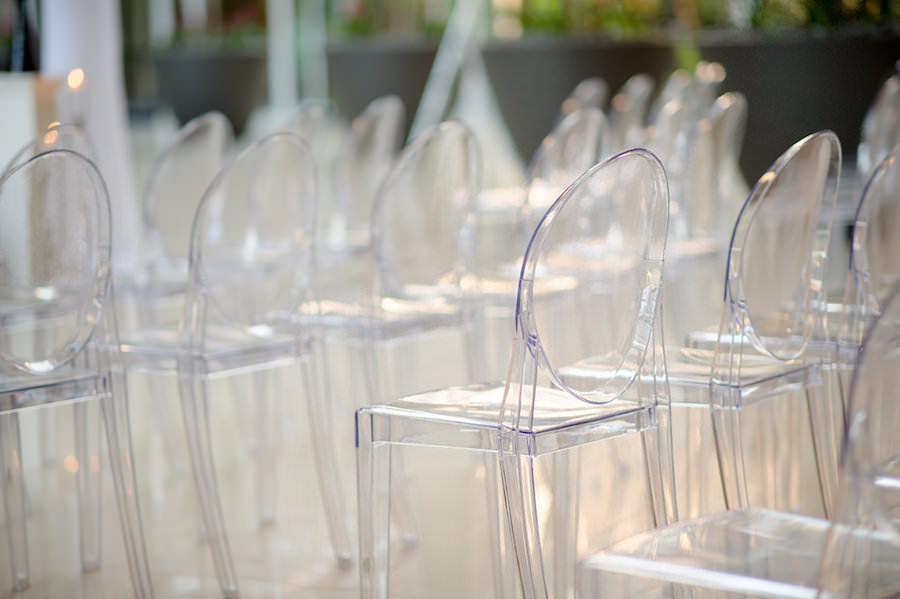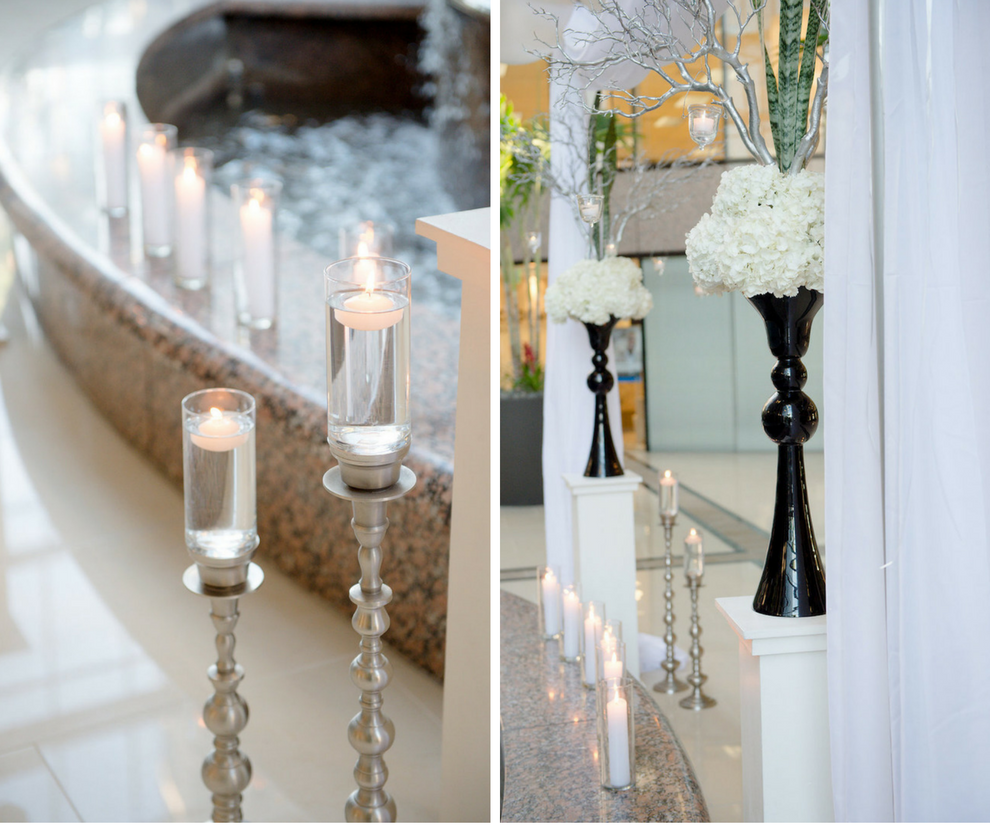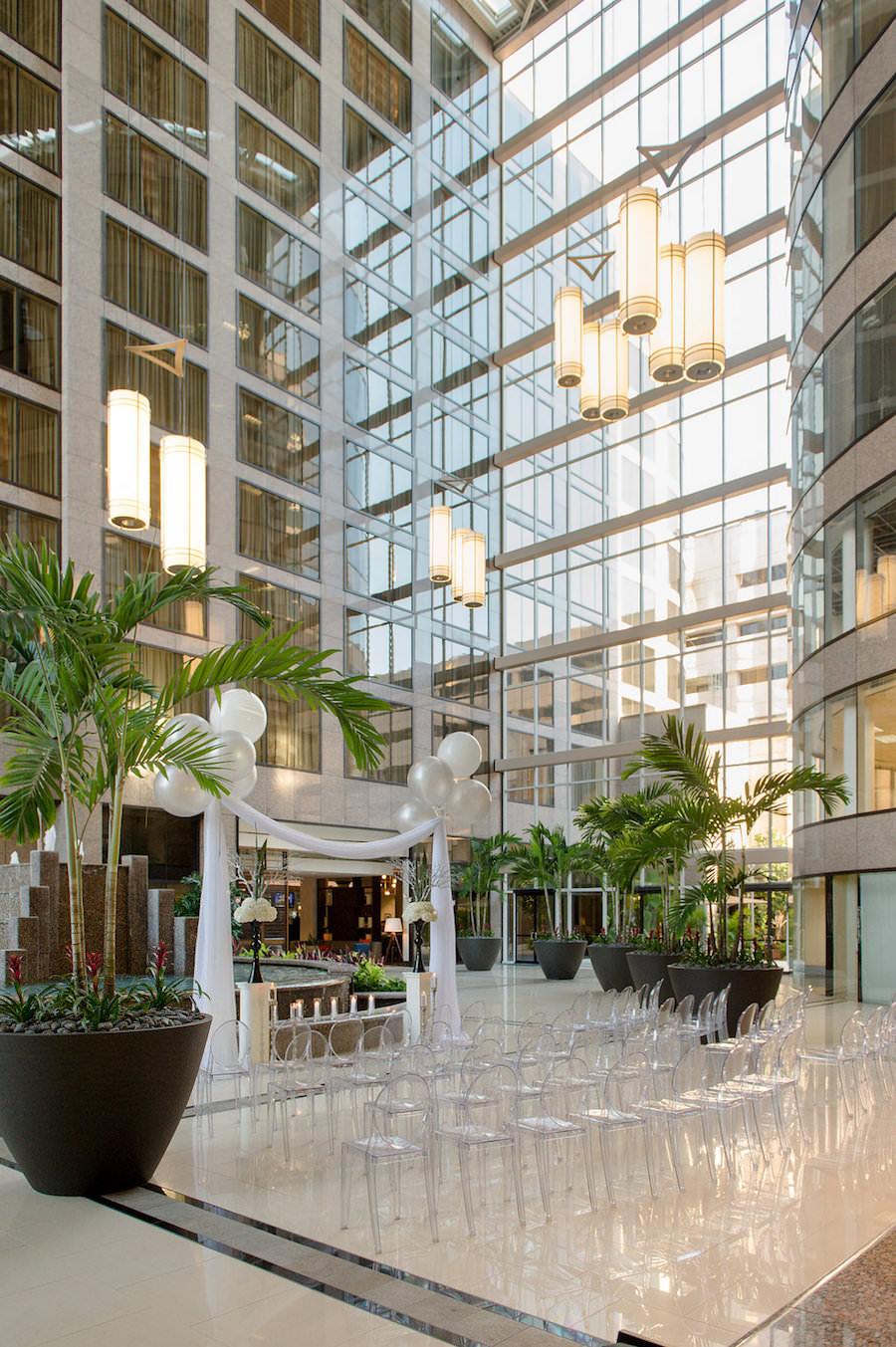 How would you describe your theme?
Modern and elegant, yet simple.
What were your colors and why did you chose them?
White, silver and black.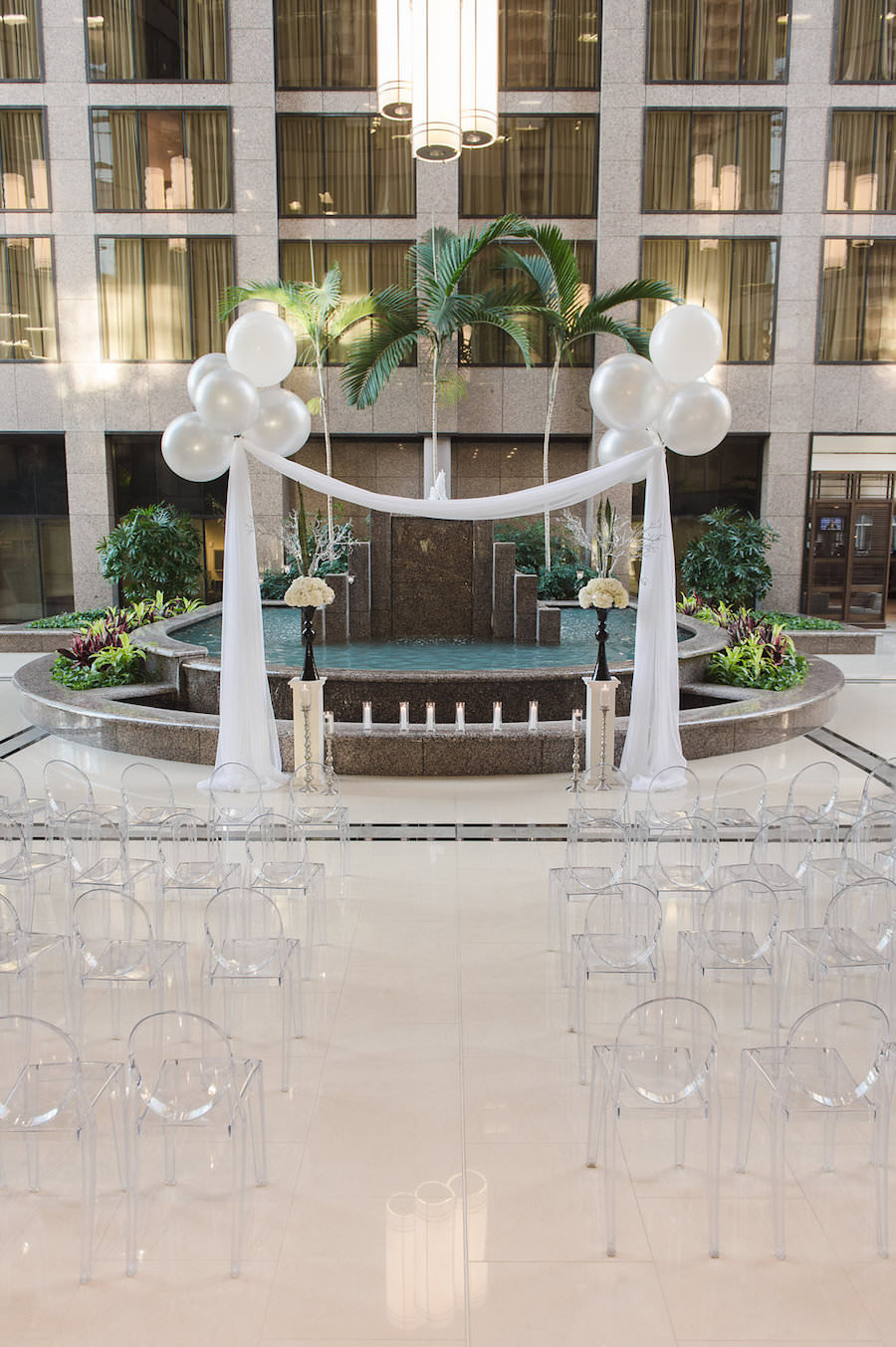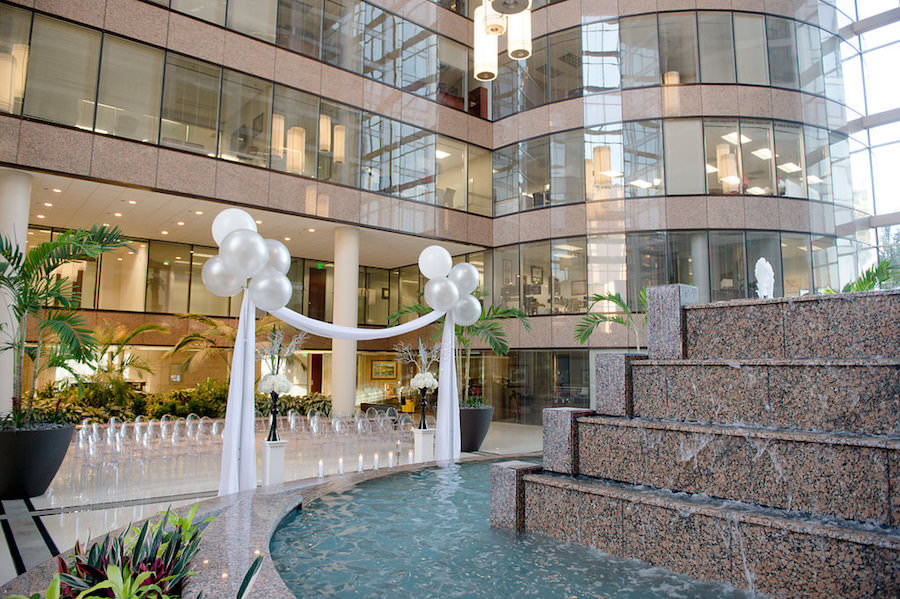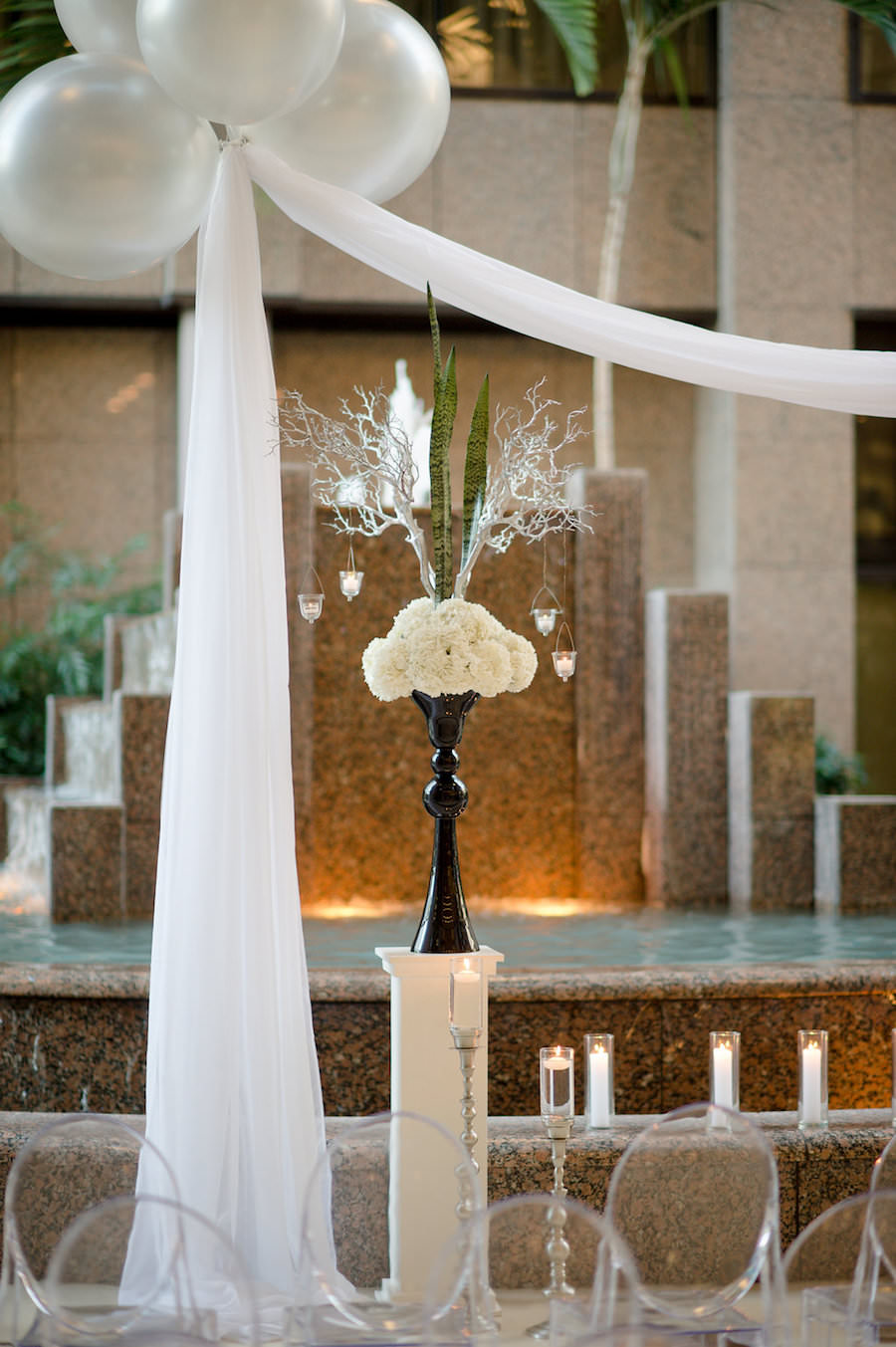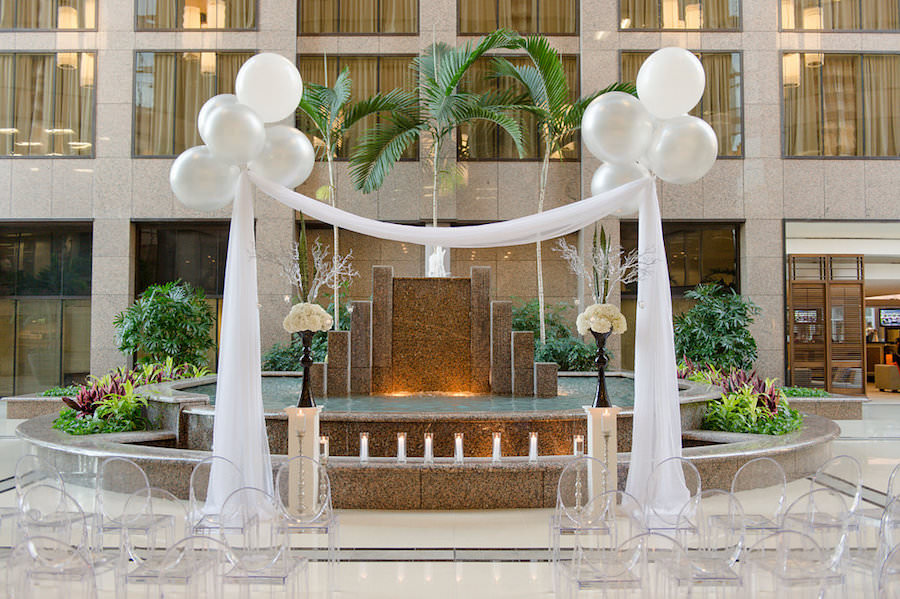 How much would you estimate this wedding would cost for 150 guests?
Ceremony Venue: $800 (Centre Club reception packages start at $16,800 for 150 guests) | Ghost Chair Rentals: $1,500 |  Floral/Draping: $650
Venue: Centre Club *Marry Me Tampa Bay Preferred Wedding Venue
Photography: Marc Edwards Photographs *Marry Me Tampa Bay Wedding  Preferred Pro
Floral: Apple Blossoms Floral Designs *Marry Me Tampa Bay Wedding Preferred Pro
Chair Rentals: Kate Ryan Linens