With the waves crashing against the white sandy beach and the desolate island creating the perfect escape, this coastal St. Petersburg styled shoot captured a tale of two souls from very different worlds. Incorporating the soft organic elements of Fort DeSoto Park, Tampa Bay wedding planner and designer UNIQUE Weddings & Events tied together a color palette of tan, ivory, and shades of blue to evoke their vision of an oceanside celebration.
"Our story was our strongest design inspiration. We wanted the design to be just as organic and soft as our setting," Staci Mandikas, owner of UNIQUE Weddings, shared. "Using muted colors, primitive accents, and minimal flowers, we set up a picnic-like area to really showcase our setting. We created a flowing accent with torn fabric for the ceremony and the dinner and placed mismatched seashells as place cards."
LEARN MORE ABOUT UNIQUE WEDDINGS & EVENTS | EMAIL
Playing off their natural surroundings, UNIQUE Weddings added unique sea elements such as a wooden pallet table covered in a fishing net, sponges and sea glass.
"Adding muted colors linens from Over the Top Rental Linens. and mismatched blue pillows atop the sand with the wooden pallet table covered in a fishing net as a tablecloth really made our vision pop," Staci beamed. "The pallet table displayed a spread of delicious items, decorated with sea elements, such as sponges, starfish and sea glass. As the candle lanterns flickered all around them and fabric flowed in the wind, the couple shared a picnic of fruit, nuts, olives, and bread, toasting their new marriage with aqua colored wine glasses and a fruit tart with fresh berries."
LEARN MORE ABOUT OVER THE TOP RENTAL LINENS | EMAIL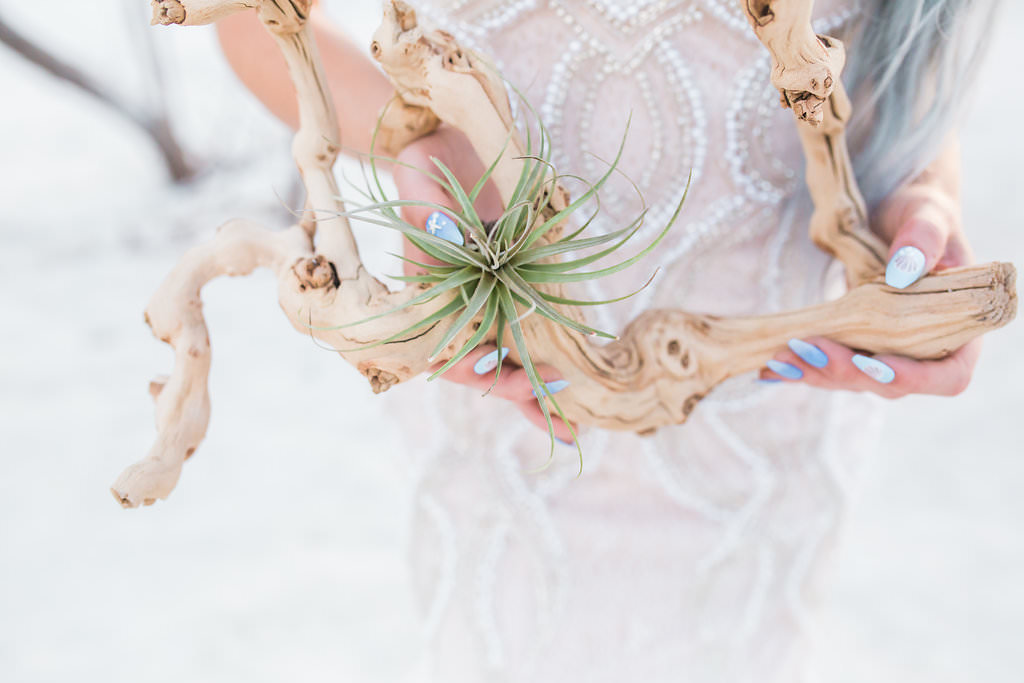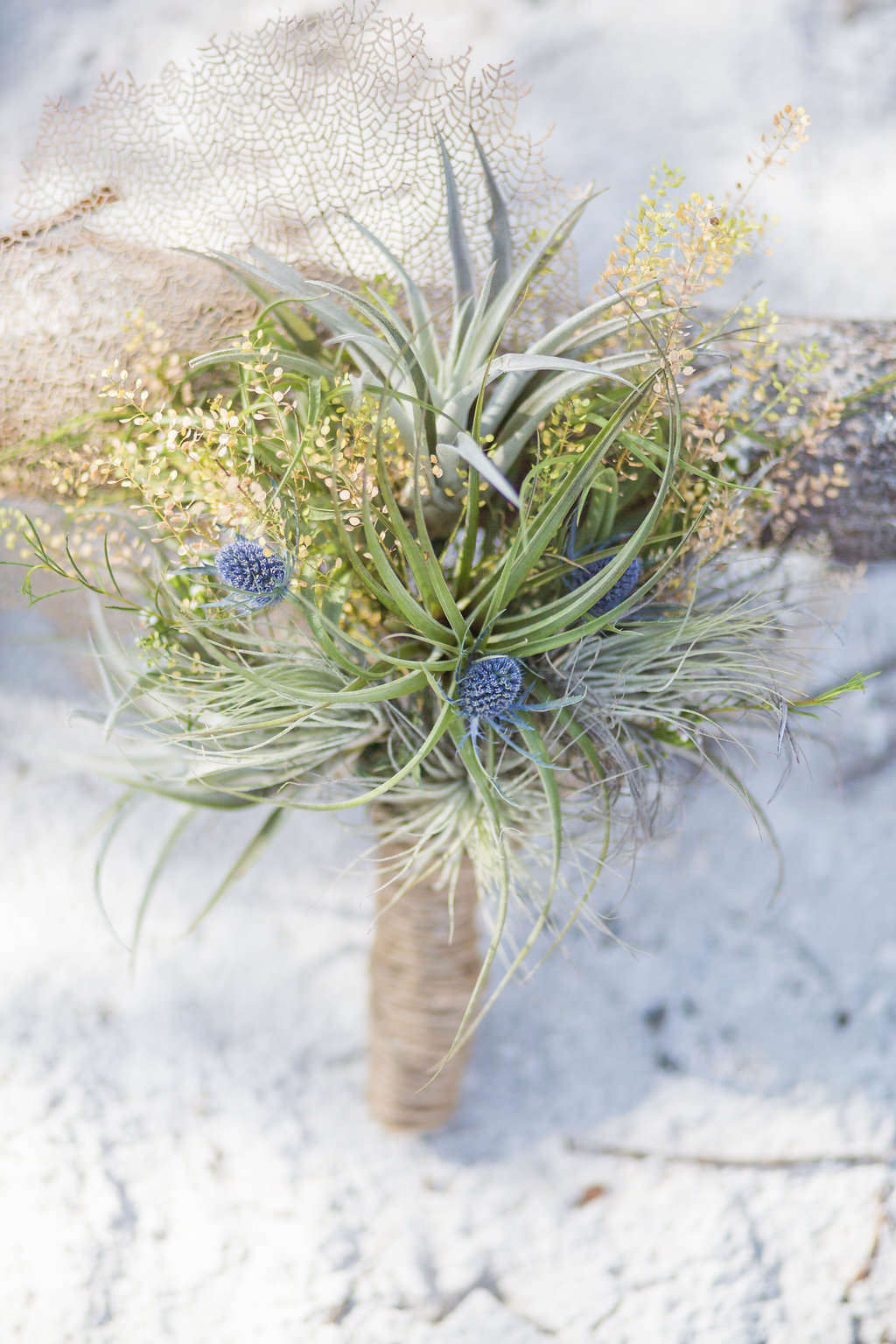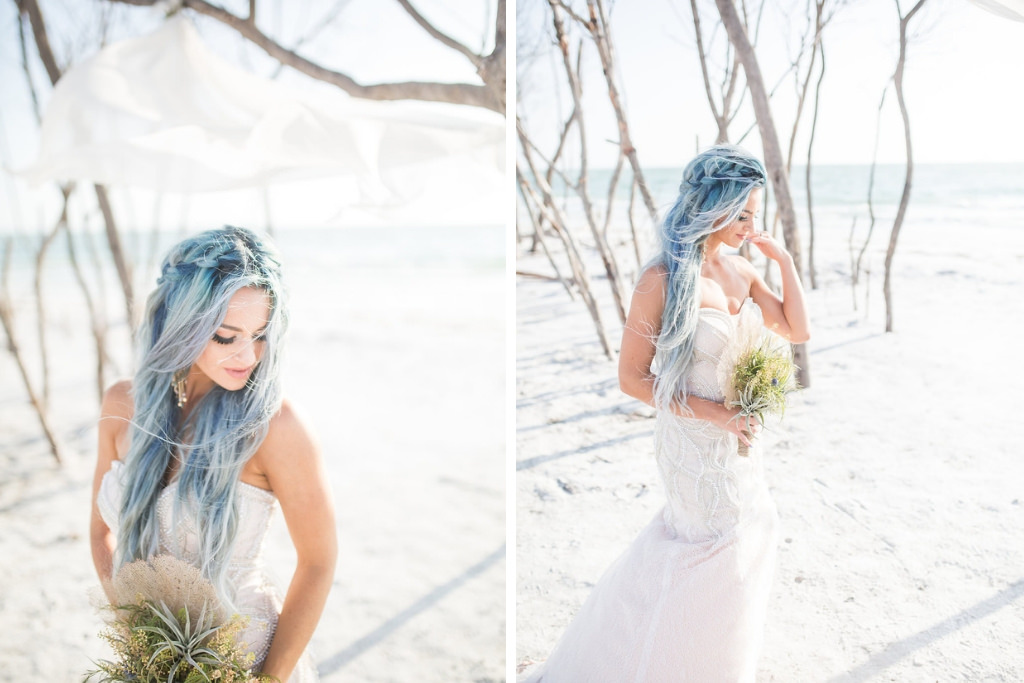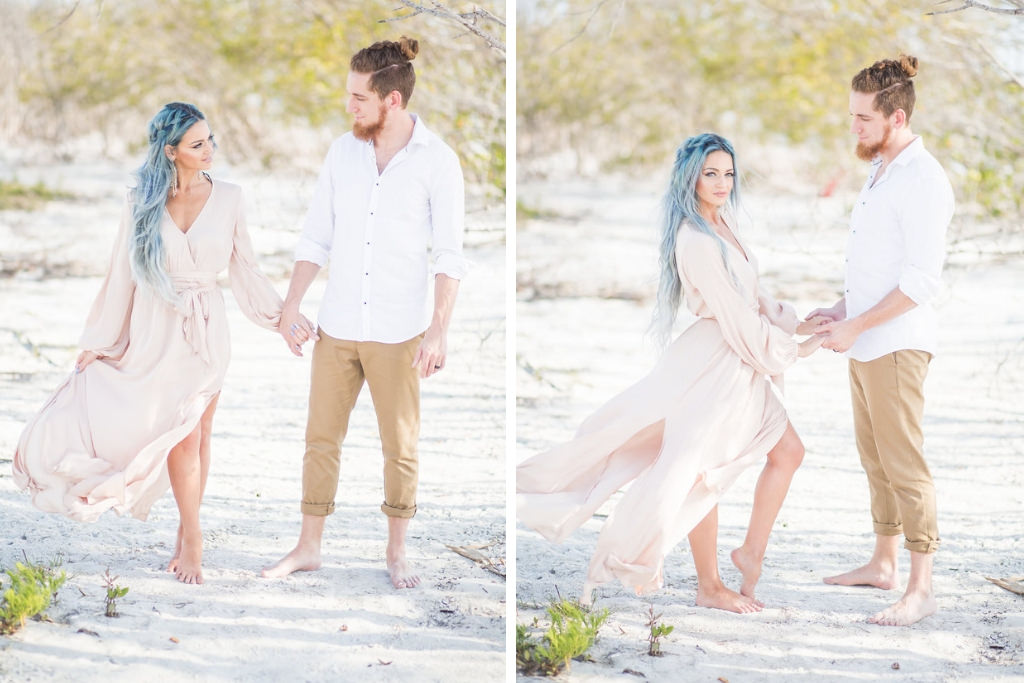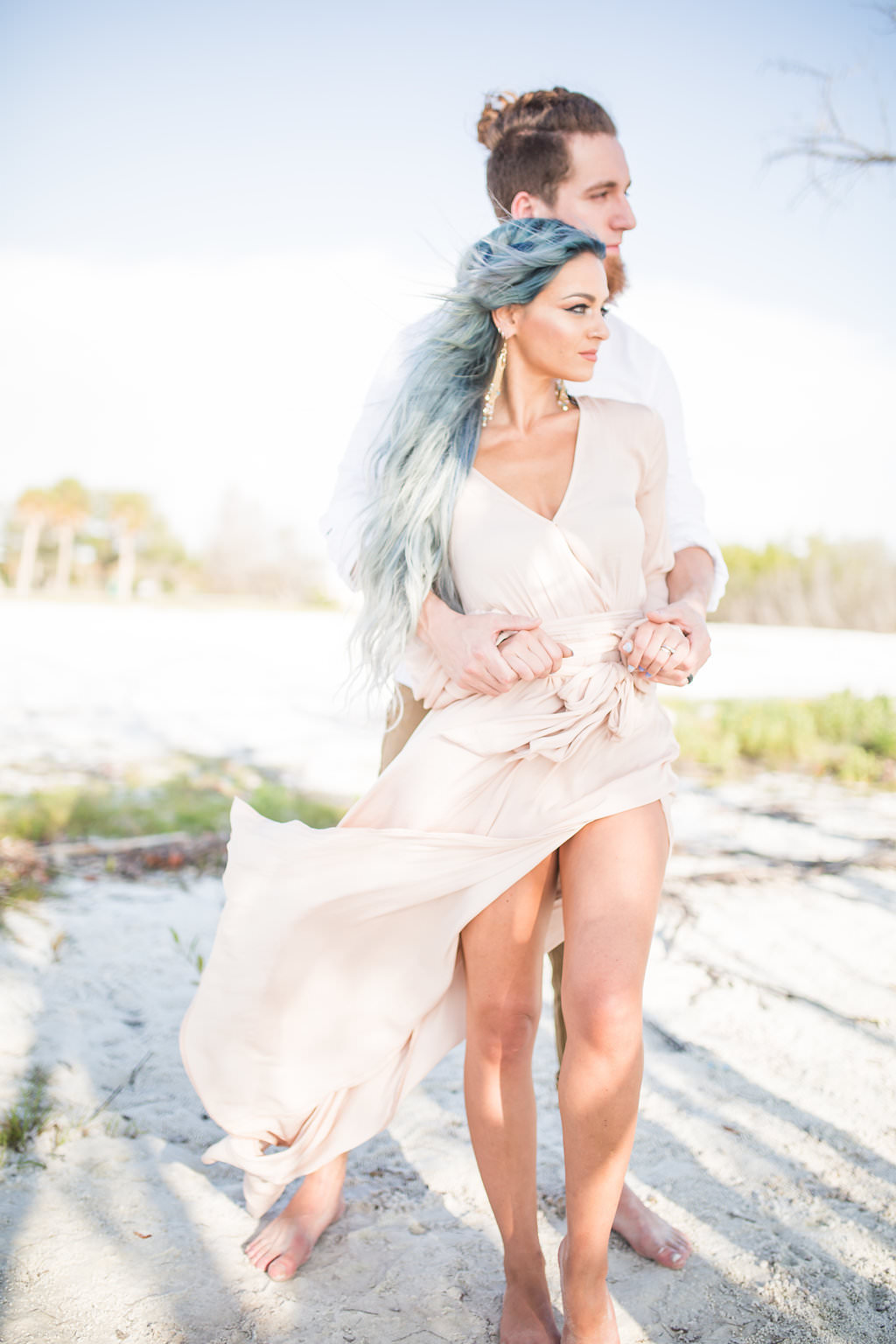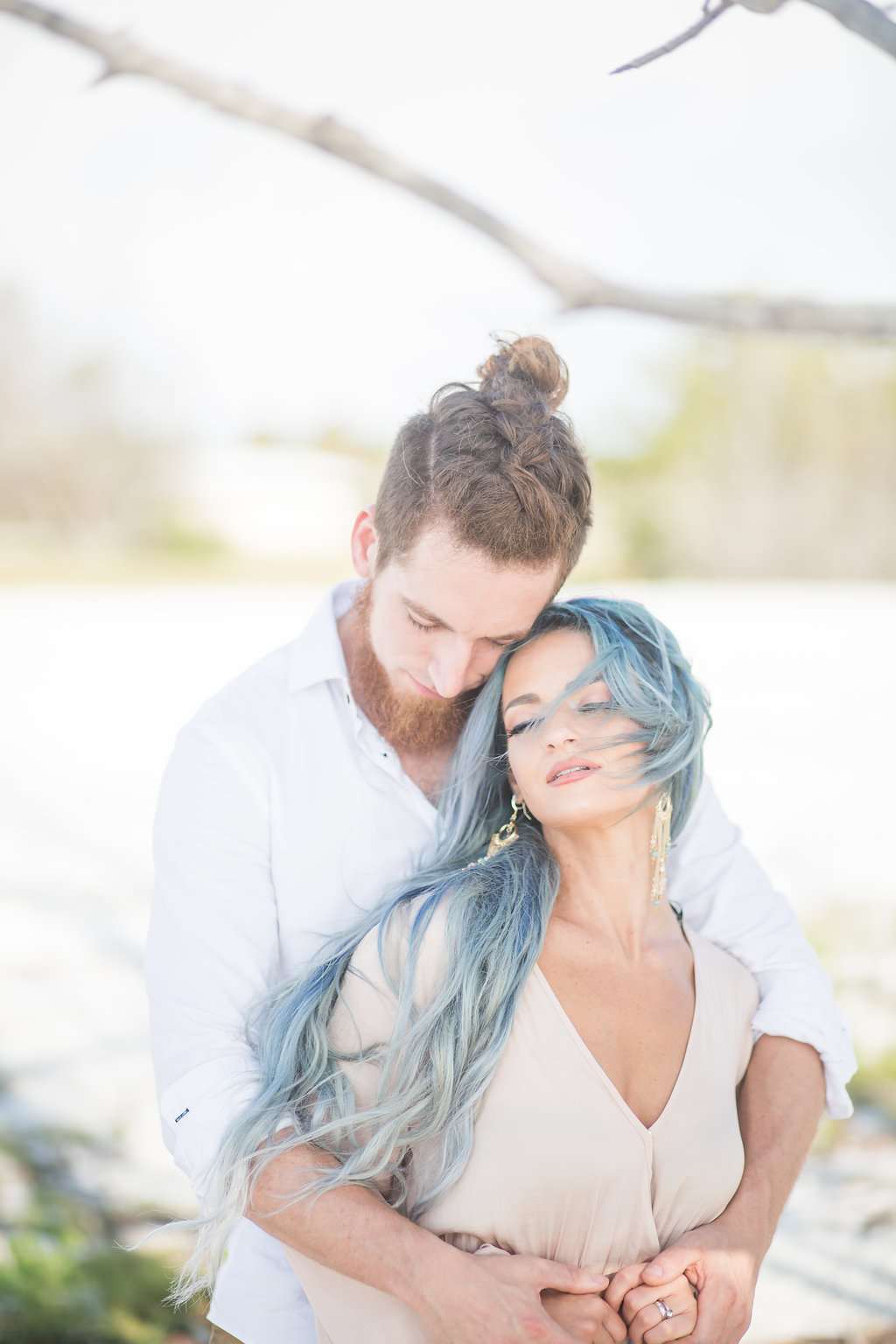 How would you describe your theme?
A shipwrecked sailor awakens on a white sand beach, with no knowledge of what happened to his ship or his crew. Suddenly, a beautiful woman approaches the sailor and he is completely captivated by her. They are the only two people on the island and feel like the only two people in the world. It doesn't take long for the lonely sailor's hopelessness to turn into hope and love. The couple joins their lives together and bask in their solitude. While the sailor sleeps, the woman, who is actually a mermaid, returns to the sea. The shipwrecked sailor again awakens, but he did not see his love. Could it have all been a dream?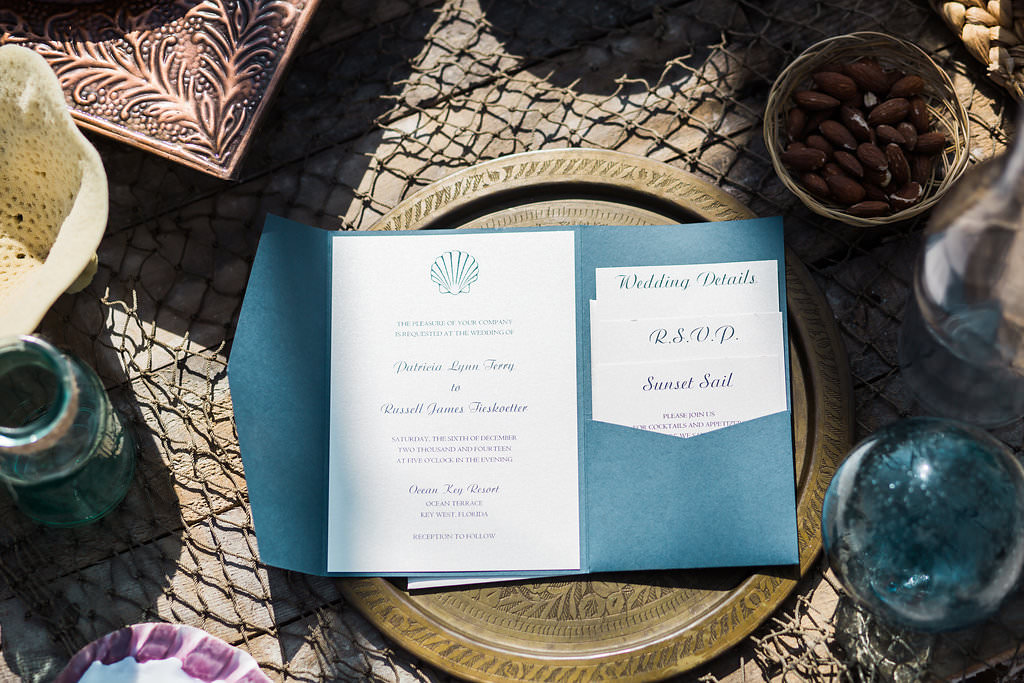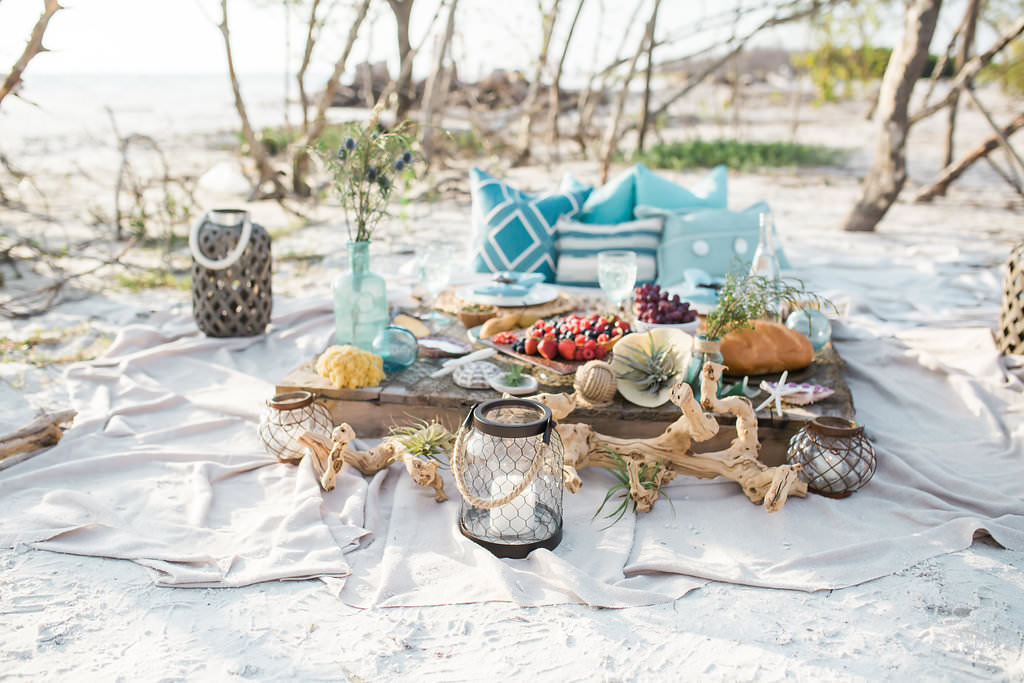 I want to learn more about rentals from Over the Top Rental Linens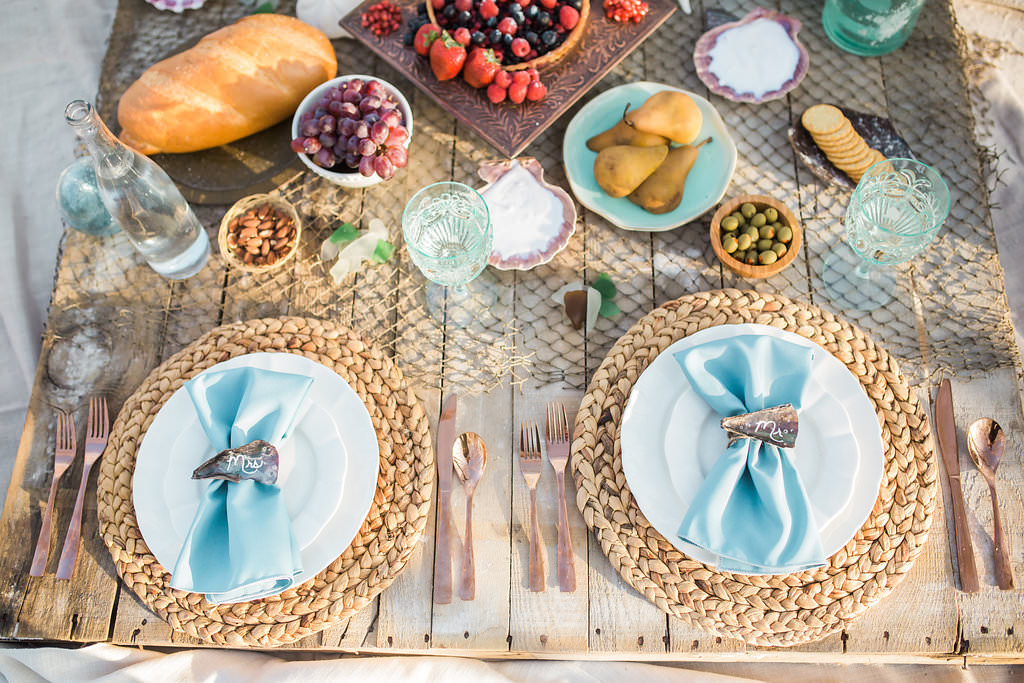 What were your colors?
Muted shades of blue, tan and ivory were incorporated in the design and are all colors that were present at our beach location.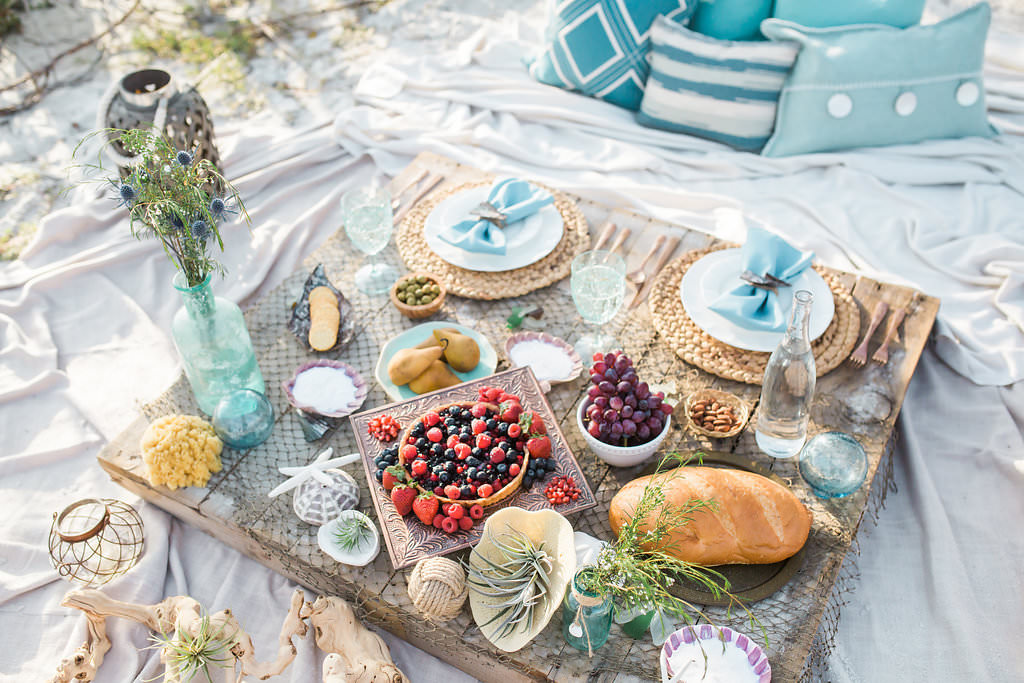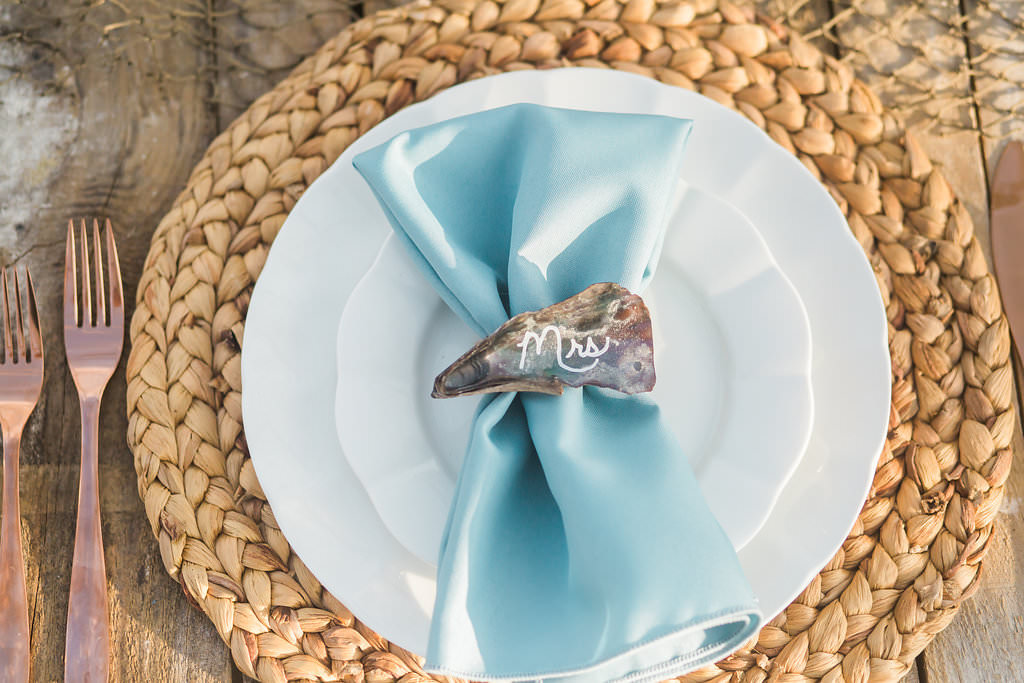 I Want to Learn More about Planning & Design from UNIQUE Weddings & Events.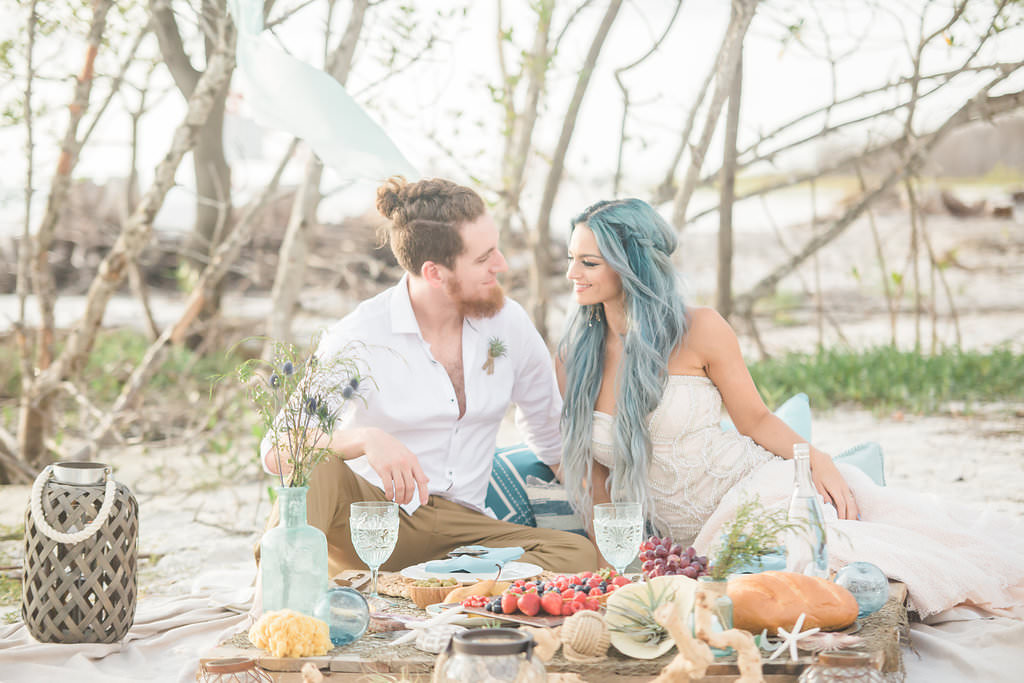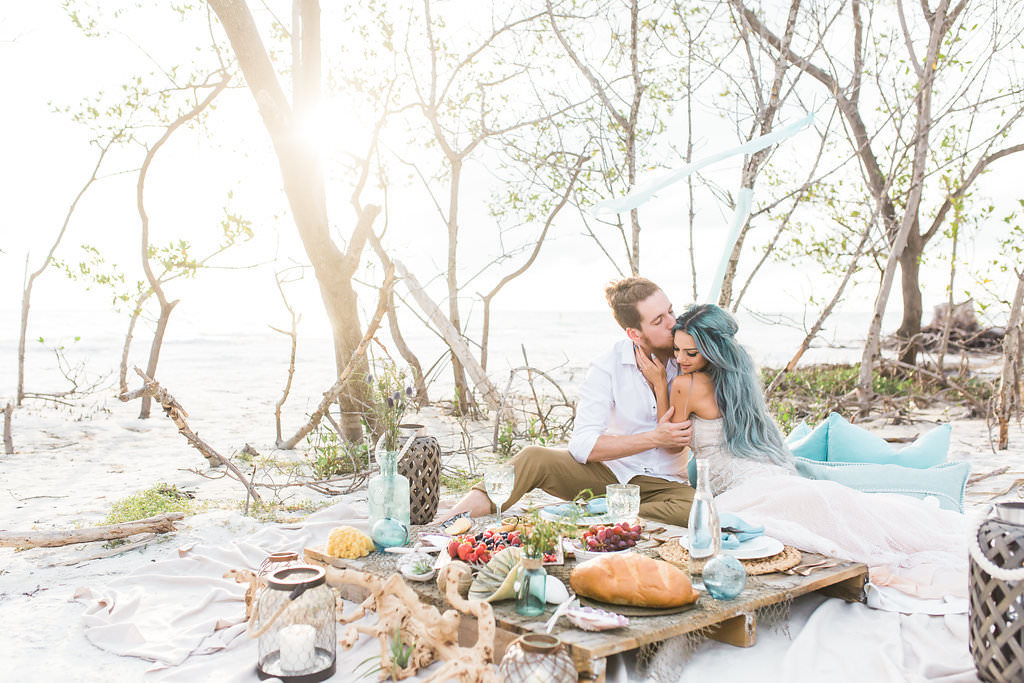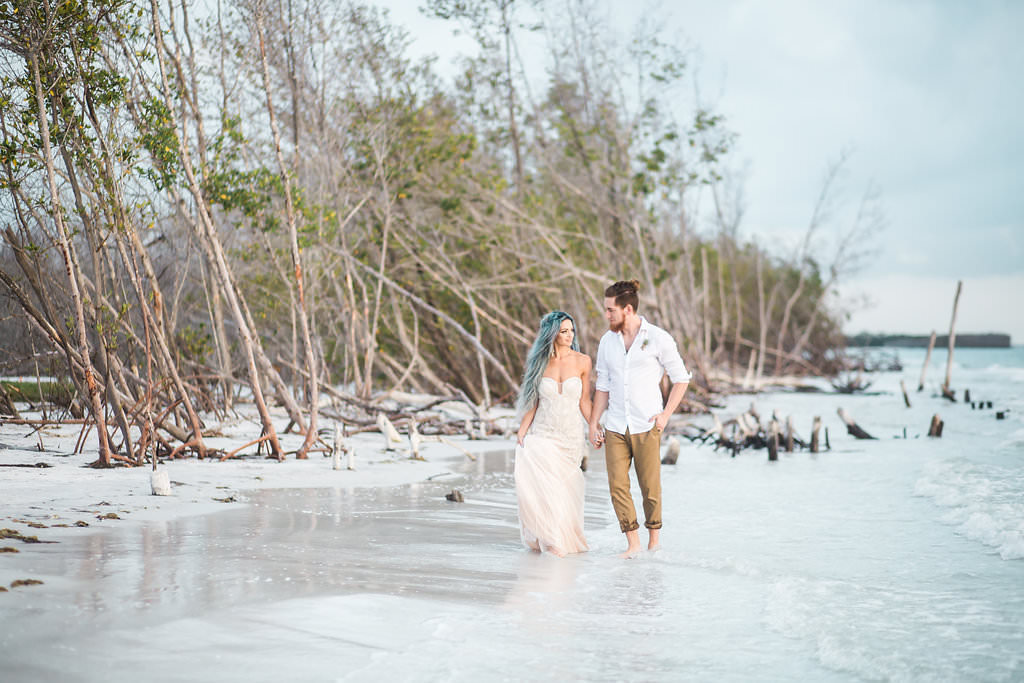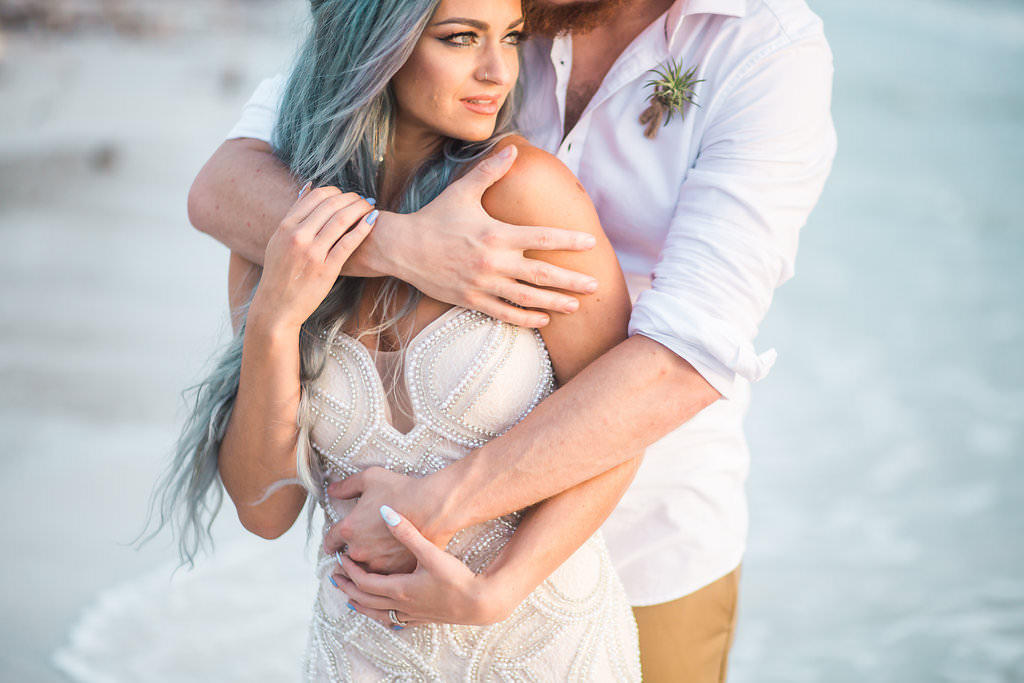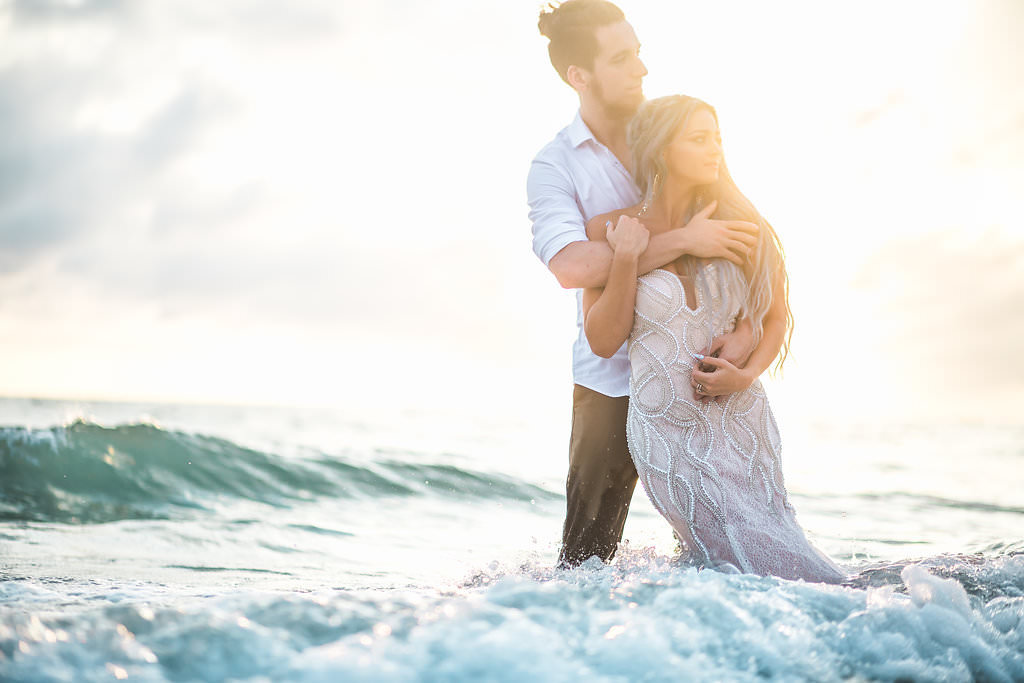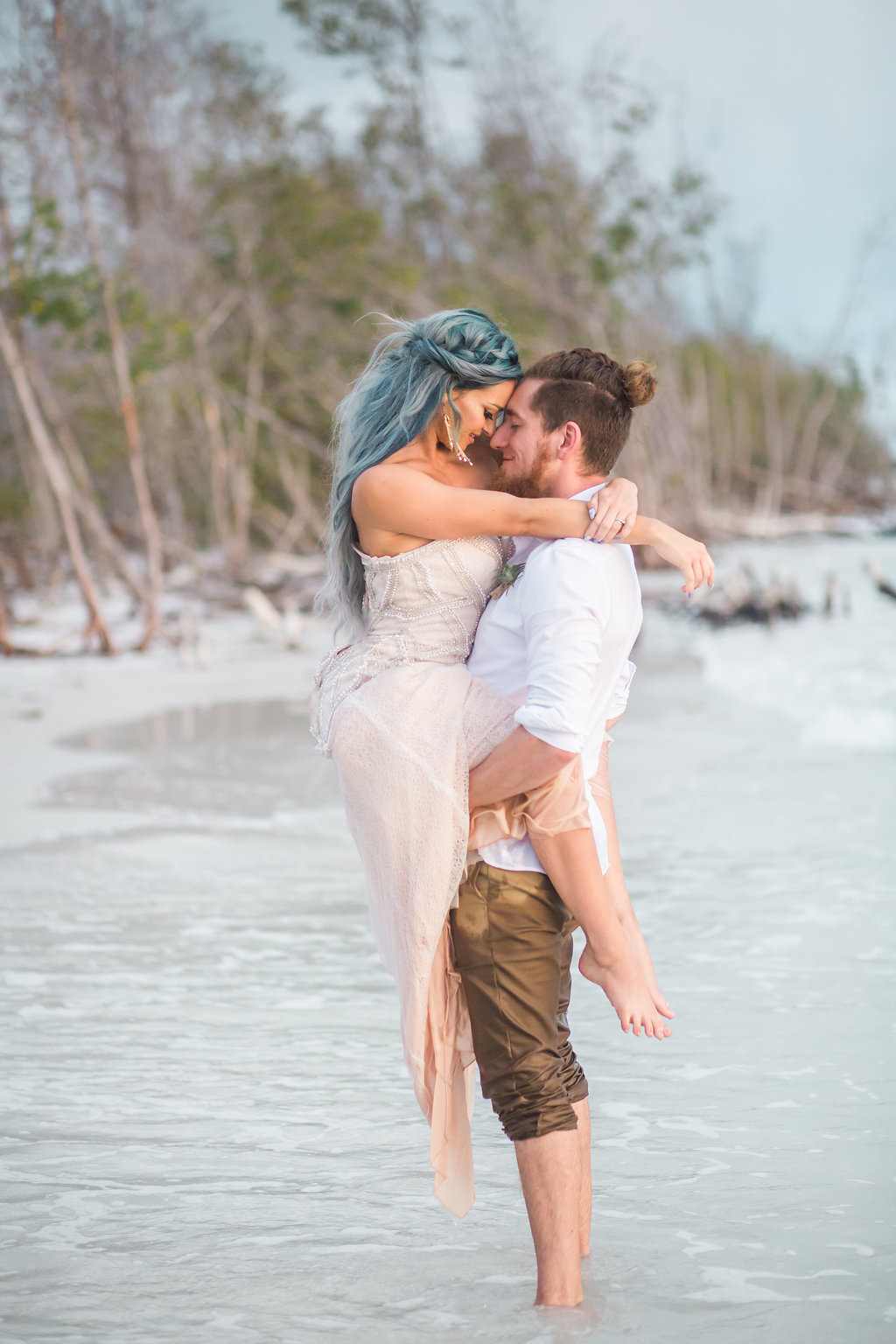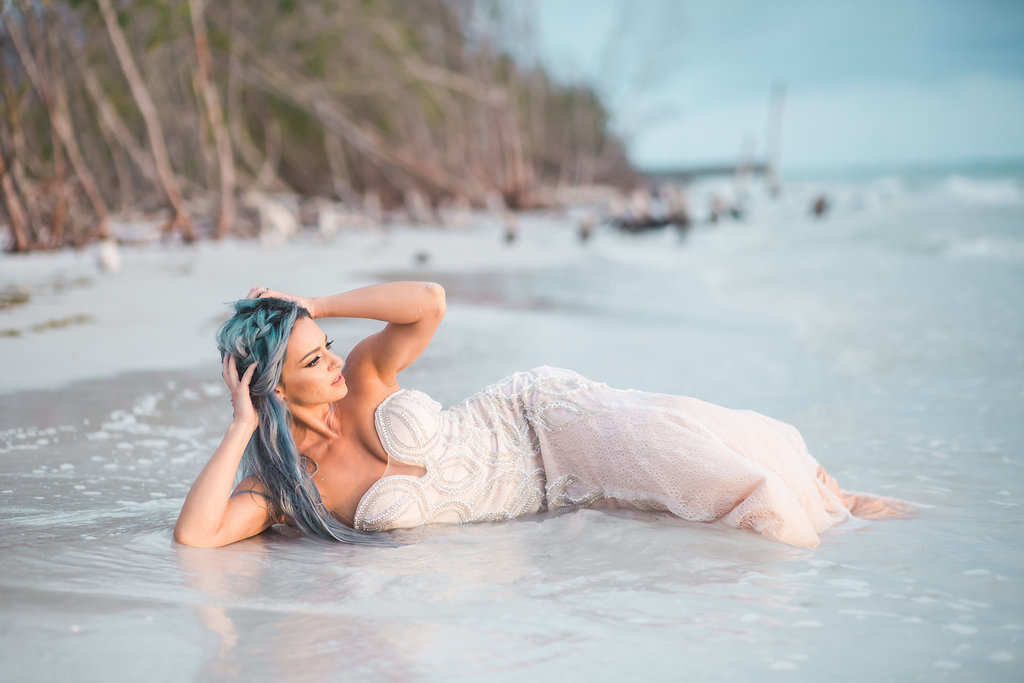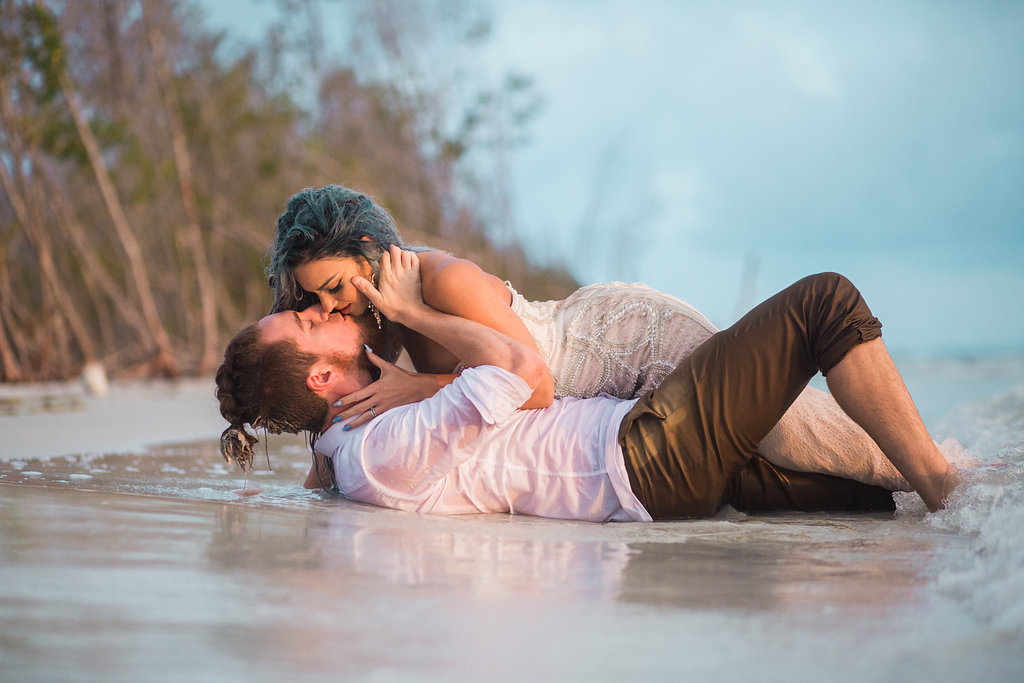 Estimated cost of styled shoot for 150 guests:
Venue: $275 | Photography: $3,750-$5,500 | Videography: $3,750-$5,000 | Flowers & Decor: $2,250-$3,250 | Invitations: $900-$1,100 | Rentals: $1,250-$2,250 | Design & Planning: $2,750-$6,500 | Linens: $1,250-$1,750 | Bride's Attire: $2,250-$3,500 | Groom's Attire: $100-$200 | Dessert: $300-$600 | Officiant: $275 | Catering: $6,750- $9,000
Venue: Fort DeSoto Park
Wedding Planning, Decor & Flowers: UNIQUE Weddings + Events *Marry Me Tampa Bay Preferred  Wedding Pro 
Photography: Christina Maldonado Photography
Videography: Imagery Wedding Films
Stationery: Invitation Galleria
Linens: Over the Top Rental Linens *Marry Me Tampa Bay Preferred Wedding Pro
Dress: All Brides 2 Be
Models: Charity Grace LeBlanc and Andre LeBlanc