We've all heard legends of the Bridezilla. The crazed monster capable of numerous relationship destroying outbursts in what should be the happiest time of their lives.
You may think that it would never happen to you, but the second that ring hits your finger, you will enter the stress-fest that is wedding planning, which capable of transforming even the best of brides.
While we know you'd never become one, our Tampa Bay wedding experts share 10 signs that you're being a Bridezilla.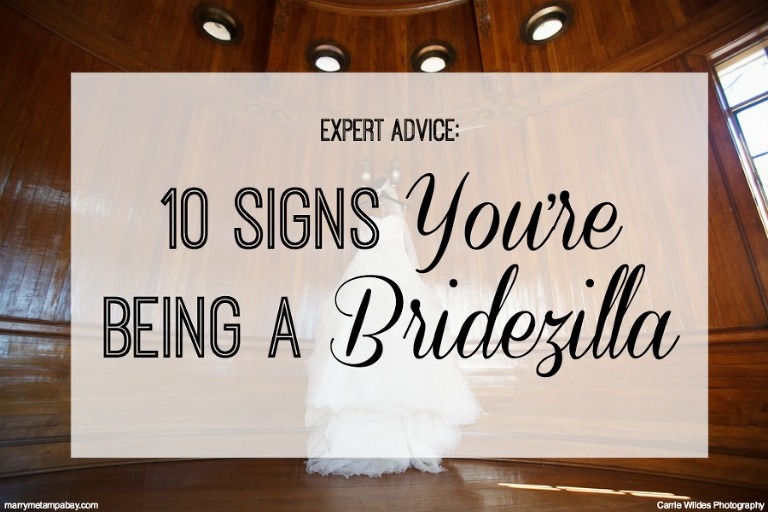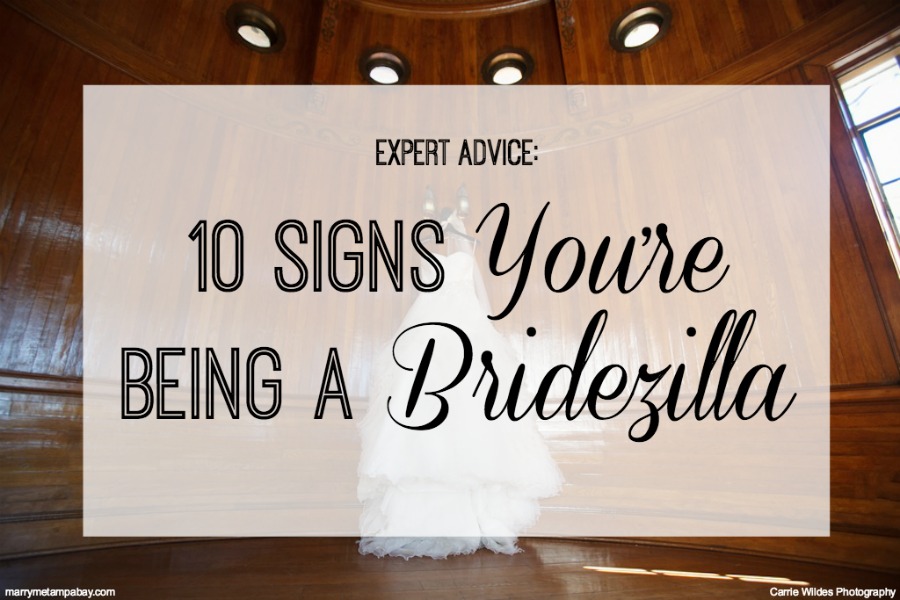 1. You're OCD When it Comes to the Details
If you find yourself asking exactly how many blooms will be in your bridal bouquet or asking for a guarantee on the exact width of your bouquet, you are heading into bridezilla territory. Your flowers are a natural product that are artistically designed to create the bouquet of your dreams. Certain elements can be approximated, but upon creation, an artist needs flexibility. So if you are trying to be exact, whether it is stem count, width or matching a color swatch, take a step back and trust the expert you have hired. -Cassie Osterloth, Wonderland Floral Art and Gift Loft
2. Vendors are Avoiding Your Calls
Don't expect your vendors to be at your beck and call once the contract is signed. A quick reminder of our office hours lets a couple know when we were available. -Michele Whitaker, Delectables Fine Catering
3. You Don't Keep Appointments
If you are a bride who schedules an appointment, but never shows up on time, you might be a bridezilla. You should value your vendors time, and at least call if you will be late or need to reschedule. -Lauren Jones, Loews Don Cesar Hotel
4. You're a Micromanger
Don't micromanage your professionals. If you trust and have full confidence in the people you hire, you aren't going to worry or feel like you have to control everything. Sometimes it comes down to budget and not hiring a truly experienced professional or not taking the time to make sure you have a personal connection with who you are hiring. So be sure to know and love everyone you hire! -Carrie Wildes, Carrie Wildes Photography
I've received five-page checklists a few times for shots that are typical during any wedding (first kiss, groom seeing the bride, the bride interacting with family). If the day of the wedding we have to shoot by a checklist, we won't get any of your wedding photographed. We have this under control. You hired a professional for a reason, and we will get everything covered. -Kristen Jeffers, Kristen Marie Photography
Don't micromanage your professional DJ. You hired the DJ because you trust him and believe that he has his finger on the pulse of your guests and knows what they will like and how to make a great reception happen. Trust him! -Dave Kanaszka, Celebrations 24
You claim to be "not picky" and then micromanage your stylist's every move. We're okay with "picky," really! We can usually handle whatever you request. The best outcomes are always a result of open, honest communication with your stylist. Feel free to speak up! Better yet, make sure you schedule a pre-wedding day consult. -Cynthia Kennan, Blo Blow Dry Bar
5. Your Bridal Party is MIA
Your leading ladies are already spending money and time to help you celebrate, so go try to go easy on their wallets when selecting their attire and don't get to specific with their overall look. It's not fair to decide that all of your bridesmaids should be blonde for your wedding, and is it really necessary for you to throw a judging look of disgust at them for their opinion on french manicure vs. Funny Bunny nail polish? -Kristin Bowman, CL Space 
You are not respectful of the cost incurred by others. Your wedding party should not have to take a second job to pay for their expenses for your wedding. Yes, they know they are committing to events and wedding attire, but you as their friend or family you should try to keep cost realistic. Try putting yourself in their shoes. -Jessica Ralph, Parties A'La Carte
6. You Could Win an Oscar for All Your Drama
No one likes a drama queen. Your behavior on your wedding day will follow you forever. It is never acceptable to act a fool in public. Just because it's your wedding day, that does not give you license to terrorize vendors, waiters, family members or friends. Don't be that bride who lost her mind on her wedding day. You wouldn't want your groom thinking twice about getting married, would you? -Courtney Owens, Hilton Clearwater Beach
Work with the vendors you have chosen, not against them. Your vendors are truly happy for your big day and are honored you have chosen them. They want to ensure that your day runs smoothly and that your vision is carried out and flawless service is given. It can be difficult to achieve that if the bride is constantly being unreasonably demanding, withholds information, doesn't trust us and won't "let go" for us to be able to do our job. -Maria Balestriere, Blush by Brandee Gaar
7. You Hang up on Your Wedding Planner
If you get so angry with your wedding planner, that it's necessary to halt the conversation by hanging up the phone on them, then you are probably a bridezilla. Professional wedding planners have the unique skill of being able to work through any dispute and negotiate any concern that may arise, all the while staying as cool as a cucumber. They deal with multiple personalities, emotions and logistics on a daily basis. If you find yourself hanging up on your wedding planner, you should look inward to see if you are being a bit irrational. Then, check your voicemail, as you will find a message from your wedding planner, calmly asking if the call had been disconnected. -Staci Mandikas, UNIQUE Weddings & Events
8. You're Breathing Fire at Everyone
Ok, not literally, but that's what it can feel like when you are constantly shouting obscenities at every living creature that stumbles into your warpath. Remember that you invited all of your friends and family to experience this day with you, they should see you at your best, marrying the man of your dreams, not at your worst, berating him into the fetal position for putting his shoes on the wrong feet. -Clinton Gifford, Limelight Photography
Planning a wedding can be stressful, but it should be a fun experience with your close family and friends. If you are angry or irritated more than 50% of the time when discussing the wedding, then you are on the road to being a Bridezilla. Invite your girlfriends to yoga, soak up some zen  and reflect over your actions. – Amy Kladis, Glitz Events
9. Your Vision is Bigger than Your Budget
When it comes to creating custom menus, we love when our clients are looking for something unique and different, but please understand that your high expectations and complex vision have an associated cost. If your vision/expectations do not fit within your catering budget, we are here to work with you to create that same desired menu, but in a more cost effective way. We are not trying to change the vision for your dream wedding; we are offering you the services that fit within your budget and will lead to an expertly executed wedding. -Amy Kensigner, Good Food Catering 
You are overspending! Create your budget and stick with it! There is nothing more stressful than overspending. -Wendy Odom, Yacht Starship 
10. You are on a 24/7 Diet
If you've become body obsessed, you might be a bridezilla. We know all brides want to look great in their wedding dresses, but don't take it to an extreme where every meal you eat and even time you go to the gym is based on wedding obsession. -Andi Diamond, Andi Diamond Photography
Have you ever displayed or seen Bridezilla behavior? Comment below!