Inspired by the scenic outdoors of this private property in Tampa Bay, this whimsical styled wedding shoot embodied a lush and opulent setting. Tampa Bay wedding photographer Christina Maldonado shared with us her vision for this gorgeous, magical wedding collaboration with Amazingly Creative Events.
"With the organic environment we played off of the idea of the whimsical and unexpected, which led us to a majestic wilderness theme," Christina explained. "Venetian masks served as both fun favors that also denoted each table setting. We imagined guests wearing them later as they celebrated and danced the night away. Moroccan lanterns, wine and tea glasses add a fanciful touch and hint at adventures in faraway lands."
MORE: WHIMSICAL WEDDING INSPIRATION
One of our favorite elements which completed the table setting were the gorgeous linens from Over the Top Rental Linens. The rose gold sequins and textured lace floral fabric enhanced the ambiance for the luxe event.
In keeping with the bohemian and organic atmosphere, the bride wore a floral crown in lieu of a veil. Her blush toned wedding dress and groom's navy tux allowed their details to effortlessly shine.
MORE: BOHO WEDDING INSPIRATION
"The wedding bouquet is anything but understated! Inspired by our slightly overgrown and wild garden setting, the arrangement is abundant with flowing greenery that makes a statement," the photographer gushed. "After exchanging vows beneath a gorgeous floral arch, the couple snuck off to a private sitting area in the woods for some quiet moments together."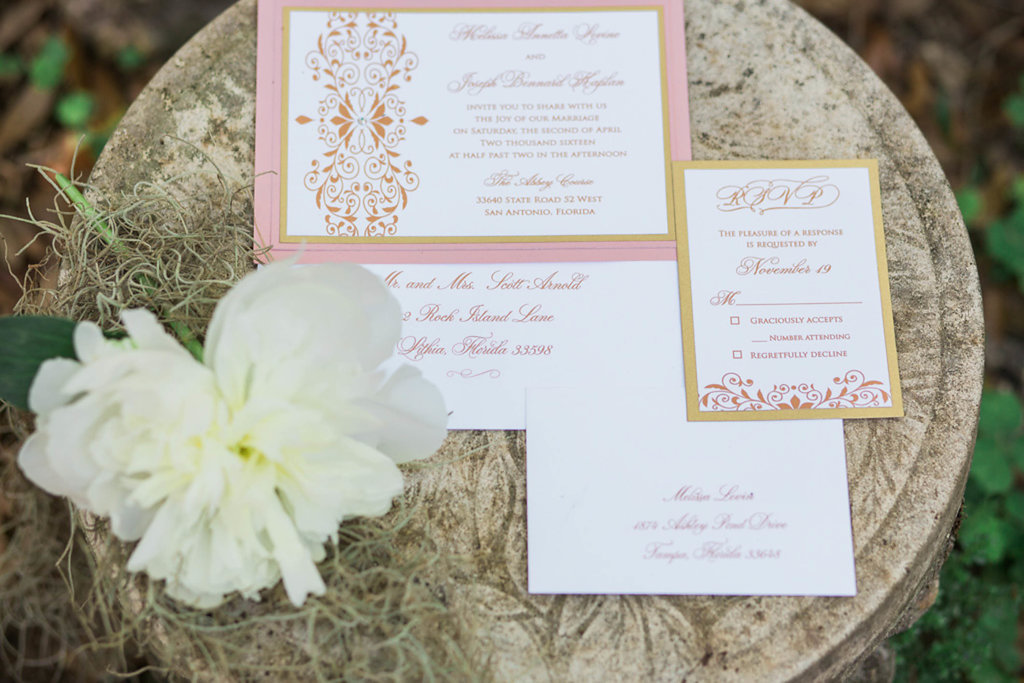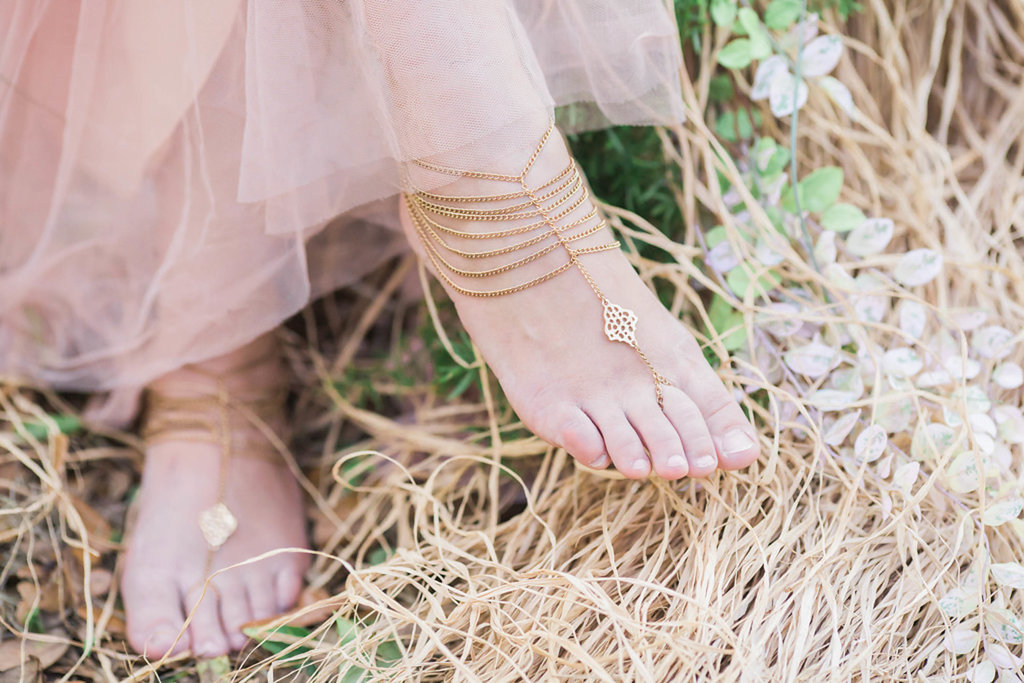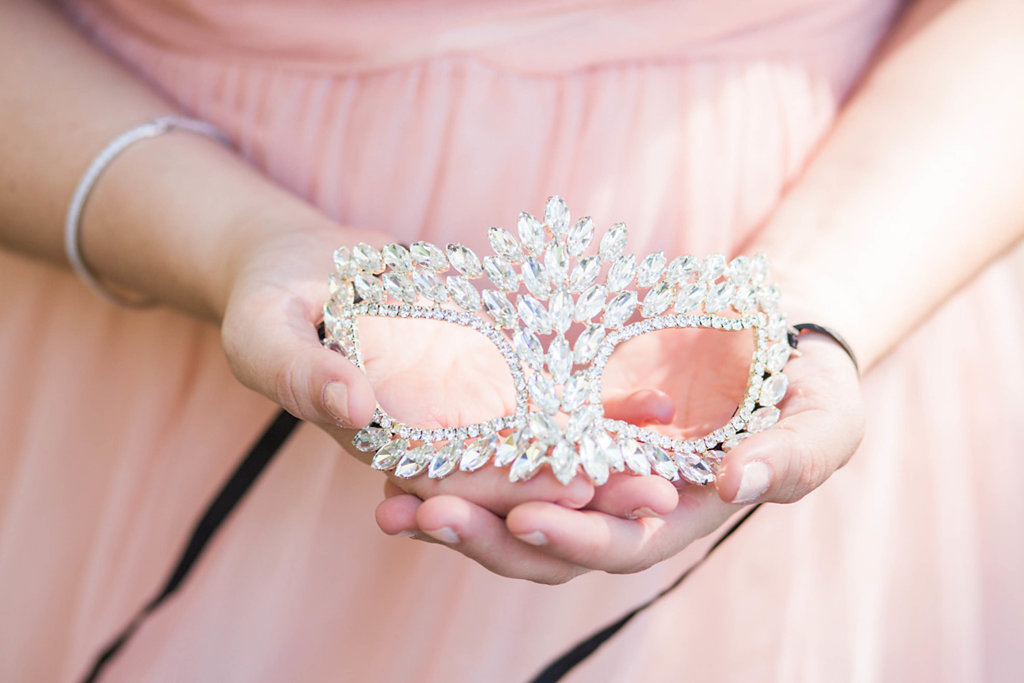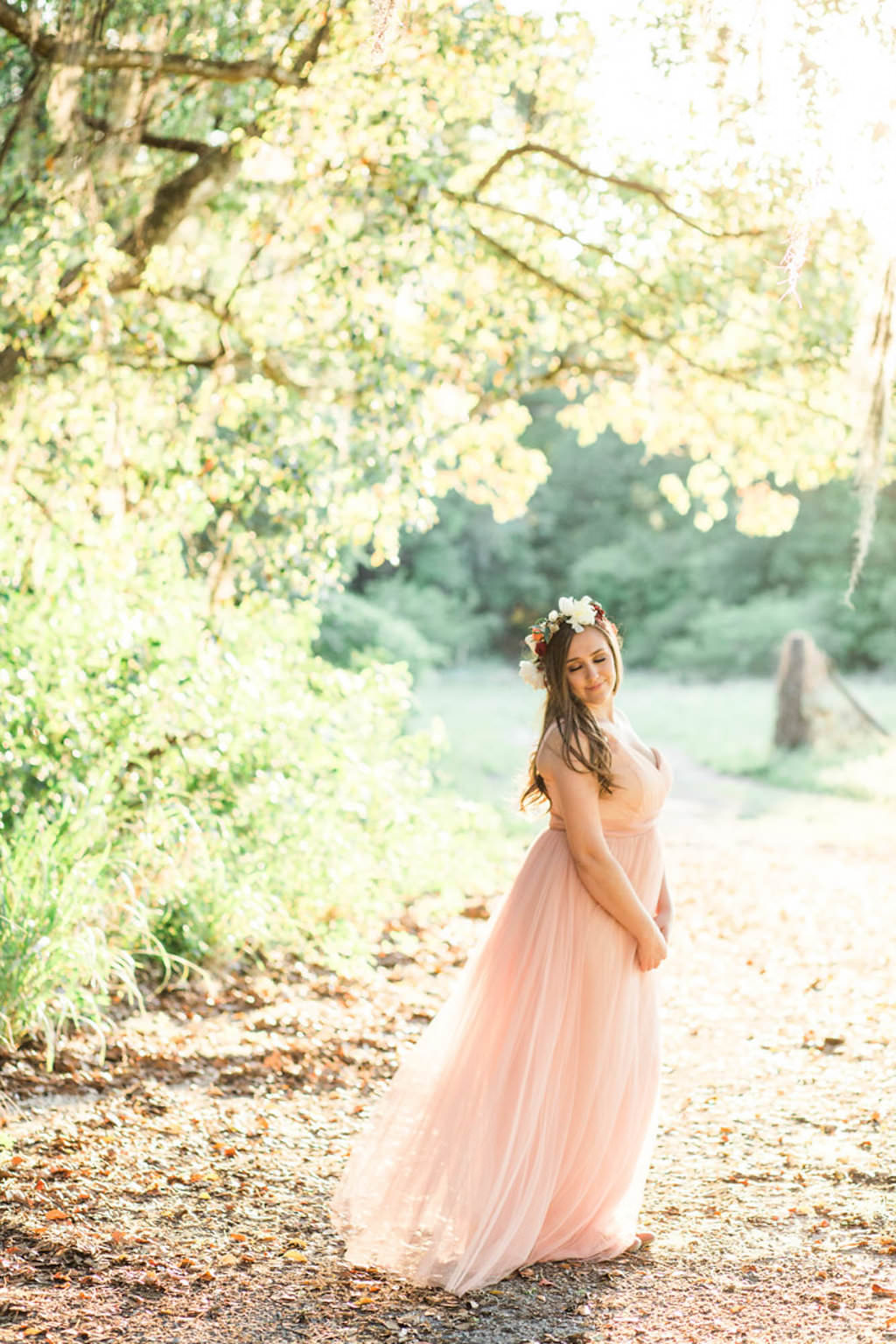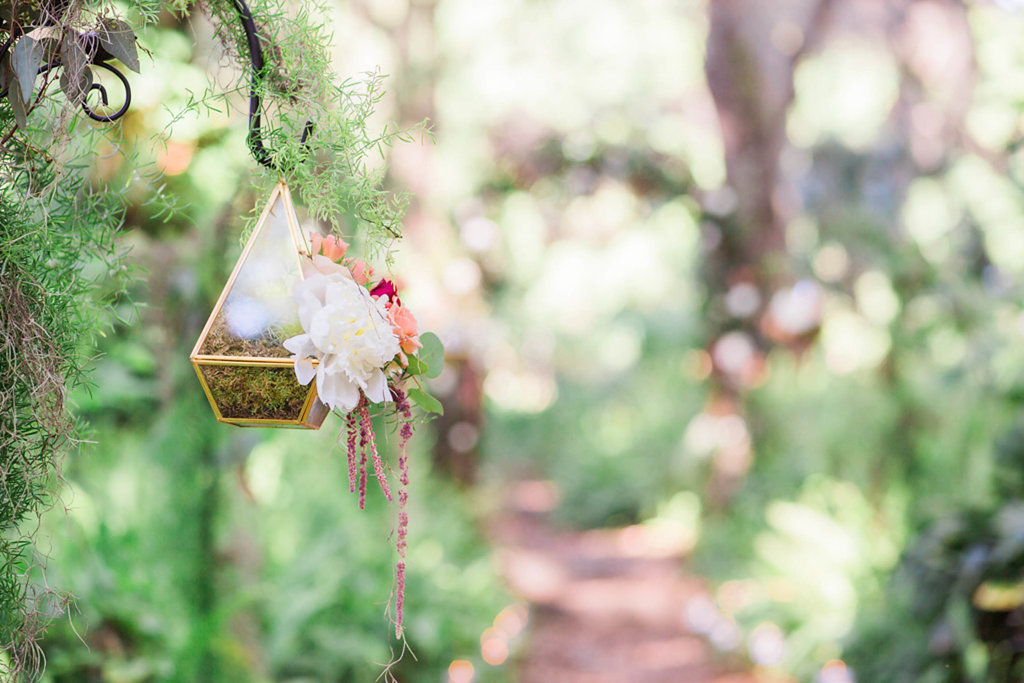 What was your inspiration for this shoot?
A visit to a private property in Tampa had the designer and photographer dreaming about an enchanted, romantic al fresco wedding celebration that had an air of mystery. Enclosed by a wall of trees and overgrown ferns, the setting's untamed beauty was the perfect backdrop for this bohemian fairytale.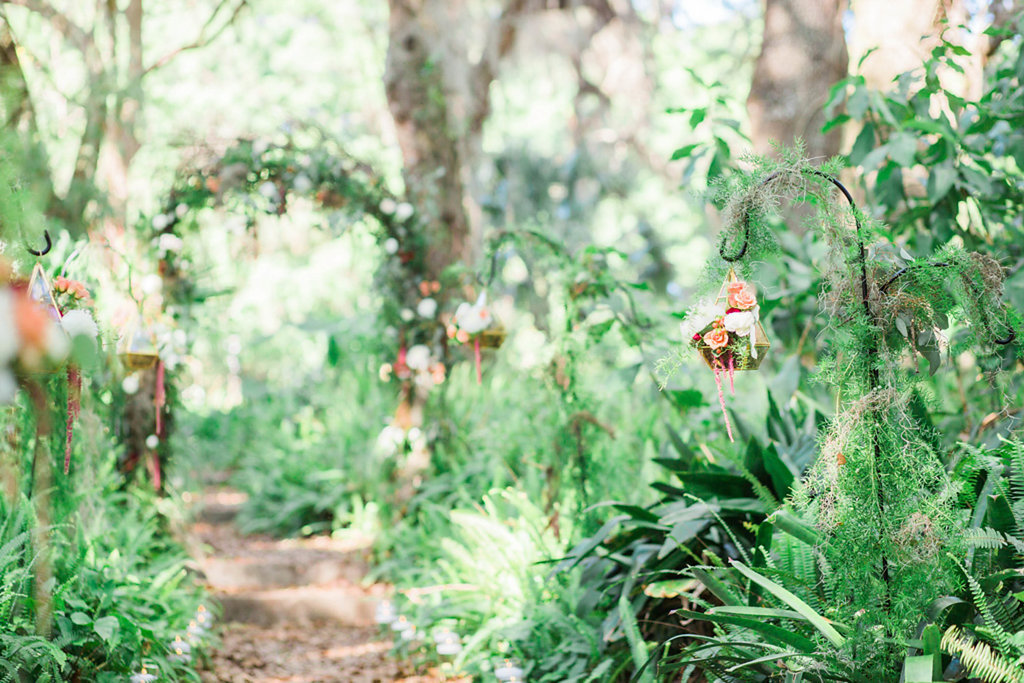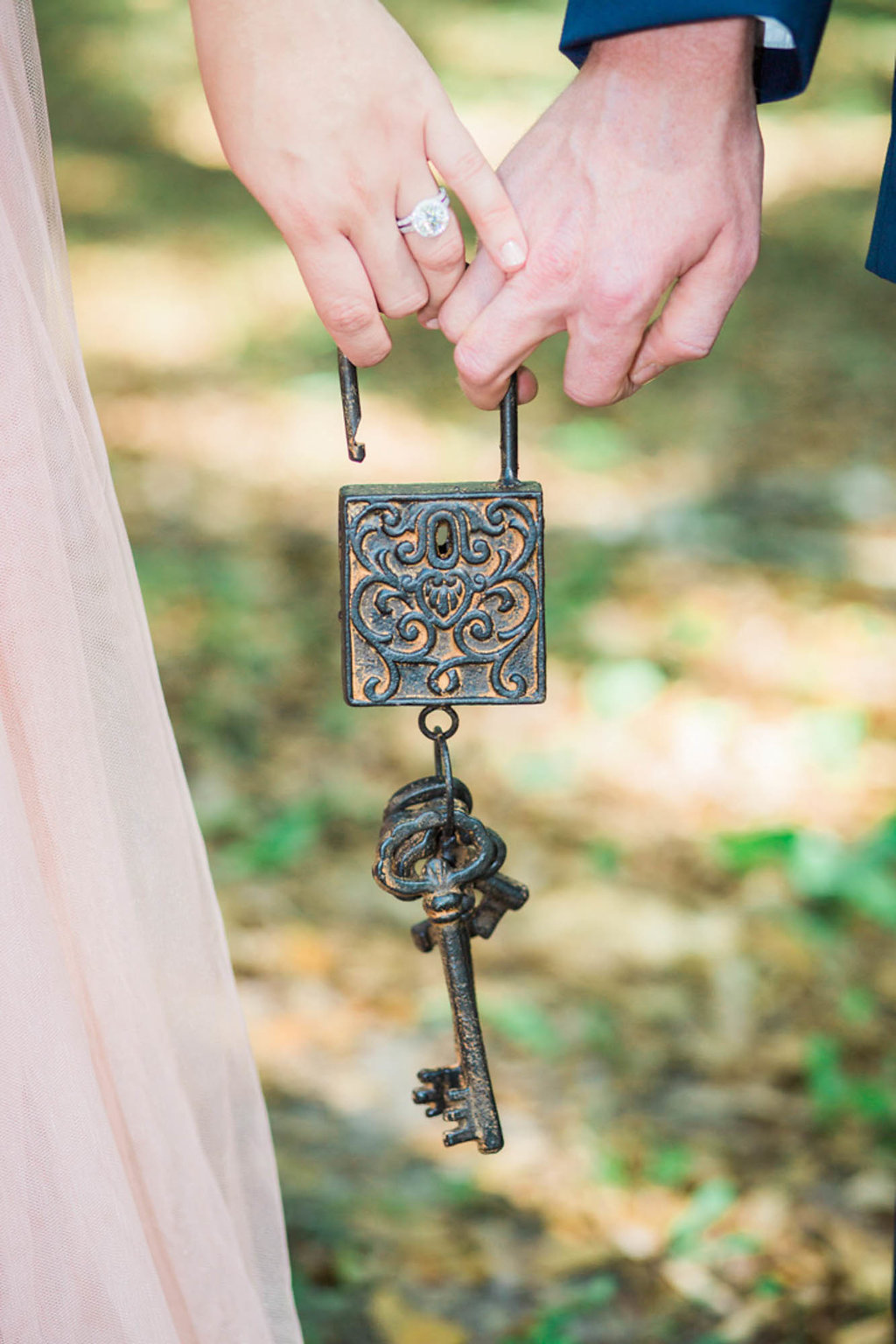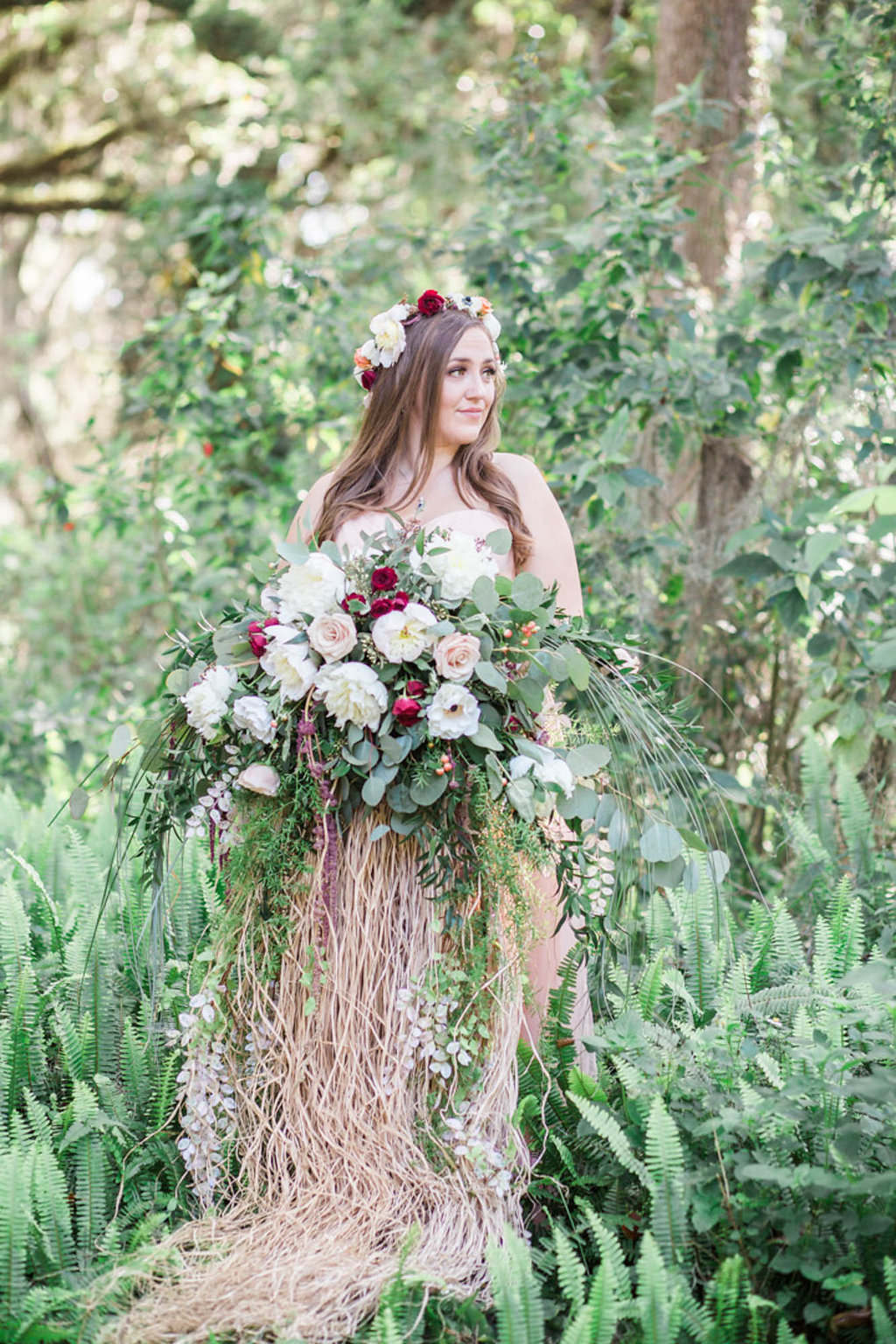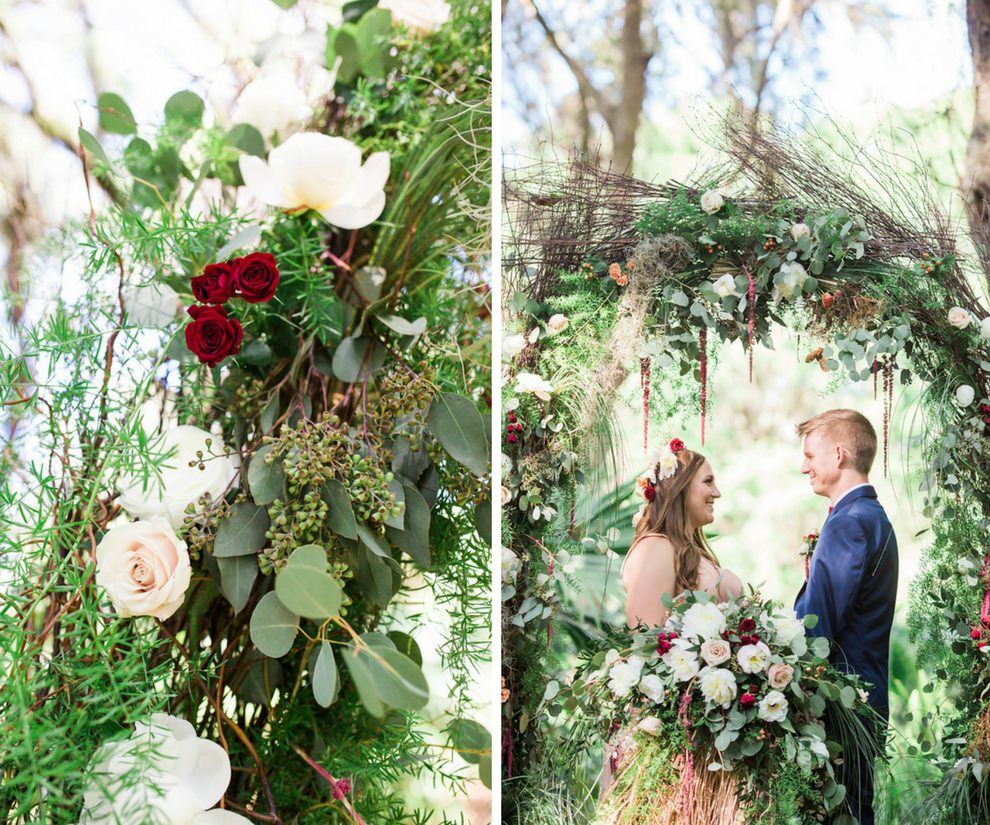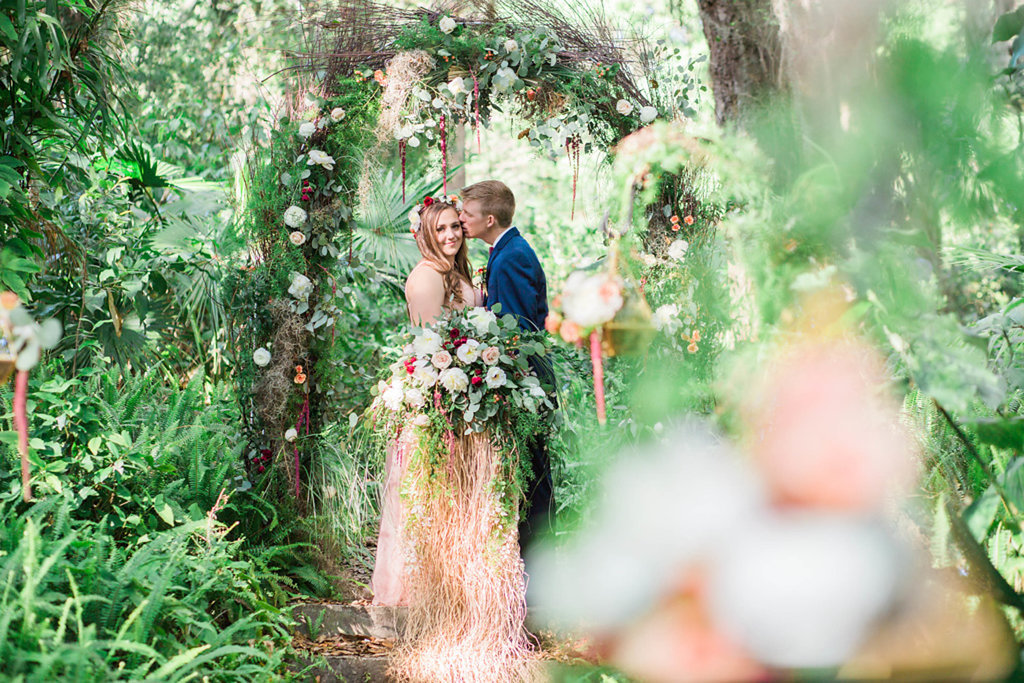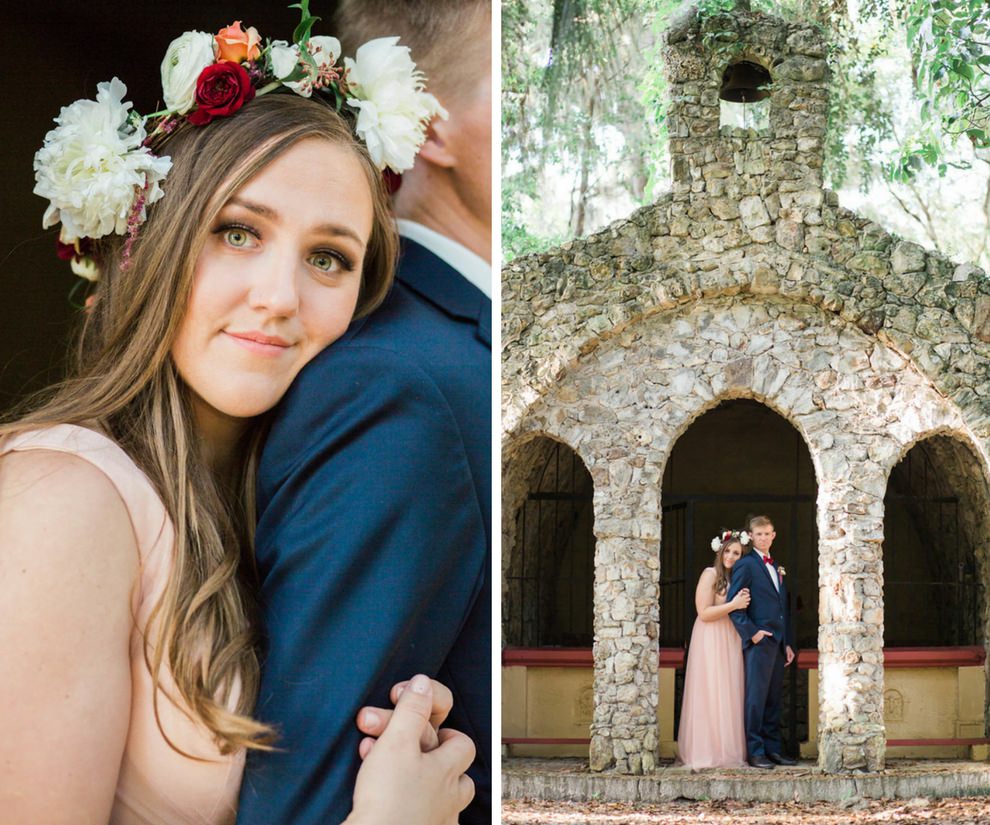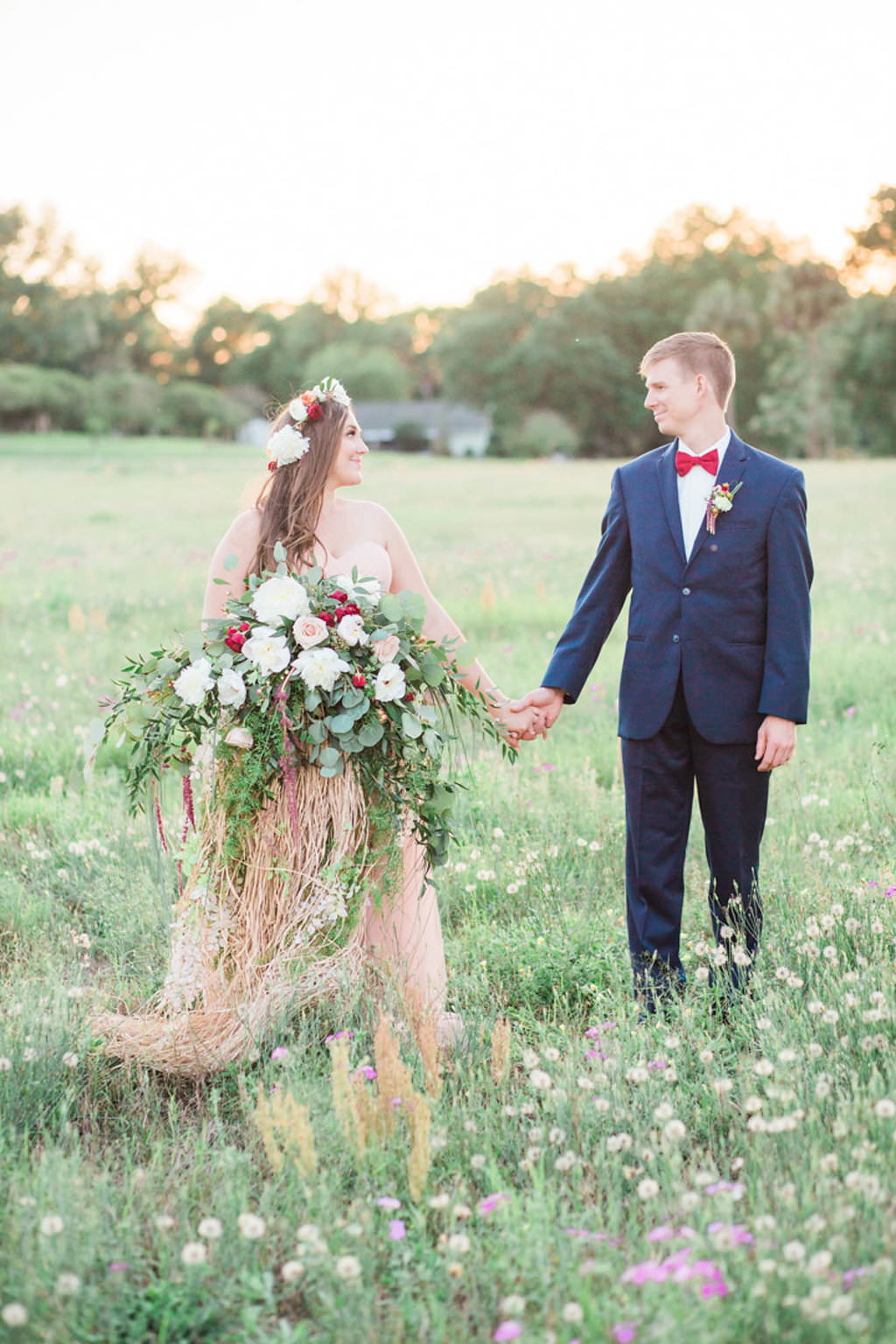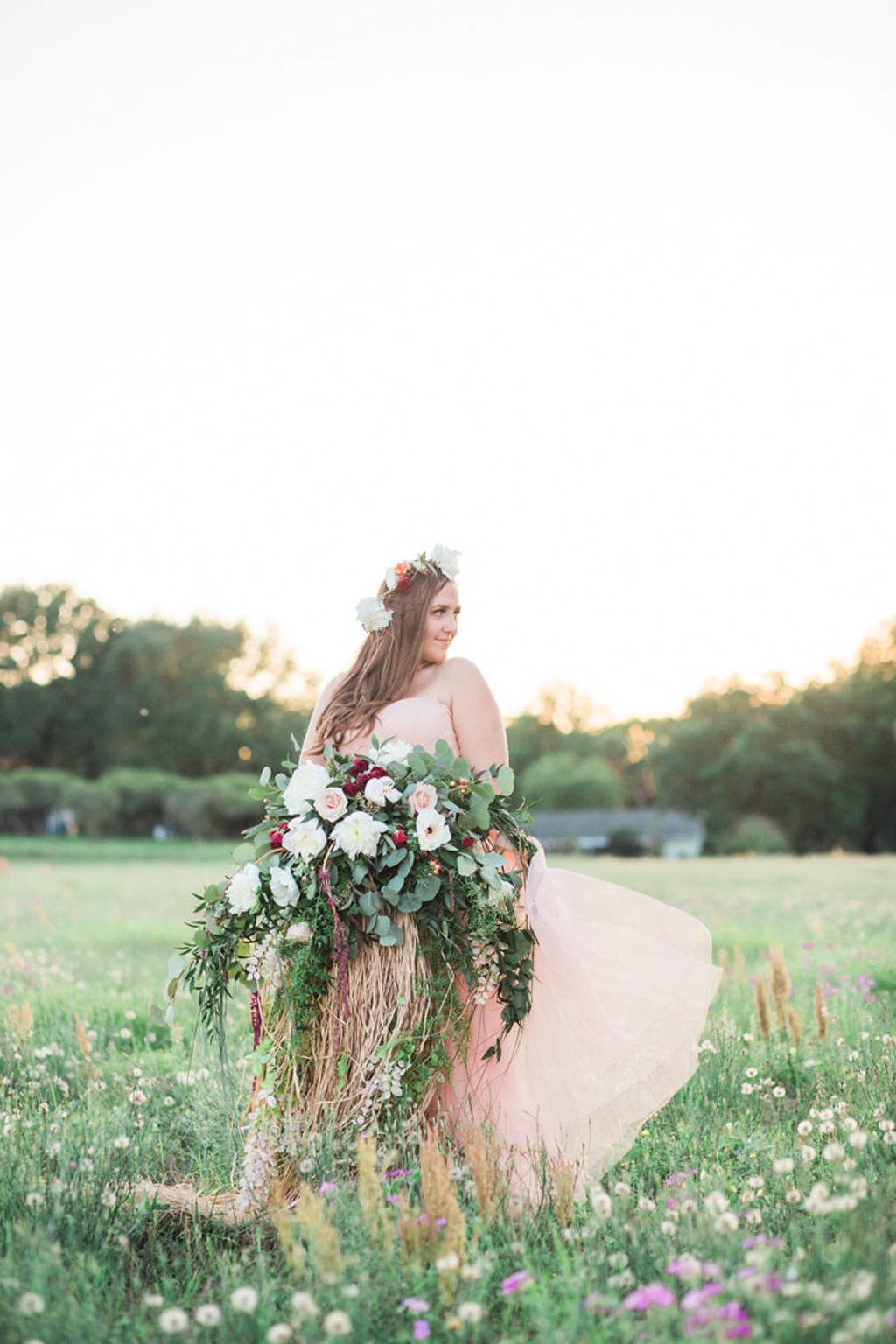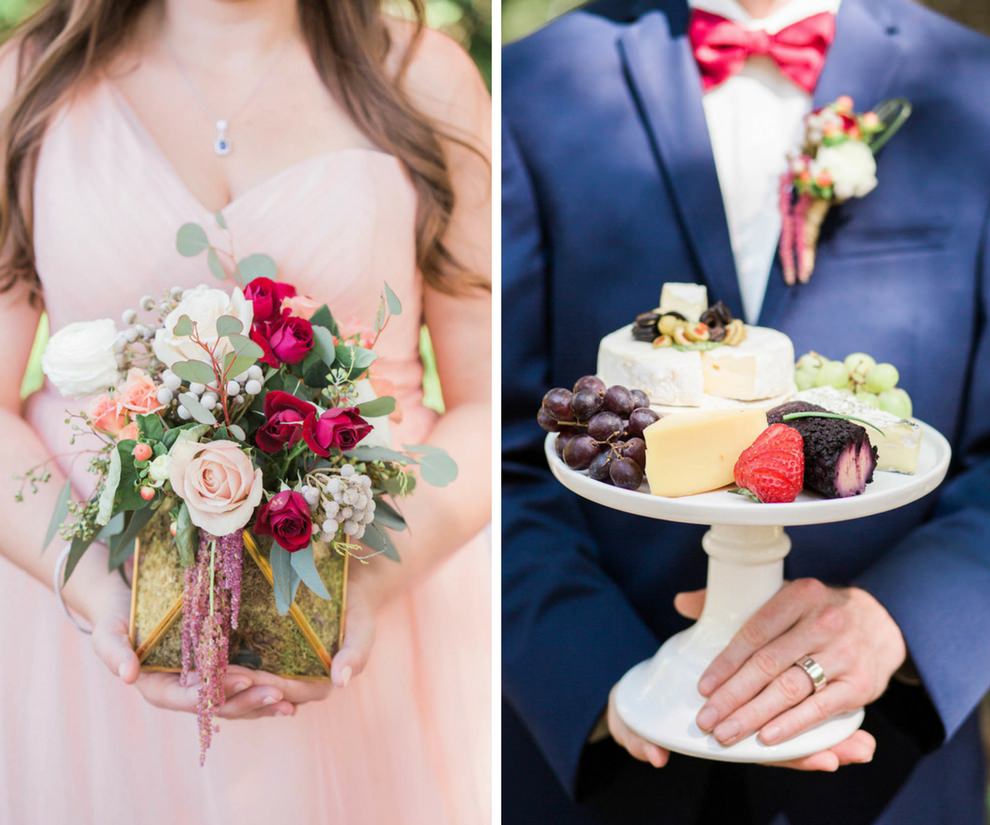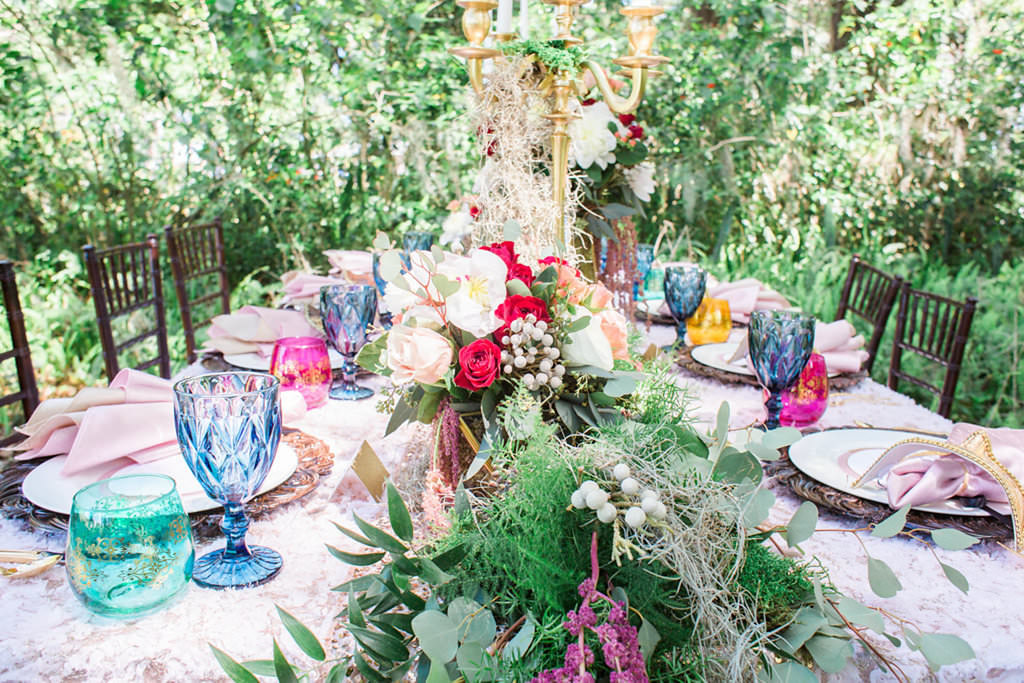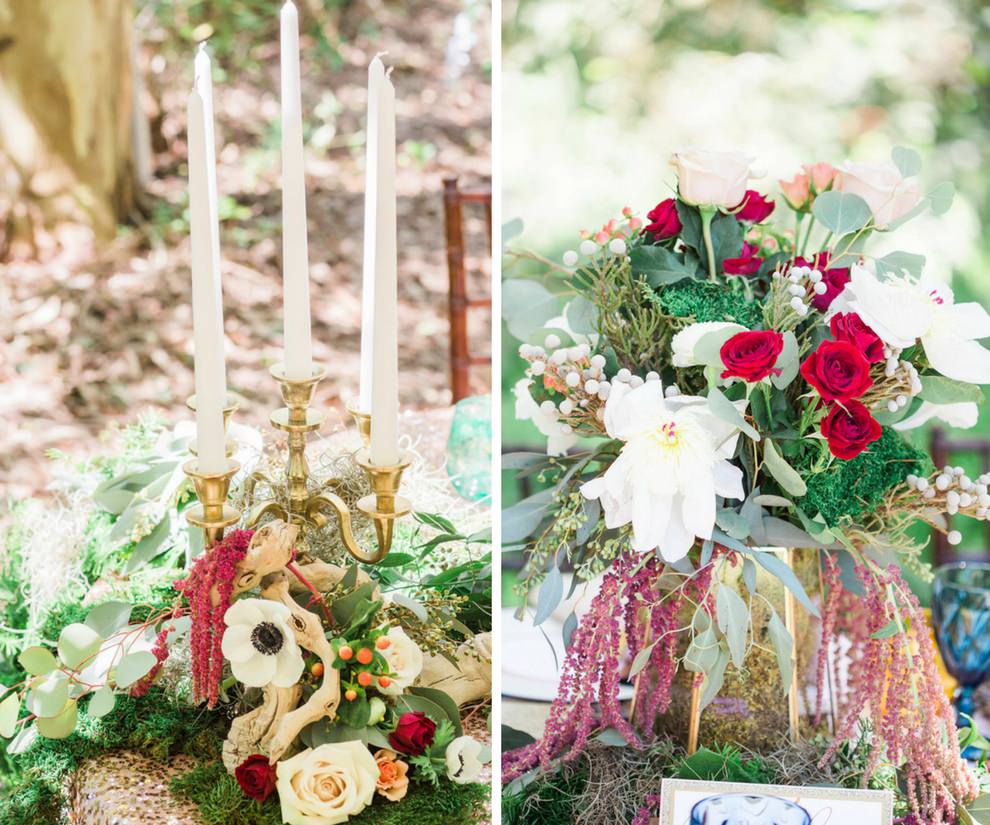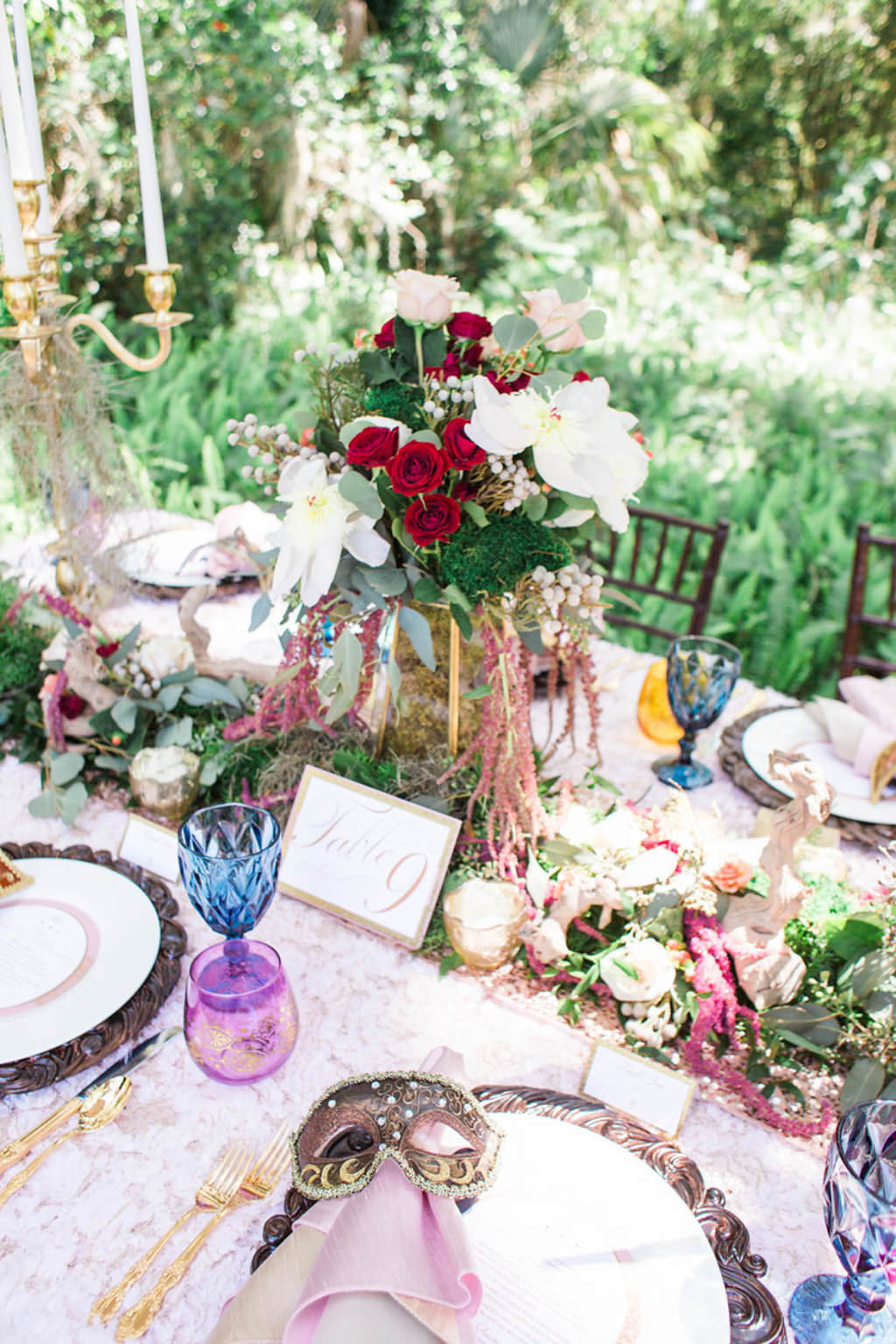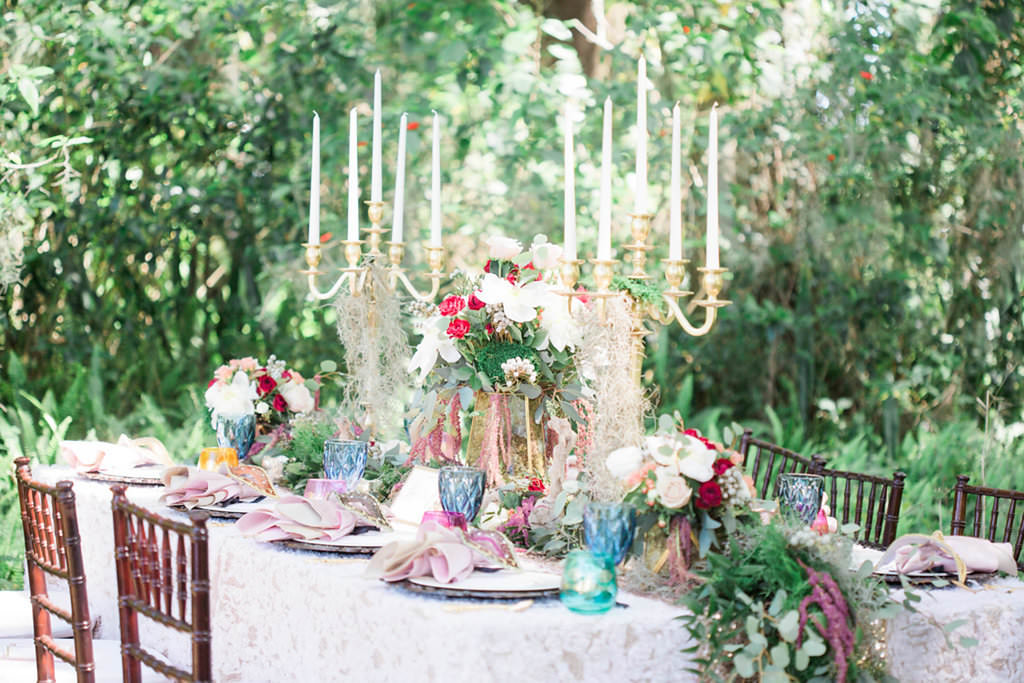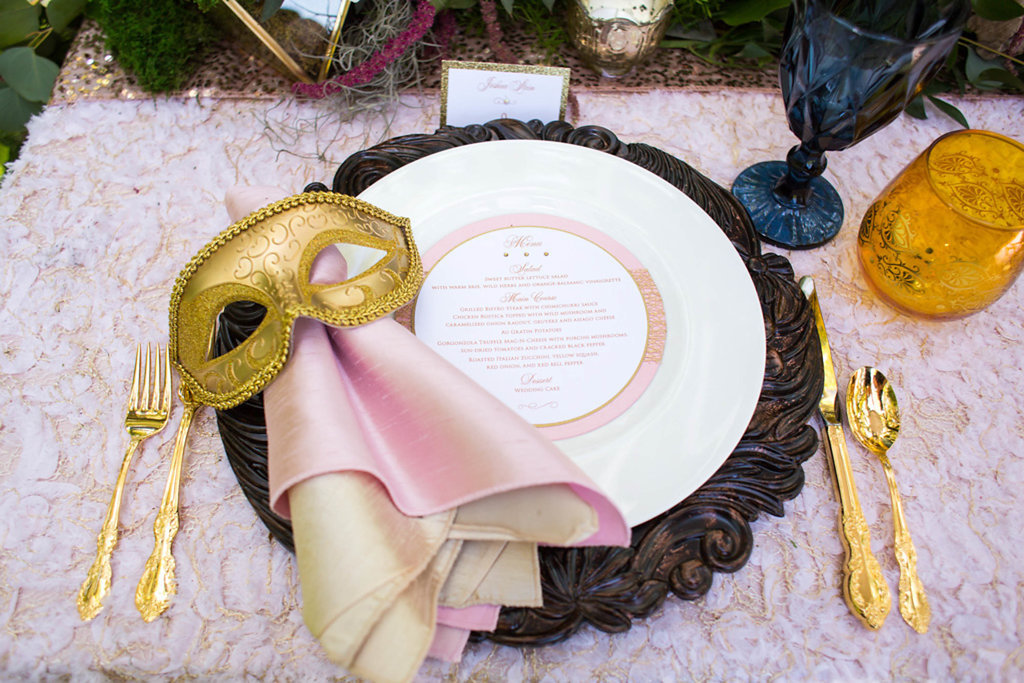 What were your colors?
Our creative team gravitated to the idea of pairing the lush greenery with burgundy and navy color accents, resulting in a rich and vibrant palette. The tablescapes were draped with generous garland runners made of eucalyptus, delicate ferns and amaranthus flowers. Striking blush and burgundy florals comprised of ranunculus, peonies, roses, anemones, flowy amaranthus, and hypericum berries were incorporated on a smaller scale to gently draw in guests' curiosity and interest as they dined and lingered for conversation. Geometric glass terrariums were used as containers for the tables' floral arrangements and to line the path to the wedding ceremony, adding a contemporary element to the natural setting.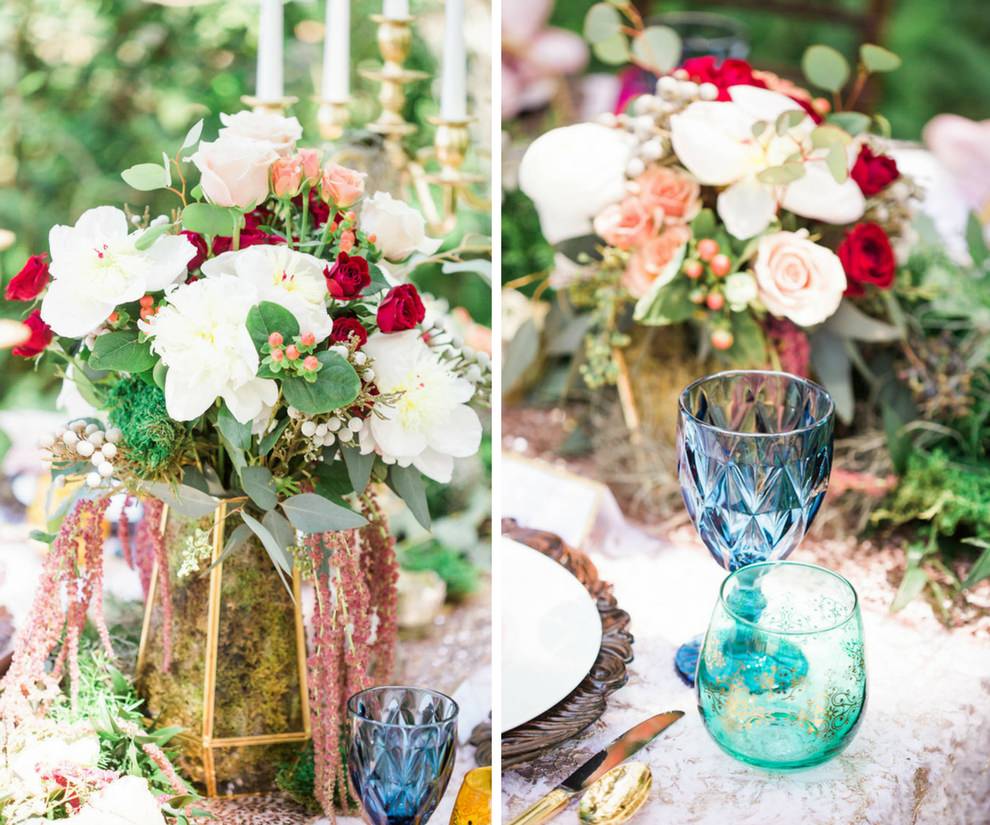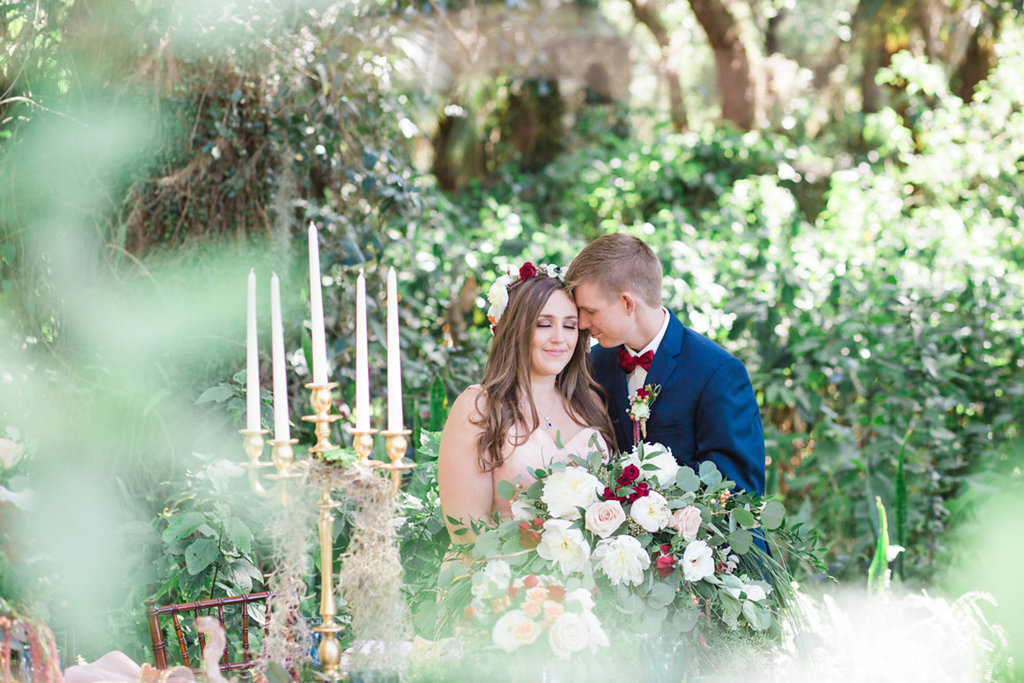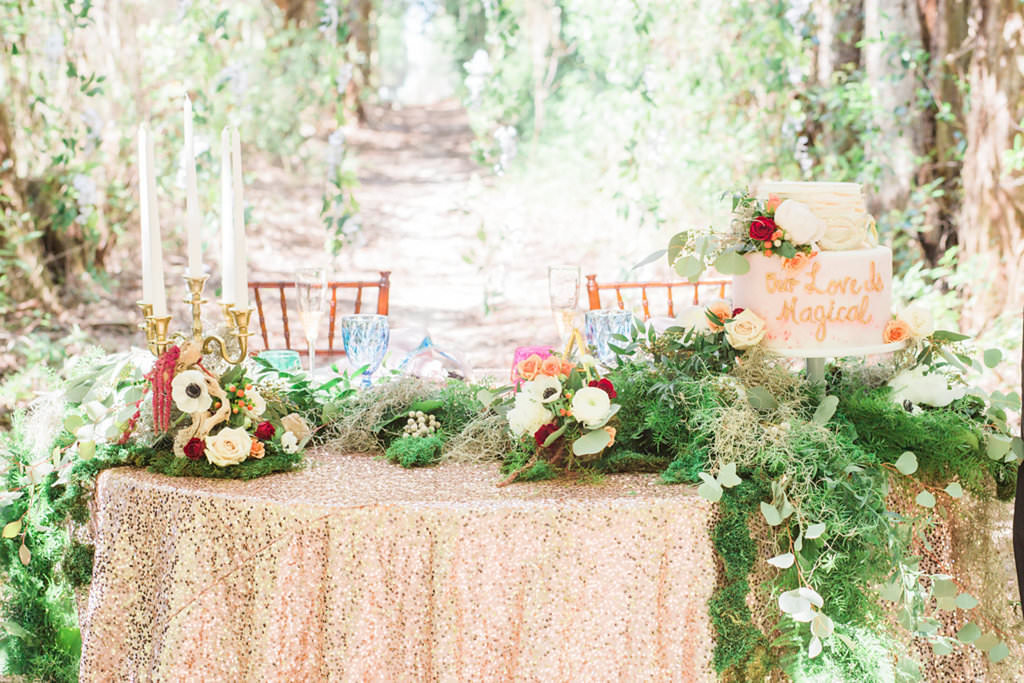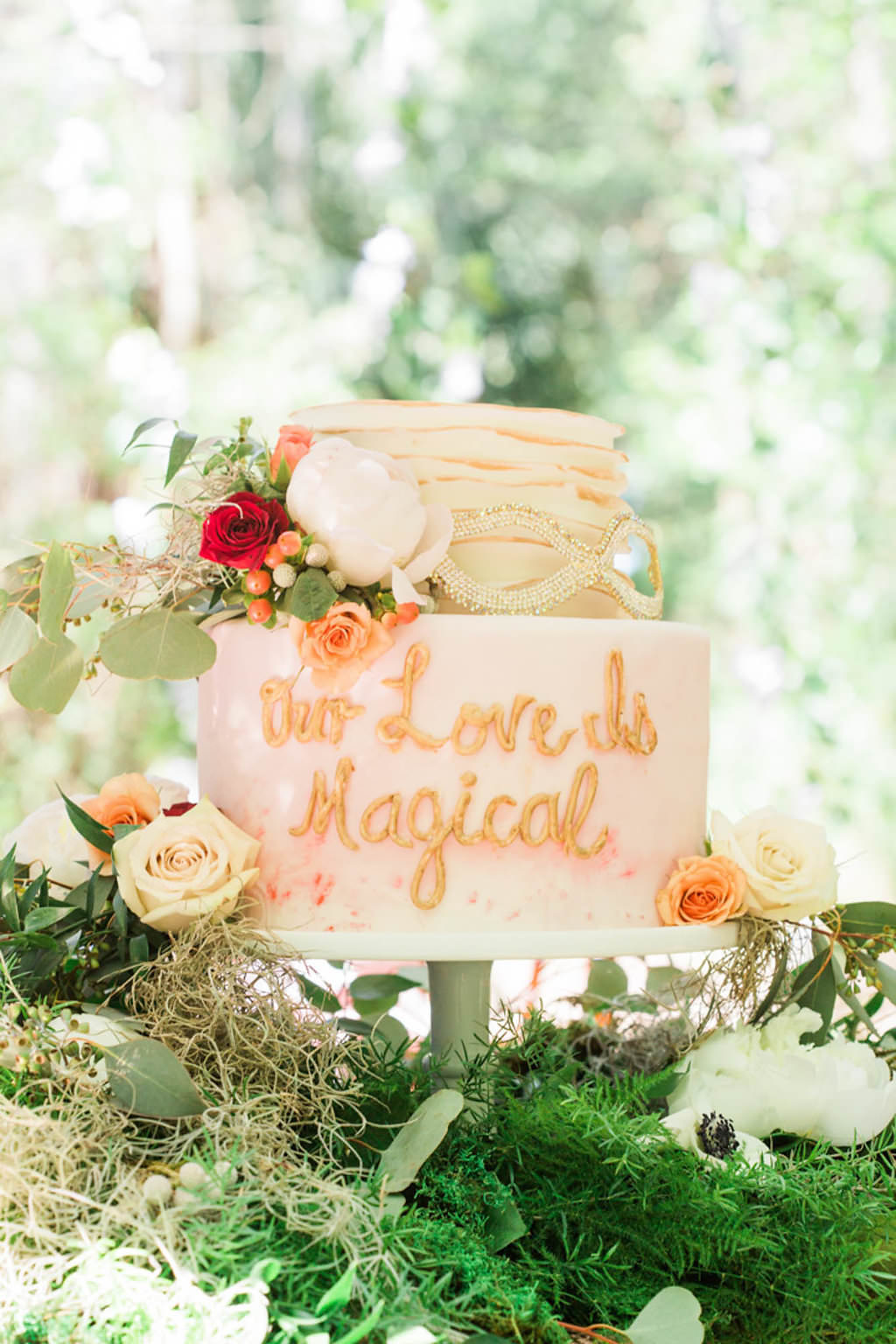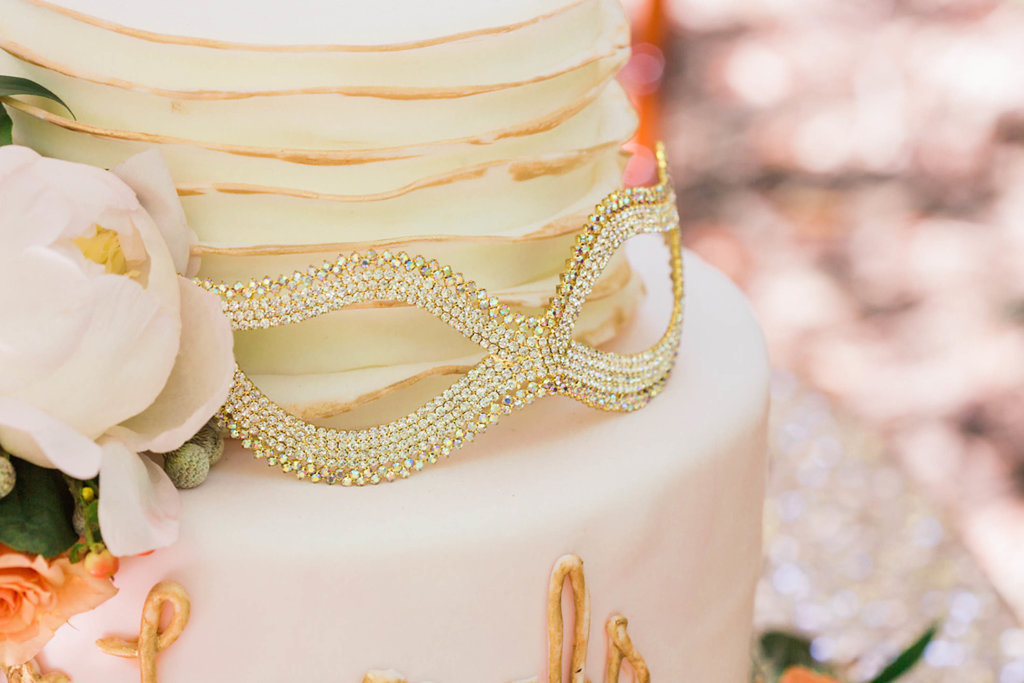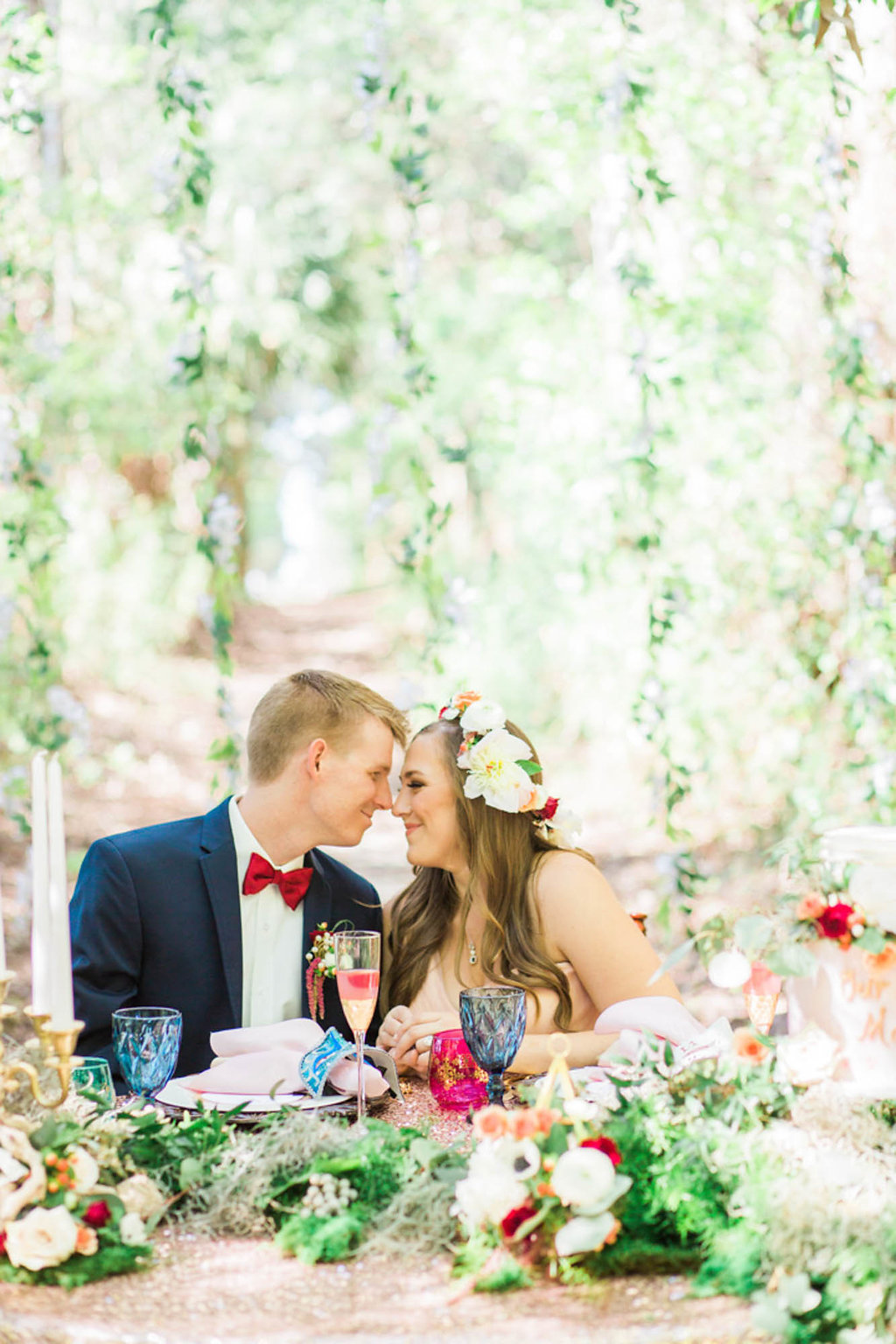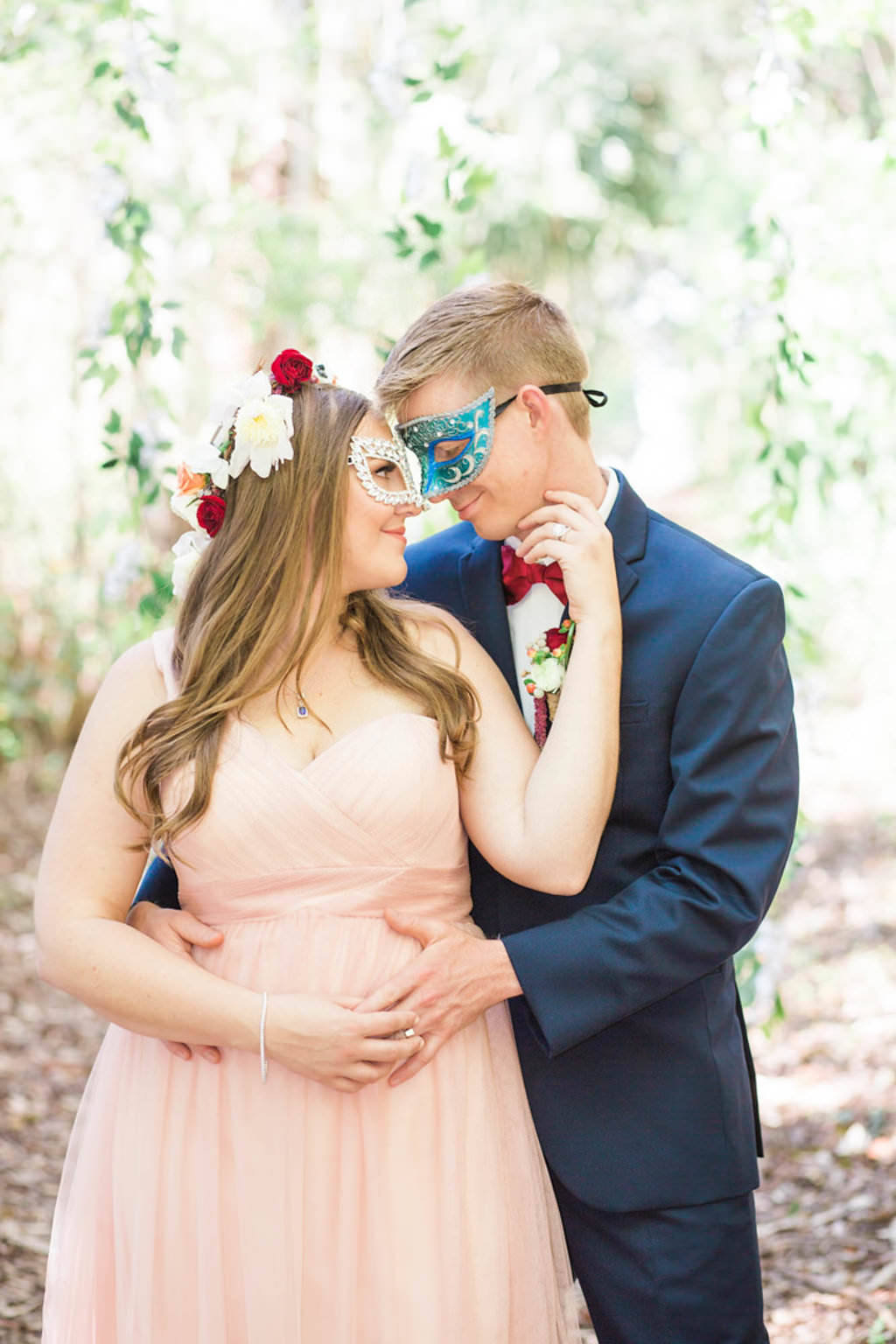 The cost for this majestic wilderness theme wedding varies greatly based on your style and requirements. The estimates below provide an idea of what this event would cost for 150 guests. However, it's important to note that the costs do not include all aspects of a wedding such as officiant, catering, etc.
Venue: $2,000 | Photography: $3,600 | Decor Rentals, Design & Flowers: $3,500-$4,500| Stationery: $1,300-$1,500| Chiavari Chair Rentals: $1,000 | Gourmet Coffee Bar: $600 | Bride's Attire: $1,000 | Groom's Attire: $200 | Wedding Cake: $1,100
Ceremony and Reception Venue: Private Property
Photographer: Christina Maldonado Photography
Designer: Amazingly Creative Events
Florist: Bloomingdale Florist
Linen Rentals: Over the Top Rental Linens *Preferred Marry Me Tampa Bay Wedding Pro
Chiavari Chair Rentals: First Class Rentals of Tampa Bay
Cake: Emma's Cake
Dress: Let's Get Married Bridal Boutique
Groom's Attire: All Brides 2 Be Tuxedo & Formalwear
Wedding Stationery: Wedding Invy
Calligraphy: Bugaboo Bear Designs
Caterer: Gaston's Culinary Services
Beverage Station: The Coffee Divas
Hair & Makeup: Elizabeth Marie Makeup and Hair Artist
Jewelry: Modern Trendz