Getting engaged is one of most exciting times in your life. You've found your life partner and are preparing for the next big chapter of your life.
Though transitioning from fiancé to spouse requires a large step…the actual wedding.
If you let it, wedding planning can consume you. It is typically a year-long process that comes with a lot of important decisions to make, which can really affect the outcome of your big day. To help guide you in the right direction, and to keep wedding planning an enjoyable, stress-free experience, we've asked our Marry Me Tampa Bay preferred weddings pros to share their best advice for newly engaged couples.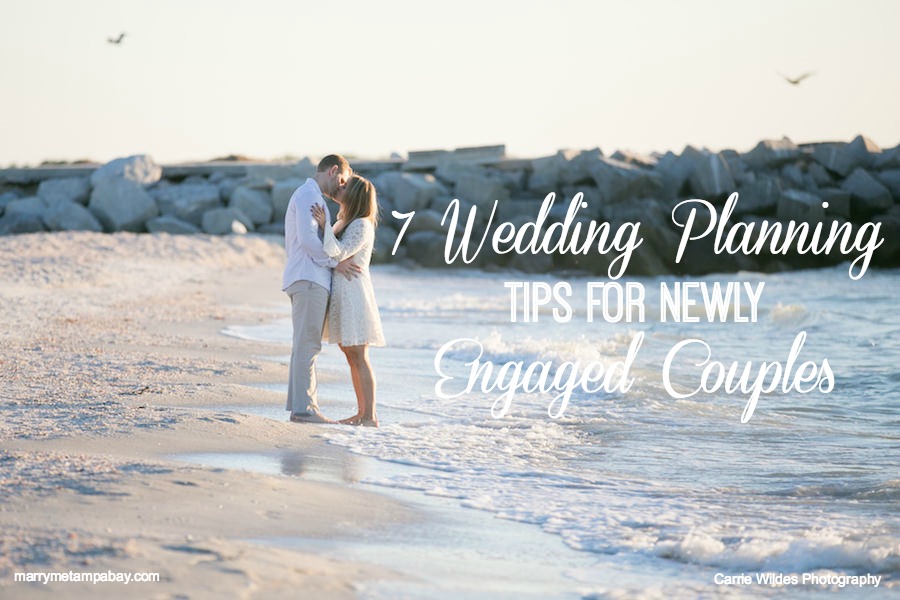 Take Time to Celebrate
ENJOY yourselves. ENJOY being engaged. Take a month or two and relish in the moment that you have found that special someone to spend the rest of your life with: the jelly to your peanut butter, the Robin to your Batman, the Thelma to your Louise. You have been asked to marry someone who loves you so very much that they want to wake up to you every day. Spend time together soaking it all in. You're GETTING MARRIED, YAAAY!!! -Lisa Mohyla, Exquisite Events
There is nothing worse than being engaged and instantly feeling stressed. I always tell my couples to take a few weeks and enjoy the engagement. Enjoy knowing that you chose each other and bask in all the love! When you do finally get in front of the camera for your engagement pictures, all those happy vibes are sure to show through! -Kera Holzinger, Kera Photography
Get Your Priorities Straight
Start with listing the priorities of each facet of the wedding in order of importance because that's what helps determine location, style and budget. Everyone's priorities are different! This makes it so much easier than looking at the general information out there that tells you what percentage of your budget you should spend in each category. Take the things that are most important to you both and put more of your budget there. Think about after the wedding, what would you have "wished" you would have done and make sure to do those things! -Carrie Wildes, Carrie Wildes Photography
As a newly engaged couple, I would sit down and decide together what vision you both share for your wedding. What will be your main focus and what is important to you? Is there something special in your relationship that you'd like to express or share with your guests at your wedding? I think discussing some of those details together will help you choose the vendors who will help you create your vision and highlight what makes you unique. -Marc Edwards, Marc Edwards Photographs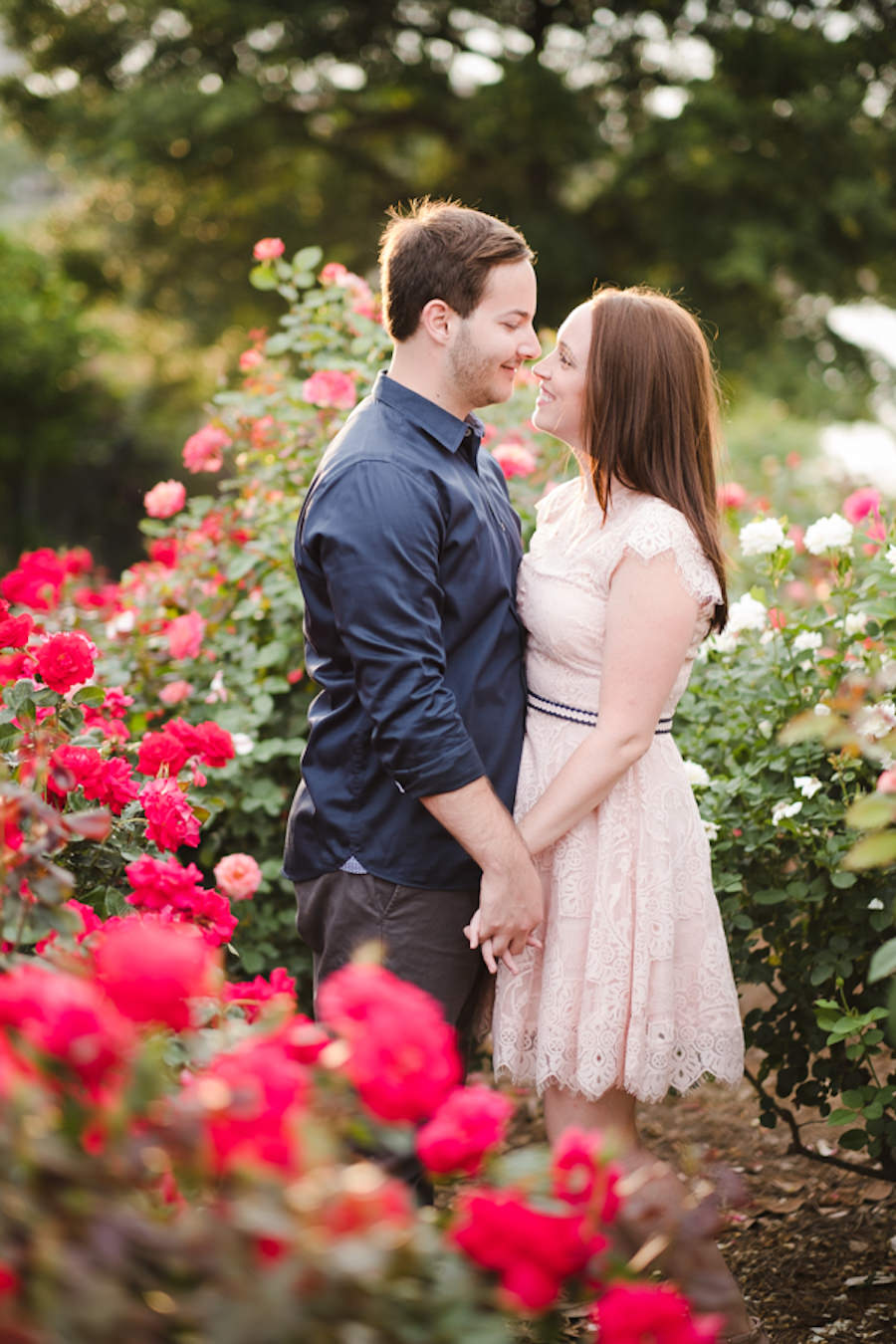 Let's Talk Budget
Once you start wedding planning, set a realistic budget. Speak openly with your family about what they may be contributing. Determine what aspects of your wedding are the most important to you and your fiancé (ex. photography) and where you want to dedicate the majority of your investment. – Andi Diamond, Andi Diamond Photography
Newly engaged couples should start with their budget because everything you choose for your wedding is determined by this number. Some brides and grooms seem hesitant to talk about their budget, but once you know this magic number it makes decisions a lot easier for you and your vendors. Some vendors can cater a package to fit or recommend another vendor that might work better for you. Pam Caya, Coast to Coast Event Rentals
Talk with your family and anyone else helping to contribute to your wedding about a realistic overall budget and how to allocate those funds. Agree which areas you must be firm in sticking with your budget, and which areas you can splurge to get EXACTLY what you want! You will have the most success booking vendors you love if you have an idea of your budget and preferences before reaching out to gather information. -Rebecca Zoumberos, Limelight Photography
We encourage newly engaged couples to create their initial guest list and decide what their all in investment will be. These two aspects are the foundation that will determine the type of wedding you choose to have. -Jessica Ralph, Parties A La Carte
Write your budget on a piece of paper then burn it, because weddings are emotional buying and the budget really doesn't matter anyway! (Well, only half kidding.) When making financial decisions, make it a good habit to always ask yourself, "Is this a smart decision or an emotional decision?" -Michele Renee Zerda, Michele Renee The Studio
Couples should start the conversation with the individuals contributing financially to the wedding. Whether it's parents, other family members or just you two, you need to have some concrete figures to begin your planning, selecting a venue and hiring vendors. You wouldn't look at houses or go car shopping without knowing how much you can afford, would you? Planning a wedding should be no different. -Staci Mandikas, UNIQUE Weddings & Events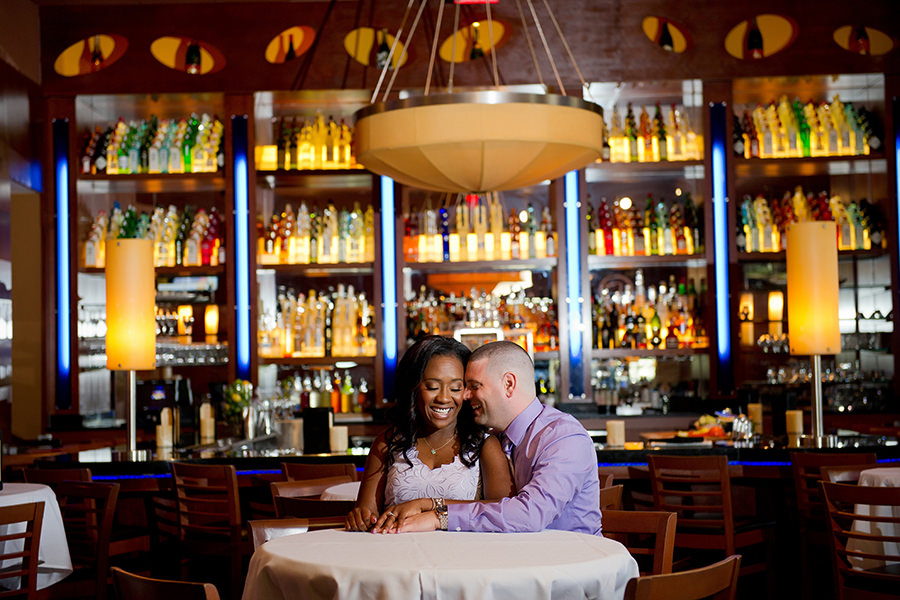 Location, Location, Location
You found your who, now its time to find your your where and when. Do your research and find your perfect venue. Look for a venue that encompasses everything that you are searching for. For example, does your venue include ceremony  and reception, dinner, DJ and a day of Coordinator? Once you find your venue, look into their available dates. After you decide on your date I would highly recommend that you get a venue proposal and get your venue reserved. -Wendy Odom, Yacht StarShip
The venue you select may dictate your wedding date based on its availability. This could also determine several other key elements such as "Will it be warm or chilly," or "Will it be a large or smaller wedding?" These factors will assist in what style of dress you choose to wear, as well as how many guests you decide to invite. Selecting a venue is one of the largest accomplishments in preparing for your big day. -Becky Knuston, Cross Creek Ranch
Save-the-Date
Once you've chosen your date and selected your venue, it's time to give your friends and family their very first glimpse of what your special day will be all about. It's time for your save-the-dates! Lots of our brides ask, "When do I need to send my save-the-dates out?" Once you have set your date and booked your venue, it's time to start working on your save-the-dates. The proper time for mailing time is anywhere from 6-12 months before the wedding. Of course, if you are having a shorter engagement, you need to get those save-the-dates out as soon as possible! -Patricia Romero and Alicia Rohan, A&P Design Co.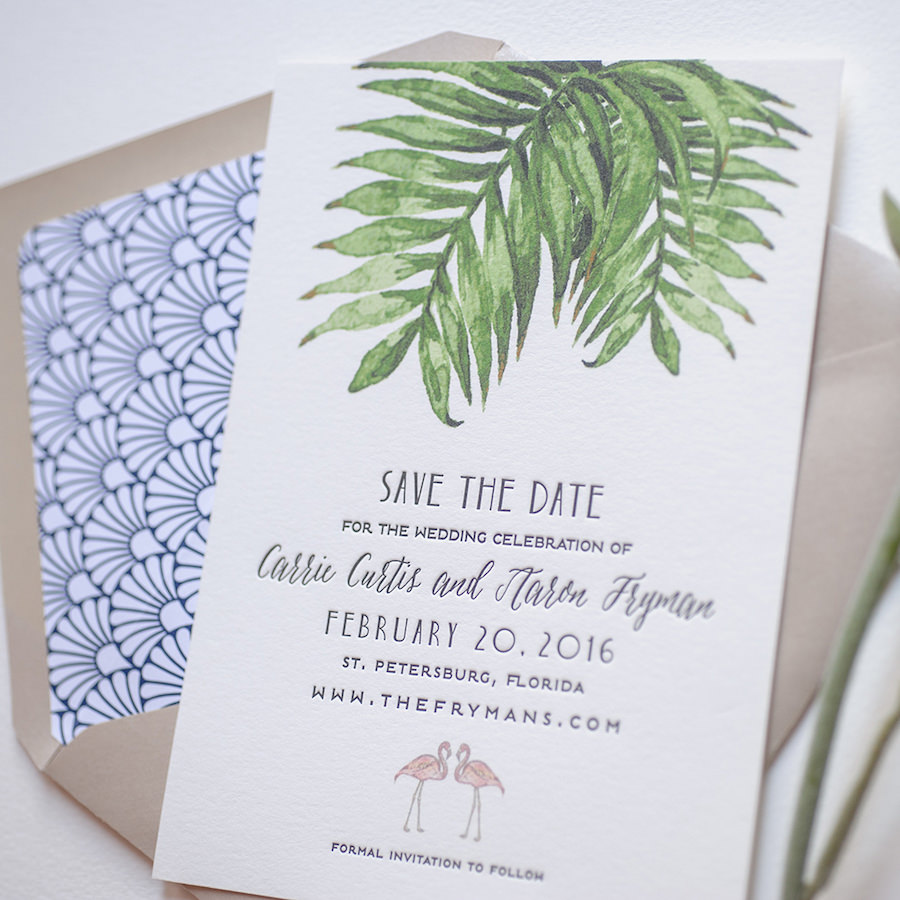 Leave the Planning to the Professionals
Find the right planner! You probably haven't planned a wedding before, so the best place to start is with an expert. There are planners for each style and budget, and they can make the entire process enjoyable and flawless! -Leo & Brittany Trevino, Rad Red Creative
You have no idea what you don't even know! Planners not only make the wedding go smoothly, but they can guide you in finding the perfect venue and amazing vendors, who are all tried and true. Bring your fiancé, your dream and excitement to a planner and see the wedding of your dreams unfold. -Mike Greenberg, Nature Coast Entertainment Services
First of all take a little time to enjoy being engaged before jumping into the craziness. Once you find your perfect venue/date, focus on your wedding planner, photographer and entertainment (your wedding planner can assist with those if you have her first). Once those vendors are booked for a specific date, they are booked [and can't take on additional weddings]. Other vendors, such as florists, can do more than one wedding per day, so focus on the ones that "once they are booked, they are booked." -Maria Balestriere, Blush by Brandee Gaar
As soon as you know what your color scheme and decor will be, start reaching out to bakers to firm up your cake/dessert options. Most will fill up six months or more in advance, and there are only so many cakes a baker can make. -Brandi Matiyak, Sweetly Dipped Confections
Create a Routine
Getting in shape for you wedding should not be a checkbox on the end of your wedding list. When I coach my clients, I remind them that a routine done 3-5 times per week will lead to results in 30 days; however, the biggest changes continue to show up as you continue with your consistency. By beginning when you get engaged, your "fine tune" changes and results are sure to turn heads on your big day. -Jeanette Augustyniak, The Bar Method Tampa