Gina and James' whimsical downtown Tampa wedding featured striking shades of blue and warm gold accents, a recurring star motif, and personalized details befitting their relationship and playful personalities.
"Our main colors were gold and royal blue. The royal blue was inspired by bowerbirds. A male bowerbird creates a beautiful display of found blue objects to attract a mate. In the early days of our relationship, James shared this fact about bowerbirds with me, and we both thought it was so sweet and special and knew that one day we'd incorporate this into our wedding day," the bride revealed. "Our wedding theme was all about our personal history and family with lots of sparkle. We also had lots of personalization, like custom vow books, cake cutting set, cake topper, and even a 'Mrs. DeFord' denim jacket. We wanted every element to feel like us with some fun sprinkled in."
The bride relied on Marry Me Tampa Bay as a source of inspiration for finding images of local weddings.
"[Marry Me Tampa Bay has] lots of great inspo! Before planning my own wedding, it was really helpful to be able to see photos and examples of real weddings in our amazing city," Gina beamed.
The local couple met nearly 15 years ago at the Tampa Theatre, where the groom has continued his career, so it was only fitting for the pair to get married on the historic venue's main stage.
"We live in Tampa and chose to celebrate our love at Tampa Theatre. We met at the theatre while working concessions, and it will always be a special place for us," the bride shared. "One element I wanted to include was stars. I wore a gold necklace with a charm that had a sparkly star on it and our backdrop included garland with gold stars. The reason behind this was the ceiling in the auditorium of Tampa Theatre; it's made up of twinkling lights, a.k.a, stars. I chose star elements to emphasize this unique piece of the theatre, and it was a nod to belting that our love was written in the stars."
Due to the pandemic, the bride and groom's wedding was smaller in scale than originally planned, but the result made for an even more unique celebration.
"Our wedding was very intimate and full of sweet details. One of the benefits of having such a small wedding was that we were able to design the exact experience we wanted," Gina articulated. "Of course, it would've been amazing to have more of our loved ones and friends join us, but all things considered, we were just so grateful to have our special day and enjoy it safely."
Looking back, hearing James recite his personalized vows for the first time is something that Gina will forever treasure.
"Our vows [were the most memorable part]! We both wrote our own and having the chance to share my vows with my husband and then hearing him say his vows was truly magical," the bride reminisced.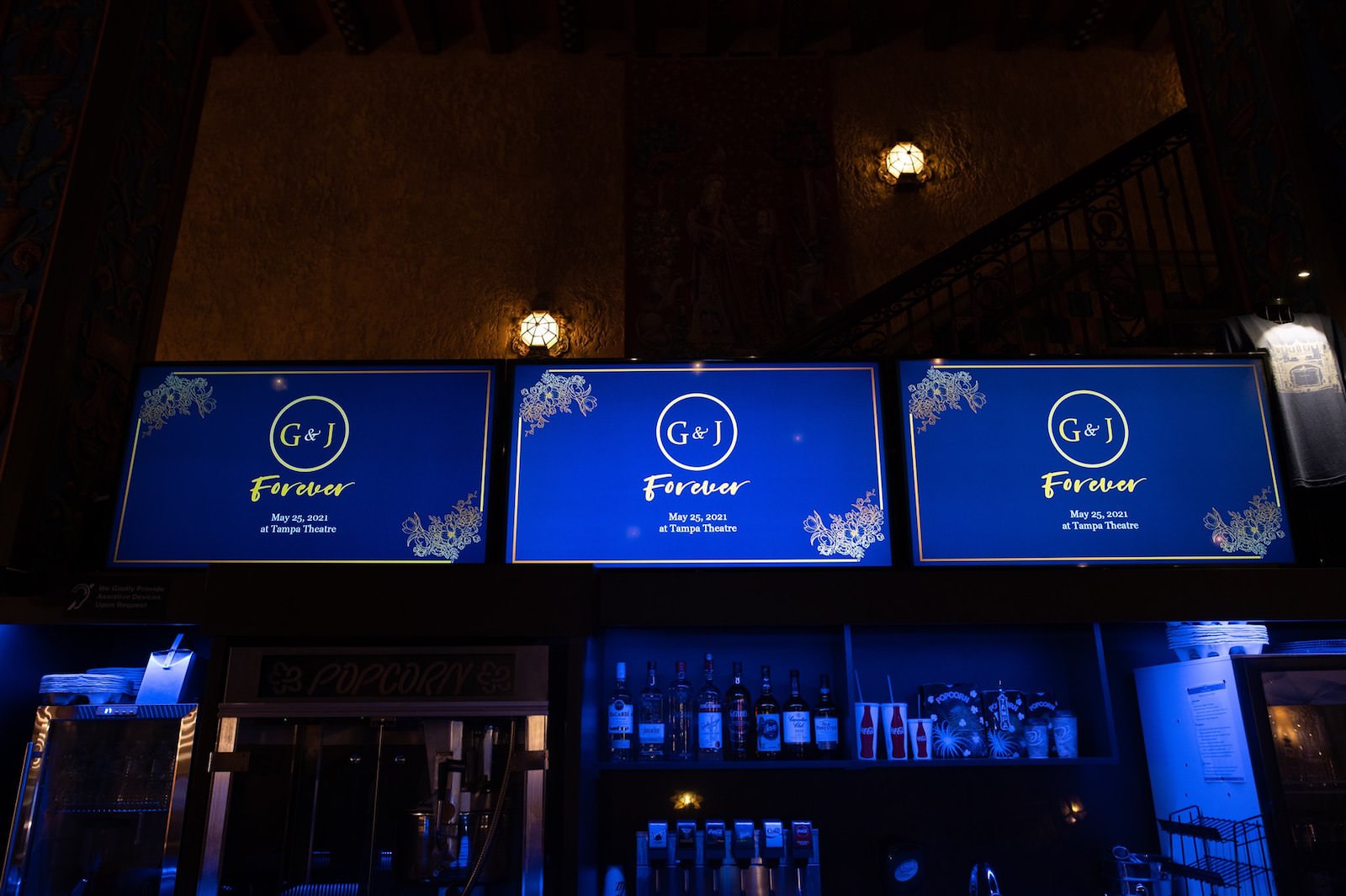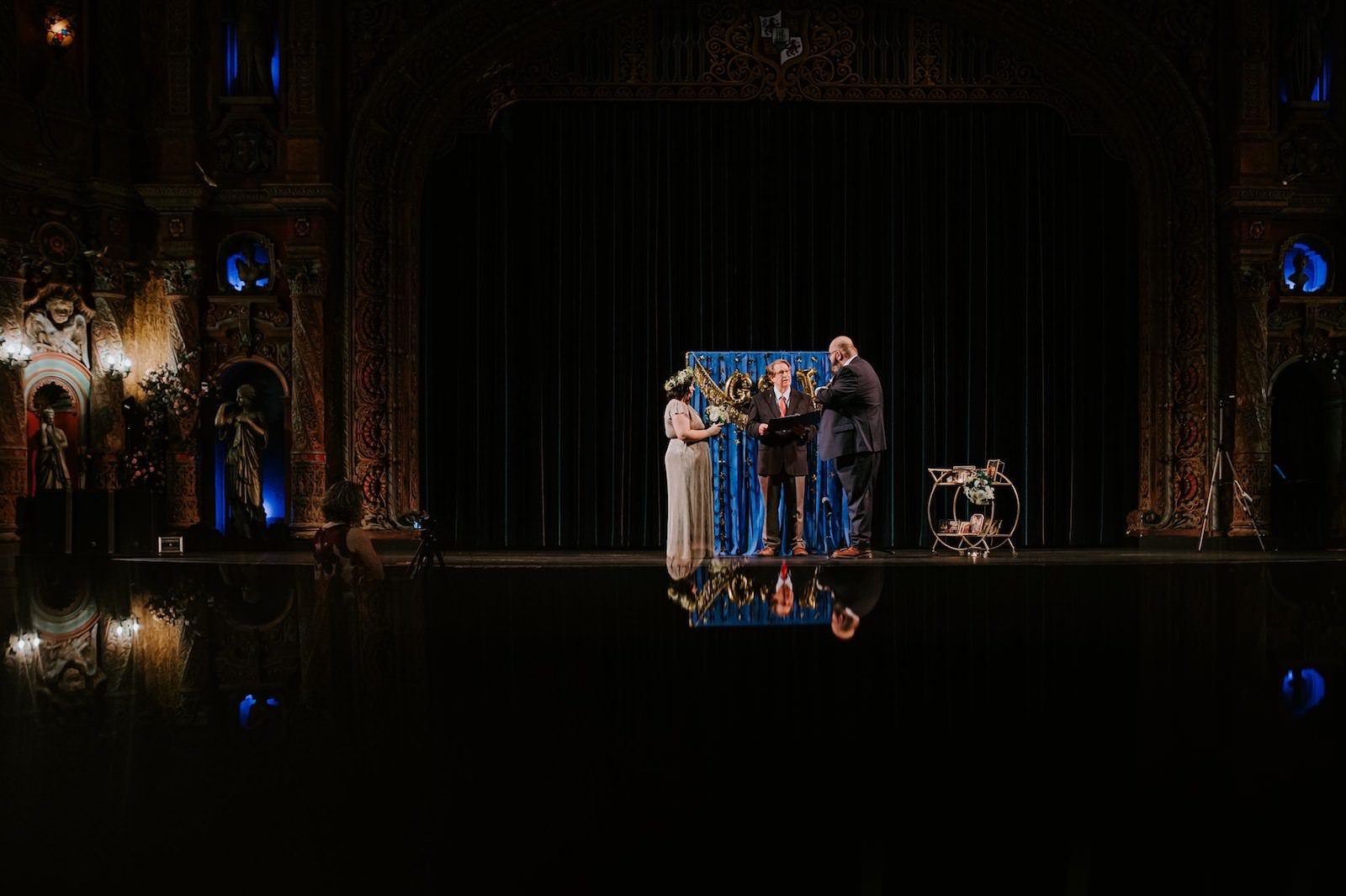 Where did you spend your honeymoon?
We had a mini-moon at the Epicurean! We plan to take a honeymoon to visit Niagara Falls.
Where did you host your bachelorette party?
M.Bird! I thought it would be amazing to celebrate my wedding with my closest friends with a gorgeous view of Tampa, the city that has been so good to me. Plus, their appetizers are delicious! We went dancing at The Castle, a place I've danced my heart out many times before in college. I'm grateful I got to celebrate with friends!
Which vendors really exceeded your expectations?
Everyone was amazing! Our photographer captured our day beautifully. I fall in love with our wedding day all over again every time I look at our photos! I am obsessed with how my flower crown turned out. Our florist is a flower goddess. We had a mini-moon at the Epicurean, and they had a bottle of wine and a congratulatory card waiting for us in our hotel room. It was so kind!
What advice would you give to other Tampa Bay couples?
Do your wedding your way and make sure you work with a photographer you trust! Your special day goes by so fast, and you're going to want beautiful photos to look back on.