Hiring a Tampa Bay wedding videographer to capture all of the intimate moments of your wedding day is one of the best decisions a couple can make. It's not only about the visual, but also the sounds of hearing your groom gasp during your first look or the bride choke up while saying her "I do's." Wedding video shouldn't be an extra; it is truly essential to reliving your big day.
When we think of Brett Hatfield of Hatfield Productions, personality and imagery come to mind. The Ohio transplant has recently made Tampa Bay his home and is quickly taking the area by storm with his dramatic wedding recreations. We've had the pleasure of working with him during our Tampa Bay Wedding Week venue crawl and bridal fashion show, which were both stunning! Brett's passion for wedding cinematography and wowing his couples is evident from the moment you even mention wedding videography, which you'll discover below!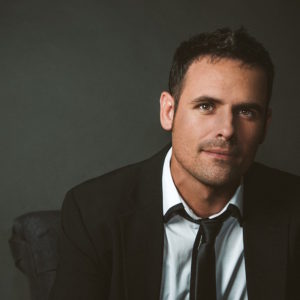 Email Hatfield Productions
Website | Facebook | Twitter | Instagram | Vimeo
Featured Weddings on Marry Me Tampa Bay
What inspired you to start your business?
I've always had an eye for videography and photography. When you work with people who understand the difference between average and great, powerful things can happen.
What is one of your favorite things about being a wedding professional?
I love when brides trust me. It's a wonderful feeling when someone has dreamed of this wedding their whole life, and they rely on their videographer to guide them through the day. I love when couples ask questions, and I love being able to make my brides feel beautiful come their wedding day.
Where do you draw your inspiration?
Worldwide wedding photographers, those who travel the globe. I think the best photographers can create certain moods with certain lighting in their images. If photographers can create these moments with lighting, videographers should also have this mindset.
What makes your business stand out from other wedding videographers?
I take the time to make my brides look better on video, finding their sweet spots and setting up flattering light. I take sound very serious. Without great sound we are limiting ourselves to a basic product. My weddings are never the same run of the mill shots set to four minutes of a trendy pop song. My films are packed with emotion, beautiful light and actual words spoken on your day. I always offer all day rates, and I will do whatever it takes to make any room and situation look better.
What is one of your most memorable moments as a wedding professional?
I few years ago I made a same day edit (this was a surprise for the bride). The reception had never seen one done before, but I knew I could finish it and deliver something amazing. Long story short, the entire room was in tears. I am still the only vendor to achieve the same day edit in that venue and to this day we still talk about it.
In your opinion, what is a MUST HAVE at every wedding?
I think every bride should have chocolate cake with white icing…totally kidding! Of course I am biased, and I am going to say a video. A great video will outshine any part of the day (so I've been told). Everyone loves great photos, but you are limited to certain emotions with a photo. You are missing movement, sound and soundtracks. We all have our favorite movies we will watch time to time. Now imagine having a wedding that was filmed just like a movie: beautiful light, crisp sound and amazing soundtracks. This type of production is impeccable.
What is the best piece of advice you can give to a bride who is searching for a wedding videographer?
Meet as many videographers as you can, pay attention to their work and ask a lot of questions. Your wedding isn't going to be average, neither should your vendors. If there is anything a bride can take away from this, sound and lighting are our top priorities. Lighting will make or break a photo, just as video. I think the wedding industry standard should be raised. There are too many vendors out there who only care about the paycheck and are not dropping a wow factor on each couple.
What is one thing most couples would be surprised to know about you?
I have a severe addiction to chocolate. I eat about 15 Reese's Cups daily!
What are some of your passions, non-wedding related?
I really enjoy working out. I think it's a great way to clear your mind and zone out of life. It's a good reset button.
What are you most excited about in the upcoming year?
I am still new in Florida (I am popular up in Cincinnati, where I am originally from.) I would love to continue to network with high end vendors who are constantly thinking about weddings 24/7 like myself. These vendors are great because we share the same passions and thoughts as artists. It's a blessing being around these types of vendors because the ideas will feed off each other.
Reviews from Previous Marry Me Tampa Bay Couples:
"At first, we weren't planning on having a videographer because we were mindful of our budget. I'm so glad we decided to add one, because it's invaluable to have the memories recorded. When we decided to select a wedding videographer, we looked for someone who would blend into the party and capture all the hidden moments, while also prioritizing videography of the toasts, vows and ceremony. Brett from Hatfield Productions was extremely responsive to our inquiries and was willing to work with us to create an experience that fit our budget and was true to his professional style. He impressed us with his experience and knowledge of wedding videography. His vision for our video came together beautifully! I loved that he included aerial shots of Tampa and over the water; it gave it a beautiful Floridian touch. Brett has an amazing eye and is clearly motivated to deliver a fantastic product!" -Previous Marry Me Tampa Bay Bride, Alex | Whimsical Green and Lavender Tampa Wedding at Tampa Garden Club
MORE: HATFIELD PRODUCTIONS WEDDINGS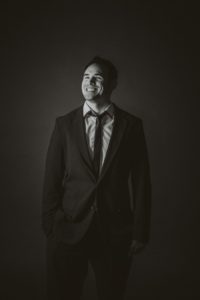 I have a huge passion for film and photography and when I say huge passion, I mean I am probably more excited to work on the wedding day than the bride is to get married. I started this business full time in 2010. I was born and raised in Cincinnati, Ohio. With over 250 weddings in that city, I was called for a St. Pete destination wedding and fell in love with Florida. After a tough 30-second decision, I knew Florida would be my home, and I was going to do whatever it took to establish myself down here. (Even if it meant living in my car for a few weeks outside the YMCA.)
As a professional in the industry, I feel it's my responsibility to really educate my couples and show examples of how things can look, and how things can sound. I always put in 110% on the day, whether this is creating a timeline, taking down a mirror, closing a blind, moving a lamp or turning off a light in the background; it's my job to make sure everything can look its best.
As a business owner my number one priority is my clients. Within the first few minutes of meeting each couple they know exactly the kind of quality and care they will receive. I love when couples have a lot of questions and really pick my brain. I also love when couples are "blog stalkers" and review your work every week and can tell you all about a stranger's wedding! I look forward to showing Florida what I can bring to the table, and building relationships with vendors who also care about their brand.
Email Hatfield Productions
Website | Facebook | Twitter | Instagram | Vimeo
Featured Weddings on Marry Me Tampa Bay