This post is brought to you by Paperlust
When you receive a wedding invitation in the mail, doesn't your romantic heart skip a beat? You probably know who it's from, been waiting for it to arrive and still, this moment is so exciting. It is the first glimpse into the wedding day with seductive hints of what the day might be like. It is also a gesture of love from two people you care deeply for.
When it comes time to send your own wedding invitation out to the world, you have a chance to tell your love story with custom wedding invitations. Here are some ideas to get your inspiration flowing.

1. Personal Photos

Guests love receiving a wedding invitation with the couple featured on the design and are far more likely to keep it after the wedding day has passed as a memento of the celebrations. It also gives you an excuse for new outfits and a professional photoshoot because who doesn't need to update their personal photos?
Choose an image that shows your connection. It might be a happy photo of you both smiling or something a bit more serious and sexy. The location might also be a way to tell your story if you go back to the proposal spot or a favorite place where you have created fond memories.

2. Style
The style of wedding invitation you choose will be a preview of the wedding you will host, which is usually a reflection of your own personal style as a couple. The style you go for should be no surprise to your friends and family. Minimalistic, glamorous, sophisticated, or rustic are a few of the popular styles that make a great starting point for designing your wedding day invitation and matching stationery.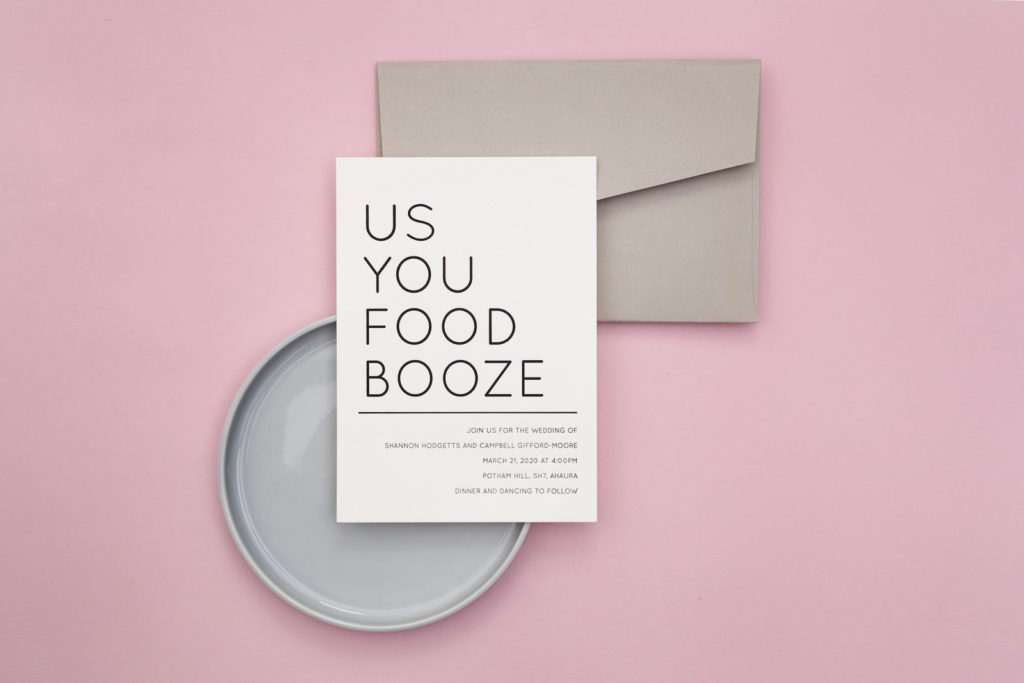 3. Colors
Your color palette has a significant influence on the appearance of your wedding, so think about your vision. Do you want to have soft, feminine colors, bright and cheery, or deep, moody colors?
When looking for color inspiration, consider your wedding venue, favorite colors, the mood you want to invoke, and style you are going for. It is easy to incorporate colors into your wedding stationery in the font, paper, graphics, and envelopes.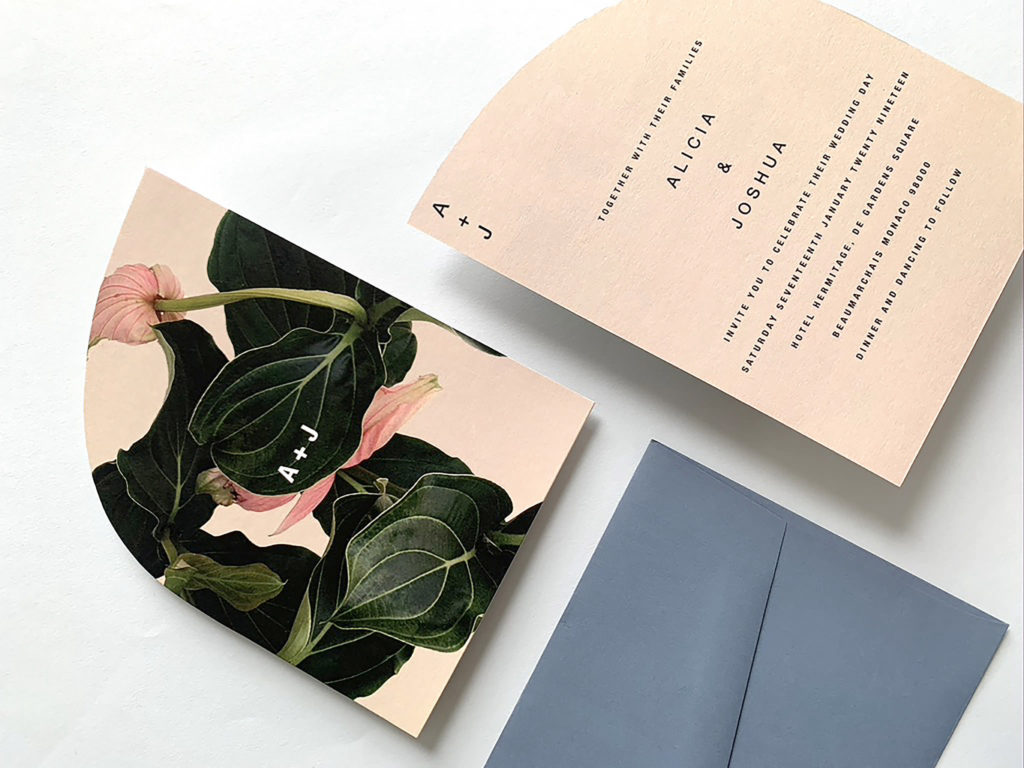 ---
---
4. Season
While some couples choose the season depending on their busy schedules, most decide on a season because it's their favorite time of year. Holidays and hobbies are also often based on the seasons, which are connected to memories you have created as a couple.
If you are sun-seeking lovers who dash off to the beach, a summer wedding or even a destination wedding might be your vibe. If you adore the winter months, a snow-covered wedding day might be your dream come true. It is easy to add seasonal elements to your wedding invitation with flowers, clouds, snowflakes, greenery, or other subtle design elements that will give a nod to the season you are getting married during.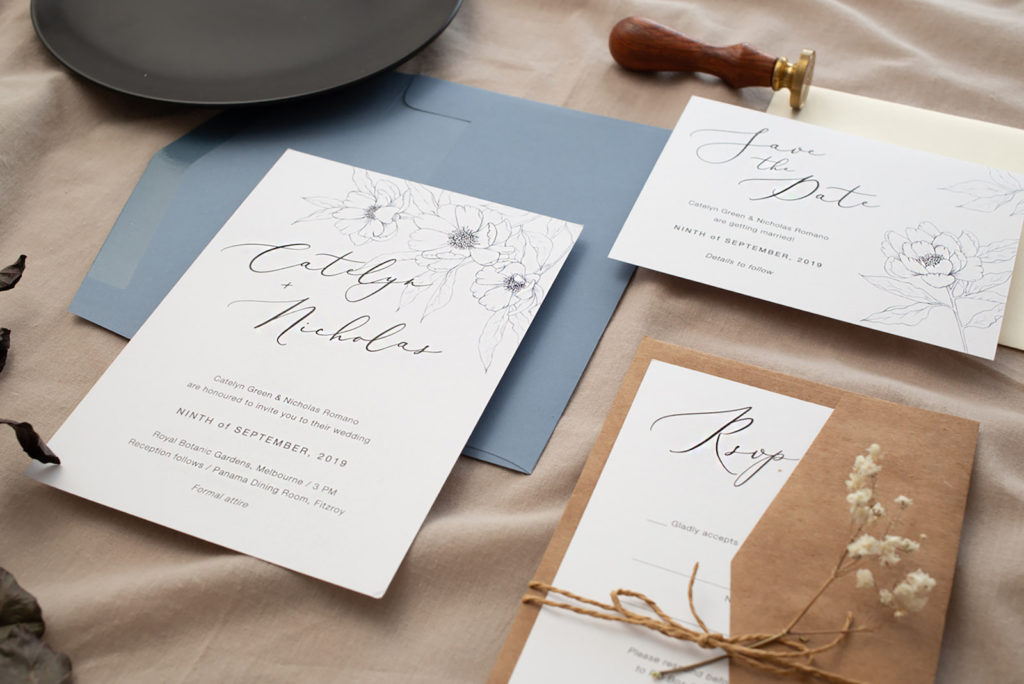 5. Paper
With an innovative and creative style, Paperlust is obsessed with all things paper. They design beautiful wedding invitation suites with modern design templates and many options for customization. Their passion for paper and weddings is obvious. Plus, their site is easy and convenient to use.

Paperlust offers many gorgeous new season wedding invitation paper options, specialty print papers for couples who want their guests to open that envelope filled with a perfect paper invite sprinkled with love and happiness, and digital for couples who want to bypass the post office. These papers come from Europe and Japan and are specially designed for letterpress printing.
White pink-colored paper comes in deep, decadent shades of blues and greens through to feminine pastel shades. The look is dramatic when white ink is used for the text, and bright and cheery splashes of color are trending this season.
The print on wood option is perfect for rustic weddings, garden weddings, park weddings, or any outdoor wedding celebration from the beach to the barnyard. The wood is thin and the digital printing adds just the right touch of elegance.
Many of the papers look like the finest handmade paper and feel like fabric. With names like linen, cotton, and vellum, you can imagine what they feel like in your hand, but you don't have to because Paperlust offers sample packs of their most popular invitations.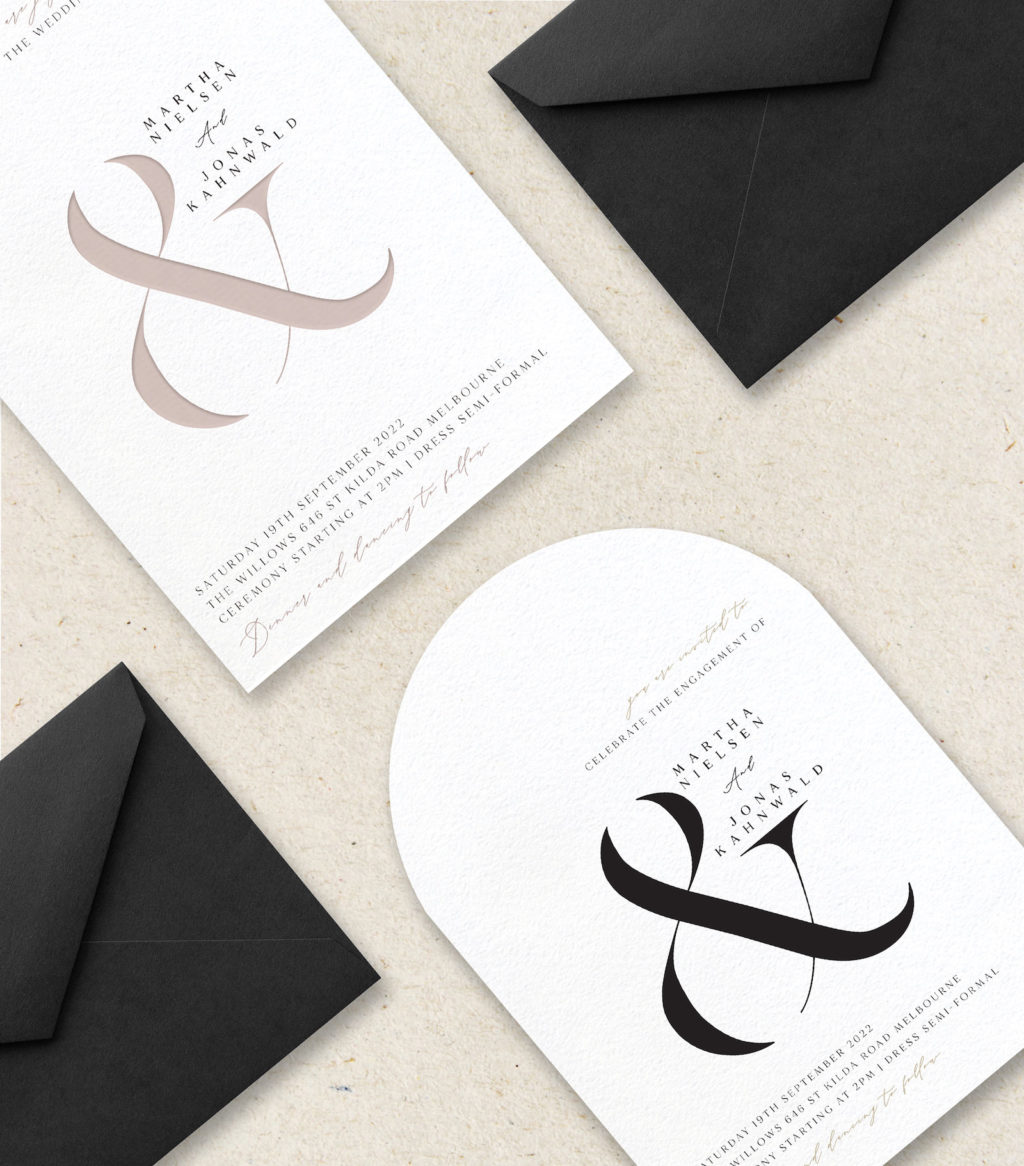 ---
---
Paperlust is an Australian-based online stationery designer with designers all over the world. They have over 650 customizable designs from an impressive 300+ independent designers. Whatever the style of your wedding, there is a designer that gets your vision. Those designers understand what the boho couple, the beach couple, and the destination wedding couple desire. From trendy to traditional to minimalistic to funky cool, the design you want can easily be a reality.
Browse their wedding invitations and sort by design formats, styles, and colors. Colors and font styles can win your heart as you gather inspiration for your invitations as can the use of intricate embellishments, which adds a level of sophisticated elegance and personalization. Paperlust offers real foil and letterpress printing as well as embossing, metallic prints, and even printing on wood.
Paperlust recently introduced die-cut shapes, including angles, arches, and half arches, perfect for the couple looking for something out-of-the-box and unexpected. When you've designed the perfect invitation, you can find matching stationery from your thank you cards to wedding day stationery such as signs and place cards. Paperlust also has a system to help couples manage their guest lists for the wedding and other wedding events like the bridal shower, bachelorette party, welcome party, and farewell brunch.

The options are limitless. You can keep it simple or go all out by creating a wedding suite that is artfully detailed and intricate. If only you could be there to share the bliss as each guest opened the invitation!