Platinum Entertainment is not just any DJ Company! We are the standard when it comes to creating unique events that are deserving of your wedding day! We don't do ordinary…we strive to create extraordinary!
From Ceremony to Reception. From 1st Dance to the last song, your day will be just that…"your day"!
Your love is unique so should your wedding!
---
---
What We Offer:
We offer a wide array of services: Fully Customizable to any event
Ceremony Performance
Cocktail Hour Performance
Reception DJ/Host
Wireless Uplighting
Intelligent Dance Floor Lighting (programmable to the sound)
Cold Sparkler Fireworks (non hazardous) – perfect for Intros, 1st Dances, & Grand Exits
Dancing On Clouds – perfect for 1st Dances (make it look like you're dancing on a cloud)
Monograms (projection & digital)
Custom Song Edits (allow us to create unique song edits) perfect for 1st Dances, Parents Dances, Intros
CO2 Cannon (portable) perfect for when the party gets going – blast the dance floor with CO2
Starry Night (project the night's sky on the venue ceiling or tent)
---
Our Wedding Style Is:
A mix of high energy, class and style.
We are there to create memories and we look for every moment to do just that.
Our Personality Is:
Honestly our personality on the day of your wedding is the same as yours.
If you want high energy and want your wedding to be a super amped party, we can do that.
Are you more reserved and believe less is more? We can do that too.
Our couples are important to us, and our job is to make them shine that day.
---
What Inspired Us to Start Our Business is:
Hello my name is Tony Mancuso. I am a DJ/Entertainer.
I have spent half my life making people happy out on a dance floor.
​I love music and I love the way music makes people feel.
You are hiring me to DJ the biggest day of your life and that is a responsibility I do not take lightly.
My Philosophy is simple…I Work For You!
MY # 1 priority is to make your event amazing from start to finish…No Exceptions!
---
We Love Being a Part of the Wedding Industry Because:
We get to be a part of the biggest day of people's lives. Our couples truly matter to us because we love, love!
We are truly passionate about what we do and it shows. And when it is all over and the final song has played, the smiles on everyone's faces is an unbelievable feeling.
---
What Makes Our Business Stand Out From Other Vendors Is:
The # 1 thing that separates us from our competitors is WE CARE!
We understand the value of DJing/Hosting your big day. We know how much time and effort you put in to it and we will match if not exceed that time and effort.
We could honestly book 2x the amount of events that we do every year, but we know that would sacrifice the quality of the end product, and we don't settle for less than extraordinary every time.
That's why we are so proud of our reviews, and the amount of referrals we get from past couples and their friends and family.
---
One Thing Most Couples Would Be Surprised to Know About Us Is:
I am not only a DJ, but a musician as well. I play guitar, and grew up played in a band in high school.
One of Our Non-Wedding Passions Is:
Outside of my passion for music, I love cooking and entertaining guests.
I LOVE sports, probably too much.
And traveling…My wife and I travel as much as we can when we both have free time together.
---
Our Pricing:
Our pricing varies from event to event, depending on the details of each event and services booked.
We offer A La Carte Pricing and Customizable Packages to fit any budget.
---
---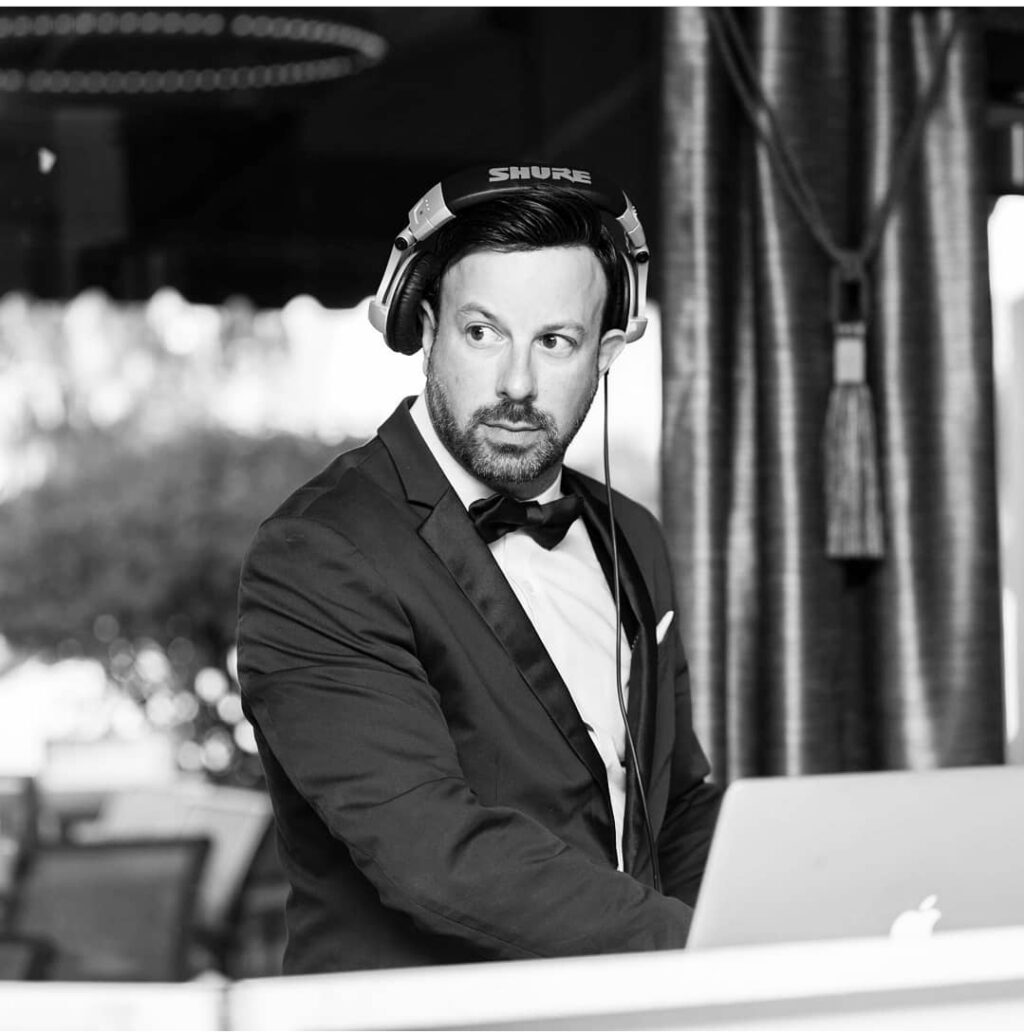 Meet Tony Mancuso
I grew up in Upstate NY, just outside of the resort town of Saratoga Springs (known for the world famous Saratoga Race Course)
I played Baseball, Soccer & Lacrosse growing up in school and originally went to college to be a lawyer.
My Father and I were always connected via music and when he started DJing events as a hobby, I quickly gravitated towards learning how to become a great DJ.
Thankfully I chose that profession, because it led me to some amazing life experiences, I have traveled to great places and actually met my wife at a Black Tie Event I DJ'd.
I am married now to my amazing wife Jessica and after living in NY our whole lives (minus traveling) we moved to the Tampa Area and live in St Petersburg. We have always loved Florida and the idea of living near the beach, so here we are.
I look forward to being a big part of this community and using my skill set and resources to do great events and be part of some amazing couple's lives and also hosting some really fun events like we did in NY.
Website
518-857-6798
---
---