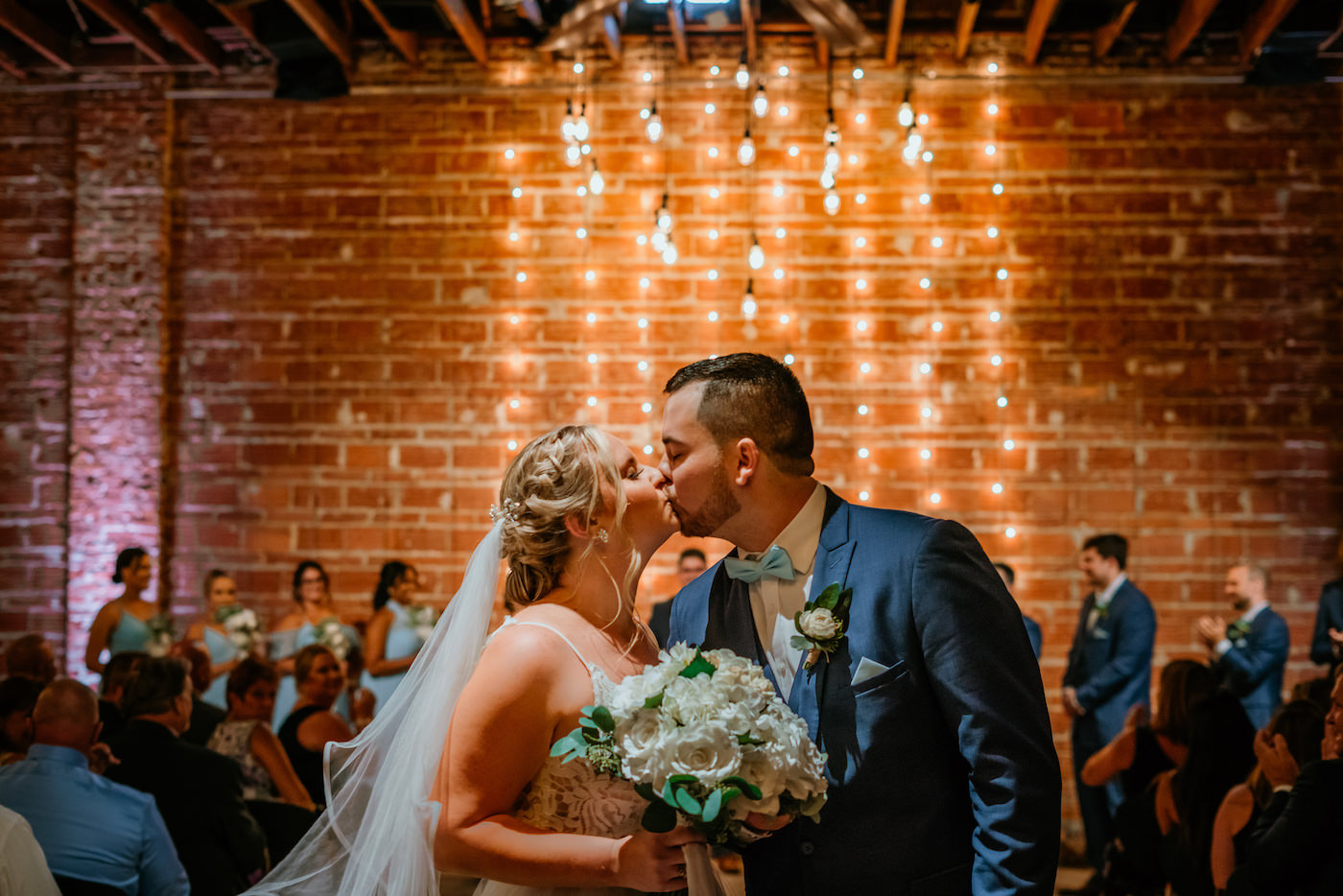 "I have always pictured our perfect wedding venue having exposed brick and unique accents, and NOVA 535 was perfect for that. I don't think there is one thing that I disliked about NOVA. From our first time visiting the venue all the way through the event, it was immaculate. The venue matched our vision perfectly. From the exposed brick walls to the historic building, to the beautiful staircases what is there not to love.The areas upstairs for the wedding party were huge and could fit us all easily, the bamboo courtyard was a magical entrance for the guest and a great cocktail hour location, but, the biggest reason we hired NOVA was the staff. From all levels, they stepped up during the planning stage and during the event. I was nervous about having our ceremony space be transitioned to the reception space during cocktail hour, but the staff was absolutely mind-blowing and allowed my vision to come to life. I would recommend NOVA 535 to any engaged couple looking to have a seamless wedding."
---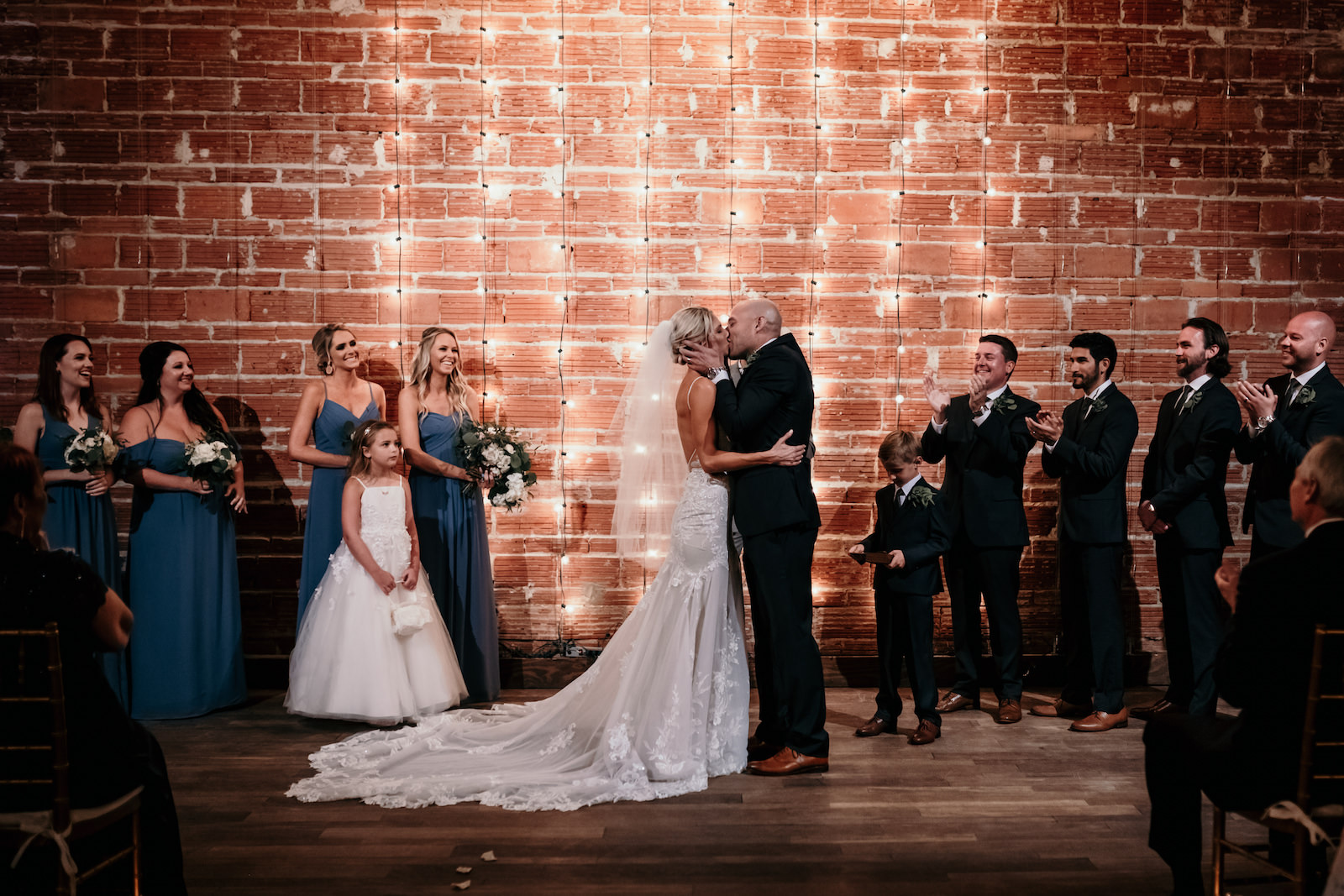 "The minute we walked into NOVA 535 we knew it was the place! It had such a great vibe! The whole staff was great from start to finish. We worked with Ruby, and she always got back to us quickly and answered any questions we had. We would, and have, recommended this place to others."
---

"Ruby, with NOVA 535, was a great asset to the planning process. The courtyard was the perfect location for our cocktail hour with the market lights and bamboo garden. The inside was exactly what I wanted with the hardwood floors and brick walls. I also loved that I was able to choose who did my catering as we did a food truck for our cocktail hour, where she served up corned beef and cabbage tacos! Then we had a different catering company to do a more traditional buffet."
---

"We fell in love with NOVA 535 the moment we walked in. It fulfilled every single hope we had for a venue. The bamboo courtyard was perfect for our theme. We especially loved the string lighting. I was head over heels for the exposed brick walls and interior decor. It was truly the perfect canvas to make our own. Ruby, our Day of Coordinator was phenomenal. The venue's staff was superb. NOVA works closely with a lot of really great vendors so that helped a ton. We connected with our caterer by way of NOVA, and they were also outstanding. I can't stress enough how perfect the day went in large part due to NOVA's staff and our vendors being top-notch. I had no stress and no worries on the day of. Everything was executed seamlessly."
---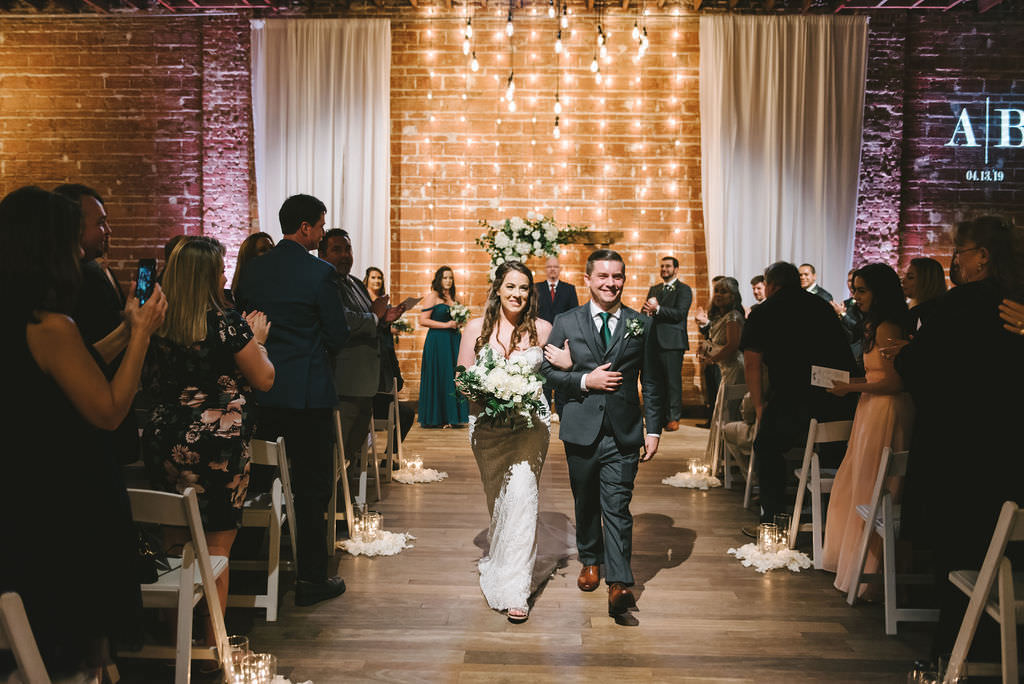 "The reason we fell in love with NOVA 535 was that the vibe of the venue was both a little rustic and also industrial, which fit both of our styles. With the gorgeous brick walls, iron staircases, and the string light garden, there was not a lot that needed to be done to the venue decor-wise. We also really liked that the venue did the liquor, DJ, security, set up/clean up, and had a day of coordinator. Incorporating all those things into one vendor made the wedding planning process much easier."
---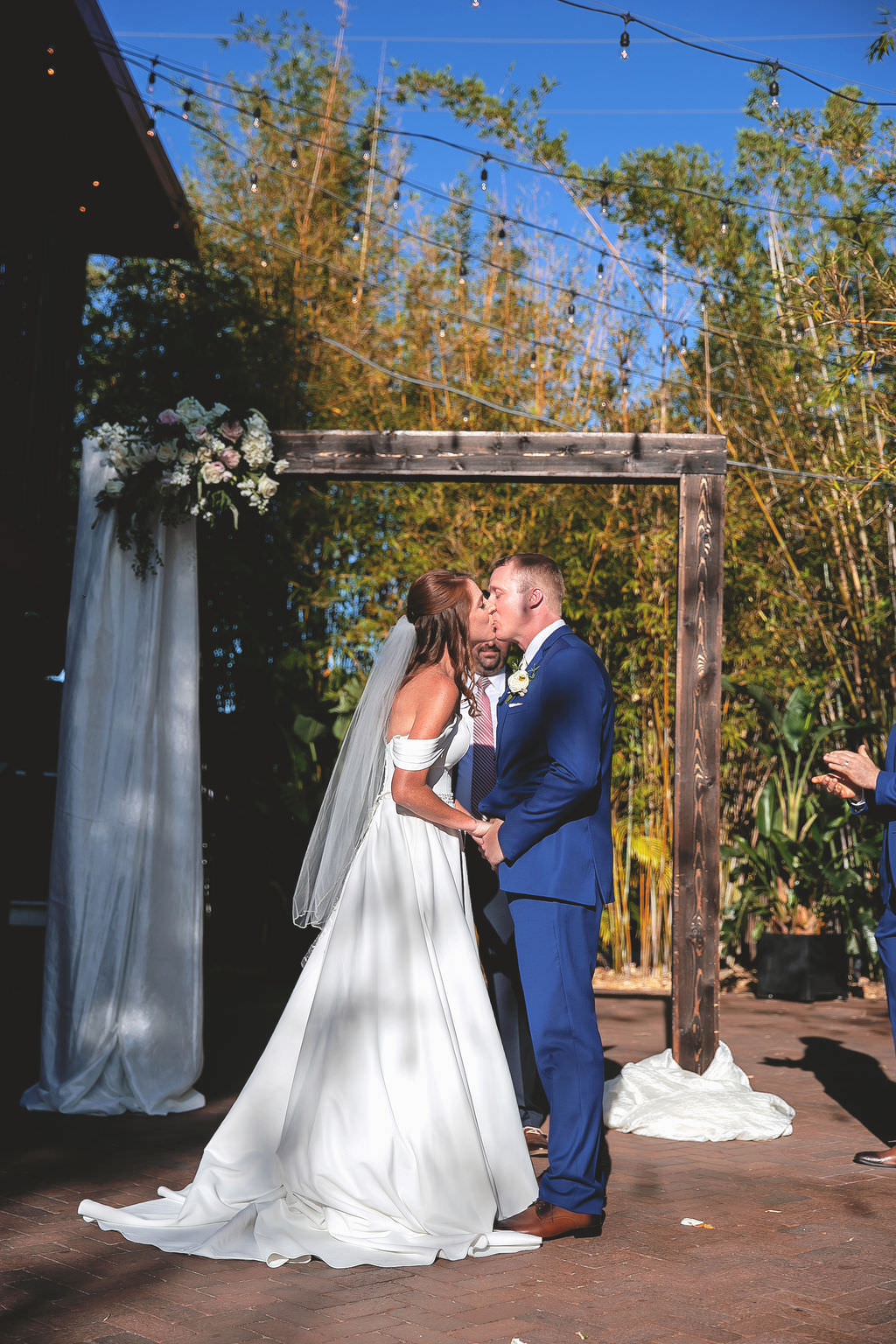 "From the bamboo covered courtyard to the exposed brick interior, we loved everything NOVA 535 had to offer. The fact that we'd have the place to ourselves and not have to worry about anyone randomly walking through was also a big plus in our books. They really had everything we needed. From a DJ to a coordinator to even bartenders, they had it covered. I'd recommend NOVA 535 to anyone looking for a gorgeous venue with a team that works tirelessly to provide a stress-free wedding planning experience!"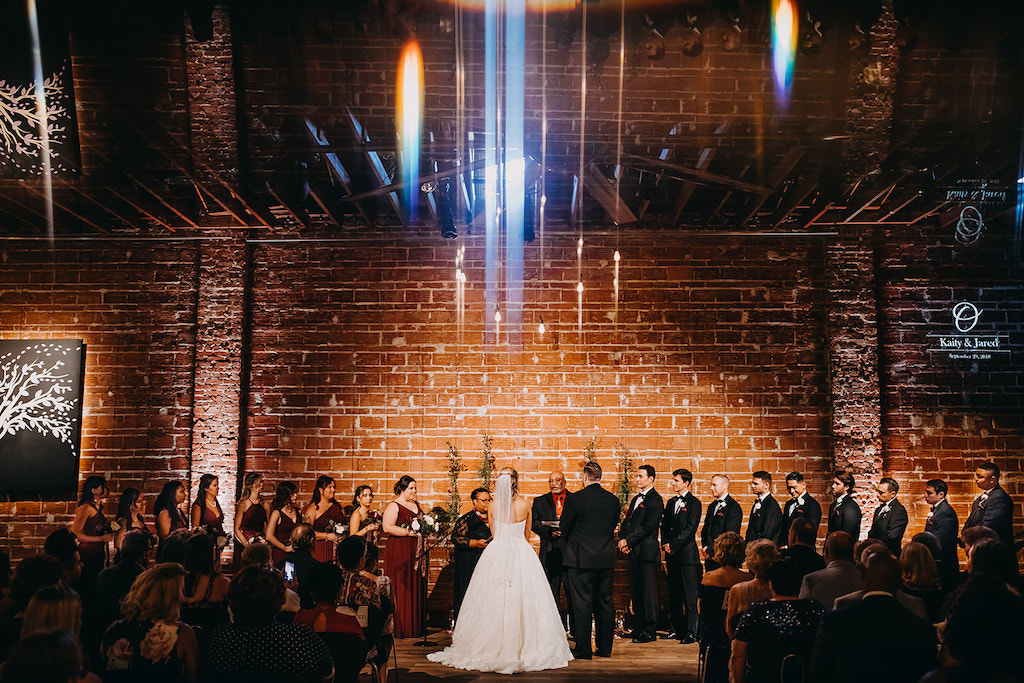 "NOVA embodied exactly what we were looking for! It was the first place we saw and fell in love instantly! The venue is so well decorated that we hardly had to add anything ourselves! The interior brick, exposed pipes and beams, and dimmed lighting was a perfect complement to our theme. The staff at NOVA was unbelievably nice and helpful. Our package included a DJ, event planner, and great recommendations. It was all practically done for us, which made it super easy. NOVA really made our night unforgettable!"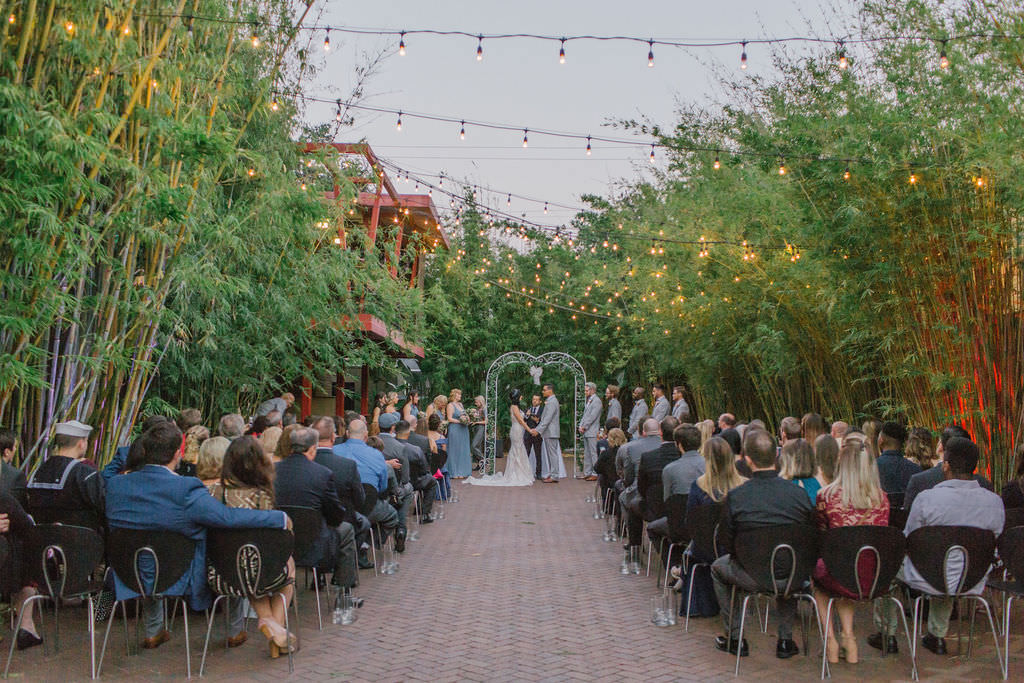 "We instantly fell in love with NOVA and immediately knew we wanted our wedding there. It was a beautiful venue with the brick, bamboo, and string lighting, and there was plenty of room."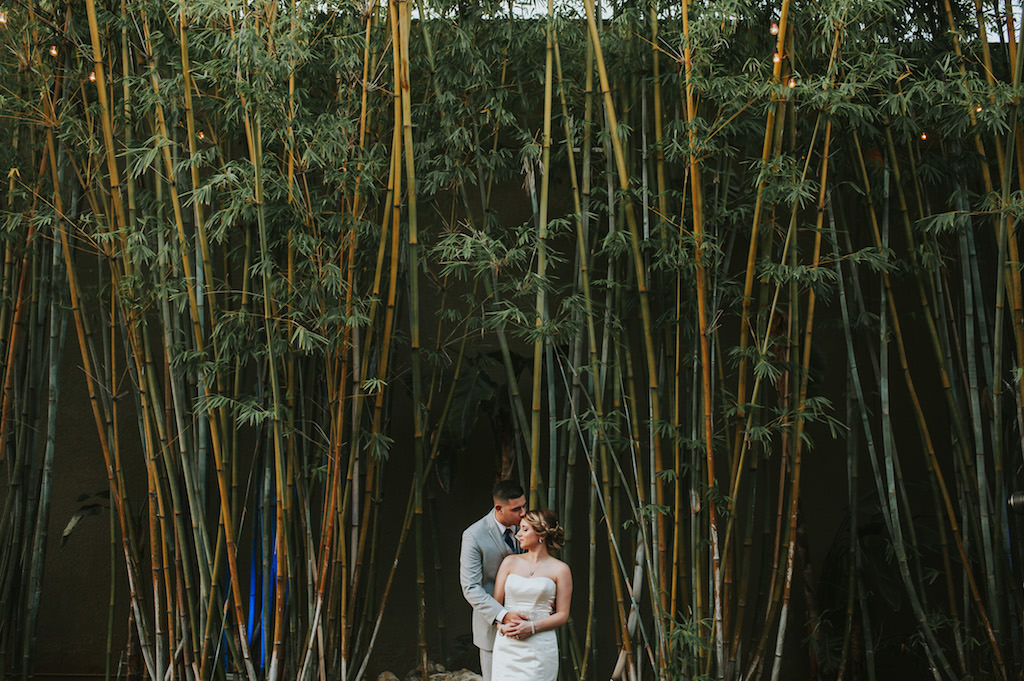 "From the moment they opened the gate to the bamboo garden, I knew NOVA 535 was the venue. With its amazing brick accents and black iron staircase, it perfectly captured my vision! NOVA 535 went above and beyond for us. When they told us everything the venue included for the price they quoted us, we almost fell over! It was amazing. They provided world-class lighting which included excellent accent lighting, an amazing event coordinator and a great DJ! Words cannot describe how grateful I was for the event coordinator, Ruby throughout the process, and everyone else who made our day extra special."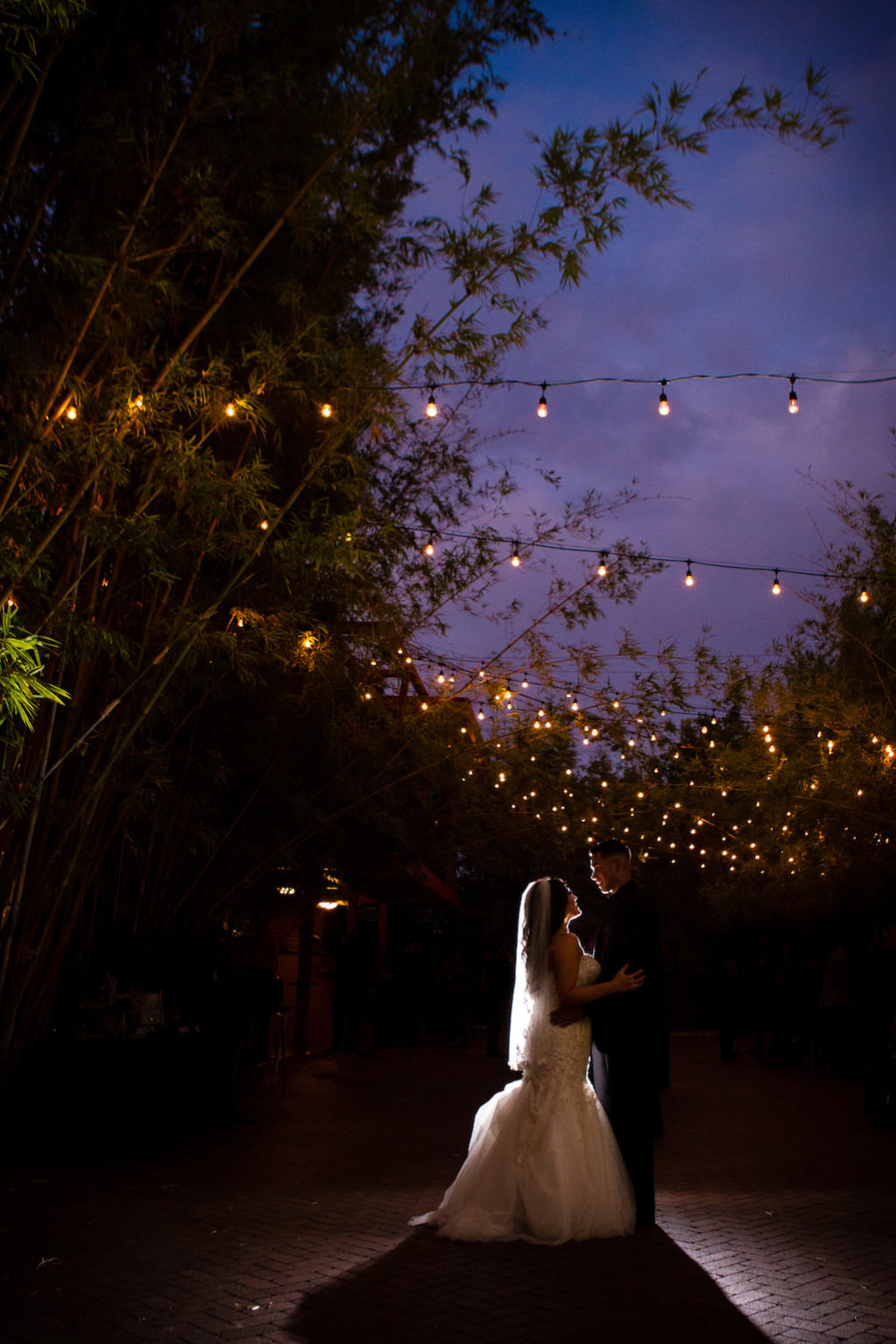 "We wanted something different. I also wanted something that was local to St. Pete and had history and character. NOVA 535 does a lot with the community, and the building is stunning inside and out. It was an easy decision. I heard from several people around the city that NOVA throws a great party. It also fit the part for our 1920's theme. When we went a checked out the venue, the entire staff was so accommodating and willing to go above and beyond to ensure every detail was perfect for our special day."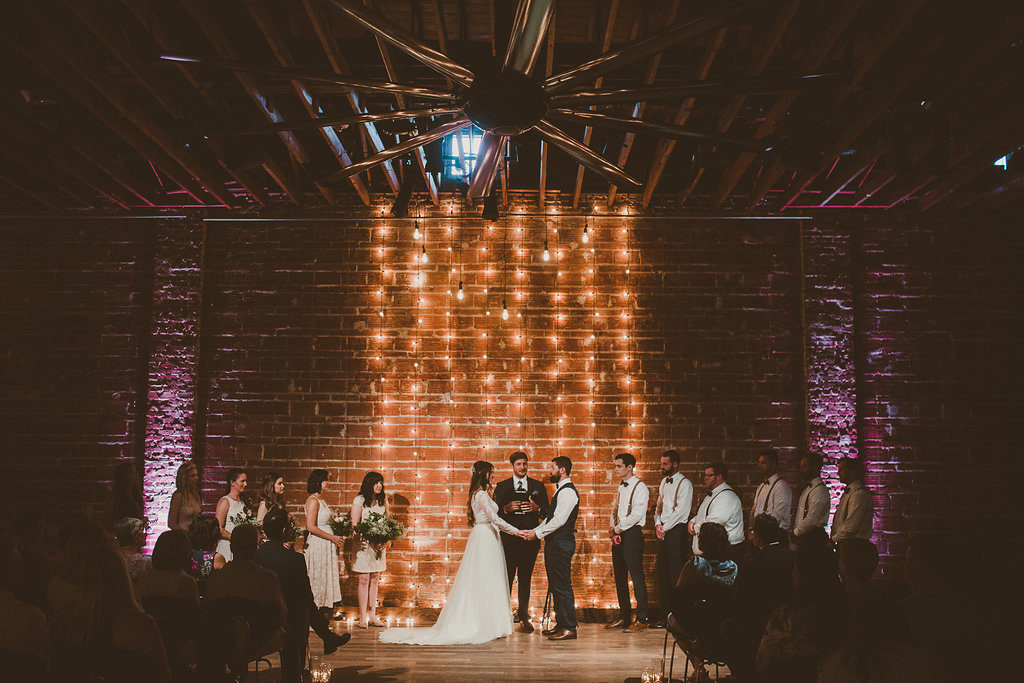 "We wanted a wedding venue that had a fun, party-like feeling and that had indoor and outdoor options. We also looked for a venue that provided tables, linens, decorations, etc. We wanted to have it all in the venue we were getting to make it easy on ourselves. I actually went to a NOVA 535 wedding a few years ago and loved it! I loved the brick walls and the cocktail hour upstairs. We wanted a fun venue where we could dance and have a good time, and NOVA definitely had enough dancing space. We also loved the service of NOVA; they provided tables, chairs, rental linens, decorations and DJ. It was so easy and simple. We didn't need to get any ventures besides the food truck. I gave the on-site planner, Ruby, the look of the flowers, etc and she made it happen."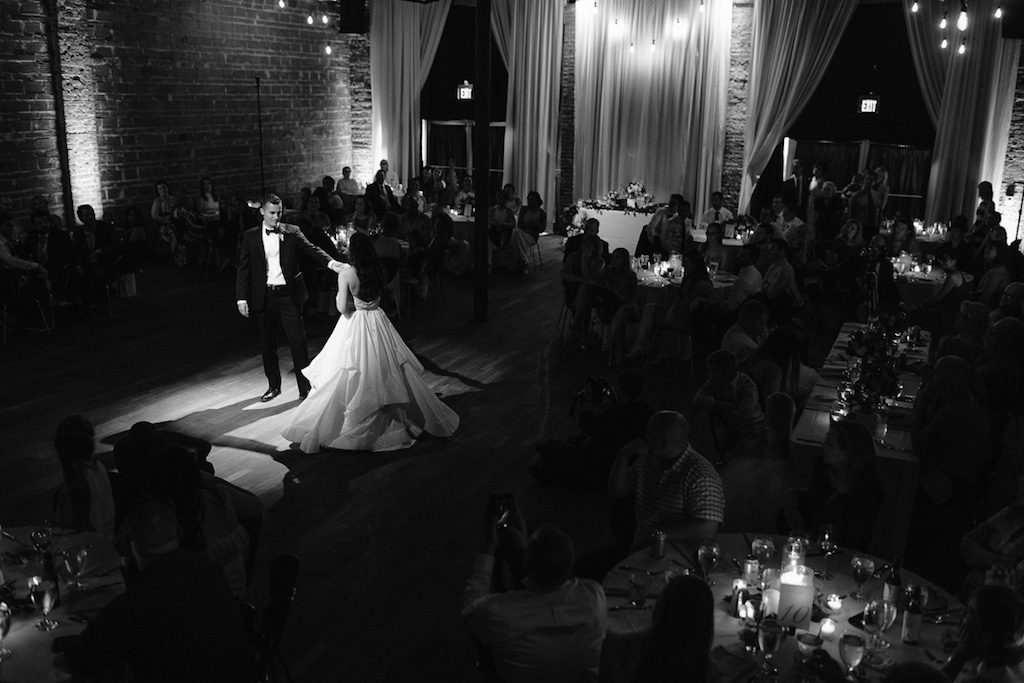 "For our reception we knew we wanted something with enough space for our guests to mingle and also something different! We loved NOVA 535 as soon as we saw it! It has so much space and they allowed us to personalize the space to make it feel like "us". The service was incredible, it was the best choice we could have made!"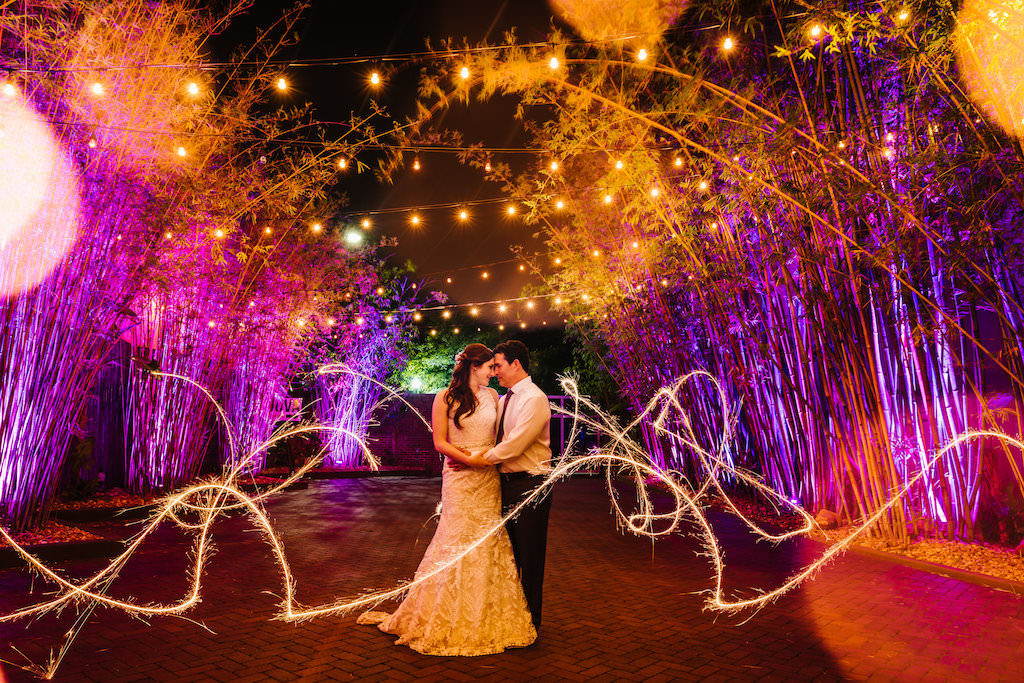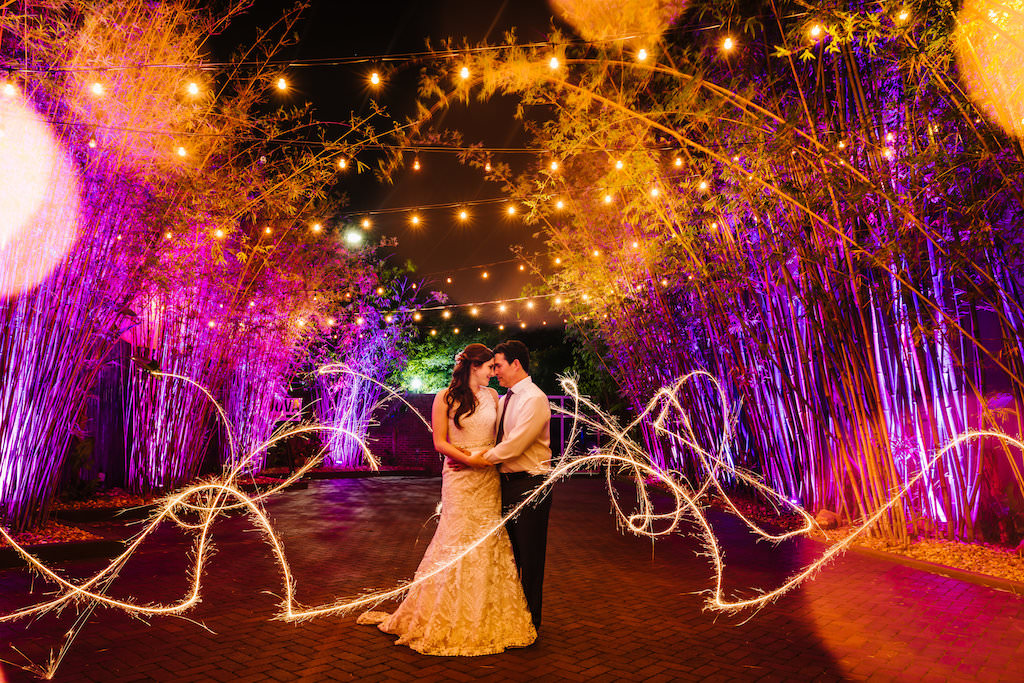 "We wanted a place to go well with our personalities. We chose NOVA 535 because of its central location and versatility. We loved the exposed brick and the interesting lighting schemes NOVA had to offer. The space was big enough to accommodate all of our guests, and the service and communication were good."
I want to learn more about weddings and events at NOVA 535.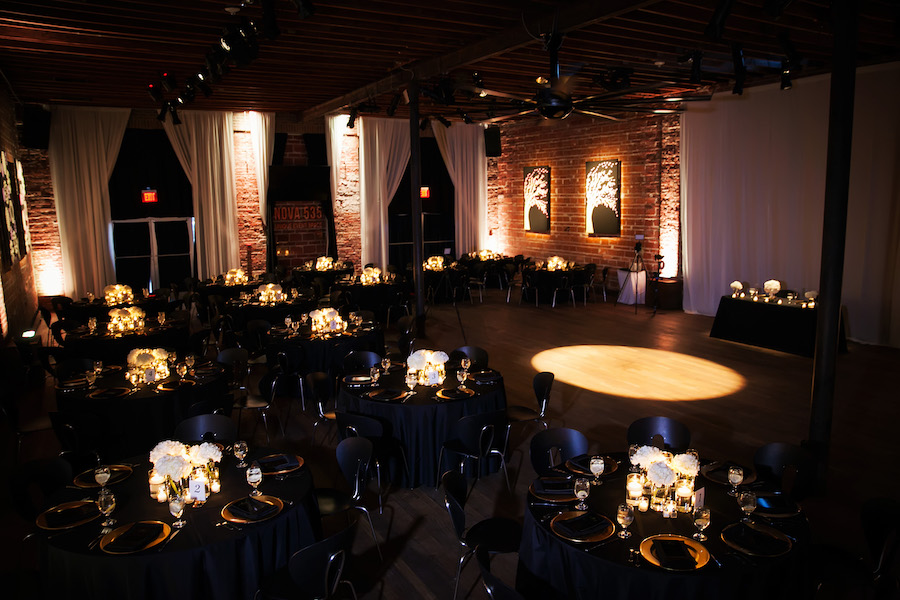 "We wanted to have a unique venue for the ceremony, cocktail hour and reception so we decided to look for places that would accomplish this. When we visited NOVA 535, saw the bamboo garden for cocktail hour and the exposed brick and wood beams inside for the reception, it was a no brainer We chose the venue because it is honestly so unique. How often do you see cocktail hours hosted in a bamboo garden? How often do you see receptions in a beautiful indoor setting with exposed brick and wood beams? Also, the fact that you could choose any licensed food vendor was a huge advantage, because other venues only let you choose from their select few."
"I was looking for somewhere that would complement my edgy, industrial chic theme. The exposed brick and high ceilings of the NOVA 535 were perfect! It is a beautiful venue that allowed the wedding to flow nicely and worked best with my industrial theme. The open space gave me the opportunity to have a gorgeous ceremony outside. Then with the inside, it was nice to have extra space upstairs to set up an additional bar and photo booth without compromising the dance floor and dinner space."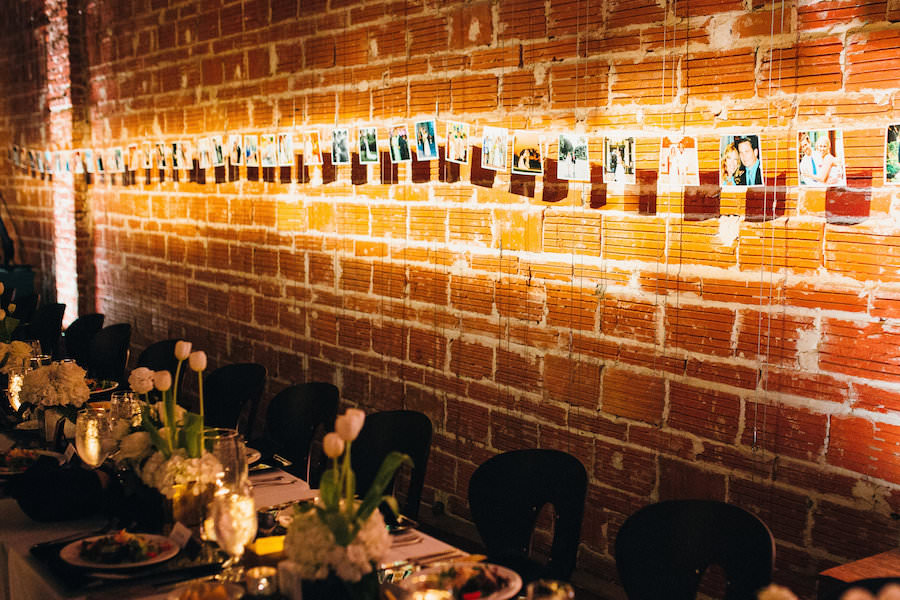 "We choose NOVA 535 because of the beautiful warehouse feel and floor-to-ceiling brick walls. We loved the bamboo garden and that it was close to downtown St. Pete. They are also experts in what they do."
I want to learn more about weddings and events at NOVA 535.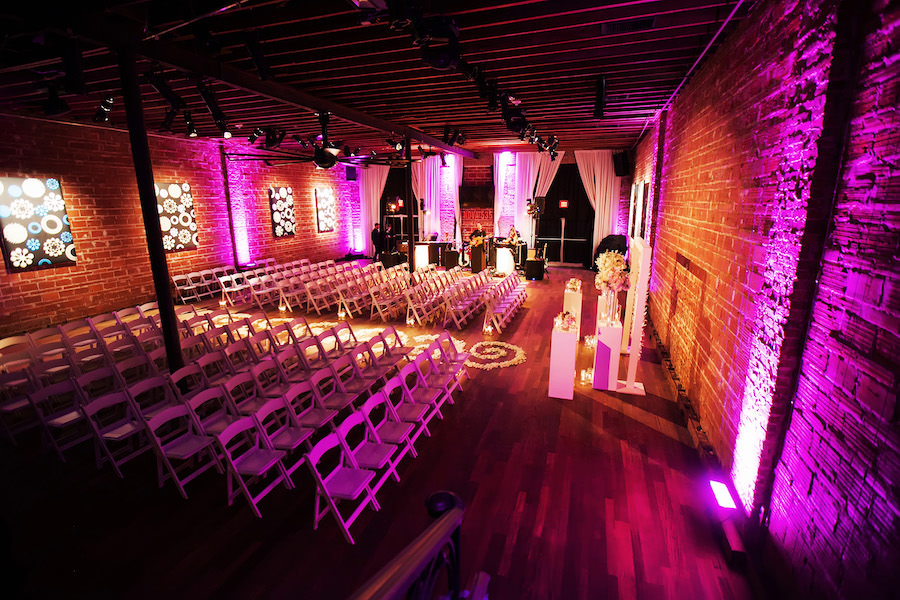 "I loved the bamboo garden at NOVA 535 and had originally wanted to hold the ceremony outside, but Hurricane Matthew caused me to move the ceremony inside. NOVA 535 was the only event space we looked at."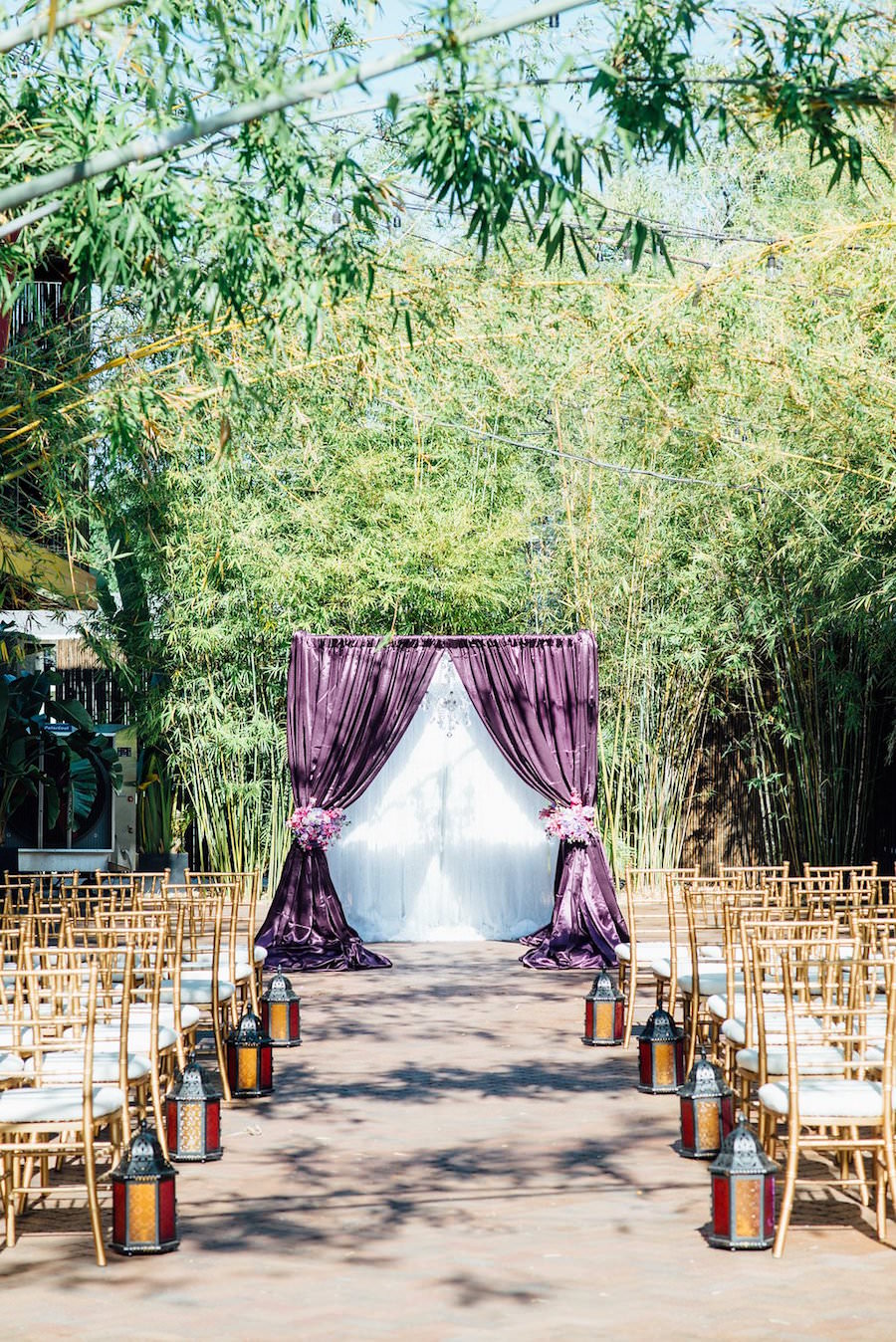 "We chose NOVA 535 because the venue was so warm and inviting during our initial visit. We also fell in love with the bamboo courtyard with all of the lights and knew it would be a perfect location for our ceremony. For the reception space, we loved the warmth of the exposed brick and wood flooring. It was the perfect venue for us. Their service was phenomenal leading up to our wedding and especially on our wedding day. I cannot say enough amazing things about NOVA 535 and the service they provided."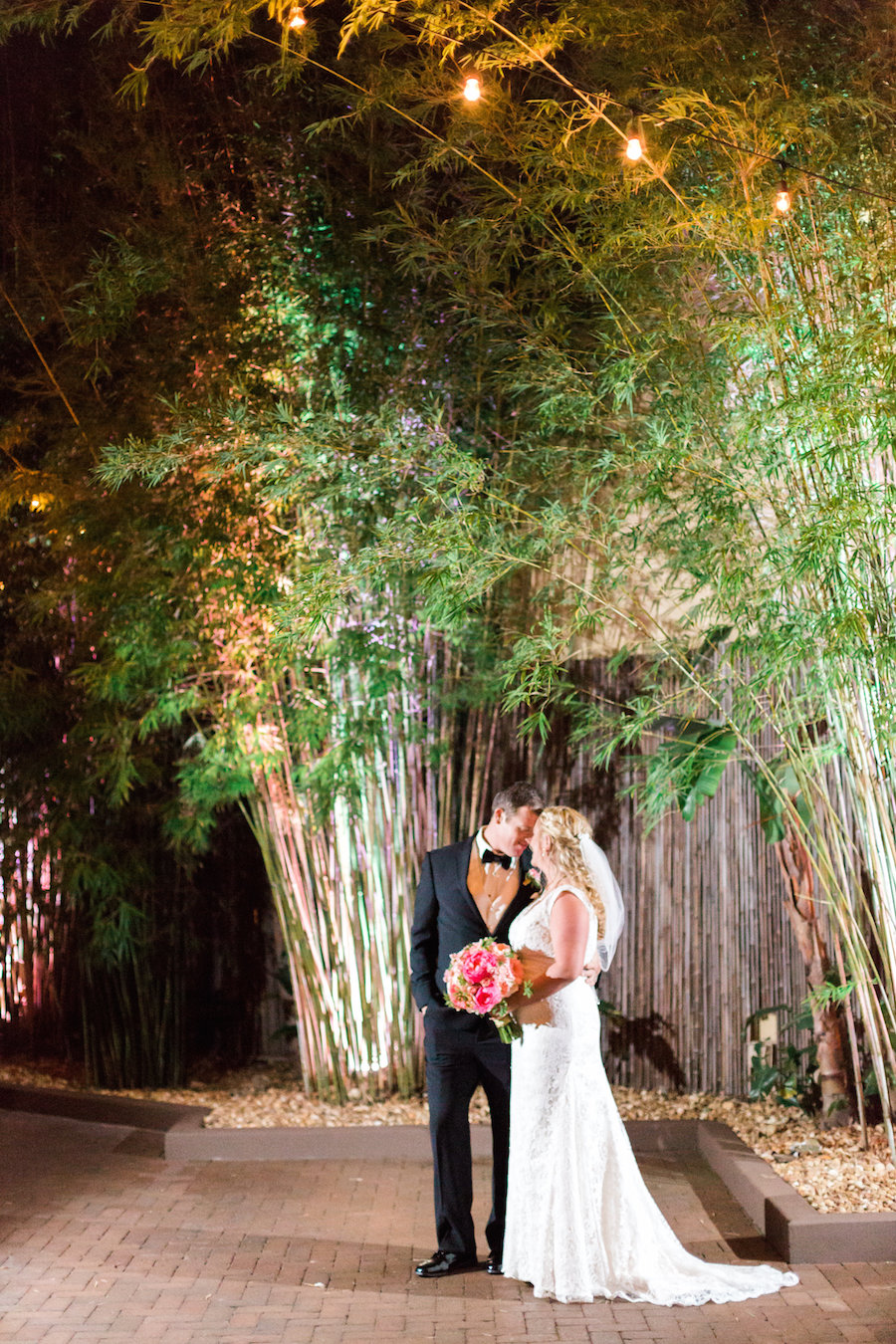 "NOVA 535 provided me with a space I could make my own. They provided the beautiful, unique interior brick walls, double staircase, two-story party space and amazing outdoor courtyard, while I was able to add all of my own decorations and floral. Guests were extremely impressed with the character of this venue. They provided great service before and during the wedding. Our coordinator Ruby was great to work with"
I want to learn more about weddings and events at NOVA 535.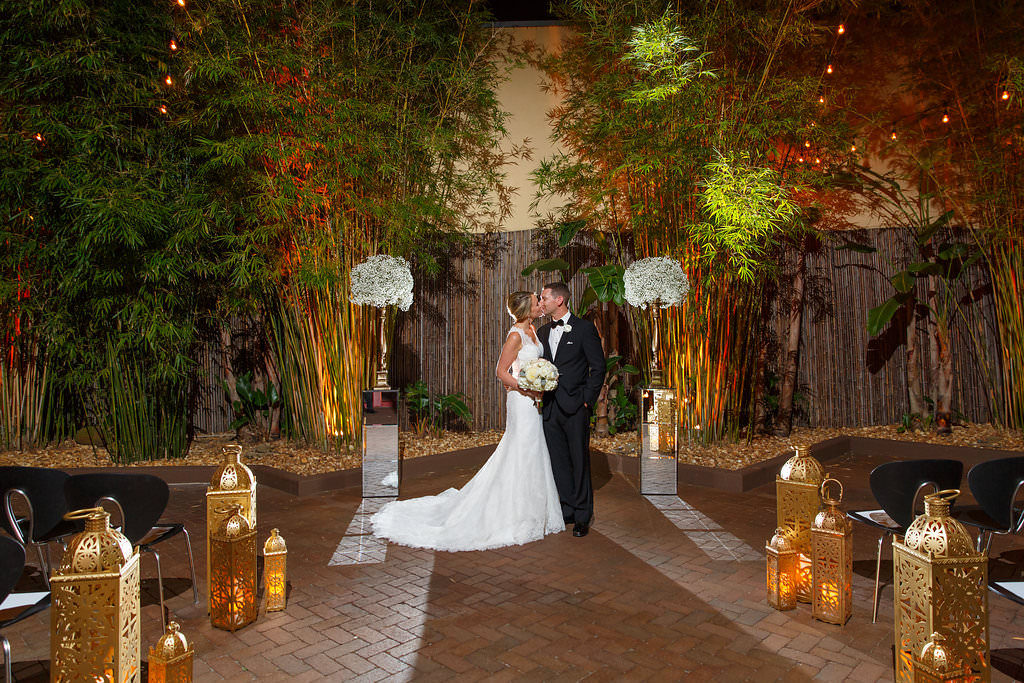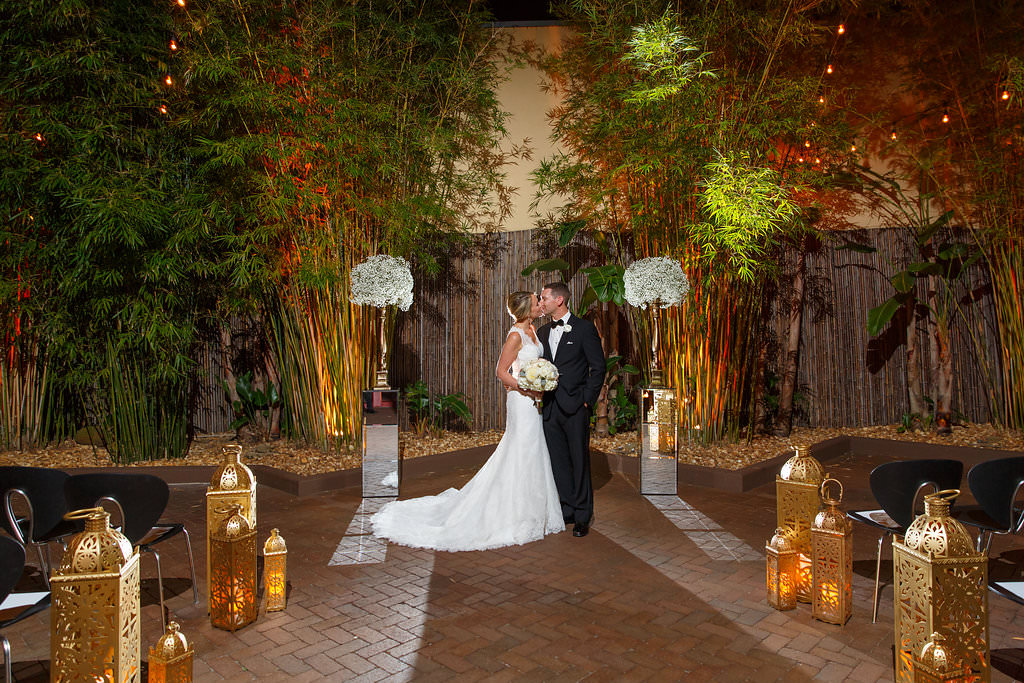 "We had been to a couple of events at NOVA 535 and remembered the exposed brick, and we both agreed that it would be a great venue specifically for a New Year's Eve party. We said if it was available, it was meant to be, and that decided it! Their service was excellent, very responsive and accommodating. NOVA 535 was great to work with. Melissa was so helpful in being there every step of the way and was always available to answer questions or help chase down information."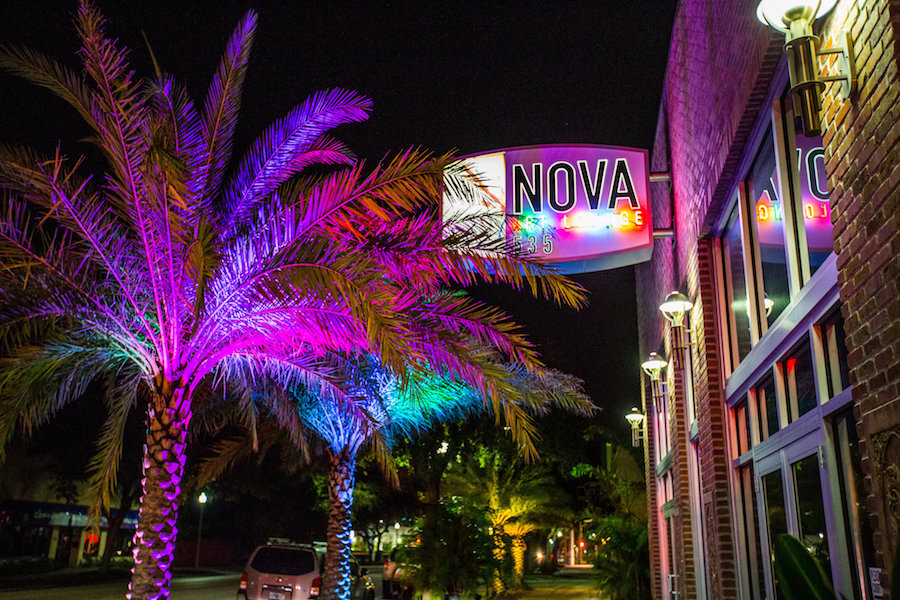 "We wanted something in or around St. Pete that wasn't too formal, and I really wanted an outside ceremony. I found NOVA 535 online and from the photos knew that I wanted to take a look there. As soon as I walked inside I said, "Take my money!" I was in love with the courtyard area with the cafe lighting for the ceremony and thought the brick walls indoor were just gorgeous. It was perfect for the vibe we wanted. They also have a package that includes alcohol, a DJ, wedding coordinator and staff to help with lighting/parking, etc. The more that I could simplify the process the better, so I loved that these were built in. We met with the owner Michael and knew it was the perfect spot. It also had tons of hotels for our guests to choose from within a couple miles from the venue so that was convenient.
NOVA 535 is awesome! I would recommended them to anyone who is looking for a venue. The staff was so incredibly kind to us throughout the whole process. You felt like they were excited for you and happy to be there at your wedding. If anything went wrong during the whole day, I wouldn't have a clue because they just took care of it. We truly got to enjoy our entire day because of their level of service. They pulled everything together and made us feel like we were the most important people on the planet. The wedding coordinator Ruby and DJ Jaey were perfection. They kept the flow and party going the whole night, yet everything was still relaxed as we wanted it."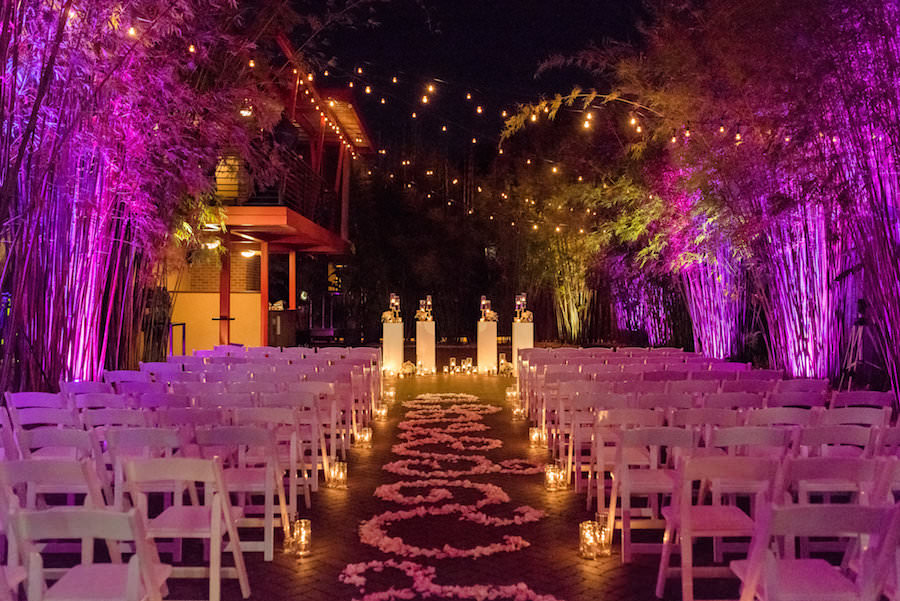 "We wanted something that was modern looking and different from some of the weddings we have been to and somewhere we could do the ceremony and reception at. NOVA 535 really fit the bill. We loved the whole space at NOVA and how well it lent itself to our wedding day timeline. Ruby, the coordinator did a great job of understanding my vision and understanding my needs."
I want to learn more about weddings and events at NOVA 535.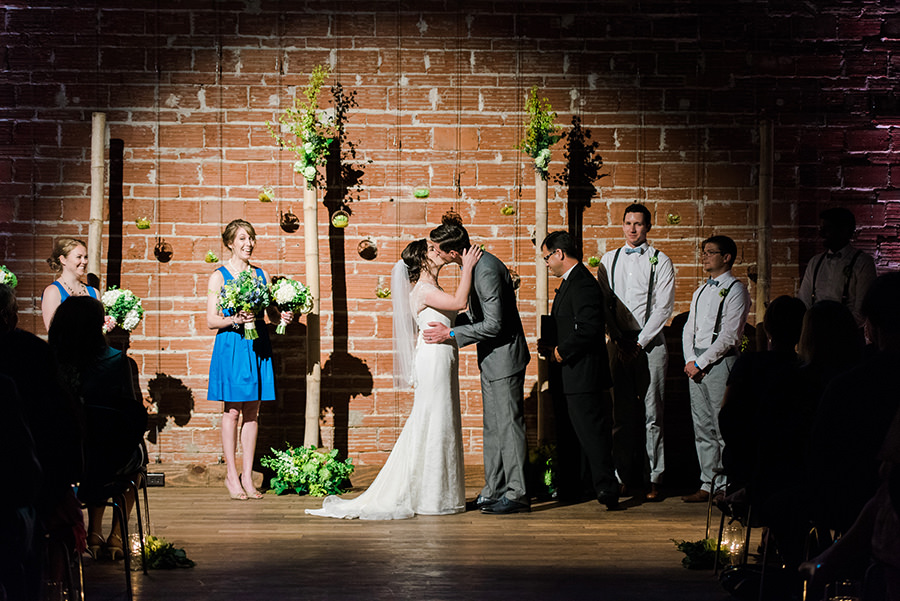 "We wanted a space where the building itself could serve as decoration and could help create the backdrop to the event. NOVA 535 was perfect. The renovated space with the exposed brick walls and the height of the venue was a big draw. The adjacent courtyard was also a plus because it was private and not a far walk to the reception. With the venue having a lot of character already built in, we built upon and took cues from what was there to create our own unique setting for our event. It was also great that there was catering and dressing rooms for us to use. The service at NOVA was great. They made sure we understood all that was going to happen and helped us make last minute changes because of the weather. Their list of vendors also gave us a great starting point."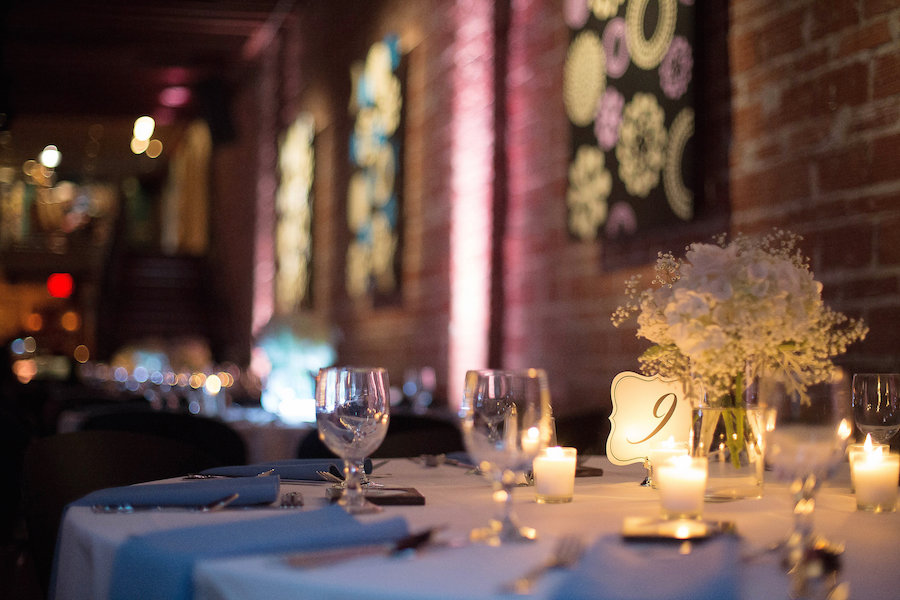 "We wanted something intimate and romantic. NOVA 535 was a complete package. The bamboo courtyard and the brick walls were exceptional! From the day that we had our tour up to our wedding day, they never disappointed us. Ruby was our day-of coordinator and she did an awesome job. All the staff members were very professional. We were so amazed about how everything turned out!"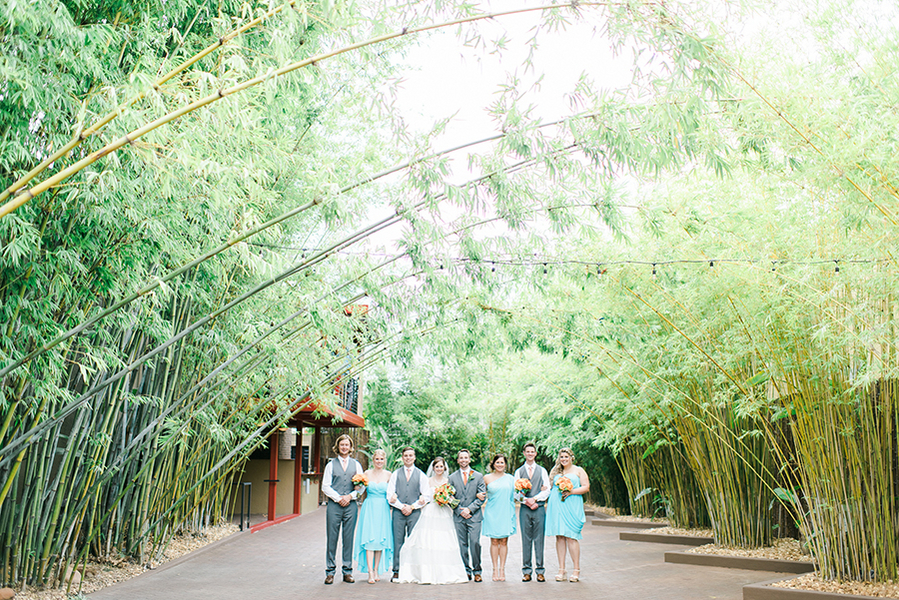 "NOVA 535 was the only place we visited for a wedding venue and soon as we stepped through the doors, we instantly knew that we HAD to get married here. The brick walls, wrought iron staircases, art work, wood floors, exposed ceiling with a huge fan, it was everything we loved and more! Everyone kept talking about how amazing this different venue site was. Michael and Ruby of NOVA 535 were absolutely amazing; they went above and beyond my expectations. They would bend over backwards to make sure that your day was perfect and you got everything you wanted for your special day."
I want to learn more about weddings and events at NOVA 535.
Check Availability and Request More Information about NOVA 535: