Sue and Chad's Siesta Key beach wedding featured vibrant hues of pinks and oranges reminiscent of a fiery sunset over the ocean horizon. Serenaded by the gentle waves of the Gulf, the bride and groom exchanged vows along the stretch of pristine sandy coastline before dancing and dining al fresco beneath a clear tent.
"Our wedding style was elegant, colorful, tropical beach. We love the beach and chose this to match the beautiful natural surroundings of Siesta Key Beach," the bride detailed. "We chose tropical, vibrant colors because our wonderful wedding planner showed a few palettes, and it was a no-brainer to complement the beach setting."
The destination bride utilized many of Marry Me Tampa Bay's preferred wedding pros, in addition to finding décor inspiration.
"Because we are new to the area, our wedding planner Lauren Gertz at MDP helped make recommendations, many of which are found on Marry Me Tampa Bay!" the bride shared. "We got wonderful inspiration for our reception, especially on our show-stopping clear top tent with greenery and market lights in the top; it was magical."
The Minneapolis couple has a second home in Siesta Key and immediately knew they wanted to host their 100 guests in the sunshine state. With the help of their seasoned wedding planning team, they navigated the planning process with ease to truly be present on the wedding day.
"We looked for a wedding planner who exemplified competence, communication, and connections, and Lauren was all that and more. I didn't know I was going to need crisis management on the day of the wedding, but when a wild teenage beach party broke out just before the ceremony, somehow, she got it all handled, and everything went off perfectly. Lauren and her experienced team at MDP Events always went above and beyond. They were able to help guide us on the big picture down to the smallest details and even navigated all kinds of twists and turns along the way so that we could enjoy the happiest day of our lives to the fullest," Sue raved. "Lauren gave great advice and referrals too; being only part-time residents, we needed her professional connections and recommendations, and they were top-notch. The best part was knowing on the day of the wedding that everything was taken care of, finding out later that she had even taken care of things we didn't know about in order to ensure the best day for our family, friends, and ourselves."
According to Sue, hosting their nuptials amongst the stunning backdrop of Florida's top beach made for a truly unique setting. The creative florists at Save The Date Florida translated her tropical chic vision through the use of bright flora and exotic foliage.
"We searched for creativity, quality, and good value for the money. My floral inspiration was colorful, tropical-inspired, and Save The Date Florida absolutely nailed it!" the bride gushed. "They also did amazing greenery on the top of our clear tent, as well as a beautiful monstera frame around the tent entrance. I saw quite a few of our guests stopping for photos there!"
With the magical setting in place and their favorite people in attendance, the bride and groom prioritized finding the ideal photography team to capture the entire celebration in a way that felt easy and natural. Amanda Zabrocki Photography's attentive approach and creative photography style put the couple at ease and gifted them with the most special gift, their wedding beautifully and artfully preserved in film.
"We wanted someone who was willing to listen to our input with the ability to direct us to know what would look good, even if the poses felt weird!  We wanted more focus on guests and family than anything else and a photography team willing to take great photos of couples, family, and friends attending that will be cherished for years. Amanda Zabrocki Photography and her team were next level; they had the perfect balance of listening to our unique requests and helping capture all the most important moments of the day," the bride beamed. "Our guests loved them and were so happy to have pictures of themselves taken too; what a great wedding treat for them! Every time I would wonder, did they get this shot? They already had it. Twice! They captured the beauty of our location perfectly, rolled with time changes with no stress, and even suggested a group photo at the reception which was amazing!"
Graingertainment's professional DJ kept everything running smoothly as the master of ceremonies while also filling the dance floor during the reception.
"We were looking for someone with great experience who would get all the key moments just right and be able to read the feel of the night and switch up the music to keep the party going. WOW, did Graingertainment ever deliver!" Sue boasted.
In lieu of just one or two traditional speeches, the couple was toasted by several of their guests. The result was a memorable and poignant tribute to their love story.
"The toasts and speeches were unforgettable. We had letters read from the family who couldn't attend, as well as a few friends who brought posterboards of texts I had sent about 'Ooh I think I really like this guy' from our early dating days," Sue recalled. "Although speeches may have gone slightly longer than predicted, they were fun, personal, and heartwarming."
---

---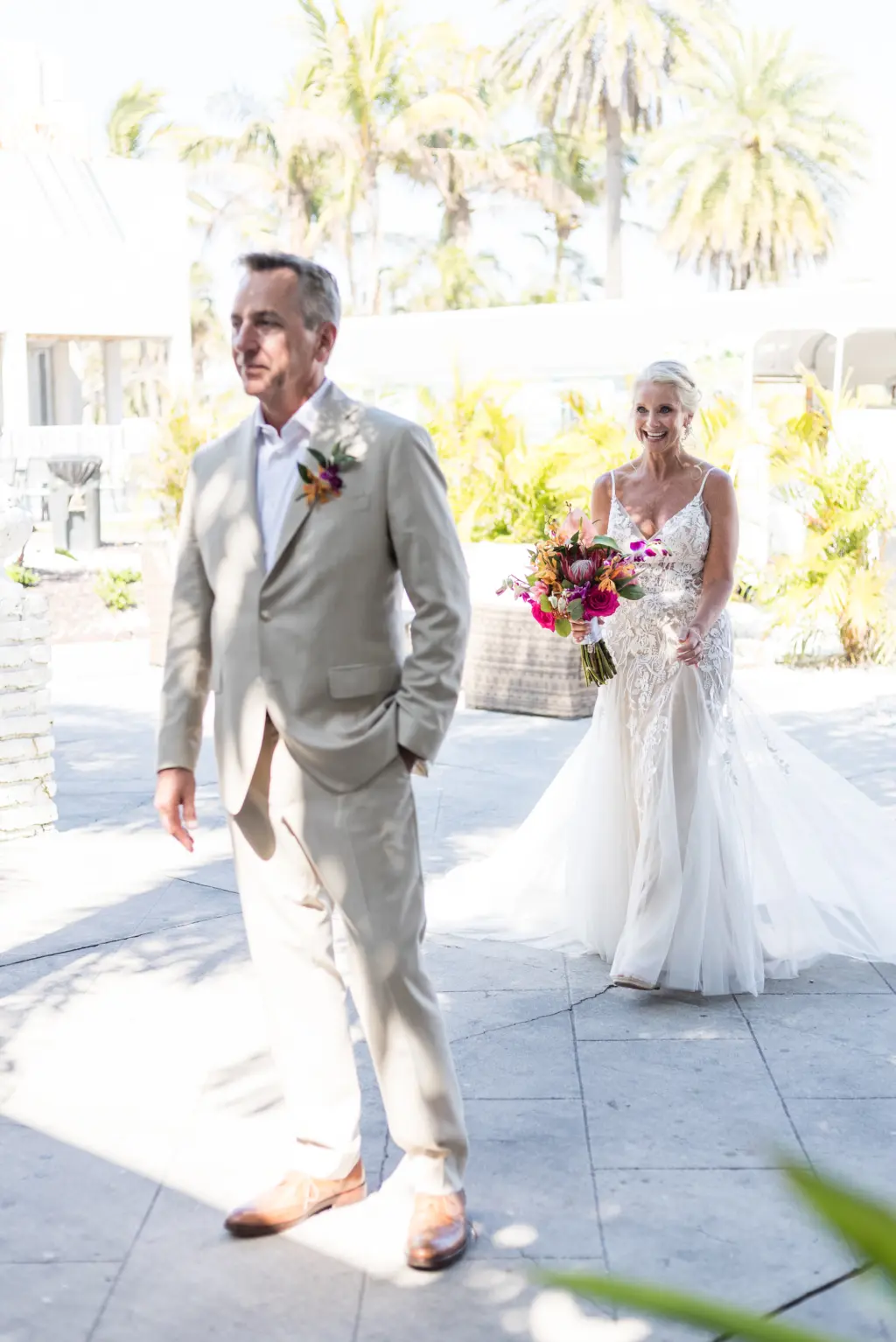 The Proposal:
Coffee in bed on a chilly Minnesota winter morning and hearing, "I want to do this with you for the rest of my life."
How would you describe your theme/wedding design inspiration?
Elegant, colorful, tropical beach. We love the beach and chose this to match the beautiful natural surroundings of Siesta Key Beach.
What were your colors?
We chose tropical, vibrant colors because our wonderful wedding planner showed a few palettes, and it was a no-brainer to complement the beach setting.
Which vendors really exceeded your expectations?
They were all amazing: Lauren at MDP Events, Amanda at Save the Date Florida, and Dylan at Graingertainment all truly exceeded our expectations, both before the wedding for planning and on the day of…they went above and beyond. They followed everything we wanted (even last-minute tweaks), made great recommendations, and offered experienced advice to keep us on track.
What advice would you give to other Tampa Bay couples?
We added a video at the last minute due to my father's illness and the inability of so many of my family unable to attend the wedding, and Tampa Film Company stepped in and not only captured the key moments but turned them around the next day so I could share with family right away. I only wish I would have done a bigger package and captured more of the entire day. It goes by fast, and you cannot be everywhere at once yourself, so consider more video!
---

---