Add a touch of nostalgia and create unforgettable memories for you and your guests with our Polaroid Fuji Film Instax camera rentals. This unique and exciting experience will elevate your wedding to a whole new level.
Why buy multiple cameras when you can rent them? Our camera rental service allows you to provide your guests with a fun and interactive way to capture candid moments throughout your special day.
Your guests can unleash their creativity and capture spontaneous moments with a single click. From the reception to the dance floor, every laughter-filled instant will be cherished forever.
With instant printing, the Polaroids can become create a guestbook filled with heartwarming photos and personalized messages from your family and friends, making it a keepsake that tells the story of your special day from their perspective.
Say goodbye to generic wedding favors and delight your guests with photo prints that double as memorable party favors. Let your guests take home a piece of the celebration and relive those joyful moments whenever they look at their pictures.
Our Fuji Film Instax cameras produce high-quality prints with vibrant colors and that iconic vintage look. Your guests will love the instant gratification of a physical photo to hold in their hands.
That's why our rental process is designed to be easy and convenient. Simply choose the number of cameras, film packs, and rental duration that suits your needs, and leave the rest to us. We'll handle the logistics so you can focus on creating lifelong memories.
---
What Type of Cameras Do You Offer?
FujiFilm Instax Mini11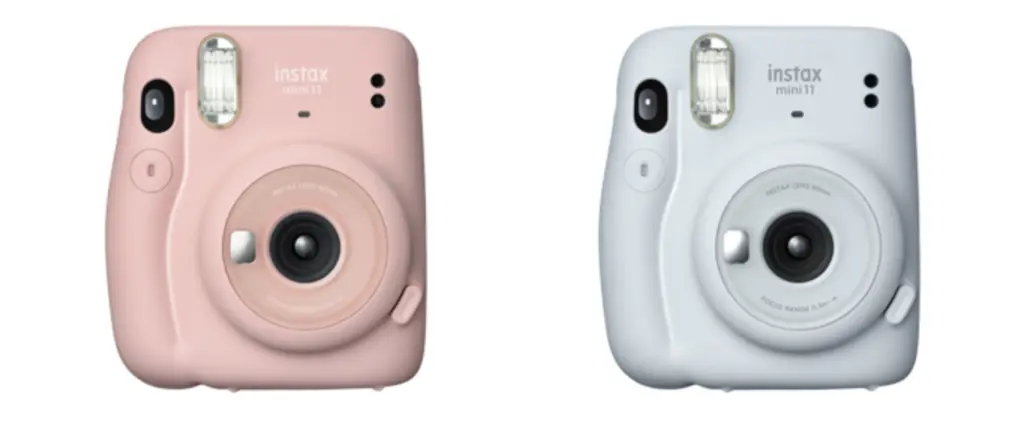 (Available in blush pink or white)
We selected this camera because the mini 11 captures bright backgrounds and bright subjects even in dark scenes, making it the perfect choice for a reception, and it has a special lens for selfie mode.
---
---
How Much Does it Cost to Rent?
1-3 Cameras + Film: $65 each
4-7 Cameras + Film: $55 each
8-10 Cameras+ Film: $45 each
Additional Film: $80 for 100 film sheets
Includes 20 film sheets per camera
Price includes rental insurance for accidental damage and free shipping
---
When Will I Receive and Send Back My Cameras?
We ship (or you can pickup locally in Tampa) so that your cameras arrive 48 hours before your event. We can also ship them directly to your wedding planner.
To return your cameras, we include a return shipping label. Just use the same box and packing they came in and drop them off at UPS the next business day after your event.
---
How Long Can I Keep the Cameras?
Your cameras need to be shipped the next business day after your event, or you will be billed a $15 per day/per camera charge.
For example, if your event is on Saturday, your cameras will arrive Thursday (to give two extra days for any shipping delays). They must be shipped the next business day, in this case, Monday, so technically, you could use the cameras your entire wedding weekend!
---
What is Included with the Cameras?
Each camera includes 20 film sheets, batteries, and a wrist strap.
We include one camera instruction manual per shipment.
---
Can I Purchase My Own Film?
Yes! If you need additional film, you can add 100 sheets for $80 (1 sheet = 1 picture), or you can purchase your own.
You can use any version of Instax Mini film; however, Instax Square, Instax Wide, or Polaroid brand are not compatible.
---
How Do I Reserve My Date?
Complete the form below.
We'll reply within 48 hours if you're date is available.
A 25% retainer is required, with the remainder due 30 days before your event date.
---
What is Your Cancellation Policy?
90 days before your event date: Your retainer is refundable minus an 8% administrative fee
45 days before your event date: Your retainer is refundable minus a 20% administrative fee
Fewer than 30 days before your event date: Your retainer is refundable minus a 30% administrative fee
---