This post is sponsored by Spa Evangeline. 
Taking a timeout for yourself during the Tampa Bay wedding planning process is key. It's a marathon, not a race!
All of the free time you used to have will be devoted to researching wedding vendors, making appointments and discussing important decisions with your soon-to-be husband.
This added stress can cause you to not only feel run down, but also affect your skin. I rarely get blemishes, but got a huge zit the week of my wedding. (Thank God for makeup artists!)
I had visited the Epicurean hotel multiple times and was blow away by their level of service, as well as by the culinary experience at the Elevage restaurant, so I was ecstatic to receive an invitation from Spa Evangeline to experience their services.
While I have a fairly consistent beauty routine of massages, facials and mani/pedis, rarely does it consist of a true spa day. With my busy schedule, I usually just rush in a few minutes before my appointment, then leave directly after.
However, the South Tampa spa has created a relaxing environment that encourages you to be in the moment and shut off your interior noise.
Upon arrival, I entered their changing room, complete with a shower, robe and slippers. I loved cleaning my hands with their complimentary sea salt scrubs.
From there I began to unwind on one of the couches in relaxation room. While there are light snacks and fruit infused water, you can also order off of the restaurant menu and have it delivered to the spa. I highly recommend to come in at least 15-30 minutes before your appointment to relax and prepare yourself for the experiences to come!
I melted away during the "Grape Affair," which included a 60-minute massage, foot exfoliation and facial mask. What I loved about this spa treatment was that with the variety of services, it felt much longer than an hour. It was truly a full body indulgence!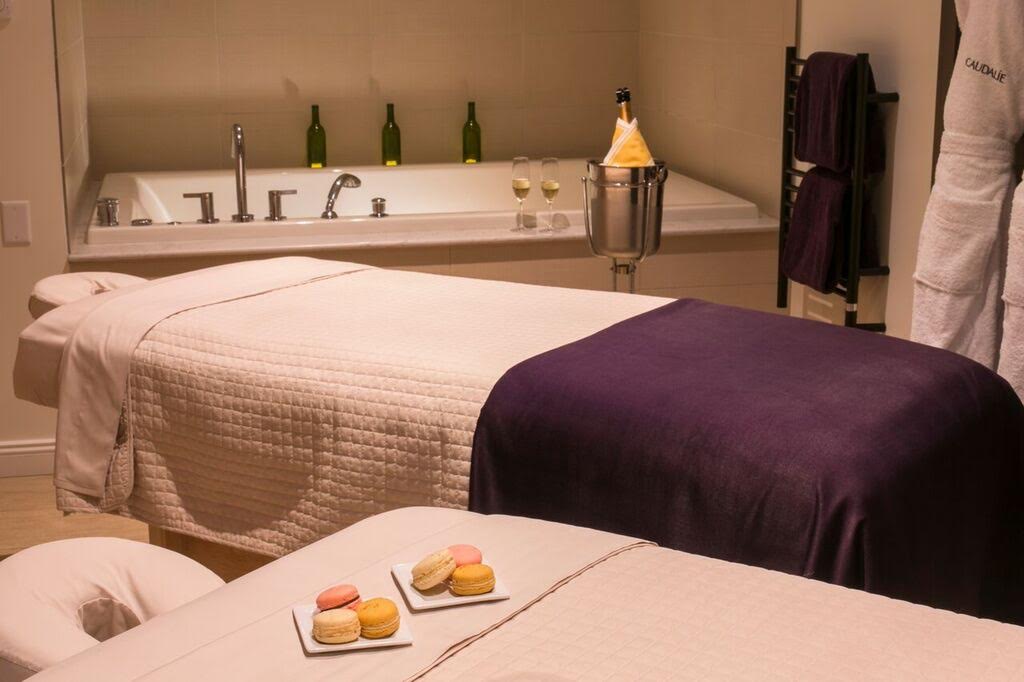 After my massage, I was escorted back to the relaxation room, where I enjoyed a glass of champagne and took a little cat nap. I was so calm and stress-free, I could have just sat in that room all day!
The manicures and pedicures take place in "the cellar." It's not a windowless basement, but is a bright and airy room with an entire wall made of wine corks, 20,000 to be exact.
My "Hemmingway" pedicure was almost as delicious as it was indulging. As a nod to the restaurant's penchant for fresh and local foods, the foot treatment included a brown sugar, rum and herb elixir, pineapple and honey mixture and Eco-Fin lotion with sweet cream and agave nectar. With every application I asked about all of the ingredients because they smelled so amazing!
I was also introduced to Vinylux, a weeklong nail polish that is applied with two coats, no UV lamp required.
One of the spa's defining characteristics is it's food-centric treatments and high quality, plant inspired products such as Caudalie vinotherapies and FarmHouse Fresh. I went home with the Caudalie Divine oil and candle, which are some of the best smelling products I've ever owned!
Are you ready to treat yourself to an unforgettable spa day? Mention Marry Me Tampa Bay to receive a complimentary add-on service when you book a 60-minute treatment. View additional Spa Evangeline's specials.