Getting engaged is one of the most exciting times in your life. Though, with the celebration comes big responsibility. Your wedding day is a milestone and one of the most memorable days of your life.
The first set of decisions you make over the next few weeks will set the tone of your wedding: budget, venue, date, etc., However, now more than ever, these choices are more important than before as wedding venues and vendors are booked solid. Several of our preferred venues and vendors have limited Saturday availability for the entire year and are starting to fill up their Spring 2024 dates.
Currently, we're experiencing engagement season, as a majority of proposals happen between the holidays and Valentine's Day, so you're "competing" with lots of other couples for your one coveted date. However, if you're open to a non-Saturday date, you'll open yourself up to several more options.
---
1. Enjoy the Excitement
"Enjoy your engagement. Don't rush right into planning. Throw some type of engagement party to kick off the festivities. This could be anything from a formal party to a casual gathering at a local bar. Make sure you only invite those you would also invite to the wedding. If family members haven't met before, this is a great opportunity to introduce people." – Karen Cerboni, owner of EventFull Weddings
"The first thing couples should do after they are engaged is to look for a premarital counselor. I can't stress the importance of having those harder conversations at the beginning enough! The engagement is such an exciting time, but I want each bride that we come in contact with to have a long and successful marriage! Take the time to nourish your relationship in the midst of wedding planning chaos!" -Lela Haas, owner of Truly Forever Bridal
"This engagement season is what you have been dreaming of your whole life, so enjoy every moment! As you start to wedding plan think of ways you can really enjoy this special time. For example, when you are starting to tour different venues, make a whole day of it by also going out to dinner or grabbing drinks. The wedding planning process can feel overwhelming at times, so make it fun!" -Limelight Photography
"Do yourself a huge favor and resist the urge to immediately update your relationship status and post photos all over social media. It'll be just as exciting for everyone tomorrow! Take five minutes, call those closest to you, and tell them first. You'd be surprised how often we hear about hurt feelings of parents, siblings, and close family because they found out about a couple's engagement on social media!" -Tammy Waterman, owner of Special Moments Event Planning
"Enjoy your engagement! Contrary to popular belief, you don't have to jump head-first into planning your wedding the moment you've said 'Yes!' You are more than allowed to take your time and enjoy this special point in your relationship. A lot of people only see the leap from boyfriend/girlfriend to husband/wife, but the in-between period can be just as amazing. If you do start right away with planning your nuptials, remember to stop every now and then and remember what it's all for. Be sure to keep making special moments with your loved one so that you can reflect upon your engagement with good memories." -Melanie Eubanks, owner of Lemon Drops Weddings & Events
"Enjoy being engaged. This season of your relationship will go by so quickly, and it can easily be consumed with wedding planning. Continue to date one another, building your relationship even deeper. You're preparing for a healthy marriage, and that foundation isn't built overnight. Remember to prioritize your significant other's feelings over the hurred 'check-list' of the wedding. You'll be glad you did once the wedding is over and the marriage begins." -Stacy Boyce, owner of Garry & Stacy Photography Co.
"Do not plan your wedding right away. Enjoy the moment. It's cool to be the fiancé for a while. Travel together. You may be inspired to have a destination wedding." -Rich Kenny, owner of Tampa Event DJs
---
2. Envision What You Want Your Day to be Like
"After you have had a chance to enjoy being engaged and have told your family and friends, start discussing what each of you wants when it comes to your wedding day. Discuss what you each envision for your wedding and what is most important to you both. Being on the same page will help the planning process go much smoother." – Amber McWhorter, owner of Amber McWhorter Photography
"Before you start to plan your wedding, it is imperative that you envision what you want your special day to be like. Three important pillars that will help you do this are style, size, and budget. Think about how big you want your wedding to be, what the overall style is, and how much you are willing to spend. These three pillars will help you choose your wedding venue and vendors." -Limelight Photography
"Give yourself time to think about what you want your wedding to be like. Do you want a big or small, formal or casual, spring or winter wedding etc." – Karen Cerboni, EventFull Weddings
"Dating is getting to know each other, but we'd bet that you never talked about the size, style, or budget of hosting a wedding. Once the two of you are on the same page, which may take more than one conversation and a little compromise, have some conversations with your parents about their thoughts. Then come up with a rough budget, ideas about the date or season for the wedding, and how big of a wedding you might want. This is important to know when you start looking for wedding venues." -Tammy Waterman, owner of Special Moments Event Planning
"In the age of social media and Pinterest boards, weddings have taken a life of their own. Before making a single decision on venues and guest lists, make sure you both agree on what you envision your day to look like. Ask yourself questions like, 'Do you want a large wedding?' 'Do you want an outdoor wedding?' 'Do you want a springtime beach wedding or a fall garden wedding?' All of these questions are important to ask yourself in order to ensure that you both agree on what you would like your day to look like, and then you are both on the same page at the very beginning of the planning process." -Jessie Soplinksi, wedding planner with Breezin' Weddings
"Make a list of everything you want for your wedding, from rentals, florals, catering, entertainment, and all things that make the day happen. Once you make a list, prioritize what is really important to you. Is the delicious food, pretty pictures, or upgraded rentals important to you? Be sure to really think about it and find vendors that understand your feelings on these priorities. Angel Hubaykah, Gabro Event Services
"Make a list of things you want and don't want at your wedding and put them in order of importance. This will help prioritize your wedding budget and vendors. Remember that this is YOUR day. Do not let your fourth cousin's best friend's sister insert their opinion on you and sway your wants. Trust me, they will totally do that, and it's not cool. Stick to what you want." -Amanda Biery, owner of The Olive Tree Weddings
"Discuss with your partner about what kind of wedding you each would like and the pros and cons of your options. Are you looking to elope as quickly as possible, or are you expecting to be engaged for three years to allow time to plan a three-day wedding event? The expectations of your partner may differ from yours so it's important to figure out things you both want and things you each are willing to compromise on." –Melanie Eubanks, owner Lemon Drops Weddings & Events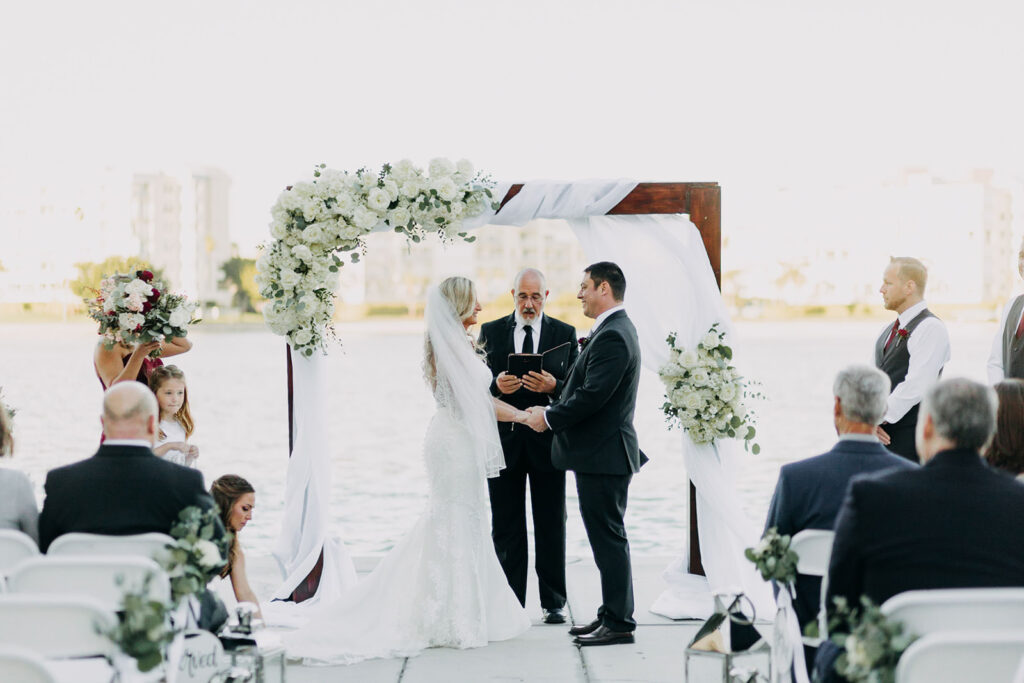 Burgundy and Silver Winter-Inspired Wedding | Amber McWhorter Photography | Special Moments Event Planning
3. Set a Budget
"My top advice is when it comes time to start thinking about planning a wedding, I always use the acronym BGT: budget, guests, time-frame. Determining each of these in this order will help narrow down the options for each one, locking in a wedding date, and so many other wedding details! -Danyle Longenecker, Elegant Affairs by Design
"Budgets are the absolute most important document next to the marriage license. Be realistic about your number and what you are comfortable spending. Your initial budget and guest count will be the two driving factors in the next step, selecting a venue. Once the budget and guest count are established, we highly suggest hiring a wedding planner to assist you! They will help with selecting a venue that best aligns with your budget, guest count, and vision. Your planner will be able to help you allocate your money appropriately so that you're getting the most for your budget. Your planner will know industry standards and how they play into each piece of the budget. It is so easy to get overwhelmed and just spend, but your planner is instrumental in keeping that bottom line intact and still giving you the best quality for your budget. They will also help guide you through the remainder of the planning process, keeping you within budget and on track with the remaining vendor selections. This will provide an overall stress-free planning process with extensive experience and knowledge available every step of the way. " -Jessica Ralph, owner of Parties A'La Carte
"Have the uncomfortable, raw, and real budget talk. The last thing you want to do is start your marriage off in debt and in financial stress. Figure out how much money you have to spend, and set some real expectations within that budget. Do not attempt to have a wedding you can't afford!  This will only decrease the enjoyment of planning your wedding and set yourself up for disappointment. Remember, a wedding is just the start to a lifelong together. Start it on the right foot." -Leigh Wilson-Arwood, Red Mesa Events  
"One of the most important things to do, once you get engaged, is to have that awkward conversation with both sets of parents to determine if they will contribute to the wedding and, if so, what they are willing to contribute. It could be financial assistance, helping with a specific vendor, or with a specific project; you need to be open to their assistance. Your parents have been looking forward to this day (much longer than you), so be open to hearing their thoughts. At the end of the day, it's your wedding, and it should reflect you, but it's also a celebration for two families coming together. Before you spend a single penny on your wedding, you should have a mutually accepted budget breakdown. Not just a large number, but a breakdown of all of the expenses of your wedding with budgeted dollar amounts next to them. Your budget breakdown is your 'Wedding GPS. You wouldn't get in the car and just start driving, but rather, you would have a destination and route to get there. This is how you should think of your budget breakdown. Your overall wedding budget is your destination, and your budget breakdown is your route to get there." -Staci Mandikas, owner of UNIQUE Weddings + Events
"Have a conversation with your fiancé and your families about financial expectations and responsibilities. Establish a clear budget and who will be contributing. Is your fiancé the type who wants to be involved in every decision, or do they care primarily about a few key points and are happy to leave the other details to you? This doesn't mean they aren't excited about the wedding and getting married. You will both enjoy the process a lot more if you have an understanding of what details they are interested in and what they trust you to decide." -Karen Cerboni, owner of EventFull Weddings
"Determine a budget for your wedding. This is one of the most difficult details to come to terms with because there are so many outliers, and it ultimately determines what kind of wedding is possible. Do you know if family will help fund the wedding? If so, how much? Will this be something you and your partner will be responsible for? What is a comfortable amount you both are willing to spend? Remember that planning a wedding involves a lot of compromise and communication. You may have dreamed of a fully decked-out event, but if your budget is more modest, then it may be time to reevaluate your vision." -Melanie Eubanks, owner of Lemon Drops Weddings & Events
"Talking about money has been taboo for a long time, but when you start to plan a wedding, talking about money and budgeting are two of the first things you dive into. One tip for alleviating stress is not dumping all the money into one big pot. If parents, grandparents, or other family members contribute money, designate it to specific areas. 'Grandma's money covers wedding gown and accessories." -Tammy Waterman, owner of Special Moments Event Planning
"We know that having the budget conversation can be awkward to have with your fiancé and family; however, it is a must! Setting your wedding budget and sticking to it is crucial as you start to choose vendors, pick a venue, and determine the guest list. One helpful tip that we recommend is allowing a little extra to go towards any unexpected costs. By giving yourself a safety net in the budget, you will avoid breaking the bank in case of emergencies such as last-minute gown alterations, extra catering needs, or unexpected weather." -Limelight Photography
"Come up with a budget for your wedding. Have the awkward conversations with your parents or family who are willing to help and pitch in. Know what your max budget will be and create a spreadsheet to keep track of all the wedding expenses." -Amanda Biery, owner of The Olive Tree Weddings
"Unfortunately, the least fun/awkward part of wedding planning is the first step you have to take! Sit down with your fiancé and establish who will be contributing to the wedding budget. The next step is approaching those people (if not yourself) about what they are able to contribute to the budget. I find many times couples assume that their parents or contributing parties will be able to give more money than they are able to. Because of this, many couples will avoid the awkward conversation and go ahead with making their guest list and booking their venue, only to find out later that they are not able to pay for all items needed or now need to invest more of their own funds. Being upfront and having those budget topics at the beginning allows for a smoother planning process down the road!" -Nicole Orchard, owner of Orchard Weddings & Events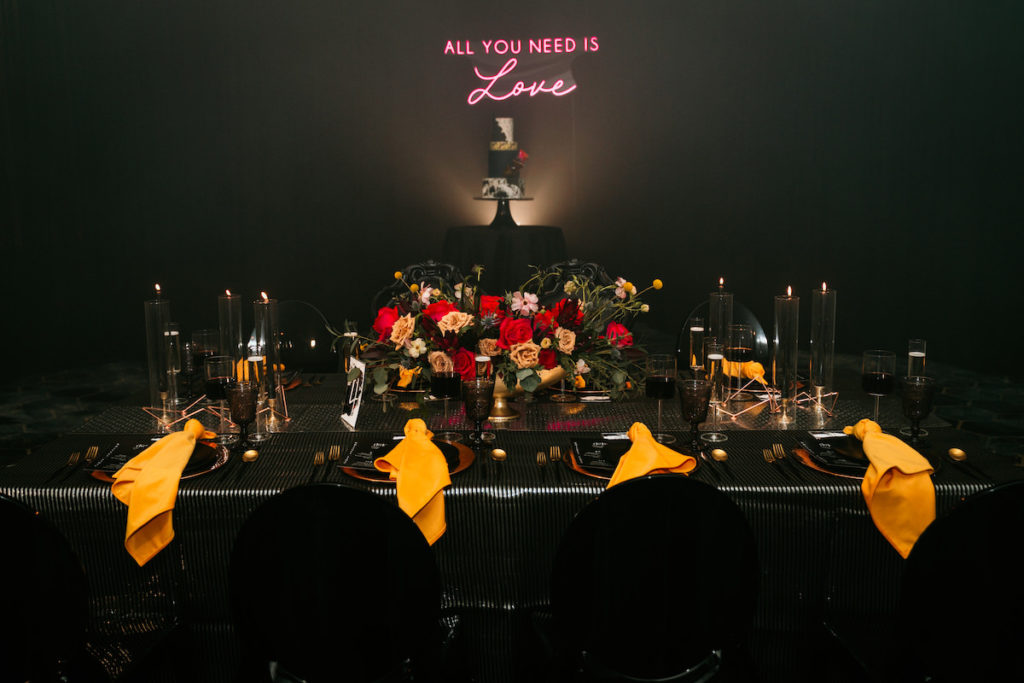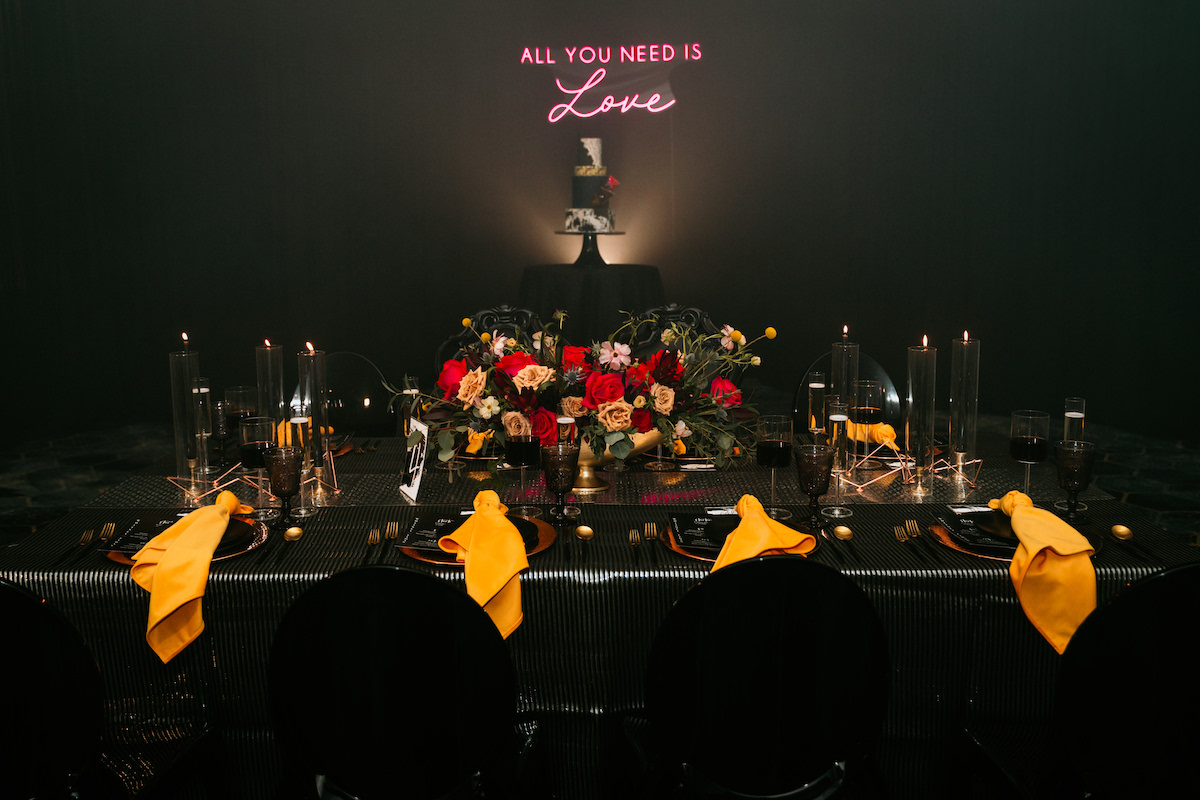 Organic Meets Modern Opposites Attract Wedding Inspiration | UNIQUE Weddings + Events | Mars and the Moon Films
4. Choose a Date
"When choosing the date for your big day, make sure to consider the location and venue where your wedding will be held. It is important to envision what you want your ceremony and reception to look like before you choose the actual date. For example, if you are wanting an outdoor wedding, then choose a time of the year when the weather is typically cooler, less humid, and sunny. The fall season in Florida, between the months of October through January, is usually the most popular time of the year to get married since the weather is the most pleasant. By determining the time of the year that coordinates with the wedding you have envisioned, you are best equipped to choose the perfect date." -Limelight Photography
"Think about your ideal wedding date. Keep in mind that popular dates and seasons are always booked first. Also, be sure to think about the weather." -Amanda Biery, owner of The Olive Tree Weddings
"Pick a date. I cannot stress this enough. Every conversation you initially have with your most important vendors will be about availability. Even if you love a vendor and know you want to work with them, it's important that you decide on your date based on your personal situation, finances, and logistics of travel." -Rodrigo Mendez, owner of The Love Portfolio
"Pick a date, and have a backup. The best date is the one that works for you and your family. It's always best to reach out to key family members and friends to see if there are dates that do not work for them. Then, work backward and have a backup date and another backup date. The reason for having a date is so important is to confirm availability. You may go back and forth with a certain vendor for weeks, only to find out they are already booked for your date. There are a ton of great venues, vendors, and professionals in the industry, however, you cannot reserve your favorites without confirming availability of a date on the front end." -Brandon Wheeler, owner of Gulf Beach Weddings
---
5. Narrow Down Venue Styles
"Take some time to celebrate, let your friends and family know, and soak it in because it's such an exciting time. Then, start planning, but really take some time with your fiancé and cast a vision for the type of wedding, feel, style, and time of year you want to get married. Here in Tampa Bay, there are so many styles of venues, from beachfront to rustic barn to downtown. It will save you a ton of time when you start the venue search if you can have a vision for what you want your wedding to be." -Carrie Wildes, owner of Carrie Wildes Photography
"There are many gorgeous venues in the Tampa Bay area, but choosing the one that is right for you all comes down to how you envision your wedding style. If your theme is a rustic vibe, then you would want to choose a venue with that rustic and historic feel. If your wedding style is a fairytale garden theme, then you would want to choose a venue with luscious gardens. Choose a venue that matches the overall theme of your wedding day." -Limelight Photography
​​"When it comes to the exciting step of wedding venue shopping, be prepared to share as many details with your initial inquiry i.e., preferred wedding dates, expected guest count, desired meal service and bar, as well as your desired budget guidelines. Providing these details upfront to the venue coordinator will allow them to best speak to the reception space as it relates to your special day. In most cases, we can use your helpful updates to prepare an initial proposal for your review. A custom proposal based on your specific wedding day wants and needs can be a wonderful planning tool as you narrow down and compare your favorite venue spots!" -Mary Barnett, Event Sales Manager The Birchwood
"Drink Champagne! Book your venue!" -Karin Bearnarth, Director of Sales and Events Mision Lago Estate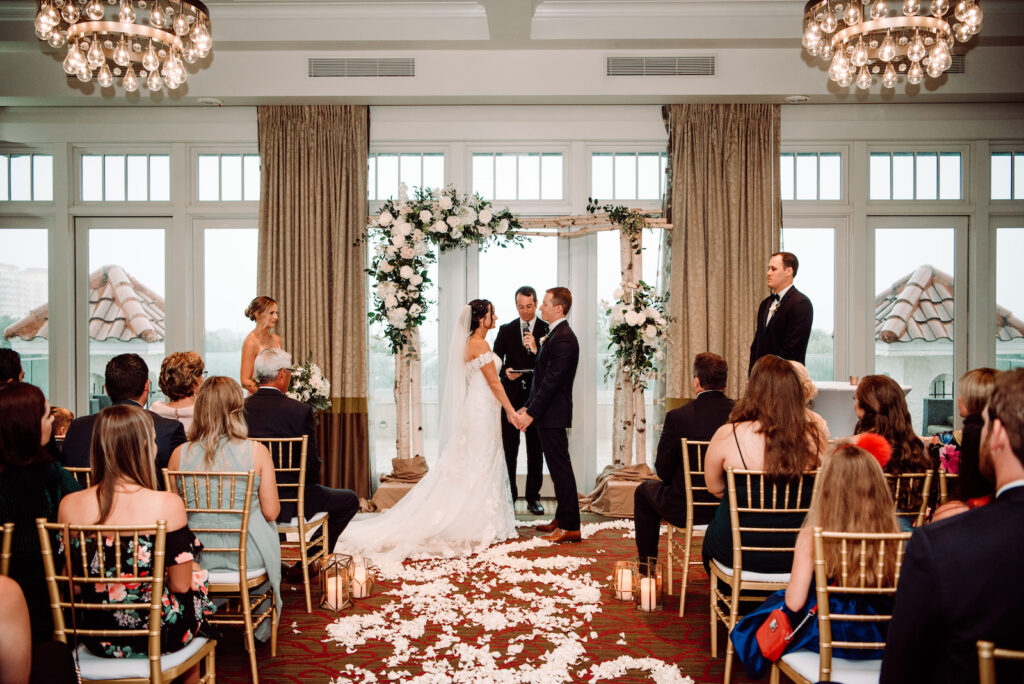 Romantic Eucalyptus Green and Pink Downtown St. Pete Wedding | The Birchwood | Perfecting the Plan | Visual Muse Studio
6. Think About Your Guest List
"Before you even book an event space, think about how many guests will be attending. Different venues accommodate a different number of people, so have a set number of guests in your mind before you start to venue shop. It is also beneficial to determine the number of wedding guests ahead of time so that you can plan your budget and accommodate them accordingly. By determining the set number of guests who will attend, you are setting yourself up for success!" -Limelight Photography
"Start working on the guest list with parents and collecting addresses so you can determine the number of anticipated guests, which helps with the venue selection process. There's nothing worse than booking a venue that is not large enough for the number of guests or is too large for the number of anticipated guests." -Tammy Waterman, owner of Special Moments Event Planning
"Build your guest list and look at the demographics. Do you have grandparents and older guests who may be comfortable in an outdoor setting? Do you have a lot of guests from out-of-town? Do you want to keep it intimate? There are many considerations to think about, but you can still have the wedding of your dreams and have all your favorite people there." -Carrie Wildes, owner of Carrie Wildes Photography
---
7. Hire Professionals
"For the love of sweet baby Jesus, hire a planner and hire a planner you vibe with and lean on them for vendor recommendations. You can save a ton of money by getting solid recommendations from professionals in the field.  There are a lot of amazing vendors in our industry, but there are also a lot of not-so-amazing vendors that may flake or overcharge you.  Many venues are requiring planners now because they are so worth it.  If you think you don't need a planner, you absolutely do." -Leigh Wilson-Arwood, Red Mesa Events  
"Reach out to a wedding planner for a consultation. We can help explain what's going on in the industry, realistic budgets, venue options, and much more before signing any contracts." -Katy Martin, owner of Coastal Coordinating
"Many couples turn to a wedding consultant to help them every step of the way in the planning process. However, with technology today, many couples are capable of planning a beautiful wedding by themselves, but who will be there to ensure it's executed properly? Do not rely on your thousands of dollars and months of planning in the hands of a bridesmaid who planned events for her sorority in college or your Aunt Sally, who loves throwing dinner parties and is self-proclaimed 'crafty.' Give yourself the peace of mind that not only will your wedding run smoothly, and you are able to relax and enjoy your day because your day of coordinator/wedding planner will also put out the fires that will occur without you ever even knowing!" -Jessie Soplinski, wedding planner with Breezin' Weddings
"After nearly a decade in the business, we cannot overemphasize how important it is to choose wedding professionals to handle your wedding day. When looking for a wedding photographer, for example, hire someone who has had plenty of experience shooting weddings. Entrusting a photographer to capture the moments you will remember forever is so very important. That is why you want to choose a professional wedding photographer who is confident in his or her skill and will deliver high-quality photos." -Limelight Photography
"Getting engaged is one of the most exciting seasons in a couple's life but can become overwhelming once you get into details of picking vendors. When selecting your vendor team make sure you read reviews and chat with other vendors to see who they recommend. Check out their website and schedule a consultation call to really get to know the people behind the brand. Even if you hire a wedding planner, it's great to make that personal connection with your vendors. Once you find the right fit, book them! Wedding dates are going even faster than normal with in-demand vendors." -Kelcey Yaeger, owner Adore Bridal Hair and Makeup
"Decide which vendors and details are 'must haves' and which you are more flexible about. If there is a specific photographer whose portfolio you love or a venue that your partner has been dreaming about for years, be sure to reach out ASAP. Vendors and venues, especially ones that are popular in the area, can be booked out years in advance and require getting on their list sooner than later." –Melanie Eubanks, owner of Lemon Drops Weddings & Events
"Hiring professionals is the best route in making your wedding planning process seamless and stress-free! Once the venue and date are secured, the initial vendors we suggest securing are photography, entertainment, and videography. These tend to book up fairly quickly, depending on your selected date!" -Jessica Ralph, owner of Parties A'La Carte
"Get a wedding coordinator. If you know your wedding will require extensive planning (as in a lot of guests or larger wedding parties), then picking someone who will advise you on what's next and keep it all organized will make your journey far more enjoyable. Coordinators usually have a bit more flexibility in terms of availability if they are working with a team and can help you identify the right venue as well. Then, select the right photographer. This is a big deal. The right photographer can make or break a wedding because he/she/they are being given the huge responsibility of documenting your day. Long after the party is over, the cake is eaten, and the flowers have wilted, your photographs will live as a living document for generations to come. The images are the only thing that STAYS. Everything else will be put away." –Rodrigo Mendez, owner of The Love Portfolio
"Hire a wedding planner. This will just help everything be less stressful and more fun during the wedding planning process. You don't get married every day, but wedding planners do this every day for a living. We have your best interest and lots of knowledge to guide you along the way." -Amanda Biery, owner of The Olive Tree Weddings
"Invest in a planner. It will make your life a lot easier and stress-free, and trust your planner with their preferred vendors." -Rich Kenny, owner of Tampa Event DJs
"Hire your wedding photographer. You may have your heart set on someone and find out they are already booked if you wait too long." -Kristen Jeffers, owner of Kristen Marie Photography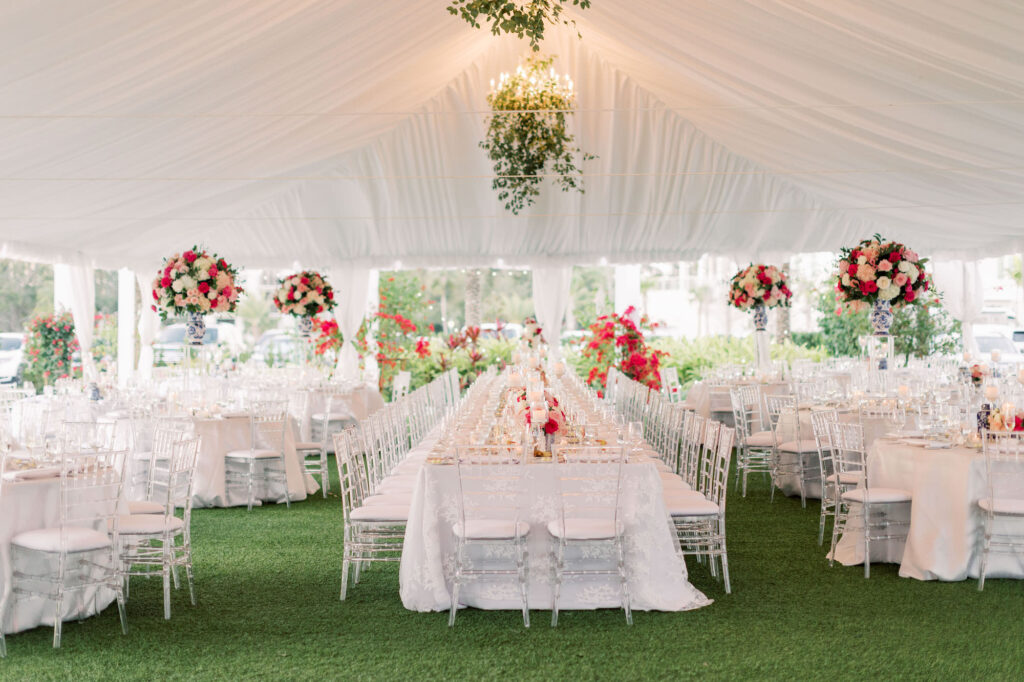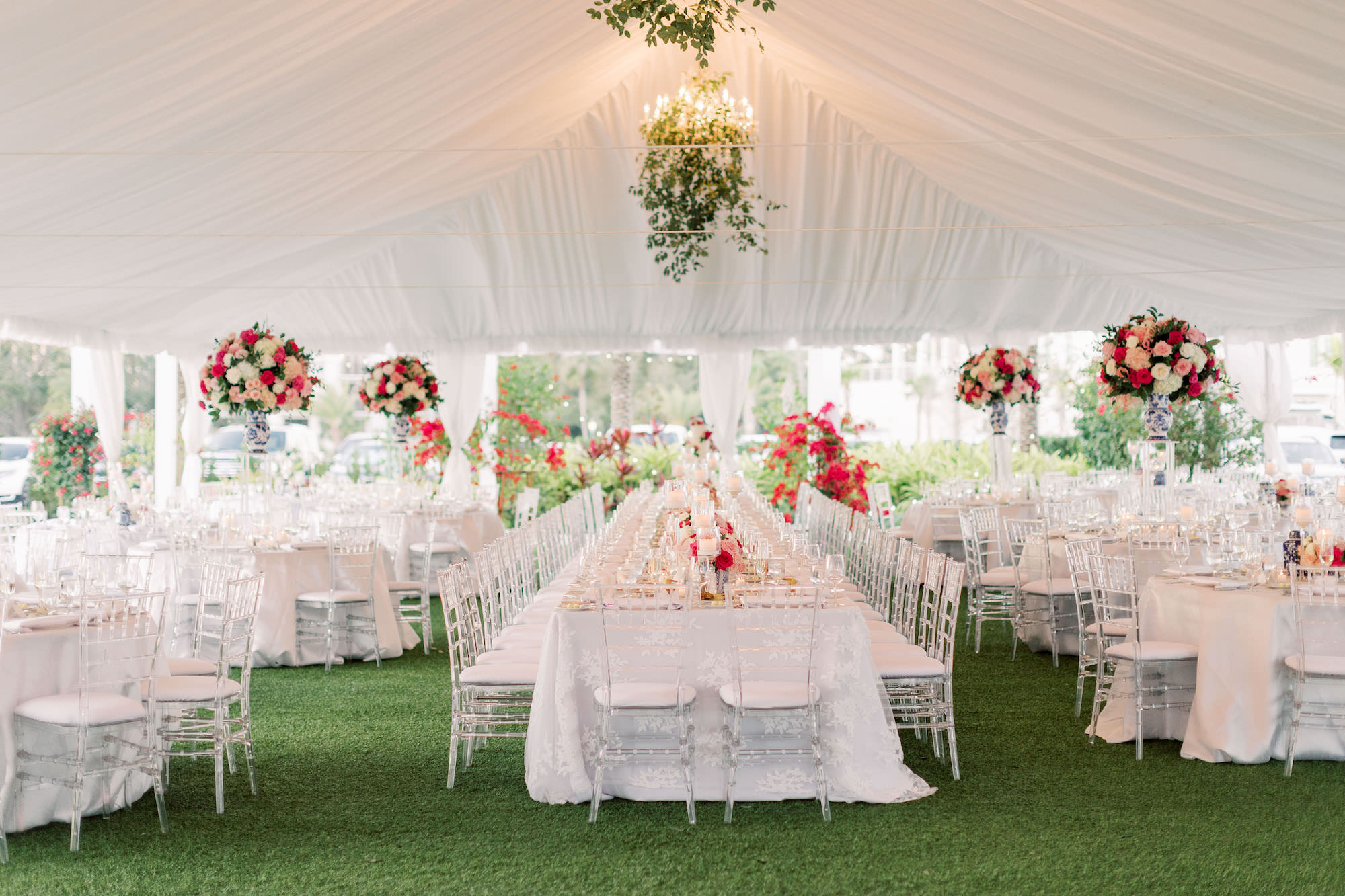 Luxurious, Pink, Southern, Tented Clearwater Wedding | Parties A' La Carte | Bruce Wayne Florals | Photography by Avery
8. Book Your Engagement Session
"Take engagement photos! These can be used for your Save-the-Date or wedding invites. This is also the best possible way to find a wedding photographer that you vibe with and love their work. Wedding photos are forever. Be sure you like the photos and the person behind the camera capturing these moments." -Amanda Biery, owner of The Olive Tree Weddings
"Once your photographer is chosen, mark the occasion by getting some amazing portraits of you and your person in LOVE. These are also great to send out as invitations and to populate any website/platforms you are using to plan your perfect day." -Rodrigo Mendez, owner of The Love Portfolio
Save-the-Dates should be ordered 9-12 months prior to your wedding date. We suggest scheduling an engagement shoot with your selected wedding photographer. These images can be utilized on your Save-the-Dates. This also allows you and the photographer to get to know each other prior to your big day. By developing this relationship, the photographer will be able to note poses that make you comfortable, what makes you laugh, your favorite angles, and much more! This makes portraits on the wedding day so much better, and you know you're in good hands. Pro Tip: We also recommend scheduling your hair and makeup trial on the same day as your shoot! With this, you can see how your hair and makeup photographs." -Jessica Ralph, owner of Parties A'La Carte
9. Buy Wedding Insurance
"If you haven't done it already, be sure to insure your engagement ring. It's easy to get swept up with the Pinterest pins, glasses of champagne, and constant eye googling of your new sparkle, but to bring you back to reality…you need to make sure that your paperwork is in line." -Staci Mandikas, owner of UNIQUE Weddings + Events
"Purchase wedding insurance to protect your investment from a number of perils. October and November are popular wedding months in Florida, but they still fall within hurricane season." -Karen Cerboni, owner of EventFull Weddings
"None of us know the future, and unfortunate things may happen that could affect your wedding plans. In Florida, during the summer months, for example, hurricanes can cause unexpected damage to an area. If you are a bride planning your beautiful Florida wedding, then you must consider that unexpected Florida weather may arise. That is why it is important to protect your investment by planning ahead and purchasing wedding insurance. You can never be too safe, especially when you are planning the wedding of your dreams." -Limelight Photography