Downtown St. Pete – NOVA 535 Unique Event Space is St. Petersburg's #1 favorite venue for weddings and parties, voted Best Place to Get Married. Our unique high-end, yet welcoming atmosphere, blends classic and cutting edge elements making it perfect for unique events. Our delightful, professional TEAM NOVA provides you with low-stress, world-class service so you and your guests can relax and enjoy the party.

535 Dr M.L.K. Jr St N, St. Petersburg, FL 33701
(727) 821-6682
The Ceremony:
Outdoor Bamboo Garden Courtyard: Private, enclosed brick 4,000 sq. ft. courtyard surrounded by bamboo trees for a seclusive, unique setting.
Inside Gallery Event Space: Features 16′ red brick walls and hardwood floors OR outside in private antique brick and bamboo garden courtyard.
Up to 450 guests
LGBTQ friendly
The Cocktail Hour:
Cocktail hour is available in either the indoor or outdoor spaces.
The Reception:
NOVA 535 offers both indoor and outdoor options for your reception, with the two-story indoor event space being most popular.
250 dining inside with large dance floor, 350 dining inside 450 dining inside and out, 500 cocktails inside 800 inside and out
Lighting, sound, and DJ available
Venue Rental: Monday-Wednesday $295/hour, Thursday and Fridays $795/hour, Saturday and Holidays $995/hour, Sunday $495/hour + Staffing
Receptions available until 3 a.m.
The venue rental fee includes: getting ready suites, free convenient parking, tables, modern black chairs, designer couches and lanterns with oil candles and vases for decorating. Three hours of set up and one hour of breakdown is included in your venue rental. One hour ceremony rehearsal is included.  
Savings Tip: June – August take 25% off (Friday or Saturday only) venue rental fee. Book within 90 Days of event and take 25% off or within 30 days take 50% off (Friday or Saturday only) venue rental fee. **Maximum one discount per event. Venue Rental Fee Discounts only valid Friday and Saturday. Add sales tax where required.
The Food:
NOVA 535 allows outside licensed and insured caterers.
*Catering fee $395
The Drink:
NOVA 535 provide bar service, no outside beverages allowed
Beer and wine service starts at $10.95/person/hour*
Liquor service starts at $11.95/person/hour*
*Bartender $195 for up to 6 hours. Barback $195 for up to 6 hours. Add 20% gratuity.
I want to learn more about weddings and events at NOVA 535.
Featured NOVA 535 Weddings:

What couples love about NOVA 535:
The charms of a 1920 building with all of the modern comforts and conveniences. Non-Ballroom look and feel: hardwood floors, brick walls, twin wrought iron staircases to the VIP loft, private balcony, and Speak Easy private entrance. Multiple rooms to explore and enjoy. SUPERNOVA bridal suite. Private lush bamboo courtyard perfect for St. Pete wedding ceremonies and cocktail parties. Ten world-class restroom suites and getting ready rooms. State of the art lighting, sound and video Systems. Flexible catering options: multiple catering options not just one like hotels and most other venues. Exclusivity: we only perform one event at a time…YOURS!
Awards:
Best Blank Canvas. Best Place to Get Married. Top 10 Best Restrooms in USA. Brides Choice Awards.
NOVA 535 Reviews From Marry Me Tampa Bay Couples:
"We looked for something different than the typical banquet space or ballroom. We fell in love with the bamboo courtyard with all of the lights and knew it would be a perfect location for our ceremony. For the reception space, we loved the warmth of the exposed brick and wood flooring. It was the perfect venue for us. Their service was phenomenal leading up to our wedding and especially on our wedding day. I cannot say enough amazing things about NOVA 535 and the service they provided." -Brandi and Imad | Purple, Orange and Turquoise Moroccan NOVA 535 Wedding
"I wanted something different from a beach, country club or a ranch wedding. I also wanted something that was more like a blank canvas, where I could show off the design of our wedding. NOVA 535 was exactly that. They provided the beautiful, unique interior brick walls, double staircase, two-story party space and amazing outdoor courtyard, while I was able to add all of my own decorations and floral. Guests were extremely impressed with the character of this venue." -Chelsea and Dan | Black, Gold and Coral NOVA 535 Wedding
"We had been to a couple of events at NOVA 535 and remembered the exposed brick, and we both agreed that it would be a great venue specifically for a New Year's Eve party. We said if it was available, it was meant to be, and that decided it! Their service was excellent, very responsive and accommodating. NOVA 535 was great to work with." -Theresa and Josh | Gold, Ivory, Pink and Black NOVA 535 Wedding
MEET THE SALES MANAGER:
Nick Mazeika has 30 Years of customer service and 5-star sales service. Email Nick Mazeika or call 949-873-6682.
I want to learn more about weddings and events at NOVA 535.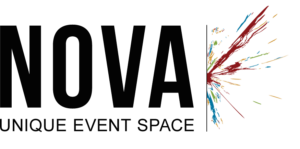 Website | Facebook | Twitter | Google+ | Pinterest | Instagram | Email
535 Dr M.L.K. Jr St N, St. Petersburg, FL 33701
(727) 821-6682