Welcome to Simpson Lakes! We are a family owned wedding venue that is the perfect mix of classic, modern, and romantic with a touch of southern charm. We offer gorgeous spaces for weddings of any size, and can easily accommodate up to 300 guests!
First opening our doors in March of 2021, we set out to create the perfect space for couples to get married and celebrate with all their favorite people. We pride ourselves in providing top notch customer service; from the day we first connect, to well after you say "I do!"
While this planning process seems daunting, we are always here to help. Choosing a venue should be a fun and exciting start to curating your dream wedding! That's where we come in. We are more than just a venue. We will be the backdrop for some of your best and sweetest memories. We will be there for you through the whole process to answer questions, give recommendations, and share some helpful advice.
Every little detail that went into the venue will ensure you and your guests have a memorable and stress free day! We have poured our heart and soul into this business and are so excited to share our passion with couples all across the state!
---
---
The Ceremony:
We offer two different ceremony spots that you can choose from! While these spots are totally different, you really can't go wrong with either one! They both offer 360 panoramic views of our gorgeous grounds!
Your first option is the Oakside spot! It is complete with cobblestone tiles and glowing light posts, all under the canopy of sprawling oak trees draped in Spanish moss. This spot is located directly behind the main venue, just down the hill!
Your second options is the breathtaking Lakeside spot! This ceremony site is right between our two lakes, and features an organically shaped island, outfitted with beautiful railing, cobblestone pavers, and lush landscaping!
Each ceremony spot layout is completely customizable and chairs can be set up in any direction depending on which backdrop you prefer! We provide golf cart shuttles (included in price) to transport your guests from the parking lot to the ceremony, and then back to the venue after for cocktail hour!
The Cocktail Hour:
Our cocktail patio is a stunning, custom built pergola that stretches across the entire back half of the venue. It is outfitted with hanging Edison lights to give it the perfect amount of charm. Here, your guests will enjoy refreshments, appetizers, and music as you take photos around the property! This space comes with high top tables for your guests to gather around, custom designed bars, and gorgeous farm tables for your caterers use! The patio is shaded by the building and has direct access to inside for use of restrooms!
---
The Reception:
Our reception area, The Grand Room, is a large event space that can be transformed to any style you like! With a neutral color palate and clean slate look, the options are endless! Each wedding will receive a completely custom floor plan, including hand crafted farm tables, cross-back chairs, a cake table, gift table, buffet tables, and DJ table! Additional tables can be added upon request for anything else you may need them for! Extra large windows along the East side of the building boast panoramic views of the property!
---
The Space:
This gorgeous venue is nestled on 120 acres of land that features ancient oaks, open pastures, and crystal lakes. We offer two dedicated ceremony sites on property, as well as 13,000sqft of air conditioned reception space that also includes getting ready rooms for the bride and groom, guest bathrooms, a large commercial prep kitchen, and space for indoor ceremonies in the event of poor weather. All ceremony sites and sidewalks are paved, so you don't have to worry about your guests walking in the wet grass or have to sacrifice accessibility to get the outdoor wedding of your dreams! In fact, the whole venue is ADA compliant! The options are truly endless, with a countless number of photo spots, access to the entire property, and gorgeous Florida sunsets all year round!
Our getting ready suites are big enough for any wedding party, and feature ample seating, plenty of vanity space, a wet bar with fridge, and private bathroom! We carefully picked the decor for these suites to provide you with gorgeous photo opportunities for the perfect pre-wedding pictures!
---
Pricing:
Wedding Ceremony + Reception: starting at $9,000.00 (rental time 8:00am-10:00pm)
Reception Only: starting at $7,000.00 (rental time 12:00pm-10:00pm)

Additional rental items can be added on such as plates and flatware, arches, linens, the Honeymoon House, our ceremony reveal doors, chargers, and much more!
---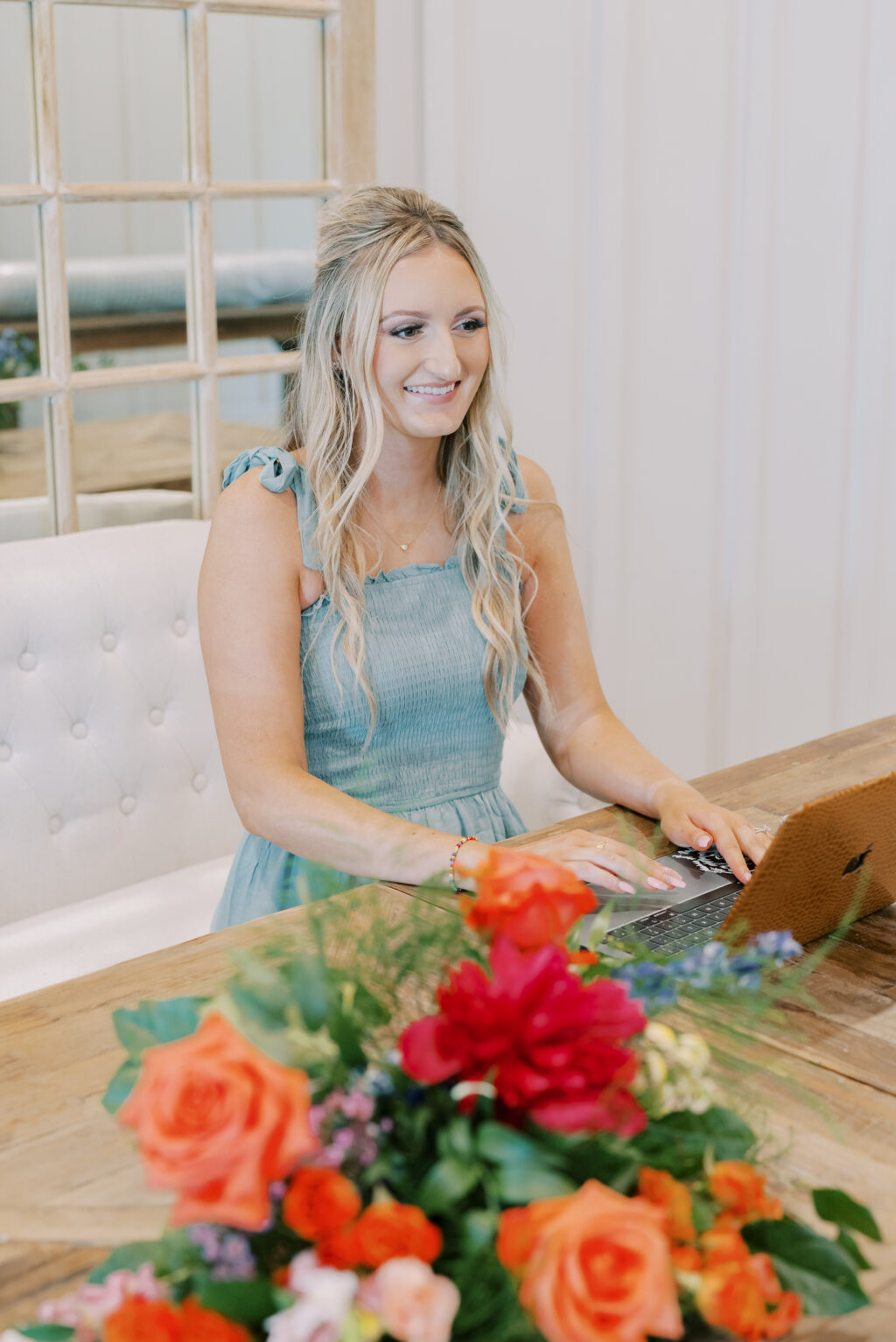 Meet Caroline Simpson
Hi there, my name is Caroline Simpson! My husband, Wilton Jr, and I own and operate Simpson Lakes together! After both graduating college in 2020, we started building this business with the help of our family! We officially opened our doors and had our very first wedding in March of 2021. Following that, we had our very own wedding here in April of 2021!
Since then, we have been full time at the venue! If you ever reach out to us, (via email, social media, our website or here) I will be the one you chat with! I also do all of the venue tours and meetings with brides/grooms and their families! I absolutely LOVE what I do! Helping couples host and plan their happily ever after is a real life dream job and I am so lucky to do this every day!
Wilton Jr helps to maintain the property and venue to keep it looking beautiful! He also takes the lead with all the floor plans and ceremony setups and will help you make the most of each space! And, if you decide to have us take you to the ceremony in our car, he will also be your personal driver (& in-car DJ… this is his favorite part of the day!)
We can't wait to chat with you and help you turn your dream into a reality!
---
---
As Seen on Marry Me Tampa Bay