Grind & Press is a personal wedding photography experience. It's a laid back and comfortable approach, without giving up the professionalism and experience.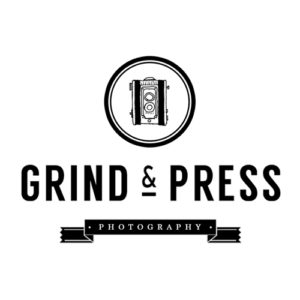 [pp_gallery id="52866″]
My wedding photography style is:
My wedding photography style is balanced. I love capturing moments as they happen but I also know it's important to provide the right amount of direction at times. I'm very laid back and I don't want the day to feel staged but I know when to be assertive and to make sure the moments flow so couples get the most from their photography.
I love photographing weddings because:
I love photographing weddings because they're awesome! The energy of the day is always exciting and inspiring. There are so many organic and emotional moments to capture, some of which the bride and groom may not see until they look at their photos. There are also endless opportunities for creativity- what more can a photographer ask for?
My personality is:
Let's put it this way- I'm 50% yoga, 50% Wu Tang. I love a good cup of coffee (hence the name!) at home but I also love a good band at a good brewery. I'm all about keeping it local to this amazing area we live in, and at the same time I love to travel! Call it indecisive, call it balance- it's what works for me!
What makes my business standout from other photographers is:
I've been told it's the personal relationship and level of comfort I develop with my clients. I never want photography to be stressful, especially on a wedding day.
My pricing:
Wedding packages start at $1,200. I also offer custom packages and a la carte options. Please contact me for more information!
My Associations/Awards:
Two Bright Lights Platinum Circle Award
Two Bright Lights Editor's Choice Award
Wedding Wire's Couple's Choice Award
Member of the Tampa Shutter Sisters
Website | Facebook | Instagram 
I want to learn more about Grind & Press Photography.
Featured Grind & Press Photography Weddings on Marry Me Tampa Bay:

View More Grind & Press Photography Weddings
Grind & Press Photography Reviews From Marry Me Tampa Bay Couples:
"We loved the look and feel of Grind & Press Photography and felt like it would mirror our personalities perfectly. Ashley was amazing and exactly what we were looking for in a photographer. She had this effortless way of truly making us feel like ourselves. We had so much fun during our engagement and wedding photos and our pictures turned out beautiful." -Keriann and Jeremy | Romantic Winter Wonderland Silver and Blue Wedding
"Ashley of Grind and Press Photography was genius at capturing the special moments and making sure we were able to get the important shots. She was really thoughtful and efficient. Ashley went above and beyond on the wedding day and seemed like she managed to be in two places at once. We have so many amazing prints now that we can't decide which to use." -Shannon and Justin | Pineapple Inspired Tropical Clearwater Beach Wedding
"I wanted non-traditional photography coverage, more focused on the storytelling and candid moments of the experience versus posed portraits. Grind & Press Photography nailed it! I love, love, love Ashley's work: from the emotional storytelling and sweet moments only she can capture, to the way she supports her clients and sticks to timelines, yet also goes with the flow. The photos are one of my favorite things from our entire wedding because they highlight only the very best moments from it all, and I've loved being able to look back at them over and over and over again." -Varuni and Matthew | Modern Multi-Cultural Indian Wedding
"I found Ashley with Grind and Press Photography and fell in love with the style and feel of her photos. We booked her for our engagement photo shoot, and I knew right away she was going to do our wedding." -Amy and Stephen | Blush Pink and Gold Waterfront Sarasota Wedding
"We wanted someone who was down to earth and would capture moments that we may miss or not think to capture. Ashley of Grind & Press Photography did that for us. We felt comfortable to be ourselves. She was able to capture our special day perfectly." -Katelyn and Michael | Blue and Gold Treasure Island Wedding
I'd Like to Connect with Grind & Press Photography
---
As Seen on Marry Me Tampa Bay