Kerrie and Chris' chic South Tampa wedding combined a monochromatic palette of onyx and opal, lush greenery and elegant white flora, and the romantic flicker of candlelight for a moody vibe in their historic venue. Following traditional vows amidst the warm industrial brick walls, guests enjoyed an all-out party with cocktails, dancing, and glow sticks.
"We really wanted a classic modern vibe with a black and white feel," the bride shared. "We love old black-and-white photos and felt those colors were perfect. We added an emerald green for a pop of color. We just both really loved a classic yet modern look."
The busy St. Petersburg couple knew the importance of hiring a skilled wedding planning team to truly enjoy the evening with their 150 guests. They were impressed by the organization, support, creativity, and attention to detail they received while working with Wilder Mind Events.
"We looked for someone who could just take our vision and run with it. We both work full-time jobs and with me being in the medical field, it was very hard to plan a wedding myself. I knew there would be meetings I couldn't attend, and it really helped to have a team able to support those moments," Kerrie explained. "Delaney from Wilder Mild Events was perfect from start to finish. She really did a great job of keeping everything in order, from the checklist to the final project. Delaney was on top of everything and kept me sane; she understood how busy we both were and made it very easy by taking our vision and helping make it come to life. She was the best help and was there for the whole process from start to finish. We couldn't have done all of this without Wilder Mild Events."
The bride and groom prioritized planning a spring wedding with a vibe that embodied each of their personalities, from the groom's easy-going nature to the bride's energetic persona. The result was a memorable evening that honored special traditions while also embracing the opportunity to let loose and celebrate.
"We really were able to find a great balance between our desire for a classic wedding and then a big party afterward. Our personalities just fit perfectly into the wedding: we joked, laughed, and cried," the bride revealed. "Our planner did an amazing job making sure that who we are was incorporated into the wedding. Chris' sweet, loving, and kind personality was shown right next to my fun-loving free spirit."
Knowing she would be celebrating late into the evening, Kerrie wanted a bridal beauty look that would endure from day to night, lasting long after posed photos were over and able to withstand an epic dance floor. The team of artists at Femme Akoi Beauty Studio created the perfect combination of natural glam, using products that would stay photo-worthy throughout the celebration.
"I wanted classic and simple but also bold. I followed Femme Akoi Beauty Studio on Instagram and saw the amazing job they had done. I wanted the hair and makeup to be perfect, but not too much. I wanted to dance and have a great time, so I wanted something to stay put and look great all night, and they did that!!" the bride beamed. "The team did a great job taking my ideas and bringing them to life. They were amazing and just did such a good job."
Kerrie sought a photo/video team with a collection of work that was as impressive as their service. After seeing Sabrina Autumn Photography's galleries, the bride knew they were the ideal choice for images that would stand the test of time.
"We really wanted someone who took classic photos and timeless shots. Looking at Sabrina Autumn Photography's portfolio, the photos were perfect. The team did amazing. I honestly couldn't have asked for a better group!" Kerrie raved. "Their service was amazing; they were on top of everything and easy to talk to. The team did a great job capturing every moment. They were perfect, so attentive, and the best hype team out there!"
Incorporating her daughter into the ceremony was a priority for the bride, which created one of the day's most cherished memories.
"Marrying my husband and having my daughter walk me down the aisle with my dad was unforgettable," Kerrie reminisced. "My daughter is my world, and her being a teenager now made this even more perfect. She has been with me through the good times and the bad times. I wouldn't be who I am without her. She did a reading partway through the ceremony, and I think that really sealed the deal. Chris played such an important role in making sure she was included in all the parts."
---

---
Where did you host your bachelorette party?
Asheville, NC. We wanted something different that wasn't a party scene but fun! We rented a cabin and explored Asheville. We had a great time and even hired a private chef one night to cook for us. The whole trip was an amazing girls' weekend away.
The Proposal:
Our proposal was very interesting. I had been working all day, and we had planned to go to dinner for Chris' birthday with my family. I ended up staying late at work and almost canceling. I told myself this isn't your birthday, just meet them there. I looked exhausted, still in Crocs and scrubs that had a stain on them. I got to dinner, and everyone looked so nice. I gave my daughter a hard time for not bringing me clothes.
I ordered a drink, as everyone had one, and when it arrived, I almost chugged it. My dad said, 'Let's toast to Chris' Birthday,' so I cheered and shoved cheese in my mouth only to look up and see him on one knee telling me something so sweet. I basically said, 'Are you kidding me? Do you see me right now?!' Then I said yes, and the rest is history!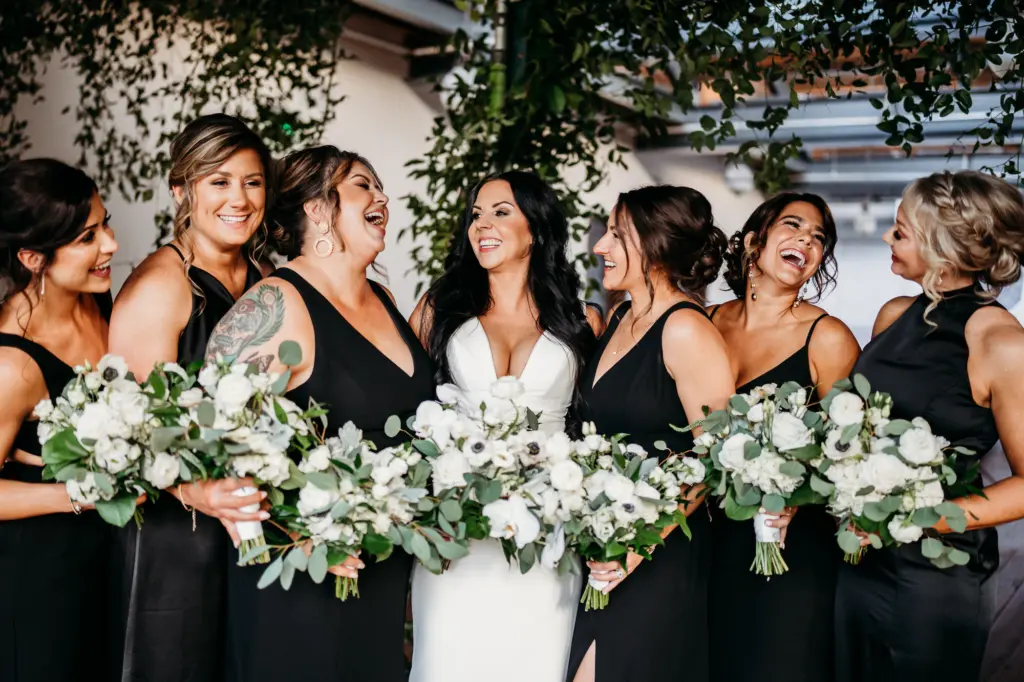 How would you describe your theme/wedding design inspiration?
We really wanted a classic modern vibe with a black and white feel. We love old black-and-white photos and felt those colors were perfect. We added an emerald green for a pop of color. We just both really loved a classic yet modern look.
What were your colors? We chose a black and white theme. We really wanted a classic and formal look. We also added a hint of emerald for Chris to stand out in his suit.
Where did you spend your honeymoon?
We are going to Napa Valley this fall. We wanted something relaxing and enjoyable. We want to be on vacation and not tied down to things. We have a few spots planned but are mostly just going to wing it and enjoy the experience!
What advice would you give to other Tampa Bay couples? Let the day be about you! Follow the timelines, but also do what you want. Don't be afraid to say no to things and just have a party. We had the best time with our family and friends. We made sure we always were around each other and shared the whole experience together!
---

---