Florida is known as the "Sunshine State," averaging about 240 sunny days a year, however, that nickname doesn't always hold true. The weather here is unpredictable and can range from a beautiful sunny day to a monsoon all in a span of minutes.
With the east coast in the midst of hurricane season (June 1-November 30), having a weather backup plan for your outdoor Tampa Bay wedding is just as important as finding the perfect wedding dress. We've asked our Tampa Bay wedding experts to share their top tips for creating a rain backup plan.
---
What Do Couples Need to Know about "Florida Rain?"
"Many weddings that take place in Florida are destination weddings, which we love! However, that means that our couples are not familiar with how the weather works down here. Yes, it can be humid and may rain but that rain during the summer months occurs intermittently, suddenly, sideways, and typically comes with lots of wind! It is important to remember that although there are some rain showers throughout the year, during the summer and hurricane months you need to make sure your backup space has siding and is durable!" -Lauren Gertz, owner of MDP Events
"Florida is known for being the 'Sunshine State' and while most of the time that is true, there are definitely days when thunderstorms can quickly and unexpectedly appear. It is common for Florida days to have beautiful weather in the morning and rain showers in the afternoon or vice versa. This is especially true during the summer months. Because of the humidity and higher temperatures, moisture in the air accumulates and turns into rain showers, and because of the unexpected weather patterns, we always suggest having an indoor backup plan for your wedding!" -Miranda Gates, Limelight Photography
"From a photography perspective, Florida rain isn't always short-lived! Sometimes we will get lucky, and it will only rain for a portion of the day, and other times your day will be rained out the entire day. The most important thing to keep in mind in regards to photography is that we need you to be flexible as we try to work around the rain. For example, if your biggest concern is your dress getting wet before the ceremony, but it's our only time to get you outside for portraits, consider that your ceremony may only last a few minutes, while you're stuck with your photo decisions forever. Trust your photographer, be flexible, and it may even make sense to change your previous plans about not doing a "first look." Many times in Florida the rain starts in the late afternoon, which is normally right when we would be shooting you and your new hubby/wife! If you choose to stick to your guns and not do a "first look," the most important portion of your day may be rained out. Think about the bigger picture, instead of getting stuck on any more rigid plans you had prior to the rain beginning!" – Shannon Dewitt, owner of Dewitt for Love Photography
"Florida rain is highly unpredictable. Especially in the mid to late afternoon. If you are planning a beach or outdoor wedding download a weather app that will help you and your planner decide on Plan A or B, and have a plan B for inclement weather, especially during hurricane season." -Rich Kenny, owner Tampa Event DJs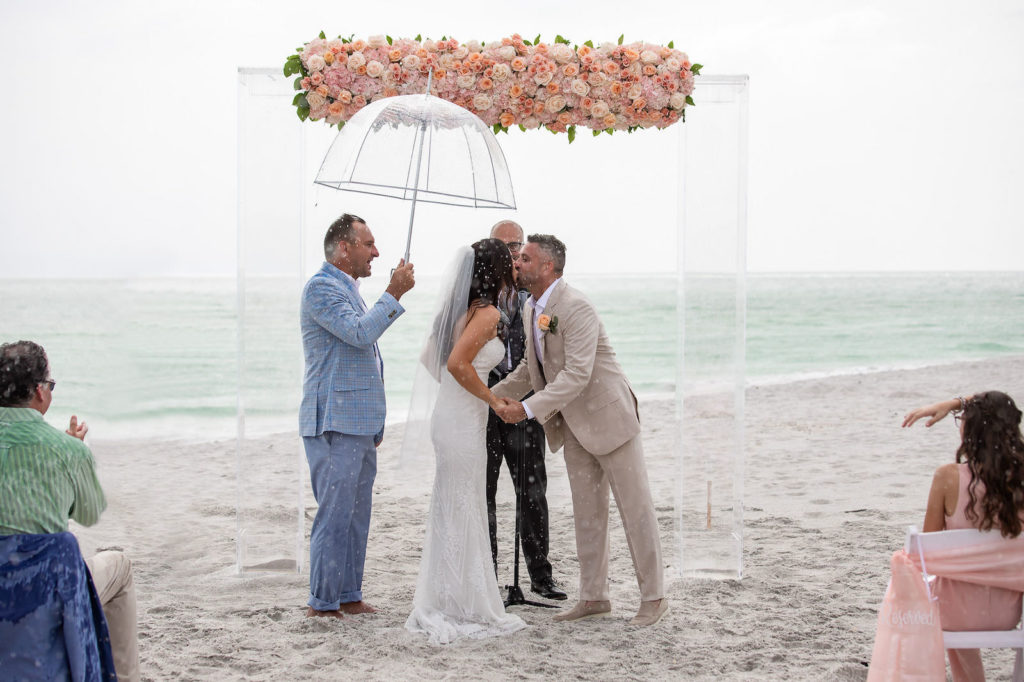 ---
What Does a Rain Backup Plan Entail?
"Wedding day backup plans shouldn't be a topic to be afraid of! It is important to love not only the main plan but also the B and C. As your wedding planners, we want to make sure that we don't have to bother you at all on your wedding day or the days leading up to ask questions!" -Lauren Gertz, owner of MDP Events
"A rain backup plan involves moving your original outdoor ceremony and/or reception décor to an inside space. This includes everything from tables and chairs to your ceremony flowers and archway. It's important to start thinking about your rain backup plan months before the wedding! Make sure to have a Plan B set in place with your wedding planner, photographer, and venue. Also, keep in mind your alternative rain plan when choosing your wedding venue so that you can have an inside space that you love as well. If you are wanting to have an outdoor photo session remember that unexpected weather could arise and could mean that your photos would be taken indoors. However, if you are still wanting outdoor photos, consider using umbrellas as fun props! As professional wedding photographers, we are trained and ready to take photos in all circumstances. Come rain or shine, the important thing to remember is that you are marrying the love of your life and everything else will fall into place." -Miranda Gates, Limelight Photography
"For photography, a rain backup plan could mean a complete change in the location where portraits are planned for (if off-site from your venue) or having to set up lighting to take all portraits inside. This is why having a venue with beautiful indoor options is critical in Florida, especially going into the spring and summer months! If you choose a venue that has no indoor options, the variety and quality of your resulting images may be incredibly limited. Just remember that your photo team will do what they can, but ultimately the choices you have made before the day even arrives can have a wide-reaching effect on the outcome of your photos." – Shannon Dewitt, owner of Dewitt for Love Photography
"Please consider your family, friends, hair, and make-up in the rain or high winds. Some of your guests may have traveled long distances to be a part of your special day. Consider an indoor plan. Have umbrellas available. An area for safe cover from potential lightning and debris from high winds." -Rich Kenny, Tampa Event DJs
---
Who is Responsible for Moving Items from Outside to Inside?
"Typically the catering team and your event planners will work together to make sure to bring all rentals inside. We always make sure that linens, chair cushions, printed materials, and anything fragile make their way inside first! We always make sure to watch the radar if there is even a chance of rain throughout any time of year, but especially in the summer months." -Lauren Gertz, owner of MDP Events
"Communication and a strong understanding of which of your vendors offer what in terms of 'boots on the ground' is key in this situation. As a venue that holds the vast majority of its ceremonies outside, I can't stress enough the importance of communicating your rain plan to all of your vendors so that you are able to cover all of your bases. Communication is what keeps you from assuming and rather allows for an action list with specific vendors assigned to specific tasks so that nothing is left behind." -Bridget Baker, Director of Private Events of the Tampa Garden Club
"Upon booking your event space, ask if the venue offers a backup plan for inclement weather. Will the event space accommodate last-minute changes such as moving chairs inside for the ceremony? Will there be an extra charge if the reception is now indoors? What about delays in the timeline? Will your venue and vendors allow for extra time?" -Rich Kenny, owner of Tampa Event DJs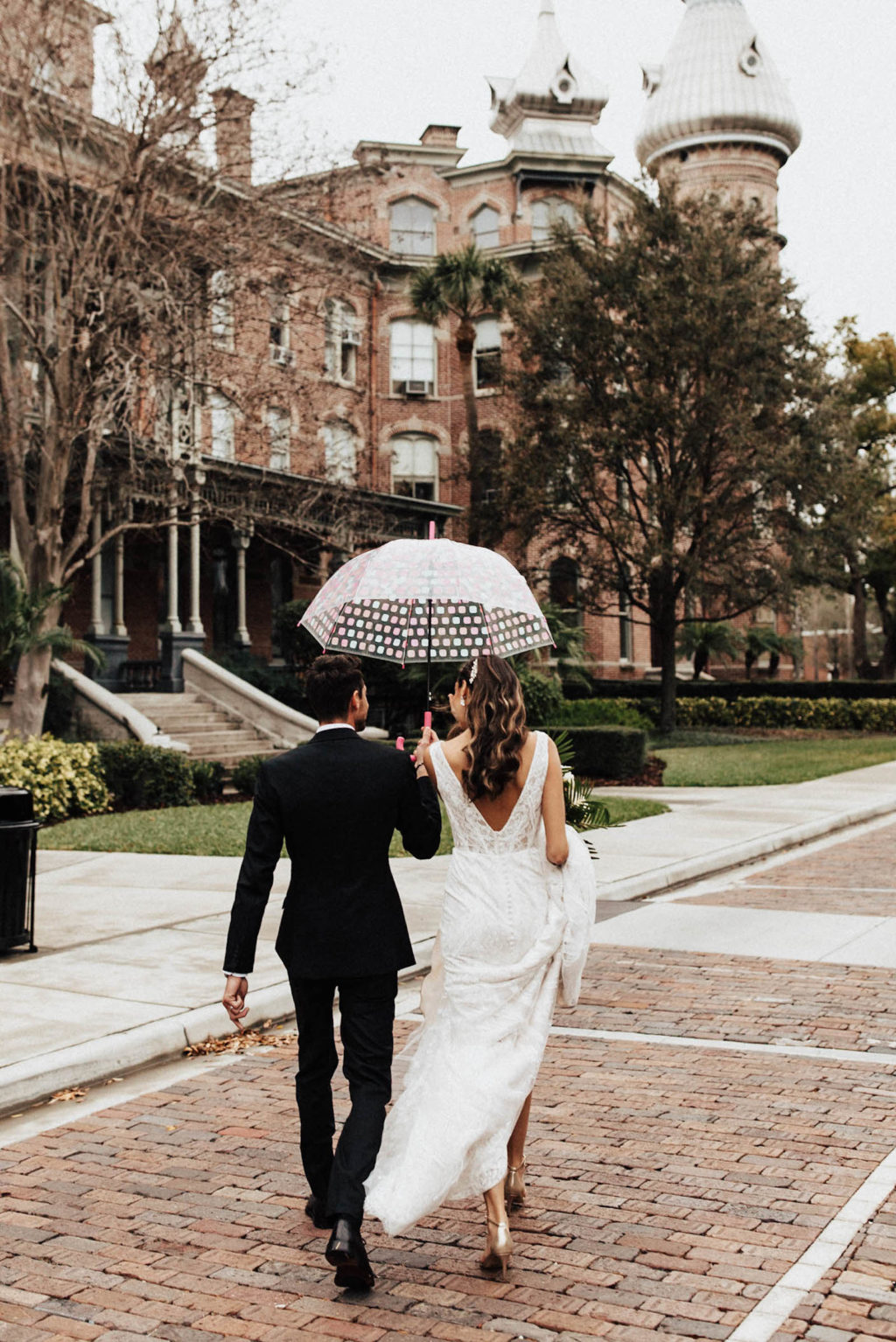 Emily Mathewson Photography
---
What Do Couples Need to Know About Indoor Backup Locations?
"Indoor backup locations are wonderful to have, however they should not be an afterthought! It is important to make sure your decor, style, and rentals all work with both spaces and you review the floorplan for both outside and inside. Sometimes the indoor spaces are much larger than the outdoor so we recommend some draping to close off a bit of the room if you have a smaller guest count." -Lauren Gertz, owner of MDP Events
"When thinking about a venue that offers an indoor backup option, consider the photography options. If you have to move your wedding inside, this means that your wedding photos would have to be shot indoors as well. For this reason, it is important to choose an indoor setting where you would want your photos to be taken. Look for unique architecture such as staircases, archways, columns, and backdrops such as paintings or greenery. By having multiple indoor backgrounds your wedding photos will have a variety of backdrops and unique shots." -Miranda Gates, Limelight Photography
"When it comes to backup photo locations that are covered from the rain and that don't require a pre-approved permit to shoot at, there aren't many. Don't just assume that you can shoot anywhere and everywhere, especially if you're rolling in with your wedding party. There are very limited covered locations in Tampa and St. Pete, which makes it even more important that the hotel you get ready at has plenty of great indoor photo spots and that you choose a venue that's as beautiful inside as it is outside! If your day gets rained out, you chose a not ideal hotel to get ready at, or a venue with no indoor options, consider discussing with your florist/photographer/hair and makeup team what a newlywed session after the big day would cost you! Ultimately, you don't have to be disappointed forever that your portraits weren't taken in the golden hour, outside, or in beautiful light! Consider booking a separate session, which bonus, is typically one to two hours, while on your wedding day you might have had only 15 minutes. You can get back in your wedding gear a few weeks or months later and have a much more laid-back time creating even more stunning photos for the two of you!" – Shannon Dewitt, owner of Dewitt for Love Photography
In Florida, especially during hurricane season, it's so important to talk to the photographers you are interviewing about what they do when it rains! True professional wedding photographers are not natural light only. It just isn't possible when the weather doesn't cooperate and there is no natural light to be had. If everything has to be inside, we'll use locations inside by large windows, under awnings, or even with umbrellas outside using off-camera flash or LED lights. Rain actually makes for some really cool photos. If it's raining during the time when we are doing portraits, but stops later, we'll even take our couples outside whenever it stops raining or in the most extreme circumstance, we would even do a shoot with the couple after the wedding when the weather is more cooperative. There's no controlling the weather, but your wedding professionals should be prepared for any situation! -Carrie Wildes, owner of Carrie Wildes Photography
---
When Do Vendors/The Venue Decide to Move the Wedding Indoors?
"We have a unique situation of our setup crew coming in overnight so we make it clear to our couples that rain plans (if they are expecting us to change the layout of what we provide at the venue) have to be into us 24 hours before the event. If they are not willing to change the layout that far out then they are responsible for finding out if their other vendors have the manpower to make those changes the day of their event." -Bridget Baker, Tampa Garden Club
"The good news about Florida weather is that it is usually fast-moving and the rain doesn't last very long. However, there have been instances where it has rained all day and in that case, the decision has been made to move the wedding indoors. As much as possible, your wedding planner/vendors want to hold off moving your outdoor wedding indoors. However, your vendors also need enough time to move all of the outdoor decors inside. Therefore, the decision needs to be made at least several hours before the ceremony begins." -Miranda Gates, Limelight Photography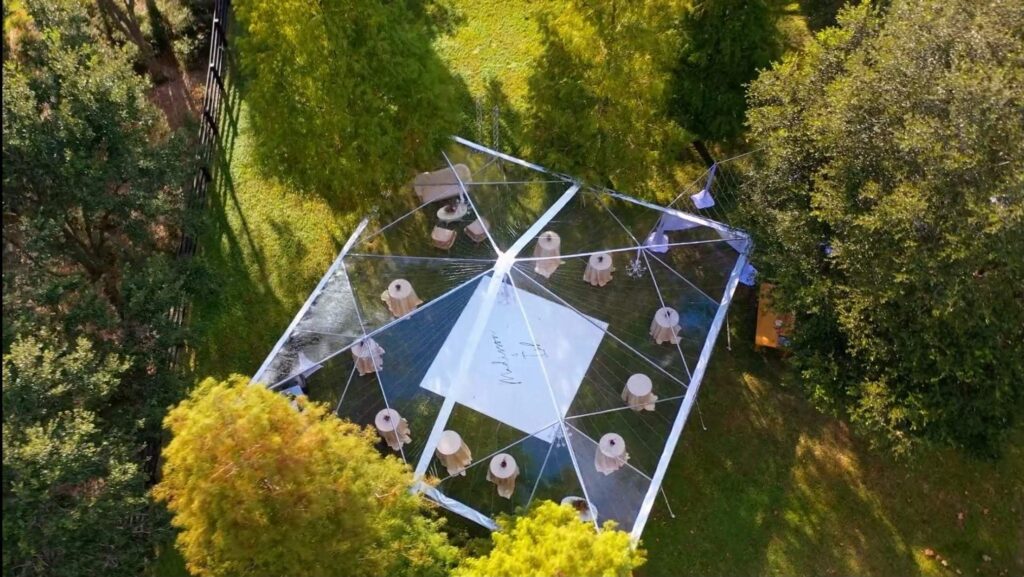 Paige Stelluto Photography | Tent: Gabro Event Services
---
What Do Couples Need to Know About Reserving a Tent?
"Wedding season is very busy for every vendor, especially rental companies. It is important to remember to cement your tent with a deposit far in advance as they will not always be available last-minute, especially in the size you may need! Always keep in mind that tents need lighting and not all of them look exactly like what you see online without a little bit of love." -Lauren Gertz, owner of MDP Events
"It is always best to secure your tent rental as soon as possible. Tents are a great idea but many people don't think about them until the last minute, and by then they are hard to find. We have a wide variety of tents, everything from 10×10 to 40×100. Tents are a wonderful way to enjoy your special day without the worry of looming weather or indoor venue restraints! We love to spruce up tents to make them a magical space for your special day by adding draping, lighting, chandeliers, dance floors, ACs, and about anything you can imagine ensuring you and your guests have a night to remember!" -Sydney Ladner, Gabro Event Services
"Rain backup plans are always a must when planning a wedding outside in Florida. With the chance of rain so common to happen at any moment, we highly suggest you check with your venue to see if they have an alternate inside location that is able to hold you and your guests in the chance of bad weather. If you are wanting to keep your wedding outside you should reserve a big enough tent to accommodate your needs. Some companies allow you to cancel your tent reservation 48 hours before your event so securing those early just in case is never a bad idea. Also, if you are getting a tent make sure that you are not setting up your DJ, band, or entertainment near any place that is going to get wet and damage their equipment. We suggest letting your vendors know 24 hours ahead of your start time about your new location so they are able to be prepared with the proper equipment if the location is going to be changing." – Cindy Dervech, owner of Breezin' Entertainment
"Always rent from a reputable company. Ask your planner or venue coordinator for referrals. Make sure that the rental company has liability insurance and that the tent can accommodate fans, and open and closed areas. After it rains the humidity is awful!" -Rich Kenny, owner of Tampa Event DJs