Alex and Julian's vibrant downtown St. Pete wedding combined their colorful and traditional approach resulting in a colorful garden paradise. The bride and groom declared their love on the water's edge as their loved ones celebrated in the Florida sun.
"I am all about color and florals! I have a degree in painting, and these days I spend half my time in the garden. I wear vibrant colors and florals pretty much every day, and I have no fewer than four pairs of floral sneakers. The jewel tones I picked, purple, emerald, orange, teal, and fuschia, could not have been more me!" the bride gushed. "My husband loves weddings and is quite a bit more traditional.
The Boston couple appreciates the artistic feel of St. Petersburg, where her parents currently live, and even held an intimate brunch at their bungalow the morning after their April ceremony.
"I love the vibe here, and we are artists and foodies, so it's perfect for us. It's also more affordable than the Northeast, so my mother and I started scheming how I'd have my wedding here before I was even engaged. I've been telling everyone how cool St. Pete is for years, but they weren't convinced until they came and saw it for themselves!" the bride beamed. "We encouraged our guests to take a mini vacation and enjoy themselves. Everyone loved it and kept thanking us for getting married!"
The destination couple envisioned an outdoor venue that could host 90 friends and family and selected The Poynter Institute after viewing its one-of-a-kind architecture and convenient location in downtown. St. Pete.
"I'm a plant lover, so my original preference was for a garden venue, but my mother had been to The Poynter Institute and convinced us to check it out," the bride explained. "I remember coming back and telling her, 'you were right; we kind of loved it.' The Great Hall is just beautiful, and the rich, orangey wood was right up my alley. The courtyard is gorgeous, and I bought purple, orange, and teal pillows for the benches to make it comfortable and inviting. The reflecting pool area was a cool bonus, and I was thrilled that people used it. Once the night cooled down, we threw open the doors, and half the party went outside while a refreshing breeze embraced the dance floor. Ultimately, it had everything we wanted and was reasonably priced, too!"
Being out of town, the couple relied on wedding planner Wilder Mind Events to bring their vision to life. Owner and designer Delaney Driver took an active role in committing to the couple's vision.
"We chose Wilder Mind Events because Delaney is committed to bringing her couple's vision to life. She takes an active role in the design of the event, not just coordination. I had never even been in a wedding before, so I had no clue what I was doing. I could never have done it without her!" the bride praised. "Delaney is the one for a fun, creative, beautiful, colorful, hip, bold, you-name-it-she-can-do-it wedding! I am so happy we hired her, and only wish I had an unlimited budget that she could have gone wild with. I come from a family of artists and DIY-ers but didn't have the bandwidth, organizational skills, or local knowledge to pull off a wedding myself. We chose the partial planning package, and Delaney's experience and coordination were invaluable! Her preferred vendor lists, advice, and checklists made planning manageable. Her day-of coordination and her assistant, Taylor, allowed me to have a worry-free wedding day. Her vendor recommendations all exceeded our expectations! On top of all that, Delaney was special because she understood our vibe and brought our vision to life!"
With her venue and planner in place, Alex relied on Marry Me Tampa Bay for vendor research and inspiration from past weddings at her venue to help her bring together all of the details. She worked with her planner to create a vibrant atmosphere of deep, emerald green tablecloths and chairs decorated with jeweled-toned vintage glassware, cascading floral arrangements, and lilac accents.

"After I narrowed down vendors in a particular category, I would often end up on Marry Me Tampa Bay looking at their work. I particularly remember looking at the weddings at the Poynter over and over since I was out of town and couldn't go back to see it myself," the bride explained. "In addition to loving color, I love vintage. We rented vintage glassware from our florist and had a different color at each table. That was another detail that everyone said was so 'me.'"
The couple wanted their 90 loved ones to let loose on the dance floor and hired Graingertainment to play late '90s and early '00s pop and hip hop.
"We both love to dance and eat, and we just wanted everyone to come together and have a good time, especially after being apart for so long during the pandemic," the bride shared. "Graingertainment was super responsive to questions. We spoke with Dylan on the phone before the ceremony, and he guided us step by step through the program and all the song choices we needed to make. He encouraged us to stick to our guns about our choices instead of trying to please others. Since Delaney has worked with Dylan before, she was able to relay logistical questions, so we didn't have to worry about the technical side of getting audio in the ceremony, cocktail hour, and reception spaces."
Looking back on the day, Alex and Julian remember their loved ones enjoying their destination wedding and celebrating their love. They combined their two families, as the bride's cousin officiated the ceremony and incorporated secularized and modernized Jewish traditions, such as circling each for their unity ceremony.
"The most memorable part of the day was how happy everyone was to be there," the bride shared. "They were in sunny Florida, reunited with loved ones, and we showed them a great time. The joy we brought them ended up being the best part of the night."
How did you incorporate your personalities into the wedding?
Hands down the quirkiest thing we did was walk down the aisle to The Mandalorian theme song. It wasn't even because we love Star Wars, though we are generally very nerdy, I just really love that song! I started joking about it, and the joke eventually turned into a reality. No regrets!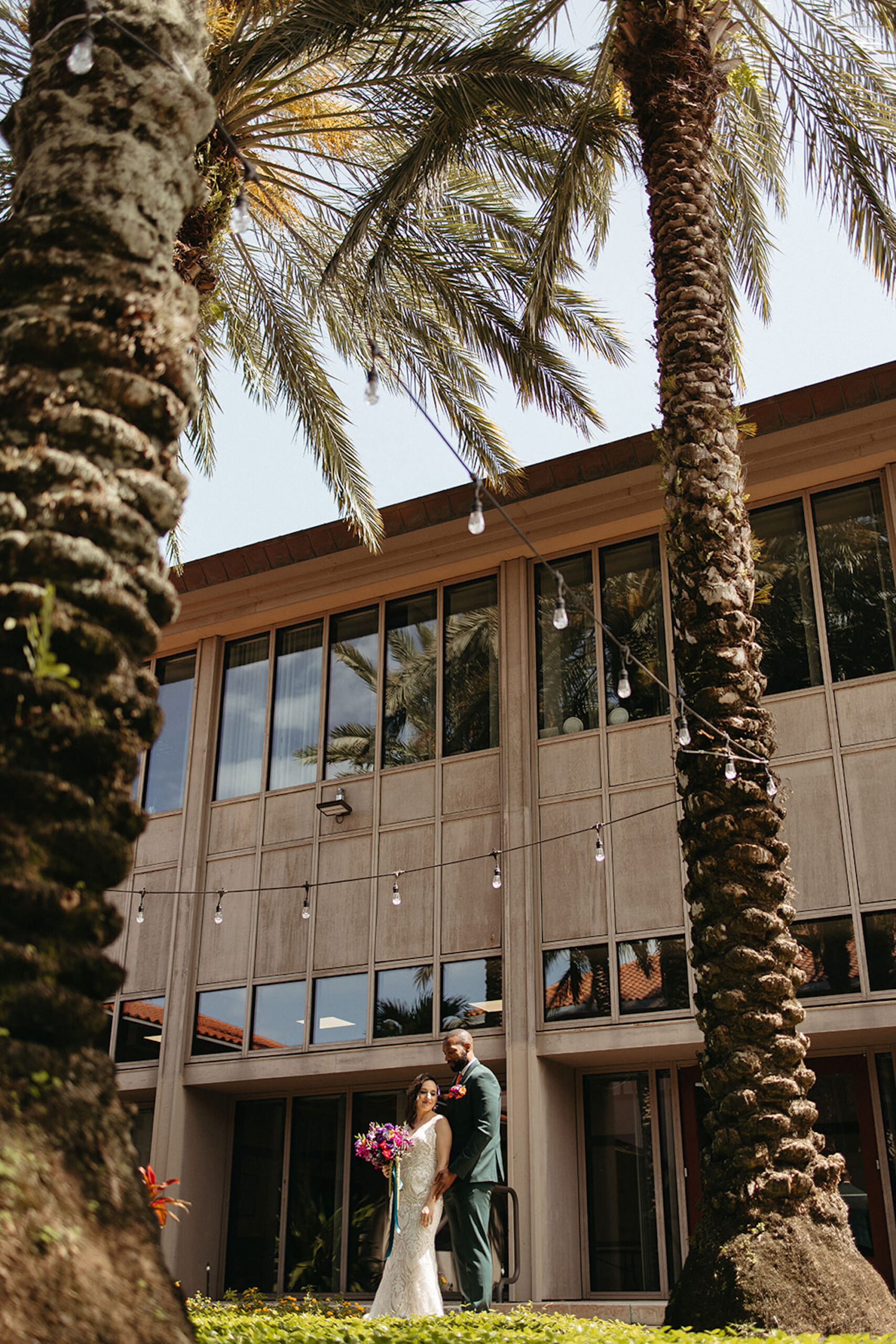 How would you describe your theme and colors?
"I am all about color and florals! I have a degree in painting, and these days I spend half my time in the garden. I wear vibrant colors and florals pretty much every day, and I have no fewer than four pairs of floral sneakers.
The jewel tones I picked, purple, emerald, orange, teal, and fuschia, could not have been more me!
Which vendors really exceeded your expectations?
I had really high hopes for my flowers, and I wasn't disappointed. When our florist dropped off the bouquets at the hotel, I was immediately in love. I couldn't stop looking at them and smelling them!
Our cake was absolutely delicious. We ordered a three-tier cake with different flavor combinations on each tier. We went with a simple buttercream design so that we could use our wedding flowers as decoration. We ended up ordering 13 dozen cupcakes in 8 different flavors (including vegan and gluten-free), and almost every cupcake was eaten before the night was over!
A well-stocked bar was important to Julian. I mostly drink cocktails; I love anything with fruit and fresh herbs, so we had to have signature cocktails. I picked a citrus sangria and named it "Florida Sangria" to play up the destination wedding thing. It was the only thing I drank all night. Julian's family is from Barbados, so he went with a "passion and spice" rum punch made with Bajan rum.
Our planner convinced us to rent a mobile bar for our cocktail hour in the courtyard. How could we resist? The Bence Bar is perfectly my style: both vintage and turquoise! They even decorated with our colors.
My dress shop doesn't look as chic and fancy as other bridal boutiques, but they are so friendly and have beautiful dresses at amazing prices. I had fallen for a dress outside my budget, and they had a similar design in the exact same lace for half the price.
What advice would you give to other Tampa Bay couples?
If you want a fun, funky, beautiful wedding, hire Wilder Mind Events! Also, consider the Poynter Institute; our guests were really impressed.