St. Pete – Our hundred year old building provides an intimate and unique vintage feel. We are located in downtown St. Petersburg, and within walking distance from many fine bars, restaurants, and hotels. Our rooftop ceremony lawn provides a birds eye view of downtown, and opportunities for those golden hour photos.

260 1st Ave S, St. Petersburg, FL 33701
(727)502-6275
The Ceremony:
An elevated rooftop space with seating for 80 and balcony viewing for up to 40 standing
The Cocktail Hour:
An indoor space with antique furnishings and a built in bar. The cocktail hour space is an open layout with options to customize.
The Reception:
The lower tier of the outdoor lawn is a perfect space for hosting your reception under the stars. We also, have an indoor option with open floor plan weather permitting.
Maximum Capacity: 120 guests
Event time ranges from 6pm- Midnight
The Food and Drink:
Our internal catering is provided by Ichicoro Ane, and all outside catering is provided by Salt Block catering. In house specialty cocktails are provided by Ichociro Ane and available upon request.
Ichicoro Ane is located just below the venue, for a convenient after party destination. In house day of coordination is also available.
Average Food and Beverage Minimum: $6,000
Average Cost Per Meal: $55
Average Beverage Cost: $4,800
Savings Tip: We do weddings seven days a week. An alternative date can save you on the space rental fees.

What couples love about Station House:
1. Our space is already decorated with lush furnishings that lend themselves to many different aesthetics. This historic 100 year old building is a unique alternative to a traditional ballroom wedding.
2. The space features a rooftop ceremony space for those fantastic golden hour photographs.
3. Our downtown location is within walking distance to many bars, restaurants and hotels.
Meet the Events Director:
Meet Emily Smith-Prace, Events Director: I've been so lucky to have this opportunity to really connect with people. To take what may be stressful or overwhelming and remove some of that pressure. The feeling of connecting with couples and their families during their very special day is why I'm here. This is a really special time to be part of the downtown and Station House in the middle of St. Pete's blossoming!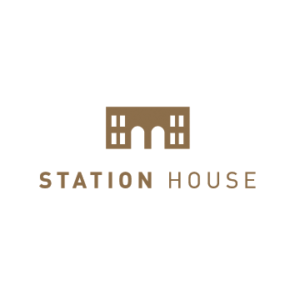 Send me pricing and availability for the Station House.
---
Featured Station House Weddings
Station House Reviews From Marry Me Tampa Bay Couples:
"We hired Station House because the space and location were everything we could have imagined and more! I loved the multiple floors, and the fact that your decor is built-in. It also helped that the service was beyond excellent. My wedding coordinator, Emily, was absolutely amazing!" -Rachel and Eddie | Rooftop St. Pete New Year's Eve Wedding
"I used Marry Me Tampa Bay to stalk other people's weddings who were getting married at my same venue. Our wedding planner recommended Station House St. Pete for the ceremony since it was right down the street from our reception venue. I loved the space. It was kind of industrial chic and had plenty of artwork to look at. What really sold me though was the food. We had cocktail hour there, and their food was incredible!" -Madeline and Quentin | Urban Meets Garden Chic Downtown St. Pete Wedding
Website | Facebook | Instagram
260 1st Ave S, St. Petersburg, FL 33701
(727)502-6275