The Artistic Whisk, LLC is a completely CUSTOM bakery. Everything we create is baked from scratch using only the highest quality ingredients, and we are committed to bringing your dream cake to life. "Our cakes are but a canvas for your imagination…"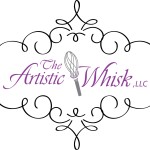 Website | Facebook | Instagram | Pinterest
We love baking and decorating wedding cakes because:
We LOVE making people happy. Exceeding our clients vision is our ultimate goal. We pay close attention to detail, using our artistic abilities, and of course, taste testing our creations. Our favorite part of our jobs is the entire creative process; taking ideas from our clients, asking questions, drawing a sketch, baking the cakes, getting lost spending hours decorating, then taking a step back and admiring our hard work and then finally seeing or hearing how happy our clients and their guests are. There's nothing better!
Our personality is:
We are fun loving girls who are happy to come to work. We enjoy working to loud music and laughing all day long. We like to smile and make other people smile too.
What makes our business stand out from dessert companies is:
Our bakery is unique in many ways. Our Pastry Chef/Owner, Jovana, is a trained pastry chef with a degree from Le Cordon Bleu, who has worked at prestigious resorts around the area, including the Marriott Waterside, The Sandpearl, Innisbrook and The Ritz Carlton, Naples. Working for talented chefs in busy hotels has given Jovana an enormous amount of knowledge and experience imperative to running a bakery. We are also committed to only using the finest ingredients and making everything from scratch. You won't find any shortening or hydrogenated oils, artificial flavors, cake mixes, or preservatives in our baked goods. Every single person who has come to one of our tastings has been able to tell the difference.
We also strive for the best costumer service. Communication is key. Friendliness and understanding our client is most important.
Our attention to detail in our artistic designs and decorating is obvious; we do not take shortcuts.
Our pricing: 
Our pricing is determined based on the cake flavors that are chosen and decorations are added on separately. With each wedding cake, we include a complimentary tasting up to four, the top tier (anniversary tier) is free, cake stand rentals are free, and we also include one hour of decorating.
I Want to Learn More about Desserts & Cake from The Artistic Whisk.
Featured The Artistic Whisk Weddings on Marry Me Tampa Bay:
View More The Artistic Whisk Weddings
The Artistic Whisk Reviews From Marry Me Tampa Bay Couples:
"We hired The Artistic Whisk because it was the best tasting cake we had ever had! Jovana is such a genuinely sweet person and makes gorgeous cakes! My husband wanted his groom cake to be a [tree] stump, and she was so excited to do that and totally nailed it!" -Sidney and Jordan | Elegant Pink and Green St. Pete Beach Wedding
"We wanted our wedding cake to be large and in charge with a bunch of tiers and cascading flowers coming down. During a meeting with The Artistic Whisk, they mentioned doing different designs in gold on each tier, and we really liked that. Then we tasted their cake, and oh my goodness, it was amazing! They also are amazing talented when it comes to design." -Nia and Savva | Classic White and Gold Tarpon Springs Greek Wedding
"The Artistic Whisk was recommended by our wedding planner, and we absolutely love her cakes! It was so delicious, and she executed my design perfectly." -Matt and Jessica | Romantic, Pastel Treasure Island Beach Wedding
"Similar to my theme, I looked for classic elegance, and of course taste! I didn't want anything too complex in either look or taste. First and foremost, each and every flavor of The Artistic Whisk's cake is absolutely delicious! There wasn't one I didn't like. Also, their flexibility and customer service were outstanding. They were very helpful in guiding me through the design process and graciously accommodated my vision and changes." -Staci and Rob | Ivory, Gold & Blush Destination Clearwater Beach Wedding
"I wanted someone who could do modern designs and had a good sense of what I wanted. We also wanted cake that actually tasted good! So many times the cake at weddings is sub par to how they look on the inside. We also had to have a dessert bar, so we needed someone who could do two cakes and desserts. We tried three other places and honestly, nothing compared to The Artistic Whisk's cake. It was so good, and we couldn't wait to eat more on our wedding day! Jovana, the owner and executive chef, sketched exactly what I wanted on the spot and executed it with flawlessly. The desserts were amazing and the table came together perfectly." -Kim and Alan | Romantic Gold & Pink St. Pete Wedding