One of our missions at Marry Me Tampa Bay is to educate brides on the real truths of planning a wedding. So we reached out to our preferred Marry Me Tampa Bay wedding vendors for their best pieces of wedding planning advice, and we were given so much great insight, we compiled it into two advice articles. Read Expert Advice: What Your Wedding Vendors Want You to Know, but Are Too Polite to Tell You: Part 1
How Much Does It Cost?
I am happy to give you a pricing estimate for our services, but it is difficult if the only information I have is "What is your 'Day Of' pricing?" It helps to know your date, anticipated guest count, locations, etc. in order for me to give you a more accurate estimate on the cost for our services. -Tammy Waterman, owner of Special Moments
When calling a vendor try not to say "how much does it cost" right up front. Almost every wedding vendor customizes their services to each event and many of our prices vary depending on time of year or even the day of the week. From the venue's perspective, it can cost $1,000 or $100,000. It all depends on what you want. It's good to start with how you envision your wedding, then provide details with dates, timing, guest count, required inclusions, desired inclusions, and of course…the budget! -Jason Carroll, Director of Sales & Events at the Florida Aquarium
We want to give you the most amazing wedding possible for your budget. Please don't assume that published prices are a starting point to start negotiations. -Jessica Bressmer, Senior Catering Sales Executive at the Tampa Airport Marriott
The proper way to negotiate with your wedding vendors is to negotiate services or product for the price that fits your budget. It's really no different than shopping at your favorite store. You wouldn't think to bring several items up to the register and when you're given the total offer to pay a lower price, would you? Of course not! When it comes to selecting your wedding vendors you don't always have to compromise quality for budget. Instead, ask for a quote on only what you
need
. Also, ask about payment plans or if their product or services can be added to your gift registry. You just might be pleasantly surprised at how many options are available. Jill Kelly, owner of
Jillian Joseph Photography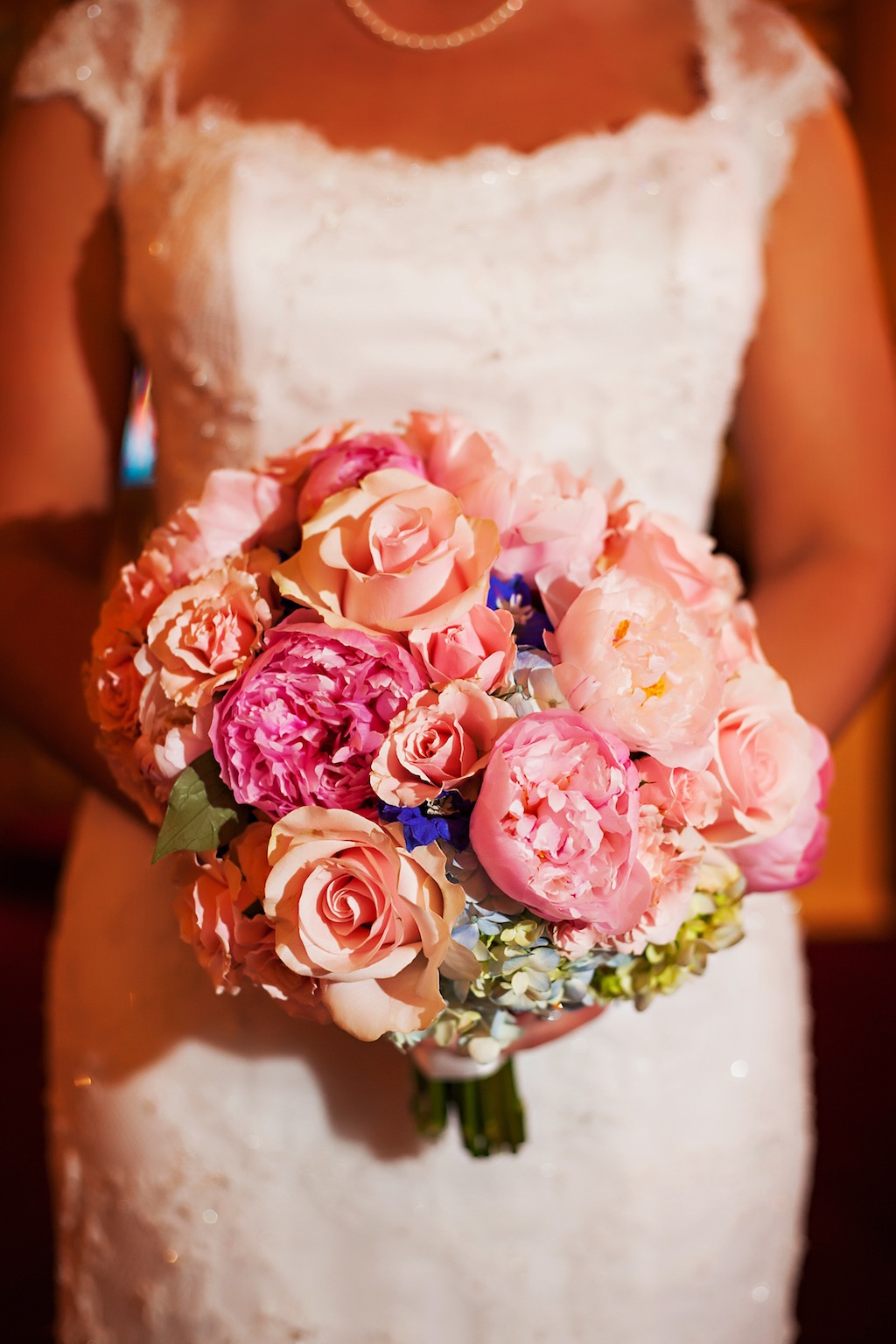 Navy Blue, Grey & Pink Waterfront Tampa Wedding |Photo: Limelight Photography | Flowers: Apple Blossoms Floral Design
Don't hire a professional strictly on price. Do your homework. Ask for references. Look at reviews online. Make sure the florist understands your look or style you are trying to achieve. Make sure the professional carries all the insurances and legal documents needed to create a wedding at your selected venue. Many places are requiring liability insurance. -Scott Darhower, owner of Apple Blossoms Floral Design
In our industry (DJ, Lighting and Photo Booth), we find that many soon to be married couples are confused when it comes to price and comparing competitors. We often get the "price match" or "I found it cheaper" conversation, but they don't take into consideration the fact that what we offer may be drastically different in terms of service, quality, skill, equipment, etc. than the other company. The fact is that the entertainment of your wedding can make or break your guests experience. There is a difference between an experienced wedding DJ and an amateur. Furthermore, most couples don't understand the importance of proper lighting for their reception, and many get roped into letting an inexperienced DJ handle all of their lighting needs, when that person does not know how to properly light a venue. Ask any photographer, and they will tell you that proper lighting is key to an amazing picture. Some DJs use cheap "Dot" lighting that will put colored dots all over your and your guests faces that will either look terrible, or will require your photographer to spend a lot of time editing these out. So the point here is simple… use quality vendors, know what you are getting and understand that not everyone in each category is the same. Those vendors that are professionals will cost more. -Michael Greenberg, owner of Nature Coast Entertainment Services
R-E-S-P-E-C-T Your Wedding Vendors And Their Craft
You can catch more flies with honey than with vinegar. Clients who are not friendly, rude, abrasive, inpatient, demanding, etc, will not be receiving the best deal for their wedding. Many wedding vendors are able to add value to their packages, or throw in additional items or services at no or little cost. We don't ever do this for clients who treat us poorly. However, a client that is nice and makes working with them enjoyable will undoubtedly be getting as many additional add-on opportunities we have access to.
With most wedding photographers our selling point is telling the story of your day. From getting ready, to dancing the night away at your reception, the whole day is a huge chapter of your life; a part of your story. Emailing us saying that you only need us for an hour or just for a few pictures is like a stab in the back for us. We want to be there to capture your day, everything in between and be able to tell the story of your wedding day. -Lisa Otto, owner of Lisa Otto Photography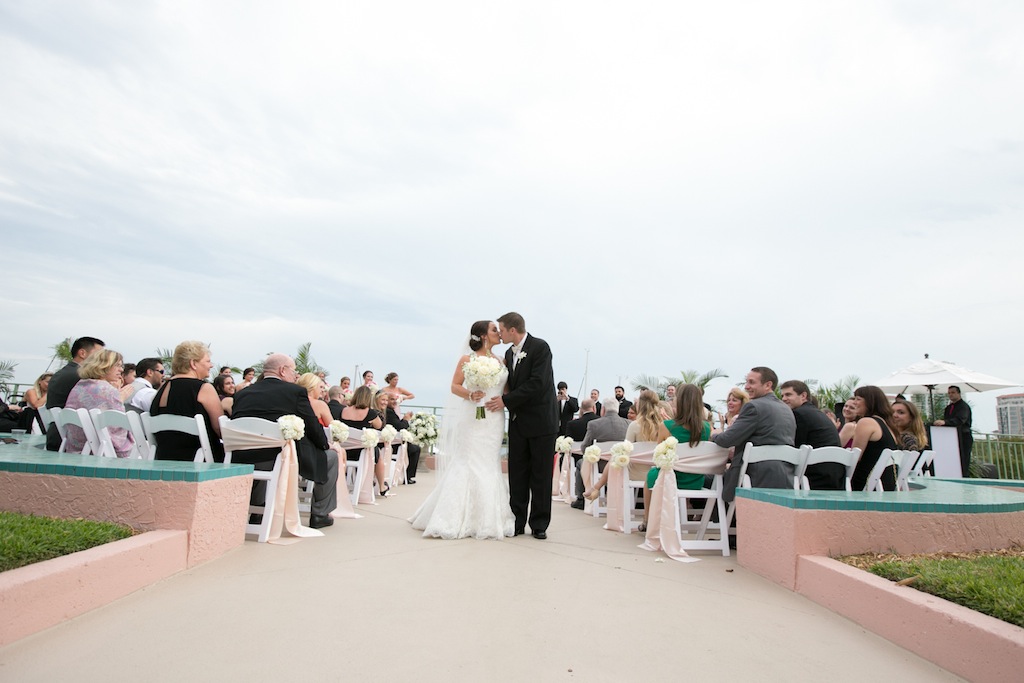 Champagne and Blush Destination St. Petersburg Wedding at the Renaissance Vinoy | Photo: Lisa Otto Photography
Take the time to research a photographer who's work you admire. Inquire with them and make it personal. Out of everyone hired to be there on your wedding day, this one person can make the difference in how you remember this day. Don't take this the wrong way, but, everyone else can be forgotten while your photographs will not be. In truth, every person you contact and potentially hire should be given great care, consideration and the respect that you would love to hire them and have them perform 1000% for you. If you carelessly shop around like choosing these vendors is a chore to you, then please do yourself the biggest favor in the world and hire a wedding planner! -Marc Edwards, owner of Marc Edwards Photography
Never ever tell me that you don't like flowers or that they aren't important to you! Even if that's true, it's very deflating for someone to say that to a florist when they are soliciting our services. It's my job to get inspired to create a design for you. It's hard to get inspired when someone tells you that they don't value what you do! Just keep this one to yourself -Andrea Layne, owner of Andrea Layne Floral Design
Tips For Every Bride and Groom
As a wedding photographer, it's cumbersome when our brides don't hire a wedding planner because, by default, we end up being their "Day of" Coordinator, because we're the only vendor who stays with them for the duration of their wedding day. So instead of focusing 100% of our creative energy on capturing the best moments of their wedding day, we end up showing them how to put their boutonniere on, advising them when to walk down the aisle, explaining how to cut the cake, etc. It's difficult to be in that situation where we want to help our couples because we genuinely care about how their day goes, yet the more we play the role of coordinator. We're inevitably going to miss out on some candid moments that we would've otherwise been able to capture.
Read your information packet and rental agreement! Read it before you call with questions that are covered in the information packet and agreement you signed. -Pam Dawson, Marketing and Sales Director at Beso del Sol Resort
Having a matching color is definitely the goal, but having a color in the same color family or even a shade off actually adds dimension to the table. When you try and match the color 100% sometimes it is obvious and doesn't look good. Matching colors to your venue's room or florals is recommended, but be open to different options or suggestions. Chris Moore, owner of Custom Linens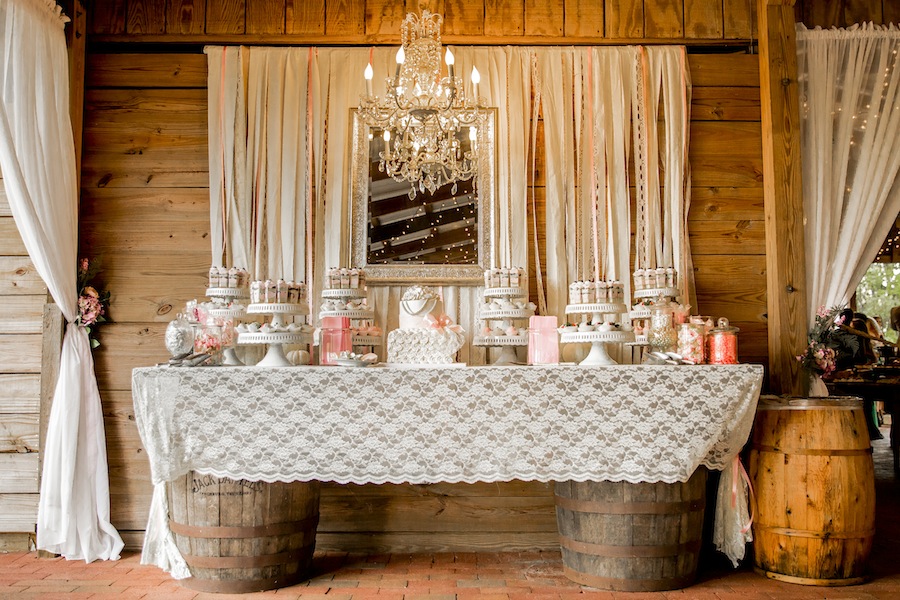 Pink and Lavender Romantic, Country Wedding | Cross Creek Ranch | Photo: Sublime Studios | Cake: Alessi Bakery
What brides should know when coming to their cake tasting: please limit the amount of people you bring. The tasting is for the bride and groom, if one can not make it, then bring a friend or parent. In most cases, it stresses the couple more on what to choose when there are so many opinions in the room. The wedding cake is your design and your flavor. You will never make everybody happy with your choice, so choose wisely and let the decision be yours. -Melissa Maggiore of Alessi Bakery
Don't make assumptions about a venue based on perception, name or location. Everyone one wants the newest, hottest thing. Find that hidden gem or venue that was just completely renovated. Chances are, you will be the trendsetter, and you will probably get better pricing than the couples that book months later after the venue is "discovered." -Jessica Bressmer, Senior Catering Sales Executive at the Tampa Airport Marriott