What Factors Go into the Cost of Professional Wedding Photography?
"While couples know that they are paying a photographer for coverage of their wedding day, there is so much more that goes into this cost that might not be as obvious. For photographers, time is potentially money. We spend our time meeting with our couples, emailing them, speaking with wedding planners, reviewing timelines to make sure they fit the photography needs correctly, etc. Post-wedding we are doing our best to get sneak peeks out as soon as possible, hand-selecting the best photos, and then editing them. This can take many, many hours for an average-sized wedding which is all factored into the cost of your wedding photographer. We also have to upkeep our gear and make sure we have the best equipment." -Amber McWhorter, owner Amber McWhorter Photography
"When looking at the pricing of professional wedding photography, keep in mind that there are many contributing factors that make up these costs. Such factors include pre-wedding preparation, client consultations, organization of wedding timelines, time, energy, travel, camera equipment such as camera bodies, lenses, and flashes, camera gear maintenance, insurance, utilities and cost of operations, computers and software equipment, and post-production, which typically involves 30-50 hours of artistic enhancements. There are also many members of a team that contribute to providing you with the highest possible service and images. Depending on the size of the business, staff can include an in-studio manager, lead and associate photographers, editors, and marketing. Professional wedding photographers have years of experience, training, and knowledge that they use to deliver high-quality, artistic, and gorgeous photos. Therefore, when paying for professional wedding photography you are also paying for the assurance that your entire wedding photography process will be handled with the highest possible care." -Miranda Gates, Limelight Photography
"When many people think of photography they think of the final product, the photos, but there are so many aspects that go into making those beautiful photos happen. When you're paying for your photographer, you are paying for an experienced professional. The experience includes expensive gear, knowledge, working with other vendors, working with weather or unideal situations, and still being able to create photographs that you love. We are working with you from the moment you book until (sometimes) months after your wedding day, and you are investing in a product that is going to tell your story for generations." -Joy Hmielewski, owner, Joyelan Photography
"Time is a huge factor when photographers are determining their costs. Many hours are spent photographing and editing the wedding day, but it doesn't stop there! Each client gets our time through email communication, timeline building, session, and gear prep, drive times for meetings and sessions, product design, and ordering. There are also general business time requirements that include bookkeeping, website design, marketing, and education. Also consider the years your photographer may have spent on education, experience, and portfolio building." -Amanda Zabrocki, owner, Amanda Zabrocki Photography
"Photographers are business owners; we don't just run around taking pretty photos and then throw up our feet on the couch all week. We have all the same costs as any other business, (marketing, equipment, insurance, second shooters, product cost, etc.), so there is a huge difference in the price the photographer is charging versus how much the photographer is actually making. In order to pay the bills and stay in business just like anyone else, photographers have to charge based on these costs. Much of the cost of what we do actually happens after we shoot the wedding. There's downloading, editing, proofing and album design, and all of these things are part of the hourly rate the photographer is charging otherwise they will not be in business for long! We are there to guide the flow of the day, keep it on track or get it back on track, and capture the most treasured moments from your wedding day. We call what you pay for with us an "investment" because the photos (and video) are the only things you will spend money on from your wedding that actually will increase in value throughout the years." -Carrie Wildes, owner of Carrie Wildes Photography
"Experience, the extent of services offered, level of artistry, time (pre-wedding preparations, post-wedding production/editing, as well as time shooting on the day of the wedding), and ultimately the couple's overall experience. The wedding shouldn't be the first time you've worked with your photographer. The wedding is the high point of all the relationship-building you've done over the months leading up to the big day. There are several consultations, wedding day photography guidance, timeline creations, working alongside your coordinator, and (our personal favorite) the engagement photo session! The age-old saying of 'you get what you pay for' most certainly applies when it comes to wedding photography. A bargain price package may seem enticing when you first set out searching for your wedding photography team. But beware. A true veteran business has taxes, insurance, gear, staff, and licensing expenses. That means they charge rates based on their operating costs and personally assessed value in their local market. Instead, try looking for a company that truly wants to understand your photography and videography needs and then is willing to customize a package to meet those needs. Almost a third of our weddings each year are custom packages that we've framework for our couples. When you hire a wedding photographer, you are essentially commissioning artists to depict and document your day. It's living art, your legacy, and your team should be worth every penny they charge based on their heart for the family heirloom they are creating." -Stacy Boyce, Garry & Stacy Photography Co.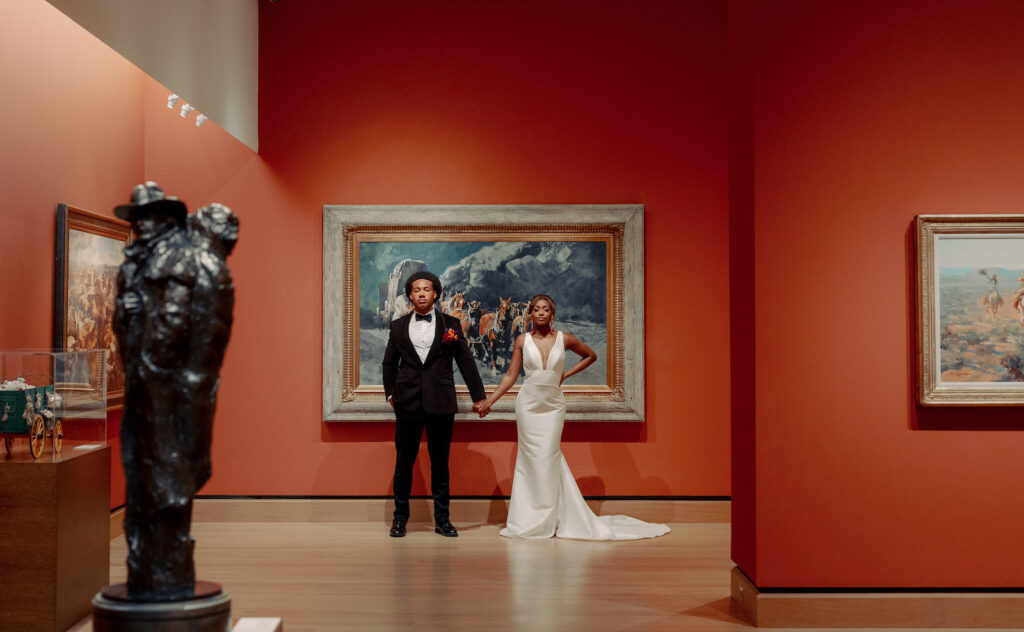 Dewitt for Love Photography | Vibrant Modern Pink and Purple St. Pete Wedding Styled Shoot
What Qualities Should I Look For in a Wedding Photographer?
"A good photographer takes gorgeous images. A great photographer captures true emotion and goes a step further to understand their couples and how to make them feel comfortable enough to be themselves. A wedding photographer should be caring, compassionate, decisive, and detailed. They need to blend in enough to make everyone feel comfortable, but also take charge when the time is right. Look for a photographer who is personable, knowledgeable, and has lots of experience. You want someone with an amazing reputation who takes amazing photos from start to finish on the wedding day." -Buffy Feldman, owner of Lifelong Photography Studio
"When looking for a wedding photographer, I think it is important to choose someone who is a professional and knows what they are doing. Technically, anyone can pick up a camera and say they are a 'photographer' but you want to make sure that you are hiring someone who knows where they need to be and when and how to properly use their camera and shoot in RAW formatting. You want to hire someone who has a personality that is going to fit the vibe of your wedding day and who you know will get done exactly what they need to. For example, if you have a loud family or a large bridal party that is all over the place, you want to make sure you are hiring a professional wedding photographer who does not have a problem speaking up and getting them together when you need portraits done as quickly and efficiently as possible." -Amber McWhorter, owner of Amber McWhorter Photography
"When researching wedding photographers first look for someone who captures images you really like. The style of editing and the style of shooting will matter. Second, find someone you can click with, a photographer you can relate to. Who will make the portrait session comfortable or be able to command a room full of rowdy guests? Next, how experienced are they? Have they only shot elopements or have they shot large weddings? Are they full-time or do they mainly shoot headshots? These things matter because wedding photography is unlike any other event for a photographer and wedding photography is very fast-paced." -Joy Hmielewski, owner, Joyelan Photography
"Know your style. Do you like candid, emotive, or dramatic images? Do you like light and bright, or more documentary or even moody? I always tell our couples to dig deep into our portfolio, social media, and blog to become well acquainted with our style of shooting and editing. Also don't be afraid to ask to see a full wedding gallery! It's good to see what an entire wedding day looks like from your favorite artists – preferably from a wedding at your venue. So first style, then personality. Connecting with your team on a personal level is of the utmost importance. Think about it – you're with these individuals for almost your entire wedding day. Can you feel the energy or calmness they portray? Do you feel like you can be yourself around them for some of the more intimate moments of your day (such as first looks, newlywed portraits, etc.)? Do your initial consultations put you at ease, or do you still have doubts? Does talking with them make you feel like you're speaking to a seasoned professional or a hobbyist looking to expand their portfolio with your wedding? If you could see yourself being friends with these people, then chances are it's a good match." -Stacy Boyce, Garry & Stacy Photography Co.
"Your wedding photographer is going to be part of your wedding journey from the moment you hire them to the moment you have your final wedding images. Therefore, when choosing your wedding photographer, it is important to look for qualities such as professionalism, integrity, communication, organization, and extreme attention to every detail! These qualities make all the difference in your experience! Your wedding photographer should not only deliver the highest quality work in photos but they also should deliver the highest level of customer service. It is also important that your wedding photographer takes the time to get to know you and your beautiful love story. This allows you to build a relationship with your photographer and feel completely comfortable throughout the entire process." -Miranda Gates, Limelight Photography
"Trust, personality, and love of their work are the most important factors. In order for us as photographers to be most creative, I need to know that you fully trust that we know exactly what to anticipate in capturing your story." -Carrie Wildes, owner of Carrie Wildes Photography
"Finding a photographer you click with is crucial! When you go back and look at your wedding photos, you won't just remember your wedding day, you'll also remember how you felt in that moment when the photo was taken. If your photographer was annoying you, frustrating you, and not listening to you, you're going to relive that part of your day as well. This is why, at the very least, you want to hop on a phone call or a Facetime chat before booking, so you know whether you vibe or not with them." -Bonnie Newman, Bonnie Newman Creative
"It's always a great idea to meet your photographer face-to-face and have a conversation before you book them! This allows you to see their personality, get to know them, and gauge your overall comfort level while chatting. Being on the other end of the camera is not always easy for everyone so you want a photographer who makes you feel comfortable and confident so that your photos reflect your true self." -Amanda Zabrocki, owner Amanda Zabrocki Photography
Shannon Dewitt, owner of Dewitt for Love Photography shares:
"The top three qualities you should look for in your wedding photographer are editing/shooting style, personality, and experience.
For editing/shooting style the visuals of a photographer will be the first thing that grabs you! An important choice to make early on is…what do you like? What colors are you drawn to? Do you like a moody vibe, true to life, bright and airy, or orangey-brown tones? The answer to those will dictate what type of editing you're drawn to! Once you have that narrowed down, focus on that photographer's shooting style. Do you like the way they photograph the couple? Candid moments? What does their reception lighting look like? What about how they style and shoot all the details? For example, if you're a super spunky couple who loves to run around, don't book the photographer who photographs everything in a more posed and still way, and if you're a couple who loves the details and have invested lots into the look of your day, don't book a photographer who isn't strong at shooting your invitations, rings, and reception décor!
For personality, look at their social media and website. Do you like how they communicate? Do you feel you have similar styles? If so, it might be a great match! Your photographers are the vendor with you the most on a wedding day, so it's super important that you feel the right energy from them, and vice versa!
Experience is a must for capturing such important moments, but by experience, we don't mean how many times they've shot at your venue. To photographers that doesn't really matter as much. We're always looking to put you in good light, utilize strong composition, and find beautiful spaces for a backdrop, and we know how to spot those no matter the venue! By experience, we mean photographers who have been in the industry for at least a few years, have a good reputation locally, have great reviews, and have shot enough weddings to know how to solve any photo-related or lighting/weather problem that pops up on the big day!
If you go into your search for a wedding photographer keeping editing/shooting style, personality, and experience in mind, you'll both save time and narrow in on a company that is going to be a perfect fit for you and your wedding day, and once you find that perfect match, don't wait! We sometimes have as many as four couples all reaching out at the same time for the same date. So if you've done your research and know they're 'the one,' let them know and lock it in!"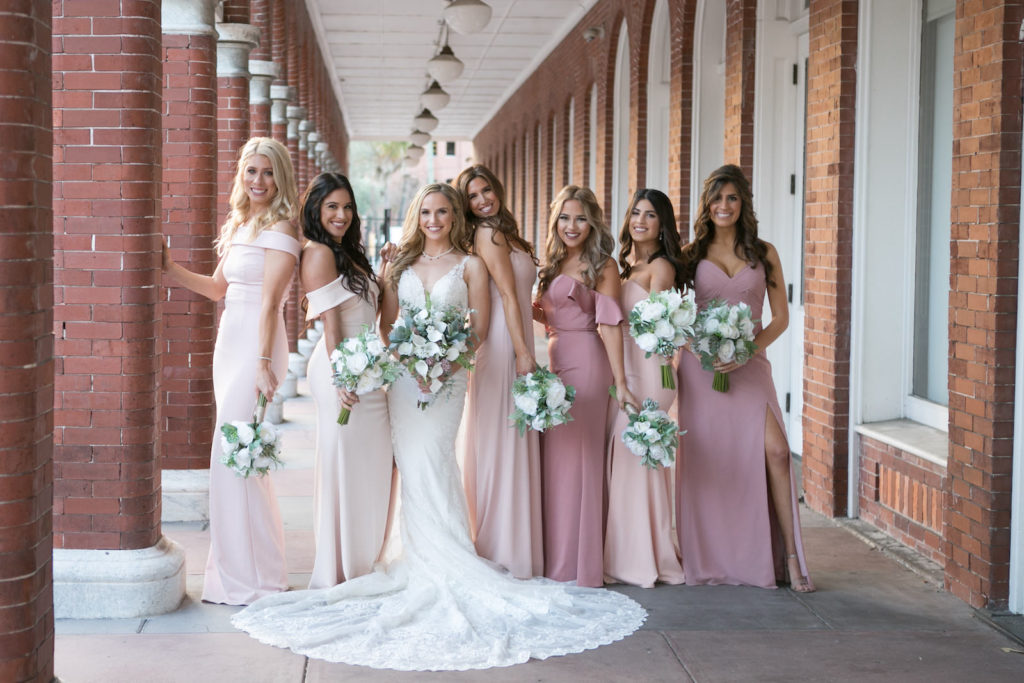 Carrie Wildes Photography | Traditional Meets Modern Ybor City Wedding
How Do I Know if I'm Hiring the Right Photographer?
"Every couple needs to connect with their photographer even more than with the photos taken. For that reason, the experience your photographer gives you on your wedding day should be as flawless as the images they capture. You can look at previous client experiences by glancing through reviews left by previous couples. However, it is essential to have a consultation and an engagement session to know your photographer and for them to get familiar with you. The key to making sure you are a great match is all in communication. Seasoned photographers should encourage open communication. Researching couple's reviews, talking to other vendors about potential companies, and looking at multiple blog posts and wedding galleries will help guide you in making a decision to hire the photographer of your dreams. But in the end, how do you know they're the 'one?' If after talking to a particular company you feel like none of your special moments will be missed, and you get warm and fuzzy feelings after talking to them, then you have found the photographer to say 'Yes' to!" -Buffy Feldman, owner of Lifelong Photography Studio
"After searching and finding photographers that align aesthetically with your style and whose work appeals to you, setting up a meeting or phone call with them is a crucial step to ensuring that they're a good fit for you and you're a good fit for them! As your photographer will be in close communication with you leading up to your wedding day and on the day of, developing a relationship early on creates a solid foundation for the rest of the process. When meeting with a potential photographer, tell them about yourself, your fiancé, your story, and your wedding vision (kudos if they ask you first!), and ask them questions about their style, passions, workflow, and experience. Outside of developing a relationship, be prepared to go over package options/contents and present any questions you may have. Quality photographers want to go over these things with you — a couple that fits them well is inspiring and exciting!" -Jennifer Reed, owner of J&S Media
"You know if you're hiring the right photographer after you've communicated a bit, perhaps jumped on a call, and have looked into their reviews. If you were referred to them by another couple or vendor they've worked with, odds are you're already off to a great start! Ask as many questions as it will take to make you feel comfortable, and share important details of your day and your personality and vibe as a couple! Typically couples know they've found the right photographer after a 'discovery call.' Before we book any dates, we always hop on a discovery call with our couples to make sure we're a great fit. Remember, it's so important to make sure that a photographer is a great match for you, just like it's so important to make sure a couple is a great match for us too! When those two things match up, that's when you have a truly magical photographer-couple pairing that will yield the most incredible images!" – Shannon Dewitt, owner of Dewitt for Love Photography
"When considering if a photographer is right for you, make sure to view at least two of their real wedding galleries from start to finish. This helps get you an idea of their shooting and editing style despite the timing and lighting challenges a wedding day has to offer. If you like the work they produce, reviews or testimonials from past clients are another good way to determine if a photographer is right for you. Also, if you had good vibes and genuine interactions during your meetings and communications, it's a good sign that your photographer is excited and cannot wait to capture some beautiful memories for you!" -Amanda Zabrocki, owner Amanda Zabrocki Photography
"A good way to see if your photographer is right for you is by doing an engagement session before committing to the larger investment of hiring them for your wedding day. That way, you get to see how that photographer works, poses, and interacts with you, and how comfortable (or uncomfortable) they make you feel. We understand it's a big investment, and we're a big part of your day, so if a couple wants to try us out before booking their wedding, we always offer to deduct the cost of the engagement session from any of our wedding packages that include an engagement session, that way you aren't paying for the same thing twice." -Bonnie Newman, owner of Bonnie Newman Creative
"From the way they shoot to how they edit, each wedding photographer has his or her own unique style. Therefore, when determining which photographer is right for you, it is important to do plenty of research and even schedule an introductory phone call. The best decisions are made with the best and most information. Ask questions, read past clients' reviews, and even look on the photographer's social media to get a feel for their personality and work. Another great way to know if you have hired the right wedding photographer is to have an engagement session. This allows you the opportunity to step in front of the camera and really get to know your photographer as well as how they make you feel." -Miranda Gates, Limelight Photography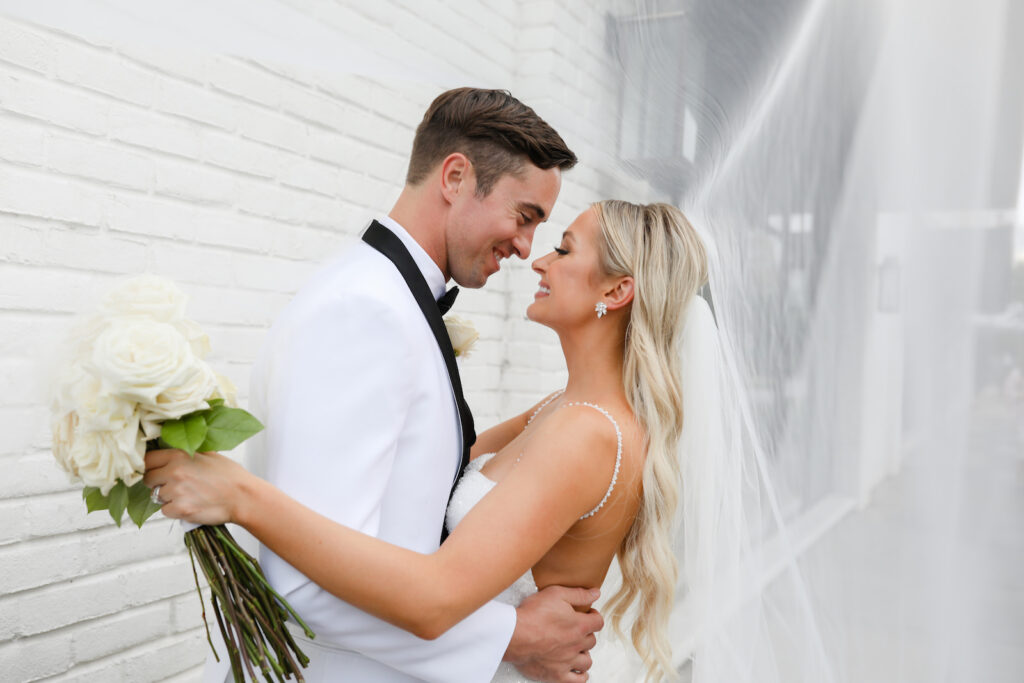 Amber McWhorter Photography | Modern, Timeless Black and White South Tampa Wedding
What is the Average Cost of Hiring a Professional Wedding Photographer in Tampa Bay?
Couples getting married in Tampa Bay should budget between $3,000-$8,000 to hire a seasoned, professional wedding photographer for an 8-hour wedding with a second shooter, while some of the higher-end photographers may charge up to $10,000 to $20,000. A seasoned, professional photographer is one who has been in business for 5+ years and has photographed at least 100 weddings. Packages within this price range generally include an online gallery, high-resolution digital files that can be downloaded and printed, and an engagement session.
How Many Hours of Wedding Day Coverage Do I Need?
"This is specific to each couple's wedding and how much time the photographer needs to capture the key parts of the day. A photography timeline is one of the first things I do with couples before they even book. The factors that go into it are the number of people in the bridal party for getting ready photos before if there is a first look or not, sunset time, and if there is an exit or not. Generally, our couples need 6-8 hours of time, but sometimes it is much longer if there is a long gap between the ceremony end and cocktail hour start time." -Carrie Wildes, owner of Carrie Wildes Photography
"Between 6-10 hours typically. You will need more time if you are doing a first look, getting ready at a separate location from the ceremony and reception, or if you want the grand exit captured." -Buffy Feldman, owner, Lifelong Photography
"Generally, couples will allot about 6-8 hours which is a good starting point. I roughly jot down a timeline with my couples during our first meeting to see what we are looking at as far as events during the wedding day. Some couples want a big exit and some don't, some want a first look and some want photos to start during the ceremony, these are all factors that determine timing." -Joy Hmielewski, owner, Joyelan Photography
"Before you hire a wedding photographer, decide which parts of your wedding are most important and determine the moments you would like captured. Typically, the average coverage for a wedding is seven hours. This allows time for photos to be taken of you getting ready, first touch/first look, the ceremony, bridal portraits, and the reception. However, every wedding is unique and you may prefer more or less time for photo coverage. If your wedding is a small and intimate gathering with a private dinner, then you may only want only a 4 to 6-hour coverage, or if your wedding will be a huge celebration with a large guest list and you would like every moment photographed, then you may prefer a 10-hour coverage. Schedule a consultation to discuss all possible options and your wedding photography professional will be able to best recommend the appropriate amount of coverage for your wedding day." -Miranda Gates, Limelight Photography
"Eight hours seems to be the perfect amount of time in my opinion. Couples may not realize that a photographer needs a few hours to complete the getting ready portion. Though it may seem like a lot of time to dedicate to getting ready pictures, detail, portrait style, and scene setter images happen during this time. These are images you do not want to pass up because they aid in telling your beautiful love story and capture the feel of your wedding day." -Amanda Zabrocki, owner, Amanda Zabrocki Photography
"It truly depends on what you envision in your end product gallery. Do you love getting-ready moments and want coverage all the way to your send-off? A good rule of thumb is to begin your coverage about 45 minutes to an hour before your hair and makeup are scheduled to be complete. Then simply roll forward to the time of your send-off and that's the number of hours of coverage you should have. On average, our couples invest in somewhere between 7 – 10 hours of coverage. If you're unsure, ask your photographer for their advice and they'll be happy to set realistic expectations as to what sections of imagery they can capture in the allotted time." -Stacy Boyce, Garry & Stacy Photography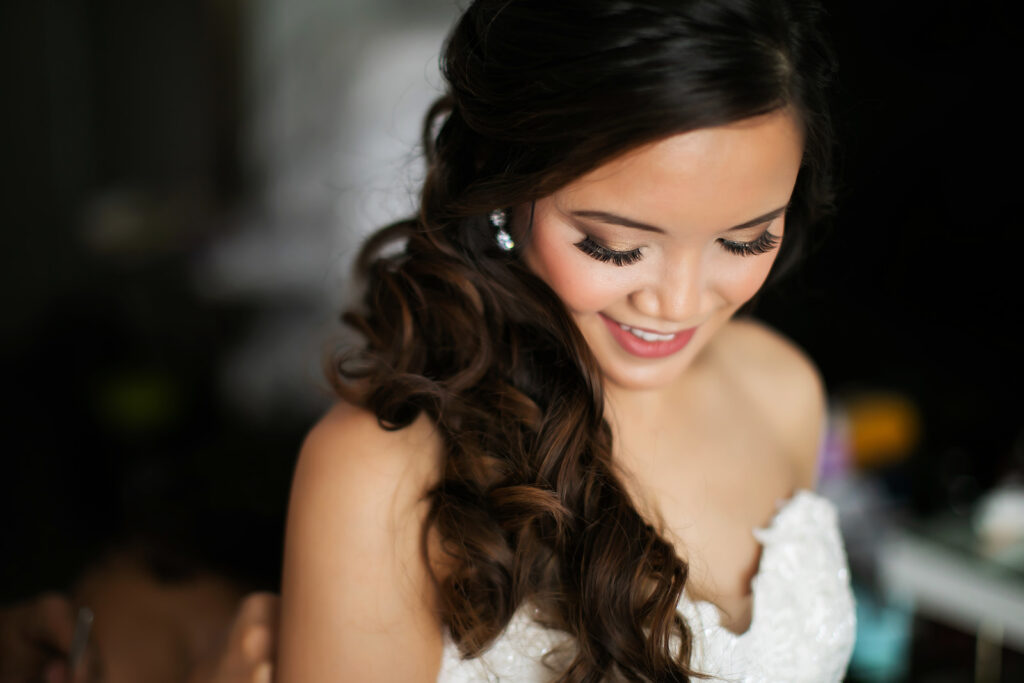 Limelight Photography | Luxurious Downtown St. Pete Burgundy Garden Wedding
Do I Need a Second Photographer?
"Depending on the photographer, you may or you may not. Each photographer and wedding day is unique! It's best to leave those decisions to your photographer after you touch base on the needs of your day and how that particular photographer works. For us, we're a husband and wife team who have our wedding days to an efficient workflow that includes both of us shooting all day! However, if another photographer does something differently, that doesn't mean they're wrong, it just means that they have their own methods of capturing the day shaped by their experiences and what works well! It's always best to consult the photographer on what they feel is going to give them and you the best chance at the most amazing photos ever. That's why we're here to guide you!" -Shannon Dewitt, owner, Dewitt for Love Photography
"Hiring a second photographer has its benefits but not every wedding needs a second photographer. When I talk to couples about their wedding day and they are unsure if they need or want a second photographer, there are certain things I like to chat about to help them decide. If the couple is getting ready at different locations and all of those photos are important, that would be one reason to hire a second photographer. Another reason would be if it were a large wedding, with two people you have more areas being covered at the same time. If the wedding is at a location that is tricky to maneuver around such as a large church with a lot of pews, a second shooter would be beneficial as well. Some couples are on a stricter budget and have a smaller wedding, maybe even without a bridal party, therefore, a wedding like that wouldn't necessarily need a second shooter. Think about your wedding day, and talk to a photographer to help you decide if you need a second shooter." -Amber McWhorter, owner, Amber McWhorter Photography
"Having a second photographer can be helpful, but it isn't necessary for every wedding. Sometimes it can depend on the photographer's packages and many times it will depend on the size of your event and how many details you have throughout the day. It's best to talk with your photographer to find out what would work out best for them, and you." -Joy Hmielewski, owner, Joyelan Photography
"A second photographer is not always needed, but as a general rule when the couple is getting ready at two different locations, or the ceremony and reception are at two different locations, it's nice to have a second photographer stationed at one location, while the main photographer is at another." -Amanda Zabrocki, owner, Amanda Zabrocki Photography
"Because so many moments happen simultaneously at weddings, having a second photographer ensures that every special moment is captured! For instance, when a bride walks down the aisle, it is important to capture her joyful expression. It is equally important to capture the groom's reaction when he sees the love of his life walking down the aisle. For this reason, a second photographer is very beneficial as it basically allows your wedding photographers to be in two places at once and capture each emotion. At Limelight Photography, we always have one lead photographer and one associate photographer at every wedding! This makes the entire wedding day timeline smoother and allows for each moment to be photographed." -Miranda Gates, Limelight Photography
"The answer to this is always yes. We know sometimes a couple's budget may not allow for the extra set of eyes but if at all possible hiring a second photographer is a must. So much is happening during a wedding day and hiring a second allows your photographer to be two places at one time!" -Buffy Feldman, owner, Lifelong Photography
"To be brutally honest, most of the time – yes. Anything other than an elopement-style wedding needs two photographers. A wedding day is a once-in-a-lifetime moment. There aren't any second chances. A lot of what is happening on a wedding day is taking place in rooms other than the one you may be standing in. Not to mention the different angles, perspectives, and fluid experience you'll have with two shooters. Another set of qualified artists' eyes portraying your wedding. We are storytellers at heart, and our business model is that your story deserves all the coverage we can provide. We include a second photographer with two of our three collections for this very reason." -Stacy Boyce, Garry & Stacy Photography