Over the years, we featured several Cross Creek Ranch weddings and what always stands out is the attention to detail that venue provides. The all-inclusive Tampa Bay wedding venue truly makes wedding planning stress-free with a team of wedding coordinators, stylists and assistants.
"I wanted a venue that included everything that I needed. I'm not that great at finding places and making sure I have everything ordered, rented and bought. I wanted a place that made a lot of decisions for me," previous bride Lauren revealed. "I loved that Cross Creek Ranch has all the decorations that you could imagine and that the design group just gets you based off of a Pinterest board! I had a team for the 'day of' that dealt with everything. All I had to do was show up and look pretty! It was so easy!"
We've had the pleasure to tour behind-the-scenes at Cross Creek Ranch, and we were so impressed by the organization, the rooms (yes, rooms) filled with flowers, ribbons, vases and rustic and vintage decor. It's like stepping into a real life Pinterest board!
The owners, Bonnie and Sean, take pride into their wedding venue and truly focus on what will make the couple happy. Bonnie especially, will make sure every place setting is precisely measured and that her bride and grooms expectations are exceeded! The husband-wife duo also give back to the local Tampa Bay community and were featured nationally by ABC News and People Magazine after donating their services to a local homeless couple who were unable to afford their own dream wedding.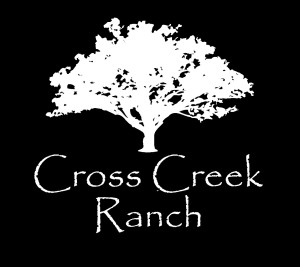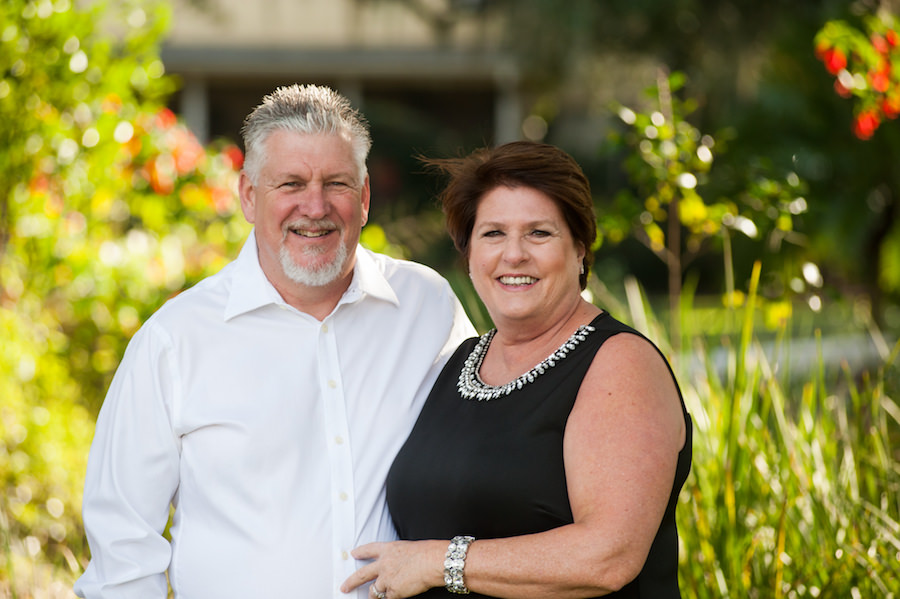 Owners Sean and Bonnie McSharry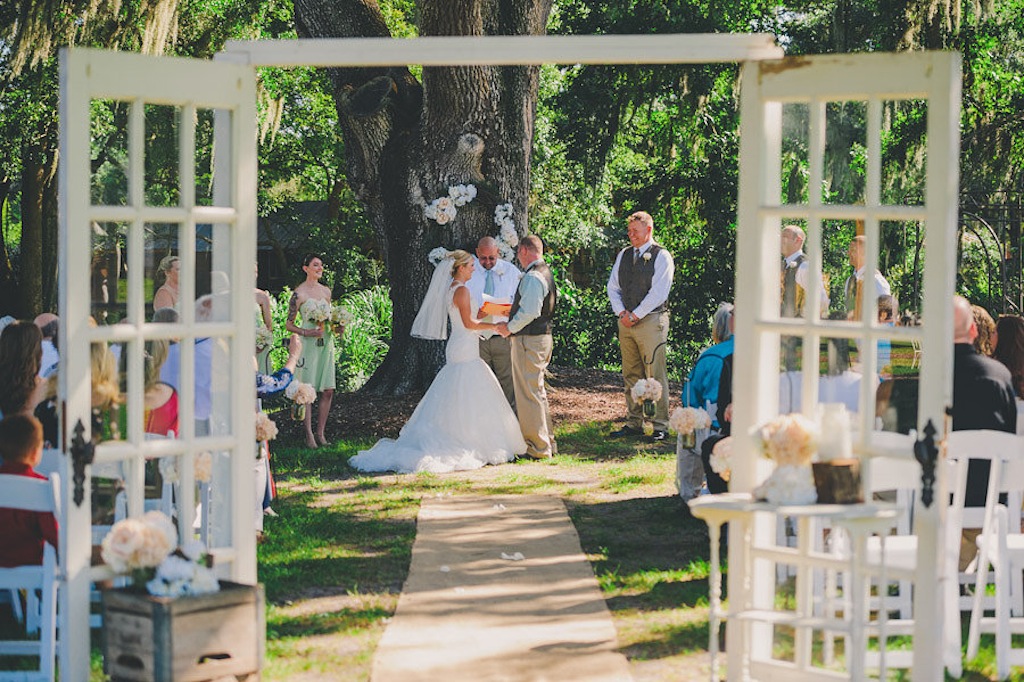 Regina as the Photographer | Light Green, Peach and Cream Rustic Cross Creek Ranch Wedding
What inspired you to start your business?
I loved decorating and entertaining. When my interior decorating business was affected by the economy, I had to close Bonnie Interiors. I created Cross Creek Ranch, fell in love with weddings and that became my passion. I was then eager to become the best outdoor venue in the Tampa Bay area.
Where do you draw your inspiration?
Our inspiration is drawn from listening to couples and what their dream wedding is, and knowing our fabulous team can make it come to reality for them.
What is one of your favorite things about being a wedding professional?
Being able to build a relationship with our couples and their family. It's an honor to serve our couples, not a job.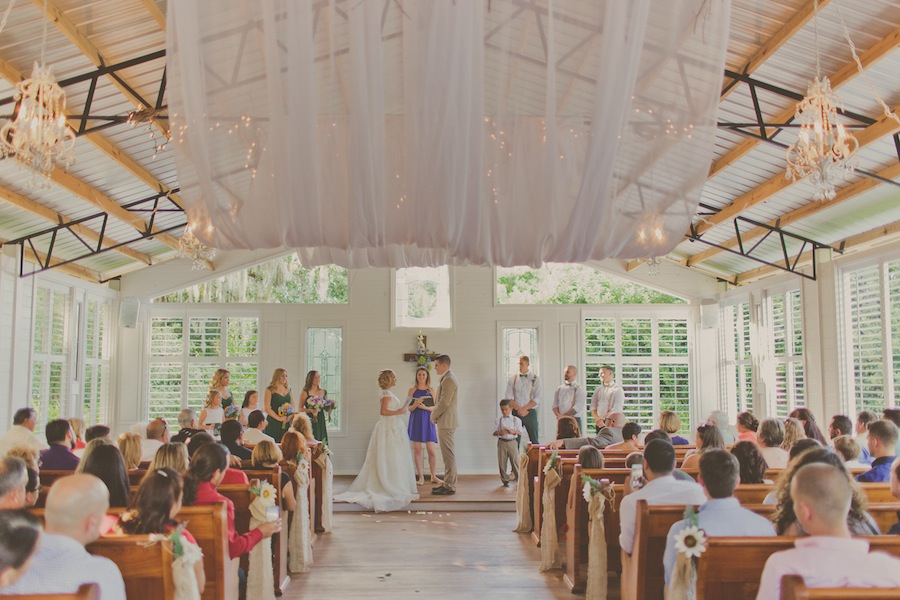 Stacy Paul Photography | Pastel, Rustic and Vintage Cross Creek Ranch Wedding
What makes your venue stand out from other event spaces?
Our amazing staff and attention to detail. Our bride's and parents say it best:
Thank you for everything this weekend. It was perfect. Kelly and Vance had a truly "magical" day. Our guests loved the venue and commented how beautiful, organized and amazing the entire night went. I cannot thank you enough. We recently went to a wedding that cost $200,000 at the Biltmore hotel in Miami, and one of our friends that was at our wedding said that it "put that wedding to shame!" They said it had a warm and family atmosphere that you cannot just create.
What is one of your most memorable moments as a wedding professional?
One of our bride's began to cry and stopped just before walking down the aisle thinking she couldn't make it, when all of a sudden we hear humming to the song Amazing Grace. The bride became calm, looked up and saw one of our bridal assistants lean over humming the song next to her. The bride said "don't stop humming," as it gave her strength to make it down the aisle!
In your opinion, what is a must have at every wedding?
Every couple must have a team of wedding professionals who really care about them and who have a desire to go out of their way to make the day special and memorable!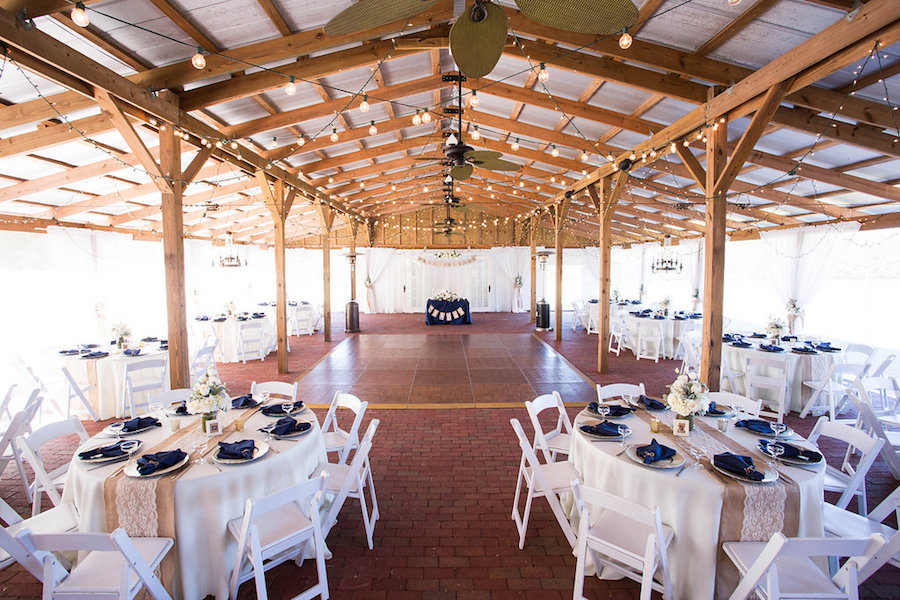 Forever Anchored Photography | Rustic, Navy Blue and Cream Destination Wedding
What is one thing most couples would be surprised to know about you?
The owner's are still very involved in the day-to-day business, and you'll find us still out there helping decorate, adding that special professional decorator's eye to every detail.
What is one of your passions, non-wedding related?
I love to garden and visit hidden secret shops where I can find the unique items for the Ranch.
What are you most excited about in the upcoming year?
We are very excited about our expansion and changes coming in 2016/2017.
What is the best piece of advice you can give to a couple who is searching for a wedding venue?
Find a wedding professional who will listen to what you want. It's your day!
From Previous Marry Me Tampa Bay Brides:
"Our wedding venue had the entire package. The staff make you feel so special and hear every wish you want and grant it. Our wedding designer, Ilze, wedding coordinator, Becky and our personal assistants for the day of did such an excellent job that I don't think any other venue could duplicate." -Previous Bride Samantha, Light Blue and Tan, Rustic Tampa Wedding
"Cross Creek Ranch was really the perfect place. We fell in love with being under the trees, all the beautiful landscaping around us, and how intimate it felt. The staff were sweet and easy to work with. We didn't have to worry about arranging anything for the ceremony and reception. They did a phenomenal job!" -Previous Bride Rosalie, Rustic, Light Blue & Pink Outdoor Wedding
"My favorite part about Cross Creek Ranch was that it was all-inclusive. I did not have to worry about a thing. Their customer service is top notch, and they are a perfectionists when it comes to setting up for the day of the wedding. I loved the fact that my wedding planner called me to schedule all my meetings with the different vendors. It was so easy and not stressful at all." -Previous Bride Jessica, Vintage Eggplant and Lavender Cross Creek Ranch Wedding
Email Cross Creek Ranch for Pricing Info and Availability
Website | Blog | Facebook | Twitter | Pinterest
Featured weddings on Marry Me Tampa Bay