Rachel and Neil's Brandon wedding featured a traditional Catholic cathedral ceremony followed by an elegant reception filled with colorful orchids and tropical greenery, vibrant music and dancing, and exotic cuisine.
"Our wedding inspiration was tropical glam with a fusion of Filipino and Indian energies, which encapsulated both of our cultural heritages in both the ceremony and the reception," the bride shared. "Our wedding colors were emerald and gold. I love jewel-toned colors with a touch of glam."
The local Tampa couple prioritized preserving the memory of their wedding day and searched for wedding photography and videography professionals who could capture the beauty and emotion of their celebration. The creative teams from J&S Media and Shannon Kelly Films worked together seamlessly to document the special day from start to finish, balancing a professional approach with an artistic eye for details.
"For a wedding photographer, we looked for someone who could capture the emotions of the day yet maintain the sanctity of our ceremony. We specifically chose J&S Media because we've had friends who have raved about them, plus we loved their portfolio, and they were within our budget," the bride beamed.
"For our wedding videographer, we looked for someone who was able to make memorable pieces yet still showcase our personalities. We specifically chose Shannon Kelly Films because her work is amazing! We love Shannon's editing style, and she was the best hype woman," Rachel added.
Rachel recognized the importance of finding a hair and makeup company experienced in various cultural techniques that could accommodate a spectrum of skin tones and hair textures to beautify her eclectic group of bridesmaids.
"Our wedding hair and makeup inspiration was soft glam. We hired Femme Akoi Beauty Studio because the majority of my bridesmaids are of Asian descent, and I liked their portfolio of artists able to do mono-lids. We thought their service was impeccable," the bride raved. "I absolutely loved them from start to end."
The chic neutral reception space featured pristine white tables accented by colorful exotic centerpieces and gold chiavari chairs from A Chair Affair for a pop of sparkle. Guests enjoyed lively music and dancing along with a buffet of traditional Asian delicacies.
The Gala Photobooth provided everyone with a poignant keepsake in the form of printed photo favors which also doubled as a guestbook that Rachel now cherishes as one of her favorite takeaways from the evening.
"We were interested in hiring a photo booth because we felt it's a timeless way of having fun memorabilia from the wedding. Instagram videos are forgotten, and wedding favors add up in price, but a photo can be forever. The Gala Photobooth was a high-quality service, and we couldn't have been happier with them. Their photos by themselves look fantastic when developed." Rachel beamed. "Our guests had so much fun, and my absolute favorite part of it all was the guestbook. We loved the outcome of seeing everyone's photos and the sweet messages along with them! Very clever."
The couple attributes the blending of their heritages as one of the most unique elements of their wedding celebration. From the traditional ceremony vows to the cultural nods throughout the reception, they focused on providing an experience that felt personalized and special.
"Our wedding was unique because it was a fusion of two cultures yet still modernized," Rachel detailed. "The elements of our wedding that were the most important were our ceremony, with the formal exchange of vows within the church, and the additional elements from each of our cultures."
Being surrounded by their loved ones made the wedding day truly unforgettable. The intense emotion while locking eyes for the first time as the ceremony began is something that Rachel will forever cherish.
"The most memorable moment of the wedding was seeing each other for the first time at the aisle," the bride reminisced. "Everything felt so surreal to see every person from different chapters in our lives there to celebrate our union together. It was a very emotional and overwhelming experience."
---

---
The Proposal:
Our proposal was intricately planned by Neil, only to be rudely interrupted by a monsoon in Orlando, FL (very Florida-like behavior!). He ended up proposing at the restaurant we would have had the after-party at, but I wouldn't change it either way.
What was your wedding theme?
Our wedding inspiration was tropical glam with a fusion of Filipino and Indian energies, which encapsulated both of our cultural heritages in both the ceremony and the reception.
What were your colors?
Our wedding colors were emerald and gold. I love jewel-toned colors with a touch of glam. (and my birthstone is also emerald).
Where did you go on your honeymoon?
We will spend our honeymoon in Greece. We've never been to Europe before and have heard rave reviews about it.
Where did you host your bachelorette party?
We hosted the bachelorette party at Anna Maria Island and because it's easily accessible, and I wanted the sun and water!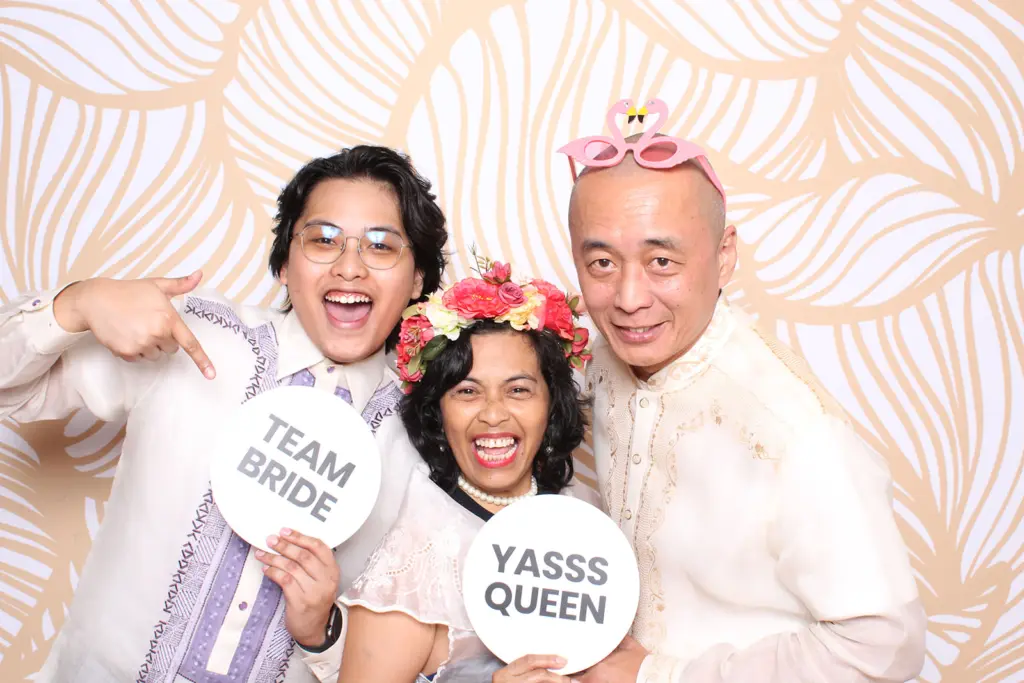 Which vendors really exceeded your expectations?
The vendors that really exceeded our expectations were J&S Media and Shannon Kelly Films; they were phenomenal in that they did everything they could to make sure they got the perfect shot.
Our planner and decorator/florist were an absolute dream together, and their cohesiveness only made wedding planning that much smoother for us.
What advice would you give to other Tampa Bay couples?
Invest in a wedding planner. Being able to be at peace and present (not just physically but mentally) during your special day is something I will always be glad I did.
---

---