When I planned my St. Pete wedding, I wasn't part of the wedding industry at the time and had no clue how realistically budget for my wedding. My husband and I arbitrarily chose a budget, but once I started getting quotes for my rentals, vendors and decor, that budget steadily increased.
Since we were paying for the wedding ourselves, I was very price conscious, but at the same time I didn't want to go with the cheapest option. It was important to me that my wedding day be what we envisioned and that meant paying more for chiavari chairs, uplighting, specialty linens and more importantly professional wedding vendors.
Now I did make some mistakes along the way. (Rent your linens, don't buy them! What you save is not worth you and your bridesmaids ironing tablecloths the night before your wedding, instead of celebrating.) Luckily, my wedding went off without a hitch, and I credit that to the fact I hired professional Tampa Bay wedding vendors. Hiring my wedding planner, while at the time seemed like a lot of money (and something I didn't initially budget for), was one of the best wedding planning decisions that I made.
Because education is such an important part of properly planning a Tampa Bay wedding, I reached out to local wedding vendor pros and Marry Me Tampa Bay preferred vendors for their "expert advice" on setting your wedding budget.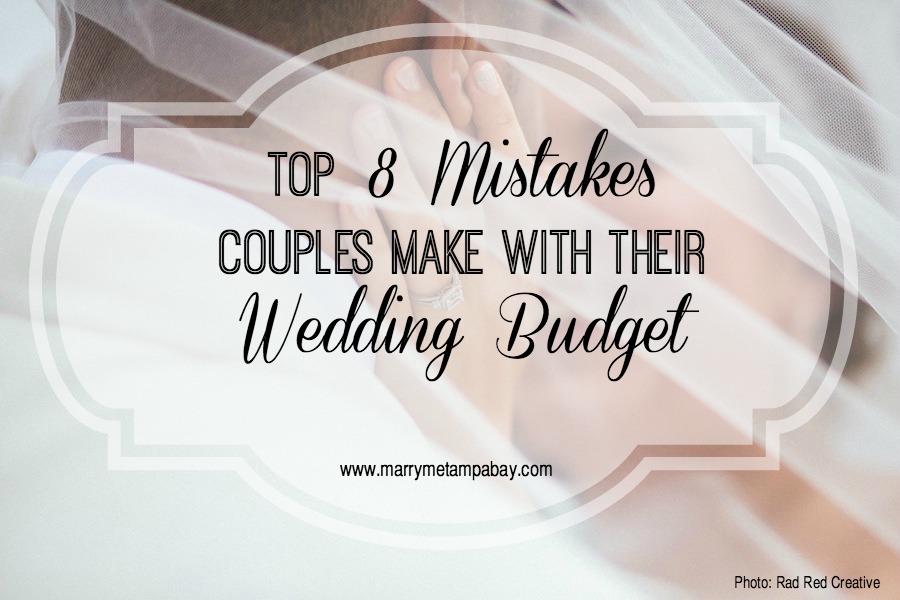 Top 8 Mistakes Couples Make with their Wedding Budget
1. Letting Your Guest List Get Out of Control
One of the most daunting tasks can be to narrow down that list of guests. Each person adds a specific dollar amount to your budget. Food, alcohol, invitations, tables, linens, etc., it all ads up! Think about all the people on your list, would you send Christmas cards to all those people? Are they someone you will talk to at least several times a year after your wedding? Don't worry about people being offended or upset if they aren't invited, most people won't be because they know weddings are expensive. -Carrie Wildes, owner of Carrie Wildes Photography
If you haven't seen or spoken with someone in a long, long time, (think childhood friends and old acquaintances) or if you do not celebrate birthdays or holidays together, you may want to reconsider if they should be on the guest list or the cut list. A good rule of thumb: invite people who know your fiancée or have met him once or twice previously before the actual wedding day. People who have spent time with you as a couple and who play a part in your present lifestyle are people to consider for the guest list. -Tammy Waterman, owner of Special Moments
2. Having the Wrong Priorities Influence Your Budget
Let what's most important to you and your fiancée dictate your budget. While online budget guides and advice from family and friends can be helpful, ultimately you know what matters most to you. A few vendors and I just got into a conversation about what was most important to each of us at our own weddings. For me it was the flowers and food, for another it was food and photography. Budget based on how important each element is to you to get the wedding you'll love. -Melissa Meyer, owner of Chefin
This is coming from the heart, because it is a HUGE mistake that I made for my wedding. Before I saw it from the bride point of view, because I wasn't this involved in the industry. Now that I see the other side of things, I want to cry over my mistakes because I can't get that day back. I picked my venue, dress and caterer first (which was my first big mistake), so that didn't leave room for other things. Thankfully I was able to DIY most things, and it was still beautiful, but I skimped on two incredibly important things that made my day less than perfect. -Brittany Trevino, co-owner Rad Red Creative
I deal with a lot of brides on a budget, who have unrealistic expectations about what they can get for their amount. My biggest piece of advice would be to be up front and honest about your budget with each vendor. Sometimes they will be willing to create a custom package, or provide slightly less (less hours, no wedding album etc.) to help get the price down. Losing things you don't need, or didn't necessarily want is a great way to save money if the vendor is willing. I'd also recommend not to expect to get the same amount of service for a lesser price, but be flexible on what you REALLY want. -Nikki Leonard, owner of Southern Elegance Events LLC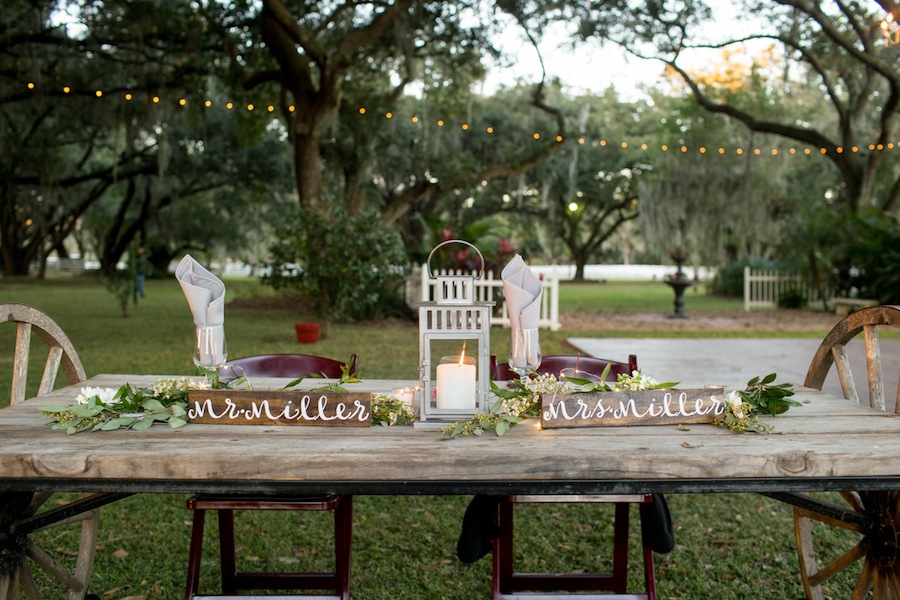 Photo: Jeff Mason Photography
3. Hiring Based on Cost, Not Experience 
People constantly overlook the saying, "You get what you pay for." When couples plan their wedding budget, there is a natural tendency to cut corners or find the best way to get what you want without paying for it. On your most important day, you don't want to skimp on services, because in the end you will be paying a higher price in headaches and bad memories. When hiring a wedding professional, whether a planner, photographer, or DJ you are not only paying for quality work, but you are benefiting from there experience in the industry and in Tampa Bay. A great planner knows how to make a proper budget and can help you avoid making mistakes! Ensuring that the day goes smoothly, that you and your hubby-to-be truly enjoy everything, and you have a wedding you'll love for the rest of your life is priceless. Peace of mind is 100% priceless. -Brittany Trevino, co-owner Rad Red Creative
Not hiring a professional DJ. Most think that all they are going to do is sit there and play music and to some extent that's correct, but they also work your reception, keep the transition and flow of music going and most importantly, handle the time line of your reception. Your introductions, cake cutting, the fun of your reception is all handled by your DJ. -Lisa Otto, owner of Lisa Otto Photography
I didn't hire a professional photographer (And now I am one, talk about irony!). We did hire someone who takes pictures professionally, but not weddings. So the photos I have are good, but he didn't know to get the important moments at the wedding, because of his lack of experience in the field. For example, I have NO photos of my reception details and frankly very little at the reception. Those are things that I can't get back, for all the money in the world. A professional photographer does more than just walk around with a camera. They have a trained eye to be at the right place at the right time with the right gear! I am sure Aunt Susie with the awesome camera would save you a couple thousand, but can she handle every lighting scenario: a bright sunny day or a dimly lit church? When everything is said and done, all your have is your ring and your photos, so wouldn't you want them to be the best quality possible? -Brittany Trevino, co-owner Rad Red Creative
4. Relying on Family or Friends to Help on Your Wedding Day 
My mother didn't get to enjoy the day like I wanted her to because she took on the role of planner. I wish so badly I could have spent more time on that important day with her, but instead she was working on making my dream happen. Brittany Trevino, co-owner Rad Red Creative
5. Completely Forgetting to Budget for Certain Items
I see quite often that couple's forget to budget postage for Save the Dates and wedding invitations. They always have budgeted for the invitations portion, but when we chat about the postage, they usually forget that the RSVP card needs a stamp, and the cost of the wedding invitation is rarely the cost of a normal stamp. My rule of thumb is to budget at least $1.50 per wedding invitation for postage as a minimum, since until couples actually have the wedding invitation, and the post office weighs it, they are not going to know the actual cost for postage. Tammy Waterman, owner of Special Moments
It seems now that we are moving more into a digital age, people have forgotten the importance of prints in our homes and albums that we sit down and share with our loved ones. My most vivid memory as a kid was sitting down and sifting through old pictures and albums my family had. The ability to hold a photograph brings the memory into the real world. It becomes a moment that you hold. How much more meaningful is it and how special do you feel when someone writes you a letter and sends it through the mail? Don't let those digital files get lost somewhere on your computer! Showcase them and share these wonderful memories with others. Start meaningful conversations when people ask about them and connect wholeheartedly. A photographer's job is complete when this can happen, and there is nothing more fulfilling. -Kera Holzinger, owner of Kera Photography
A lot of times brides forget to budget for the hotel for the wedding night, transportation for themselves or the guests, and smaller things like invitations, place cards and favors. Ask your planner for a list of things that they recommend so you know exactly what you need to consider going into the spending process. Nikki Leonard, owner of Southern Elegance Events LLC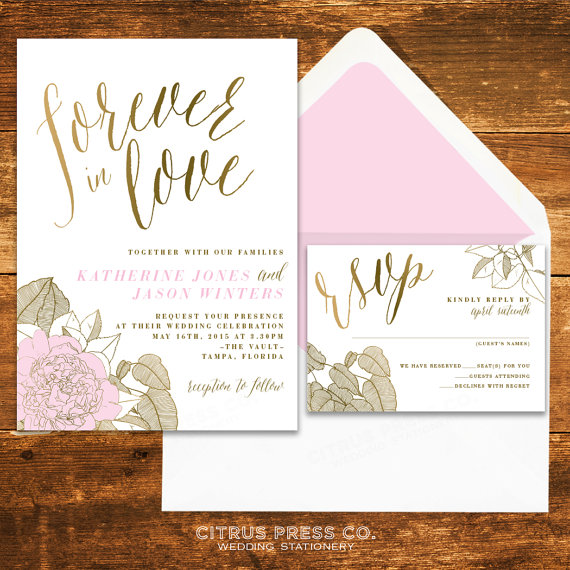 Invitation: Citrus Press Co.
6. Planning a Pinterest Wedding
Showing vendors pictures from Pinterest is a great way to make sure they truly understand what interest you. However, understand many Pinterest pictures are from photo shoots that utilize products with higher price points. Determining which elements you like about the picture can help your vendor incorporate those items while still meeting your budget. Plus your vendor can find a way to utilize these items to create a unique product for you, instead of replicating something that's already been done before. -Melissa Meyer, owner of Chefin
7. Not Compromising
Get advice from the vendor you're interested in working with on how you can lower the price based on your budget. This does not mean you should ask them for a discount, but instead ask them what substitutions can be made to help lower the cost. Maybe there is a lower priced filler flower that can be added into a centerpiece that is still beautiful, or maybe a different cake filling can be utilized that is still delicious. -Melissa Meyer, owner of Chefin
Most couples have a cake flavor or design in mind that they consider to be set in stone. You should always have at least three options for a flavor choice and a design from low to high end options. Fresh fruits, alcohol syrups, exotic flavors, gum paste flowers and fondant can drive up the price. Have wiggle room to take some elements of a few options to create something your own that fits your budget. Melissa Maggiore, lead cake decorator of Alessi Bakeries
Flowers can be one of the most challenging parts of the wedding budget. Most brides do not have any idea of costs let alone the names of flowers, they just know they like them.  It is always good to provide your florist with a couple of pictures of colors and ideas you might have in mind, but be open to suggestions that will help to keep your flower budget inline. A bride may want to splurge on her bouquet and scale back the bridesmaids to simple bouquets and even use the bouquets as part of the decoration for a head table or cake table. Re-purposing arrangements from the ceremony to the reception guest tables is one way to save, but remember a staff member may be required to stay through the ceremony and through pictures before moving the flowers to the ceremony, which will also be a part of the labor costs. -Scott Darhower, owner Apple Blossoms Floral Design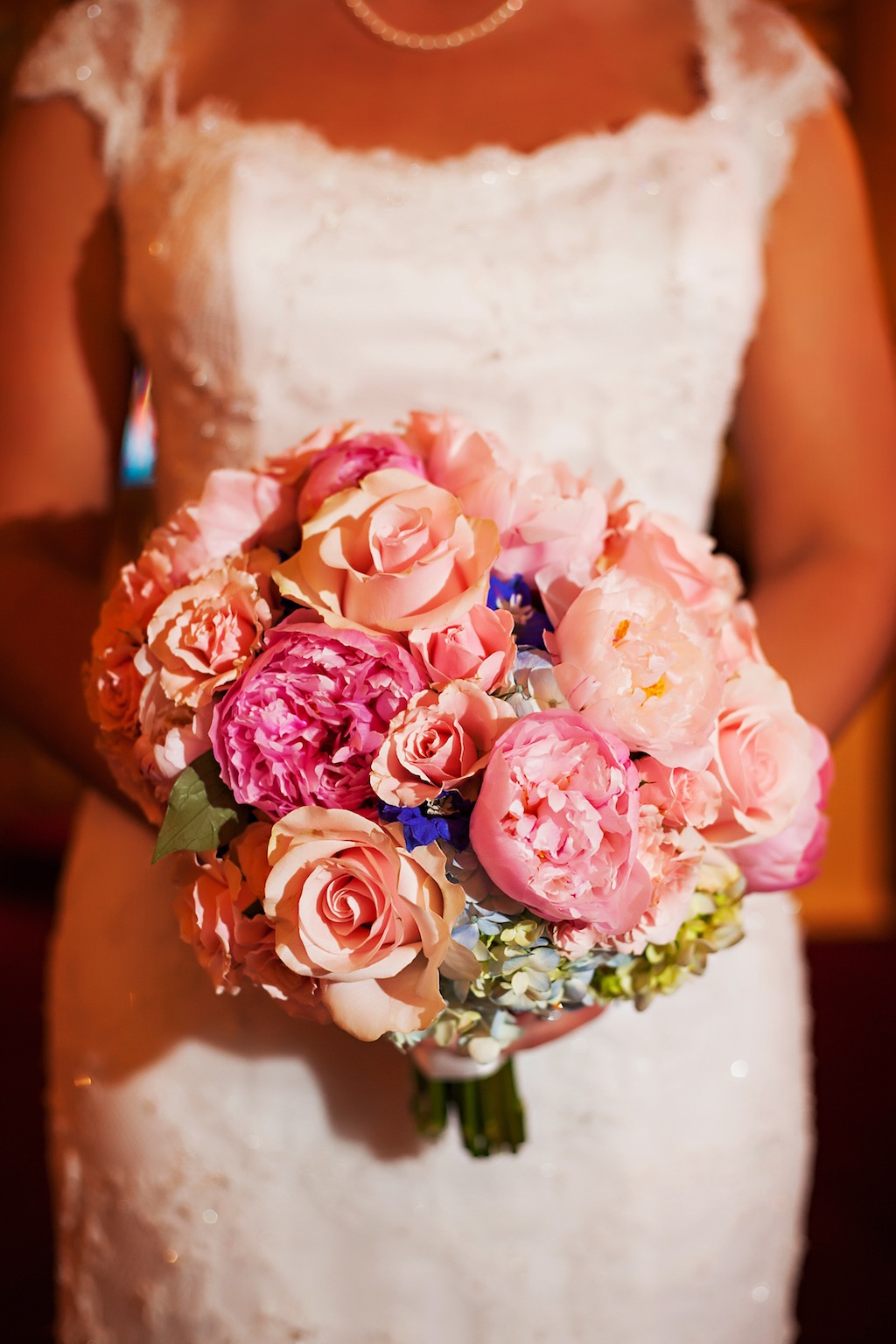 Bouquet: Apple Blossoms Floral Design | Photo: Limelight Photography
8. Not Respecting Wedding Vendors 
When communicating with your potential vendor (especially via email), please keep in mind that there is a real person on the other end of that email.  Treat him/her with respect and dignity – not as if they are a robot.  You will get a lot farther with kindness than you will with a harsh attitude. -Andi Diamond, owner of Andi Diamond Photography