Bonnie is a non-denominational, ordained minister serving weddings since 2014. She thrives on originality, creativity and highly personalized ceremony designs. The ceremony format and tone is determined based on each couple's feedback and preference, whether formal and elegant, or relaxed and light-hearted with a touch of humor. Her ceremonies tell a story. Her ceremony style is very modern, personalized, heartfelt and anything but "cookie cutter." Your day should not be a rehearsed script, but rather a personalized reflection of your unique love story.
---
---
Our Wedding Style Is:
Your Style!
You may not even know what that is.  After all, how many weddings have you been to where you actually took note of the things you did and did not care for at other people's weddings (or your own previous ones!).  That's what you hire your Officiant to help you determine and facilitate.
My goal is to create your ceremony based on your preferences. You will have a homework assignment that will help me to determine how best to structure and format your ceremony.
My goal is to ensure the two of you are as relaxed and comfortable as possible during those special moments shared at the altar. I will keep your guests engaged throughout (my ceremonies are not boring!).
The greatest compliment I receive after most every ceremony, is "How are you related to the Bride & Groom?"
Our Personality Is:
I am a creative writer, love to present and have an incredible passion for my profession.  I write and speak from the heart and have a gift in connecting with the couples I work with.  The ceremonies I create are designed around the ceremony preference responses, but also from the conversations we share, leading up to wedding day.  By nature, I am a very happy person and like to keep things lighthearted with a touch of humor.  Humor always helps couples relax.  Your ceremony will always be presented in a professional, dignified manner but 100% serious and stiff presentation, makes for a boring, "let's get it over with" vibe.
I LOVE to do unique and different.  I seem to have gained a lot of experience and credibility in the "off beat" style of ceremonies, especially, Viking ceremonies.  I have created verbiage for several unique unity traditions.  If you have an idea – please share…I would love to put words to it so that it truly becomes "yours."
---
What Inspired Us to Start Our Business is:
It was quite by accident that I happened to stumble upon the profession of becoming a "Wedding Officiant." After attending a friend's elopement on the Las Vegas strip and experiencing a very emotionless and "loveless" experience, I said to my family, "I could have done a better job than that!" It was that statement that planted the seed.
I decided to do some research on the profession and that was the first I had learned of the title "Officiant." When I first mentioned to friends and family that I wanted to become a "wedding officiant" – they thought I was crazy for even considering the idea. I cry whenever I watch a wedding on TV, even while watching "Say Yes To The Dress!"
I set out to obtain the necessary credentials, licensing and permits to officiate weddings. With the Ordination and guidance provided through American Marriage Ministries, I taught myself how to do an actual ceremony. I was a resident of Las Vegas for 25 years, so obviously I was off to a good start living in the "Wedding Capital of the World."
Many acquaintances and business associates were very forthcoming in telling me there was no way I would break into the wedding industry in Las Vegas – there was far too much competition! Well, that's all I needed to hear since I am a rebel at heart. If you tell me I "can't" – then, "I will." And, "I did." Within 6 months I was surpassing many of the experienced wedding officiants in the area and found myself on the front page of Google.  All it took was determination, integrity, and a genuine and loving heart.
---
One Thing Most Couples Would Be Surprised to Know About Us Is:
I have had a very interesting and fun life; I'm very blessed. Since a young age, I have always lived by my own personal mission statement, "Life is for living, and live with no regrets."  I have been pretty successful in following that statement.
Born and raised in Western Canada, I didn't do well with the cold and after spending two years in the Caribbean, there was no way I could move back to -20 to -40 degree winters!  Eventually I was fortunate enough to obtain my permanent residency in the U.S. (an interesting story in itself) and moved to Las Vegas where I resided for 25 years and that's where I became a Wedding Officiant.
It is impossible for me to list just "one thing" couples are surprised to learn about me…personally, or professionally – but this will give you an idea of the fun I've had over the years:
Personally
I was a pilot!

In my younger years, I was in the Canadian Armed Forces as an Air Cadet. I then went to officer training and was a 2nd Lt. in the Reserves.  During my time as a cadet, I obtained my glider pilot license (at 16) and then obtained my private pilot license (at 18). At that point, I figured it might not be a bad idea to learn how to drive a car, so I then got my driver's license (it took me 3 tries to get that license!).  I enjoyed flying so much that I decided to take the experience one step further and go skydiving. Regrettably, it was not a successful or fun experience, thanks to poor training.  It took some time to heal (physically and mentally), from that experience – but it didn't scare me off (once I healed!).  In 2023, I am planning to make it right. I am going to do a tandem jump and enjoy the experience that I was deprived of the first time around.

I was in the travel industry for many years and enjoyed some grand adventures!

I enjoyed an exciting trip to Thailand and Nepal that had a stop in Tokyo where I got see about 1000 sumo wrestlers hanging out in the airport (that was a site!).  Thailand was AMAZING, except for lunch at the floating market where we were invited to eat the live little fish swimming in our soup – supposedly for great nutritional benefit.
I've explored Israel top to bottom – highly recommend it! This was the most educational experience of my life.
Nepal was an experience too long to explain but I will say this, those poor elephants. Twenty of us went on a trek into the jungle on elephants – all with food poisoning. On this trip I found myself at gunpoint twice for breaking the local rules (whoops)!
I've explored many beautiful areas of Colombia and Ecuador and took a bus on the Pan American highway, high in the Andes, on a road meant for only one vehicle – with two lane traffic.  I'm amazed I'm here writing this.
I worked two years on cruise ships, cruised down the Rhine in Germany, and the stories just never end…

My Children's Book

In 2023, I will have my first children's book published, "Adventures with Yuki – Viva Colombia!"  Once that one is completed, I will get book 2 published "Adventures with Yuki – Viva Las Vegas!"  Stay tuned for that!
Professionally
Wedding Fun Facts

I have performed over 1,300 ceremonies since 2014.
Smallest wedding – Elopement with 2 people.
Largest wedding – on a stage at an international rugby tournament, in front of 35,000 fans, televised in 200 countries with a 3-minute time slot to marry a couple from South Africa.  I don't drink – but I did that day.
I have married a few celebrities, singers, musicians and their family members, many professional athletes, several Vegas performers, and show personnel.
I have had the privilege of performing commitment ceremonies for couples with learning disabilities, hospice weddings, interfaith weddings (some co-presented with a Rabbi), Viking/Norse weddings, and a few bi-lingual weddings (my Spanish isn't great but I can and have done them).
Exciting Locations!

Elite historical landmarks and upscale venues both in Las Vegas and Florida. I've married couples in hot air balloons, yacht weddings, backyard and country venue weddings, country clubs, hotel suites, limousines, the High Roller in Las Vegas, helicopter flights into and over the Grand Canyon, Valley of Fire, and Red Rock state park weddings, on a baseball field right before game time, museums, wineries, and of course, weddings on the pristine beaches of SW Florida. One of my favorite weddings was in 2022, on horseback in the ocean on Anna Maria Island.
---
Our Pricing:
My fees range because of the customization involved. Generally pricing is from $300 for elopements/micro weddings to $400 for a fully customized ceremony. The more creative or unique styles, average $500 – $600 because of the extensive time in creating your vision.
Rehearsals are $150, and in most cases, I discourage couples from having me attend. I would rather meet for coffee in advance (a treat on me!).  In most cases when you have a wedding planner/coordinator – I don't really add much value.  They usually facilitate the rehearsal and I just stand there not being able to provide much input.  If you do not have a Planner, or your ceremony is a little more complex, or you both feel more comfortable having me there – then absolutely. I just ask that you let me know well in advance so it can be scheduled.
I spend a lot of time with each couple (unlimited calls) and provide a very detailed outline of the ceremony well in advance.
---
Our Associations/Awards:
I am very fortunate to have been recognized by the following:
WeddingWire Best of Weddings Recipient, and
The Knot Hall of Fame Recipient
I am a proud member of:
Member of Marry Me Tampa Bay
Member of Southwest Florida Event Leaders (SWEL)
I have been featured and published by:
New York Times (three separate times)
The Offbeat Bride
The Rock n Roll Bride
Canvas Rebel Magazine
Voyage Tampa
Marry Me Tampa Bay
American Marriage Ministries
---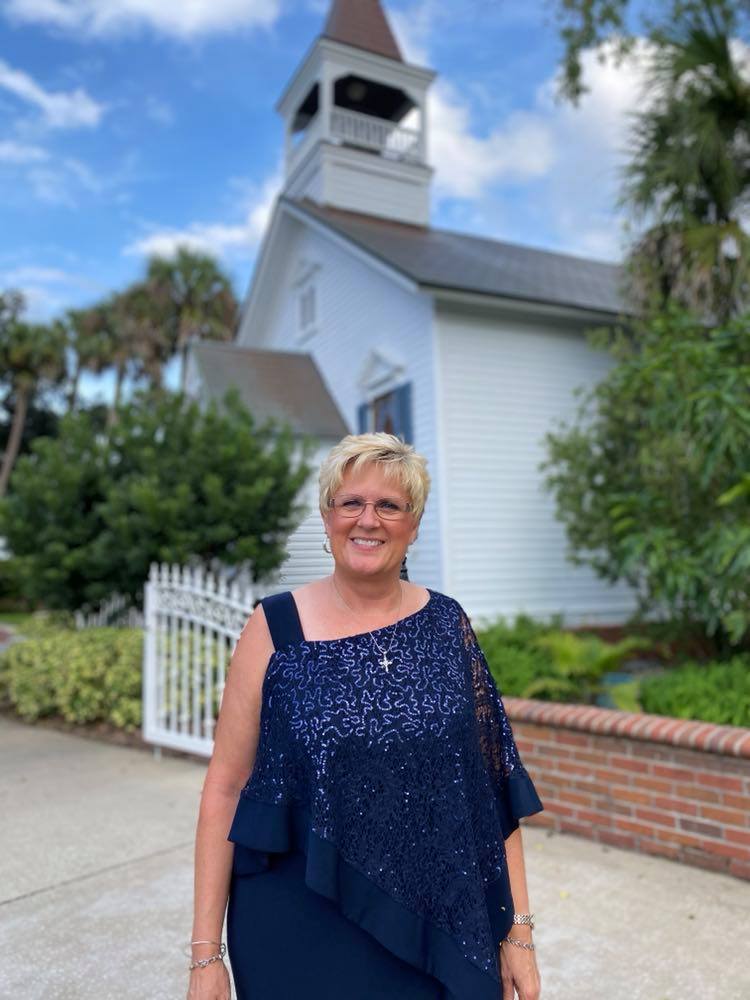 Meet Bonnie Sanchez
Website
702-328-3329
Weddings by Bonnie Sanchez Reviews from Marry Me Tampa Bay Couples:
Marry Me Tampa Bay curates the below reviews from real couples whom we've personally interviewed. As Tampa Bay's most trusted wedding planning resource, these reviews are 100% accurate and aren't created by fake accounts.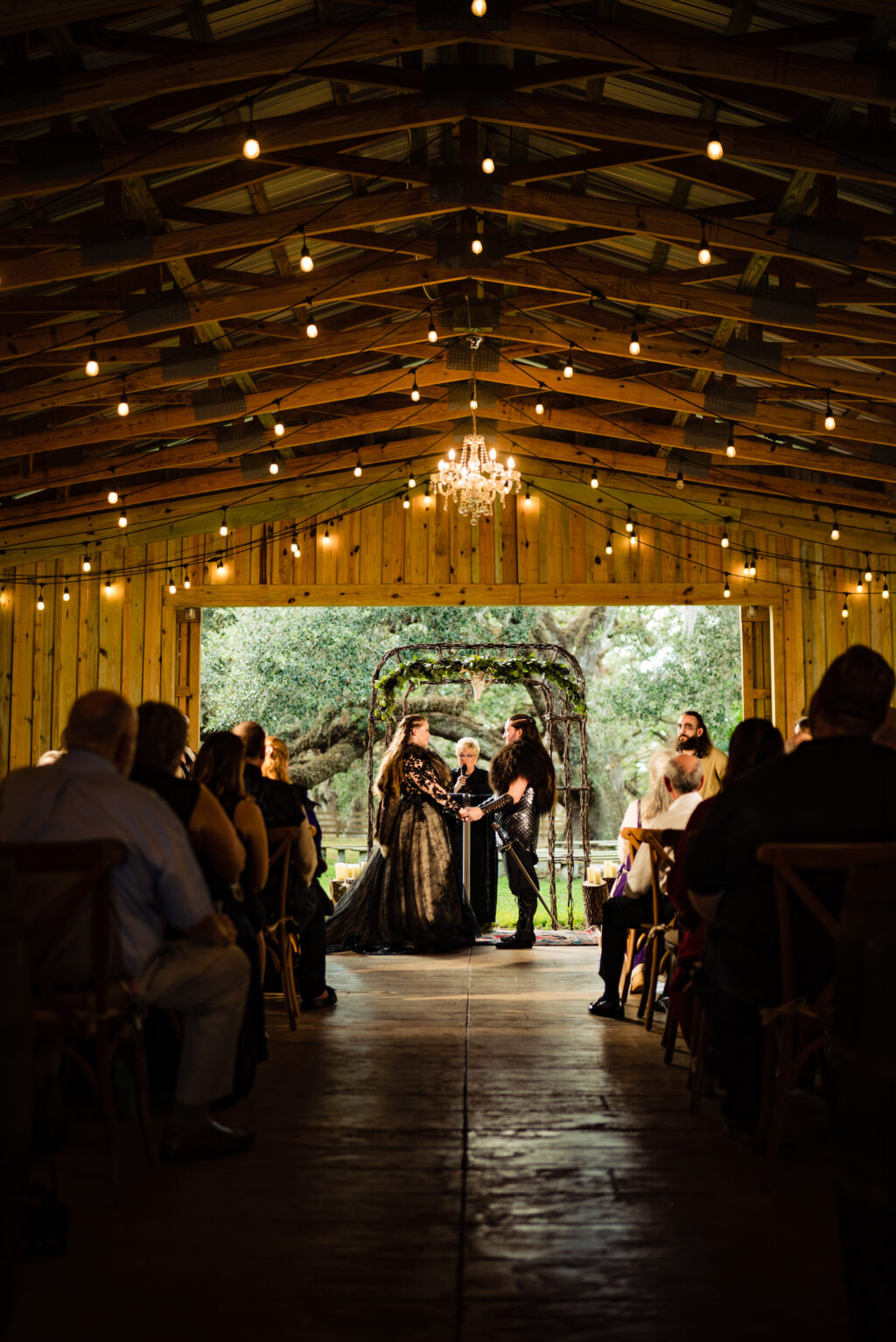 We wanted a wedding officiant who was going to be excited about our theme and able to perform the ceremony we wanted. The experience was an absolute must, as well as knowledge of traditional Viking wedding ceremonies. We also wanted someone who was warmhearted, passionate, and easy to work with.
We specifically chose Weddings by Bonnie initially for Bonnie's experience with traditional Viking wedding ceremonies and for her enthusiasm. Bonnie is such a sweet and compassionate soul. After our first phone call and discussion of ceremony options, we knew she was the one we wanted as an officiant. She took the time to get to know us, our story, and what traditions meant the most to be incorporated into the ceremony. She was also full of very useful information and inspirational ideas. Bonnie was a great guide on how to obtain our marriage license, and she helped guide me through the name change process. She was so easy to work with and really helped to simplify and take the stress out of planning our ceremony.
We are extremely pleased with Bonnie's service. She crafted the most truly unforgettable Viking wedding ceremony for us. We included a sage blessing, handfasting, and Viking Mead ceremony. We also had some Viking prayer, poetry, and of course, the vows and I do's. She even got into the themed costume spirit and dressed as a Viking Priestess for us! It was such a beautiful, deep, and meaningful ceremony for us. It is certainly one we and our guests will never forget. We had so many compliments from our guests on how unique and beautiful it was.
-Heather and John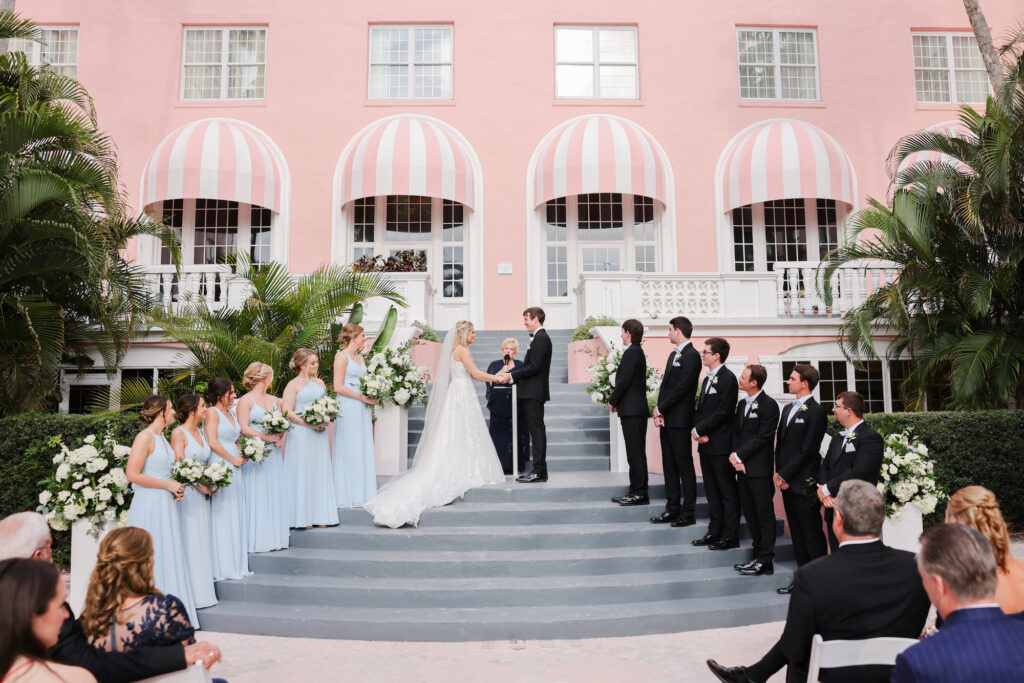 We were looking for someone down to earth who could express our feelings for each other and emphasize the bond of marriage.
When we had the phone calls with our top choices, Weddings by Bonnie struck me as someone who truly loves what she does, and that is why she does it. Bonnie gets so much joy from meeting the couples and performing their marriage ceremony. She took the time to get to know us and offered to meet in person before the wedding. Bonnie made sure our ceremony was personal and unique to us. She also catered to absolutely all of our wishes without question. She told me that one of the best compliments that she receives is from wedding guests asking how she knows the bride and groom despite not having met them before.
Bonnie is such a kind woman, and I am so glad she officiated our wedding. It was a beautiful ceremony, and I will cherish what she did for us forever.
-Allison and Tyler
---
---
As Seen on Marry Me Tampa Bay