Hiring a Tampa Bay wedding photographer isn't just looking at pretty pictures and getting a price quote. It's one of the most important decisions you'll make during the planning process.
You've probably heard that when your wedding has come and gone, you'll only have memories, photos (and hopefully a professional wedding video) to help you relive your big day. However, a good wedding photographer does more than just take a photo. They are more than "someone with an expensive camera." They are the wedding pro who is literally with you your entire wedding day, from the time you're getting ready with your bridal party until drive away with your new life partner. In fact, you'll spend more time with your wedding photographer than you will with your spouse on your wedding day!
What makes Caroline & Evan Photography one the best wedding photographers in Tampa Bay is not only are they incredibly talented, but they are incredibly passionate about what they do and truly want to connect with their couples. You want to grab a beer with them. You want to text them when you see a geeky Star Wars t-shirt. Best of all, you want to have #relationshipgoals like this husband/wife duo.


Email Caroline & Evan Photography
Website | Facebook | Instagram | Pinterest
Featured weddings on Marry Me Tampa Bay
What inspired you to start your business?
Oh boy, I'll give you the short version. I've always had a hard time trying to decide if I wanted to pursue art or science as a career. I had a few odd jobs that were really cool, and I learned a lot from them. When I was ready to go back to school, Evan got laid off in the same week. I needed a part-time job that could have a flexible schedule between classes and provide income for us (we were in our first year of marriage) and since I had already sold photographs and artwork in high school and college, photography was a natural solution because I knew how to do it. I built our first website during my Environmental Ethics class at University of South Florida. My little side gig became a company fast, and Evan and I wanted to try shooting a wedding together. We did four in 2009 and loved it! We were good photographers, and we were great at working with people. The next year we did 35 weddings and the rest is history.
Where do you draw your inspiration?
Shapes, light, textures. Mostly stories. Evan loves being inspired by movies and music. I draw energy from nature and the energies of other people for sure. We love learning couples' stories and sharing our own. We joke that we are geeks because we love comic books and characters, but most comic books have stories that have been redone over and over again for sometimes decades. You get to see brand new perspectives that an artist has on a character, and it usually isn't more or less inspiring than the previous rendition. That is inspiring.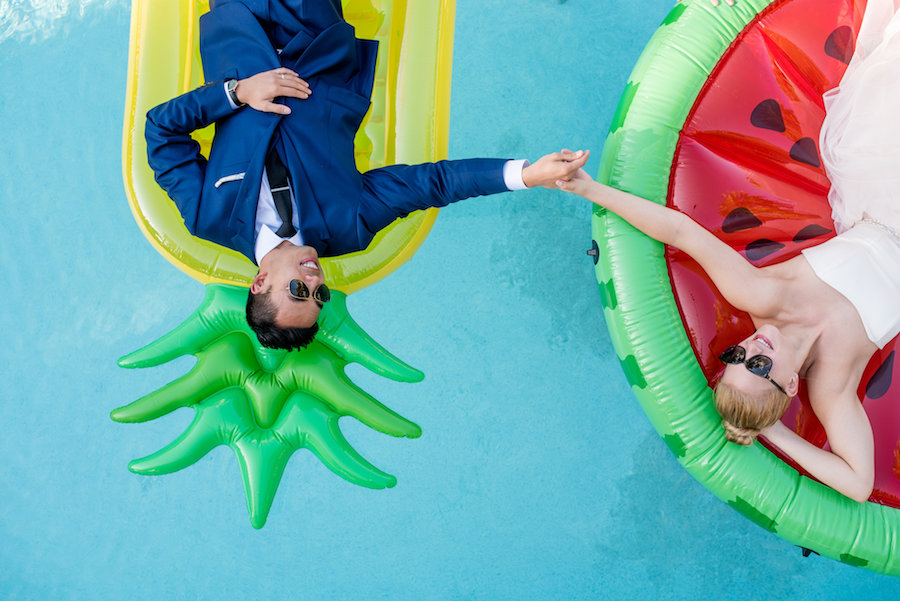 What is one of your favorite things about being a wedding professional?
Weddings are very fast paced, stressful and complicated events and that is an environment that I really thrive in. You have to be creative in your art, but also on the business side. We've been doing more commercial photography, and we have so much time to plan and figure out the logistics of a single shot; I far prefer showing up and working with the light that is there and needing to think quickly to problem solve. It's an adrenaline rush.
What makes your business stand out from other wedding photographers?
Evan and I both have an arts school background, meaning we learned the art and science of photography before we picked up a camera, and when we did, we learned on film and processed in a darkroom in school. As a husband and wife team, we bring a couple's perspective to shooting, but we could also each shoot a wedding on our own because of our experience. I think that's rare in this market. We do it together because we challenge each other, compete a little even, and push each other to do better. It's awesome having your best friend to problem solve with. We also have a ton of fun when we shoot and hang out with our couples.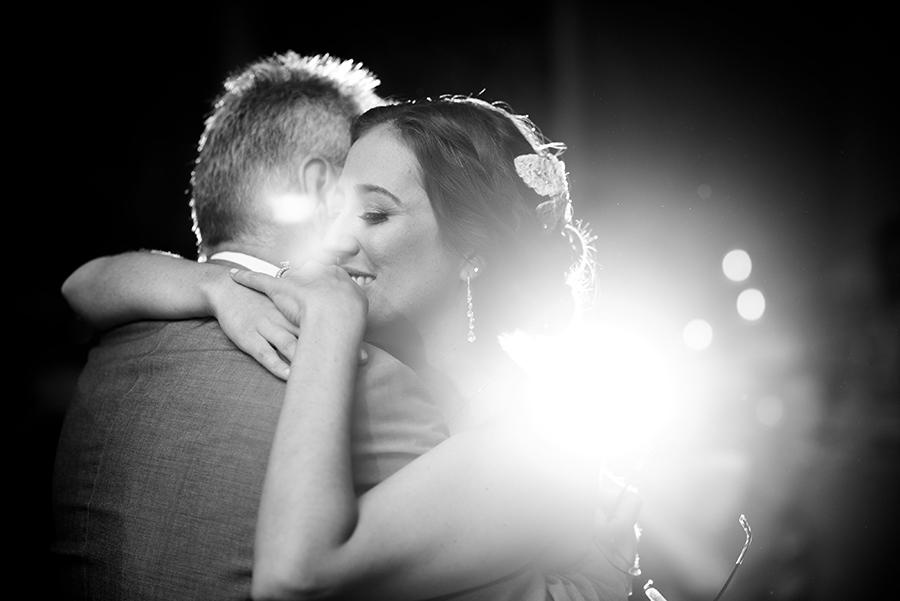 In your opinion, what is a MUST HAVE at every wedding?
Awesome people. Your core group of friends that you can't live without. Also, really good music. You should not base the music you choose on a website. See the band or DJ you are considering at an event in person. An open bar doesn't hurt either.
What is the best piece of advice you can give to a bride who is searching for a wedding photographer?
Feel connected to the work, but feel connected to the people more. We spend your entire wedding day with you, so you want to feel comfortable with us.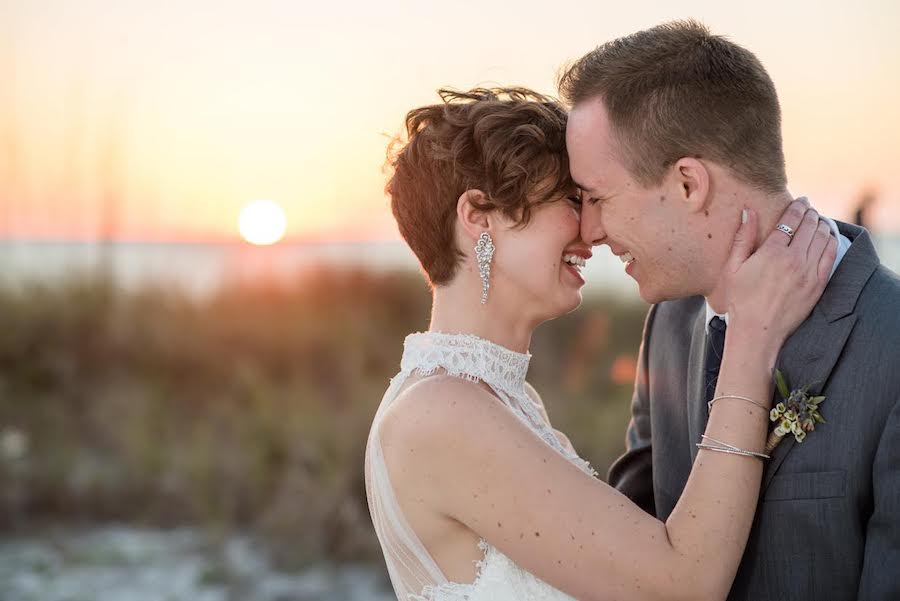 What is one thing most couples would be surprised to know about you?
Evan and I met when we were 12, and he asked me out on the first day of 11th grade, I said no! It took us a while to get together, and we chalk that up to both of us being incredibly stubborn and always wanting to be right.
What are some of your passions, non-wedding related?
For me, the environment, Florida habitats and conservation and anything related to animals.
Evan is passionate about arts education. He is the director of the Gasparilla International Film Festival's High School Competition and engages in several educational workshops throughout the year for students in Tampa Bay.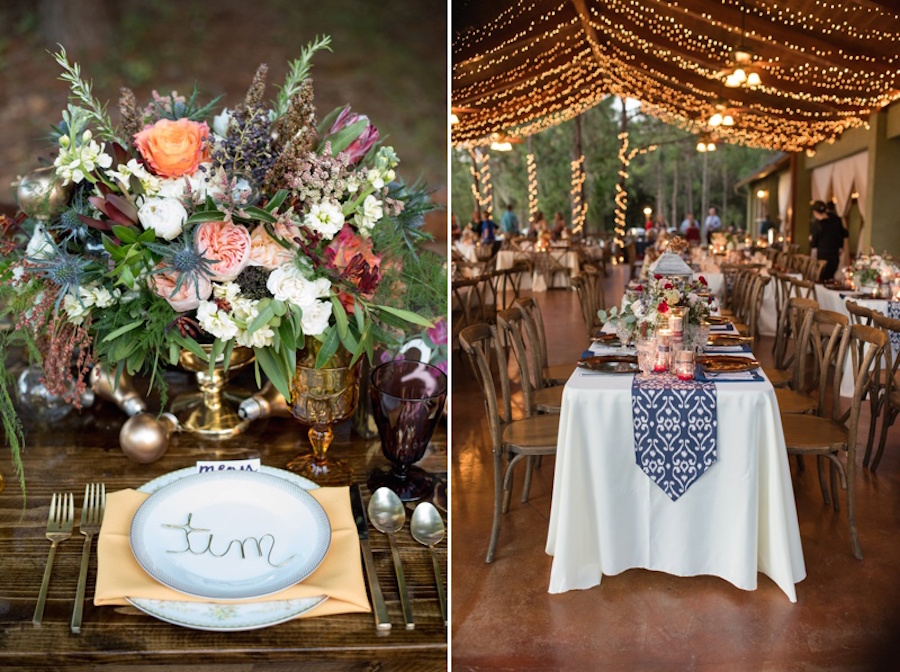 What is one of your most memorable moments as a wedding photographer?
One of our very first couples ever, who were married in November of 2009, called me to tell us when they were pregnant with their first child. I bawled like a baby on the phone at how sweet that was. That is the connection we want to make with people, and the fact that we were able to achieve that so early in our career told me we were in the right business.
What are you most excited about in the upcoming year?
We just launched our colorful new website, and we feel like it is a perfect representation of us for the first time. We also just expanded our team with an assistant, Mikaela-Rose, who is an amazing arts magnet school graduate like us. For the rest of 2017, we have some trips booked for engagement sessions across the country that we are really excited about!
Reviews From Previous Marry Me Tampa Bay Couples:
"We wanted someone with experience, along with someone we would feel comfortable with. Caroline & Evan Photography were the perfect match! They made us feel comfortable and confident when they were shooting and made sure to get to know us on a personal level, which made the photo taking a breeze. They also definitely have a keen eye for amazing shots!" Previous Marry Me Tampa Bay Bride Erin: Purple and Gold Rustic Glam Wedding
"We loved the idea of a husband and wife team. Caroline & Evan Photography made such a great first impression; they took me to an ice cream/coffee shop! I hired Caroline and Evan because they made me feel comfortable, that was the most important thing for us. We started with an engagement shoot, and they made us feel so comfortable from the start. They really took the time to get to know us, not as clients, but as a couple (and made us laugh a lot). The wedding day photos came out perfect, and they captured so many moments that we will treasure forever. My husband and I were beyond thrilled with our engagement shoot to our wedding day. They deliver perfect photos extremely quick (we got all of our wedding photos in less than two weeks) and are two of the sweetest people ever. They kept Alan and I laughing and got some photos that I couldn't have dreamed for." Previous Marry Me Tampa Bay Bride Kim: Romantic Gold and Pink Nighttime St. Pete Wedding
MORE: CAROLINE & EVAN PHOTOGRAPHY WEDDINGS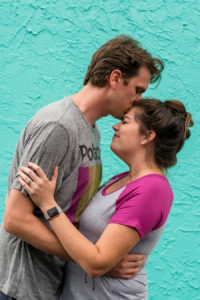 Caroline and Evan are high school sweethearts and geeks in love based in St. Pete, FL where they live with their two rescue mutts and daughter named after a superhero. When they aren't traveling the world, they love exploring local breweries and coffee shops, exploring Florida wilderness or catching movies and cuddling at home. 
Email Caroline & Evan Photography
Website | Facebook | Instagram | Pinterest
Featured weddings on Marry Me Tampa Bay