Daphne and Jun's Proposal:
To celebrate our three years, three months benchmark Jun decided to plan a Sunday Disney date.
That morning I heard my phone ringing and answered it half asleep. I heard urgency in Jun's soft but firm voice, "Open your door, I'm here." 
When I met him he announced, "Good morning, we need to leave in ten minutes."
When we were in the car, Jun was stressed and tensed! He was flying down the freeway and was really concerned about arriving on time. It started to dawn on me that we weren't going to the beach. It boggled my mind what our activity was, but I didn't dare ask questions during this high-stressed period.
After 40 minutes of driving (normally an hour long drive), we pulled into a McDonalds parking lot. Jun seemed relieved. I was waiting patiently when I saw IT…a trailer connected to a van with a HOT AIR BALLOON PICTURE! I squealed with pure joy.
After the balloon landed, the ballooning company provided breakfast at a local café. We ate, talked and continued on with our plans to EPCOT.
After walking a while and meeting numerous characters, it was nearing lunch time and we were starving! Jun suggested Akershus Royal Banquet Hall, but I knew by looking at the map that those three bold dollar signs beside the restaurant name indicated a rather pricey meal and prior reservations were ALWAYS necessary.
Jun said to me, "This is surprise number three." Immediately I thought, "An ordered number of surprises?!"
We were back on the road after leaving EPCOT. At this point we were both pretty tired from being up so early and I realized we weren't going home…especially when we took the highway going the opposite direction from my house!
After my next surprise, a massage, Jun put a blindfold on me and started driving. When he  finally parked the car, he asked me to wait for a bit while he got out of the car. ALL of my senses were heightened and tuned. I could hear the water, cars and people yet I couldn't figure out where we were.
Fifteen feet in, I realized we were at a special park, which solidified ALL of my suspicions. This particular park is very significant to us because it's where we first hung out as friends back in 2008, and where he first verbalized his love for me on our one-year anniversary of dating in 2011.
Jun sat me down and the blindfold was taken off. When I could finally see, I saw him sitting in front of me with a homemade scrapbook in his hand. I felt overwhelmed with so many emotions; I can't even begin to describe how I felt that moment. He read to me from this story-like book that showed the journey of our relationship in numerous pictures.
He stood me up, then with his ukulele in his lap, he serenaded me with Aubrey's "Perfect Two" and continued with "The Question" by the Old 97's. While he was singing I was overwhelmed with so much joy, gratitude, and excitement. This was a day I had dreamed about my entire life and it was actually happening. My eyes began to tear up as I admired him and his role in our entire relationship. I knew that God had created, crafted, and nurtured this amazing man just for me.
After Jun finished playing, he reached into the basket and with the most beautiful ring he bent down on one knee and followed up with the four sweetest words in a question,"Will you marry me?"
As if the day couldn't be anymore perfect, I was surprised with an intimate group of family and close friends awaiting to celebrate this milestone with us.
Although Daphne and Jun live a few hours from Tampa, they chose this area because it was a "mini-destination wedding" for most of their wedding guests. It was also the location of Daphne's dream wedding venue.
"I first saw a photo of A La Carte Event Pavilion's exterior a few months before Jun and I were even engaged, while I was helping my cousin find wedding venues. I was immediately drawn to the high pillars and elegance. I knew I wanted to get married in a place just like this," the bride gushed. "Fast-forward to the night after Jun proposed, I showed him A La Carte's website just for fun, and he loved what he saw. He even joked and said, 'Done! Let's do it!' Months after that conversation and numerous venue visits and excessive online research, we agreed that no other venue fit us as well as A La Carte.
MORE: A LA CARTE PAVILION WEDDINGS
The couple hosted an classy, blush pink and gold wedding.
"Jun and I weren't interested in having any particular theme, we just wanted a timeless, elegant wedding," Daphne explained.
The pair included unique elements such as: a live Instagram feed projected on the big screen, a surprise bridesmaids dance, the "Shoe Game" and "Clothespin Game" and a special "Thank You" serenade from the groom.
The groom's event planning skills from his elaborate proposal day carried over into the wedding reception.
"Everything about our wedding day screamed us. Jun's personality really shined in the reception, he organized most of it!" the bride beamed. "He put together the different special songs by our friends, games and the video of our photos."
Looking back, one of the bride's most memorable moments was seeing her groom's emotions during their wedding ceremony.
"It was so special to walk down the aisle and see Jun moved to tears," Daphne reminisced.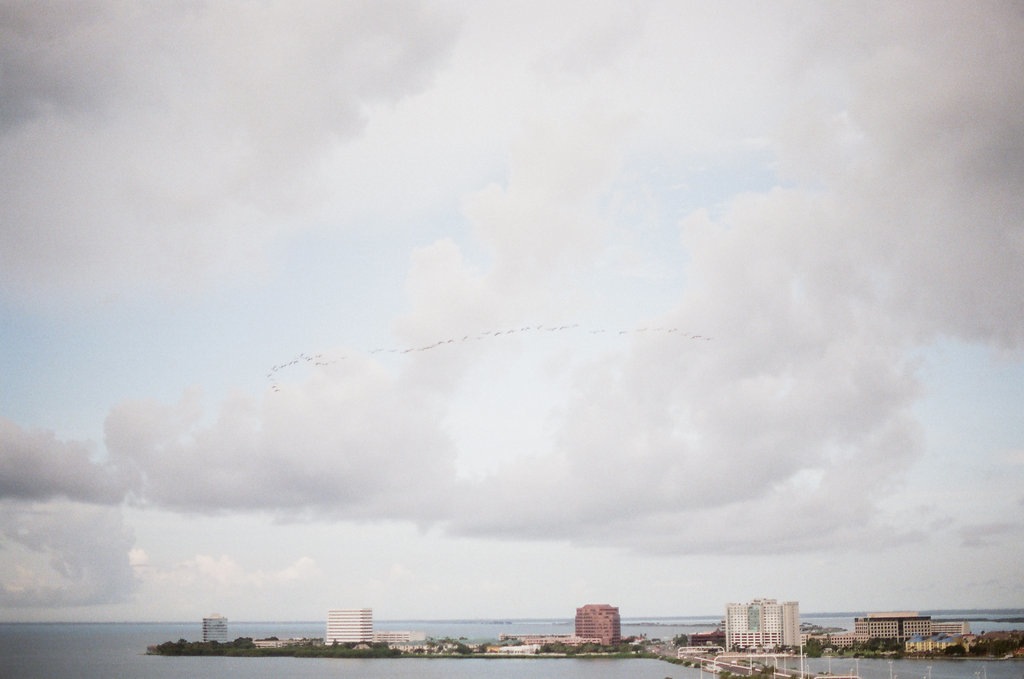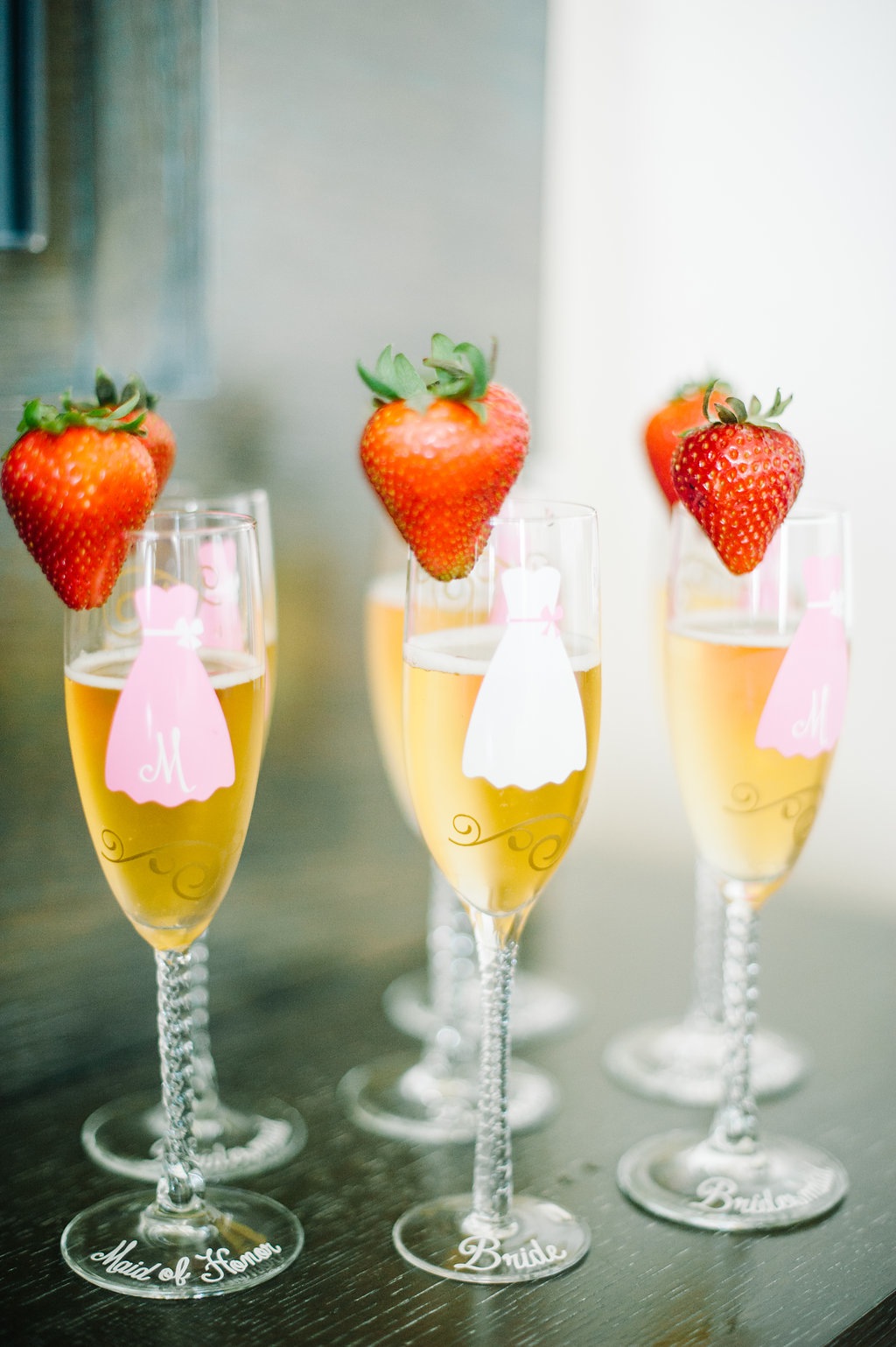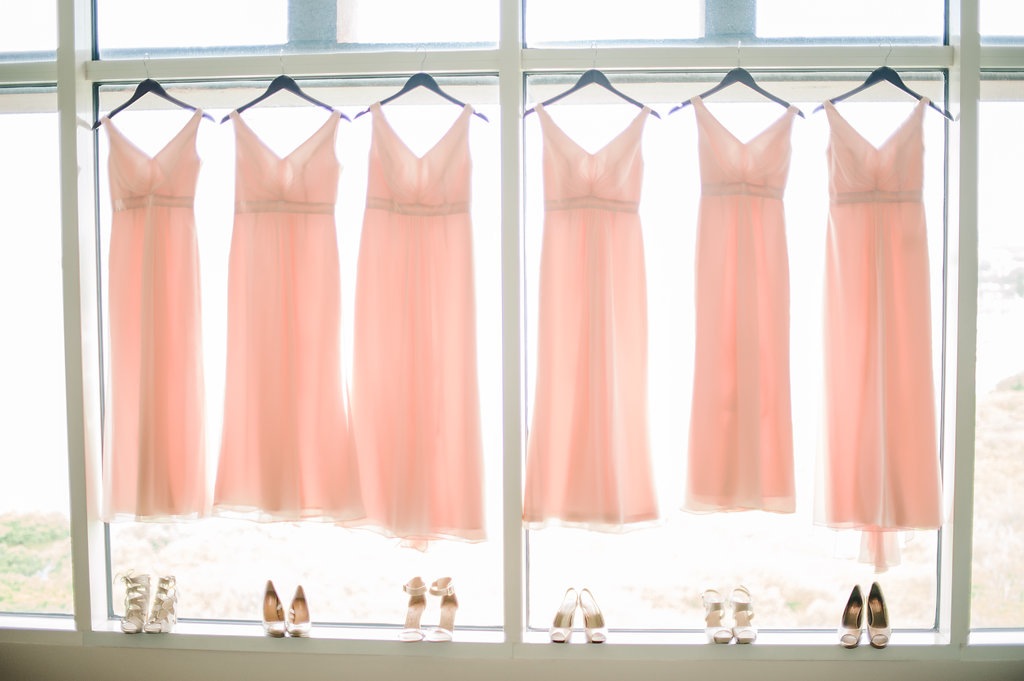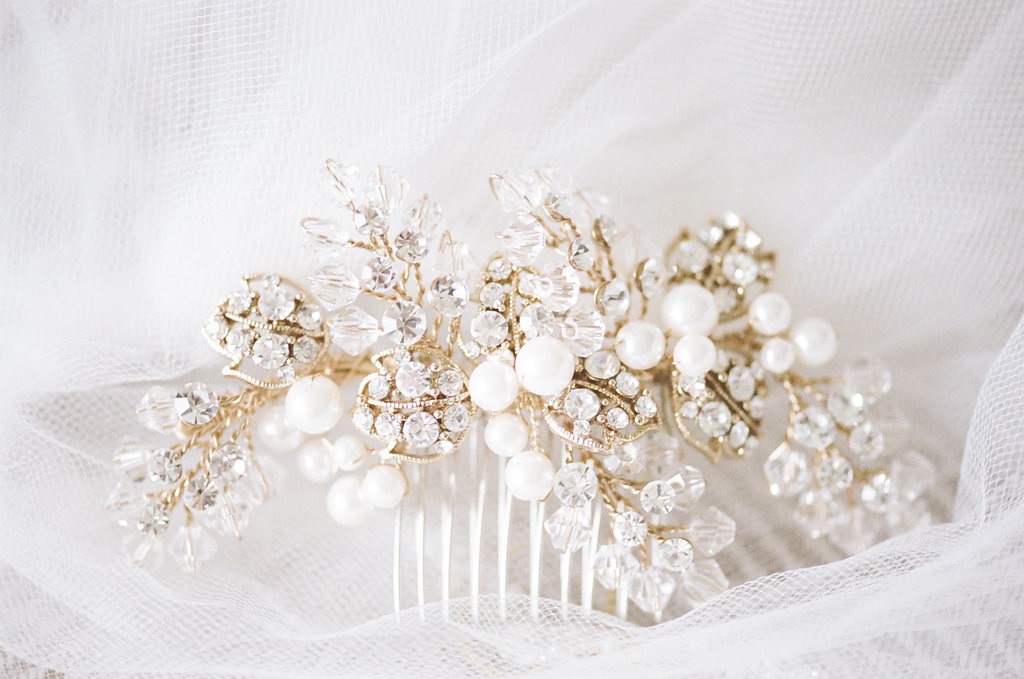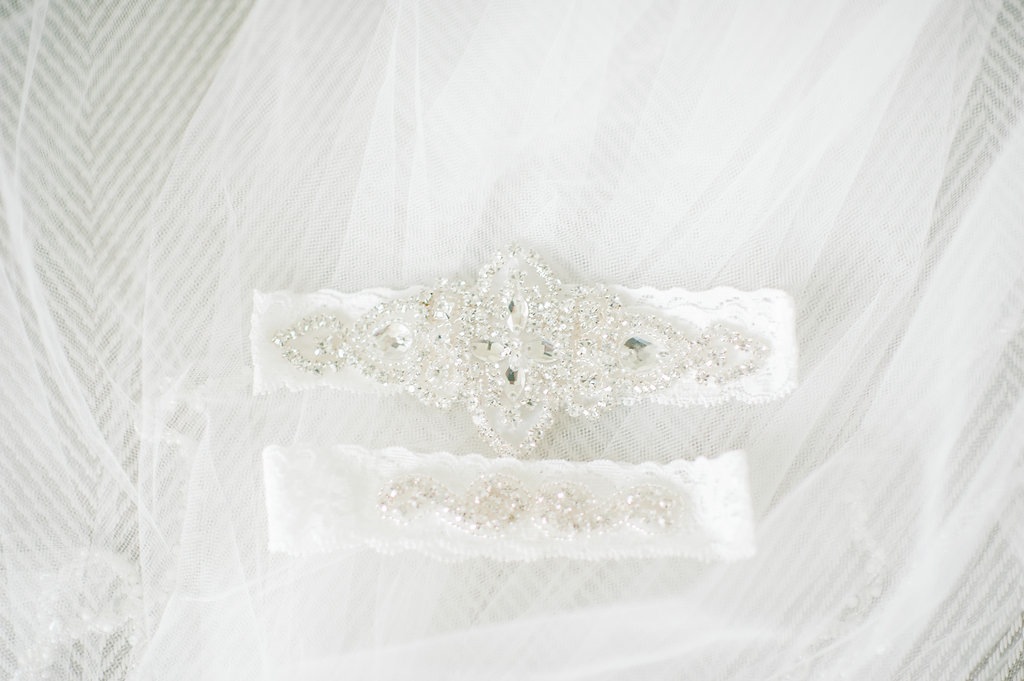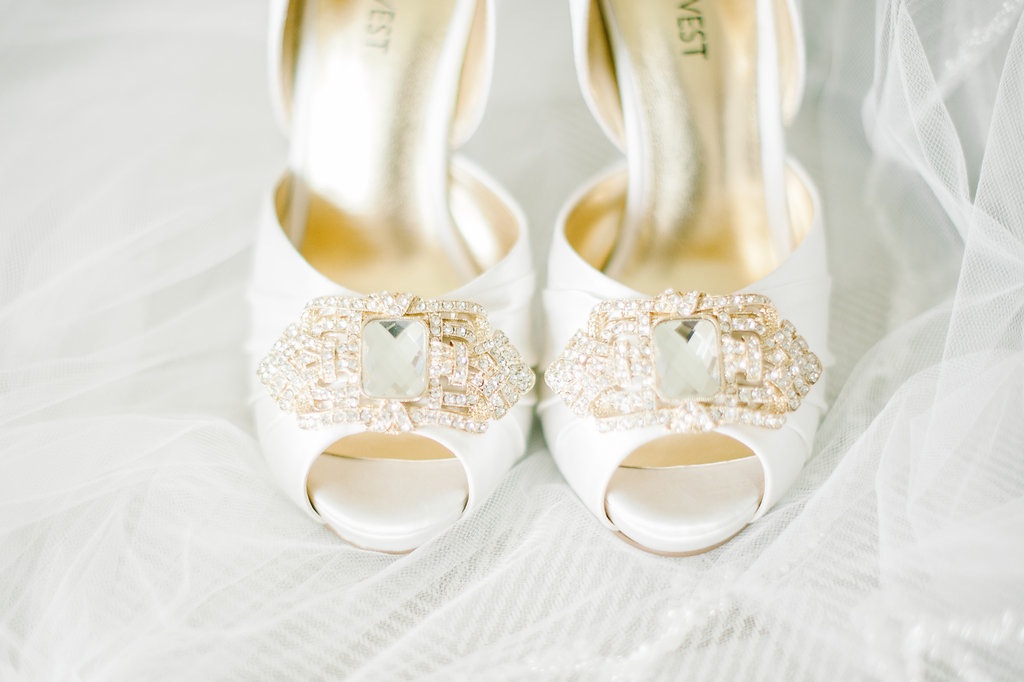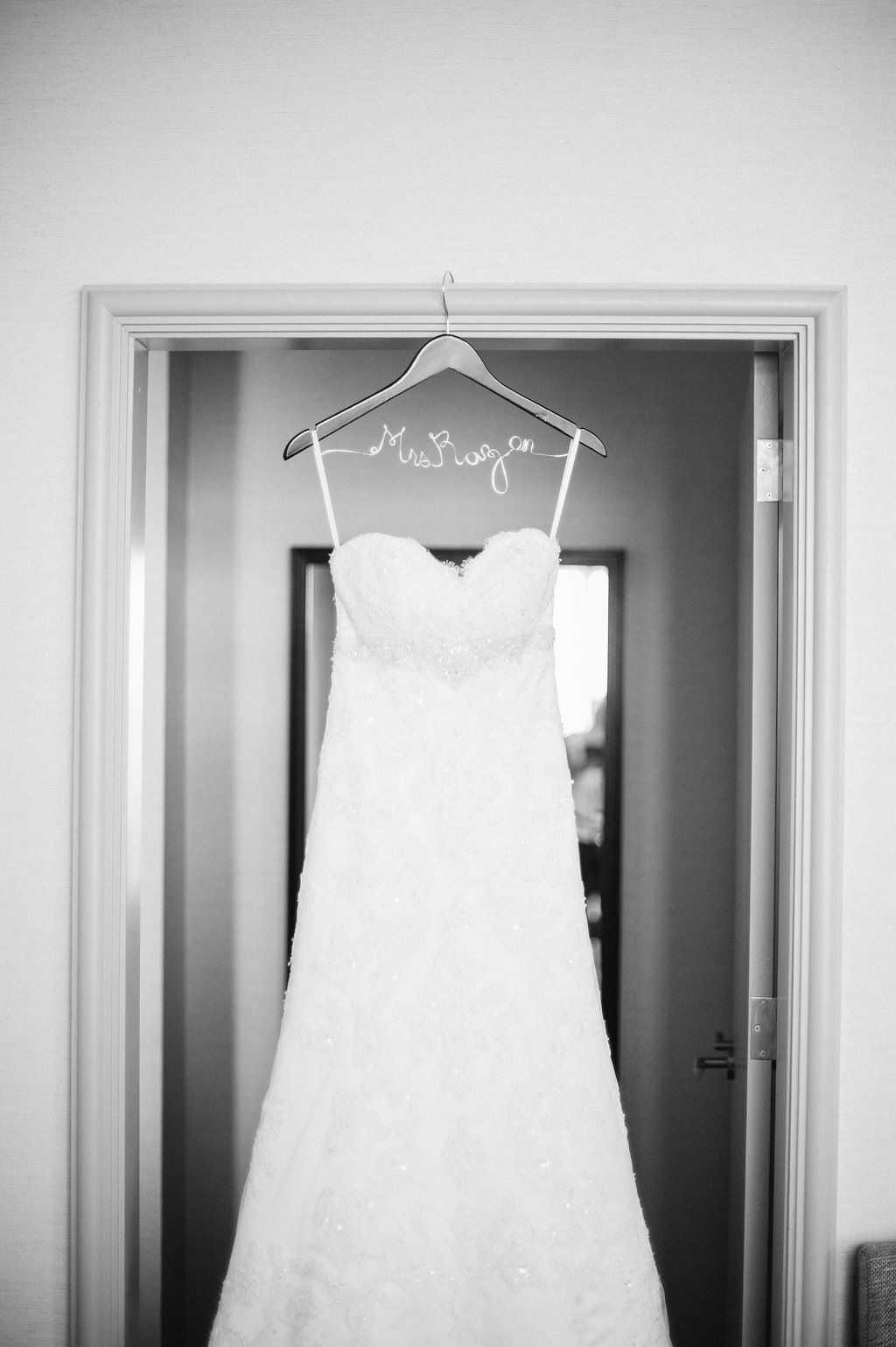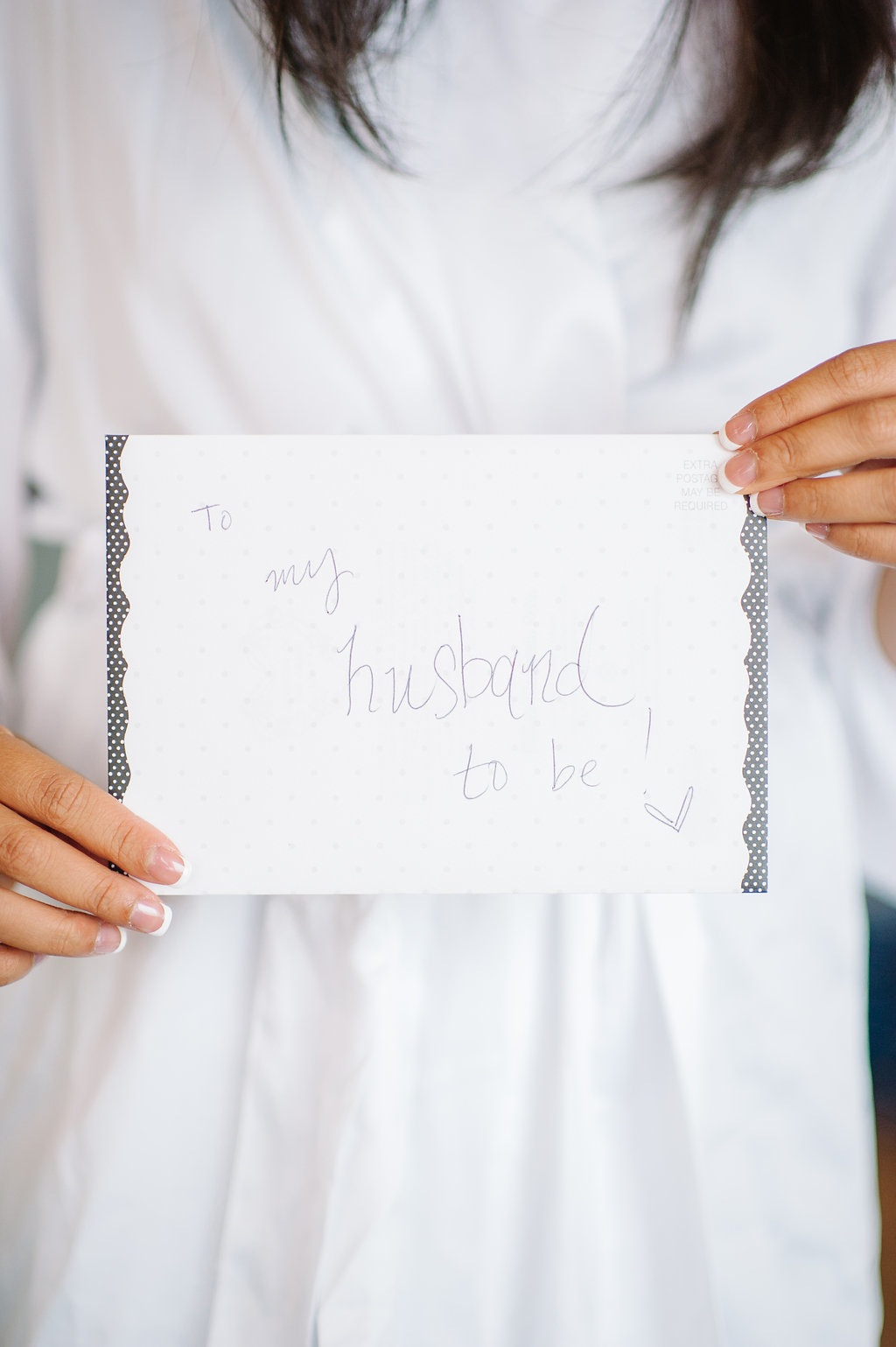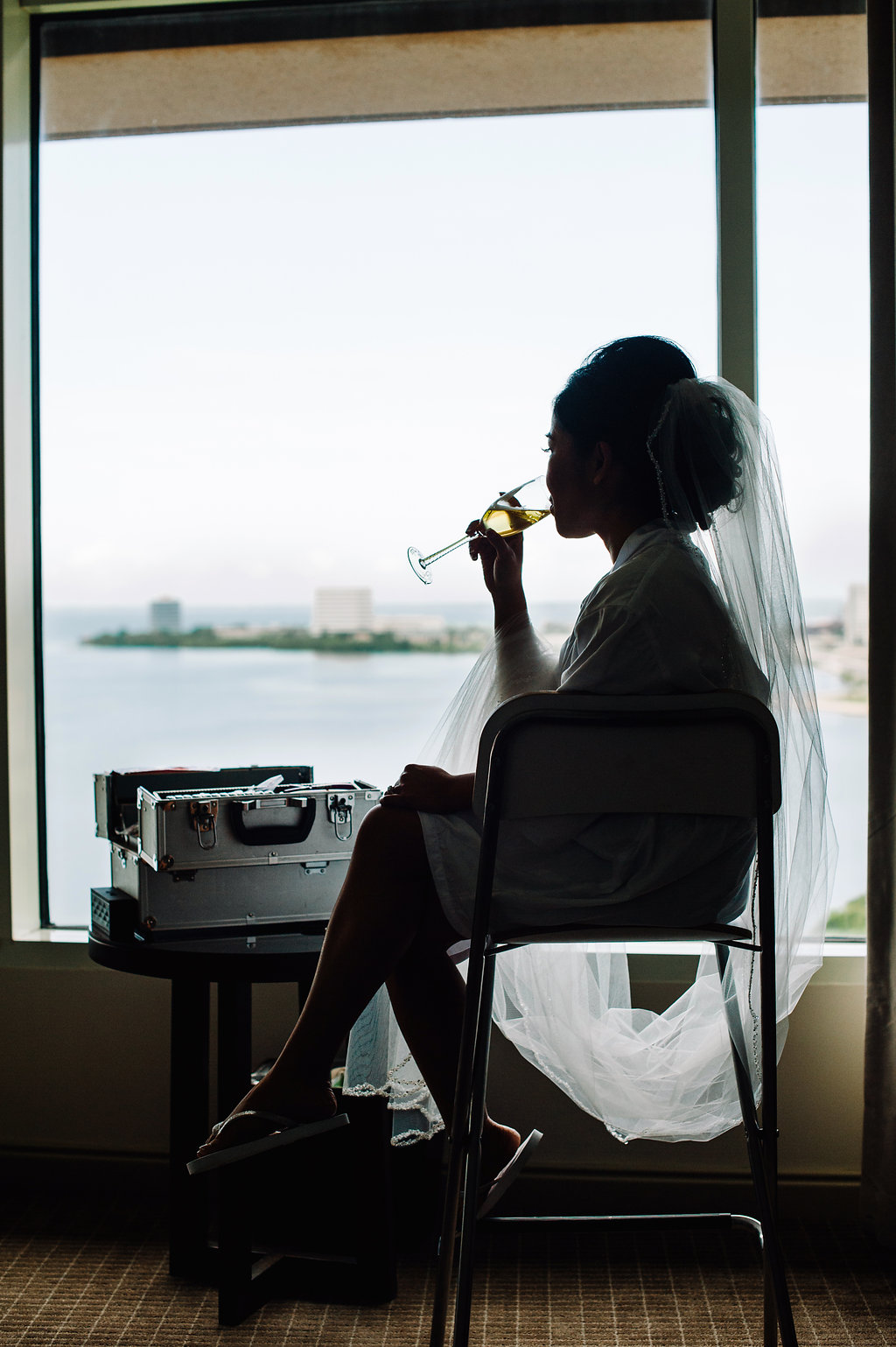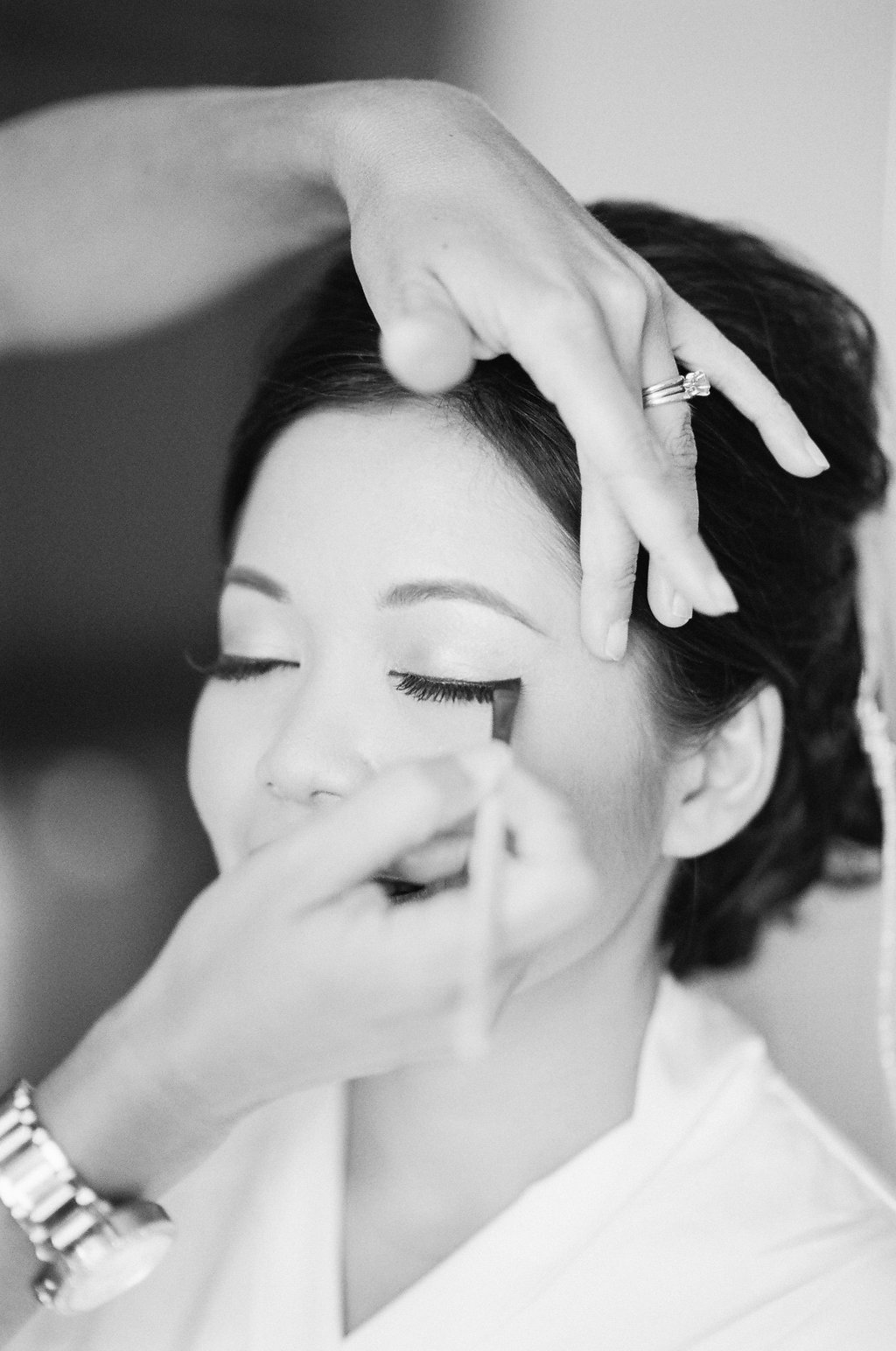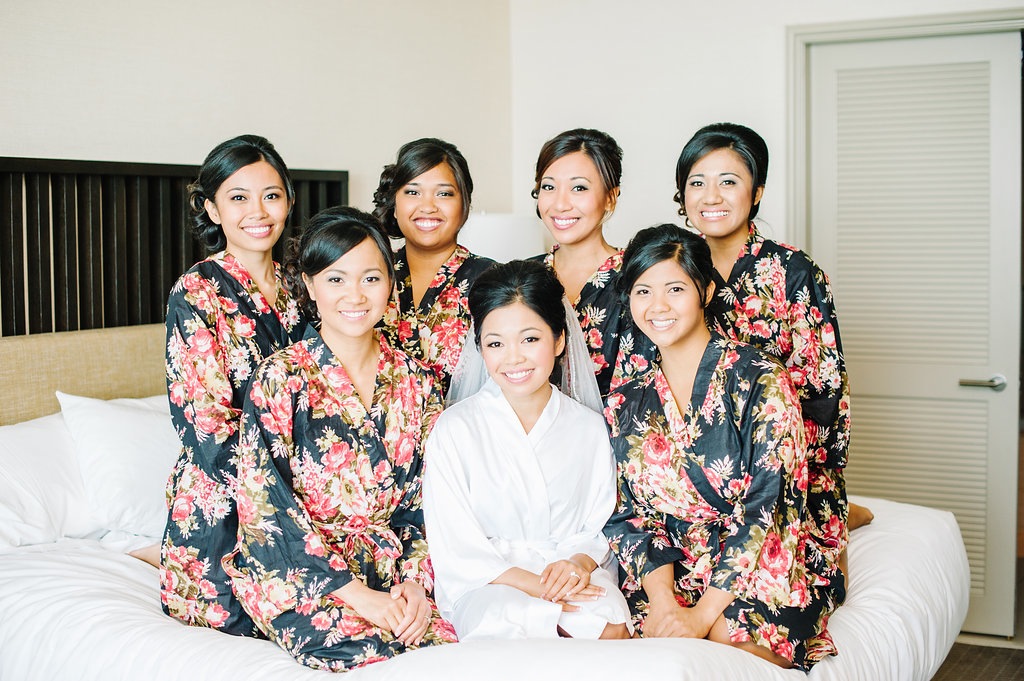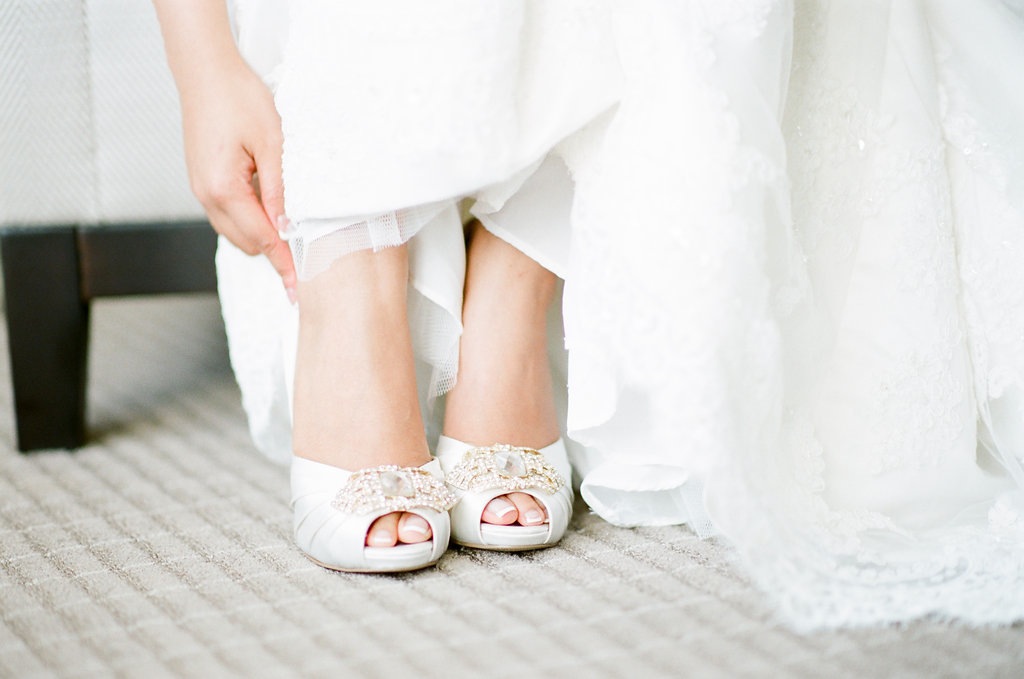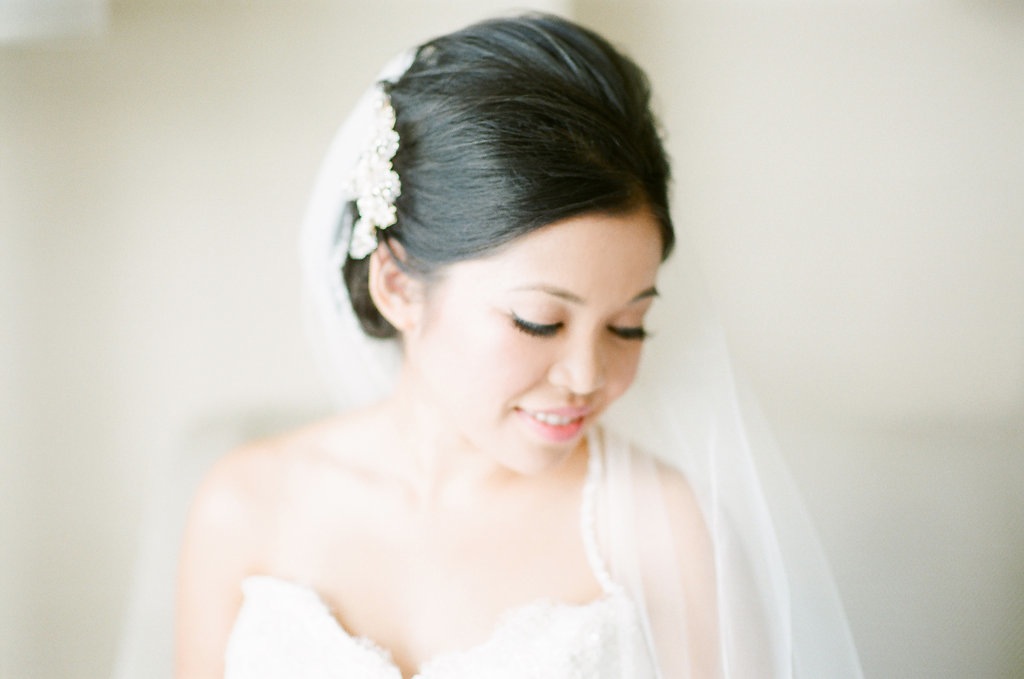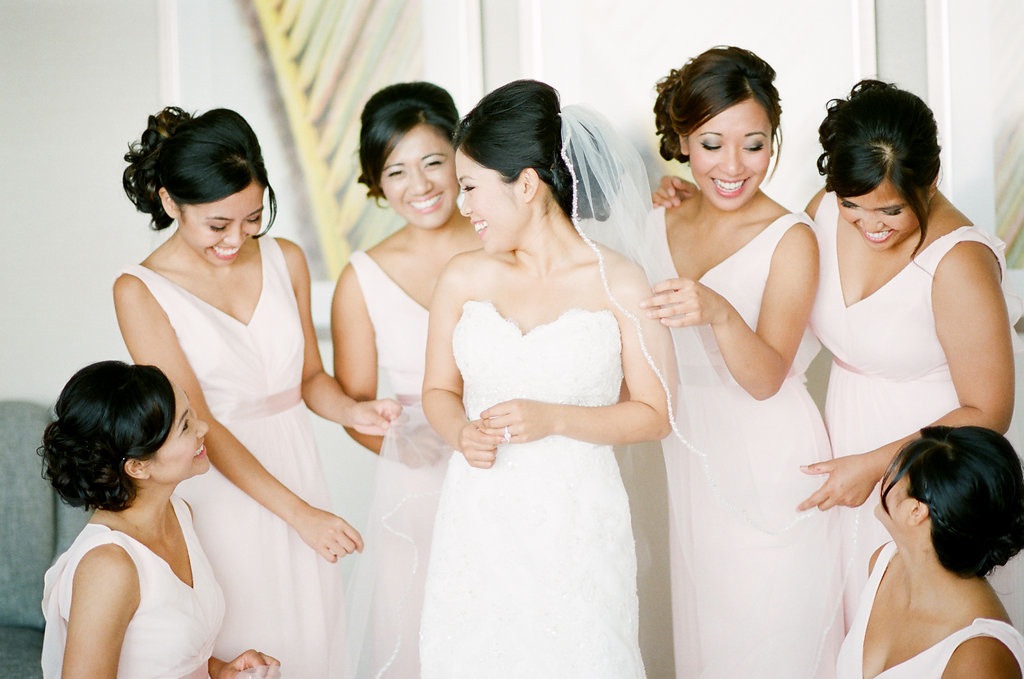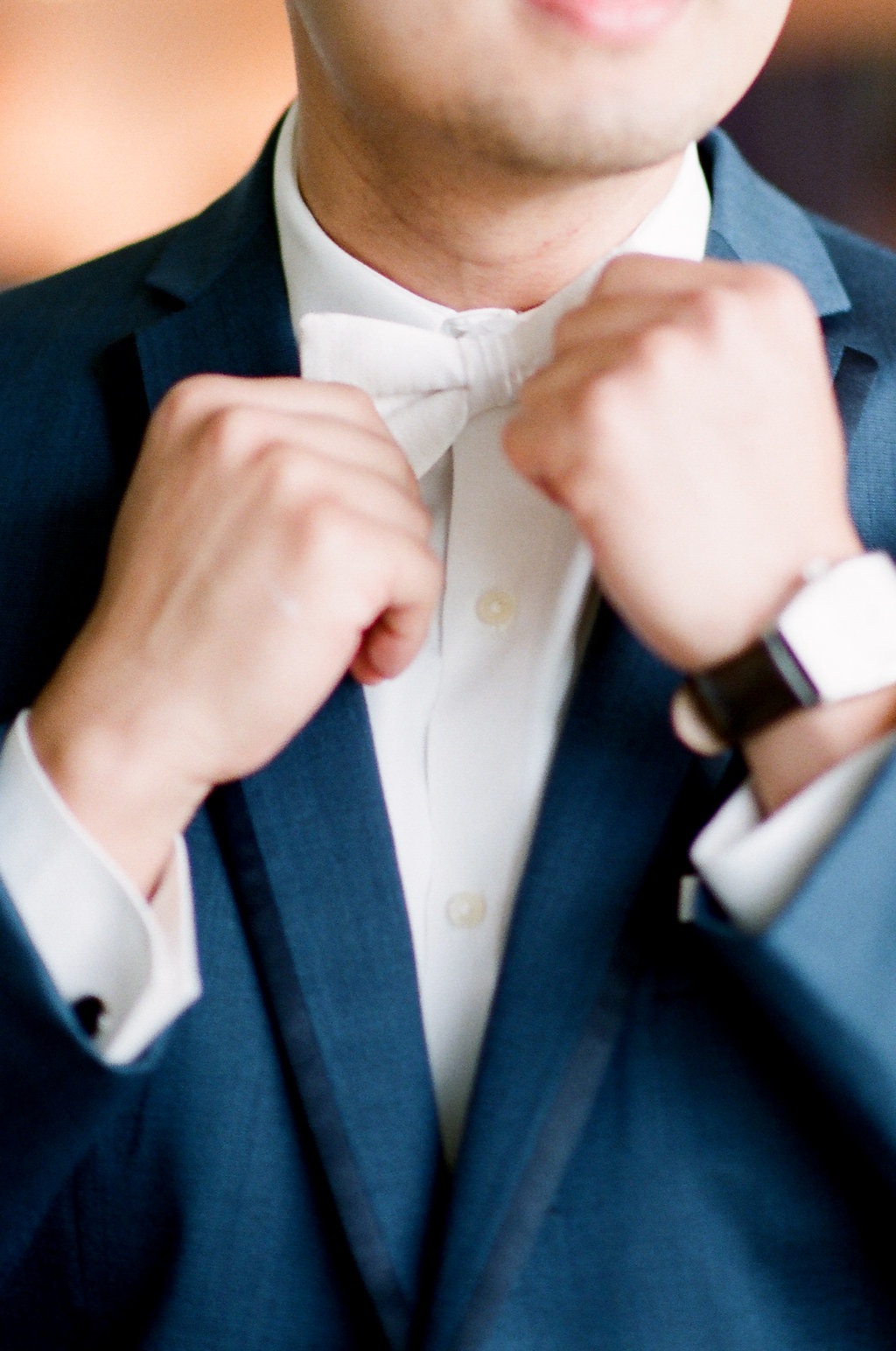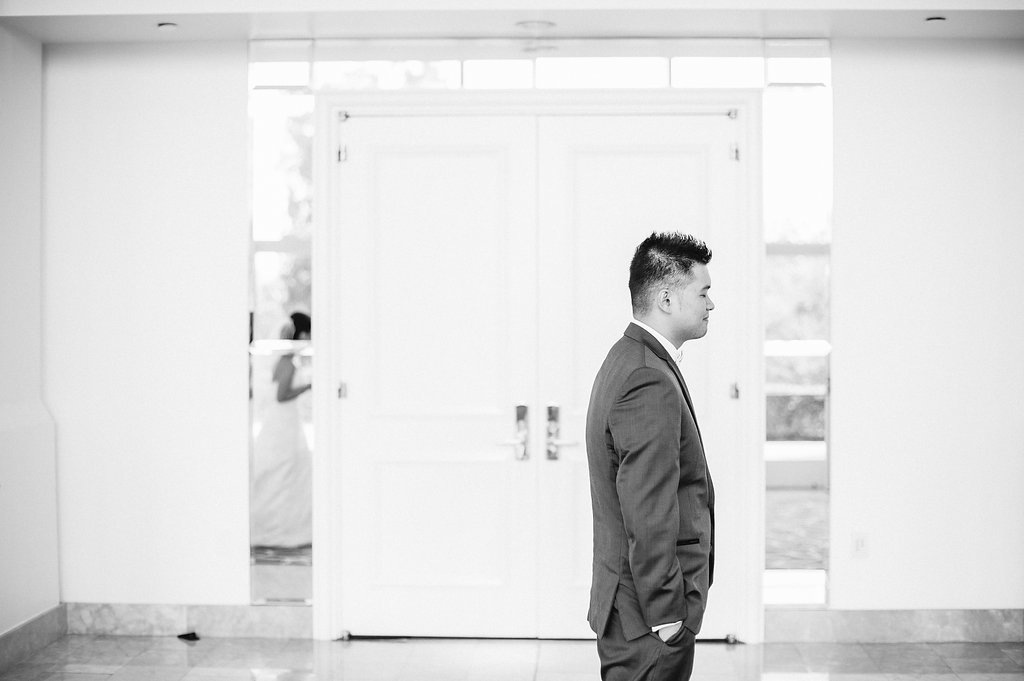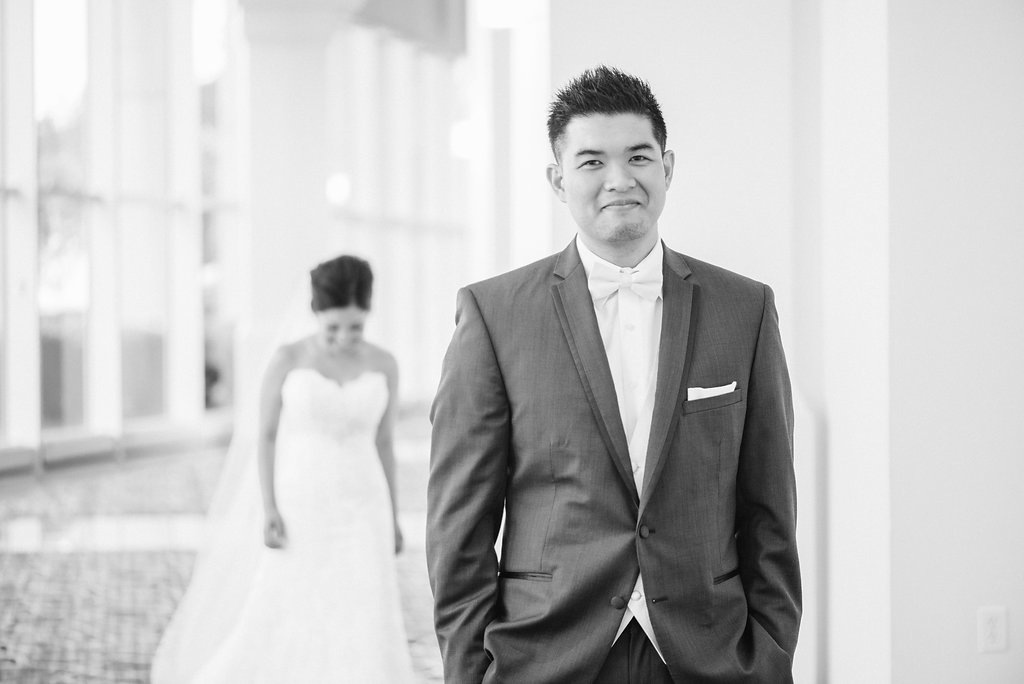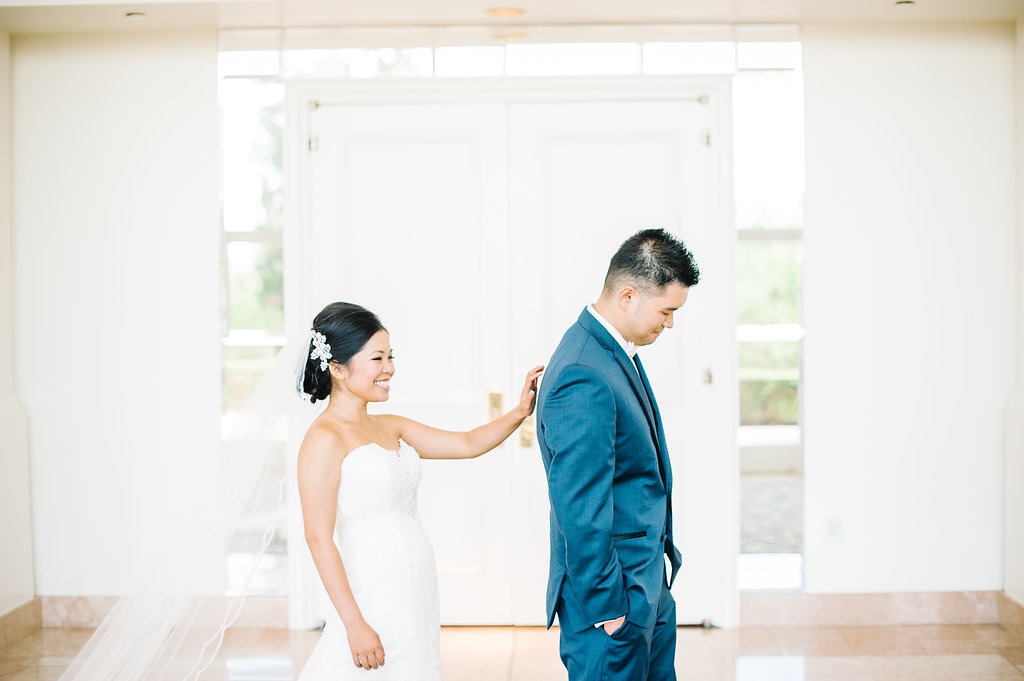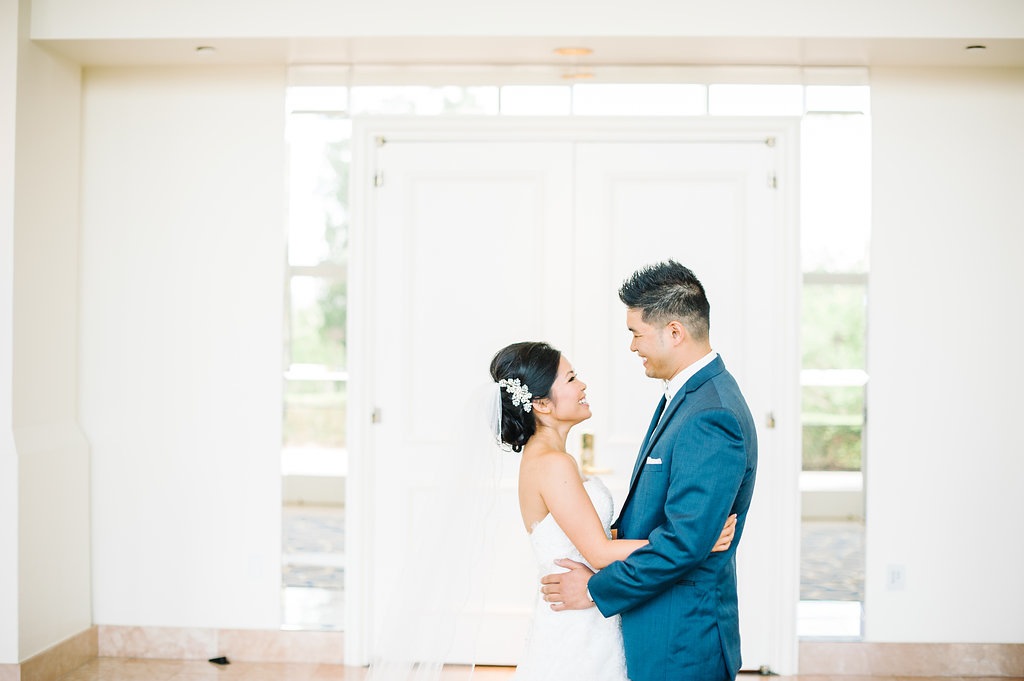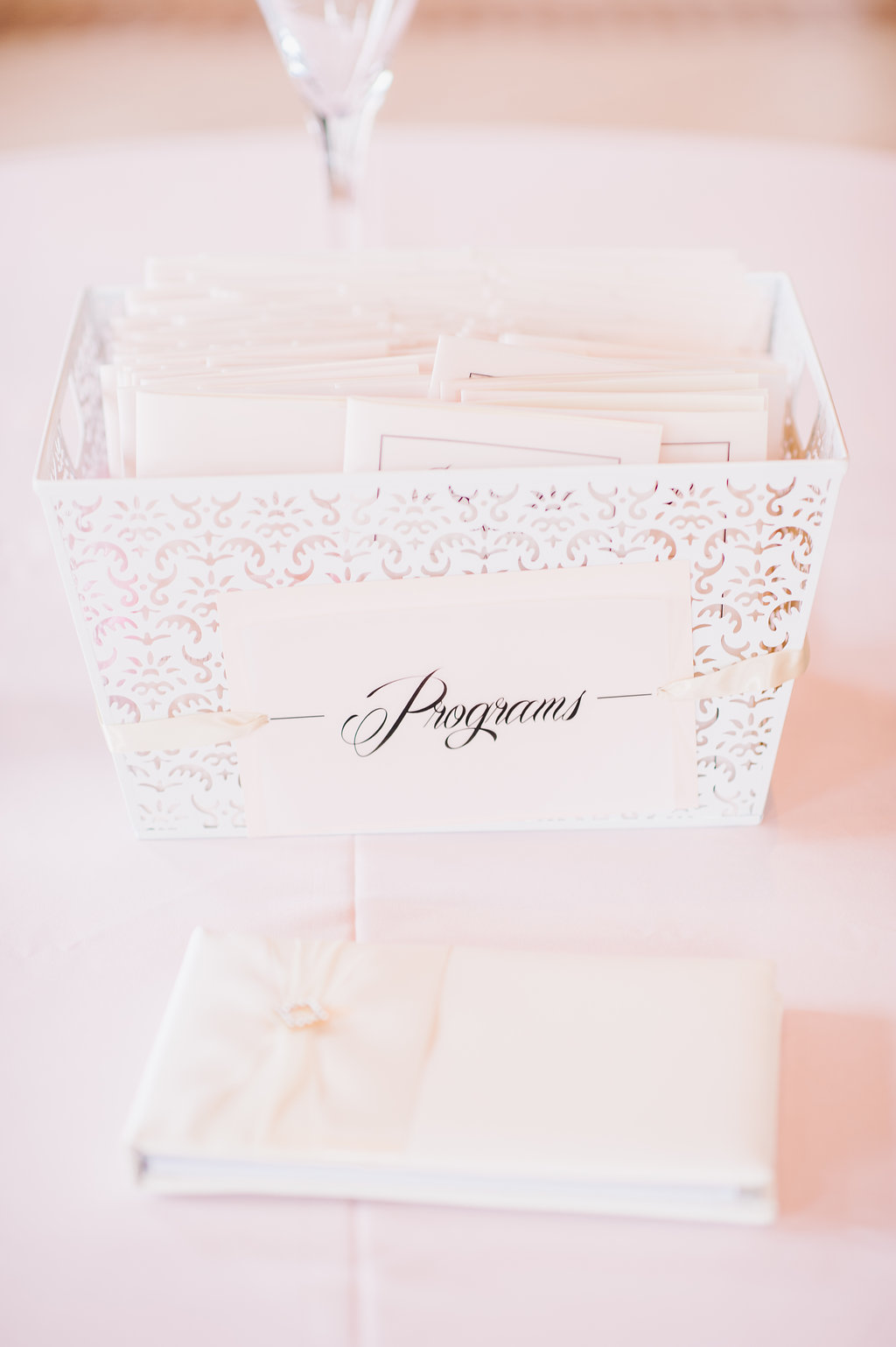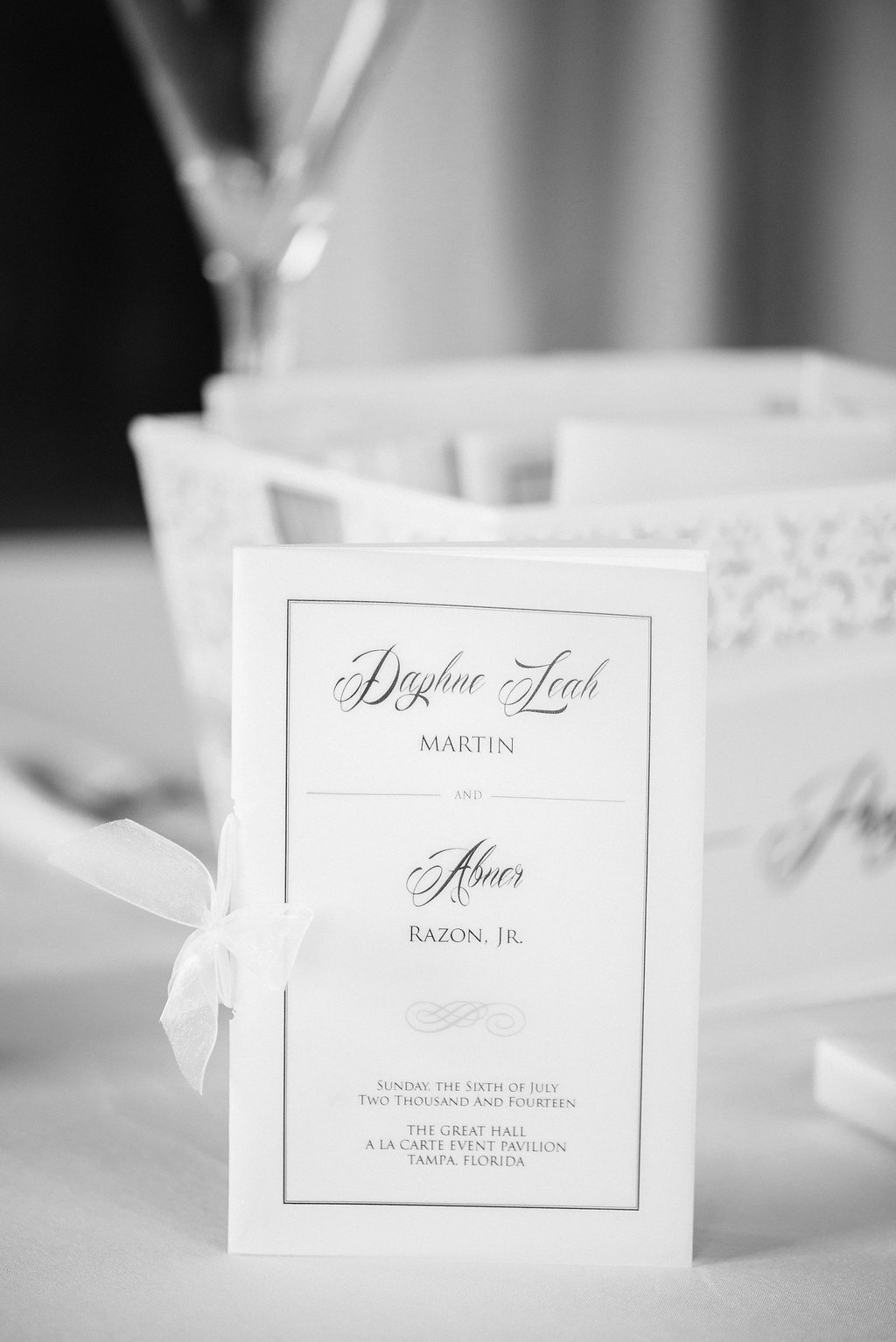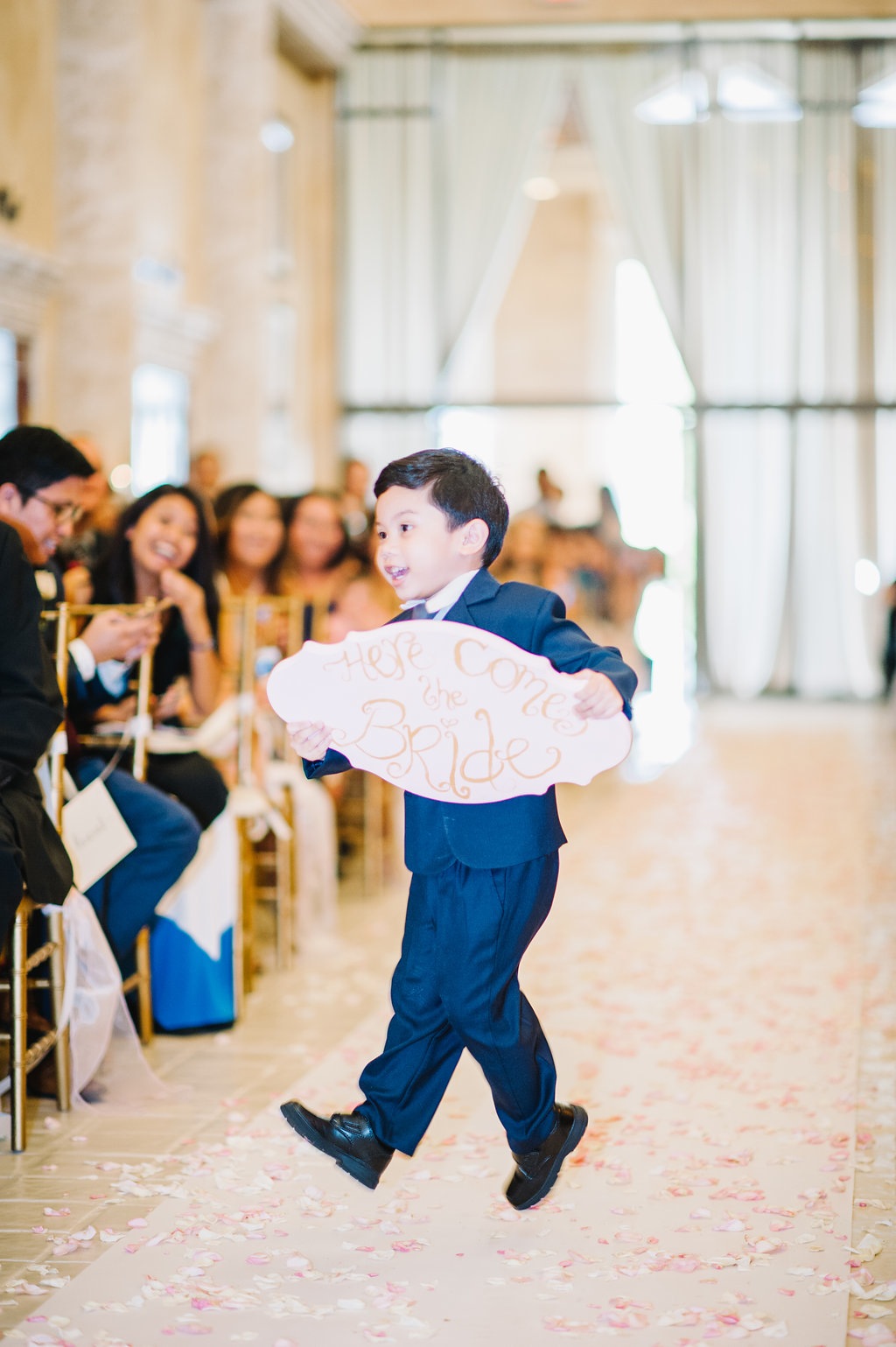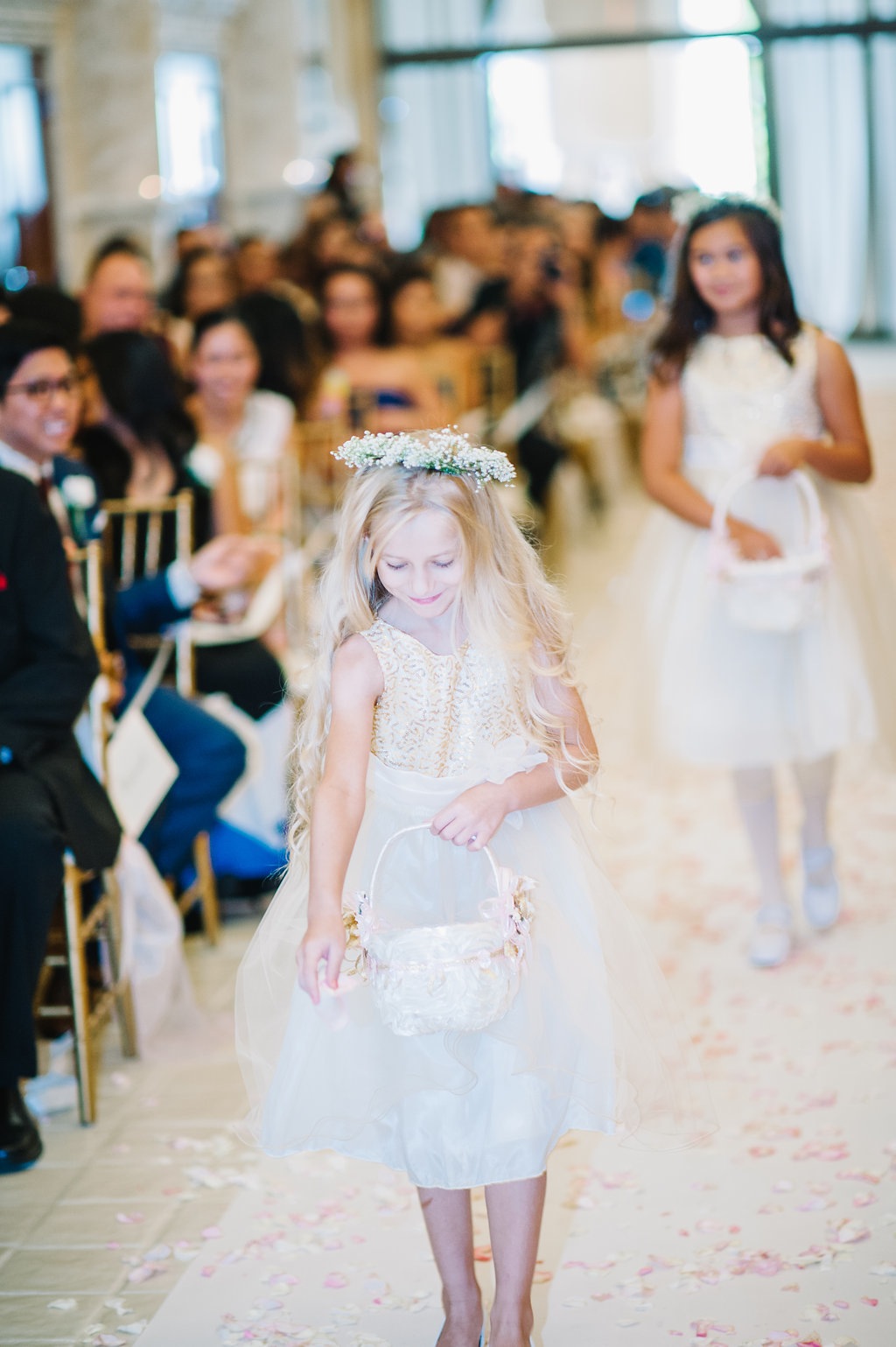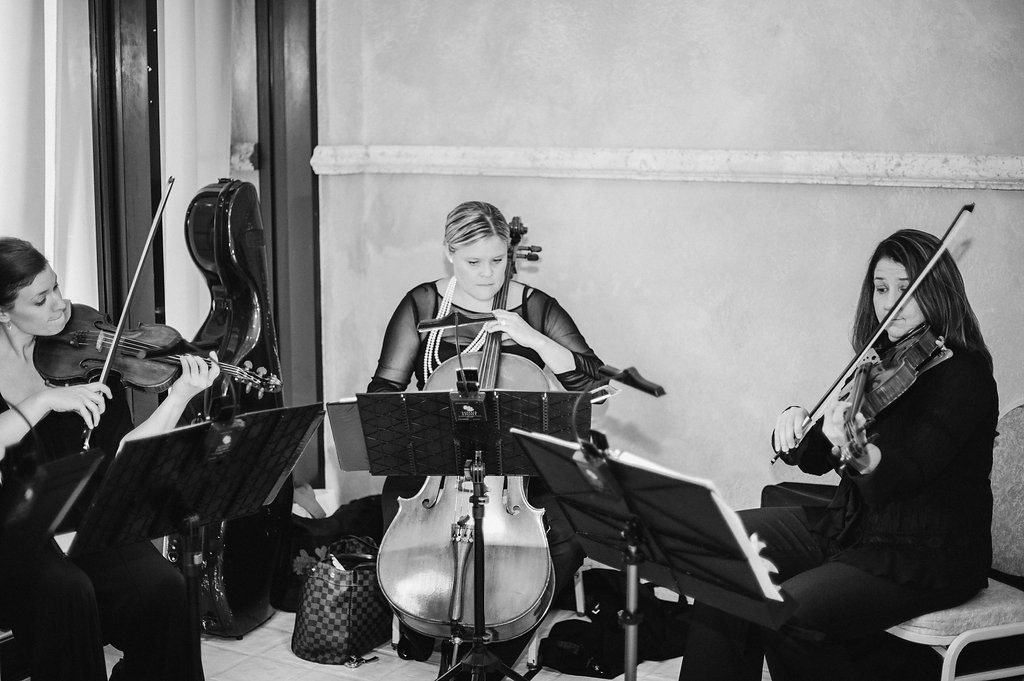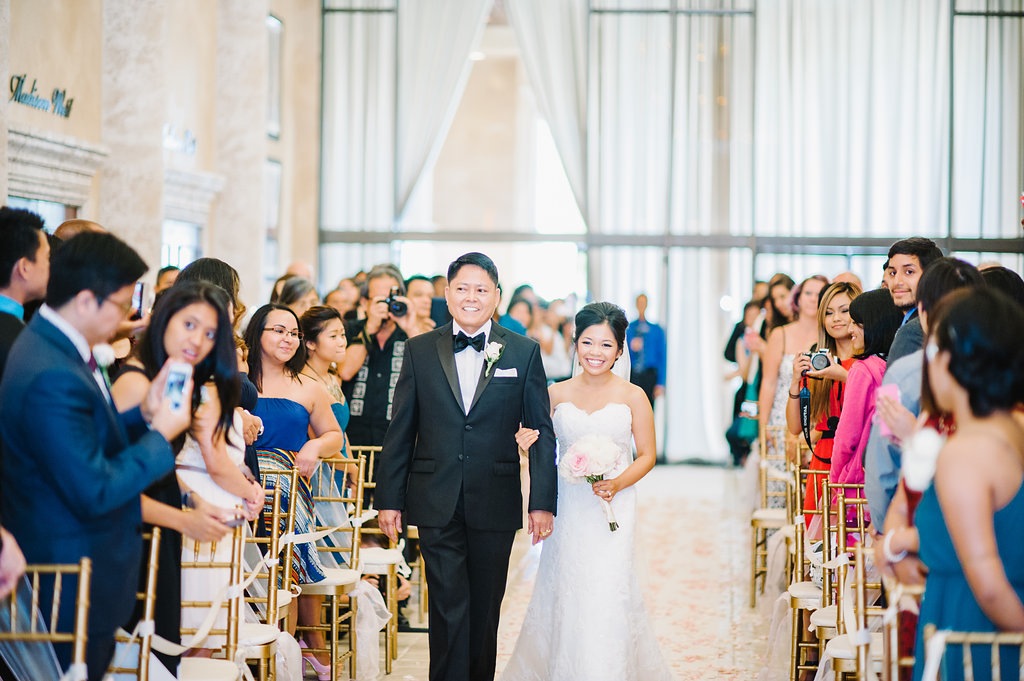 "The moment we walked into The Great Hall of A La Carte Event Pavilion we were in awe. Cathedral ceilings, beautiful architecture and a long aisle just about solidified it for us." – The Bride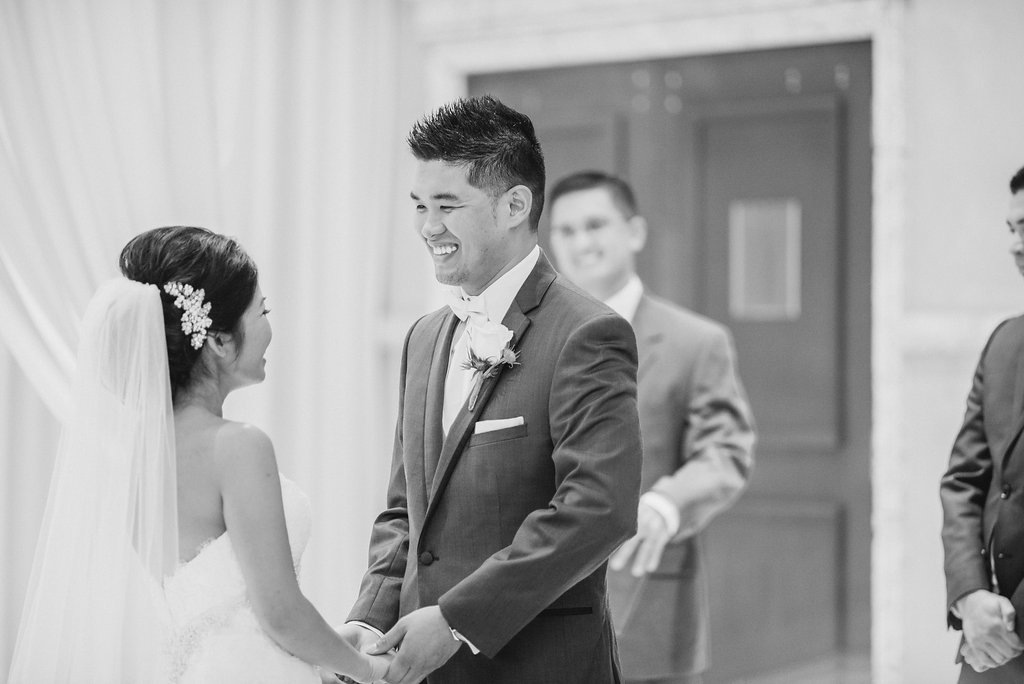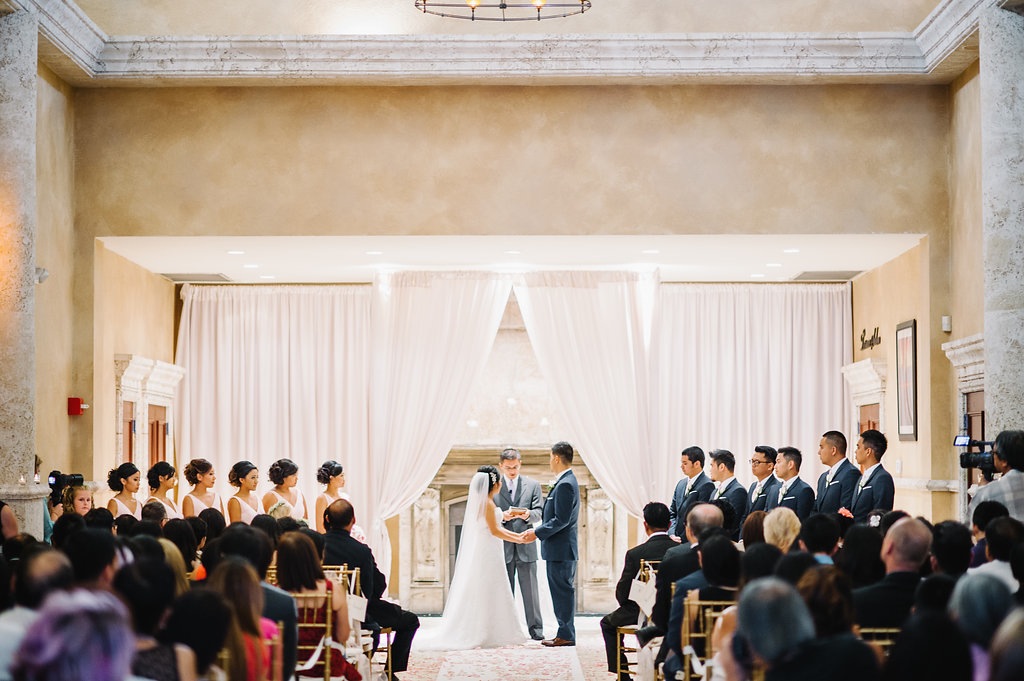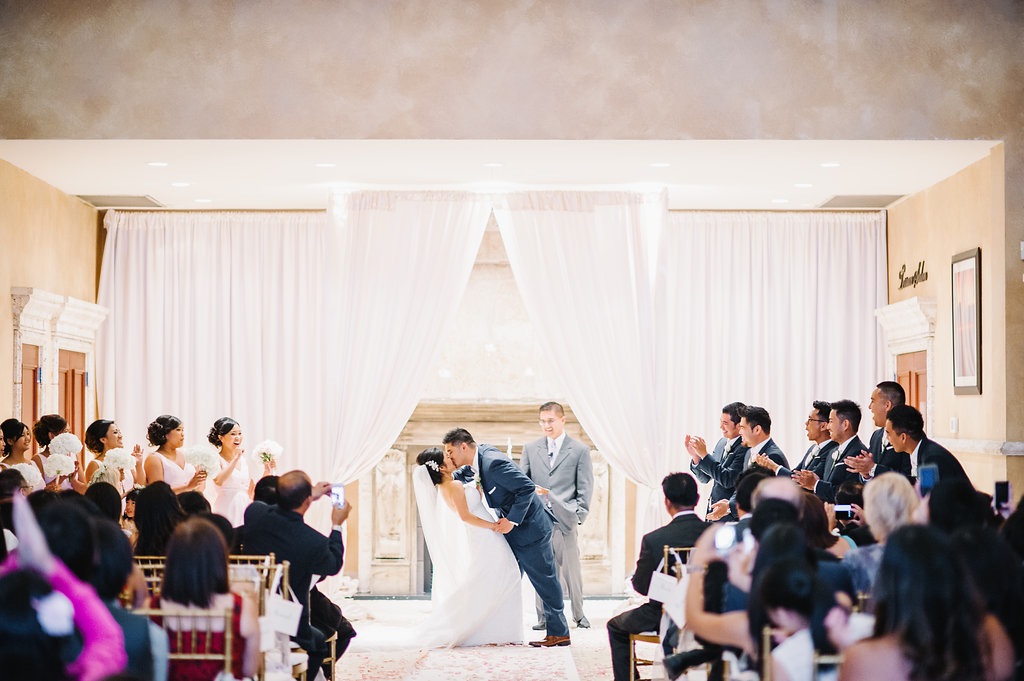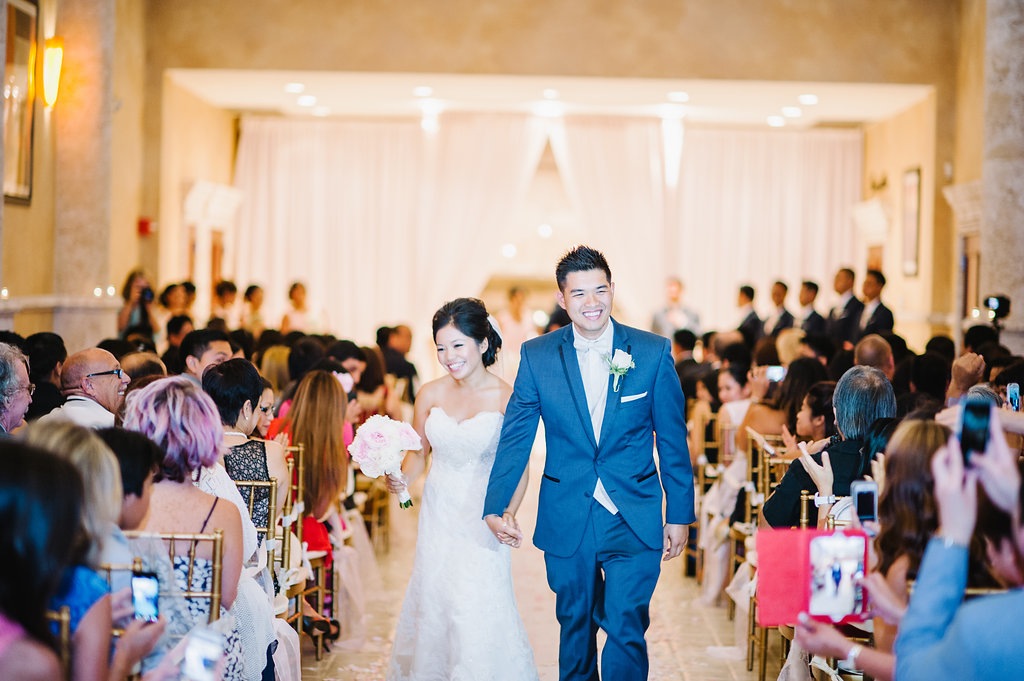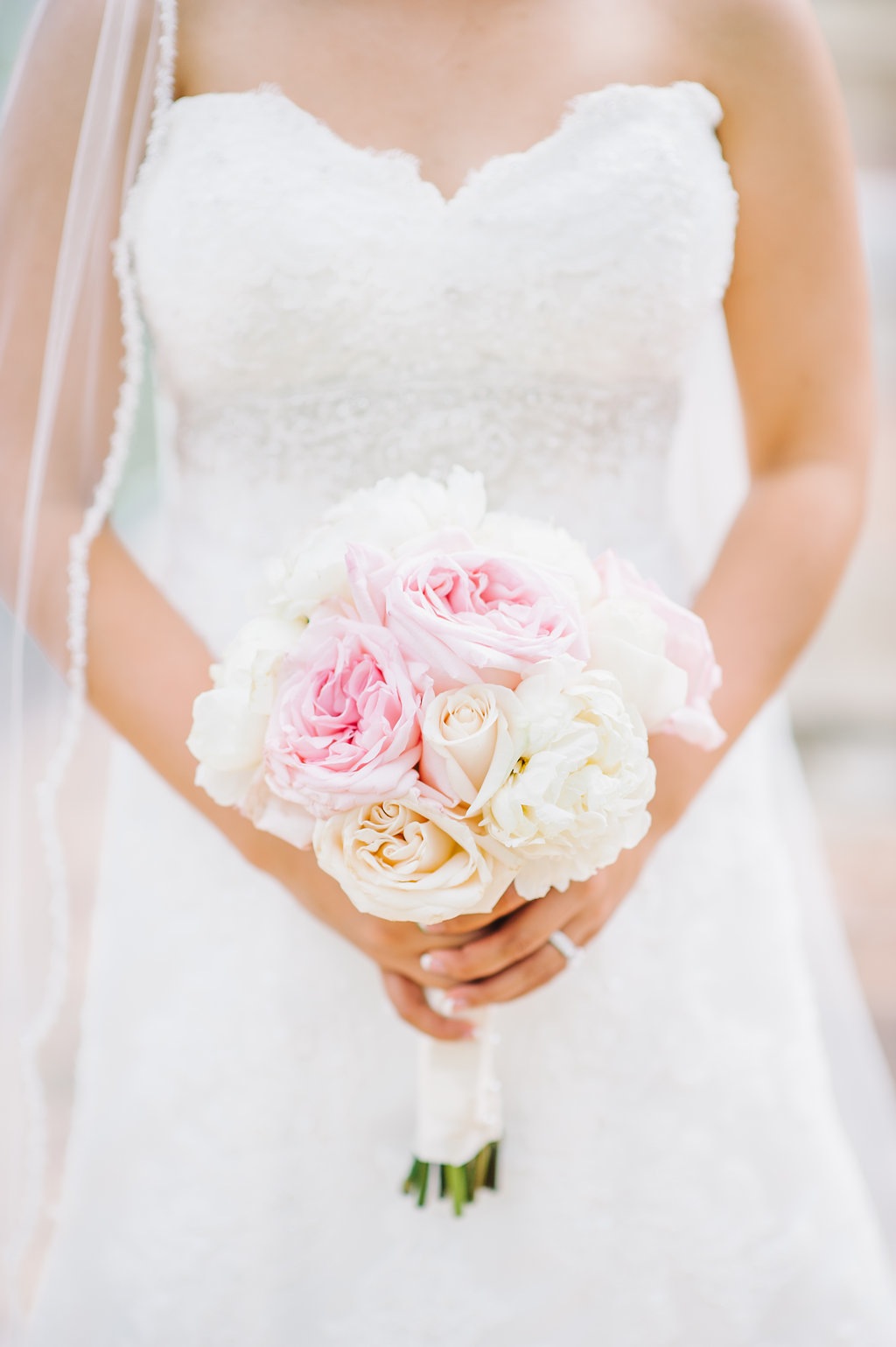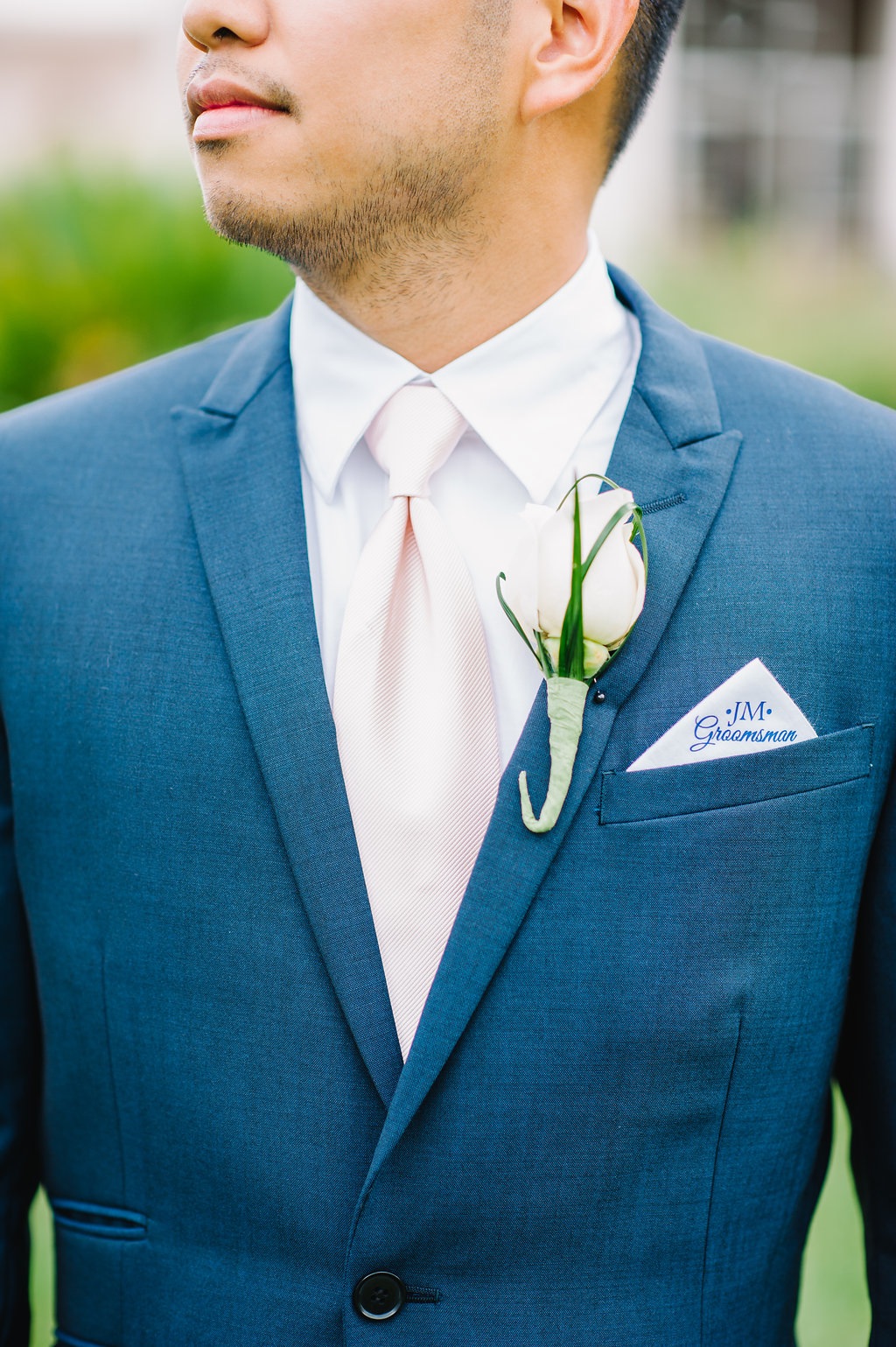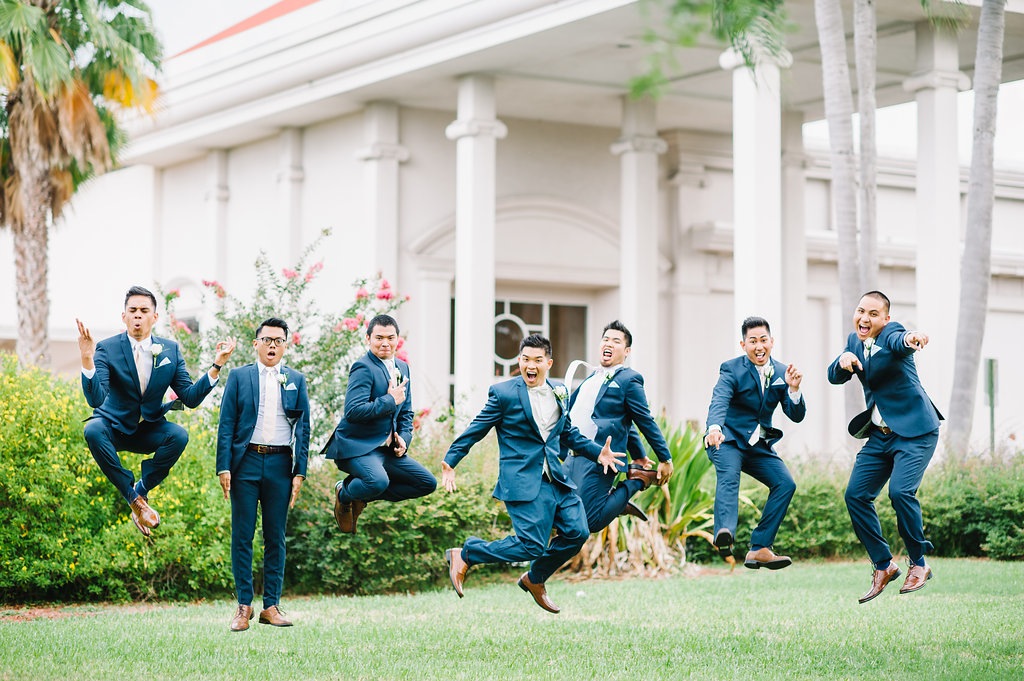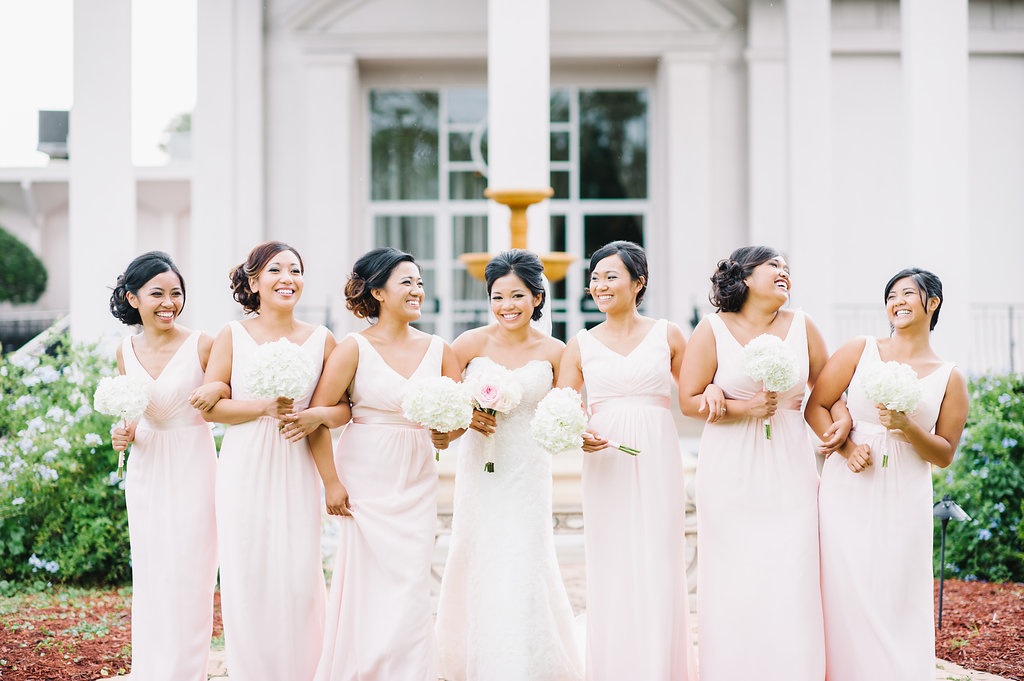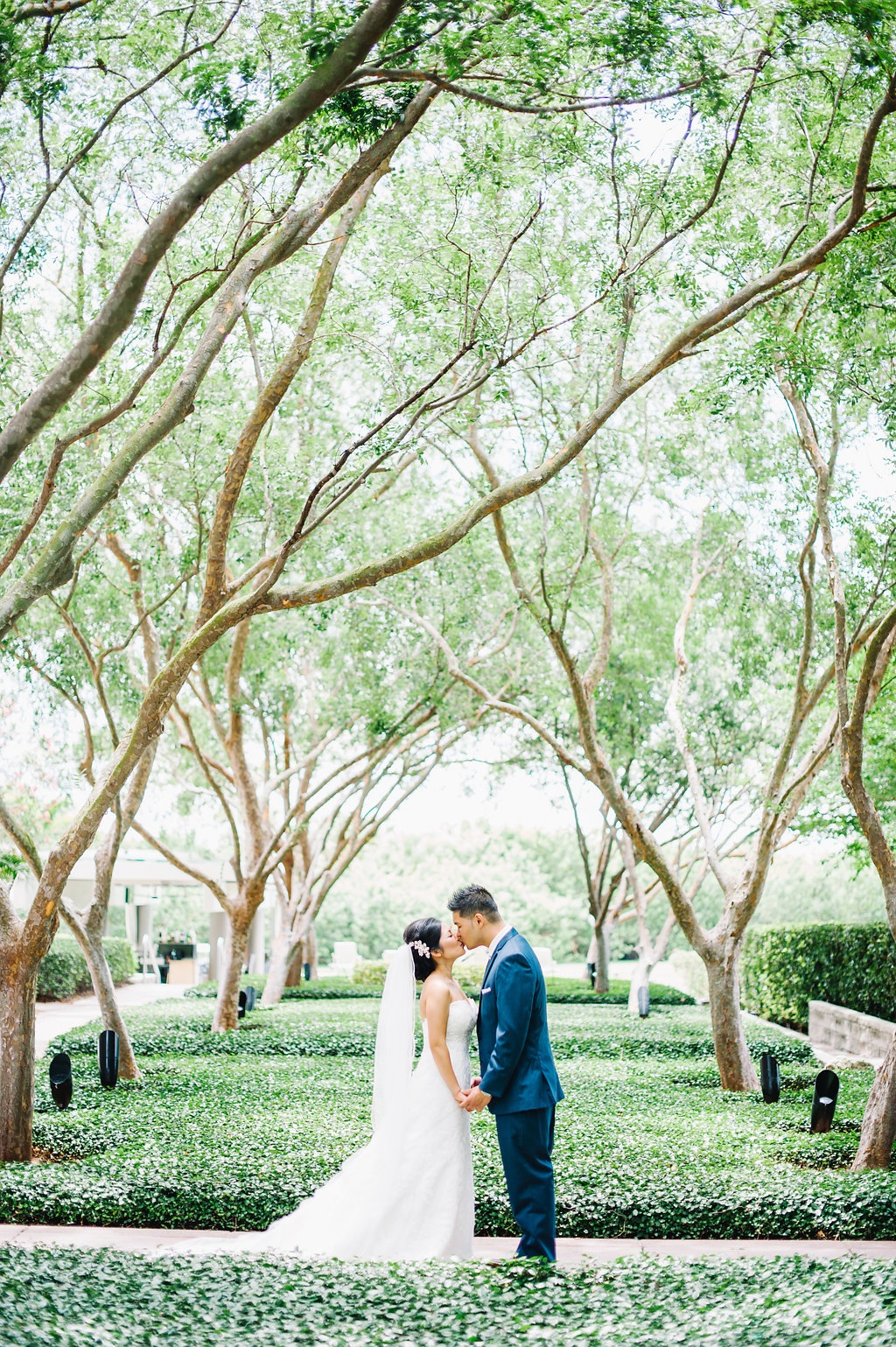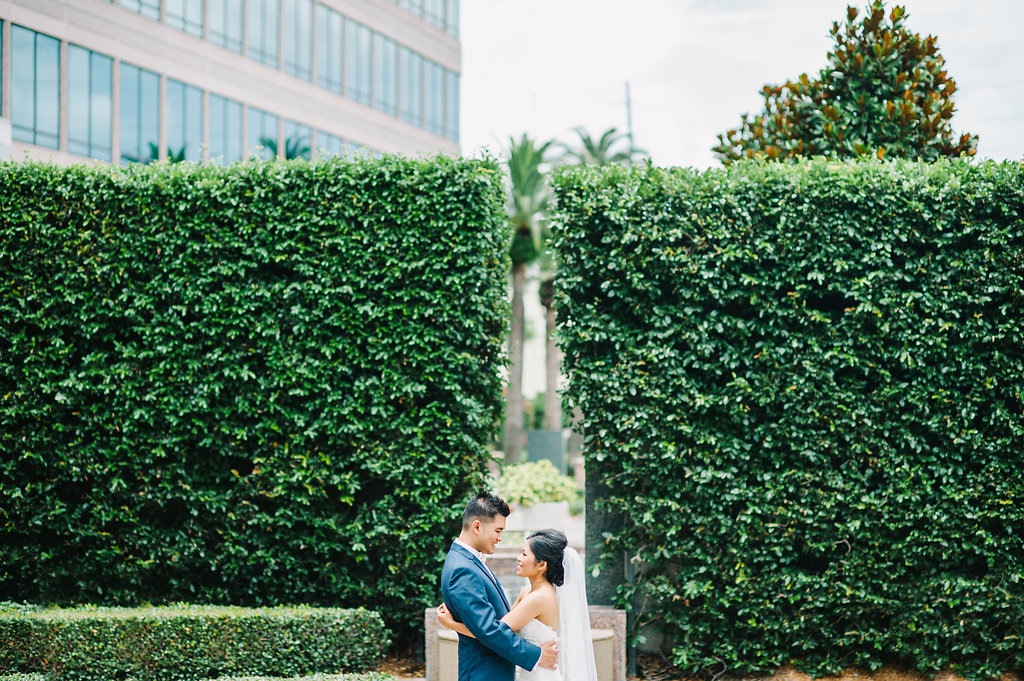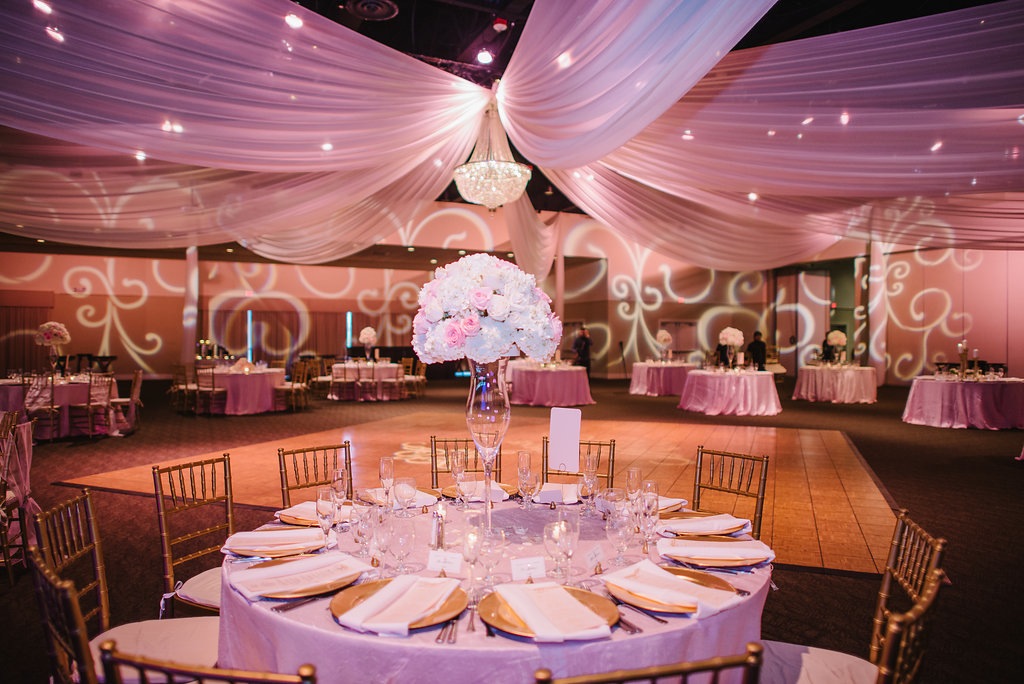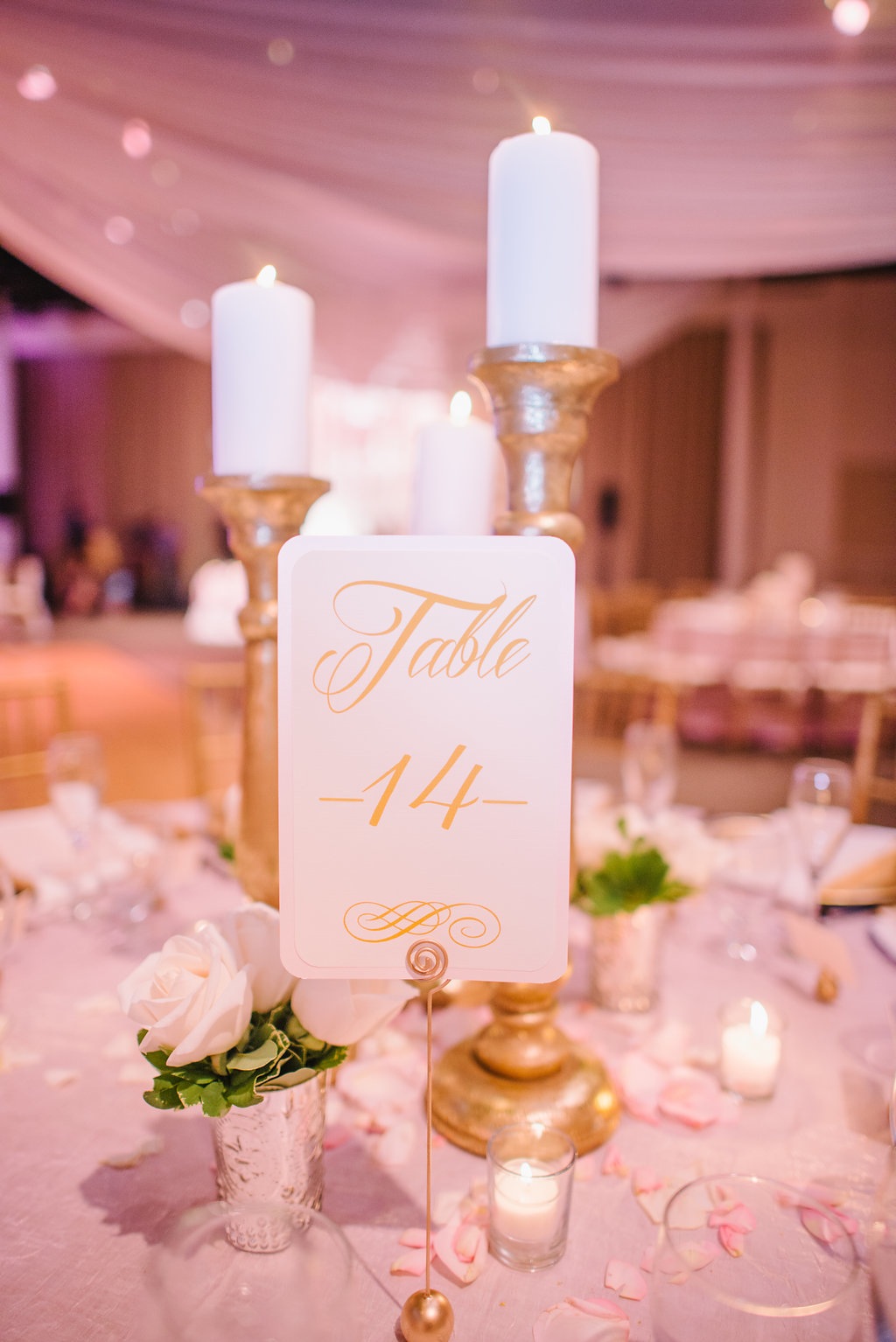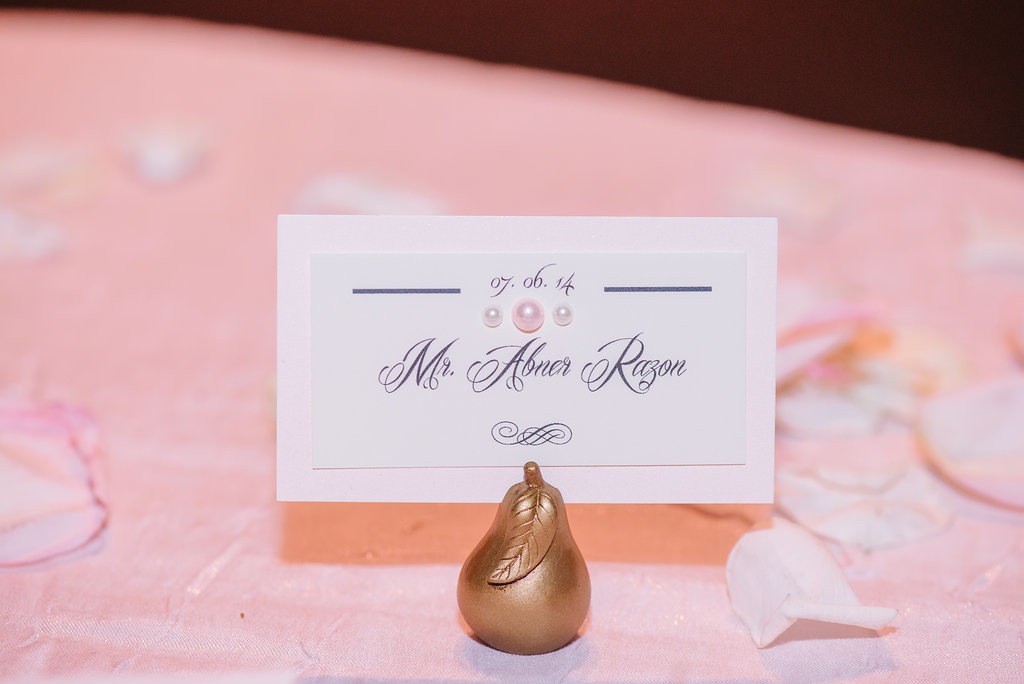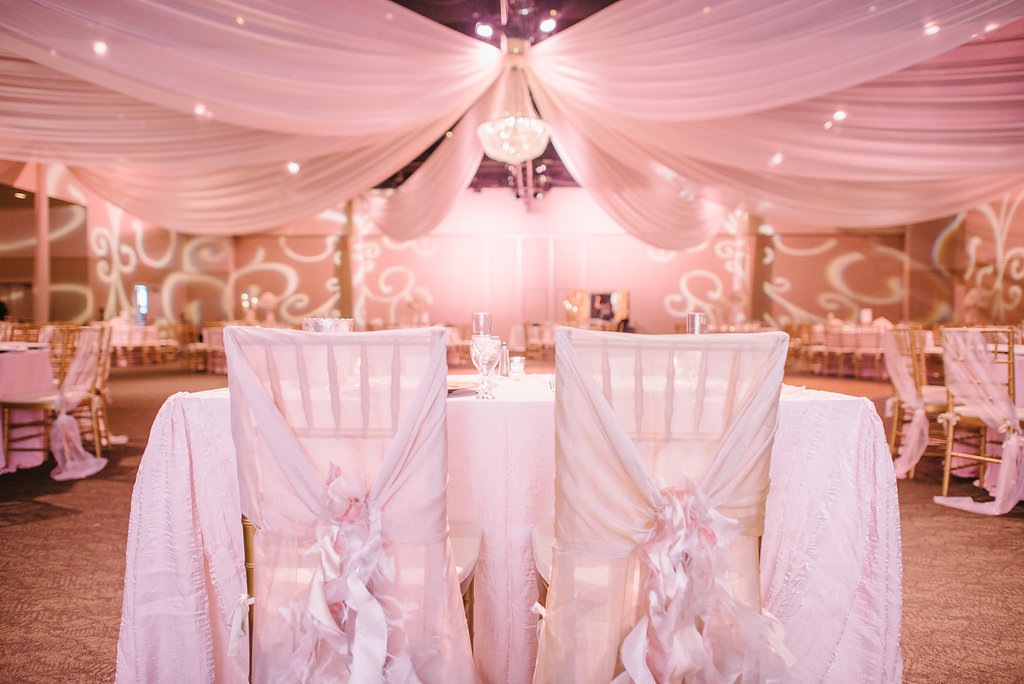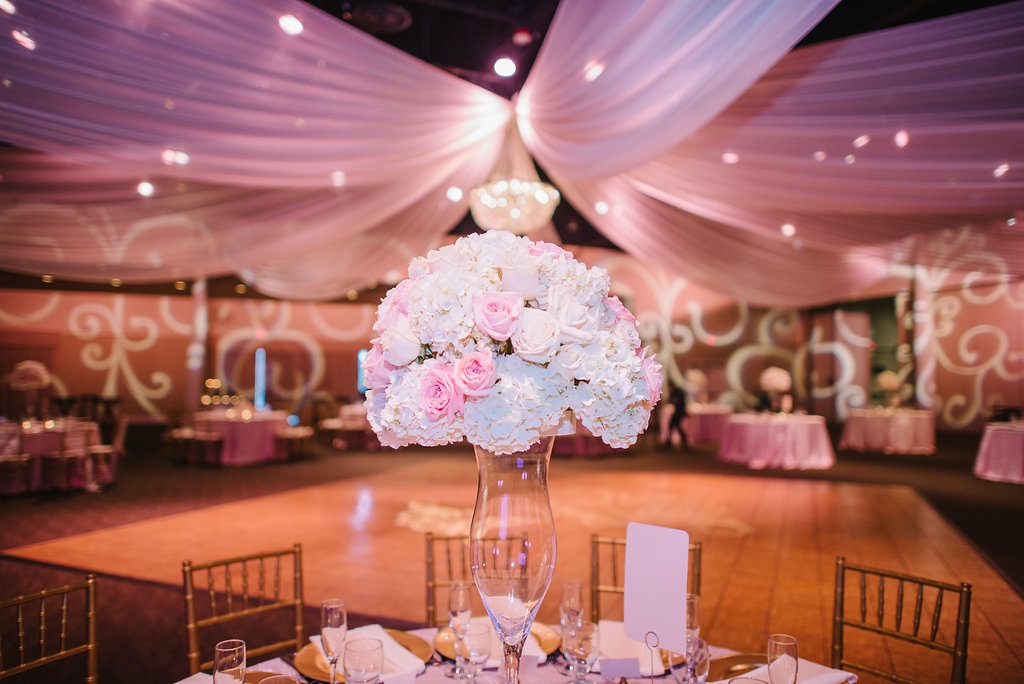 "Everything came together so beautifully and cohesively. When I first got a glimpse of our reception, it literally took my breath away. It was even more beautiful than I could possibly imagine. Each table had an arrangement of blush and cream flowers or gold candlesticks with gold chargers, which accented the blush nicely. The lighting in the Belvedere Ballroom was the right shade of blush, with the ceiling treatment drapes and chandelier tying the whole ballroom together. Plus, our guests haven't stopped raving about the food!" – The Bride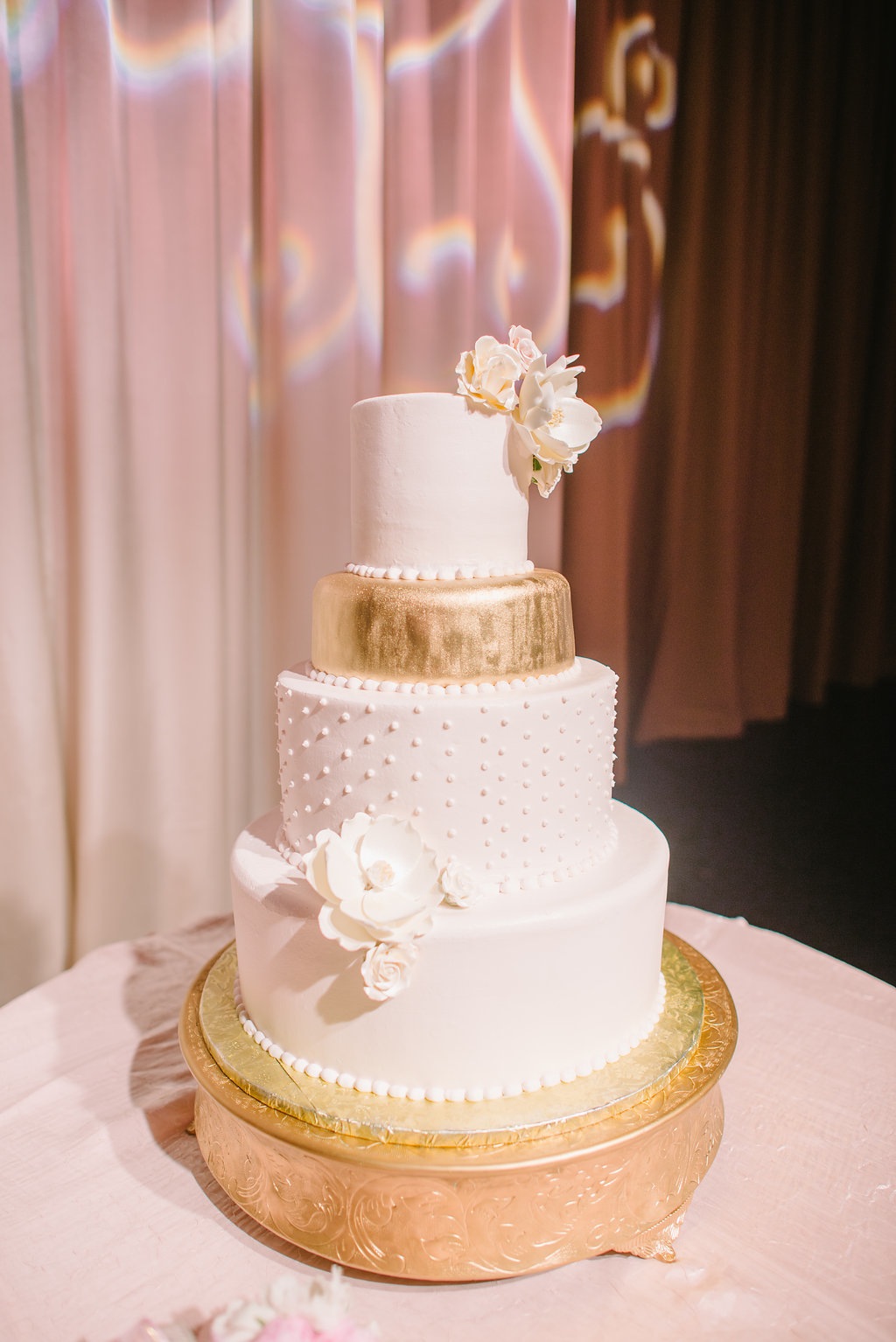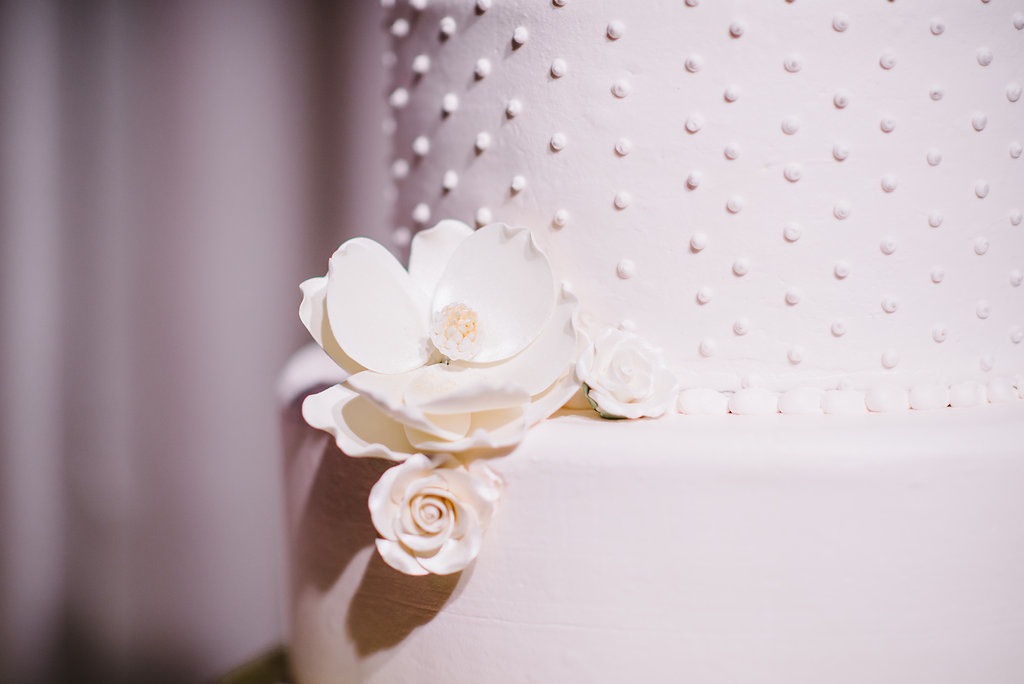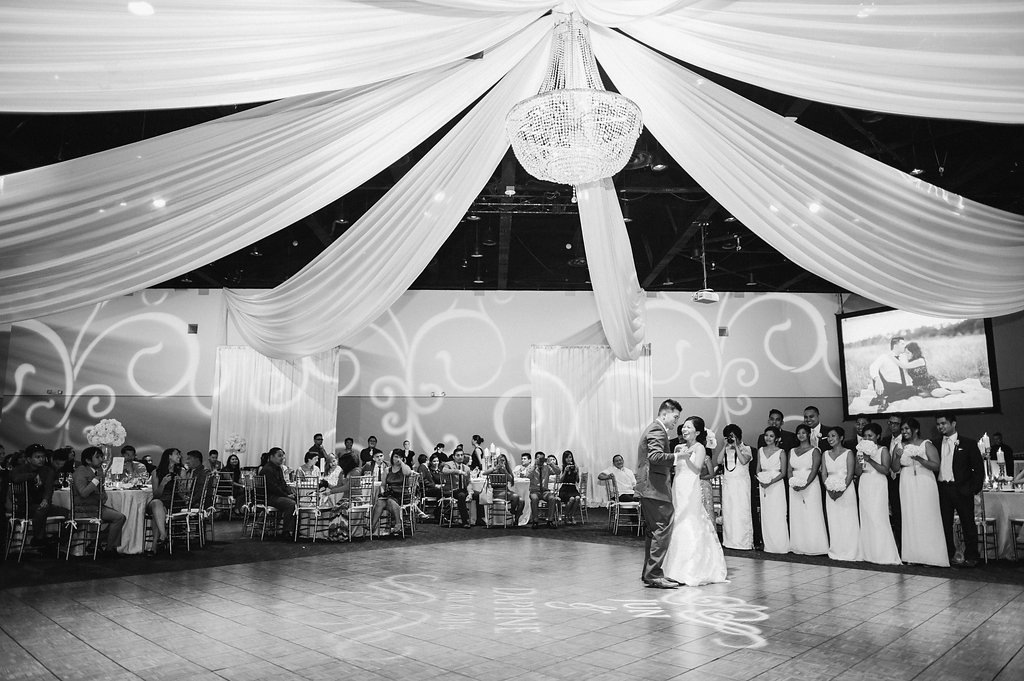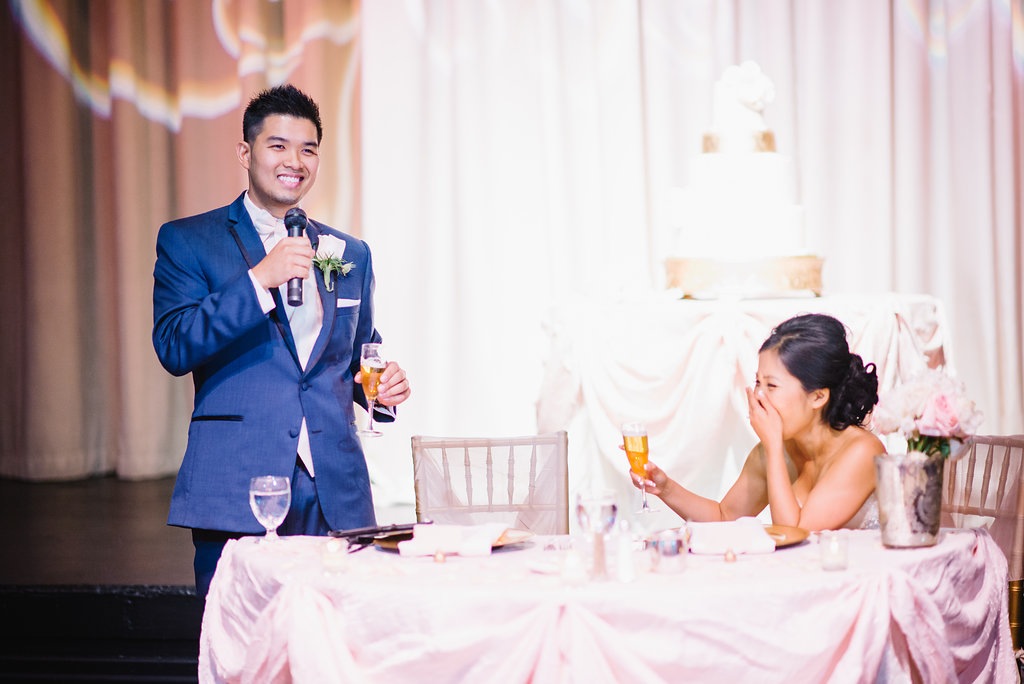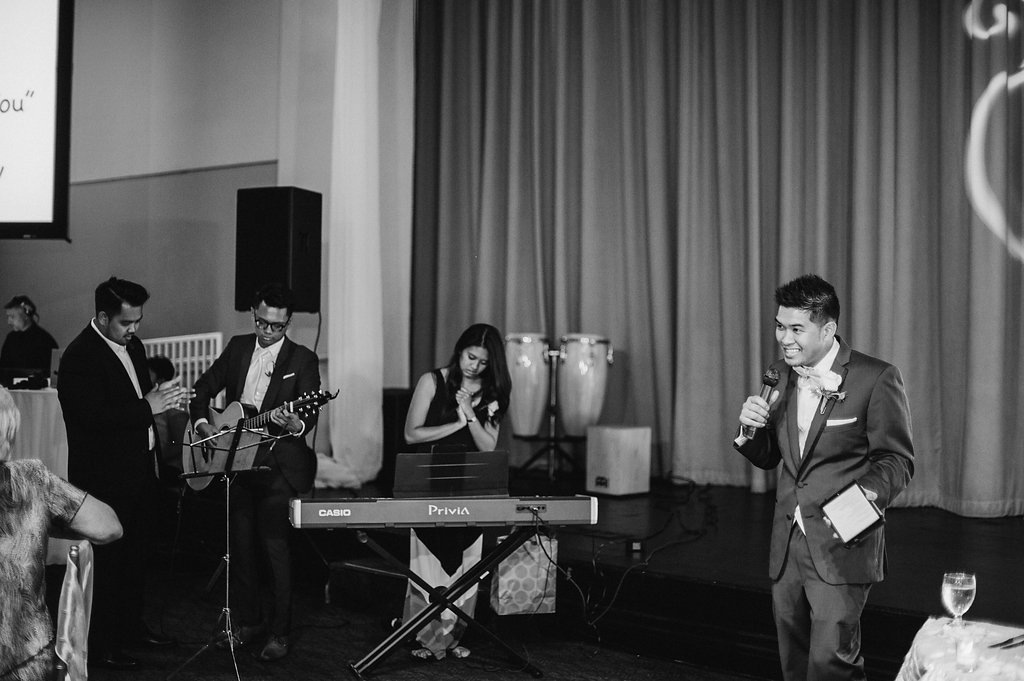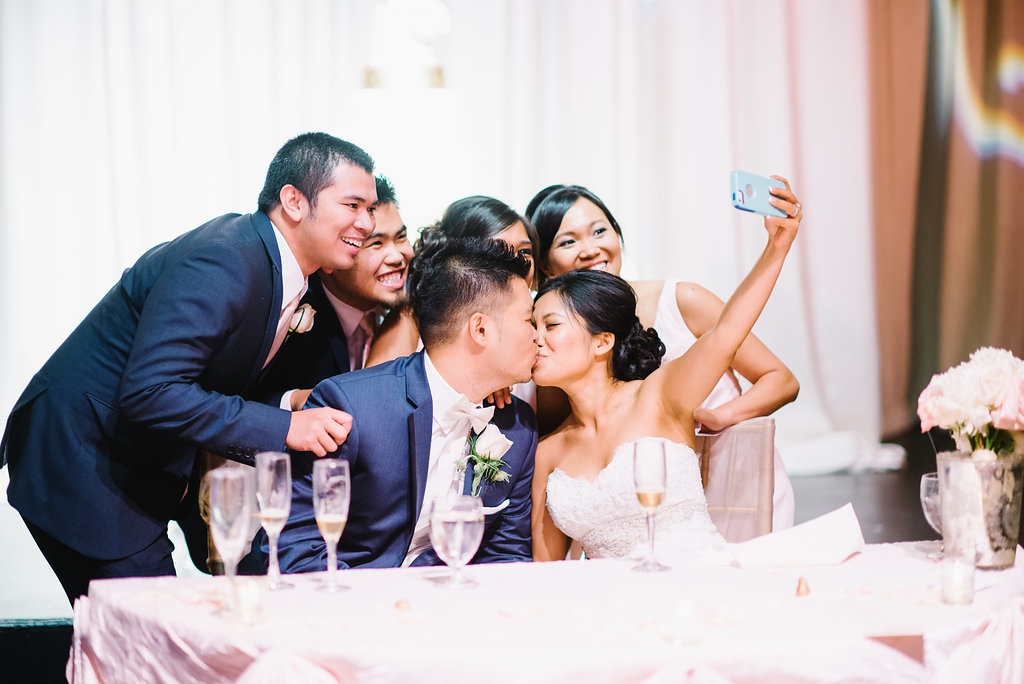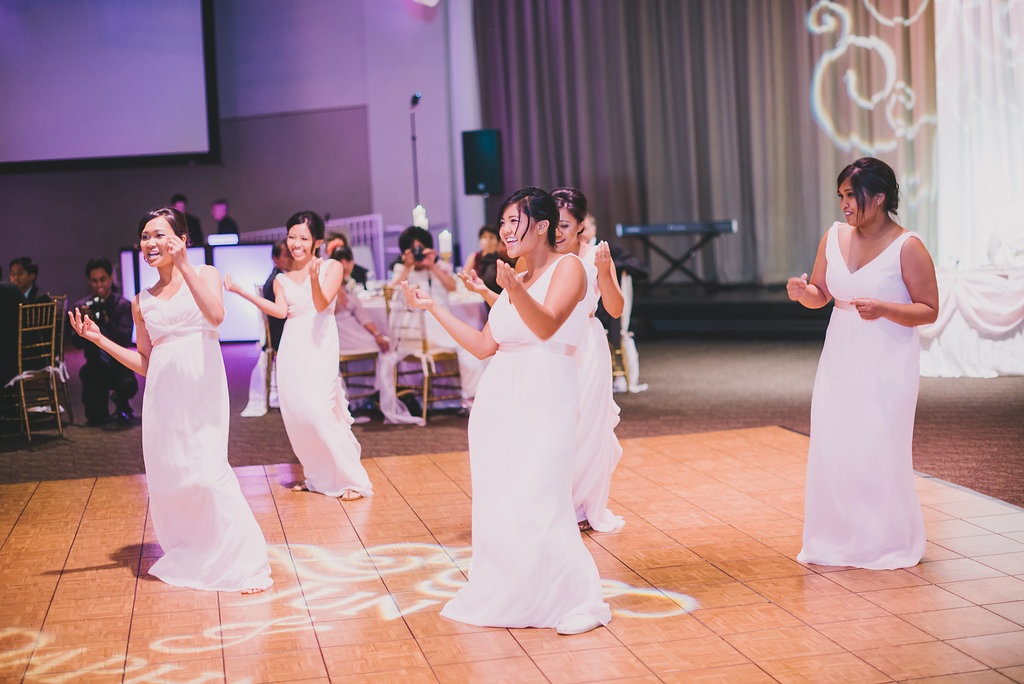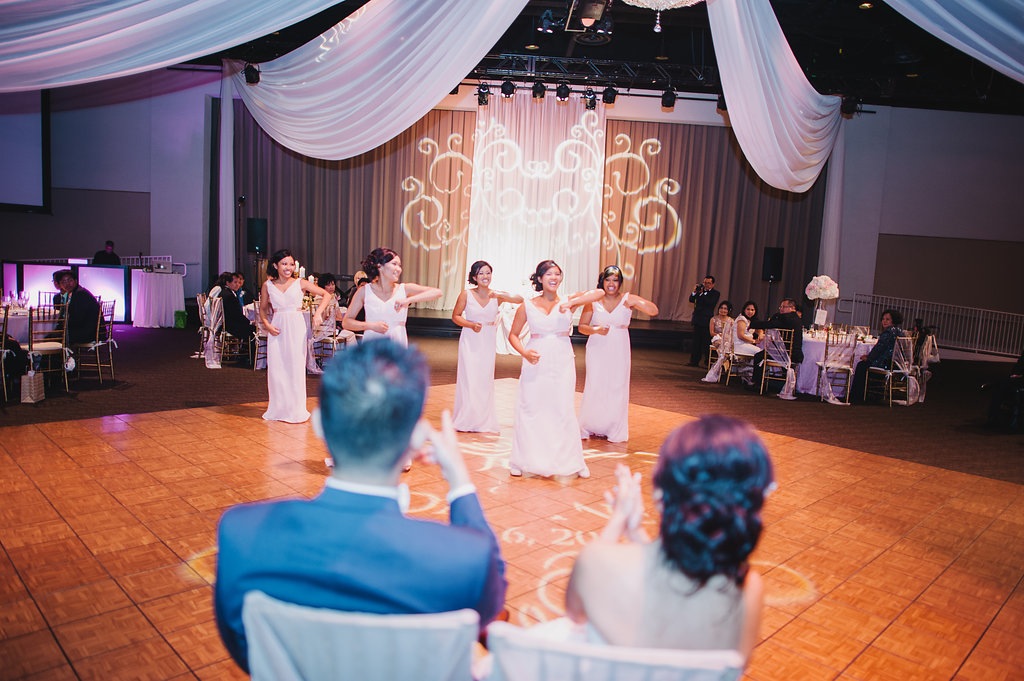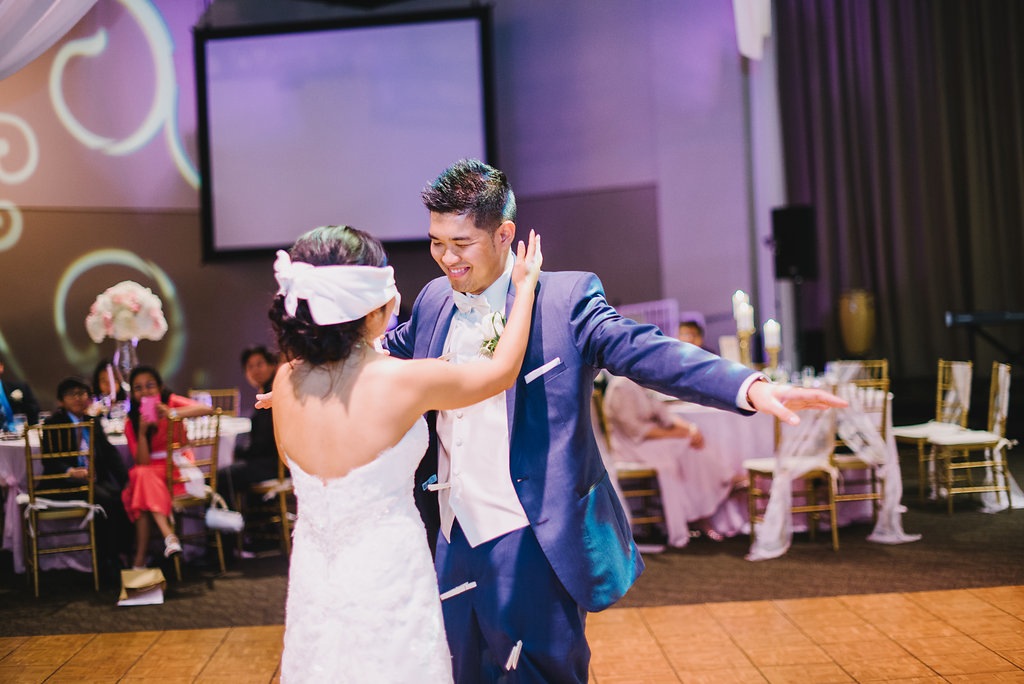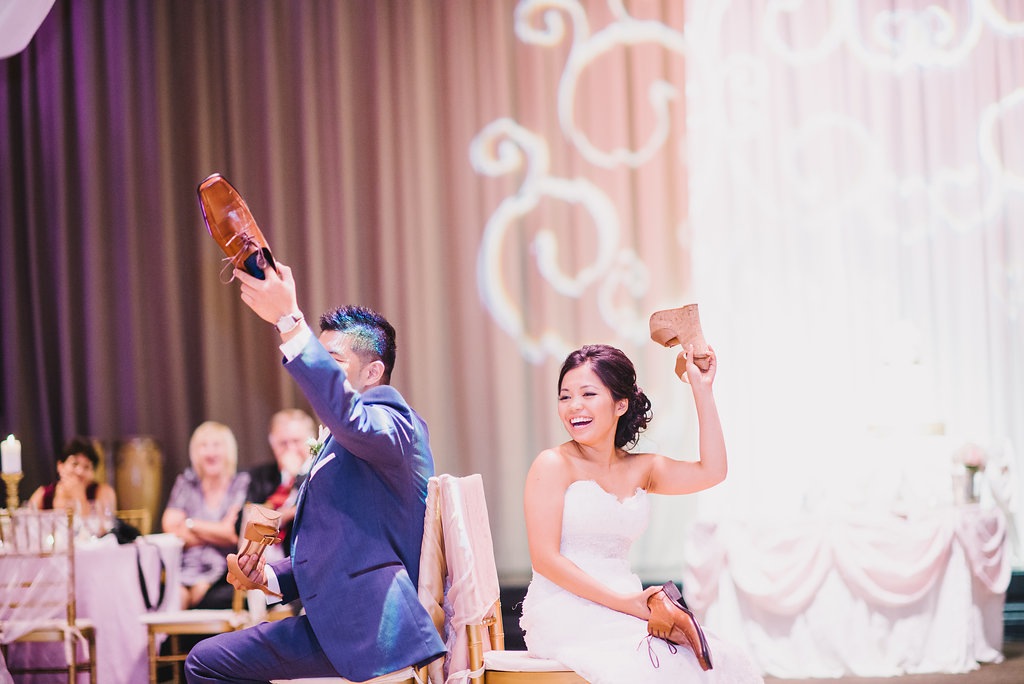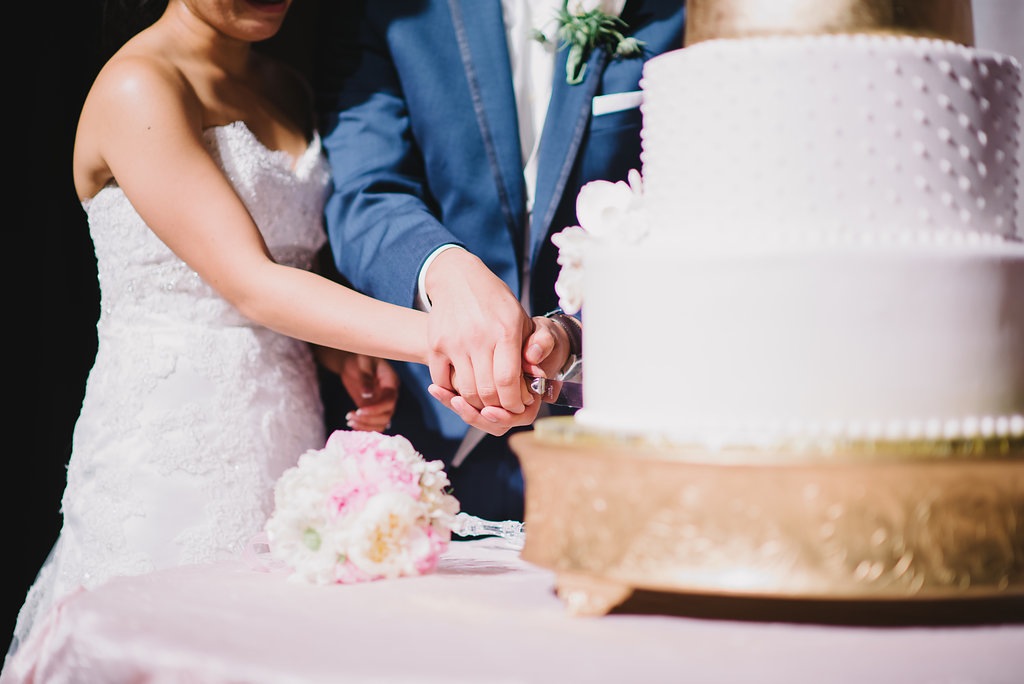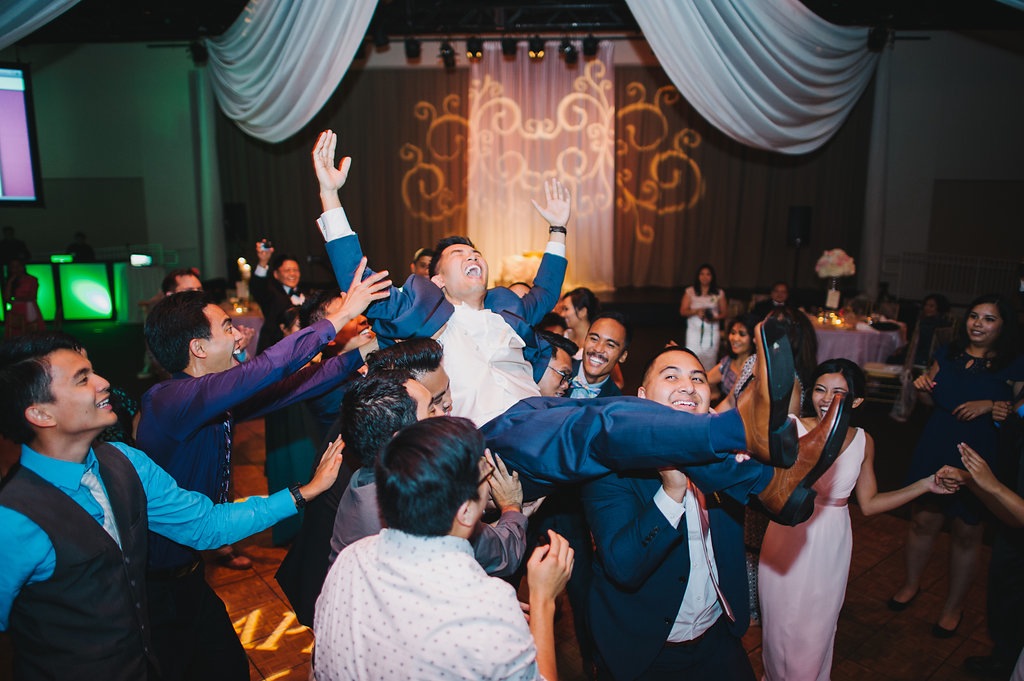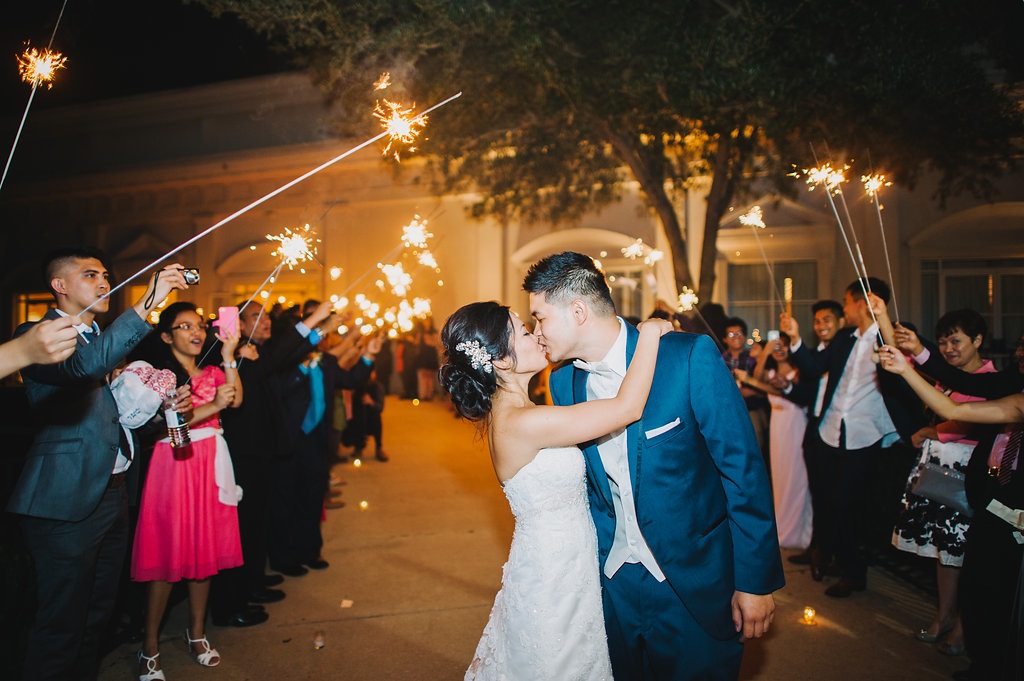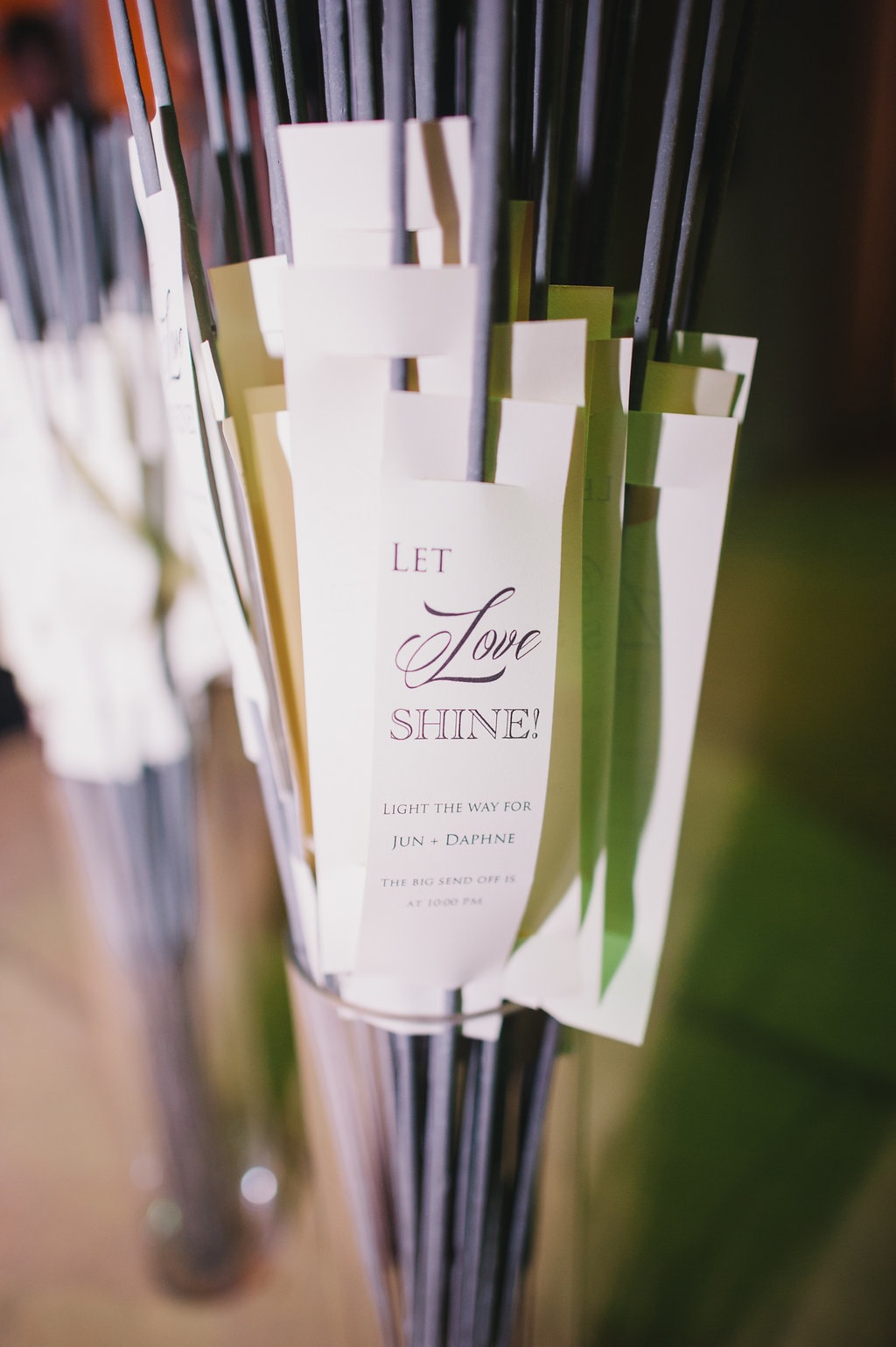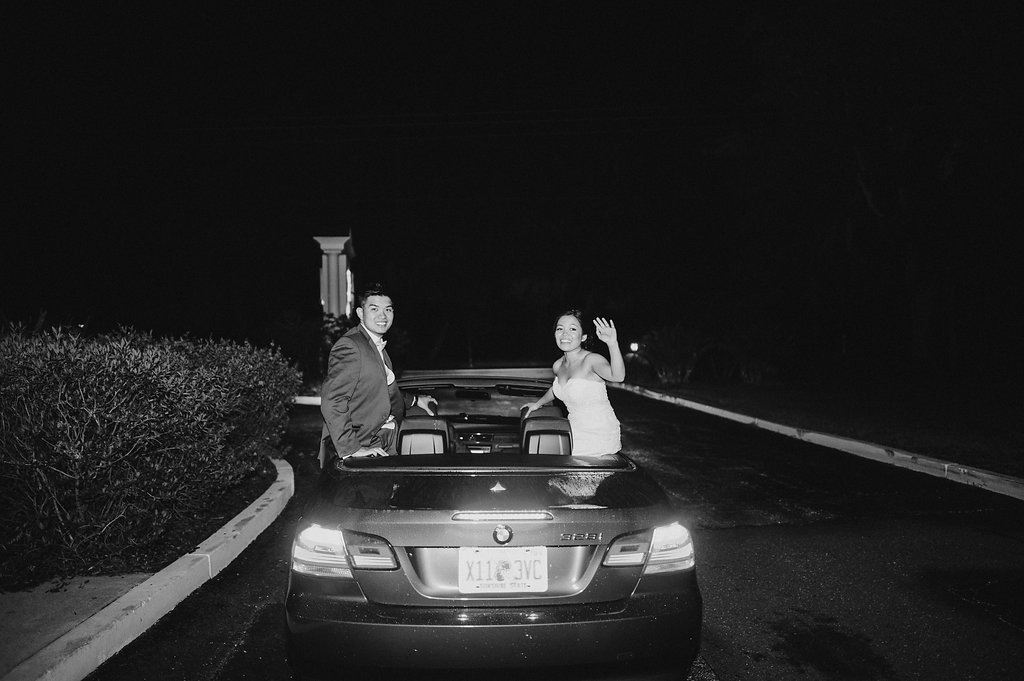 What advice would you give to other Tampa Bay Brides?
Figure out which wedding elements are most important to you and invest in quality!
Don't skimp out on photography/videography, it's the only tangible investment you have after the wedding.
Hire a good wedding planner, like Jade from A la Carte Pavilion! If she's unavailable on your first wedding date choice, change the date JUST to have her. Throughout the wedding planning process, she was constantly communicating, researching our questions, giving us ideas, and helping us make decisions. Jade was honest, organized, and resourceful – often finding ways to help us save money. On the day of the wedding Jade was patient, calm, efficient, and paid attention to detail. Whenever there was a need or request, Jade attended to them and made sure everything flowed smoothly!
Venue: A La Carte Event Pavilion *Preferred Marry Me Tampa Bay Venue
Coordinator: Jade Futhey of A La Carte Event Pavilion
Photographer: Best Photography
Videographer: White in Revery
Florist: A La Carte Event Pavilion
Caterer: A La Carte Event Pavilion
Cake: A La Carte Event Pavilion
DJ: Inpulse Entertainment
Officiant: Pastor Glenn Aguirre
Invitations: Paper suite designed by Gallerie Q
Dress: Casablanca Bridal
Hair: Cut N Up Salon – Brittany Chess
Makeup: LuLu Makeup
Photobooth: ShutterBooth
Ceremony Music: Strings Attached
Invitations: Rise and Shine Paper
Groomsmen Suits: Men's Wearhouse
We are proud to have A La Carte Pavilion as a Marry Me Tampa Bay sponsor!