A vibrant splash of color, vintage charm, and a unique location came together to create a dynamic and unconventional elopement shoot. Set against the backdrop of downtown Tampa on a teal boat bobbing gently on the Hillsborough River, this intimate celebration seamlessly fused electric hues of pink, purple, and blue, pushing the boundaries of traditional wedding aesthetics.
"The theme was electric and retro love. I really wanted to do a colorful elopement, and when I saw that there was a teal boat in Tampa for rent, we planned a shoot around it. Per usual, I always love to show that color and texture is not a scary thing," Delaney Driver, owner and lead planner of Wilder Mind Events, explained. "The main colors were pinks and purples with splashes of blue."
Using the teal boat as the primary inspiration, the wedding planner and designer envisioned an inspiration shoot that was an eclectic mix of femininity and funk. Embracing a palette of pinks and sparkles, she crafted a design that transcended the conventional, infusing the elopement on the waterways of Harbor Island with an electric vibrancy.
"The inspiration for this shoot was from the teal boat, and we built everything else around it. I wanted something more on the feminine side and really wanted to embrace the pinks and sparkles but in an electric funky way instead of a frilly way," Delaney detailed.
In a beautiful expression of their authentic selves, the couple's wedding attire was both unconventional and fun: a sparkling sequin cocktail dress complemented by a chic pantsuit paired with a soft purple velvet shirt. After exchanging their heartfelt vows on the water, the pair celebrated with a unique wedding day treat of fresh cotton candy.
The boat emerged as the star attraction during the shoot. Symbolizing the unique charm of the Tampa Bay area, the on-the-water elopement exuded a casual yet romantic ambiance, creating a mesmerizing spectacle that was truly a delight to witness.
"My favorite element of the shoot was the boat. Having a boat elopement felt really true to the Tampa Bay Area, and I loved that it was able to be on the water but not a beach. It created a romantic but laid-back vibe that was magical to watch," Delaney beamed.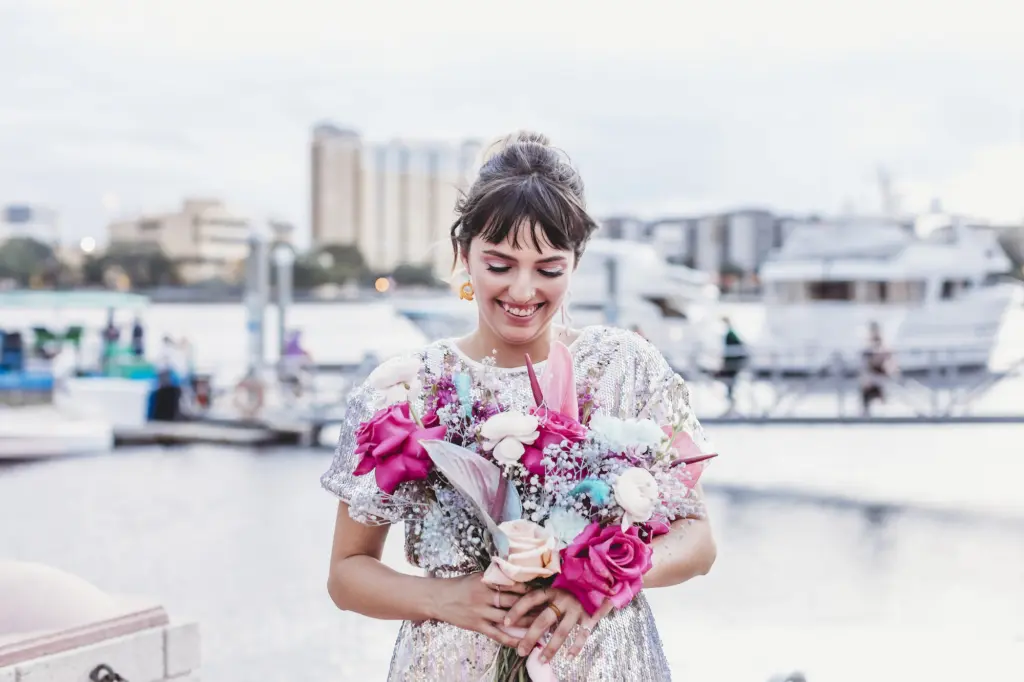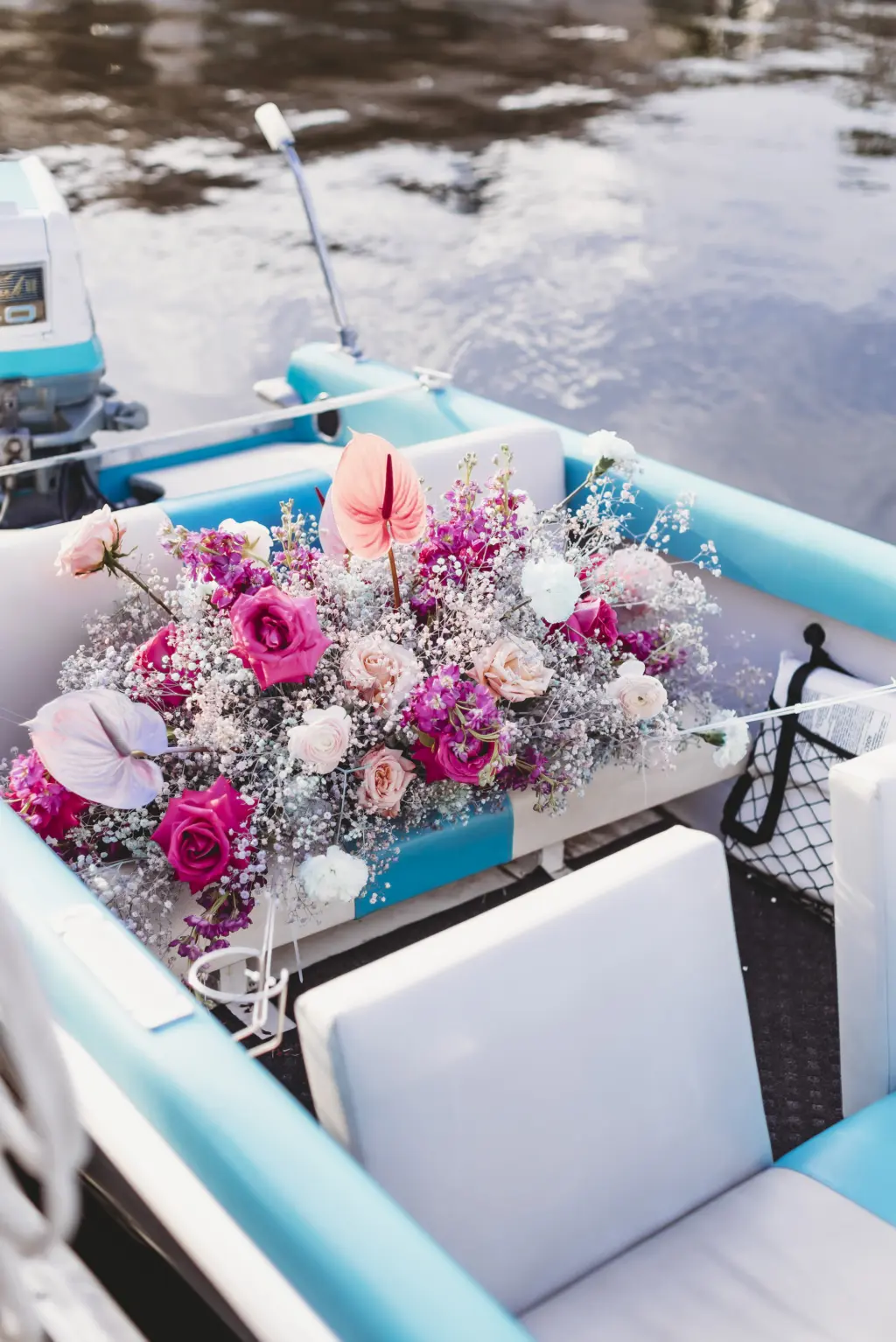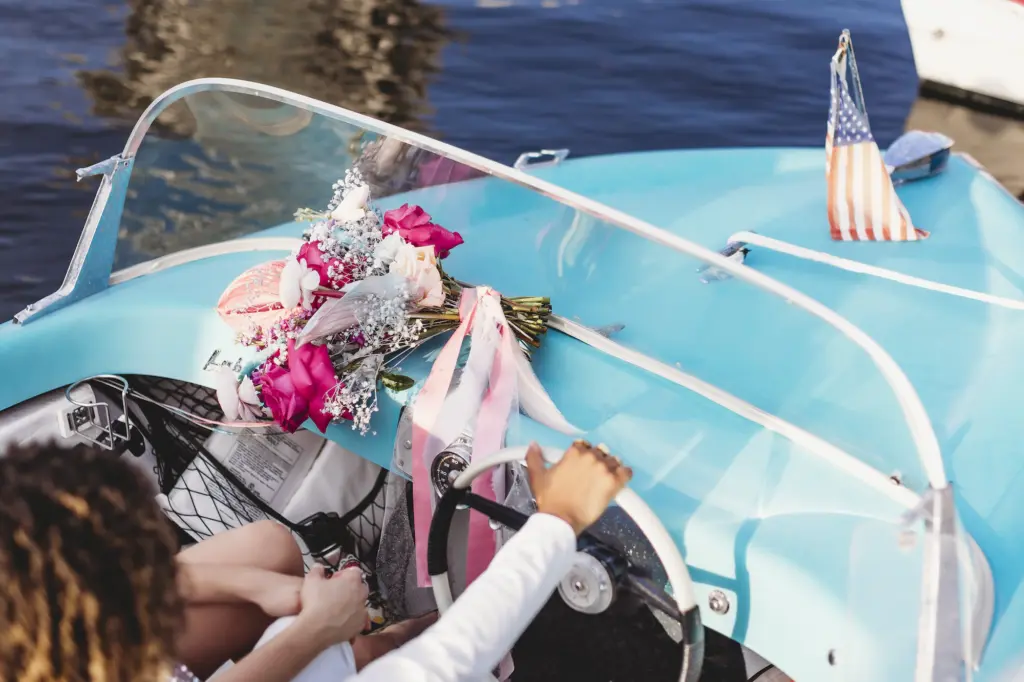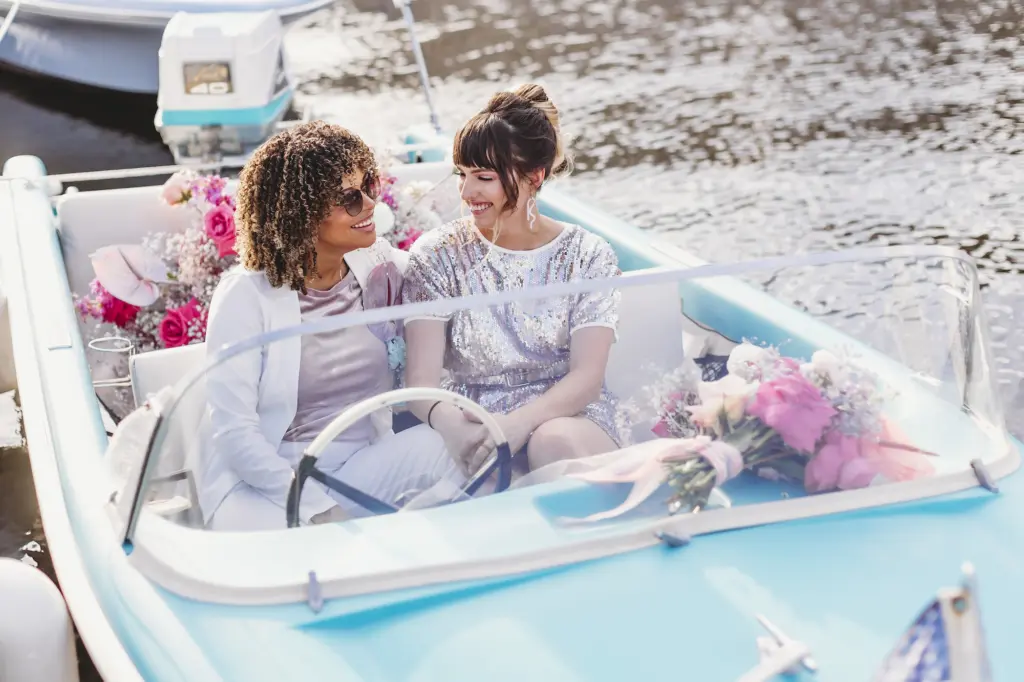 ---
---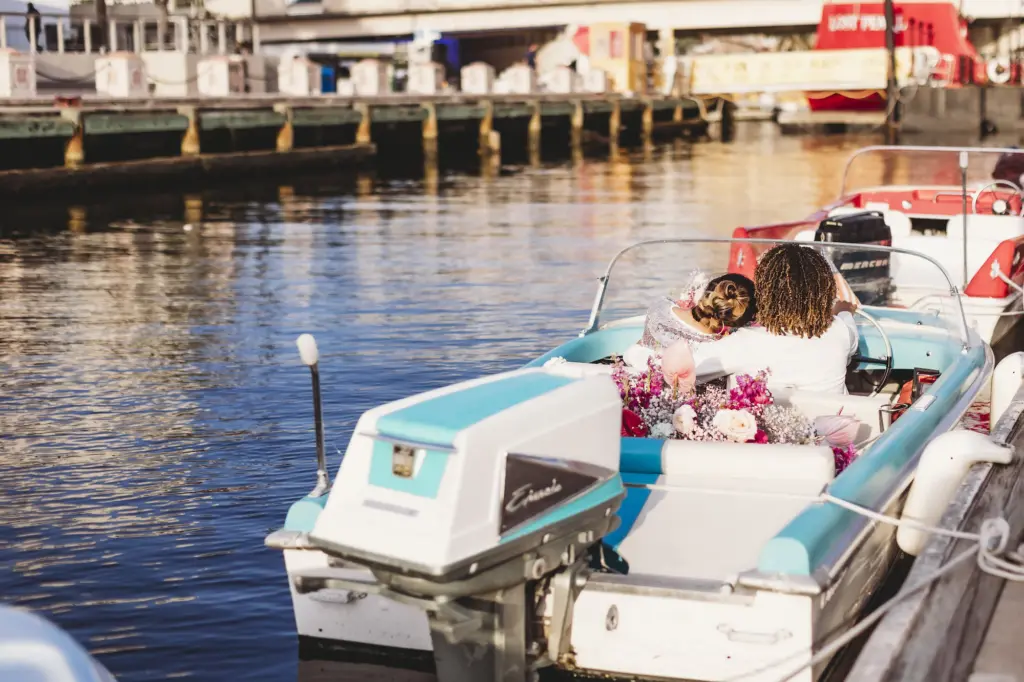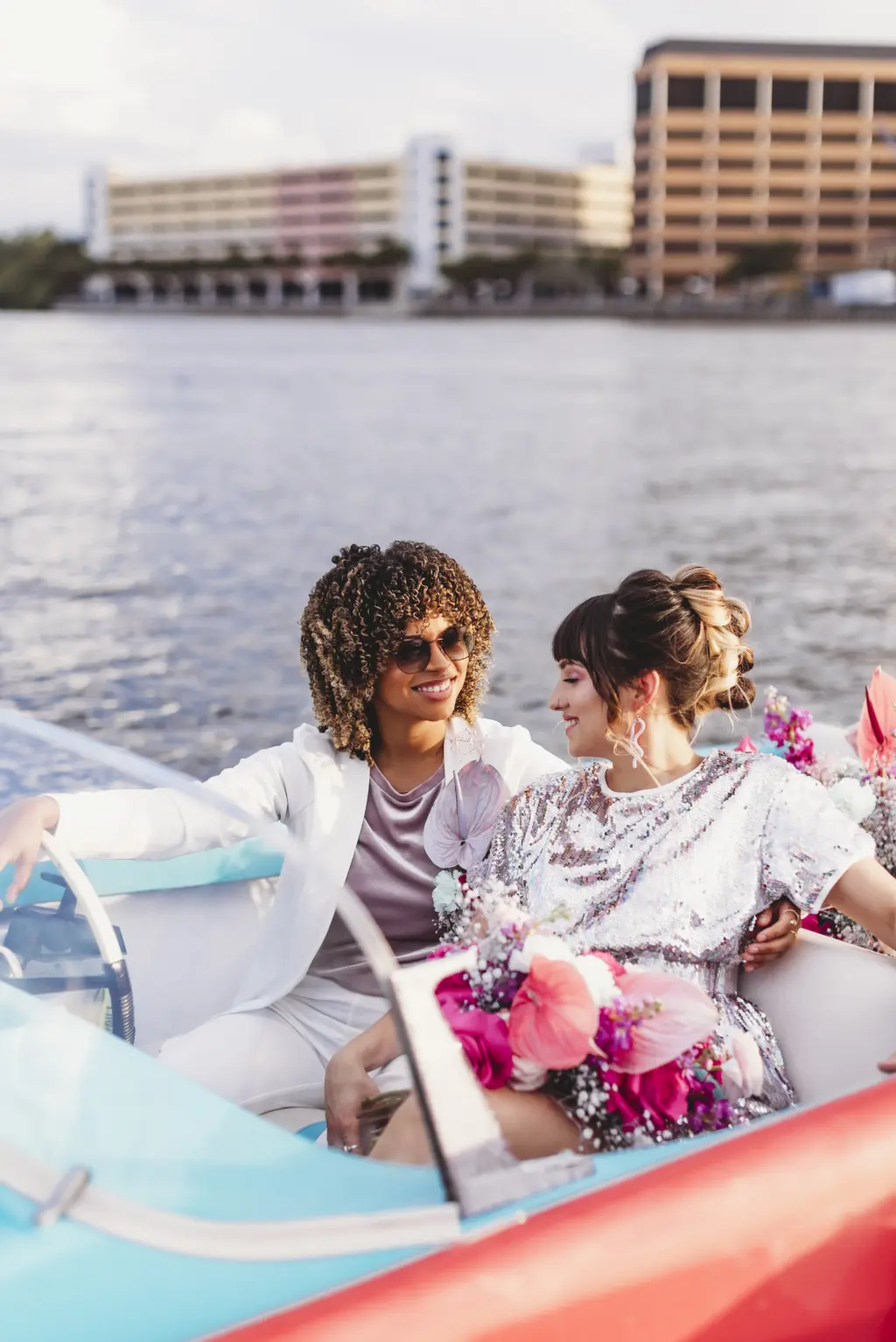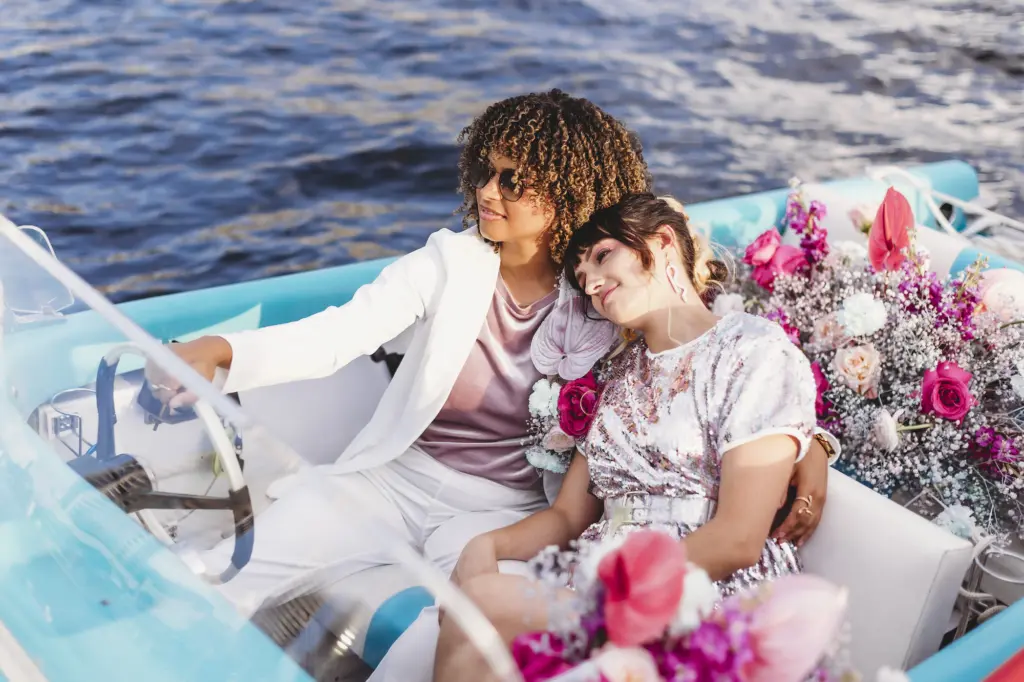 ---
---