What's the one thing your wedding guests look forward to the most on your wedding day (besides witnessing you marry your life partner)?
The food!
And if your wedding menu is a priority for your Tampa Bay wedding, then you'll want to indulge in culinary delights from the area's top wedding caterers at the Tampa Chapter of the National Association of Caterers and Events "The Taste of NACE" on Saturday, August 24, 2019, from 6-9 p.m. at the Kapok Special Events Pavilion in Clearwater.
Open to the public, this annual fundraising event will feature scrumptious bites from the area's best restaurants and caterers. Food, fun, and libations will come together as you sample and enjoy while raising money for a good cause. This annual event benefits The Pat Dicianno Memorial Scholarship fund for the continued growth of Catering and Event Professionals.
Individual tickets for the event are $50, sponsorship tables of 10 are available for $400.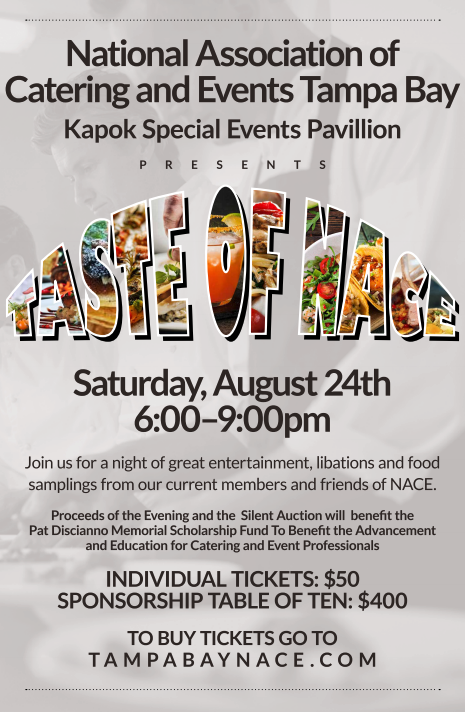 The Taste of NACE
Saturday, August 24, 2019
6-9:00 p.m.
Kapok Special Events Pavilion in Clearwater
923 N McMullen Booth Road, Clearwater, FL 33759