Most American weddings have a similar flow: ceremony, cocktail hour, and reception, with traditional elements such as the first dance and cake cutting. Though, many Tampa Bay couples want to create unique experiences to make their weddings "different" from that of other friends and family.
The best way to make your wedding stand out is to personalize it with elements that are special to you and fiancé, whether it be through the decor, menu, or ceremony elements.
"Popular trends for personalizing your day have become more and more common over the last few years. The first wave of this trend was hashtags and specialty cocktail drinks. I think now they're getting more and more unique and even over the top," Katy Turchich, wedding coordinator and owner of Coastal Coordinating shared.
We've asked our local wedding experts to share their advice for "Tips for Personalizing Your Wedding Day."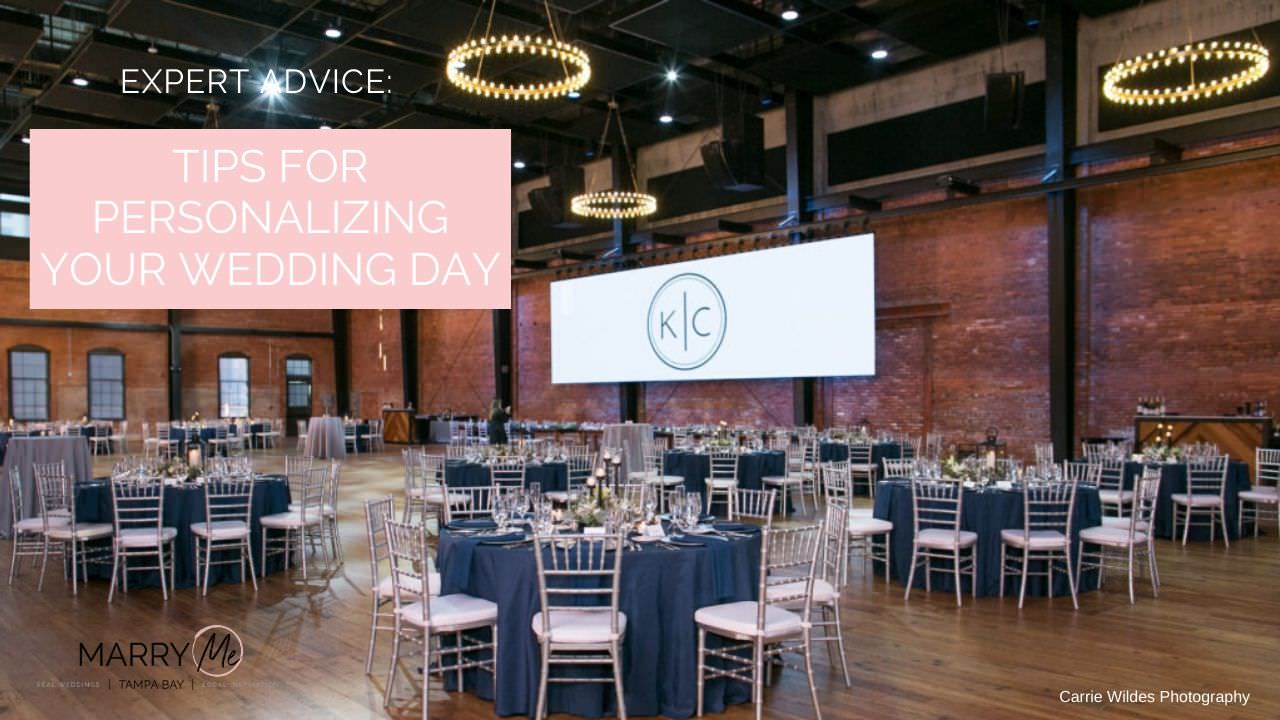 1. Think Beyond the Hashtag
Katy Turchich, wedding coordinator and owner of Coastal Coordinating, provides the following insight:
Popular trends for personalizing your day have become more and more common over the last few years. The first wave of this trend was hashtags and specialty cocktail drinks. I think now they're getting more and more unique and even over the top.
I have a couple who met at a brewery, and they included the different breweries in town not only in the beers on their bar but also in the names of the table. They used growlers from each and every brewery to have their flowers in and had hops as the boutonniere. I thought this was a super cute idea since they met in breweries and often visit the local breweries.
Make the personalization something relatable that people will understand. If it's too far out there or it's not going to make sense.
2. Find Your "Happy Place"
Staci Mandikas, owner & Senior plansigner of UNIQUE Weddings + Events suggests:
When it comes to selecting where you two will exchange your vows, go back in time to when you met. Can the location host a wedding? If not, another option may be going back to take your engagement photos or if it's possible, your photos on the wedding day. We had one couple who met at Eckerd College, and we had them transported there before the ceremony to do their first look and wedding party photos. They said that it was so meaningful to be back there the same day that they become husband and wife. It became a true full-circle moment.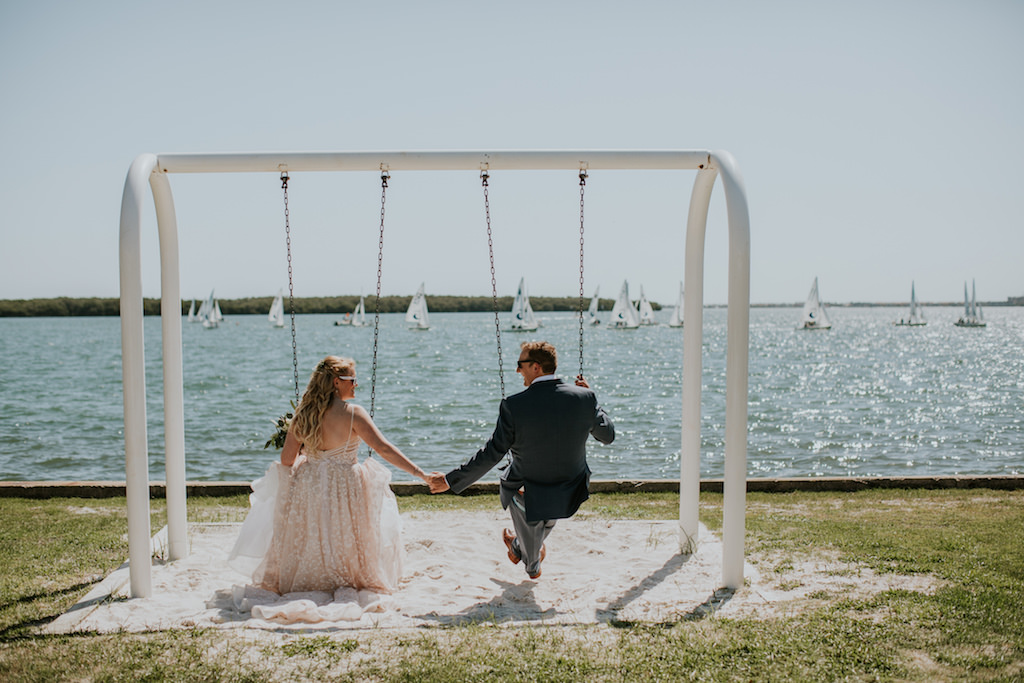 3. Incorporate Loved Ones in Your Ceremony
Brandi R. Morris, officiant, explains:
During your ceremony, readings can be an opportunity to include someone in your special day. Often a beloved aunt or close friend stands and says a few words that are sweet to hear at weddings. However, most of the readings are the same passages we hear time and again (I'm looking at you, Corinthians 1). Why not make it something more intimate and meaningful to you as a couple? Do you have a favorite scene from a movie, passage of a book, song lyrics, proverb, etc? A reading can be a powerful moment for everyone in attendance that keeps the focus on your story told in a very personal way.
Brandon Wheeler, owner of Gulf Beach Weddings, suggests this crowd-pleaser:
If it is allowed and your pooch is trained in such a way, include your pet in your ceremony! There are several options to have a sign or bowtie made: "Ring Security," "Groom's Best Man," "My Humans are Getting Married," etc. It makes for great pictures, a ton of laughs, and overall who can't help but like a furry, cute, and animated part of the family!
4. Create your own Brand
Jessica Ralph, owner of Parties A'La Carte, offers a unique design element:
When it comes to personalizing your wedding day we always recommend that couples create a brand for themselves that can be used consistently through their wedding decor. One of the things we recommend is creating a beautiful design with a combination of the first letter initial of the couples' names. This is known as a duogram. We have seen couples use this design on custom cocktail napkins, their welcome sign, escort chart, dinner menus, bar menus, guest favors, stage decor, dance floor decor, and more! This unique design can be used throughout your wedding day to add a cohesive element and brand your whole event!
Staci of UNIQUE Weddings + Events adds:
We've created designs based on the school colors where the couple met, a Florida sunset, and the bride's favorite storybook. Inspiration is everywhere! As long as it's meaningful to you, it becomes a wonderful way to personalize your wedding.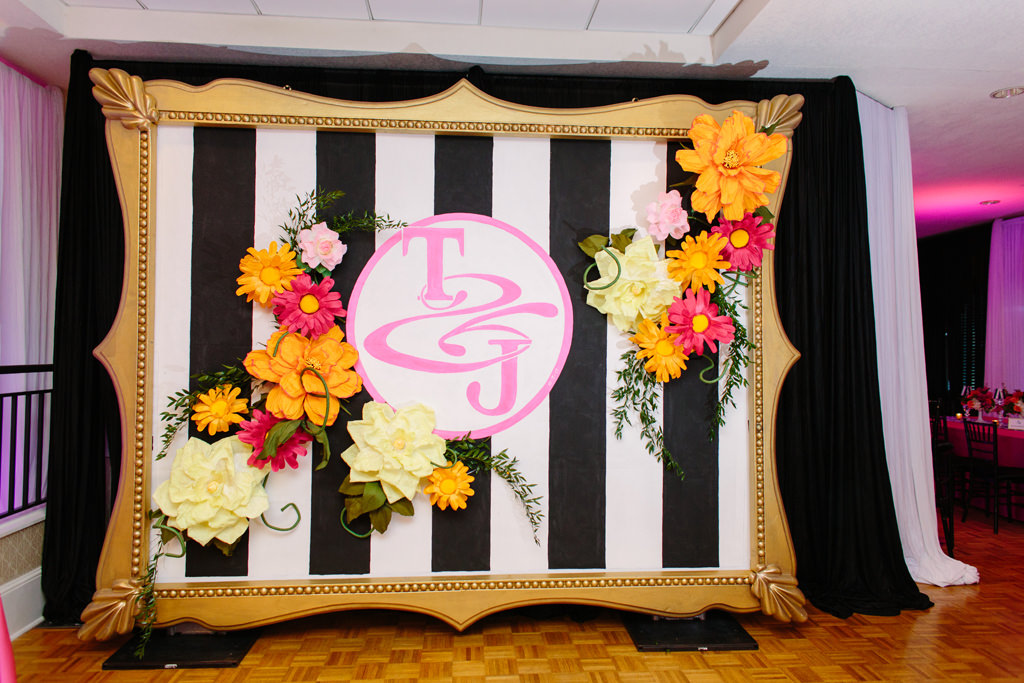 4. Be Creative with Your Menu Selection
Riley Gersch, owner and wedding planner of Elegant Affairs by Design shares, this tasty idea:
Catering plays a big role in the overall vibe of your wedding, so be sure to incorporate food experiences you genuinely enjoy sharing as a couple. Design your food menu around your relationship. Is there a particular dish you'll always remember sharing together? Ask your caterer if they can replicate this. Do you both love pizza? Wait, who doesn't love pizza?! Organize a late-night pizza delivery!
Casey Grawien, owner of Tastes of Tampa Bay, suggests:
Include bar and food favorites of the couple. A signature cocktail or favorite dish can help kickstart a theme, and your caterer can build an entire menu around these items. If you love it, chances are your guests will too.
Michael Lamando, owner of Amici's Catered Cuisine, explains:
Many times engaged couples bring together different backgrounds and/or ethnicities, and we try to help them represent that in their menu choices.
Jessie Soplinksi, lead wedding planner at Breezin' Weddings, shares:
Food is a great way to personalize your wedding day. I had a groom from South Africa, and we sent his grandmother's recipes to the chef at the wedding venue. They were able to recreate some of his favorite family recipes and really made his family feel at home during the wedding. I have also had couples bring their favorite foods for a late-night snack. One bride had worked for Chick-fil-A corporate office and had chicken sandwiches passed out for a late-night snack.
Melissa Misgen, owner of Elite Events Catering, provides the following insight:
As custom caterers, one of the first questions we ask our couples regarding the menu is, "What are some of your favorite restaurants?" This is a great way for us to gain knowledge about their style and taste. Also, we love to find out as much as we can about them as a couple: where they're from, where they've lived, etc. For example, featuring favorite dishes from your hometown, state, or country is a fun and creative way to really personalize your menu. We've catered a wedding featuring a poutine station because the bride was from Canada. It was a total hit! Talk to your caterer and don't be shy about what you really want because any experienced caterer should be able to offer you a menu that is unique and custom to your style.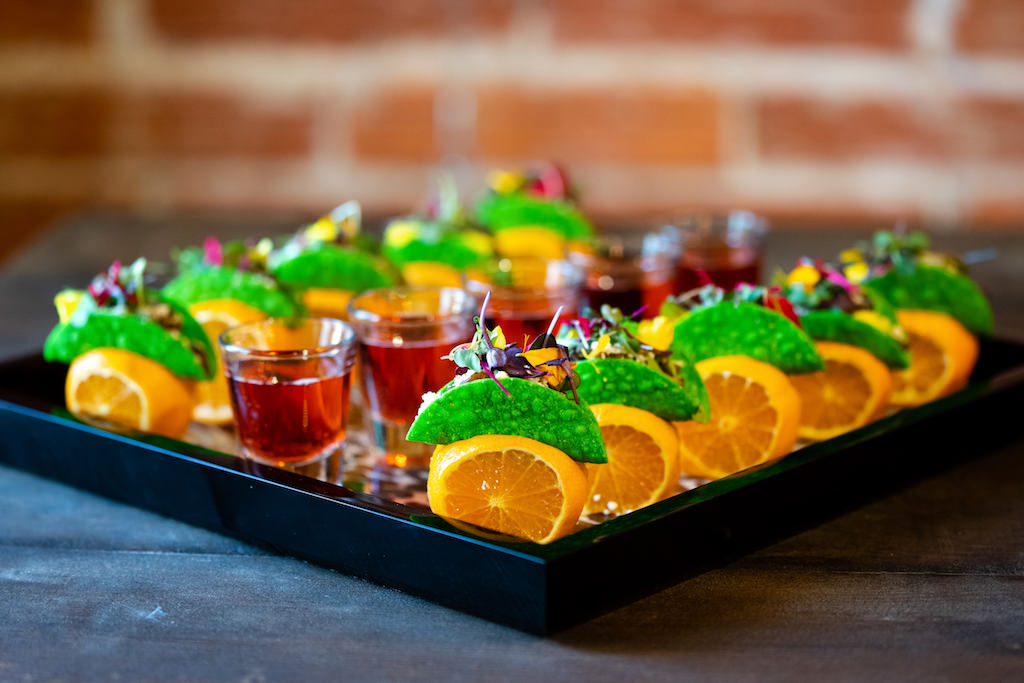 Grind & Press Photography | Elite Events Catering
5. Personalize with Desserts
Brandi Matiyak, owner of Sweetly Dipped Confections, shares:
Personalize your wedding through your desserts! We've had the honor of creating a wide variety of desserts to match a specific theme, including Harry Potter, A Nightmare Before Christmas, holidays, and we've even made custom cake pops that look exactly like the bridal party! If you don't have a set "theme" we can still personalize your sweets by adding sugar flowers that match your bouquet and adding your monogram, the possibilities are truly endless!
Emily Lopez, owner of Tampa Bay Cake Company, suggests how to "have your cake and eat it too!":
If you have always dreamed of a beautiful and elegant wedding cake but you have a fun and crazier side, then consider ordering a personalized groom's cake. These novelty cakes can be highly personalized to your partner's likes and hobbies. You can stick with a single theme or incorporate many different things, but the most important thing is to have fun with it, and get excited about your partner's reaction!
I always encourage my couples to add something that is uniquely special to them to their cake. Sometimes this is something simple and elegant like a monogram. Other times it's more fun and personal, like a 3D replica of their pets or modeled figures of them scuba diving. These can absolutely be added to your wedding cake in a fun and classy way!
Melissa Thoele, of Alessi Bakeries, reminds us cookies are always a good idea:
Customized cookies with your saying or wedding colors or a cookie shaped in the state you met with a heart on your city make a great take-home gift!
Staci, of UNIQUE Weddings + Events adds:
If you are not cake people, then don't get a cake! Do you love to bake brownies on Sundays, does your mom have the best recipe for banana pudding. or did you get engaged over ice cream? Incorporate it! One of the best alternate dessert ideas that we've done at a wedding was popsicles! The couple were childhood friends, and they grew up playing in the neighborhood and snacking on popsicles on hot summer days, so they allowed their guests to partake in their memories.