Your Tampa Bay wedding is simply one of the most amazing days of your life and reliving it through your photographer's eyes can be a truly magical experience. 
However, before you choose just any wedding photographer, it's important to know the science behind creating amazing wedding photo. Read this valuable advice from top Marry Me Tampa Bay preferred wedding photographers as they explain the talent and skills that goes into capturing your special day.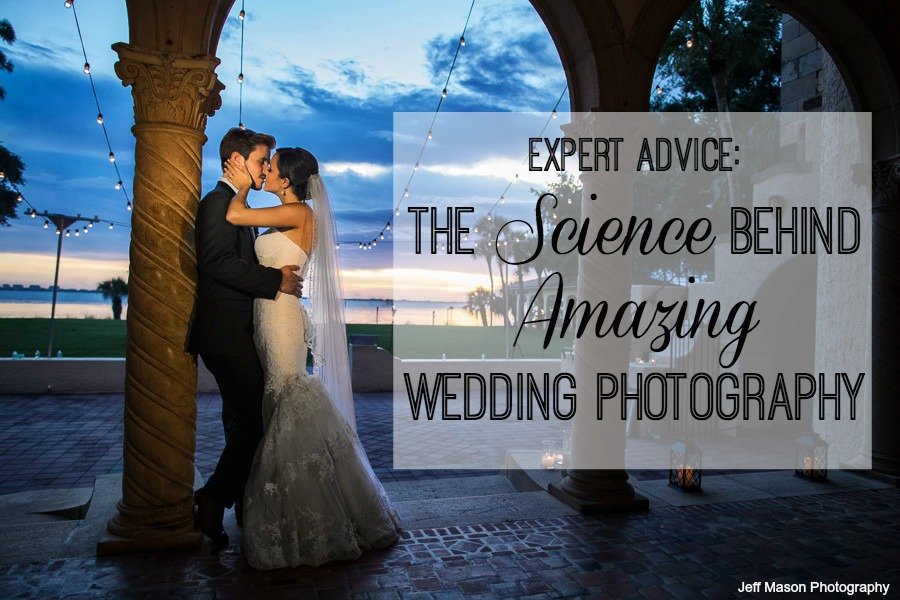 Finding the Right Fit
Hiring a wedding photographer who gets you as a couple and that you get along with will get you the best results overall. A photographer may have stunning work, but if they use dramatic lighting and fashion poses and you want natural candids with lots of laughter, your vision won't match up with theirs. Meet potential photographers in person and make sure that their personalities are similar to yours. Schedule an engagement session so you can get familiar working with them and have a first hand example of how they photograph you. By the wedding day you'll have confidence and can rest easy and let your photographers do the work. – Caroline & Evan Photography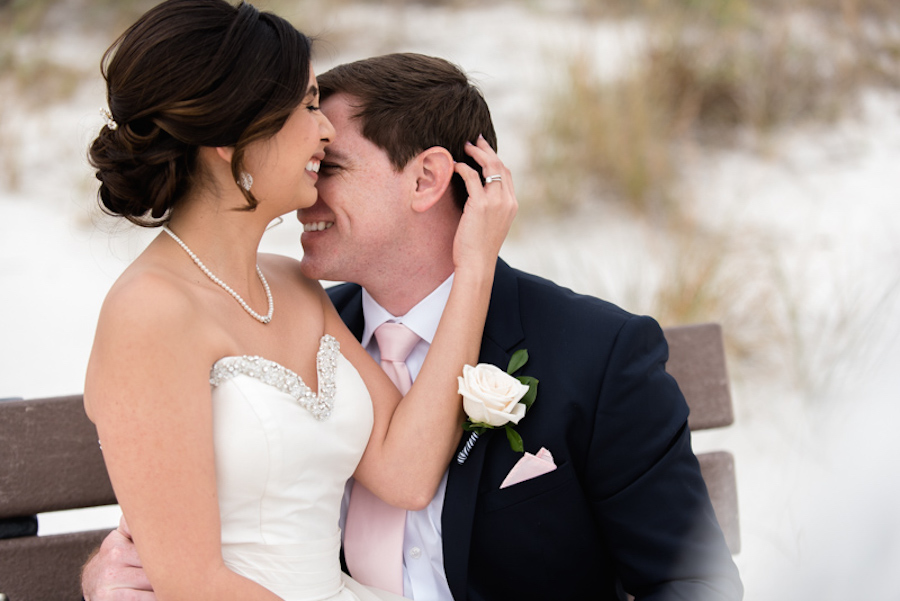 Lighting is Only as Good as Your Photographer
All professional photographers should have expertise with all sources of light including, off camera flash and LED video light. If your photographer is "natural light only" what happens if it rains all day and everything is now inside, or if things run late and your photos end up being at night? It is so critical to make sure your photographer has expertise with every kind of lighting source. Don't be afraid to ask about that in your consultations with photographers, and ask to see their portfolio of photos at your location, sunset or night photos. – Carrie Wildes, Carrie Wildes Photography
Shooting with flash is a must in some cases when there is no natural light available, or if there is, it's too harsh. In an instance when your subject is backlit outside, a simple off camera flash set up overhead is a savior. This technique allows a photographer to pull in all of the colors surrounding my subject, while also pouring even light on their faces to avoid those harsh shadows. This type of technique can be used to capture those very colorful, Florida sunsets or during a mid-day portrait session when the sun in directly over head. – Kera Holzinger, Kera Photography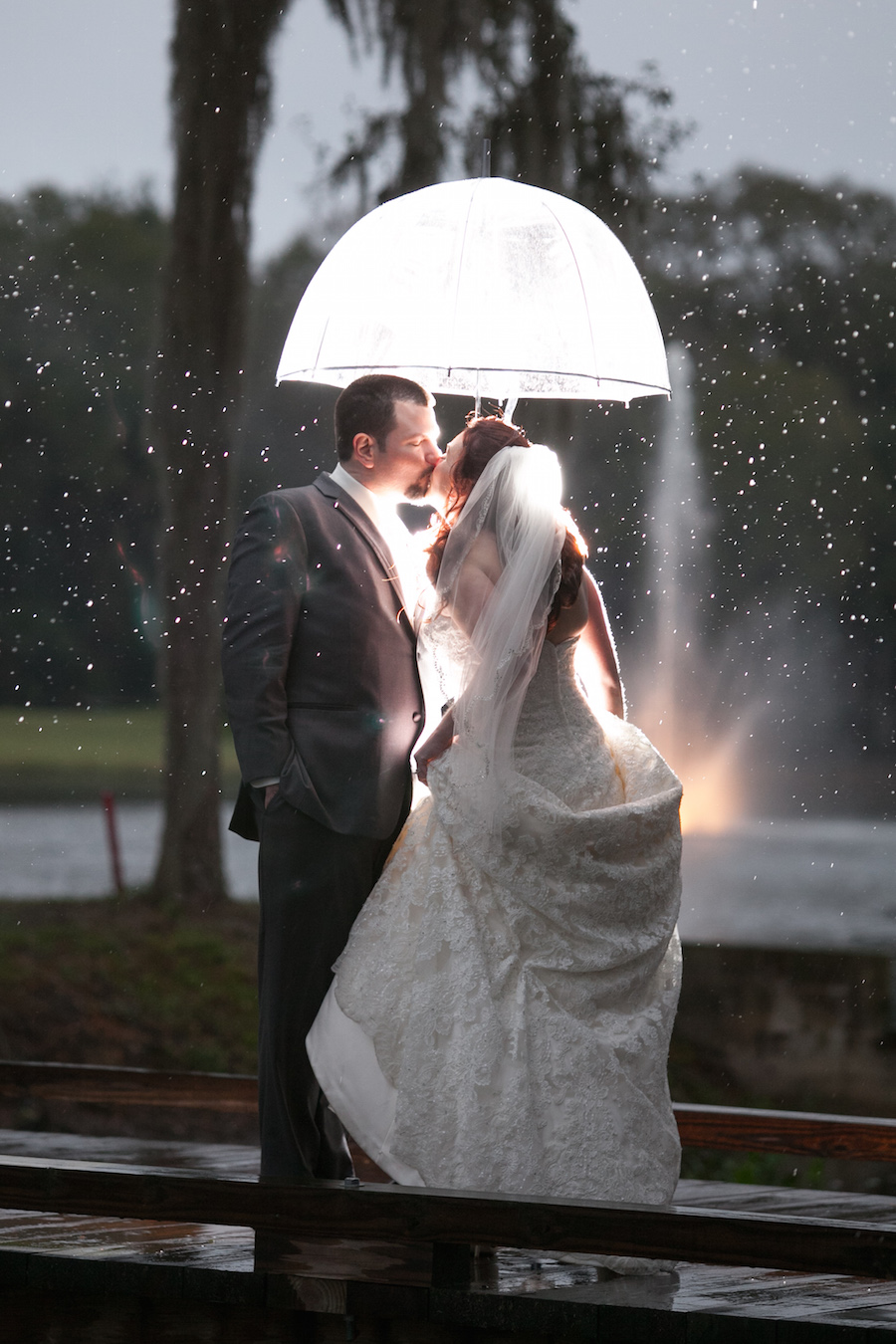 Natural light is some of the most beautiful and flattering light to be photographed in. However, it is as important that a photographer know when and how to use their flash. When the sun has set and the natural light is gone, flash photography can lend itself to creating some really unique night time portraits on the day of your wedding. It is also common for some weddings to move their reception indoors where the venue could be dimly lit, which is another opportunity where off camera flash/lighting could take your wedding photos to another level! -Leo Trevino, Rad Red Creative
The reception is where we would expect a photographer to use flash, but is that flash just one on top of their camera or will they use multiple flashes arranged around the room? We have all seen the photos when there is only a flash on top of the camera. The picture is taken, everyone is blasted in the same light, and there is no shaping or contouring of the people; this is called flat light. Off-camera flash can correct this.
Additionally, many reception rooms will have up-lighting, candle light, or other lights that give the room ambiance. This light is typically a yellowish to orange light that is referred to as being "warm" light. You don't want to lose this feel. Photographers who understand light will put transparent colored films or filters over their flashes to match the natural color of the light in the room. They call these gels. Gels in conjunction with knowing how to control their camera help maintain natural skin tones while at the same time keeping the warm, intimate feel in the room.
Whether inside or outside, a photographer's skill with off-camera flash can be the difference between getting just okay photos and getting awesome wedding photography.- Jeff Mason, Jeff Mason Photography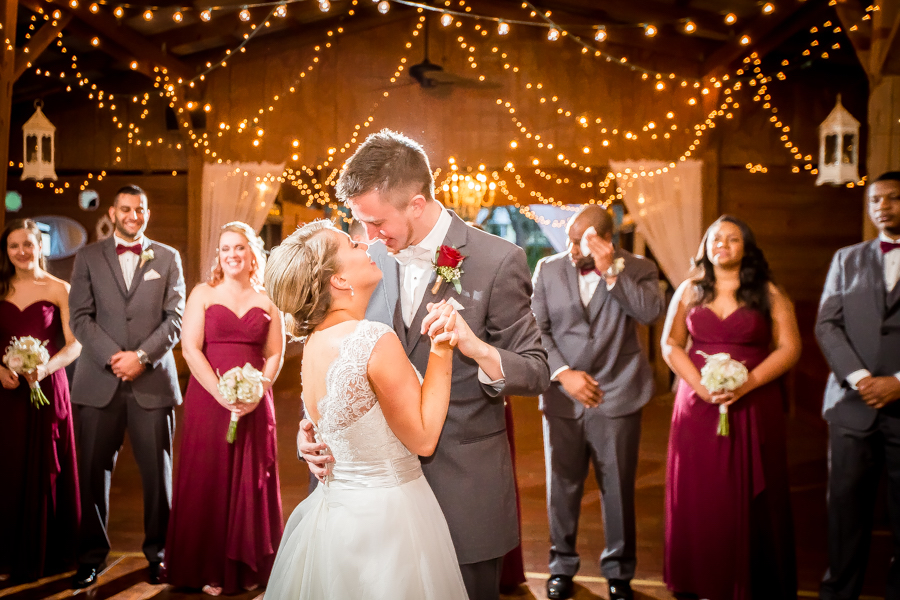 The Magic that Happens After the Wedding
We know how excited couples are after their wedding is over and that they are anxious to receive their images! We strive to exceed all expectations that we set with our clients, however there is an entire labor and time-intensive process that we must complete prior to releasing images. After the wedding photography has been captured, that is when your photographer begins the bulk of our work! For every hour we spend capturing images, we spend an average of five hours uploading, backing up, rendering, culling, correcting/adjusting as necessary, transforming images into a format readable by your computer, renaming, organizing and adding digital enhancements to the wedding images, which averages 40 hours of post-production for each wedding. -Rebecca Zoumberos, Owner, Limelight Photography