OMG. You're engaged!
This is honestly one of the most joyous and exciting times of your lives, so soak in that engagement bliss.
Enjoy every moment of being engaged! There's something so special about this transitional period in your relationship. Even if you don't realize it at the moment, years from now you'll look back and remember these events.
But with an engagement also comes planning a wedding.
Of course, you can make things easier for yourself by eloping (which is totally fine!), but a majority of newly engaged couples will be planning a 100+ person wedding.
While I am not a wedding planner myself, I've been the editor of Marry Me Tampa Bay for eight years and published close to 1,000 Tampa Bay weddings, so I've learned a thing or two along the way, which I want to candidly share with you.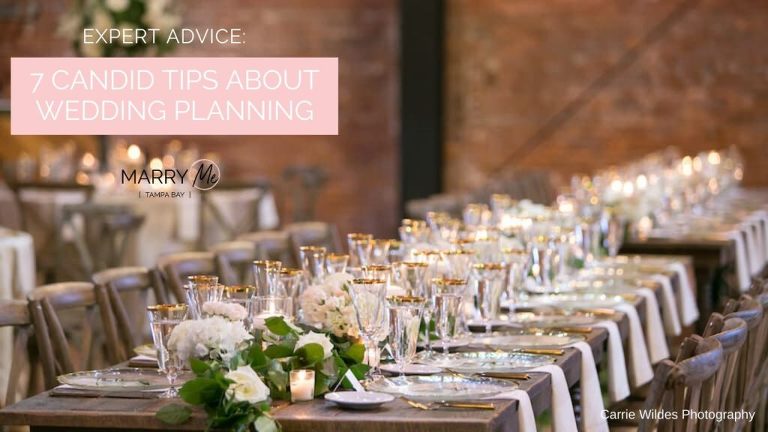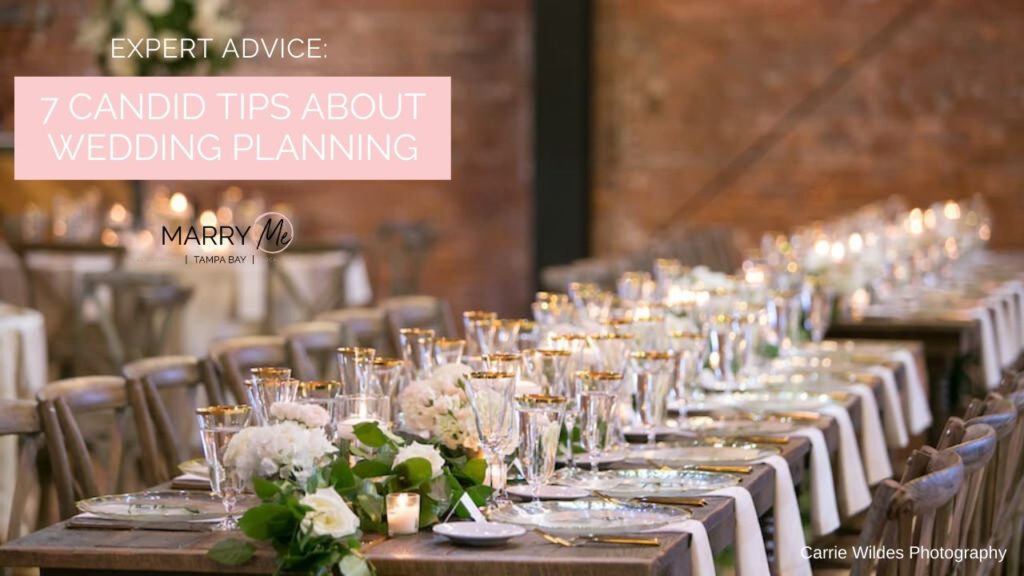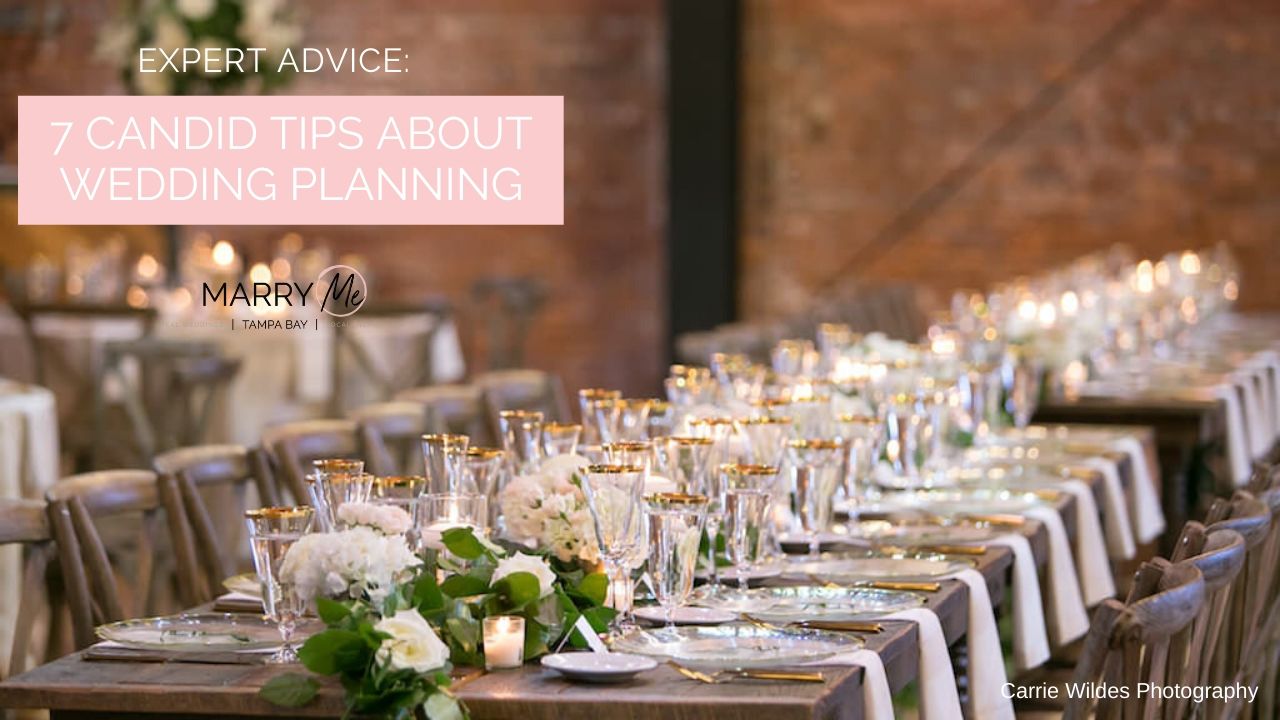 1. Weddings Can Be Expensive
Brace yourself. If you're planning a typical wedding with flowers, a dress, and dinner, you're going to be spending tens of thousands of dollars. My first piece of advice to figure out what you can really afford.
Our wedding publication is focused on couples who invest in hiring professionals, not DIY weddings, so any advice and numbers will be related to that demographic.
A typical Tampa Bay wedding costs upwards of $30,000, and this is often a starting price. Whatever budget you begin with, there's a good chance you'll spend 30%-50% over that because you learn about more options as you get deeper into the planning process, and decide to invest in making your day the way you want it.
A majority of your budget will go to the venue, food, and drinks, and the more people you invite, the more your wedding will cost. You'd be surprised how much you can save by crossing five people (and their +1) off your guest list!
Planning a wedding is very much like buying a house. There are lots of extra costs you didn't think about (i.e. service fees, tips, delivery charges), and you'll end up upgrading here and there or finding that one detail that you can't live without and incorporate it into your big day.
You plan a wedding with emotion, it's not like buying health insurance so expect your feelings and desires to increase your budget.
2. Don't Hire Soley on Price
Everyone has a budget. One person's budget could be $20,000 another's could be $150,000, but everyone has an ideal number to spend.
When you start getting quotes for different services, you'll find that wedding photographer, planner, DJ etc. prices have a large range.
You may ask yourself, how can justify paying double the price for a photographer, but what you're often paying for is experience and expertise. Most of the vendors you hire on your wedding day are providing a service, and weddings have a hundred moving parts. You get one take when it comes to your wedding day, so if you hire a bad DJ there is no do-over.
Do not make a hiring decision only on price. Look at what you're getting for your investment.
Think about it…would you go to a beauty college to get your haircut by a student? No, you pay four times that to go to a salon for the atmosphere, professionalism, and knowledge of your hairstylist. Apply that reasoning when it comes to hiring your wedding vendors.
Anyone can start a wedding business. There's no "license" for a wedding planner, photographer, DJ, florist, even a cake baker. Many people work in the wedding industry as a side job or start a business "for fun." If your budget allows, you want to invest in professional full-time wedding vendors who have years of experience, which means they're also more expensive.
3. Hire a Wedding Planner
I've interview hundreds of couples. Their number one piece of advice. Hire a good planner. Ask anyone in the industry or a past couple who loved their planner; they are worth their weight in gold. It doesn't matter how "organized" you are. Planners do so much more than that and can often save you money with industry discounts available only to them. Plus, planners can call in favors that you may not be able to get on your own.
Wedding vendors rely on referrals from planners, so if you hire a respected one, your other vendors will want to stay on that planner's good side and may provide an upgrade or discount as a favor to that planner.
Planners can also guide you on which wedding vendors to hire and which ones to stay away from and your vendor team will make or break your wedding day.
4. The Truth About Reviews
Have you ever booked a hotel or restaurant based on a review site and gotten there only to be underwhelmed?
The same can happen when choosing your wedding vendors based on reviews.
Reviews are a great starting point, but they're not always accurate for a few reasons. The person giving the review may not have the same expectations that you do. They may not be that experienced when it comes to photography whereas you have the best Instagram boyfriend out there. The two of you will have differing opinions on what a "good photographer" is. The couple who reviewed a venue could be laid back and go with the flow, while you're a meticulous person who is on top of every detail and expects a higher level of service.
Also, couples typically leave reviews after their wedding day while they're on that wedding "high." So they're just happy in general. I notice that couples who are unhappy or disappointed with a vendor's level service will not leave a review at all, because they don't want to bring down their 5-star rating or hurt their feelings.
If a wedding vendor only has a couple of reviews, I wouldn't recommend hiring them. Let someone else's wedding day be the one that they gain experience from, and leave yours to the professionals.
5. Invest in Photography and Videography
When it is all said and done all you have after the wedding day is your memories and the photos. This is one of the most iconic days of your lives, and the day often goes by in a blur so you'll want to relive it through photography and videography.
Tampa Bay is filled with amazing photographers, but it's not uncommon for us to see mediocre wedding photography. I can't tell you how many times I look at a wedding gallery and cringe because of the photographer's style, editing, and framing. A great photographer can take a modest wedding and make it look amazing. A mediocre wedding photographer can take an amazing wedding and make it underwhelming.
The typical wedding photography budget starts around $3,000. You will find lots of photographers much less expensive, but don't shortchange your wedding day just to save $1,000. (Yes, $1,000 is a lot of money, but in the scheme of things, it's only 3% if your wedding budget is $30,000. Invite five fewer people and that will pay for that wedding photographer you really want.)
When it comes to wedding videography, so many couples ask if it's worth and 100% wedding videography is worth every single penny.
But don't make the mistake of waiting to see if there is money left in your budget toward the end to hire a videographer. While there are hundreds of photographers, there are only a handful of videographers and an even shorter list of ones who I'd actually recommend, so they book up very quickly!
6. Be Realistic
Remember how I said planning a wedding is like buying a house?
What if I said I wanted to get a house in S. Tampa that's three bedrooms, fully remodeled and has a pool for $250,000? You'd tell me I'm crazy because houses like that cost three times that price. It's the same thing when it comes to weddings. You can't always get what you want within your budget. You can pay more and get it or lower your expectations and pay your original budget, but you have to understand what's feasible (a wedding planner can help guide you on this).
I know your wedding day is your "dream day," but when it comes to planning one, you have to live in reality. I'll sometimes see couples post ridiculous questions such as, "I'm inviting 200 people, but don't want to spend more than $5,000 for my venue and food." Do the math, that's less than $25/per person. You can barely go to a casual restaurant and pay that amount, let alone having a private event with your own catering staff and venue rental.
This goes back to my first point. Weddings can be expensive. You're hosting a private event for hundreds of people. It's going to cost money. On average, expect to spend at least $150/per person, which is why I keep saying cut your guest list. $150 x 10 people (guests and their +1) = $1,500 in savings! Not to mention that an entire table of decor you can cut, so one less centerpiece, one less linen rental, a smaller cake etc. It all adds up!
7. We're Here to Help! (And We're Free!)
So this wasn't your typical "warm and fuzzy" wedding planning article, but it's real, honest advice that will hopefully help you set realistic expectations for planning a wedding. That great news is you're not alone! We're here to help. While we're not wedding planners ourselves, we have vetted and reference checked multiple wedding vendors to create a shortlist of "Preferred Marry Me Tampa Bay Wedding Pros." We've also toured multiple venues and know which ones are the right fit for your aesthetic and price range.
Reach out to us via email: social@marrymetampabay.com or DM on Instagram: https://marrymetampabay.com/instagramprofile to ask us your wedding planning questions or for our opinion on the wedding vendors you're considering hiring. Our services are 100% free because we want you to make educated decisions when it comes to hiring your wedding vendors!