Sarasota Wedding – Elegant, Black Wedding at University Park Country Club
Kimberly and Camilo's Love Story:
Camilo and I met in an anatomy group, though we didn't immediately "hit it off" at all. We still joke to this day about when I provided the correct answer to a puzzling anatomy slide, but was scoffed at because he thought it was too ridiculous of an answer. A few seconds later he found out that I was actually correct and embarrassingly gave me an, "Oh, you were right." What a foreshadow to a fantastic marriage, eh?
Camilo invited me to study with him one Saturday morning at school, and he brought me Dunkin Donuts with coffee made exactly how I liked it. Since that day we were study buddies for life. We would study at his place, and he wooed me with his smarts, good looks and cooking.
He was invited to visit my family and I in Texas for New Years in 2013. We spent the night in downtown San Antonio exploring the Alamo and riverwalk. Little did I know that the only reason he kept his coat on the entire day was to keep my ring safe.
During the minutes before the big countdown, my little brother, who was in on the secret, was able to find us a quiet place to watch the fireworks. (I later found out he had to pay a kid $5 to get off that fire escape). When the fireworks lit the San Antonio skyline, I turned around to give Camilo a kiss and found him down on one knee. I think I cried through the entire fireworks show.
Elegant Black Tie Wedding at University Park Country Club
Since the couple met and began their relationship in Sarasota, Fl, they decided it made sense to also hold their wedding there.
"Neither of us are from the Tampa Bay area, but we went to school in Sarasota and built our relationship exploring its beaches, restaurants and museums. Among the mountains of our studies, it was more logistically convenient for us to plan our wedding around the area," Kimberly explained. "It turned out to be a 'destination' wedding for most of our guests, and was a great excuse for them to experience Florida in February."
Kimberly and Camilo chose an "elegant black tie and cocktail theme," which was reflection of the groom's personality.
"He was wonderfully raised as a gentleman and was taught true old fashioned etiquette. It was one of the many reasons I fell in love with him," the bride beamed. "Our theme went well with the traditional gentleman that he is and with some more contemporary wedding touches that was more of my personality. We wanted something that would remain timeless, classic, and neutral."
The couple incorporated traditional wedding elements into their gold, black and white Sarasota wedding, with some updated spins.
"We did a 'first touch' to mix the tradition of not seeing the bride, but the newer trend of 'first looks.' Our wedding cake was a top tier round cake that we could ceremonially cut, but bottom tiers were cupcakes. My bouquet was a DIY pearl and brooch bouquet instead of traditional flowers. And even though we did the usual wedding party introductions at the beginning of our reception, we made the entrance as Mr. and Mrs. by charging through a banner held by our Best Man and Maid of Honor," Kimberly explained.
Since the bride did not hire a wedding planner, she relied heavily on the University Park Country Club's venue coordinator to assist with the details.
"We are so blessed to have worked with Bobbi Richman [of the University Park Country Club] for our wedding. She was able to work very flexibly with our budget and ever changing guest list without compromising anything one bit. She advised us with the food, décor, order of reception,…everything," the bride shared. "Being a self wedding planner, it is difficult to trust that everything gets done and to your liking, but I was able to put 100% of my trust to Bobbi."
Wedding photography was important to Kimberly and Camilo, and they looked for a Sarasota wedding photographer who "could freeze the magical moments of a wedding day among the chaos of our lives."
"After looking at Jeff Mason Photography's online portfolio, I knew that his photography was a perfect blend of tradition and creativity. The photos came out absolutely gorgeous." the bride gushed. "The extra touches he does surprised me. He had a USB drive of our wedding digitals sent to us in the cutest keepsake packaging within weeks after the wedding. I've heard of brides not getting their photos for months or even years after the wedding! He also created an app for phones and tablets to showcase select photos in the go!"
Looking back, Kimberly shared that the most memorable moment of her wedding day was during the reception.
"Camilo and I both would have to say my dad's speech as pretty memorable. He is a man of little words, so we didn't know what to expect with his speech. It ended up being very witty and funny," the bride reminisced.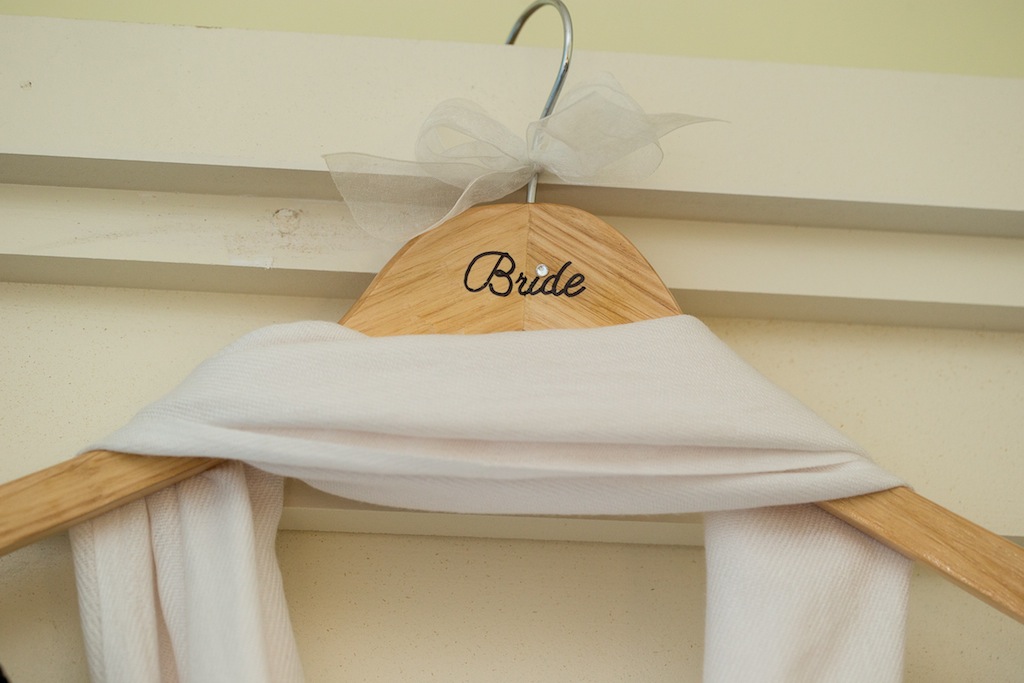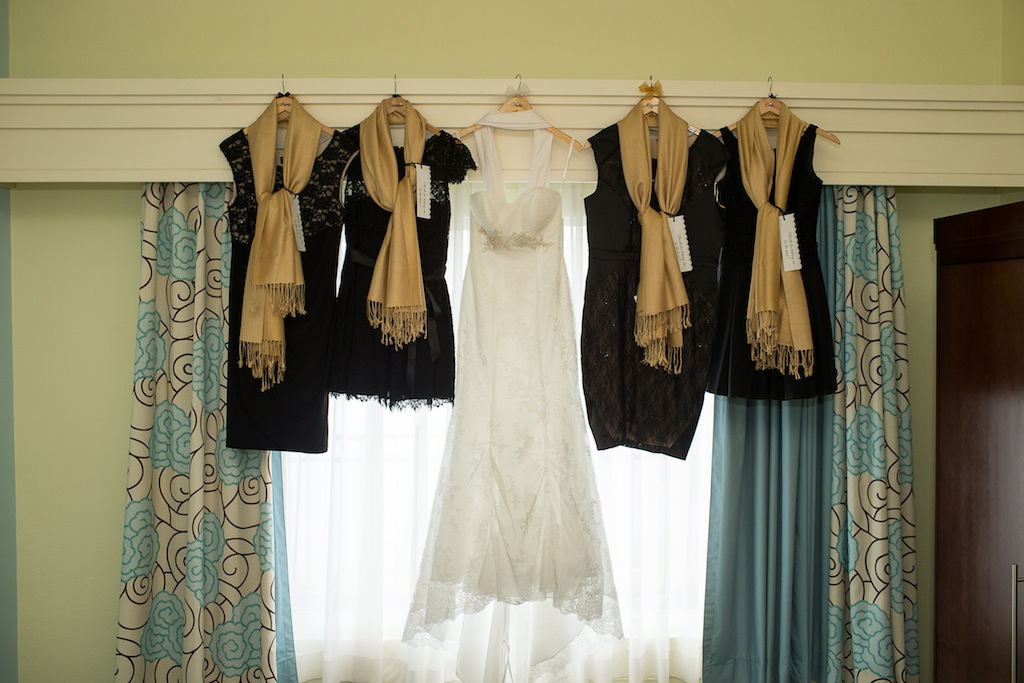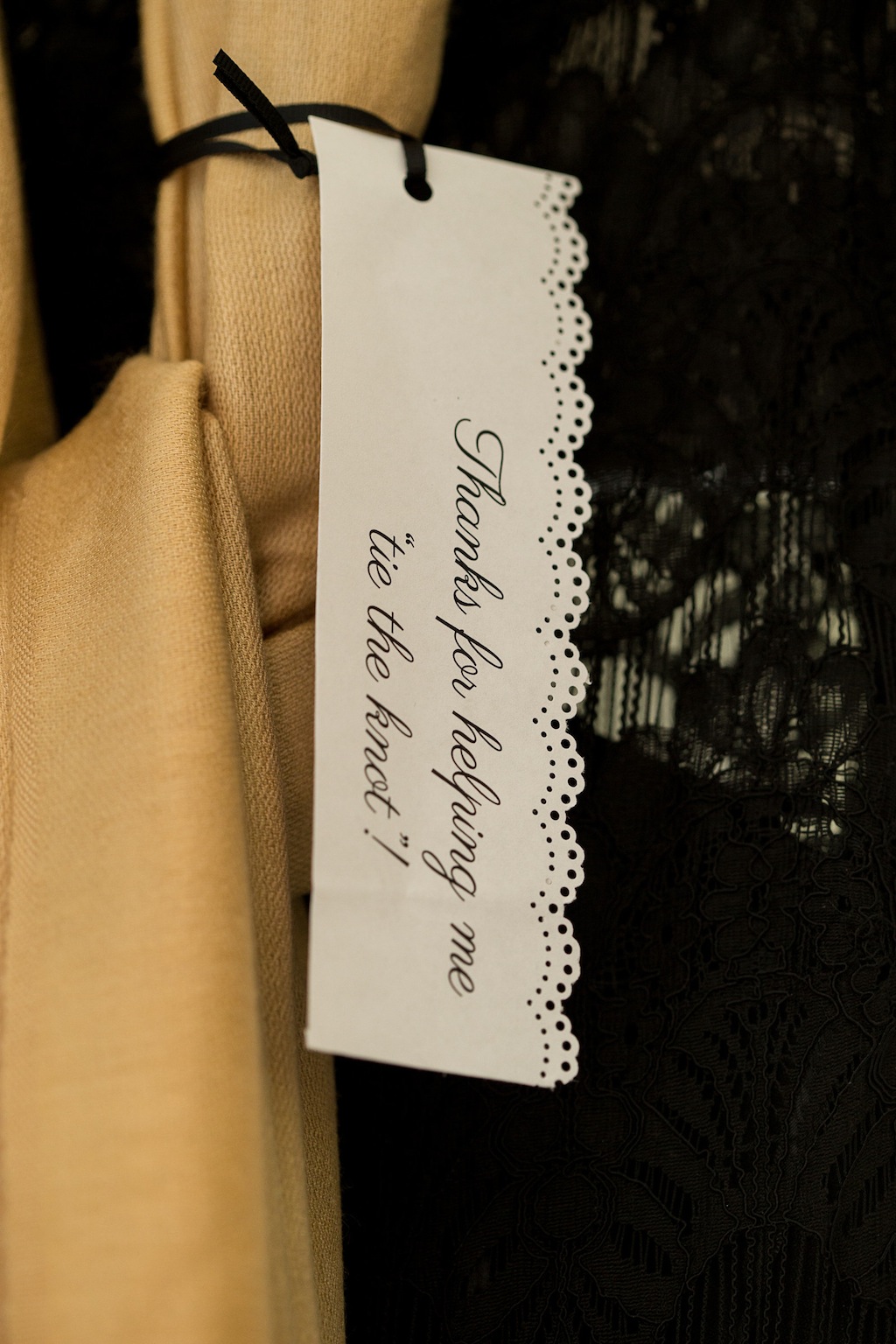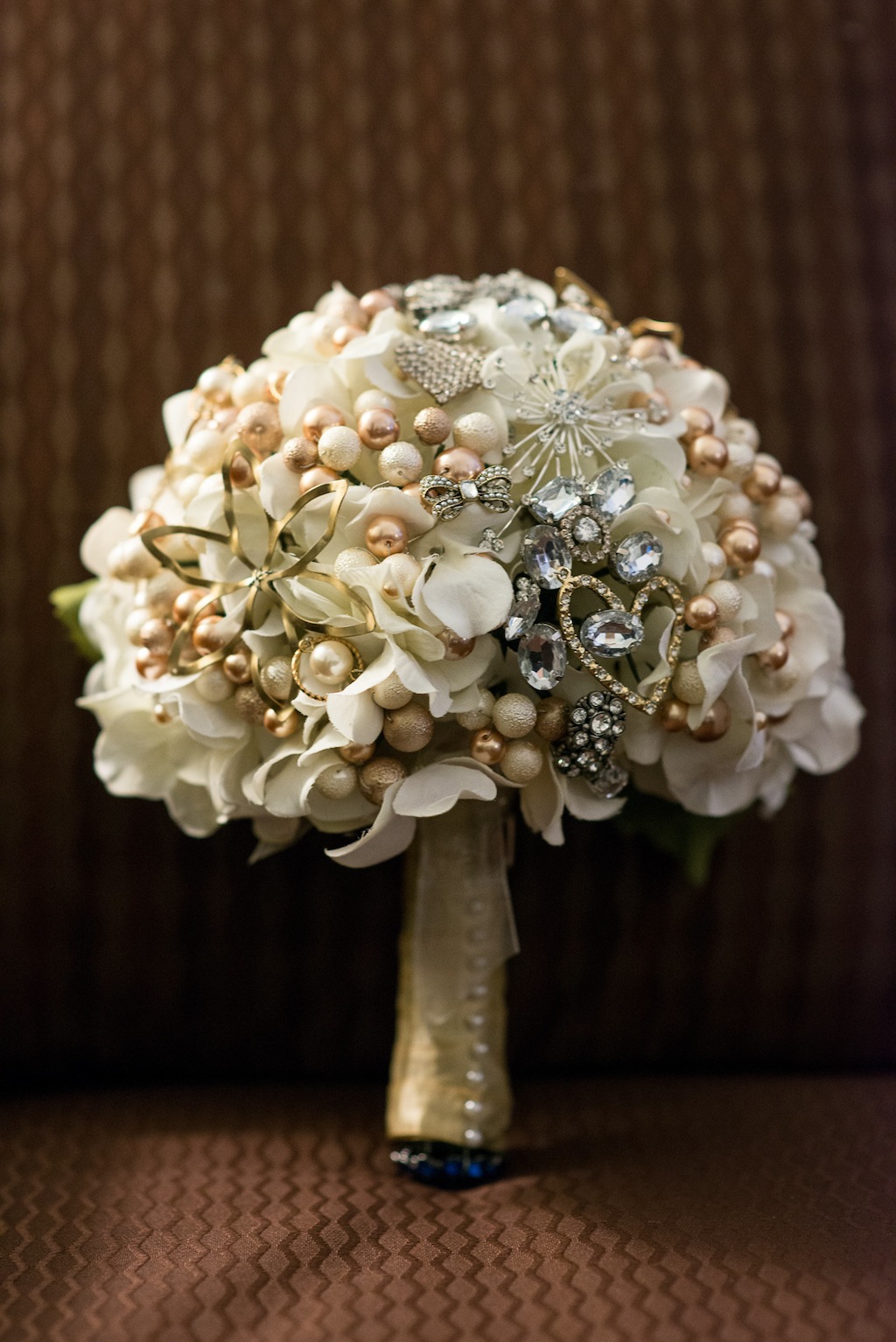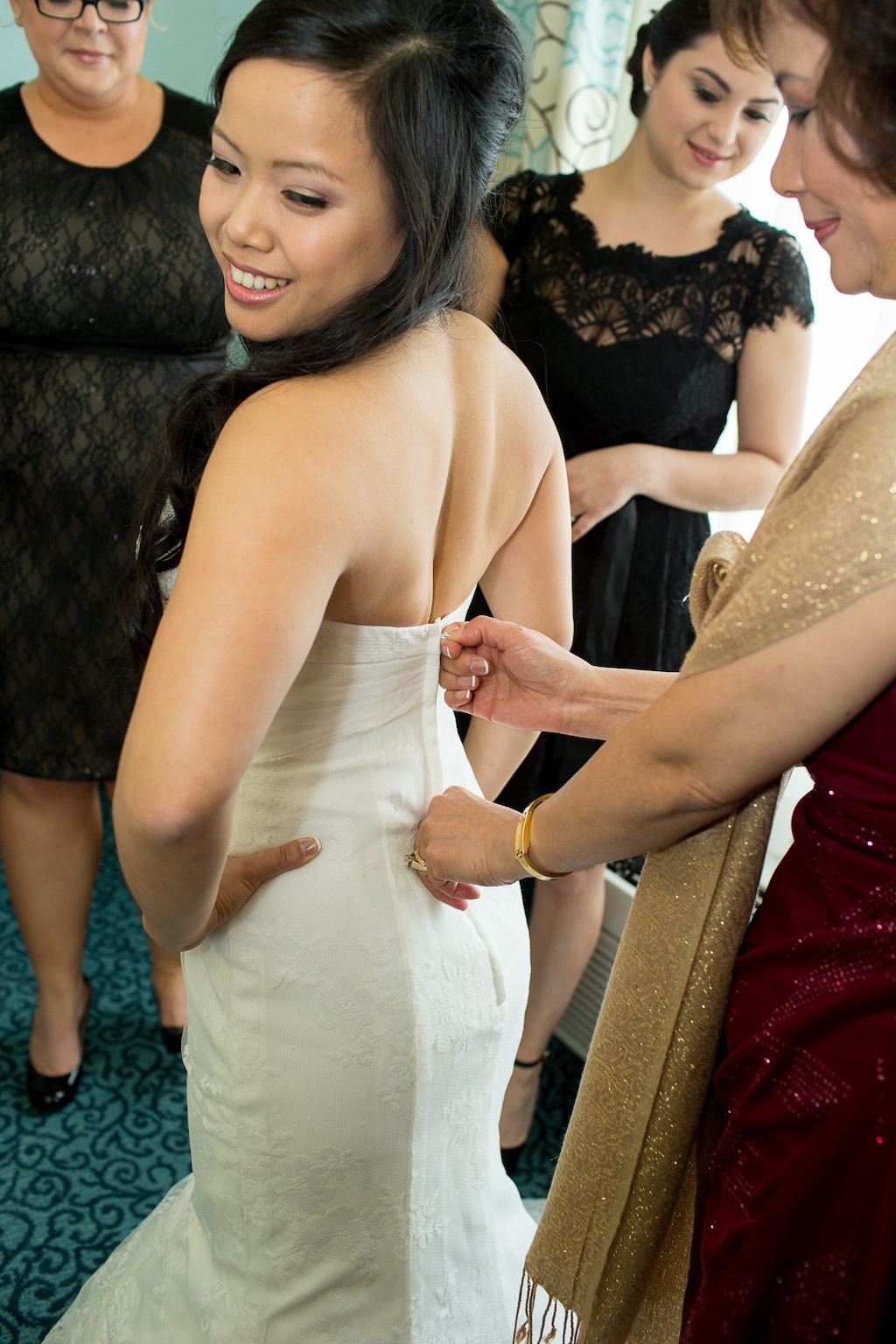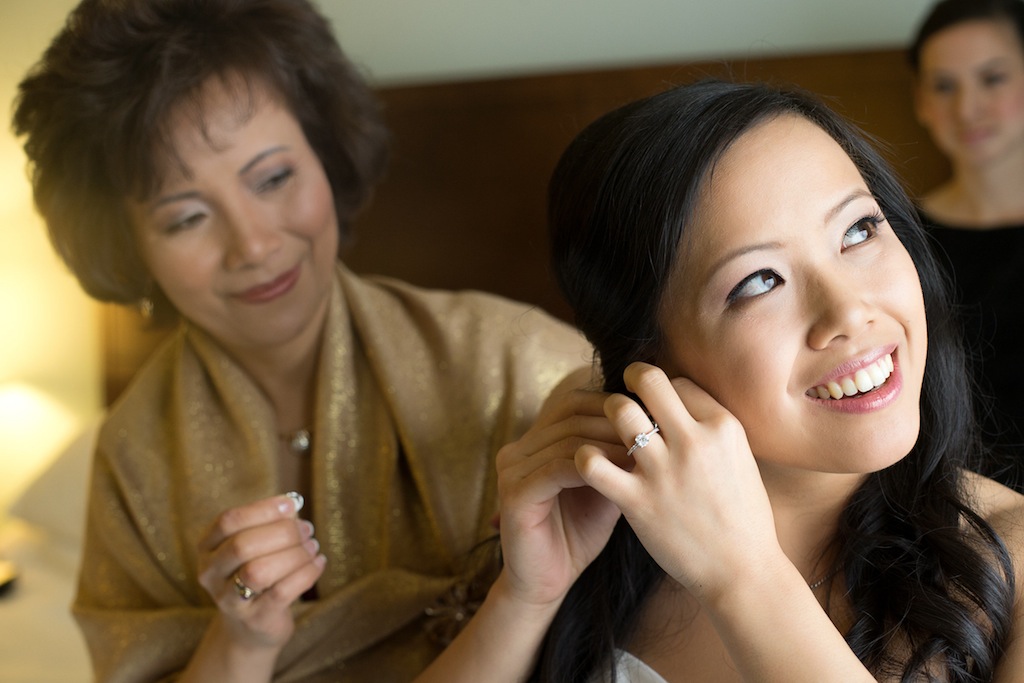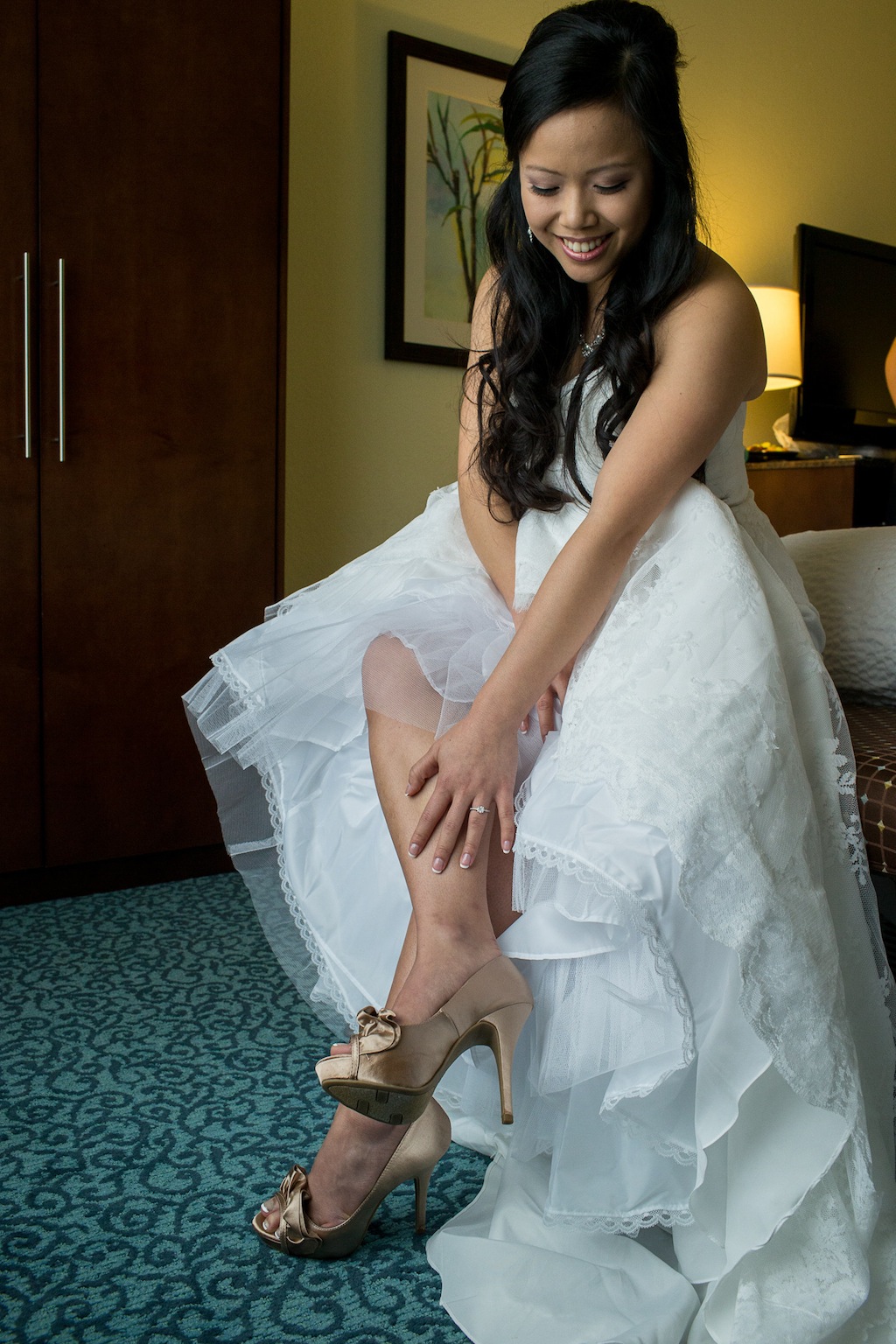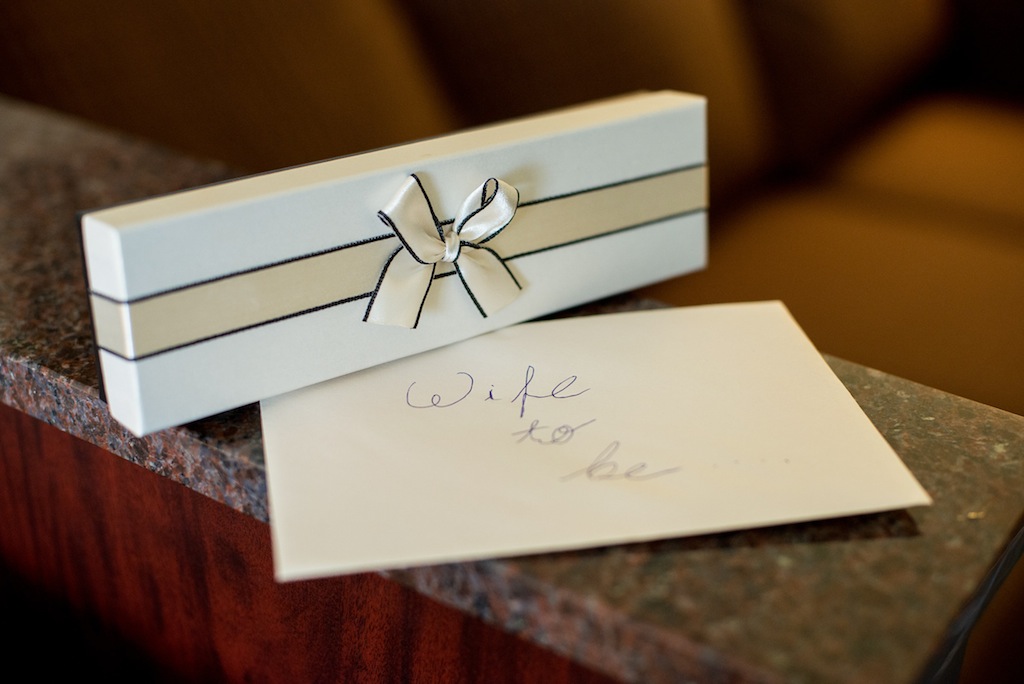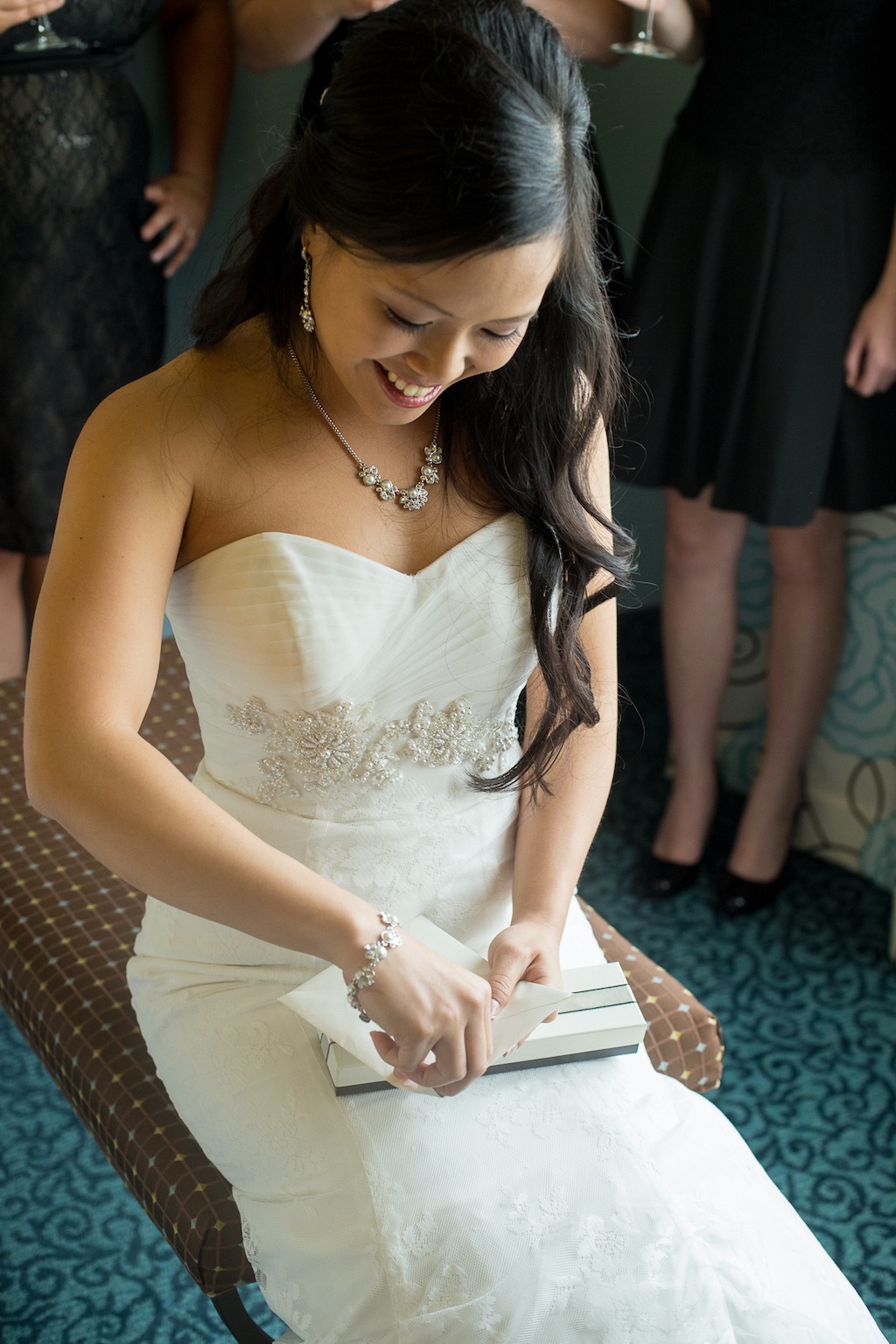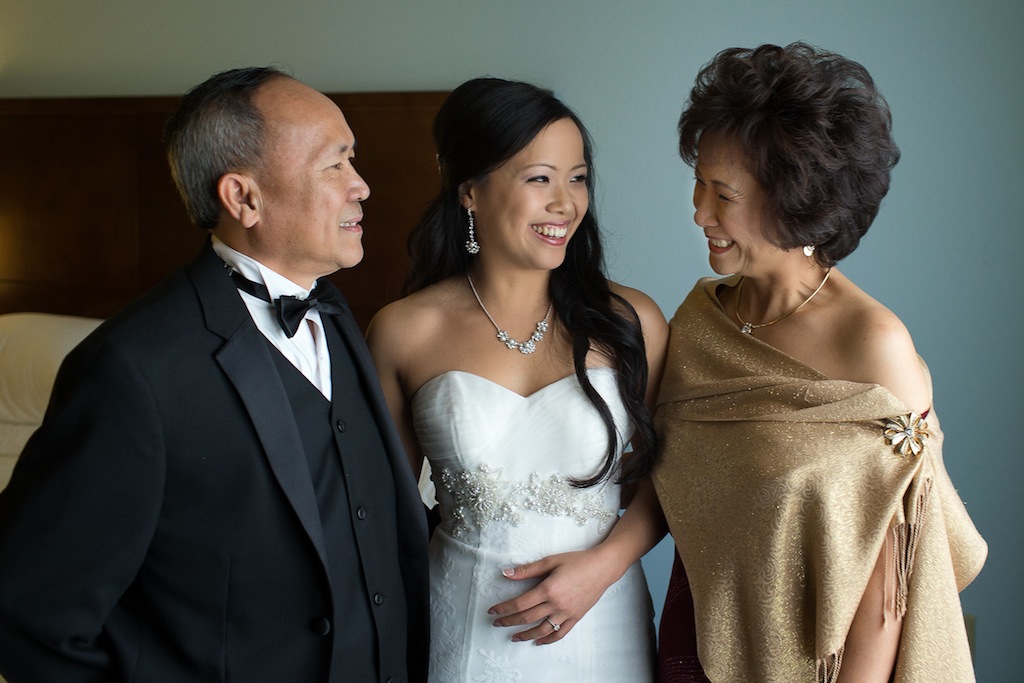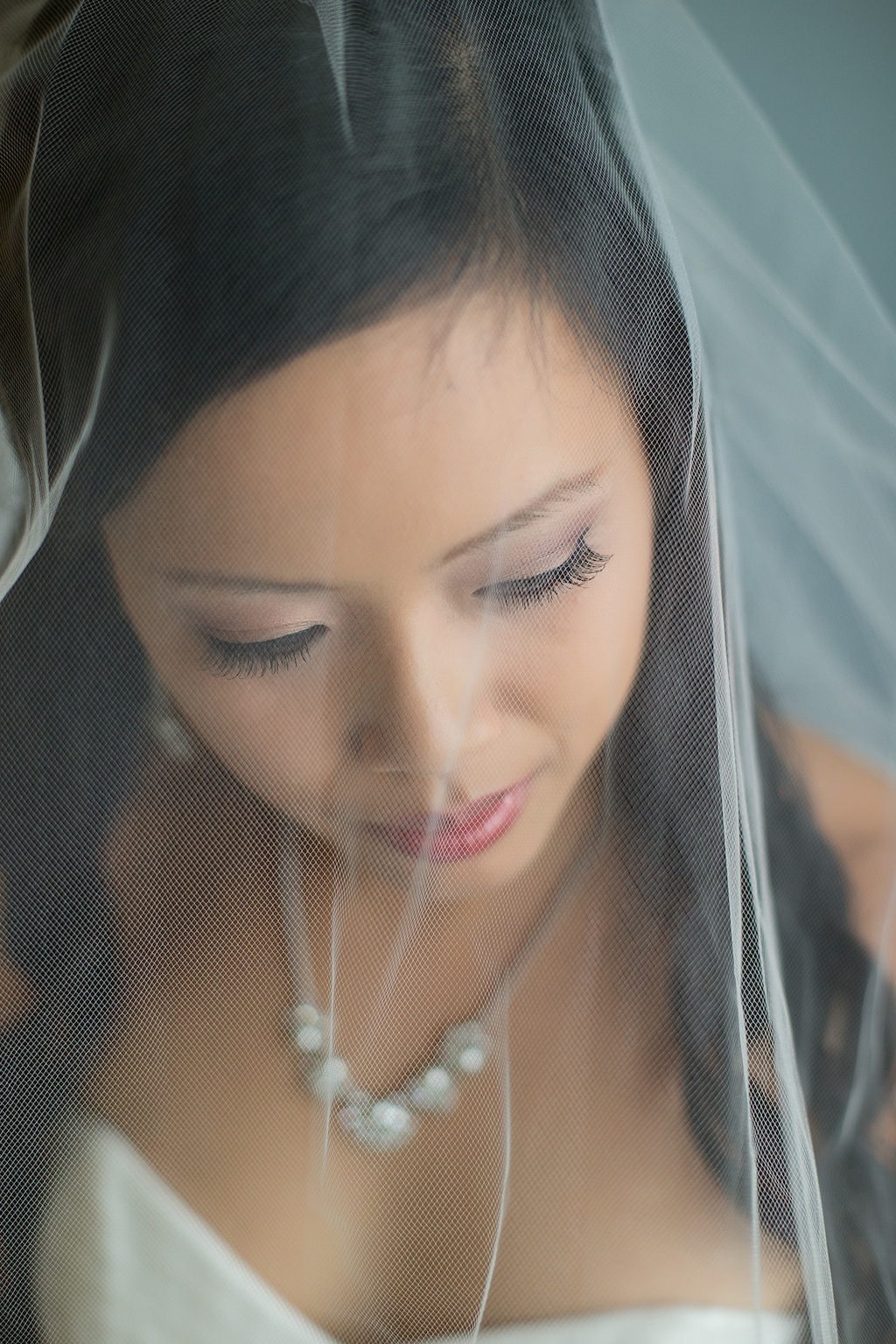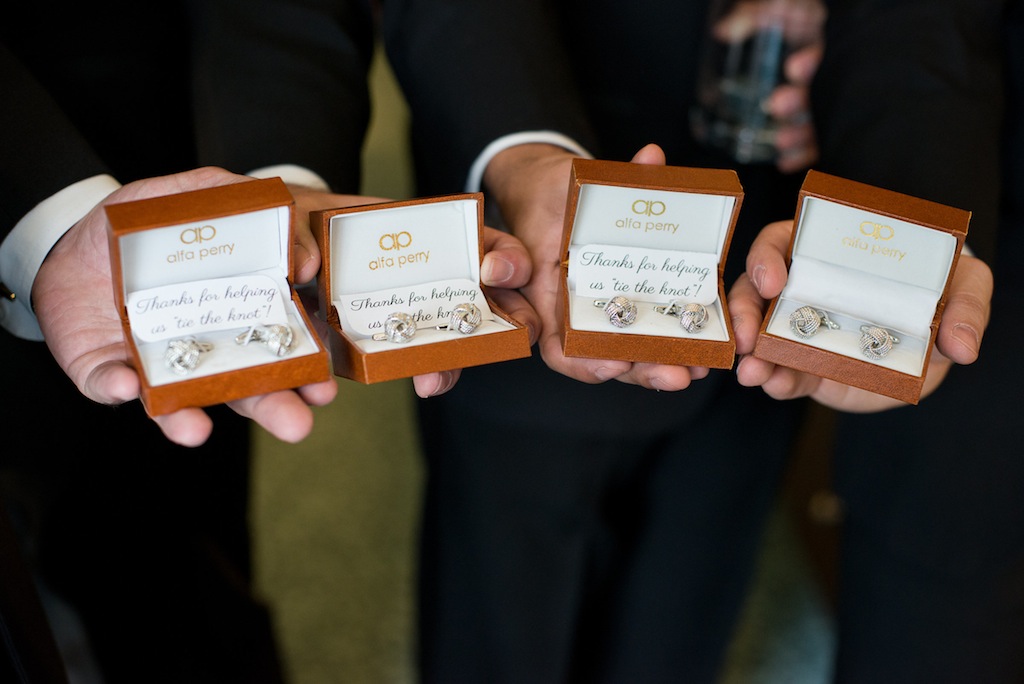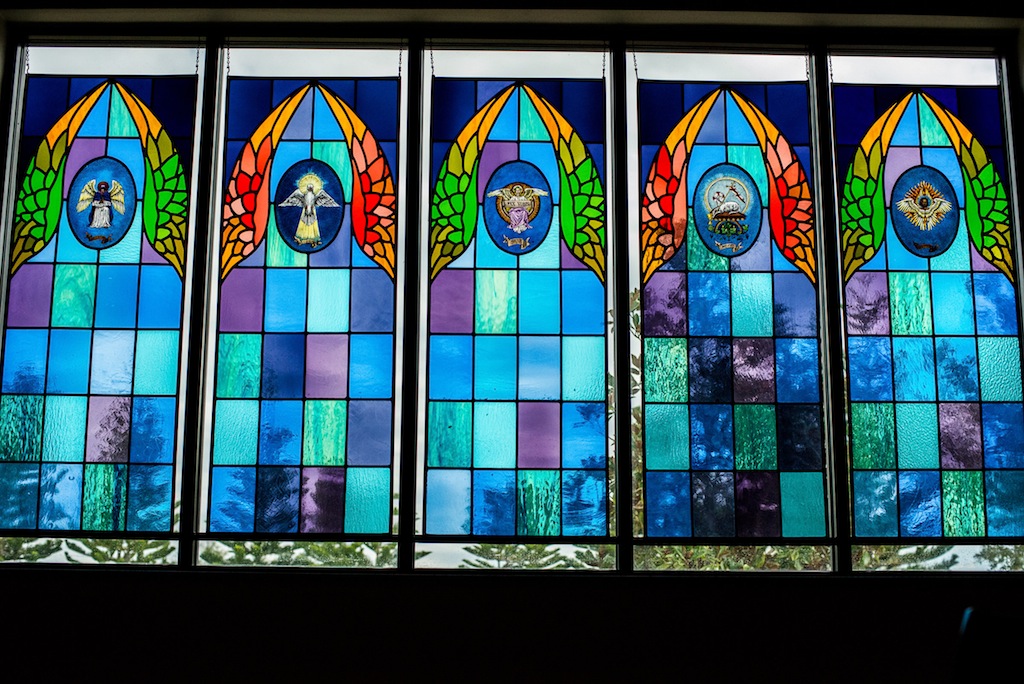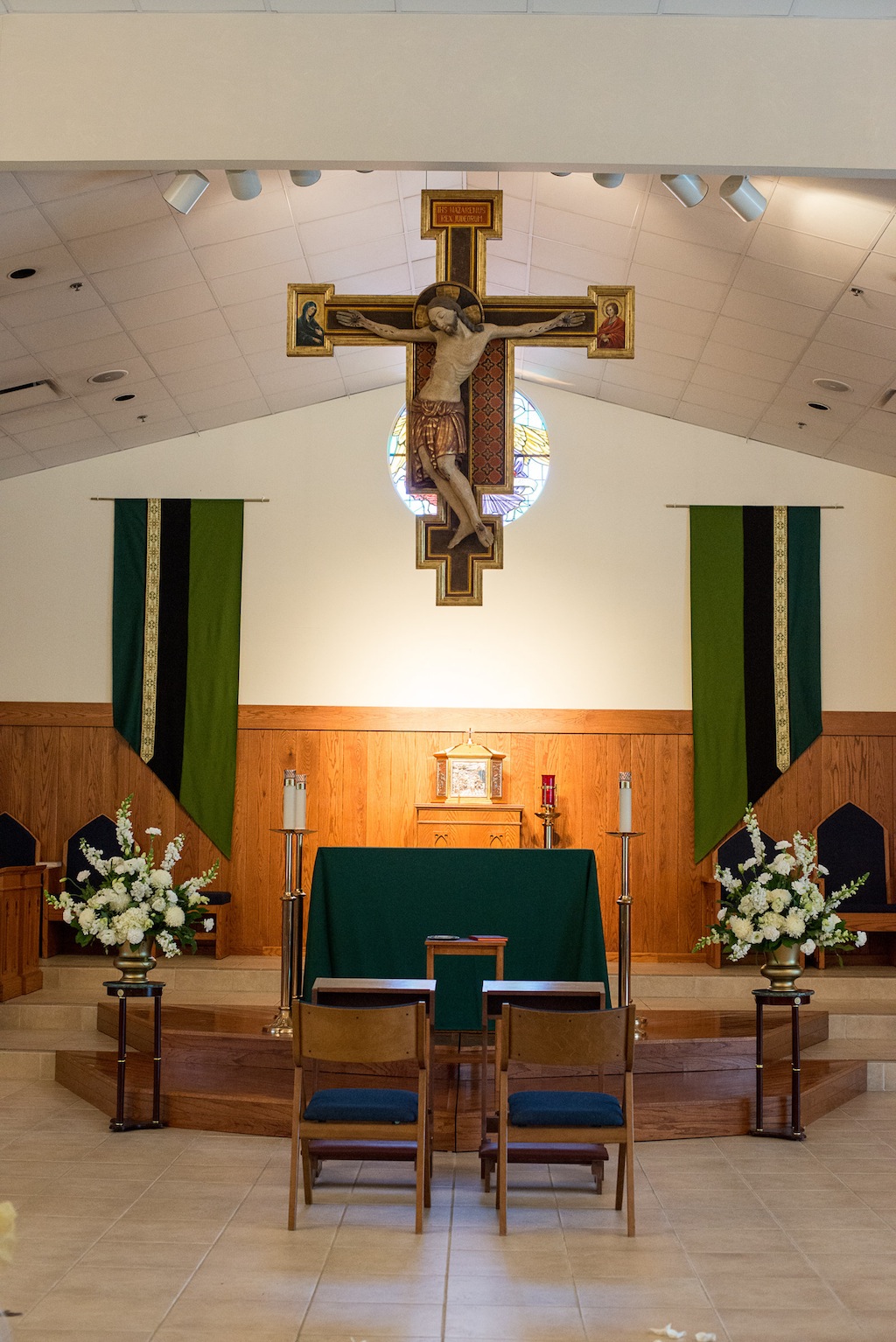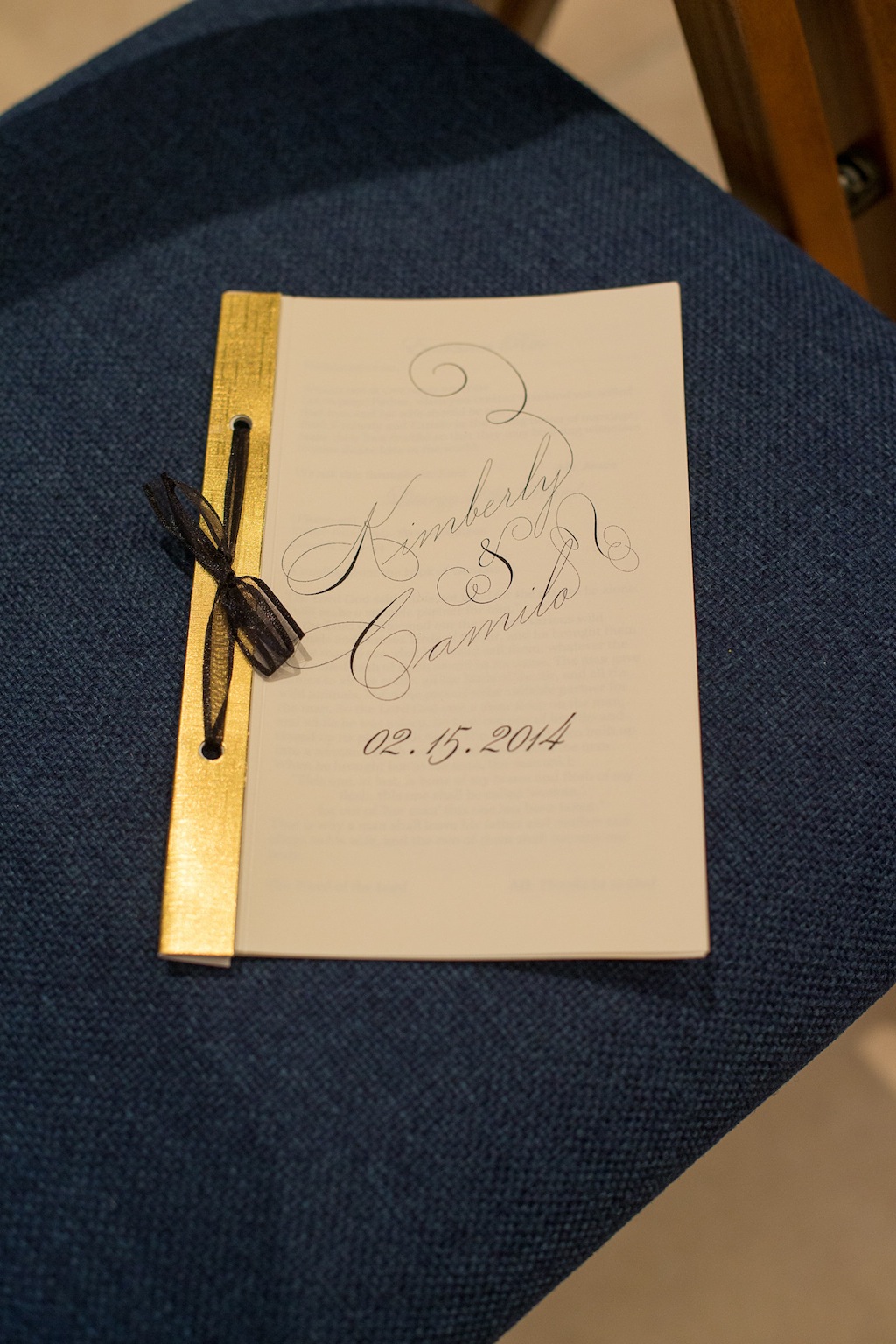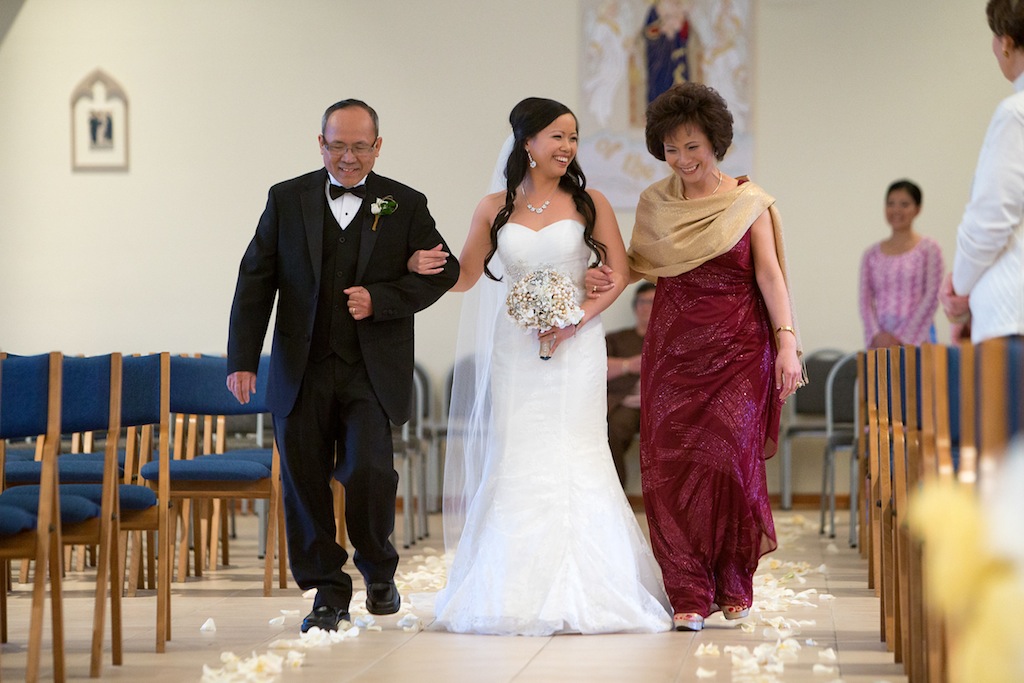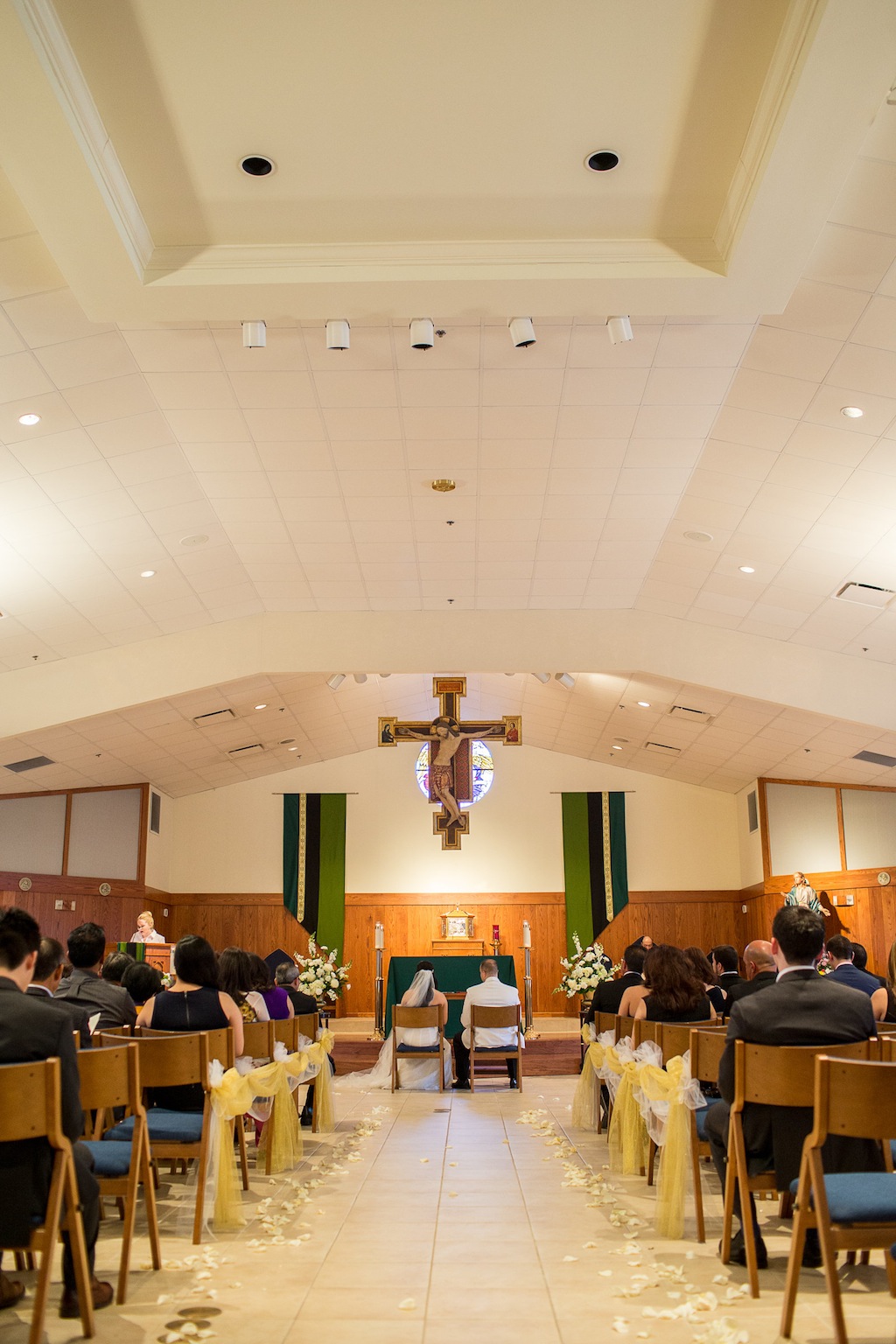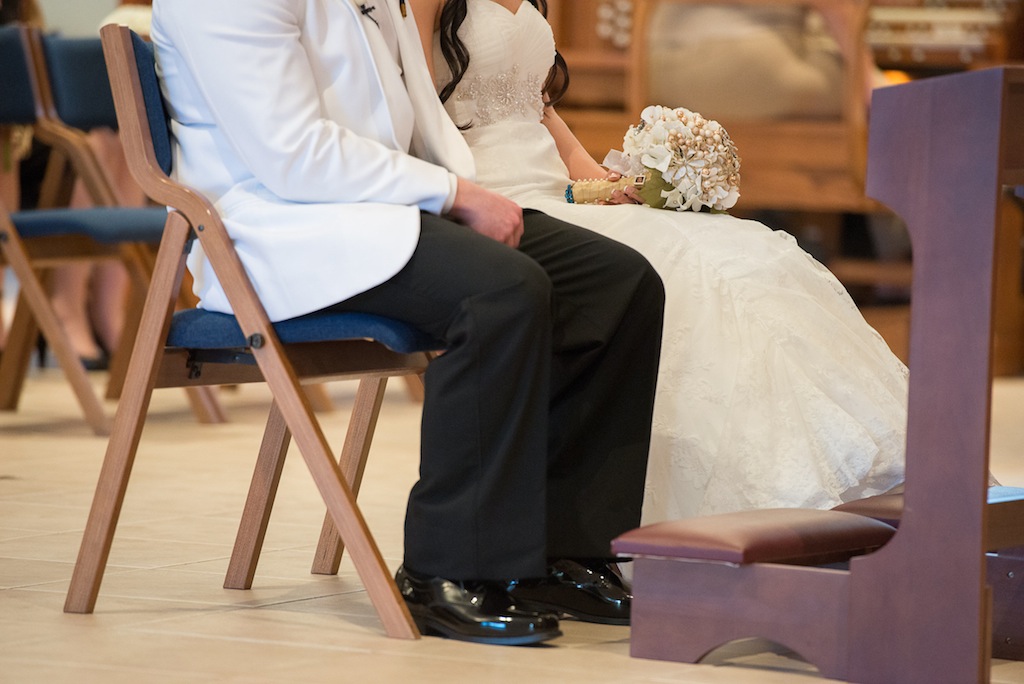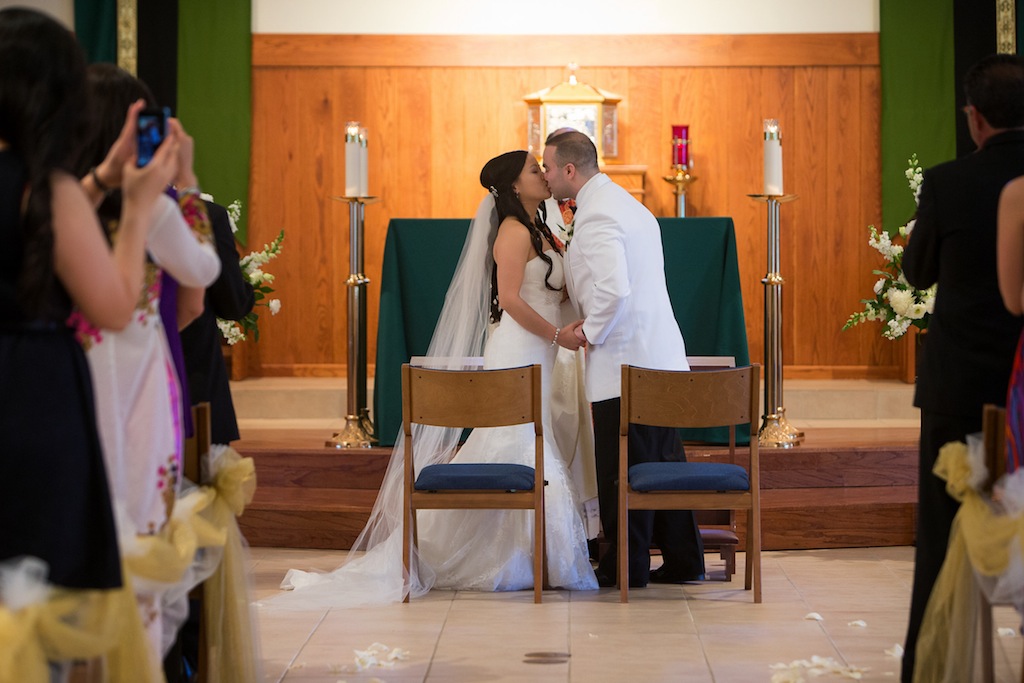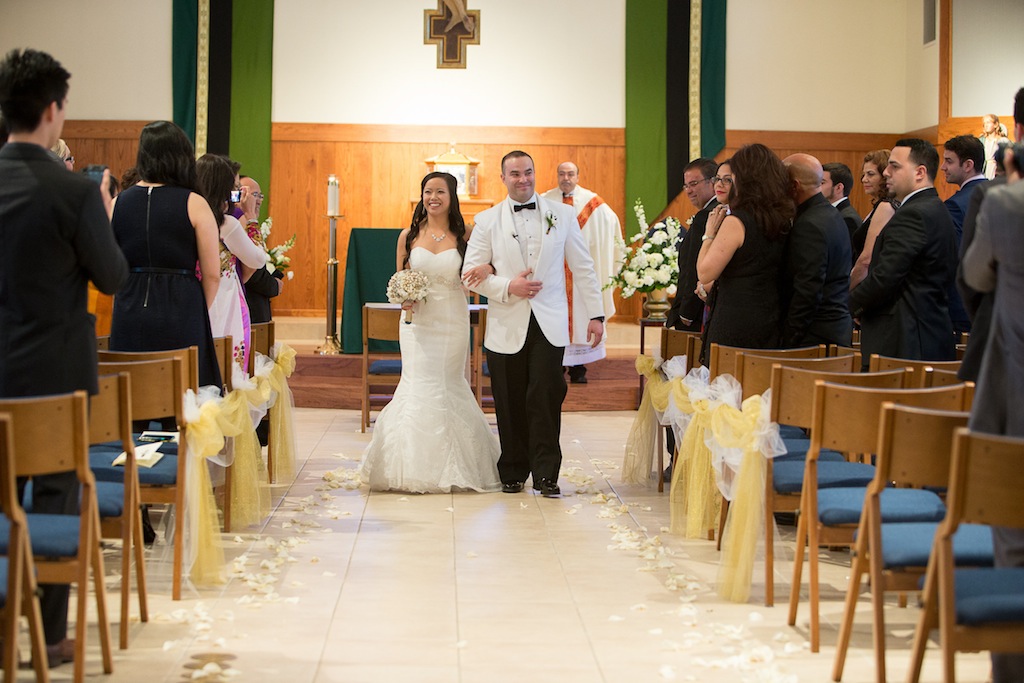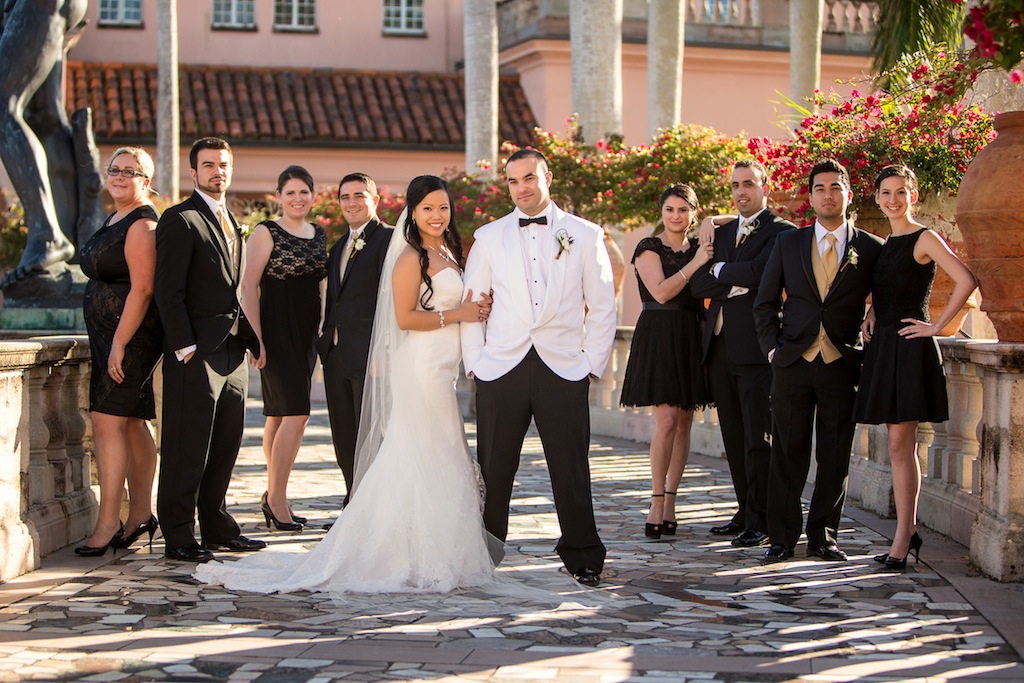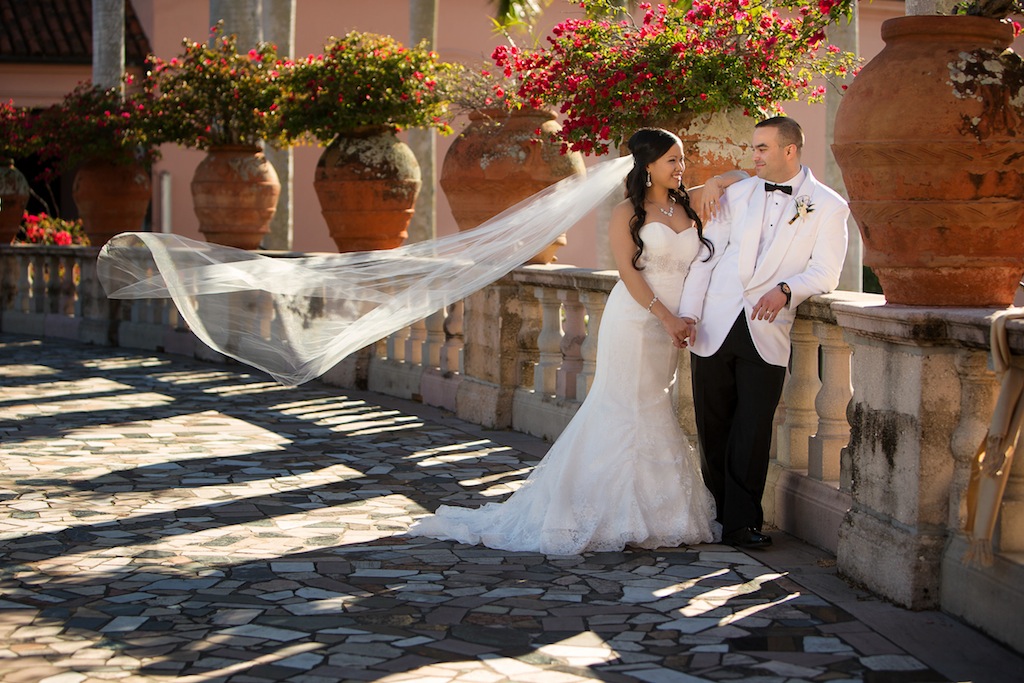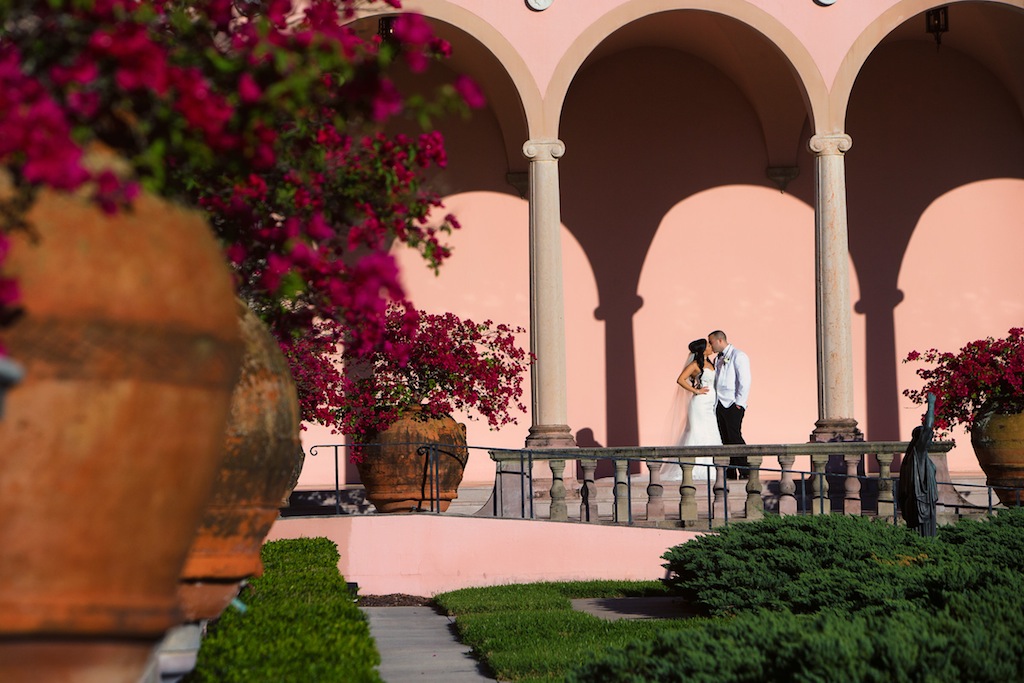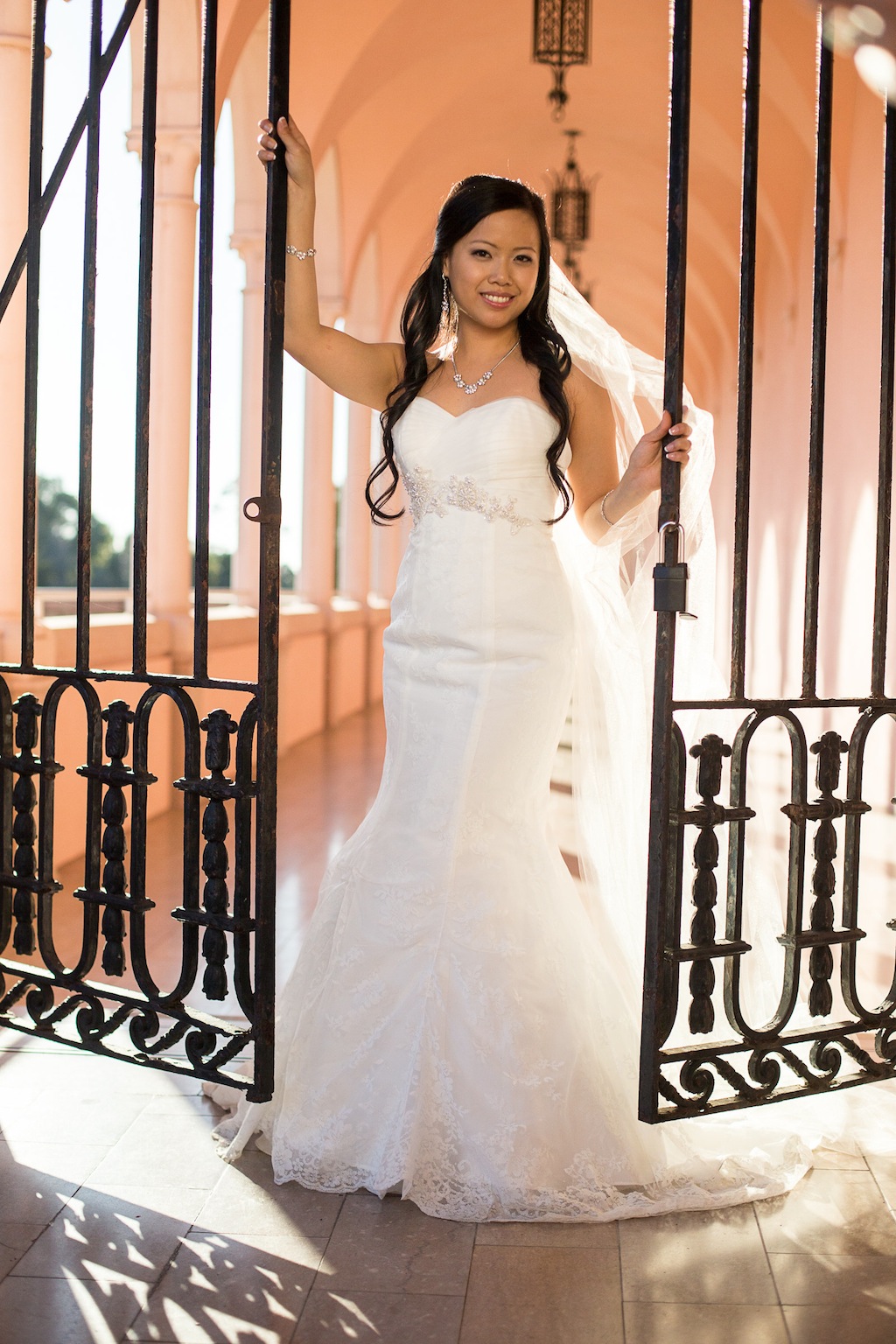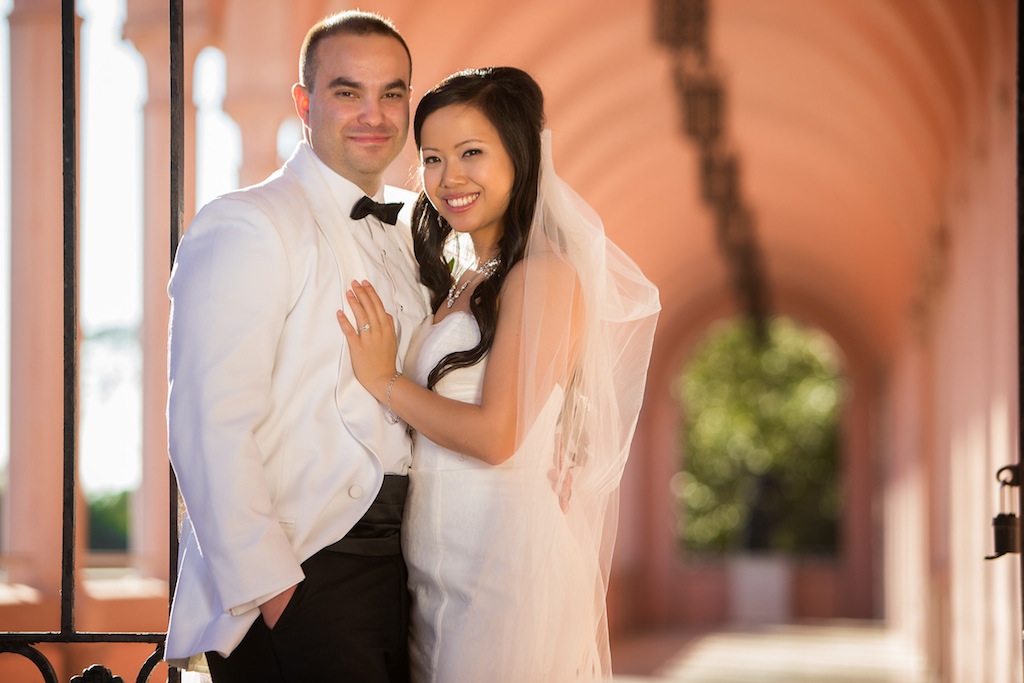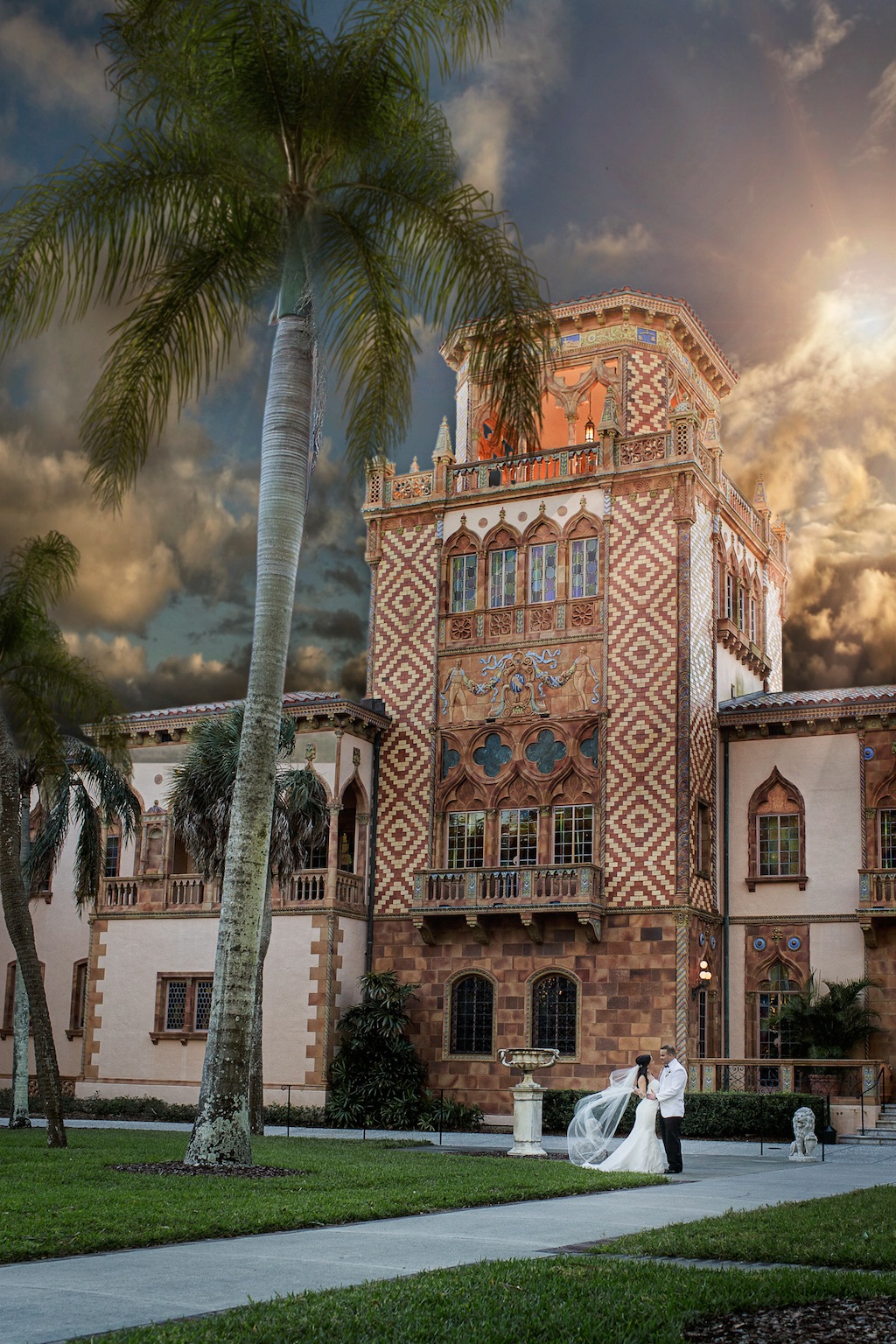 "After looking at Jeff Mason Photography's online portfolio, I knew that his photography was a perfect blend of tradition and creativity. The photos came out absolutely gorgeous." – The Bride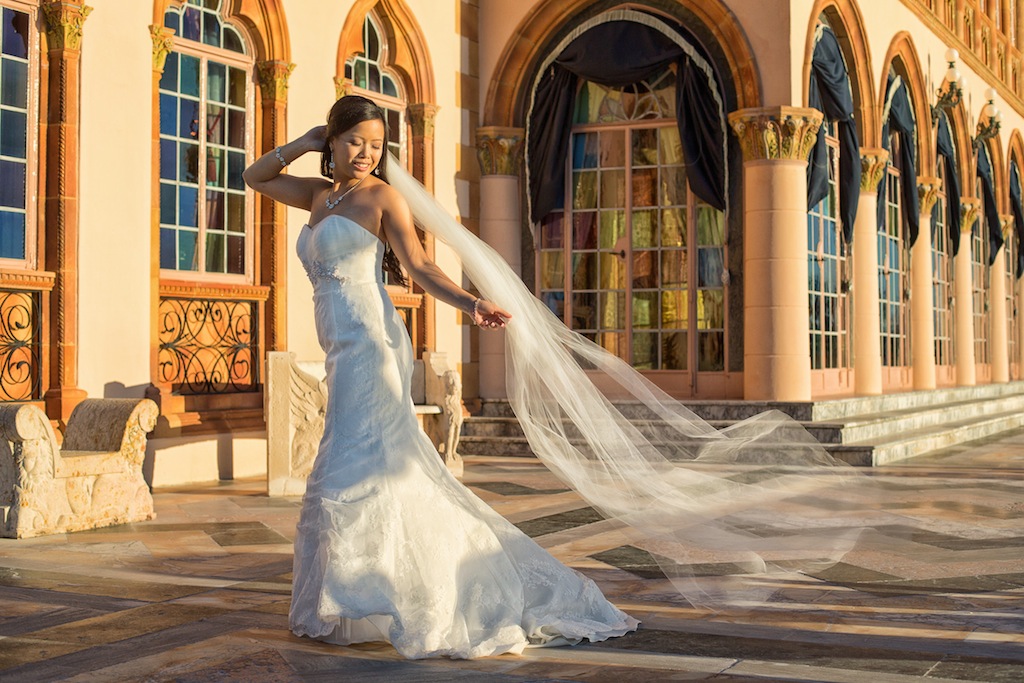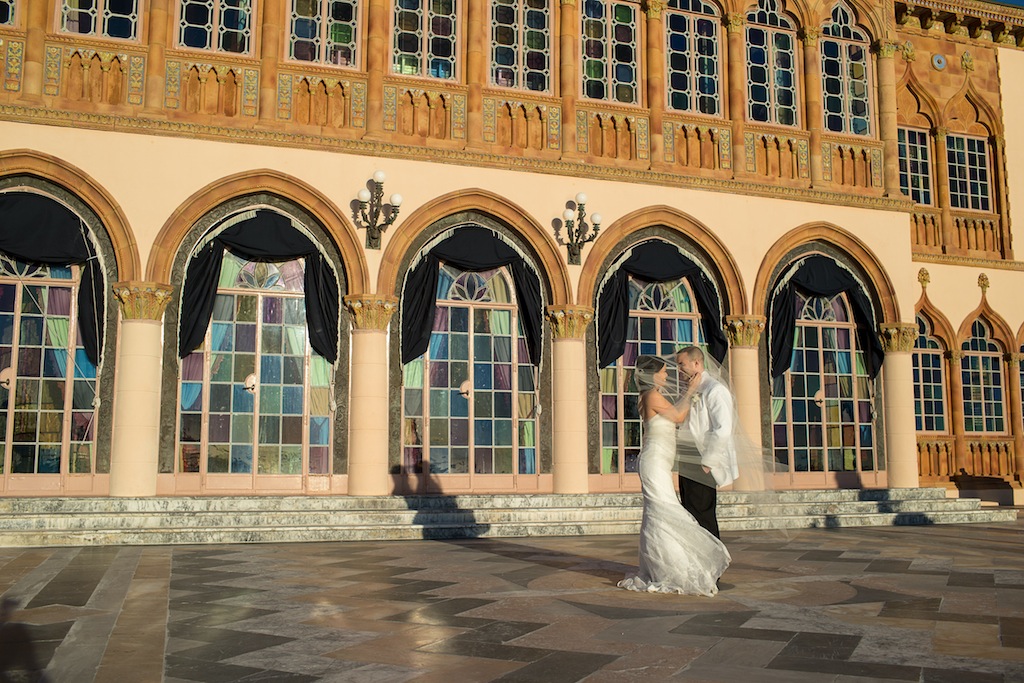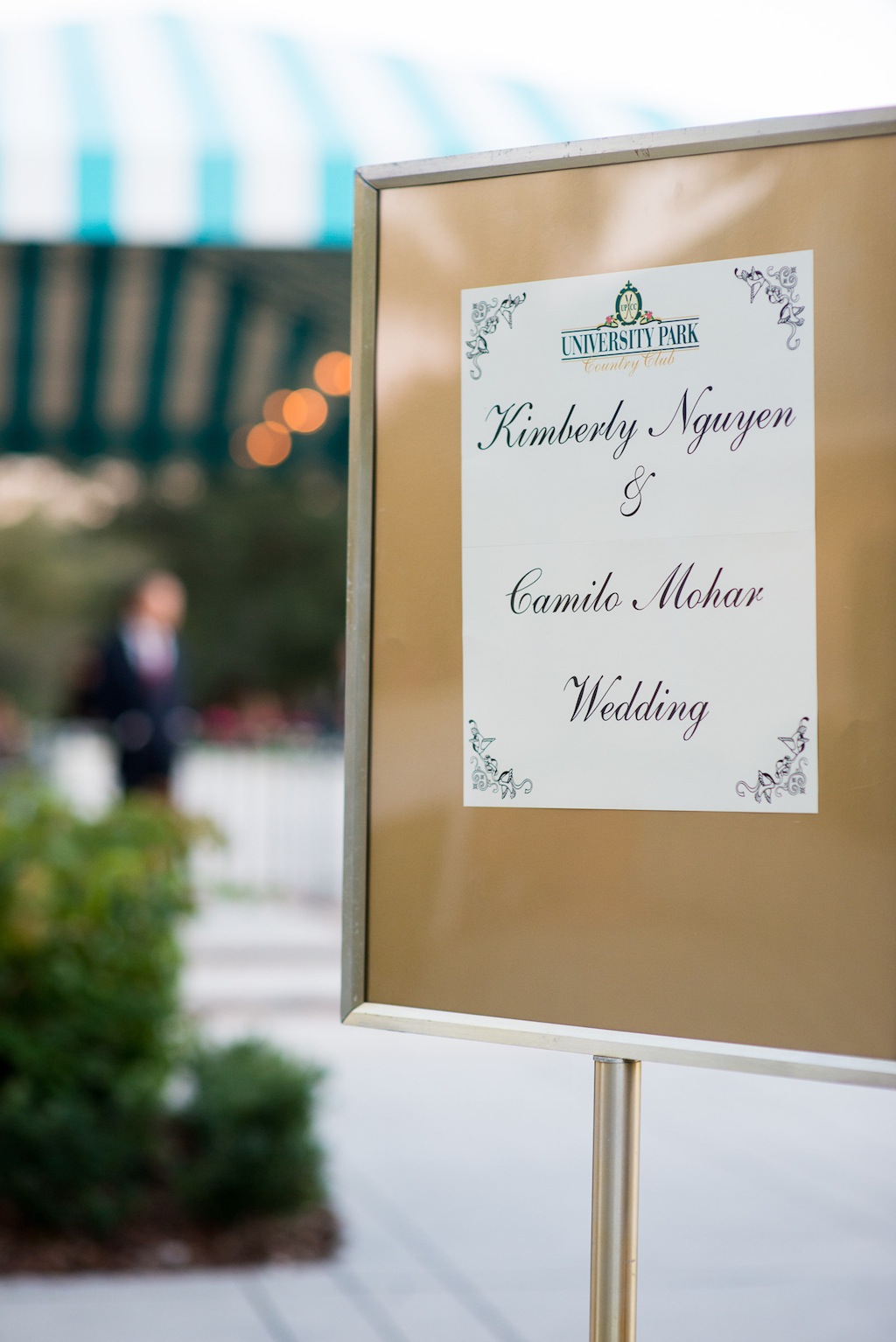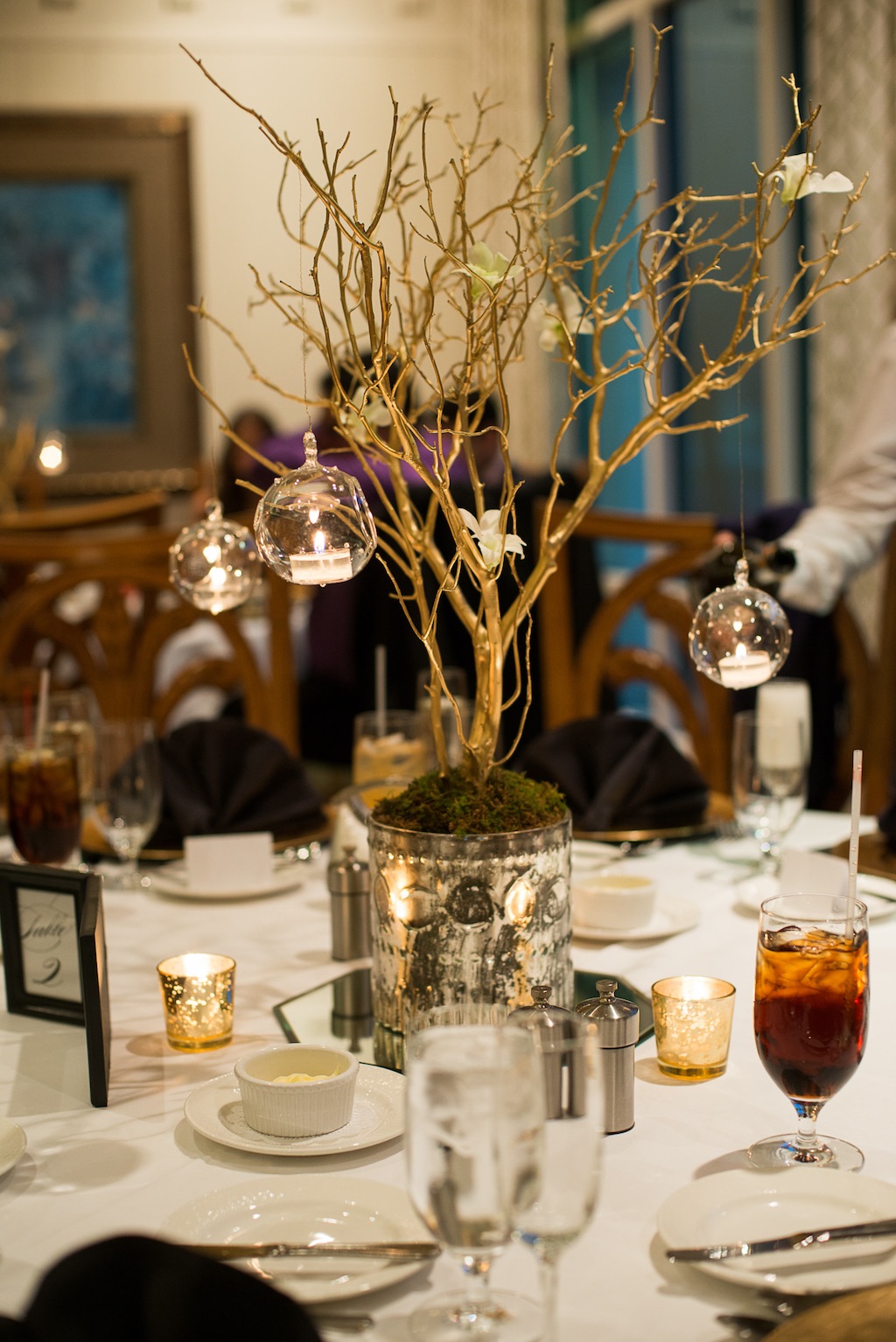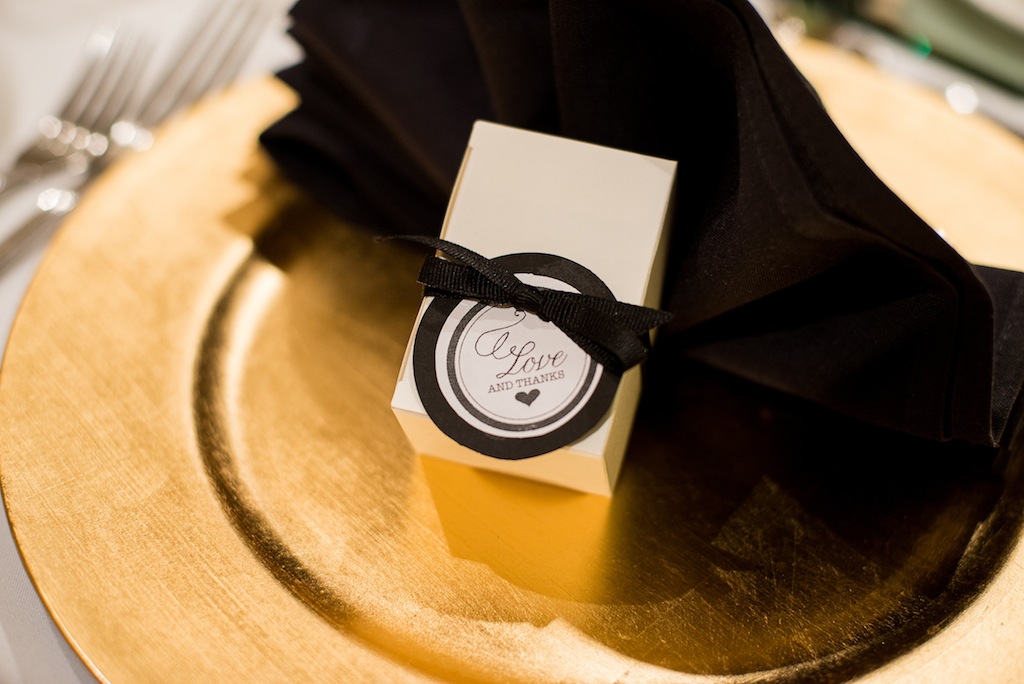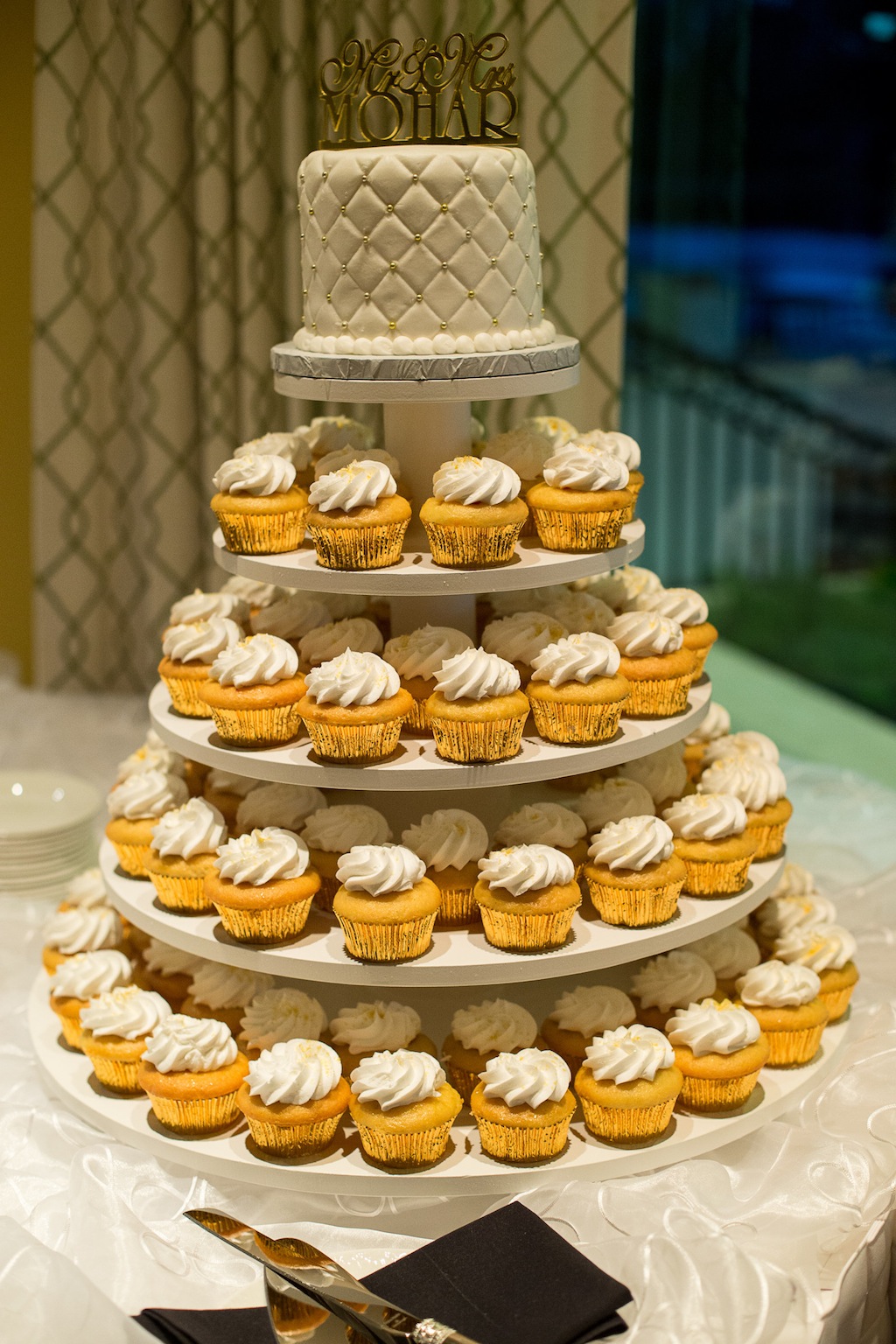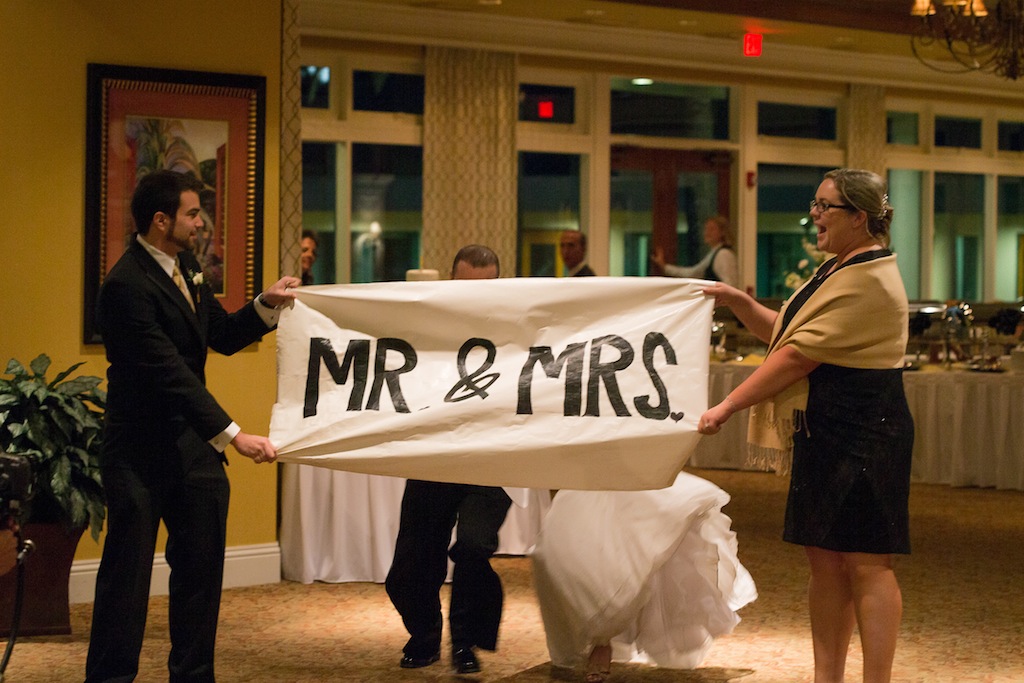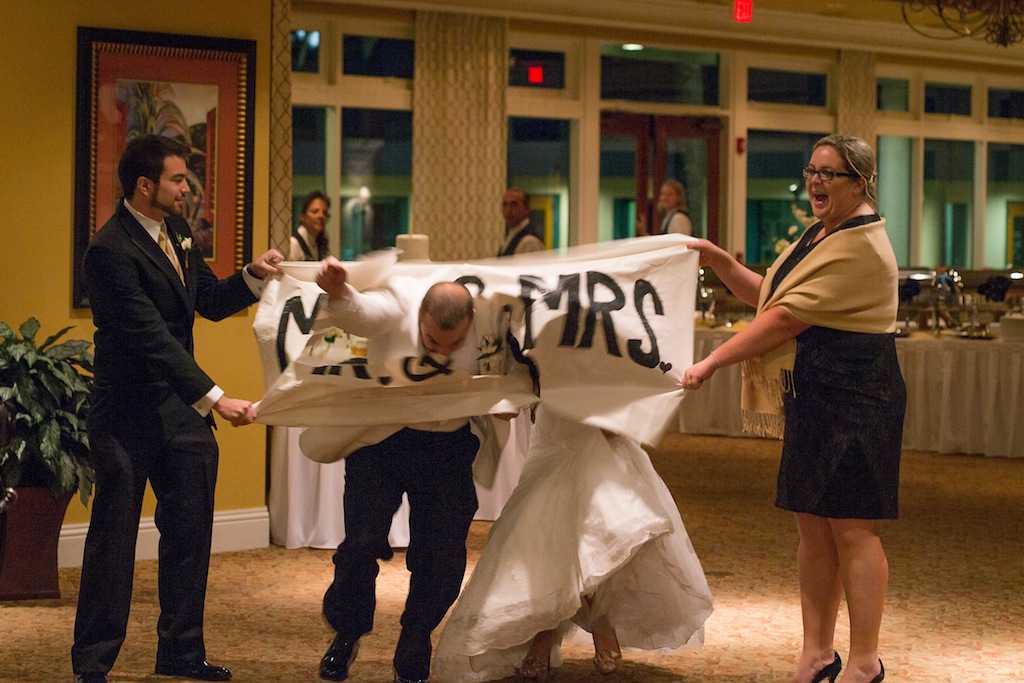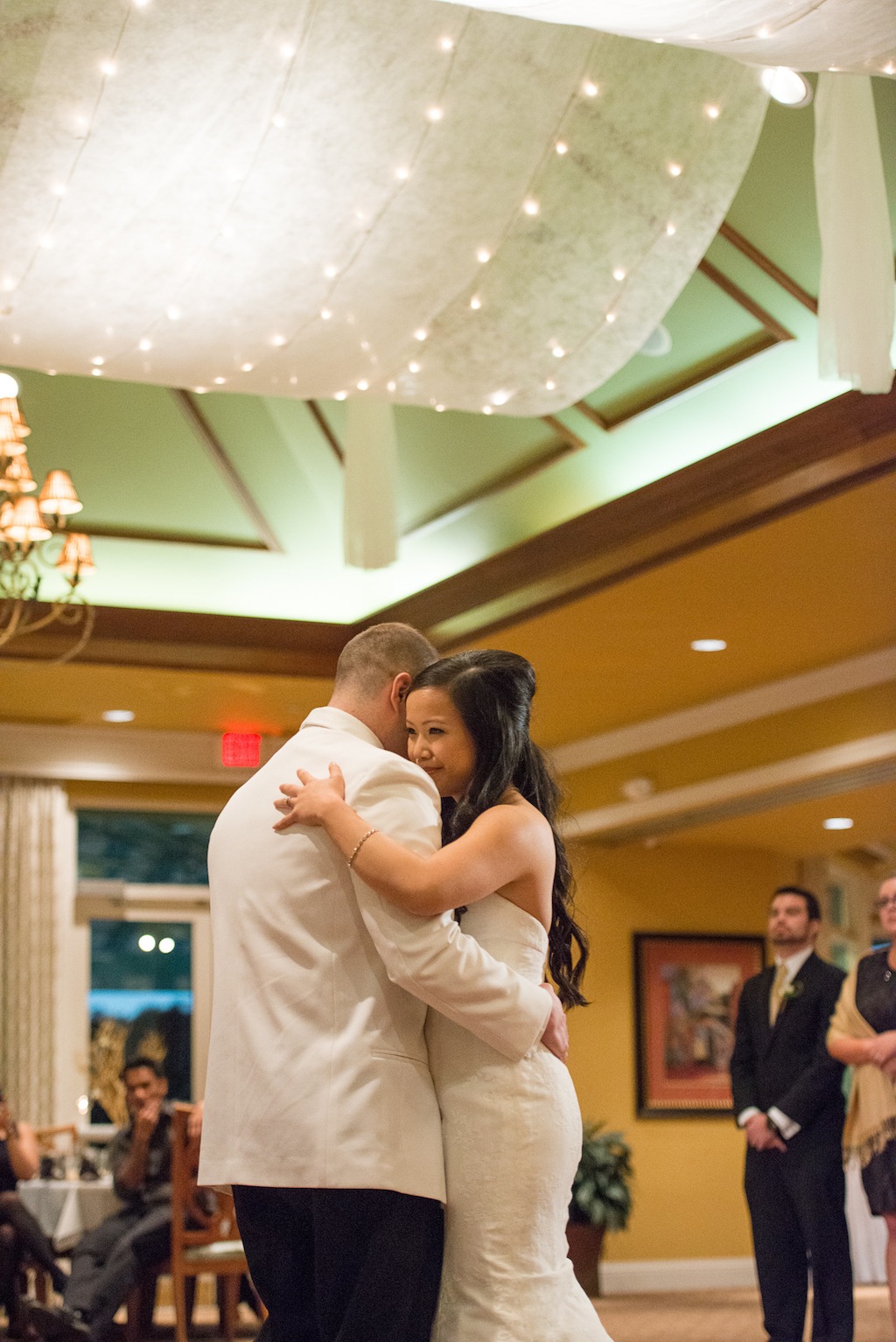 "University Park Country Club is absolutely beautiful. It was as if the reception room and bridge across the pond was designed to capture the golden hour of sunset. The food was delicious and the service was absolutely top notch." – The Bride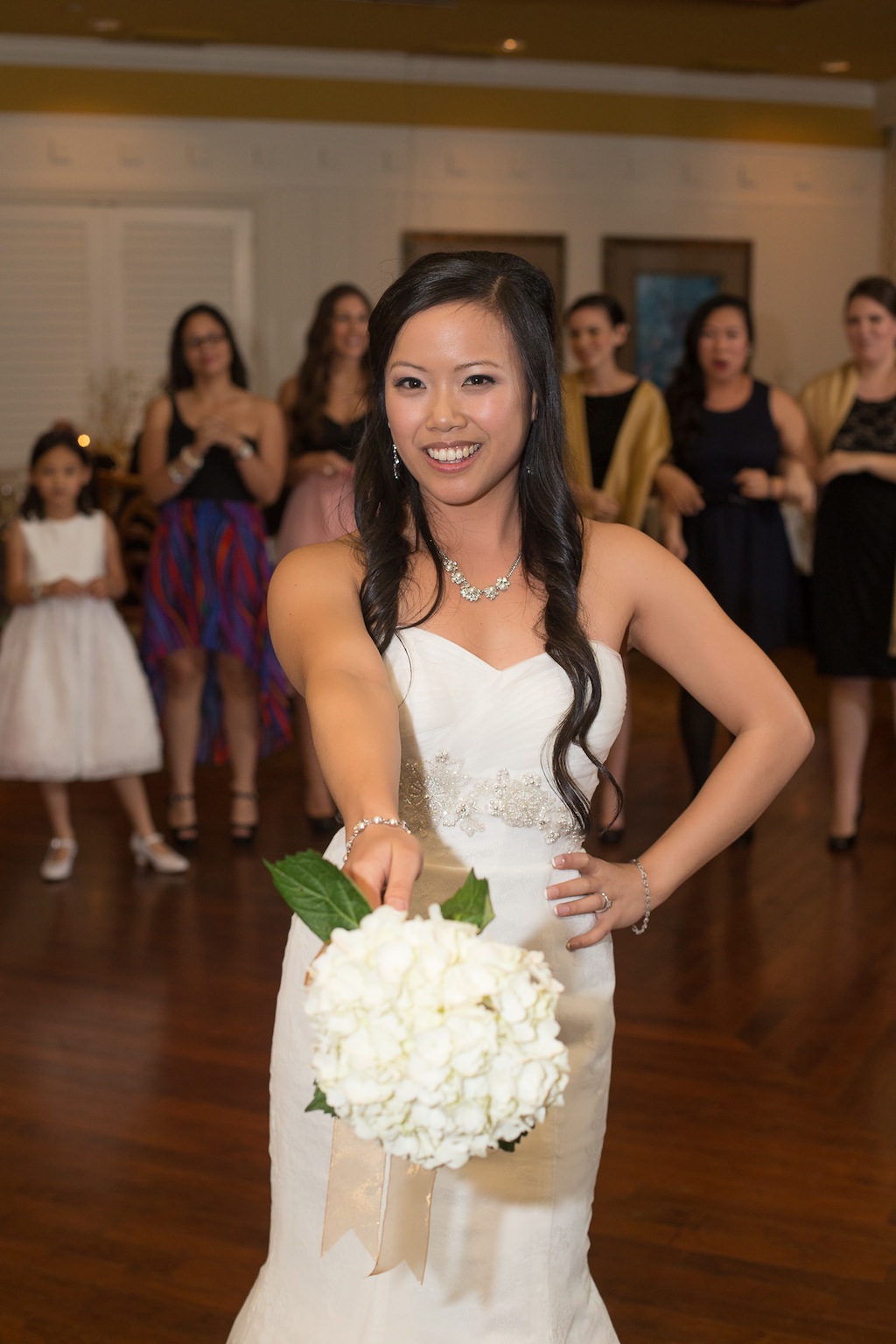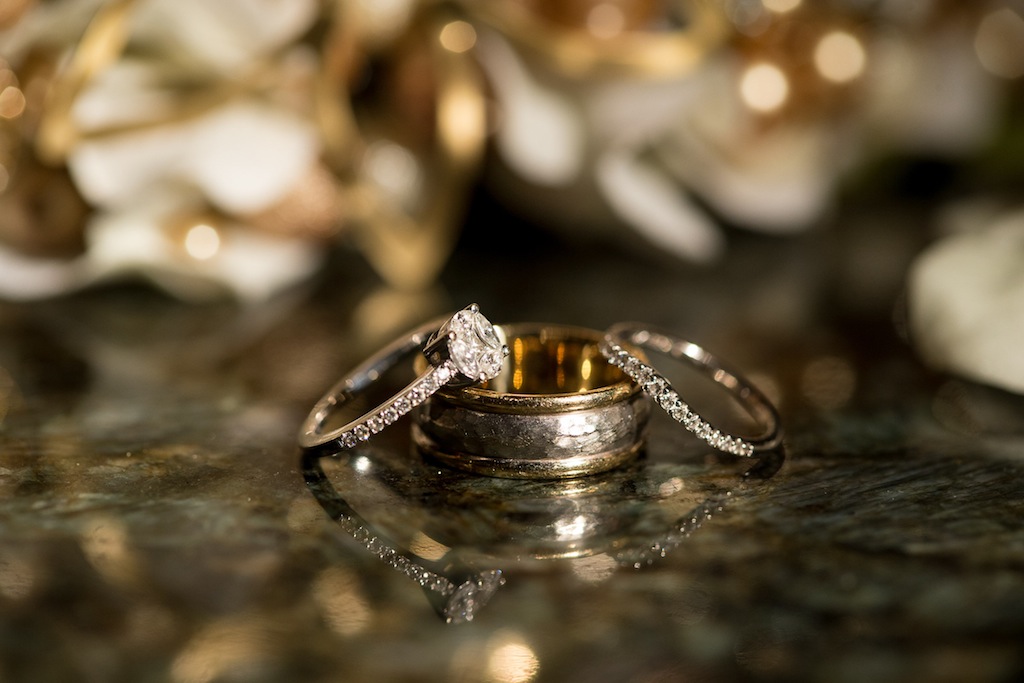 What advice would you give to other Tampa Bay Brides?
One of my bridesmaids gave me a wonderful piece of advice right before the ceremony. She said that "when you walk through the doors of the church and before you walk down the aisle, just stand and wait a few moments to take it all in."
She was absolutely right. It was like the moments right before a first kiss; anticipation, excitement, the feelings of butterflies in your stomach that you won't be able to recapture. It is probably the best piece of wedding advice any bride can have.
Sarasota Wedding Ceremony Venue: Our Lady of Angels Catholic Church
Sarasota Wedding Reception Venue: University Park Country Club
Sarasota Wedding Photographer: Jeff Mason Photography
Sarasota Wedding Photographer: Movie Magic Productions
Sarasota Wedding Florist: Elegant Designs Floral Art Studio
Sarasota Wedding Caterer: University Park Country Club
Sarasota Wedding DJ: Black Tie DJs
Sarasota Wedding Officiant: Our Lady of Angels Catholic Church – Father Steve Clemente
Sarasota Wedding Dress: David's Bridal
Sarasota Wedding Hair & Makeup: Lili's Weddings