Jessica "got lucky" meeting Scott soon after moving to Las Vegas. "Scott was literally the first friend I made. We lost touch over the years and reconnected in 2008. As soon as we reconnected in 2008 we knew this was it. We moved in with each other after three months and he proposed a year later at midnight on New Year Eve 2010!" the bride gushed.
Since Jessica is Florida girl (she's from Sarasota), she chose a beach-themed Siesta Key wedding. "I grew up going to Siesta Key beach, so it seemed like the perfect location for us," she said.
However, holding a beach wedding proved to be more difficult than she thought. "When my mom started researching how to have a beach ceremony she learned you had to get a permit from the county to do so. When she called to inquire, the county told her that for the weekend of our wedding they were not giving out any permits due to the sand castle festival being held on the beach. Knowing that we wouldn't want to change the date, my mom started exploring other options and found the private residence we rented that had private beach front property. It worked out perfectly!  We could get ready in the house and just walk right out on to the beach without having to worry about transportation. Now here is the funny part, the sand castle festival wasn't the weekend of our wedding it was the following weekend, so the county must have had the dates wrong or looked at the wrong date! But everything happens for a reason!" Jessica explained.
The couple chose an aqua blue and lime green beach-themed Siesta Key wedding; Scott's favorite color is blue and Jessica's favorite is green. The bride decided on a "no nonsense" wedding focused around the joys of getting married and celebrating with her guests. "We weren't big into traditional wedding ideas . . . no wedding party, no bouquet toss, no garter dance, no cake cutting. We just wanted a short and sweet ceremony and then a celebration! The most important part for us was gathering all our friends and family together to celebrate with us."
Siesta Key Wedding Photographer – Ware House Studios
Jessica and Scott wanted a "fun" photographer to complement their relaxed wedding style, so they booked Siesta Key wedding photographer Ware House Studios. But just as with Siesta Key wedding venue change, her original plan was altered. "On a recommendation from someone I had 'booked' a photographer. After I sent my contract back to her she emailed me and said she made a mistake and was already booked for our wedding day! Again, everything happens for a reason because we won the jackpot with finding Cristiana Ware! After I learned I had to find a new photographer I just did a googled search for 'Florida Photographers.' There was a wedding picture of a bride, groom and their dog. It was so adorable and colorful that I was sold. At that moment of seeing that awesome picture I knew I had to have who ever took the photo," Jessica explained.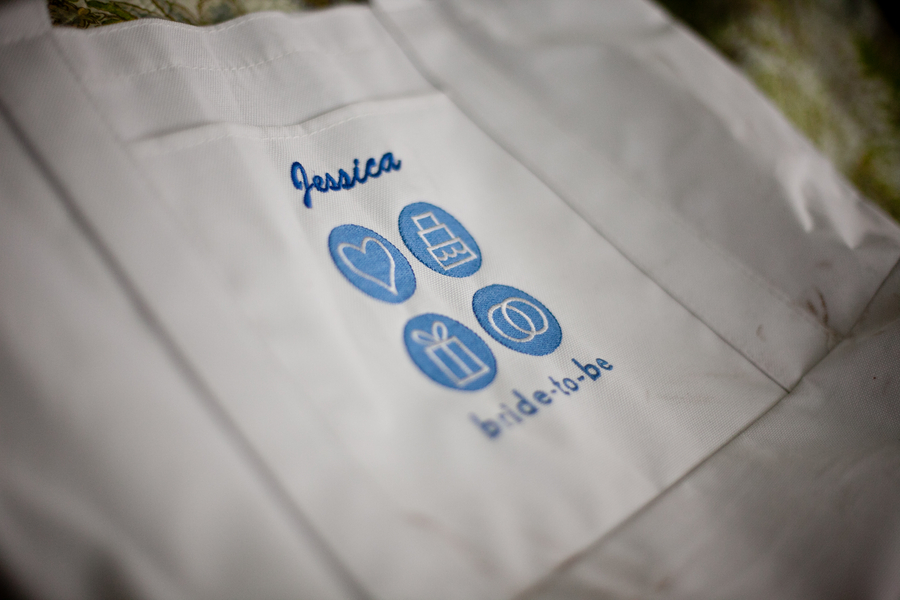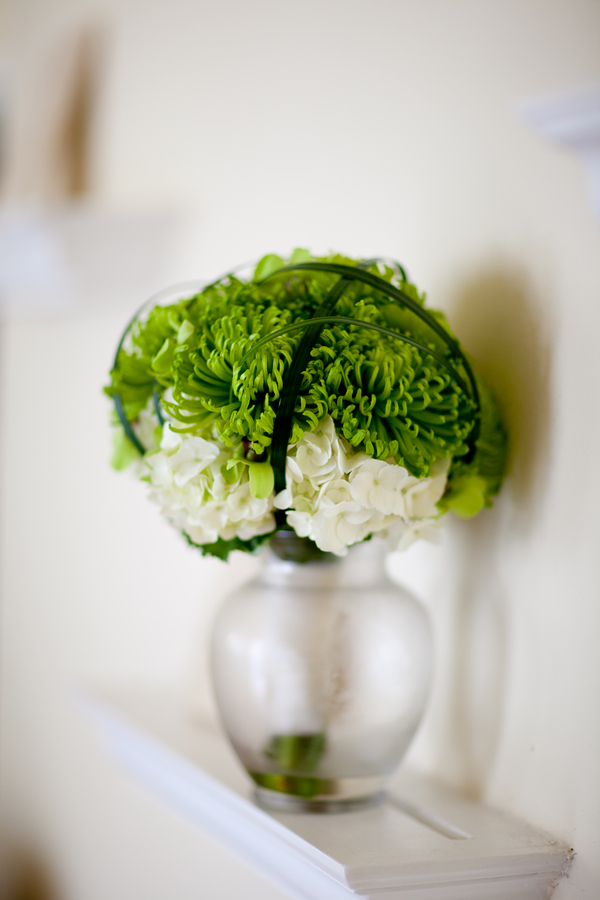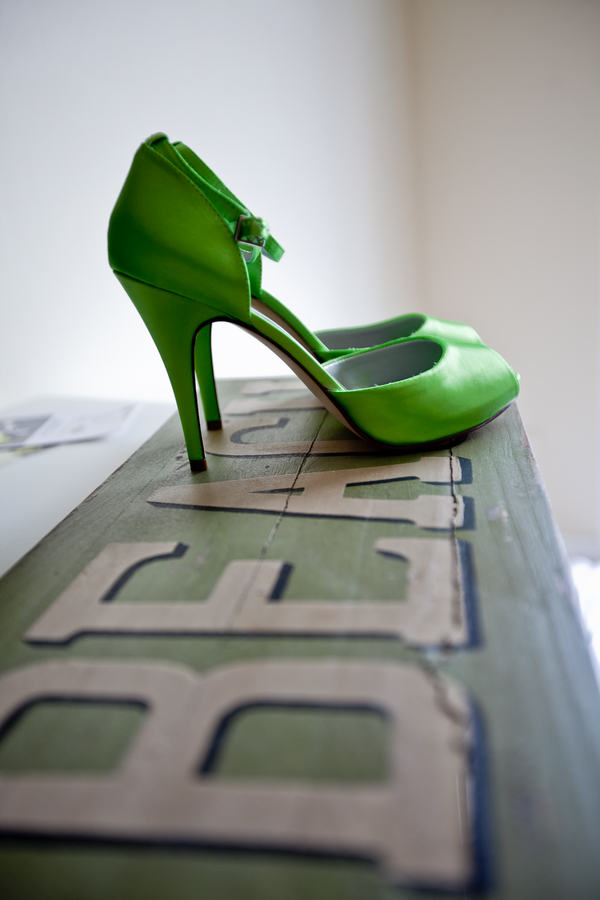 Lime green specifically is my favorite color and I really wanted to have some lime green shoes to rock on the dance floor. – The Bride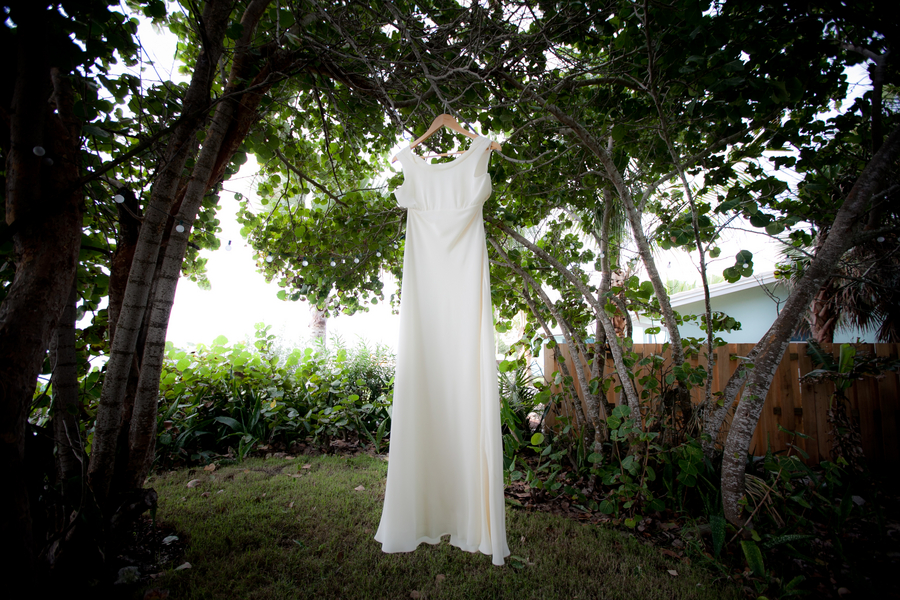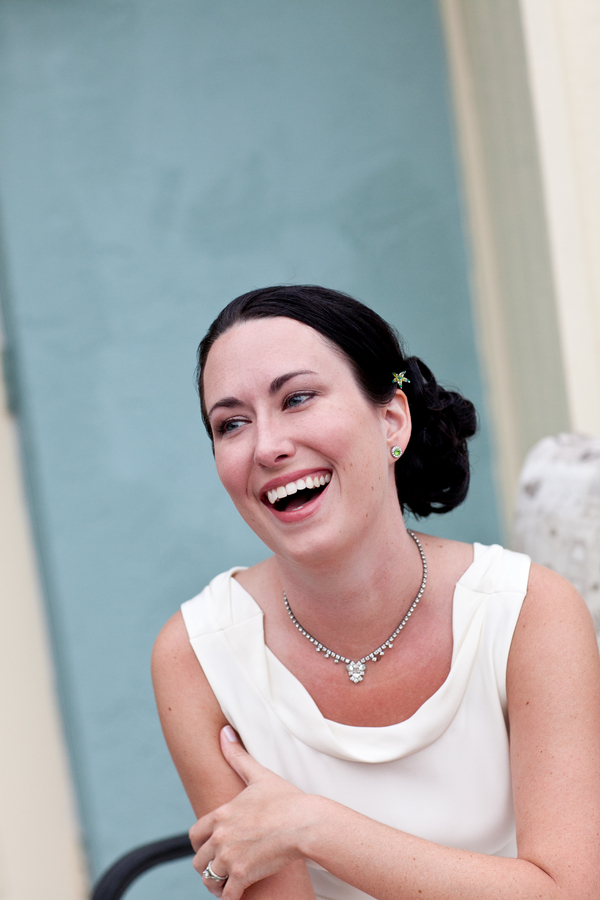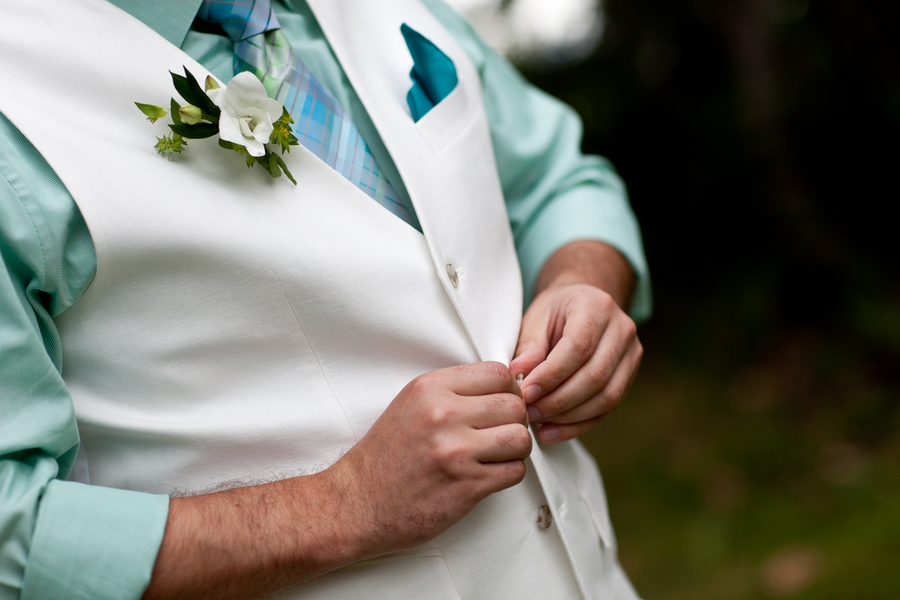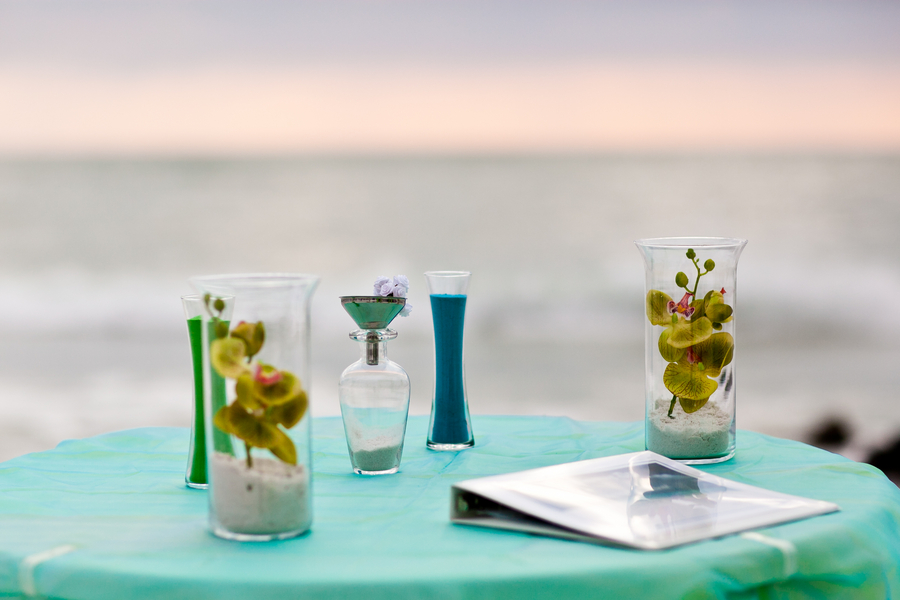 I am a very emotional person who can cry at the drop of a hat.  So I knew that the day of the wedding I would be able to start crying at any moment.  Scott puts me at ease and makes me feel so comfortable.  During the day while getting ready we were together, we ate lunch and he sat with me while I got my hair done, and we just kept checking in with each other as the craziness was whirling around us. – The Bride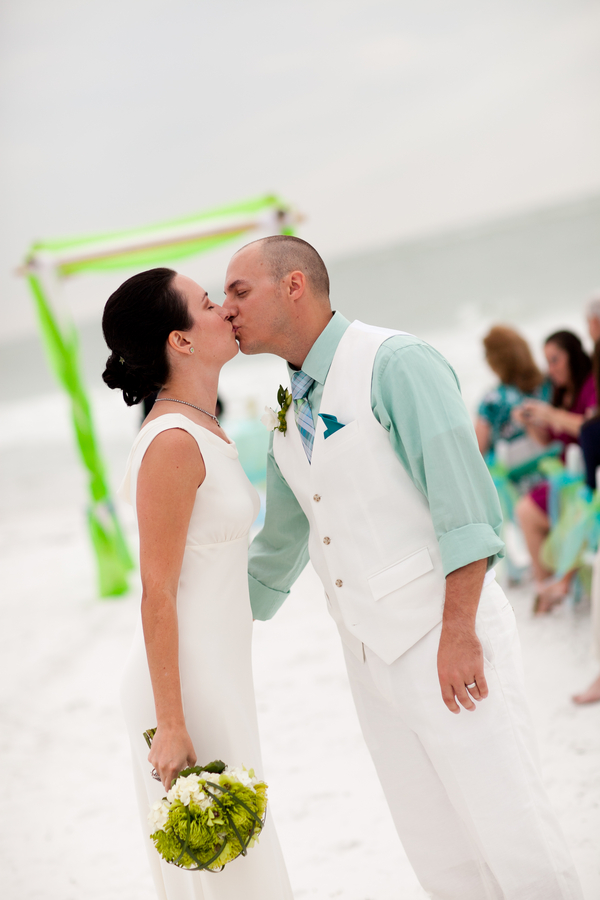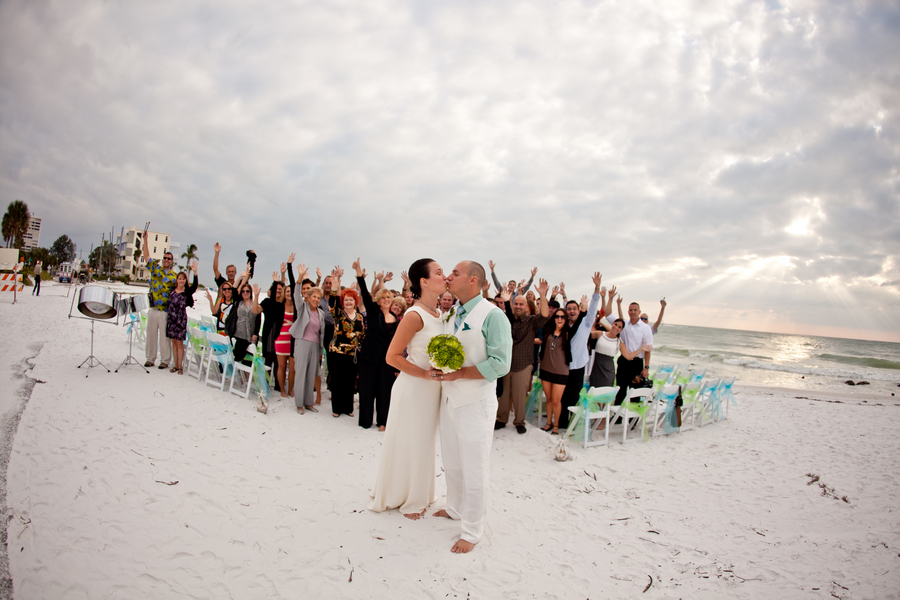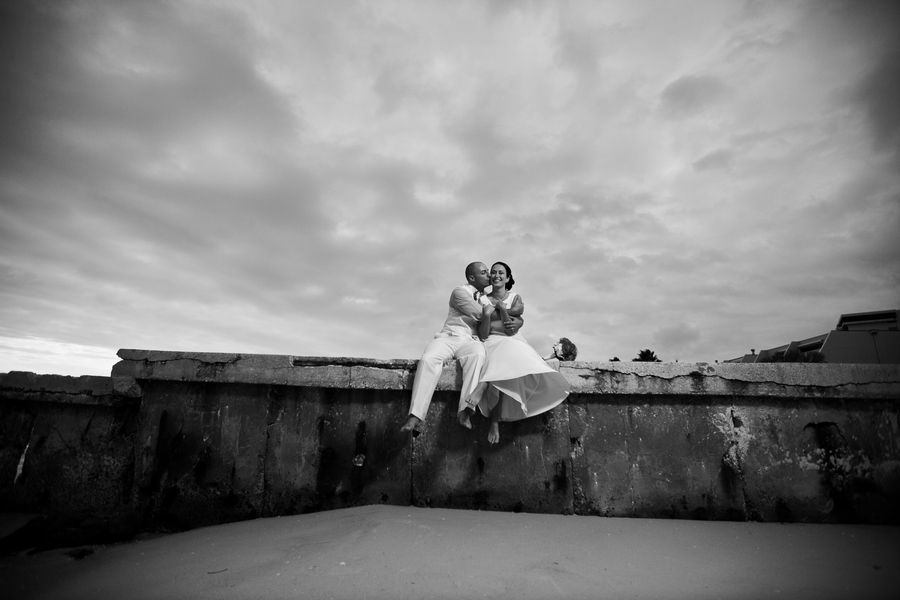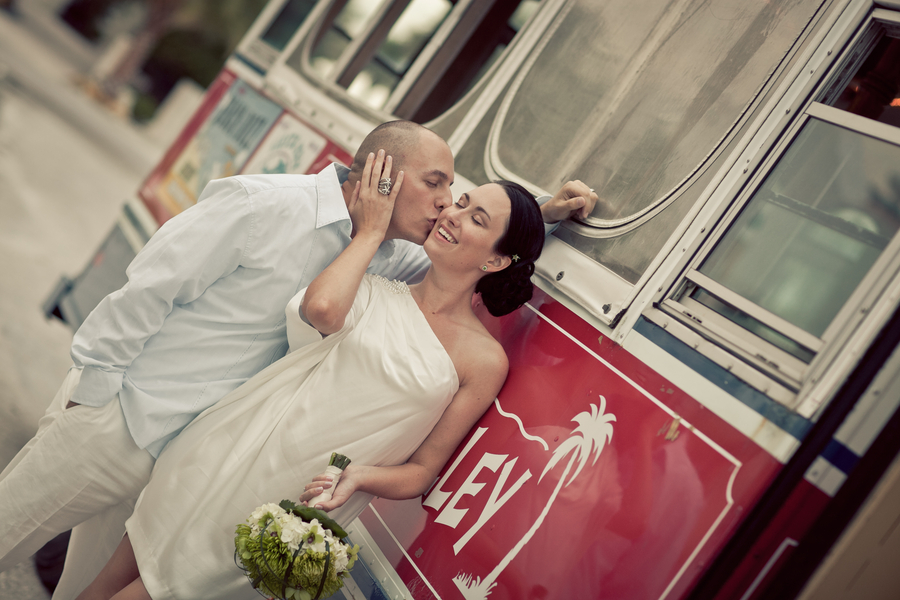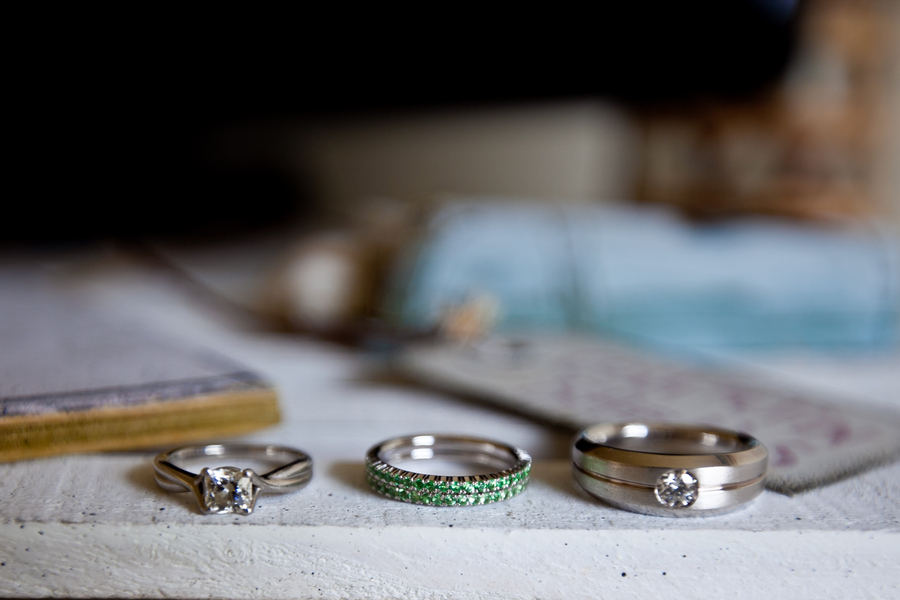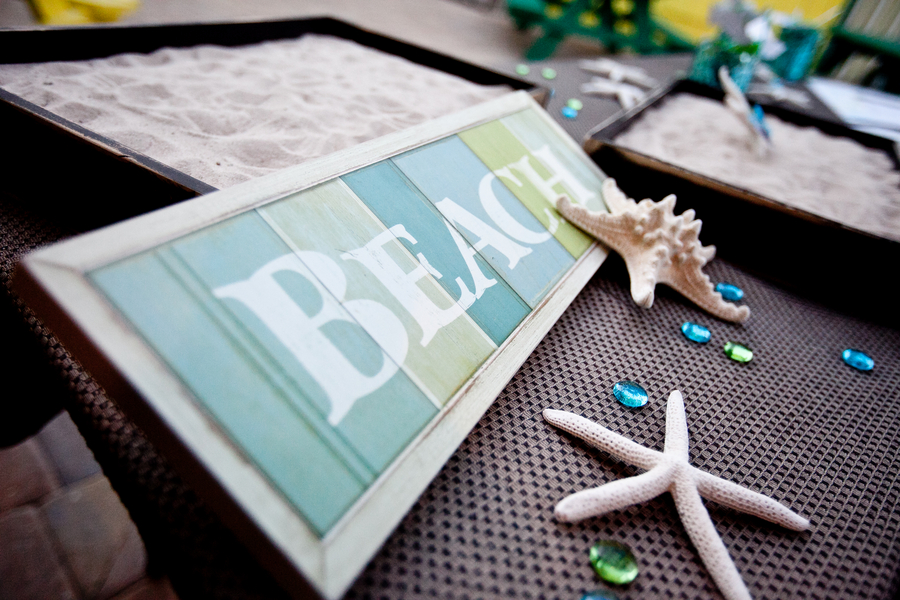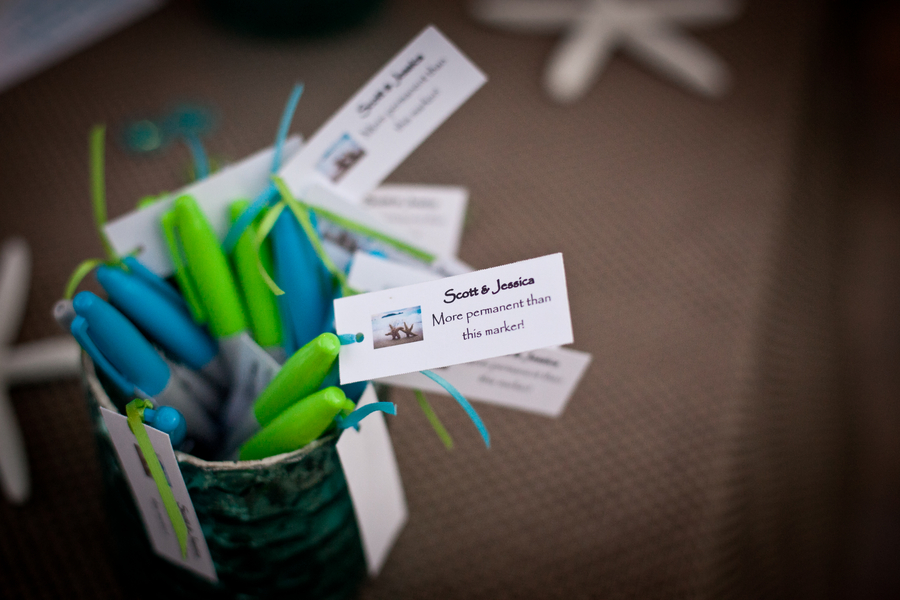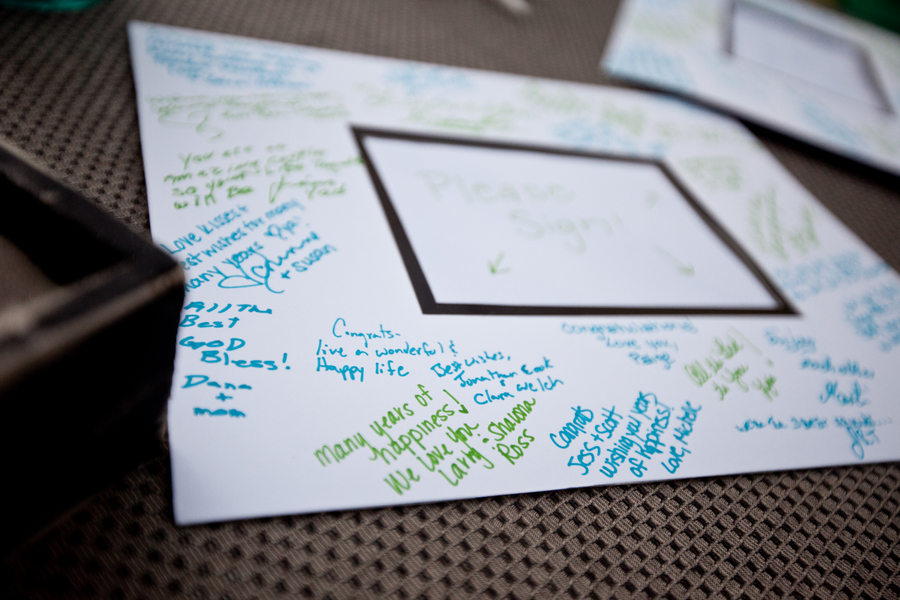 One of my favorite things we did was give Sharpies as our wedding favors. Instead of a guestbook we had guests sign a picture matte. – The Bride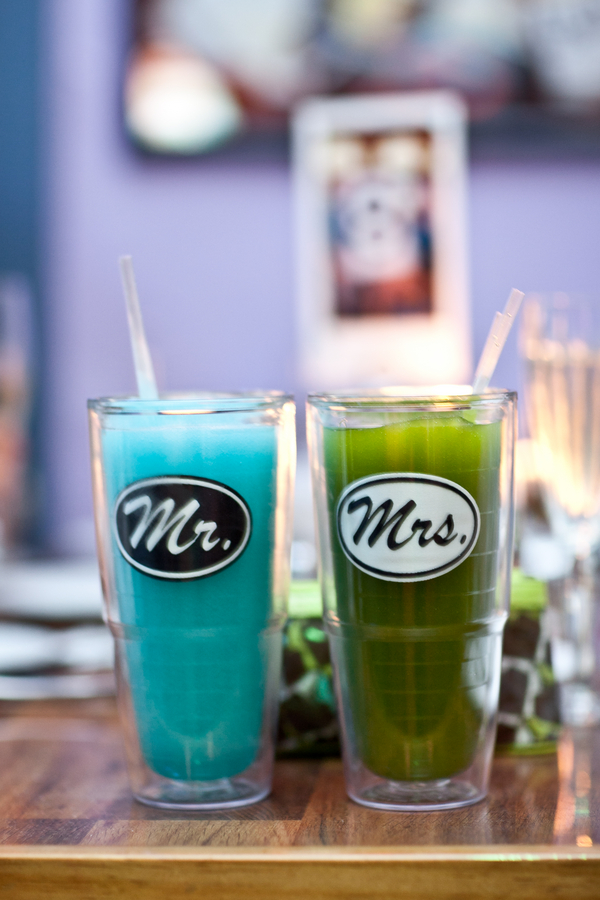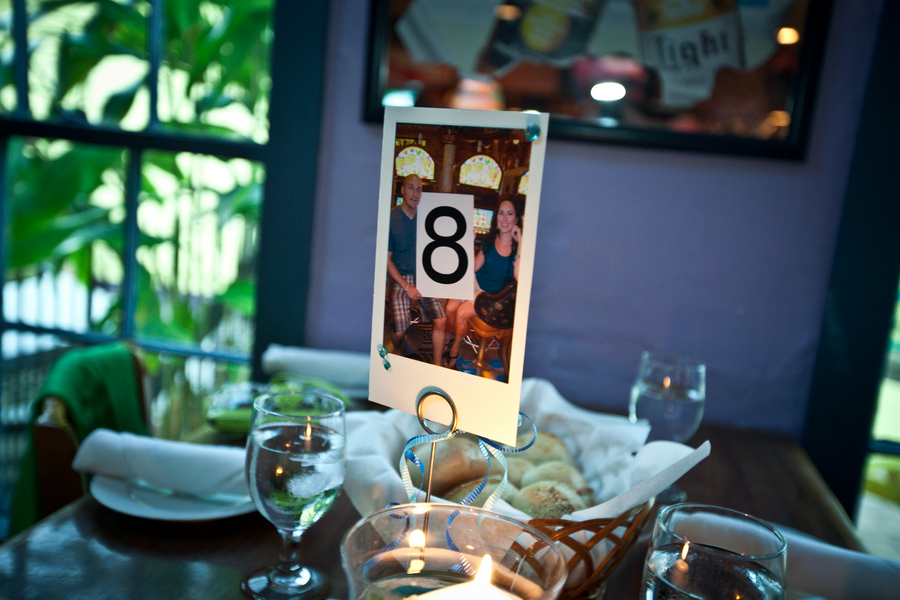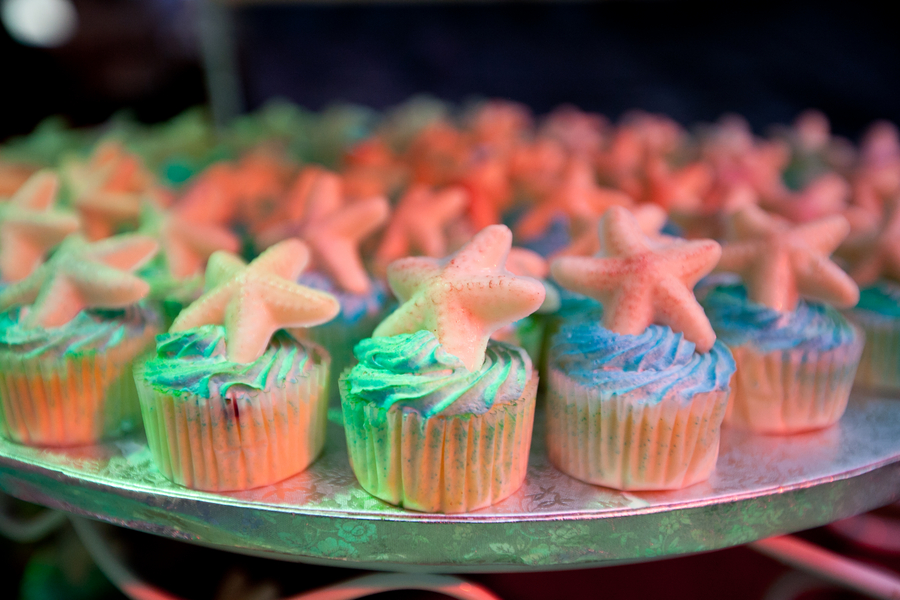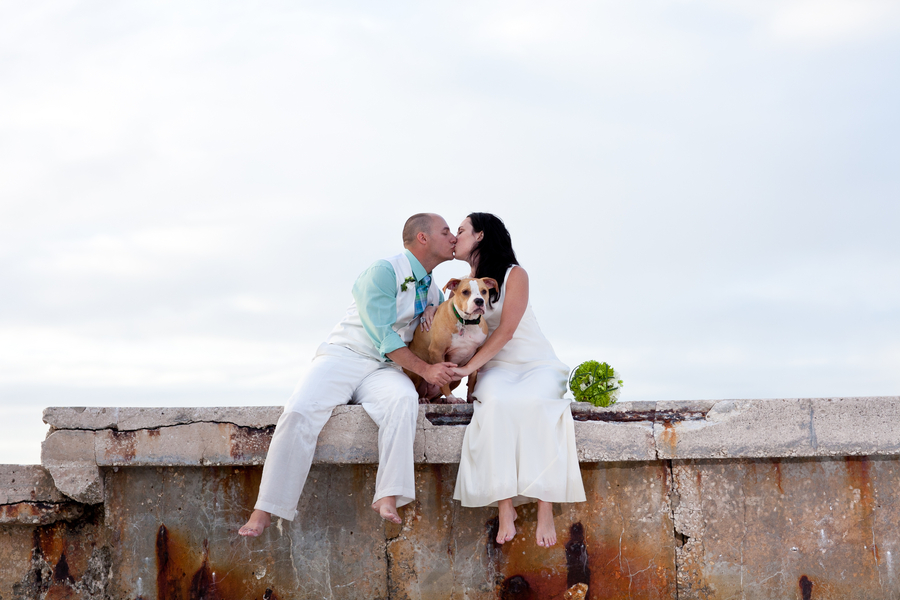 We decided to do an after the day shoot for two reasons. First, we wanted pictures with our dog Kasey, but didn't want to have to worry about where she was the day of the wedding. Second, we wanted pictures in the ocean while wearing our wedding outfits. – The Bride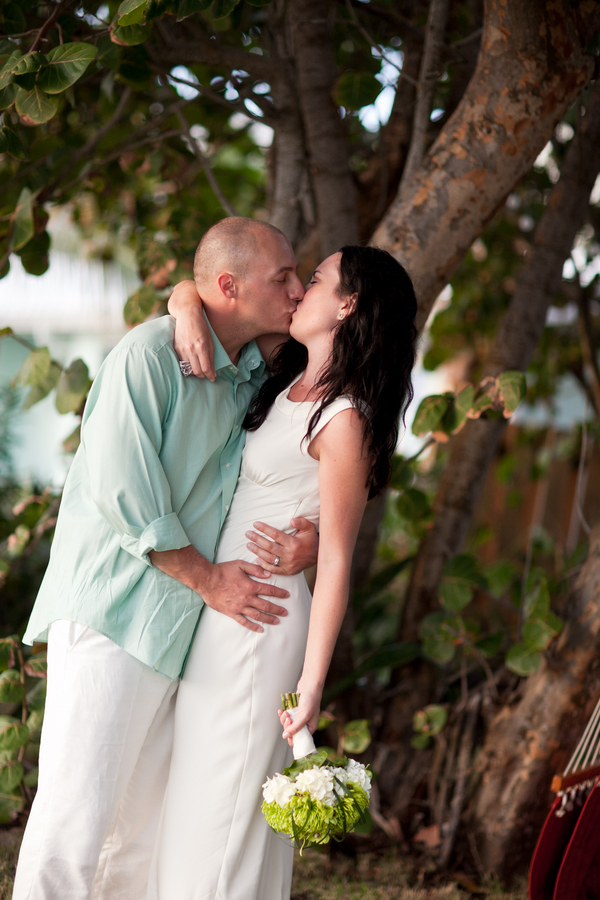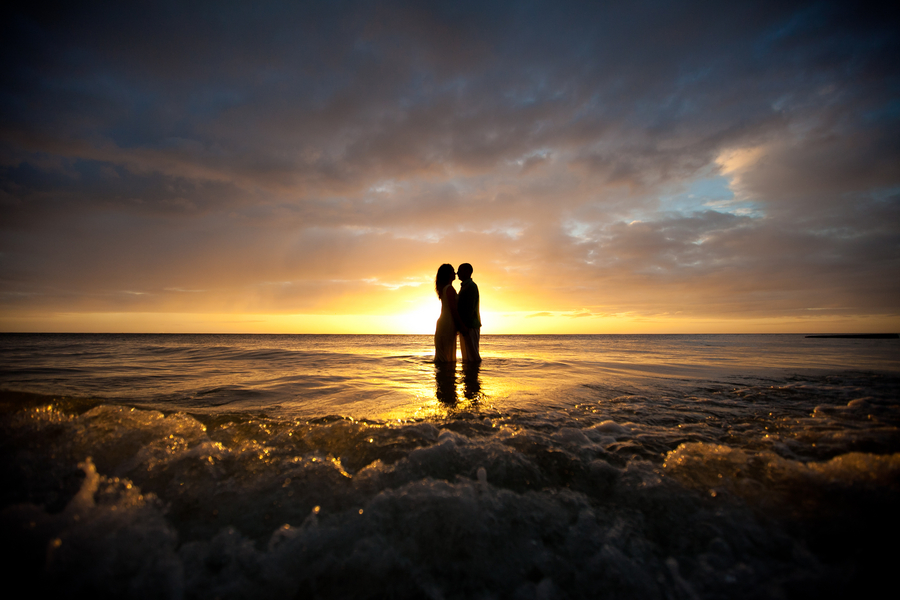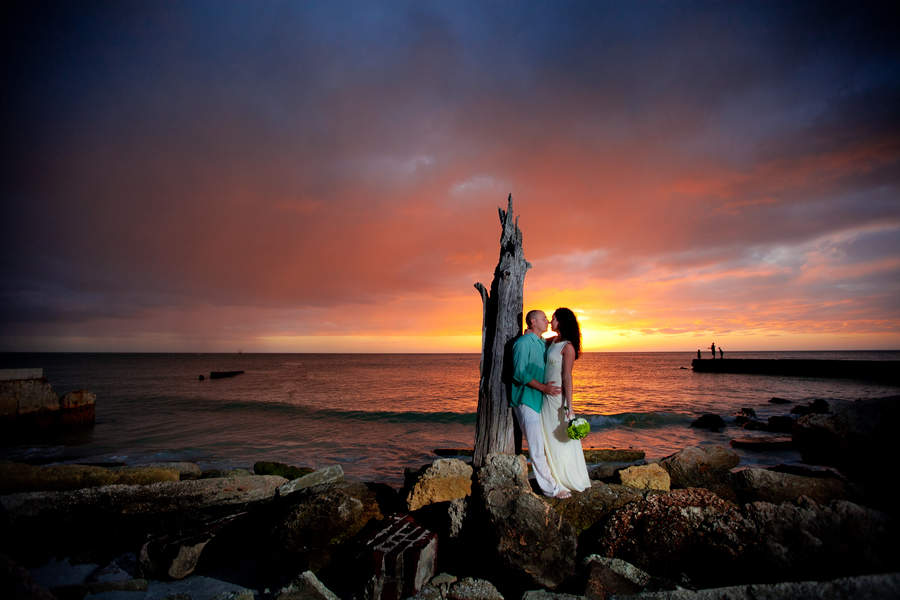 What advice would you give to other Tampa Bay Brides?
The gulf coast is beautiful! There is so much outdoor space that is a great backdrop for a wedding and so many months of good weather. Use what Florida has given us to help make your day special. Also, do what you and your groom want to do for your wedding. There are no rules. Don't let any preconceived notions or family members get in the way of how you want your day to be. Scott and I did exactly what we wanted and have no regrets. We want to relive our day again, and again, and again!
Siesta Key Wedding Ceremony Venue: Private Residence
Siesta Key Wedding Reception Venue: Daiquiri Deck
Siesta Key Wedding Photographer: Ware House Studios
Siesta Key Wedding Planner/Coordinator: Seaside Bride – Sue Ross
Siesta Key Wedding Officiant: Seaside Bride – Sue Ross
Siesta Key Wedding Florist (bride's bouquet and groom's boutonniere): Flowers By Fudgie
Siesta Key Wedding Cupcakes: Mr. Cheesecake
Siesta Key Wedding Steel Drum Players: The Island Boys
Siesta Key Wedding Dress: Jcrew & Nordstrom
New York Wedding DJ: Toy Brothers Entertainment
We are proud to have Ware House Studios as a Marry Me Tampa Bay sponsor!